Review: Lush Bongo Shower Jelly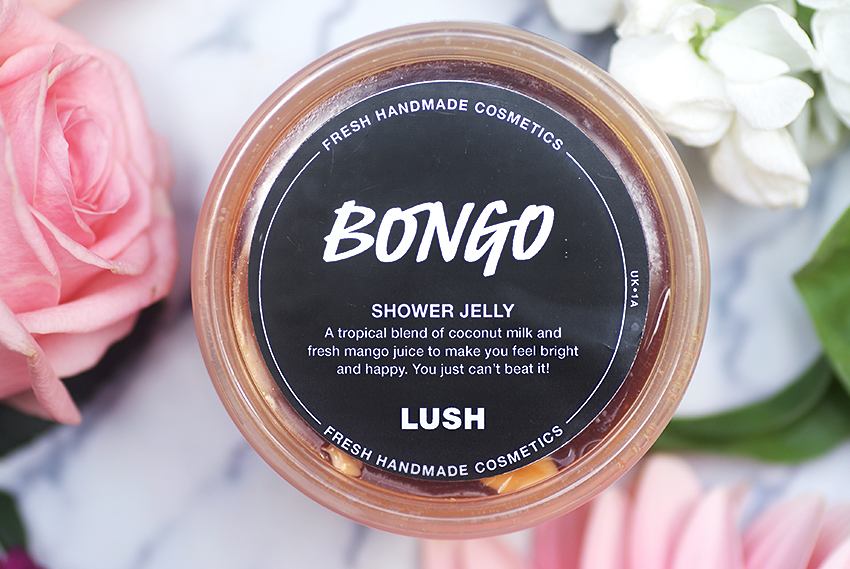 Ik heb altijd een zwak gehad voor jellies. Ze ruiken sterk, zijn leuk om je vingers in te prikken en sinds ik een manier heb gevonden om ermee om te gaan in de douche, gebruik ik ze graag. In Liverpool besloot ik ze alle vier nieuwe jellies mee te nemen, op Rumba na. Deze zou naar So White ruiken (groene appeltjes) en dat is een geur waar ik niet bevriend mee ben. Welke ik wél mee moest nemen was Bongo. Een tropische vakantie in de vorm van een jelly.
Klik verder als je meer wilt lezen over deze vrolijke jelly!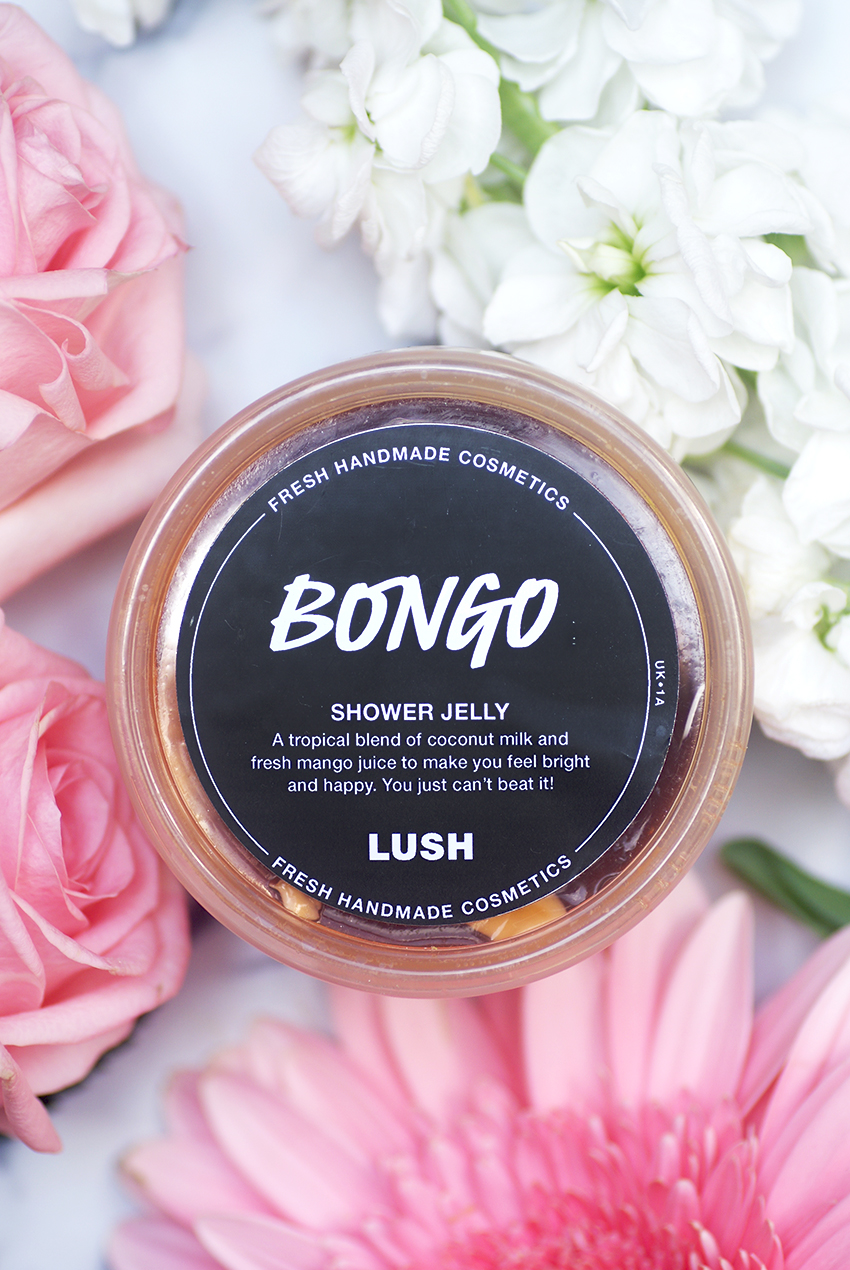 Wat is het?
Lush Bongo Shower Jelly kost £5.50 voor 100 gram en £10.95 voor 240 gram. Het is een exclusief product en alleen in Lush in Liverpool te koop. Het is één van de nieuwste jellies daar, samen met Conga, Beats, Gong en Rumba. Het zijn allerlei muziektermen, Bongo is dan ook een muziekinstrument; kleine handtrommels die meestal per twee aan elkaar hangen en samen bespeeld worden. Het idee hierachter is dat als op de grote jellies in de winkels slaat, je dan ook een soort trommels hebt waarmee je geluid kan maken. Ja, apart. Wel geinig.
Je weet onderhand wel hoe shower jellies werken, toch? Meenemen onder de douche (in z'n geheel of een stukje) en jezelf ermee insmeren. Ze schuimen, daarmee smeer je je lekker in. Mocht je meer manieren willen weten over hoe je een Lush jelly gebruikt, klik dan hier.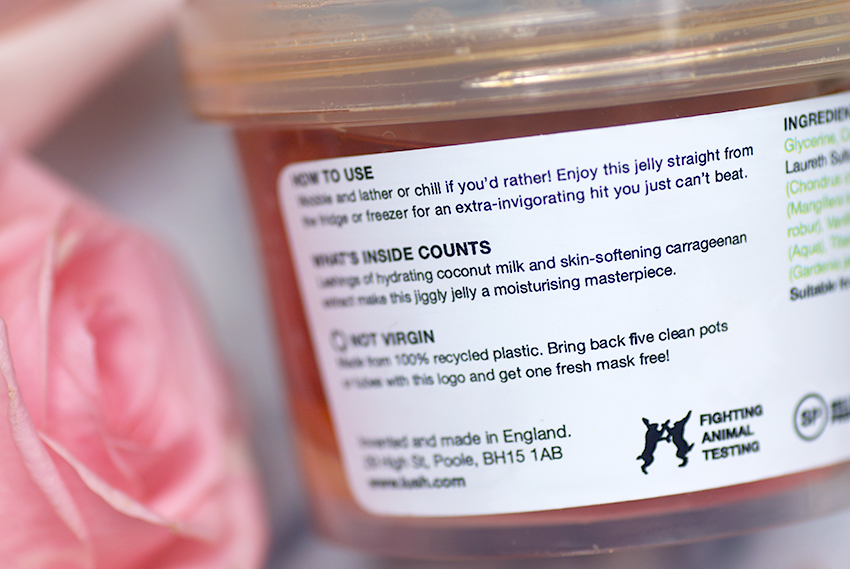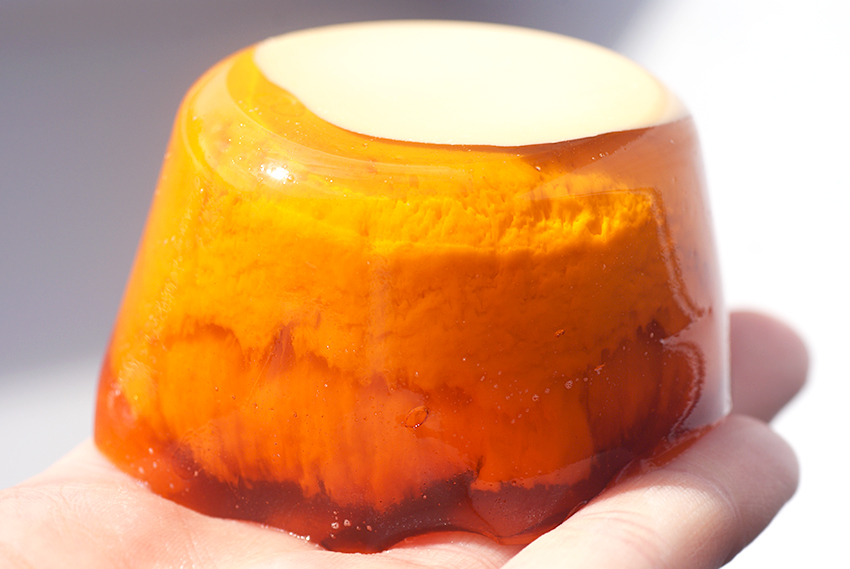 Wat zit erin?
Ingrediënten: Glycerine, Coconut Milk, Sodium Laureth Sulfate, Propylene Glycol, Carrageenan Extract, Perfume, Fresh Mango Juice, Oakwood Absolute, Vanilla Absolute, Water, Titanium Dioxide, Gardenia Extract, Coumarin, Colour 15510
Bongo is echt een práchtige jelly. Hij is oranje en helder — maar binnenin de jelly lijkt wel een andere vloeistof te zijn gegoten. Het is echt een magisch gezicht, vind ik. Onderin de jelly zie je een melkachtige substantie, ik denk dat dit de kokosmelk is die naar beneden is gezakt. De jelly heeft zijn wiebelige substantie te denken aan de glycerine en carrageenan extract (zeewier), de geur wordt mede bepaald door de kokosmelk, verse mango sap, eikenhout en vanille.
De geur is echt bizar tropisch. Een zoete maar ook fruitige geur, die iets warmer gemaakt wordt door de kokos en vanille erin. Ik vind hem een beetje op Golden Pear lijken, ook warm en fruitig zoet. De mango in Bongo zorgt voor een tropische geur, die duidelijk de boventoon voert. Overigens vind ik hem ook précies naar de appel/kaneel vla van Melkunie ruiken! Het duurde even voordat ik kon plaatsen waar ik de geur van herkende, maar ik vind hem bizar veel naar deze vla ruiken. Dat warme van de kaneel, en fruitige van de appel.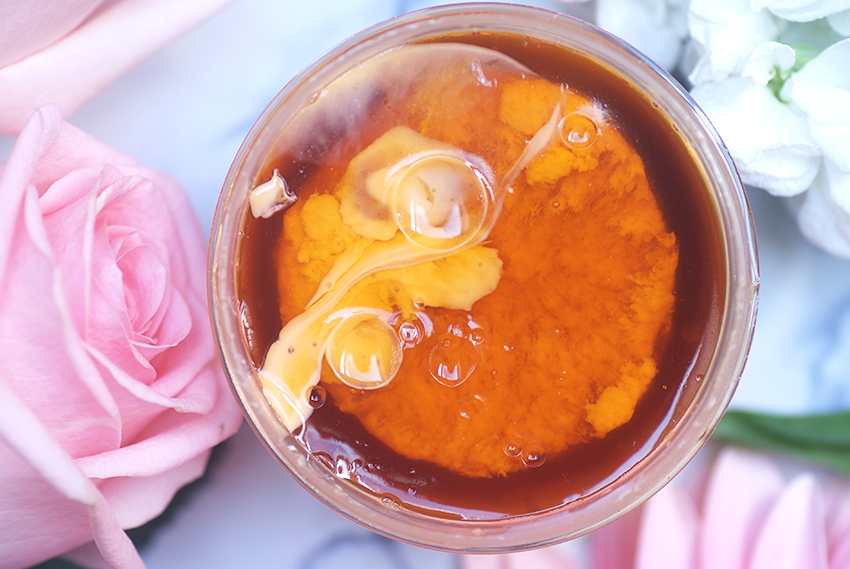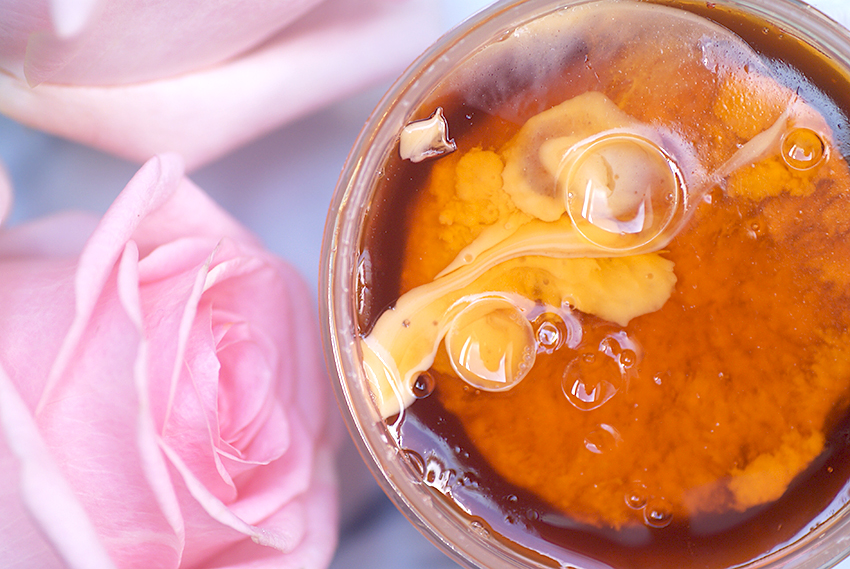 Mijn ervaring
Ik zei het al in de intro, maar een reden waarom ik dol ben op de jellies is omdat ze altijd sterk ruiken. En als ik een product gebruik onder de douche, wil ik ook dat hij lekker sterk ruikt. Dat zit bij Bongo wel goed! De warme en tropische geur verandert je badkamer in een paradijselijk kuuroord — cocktails, vers fruit, zonnen, noem het maar op. Wát een heerlijke geur is dit.
Ik vind niet dat hij m'n huid erg hydrateert, wel maakt hij m'n huid een stuk zachter en glad. Hij schuimt goed onder de douche en maakt m'n hele humeur stukken beter. (Heel fijn voor de mensen om me heen 's ochtends) Ook blijf je de heerlijke geur nog eventjes ruiken op je huid, wat ook altijd leuk mee genomen is. Als je geen geld hebt voor een tropische vakantie, haal de tropische vakantie dan gewoon in huis. Wel even een vlucht boeken naar Liverpool. Maar hé, dat is alsnog goedkoper dan naar de Malediven vliegen, toch?
Raad ik deze jelly aan? Zeker weten! Hij is echt goddelijk. Een must have in je badkamer. Mocht je dus ooit in Liverpool zijn, vergeet dan niet deze mee te nemen. Of we gaan gewoon heel hard hopen dat ze ze ook in de webshop gaan verkopen ooit..

Lush Bongo Shower Jelly kost £5.50 en bevat 100 ml. Hij is alleen in Lush Liverpool te koop.
6 Responses to Review: Lush Bongo Shower Jelly