Review: Lush Beats Shower Jelly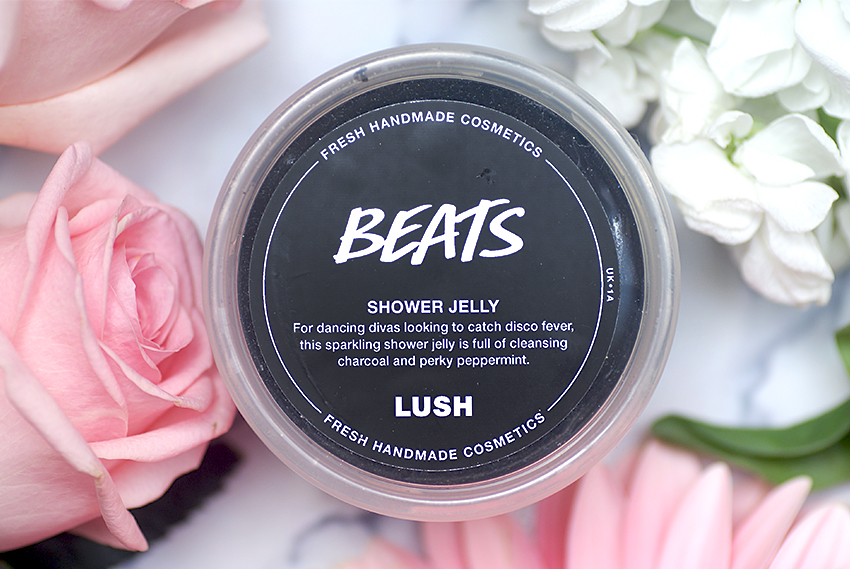 Na Bongo and Conga kon het niet anders dat ik ook Beats mee zou nemen uit Liverpool. Behalve deze is ook Rumba nog te koop, maar aangezien die zijn geur deelt met So White, besloot ik die niet mee te nemen. (Ik haat So White, brrr) Ook heb je nog Gong, deze deelt zijn geur met Golden Pear, maar de Golden Pear shower jelly heb ik al, dus ook die nam ik niet mee. Dan blijft Beats over! En Beats heb ik nu al een paar weken in de douche staan, en inmiddels heb ik er nog een 240 gram pot bij gekocht, dus dat verklapt al wel hoe fijn ik hem vind. Lees je mee?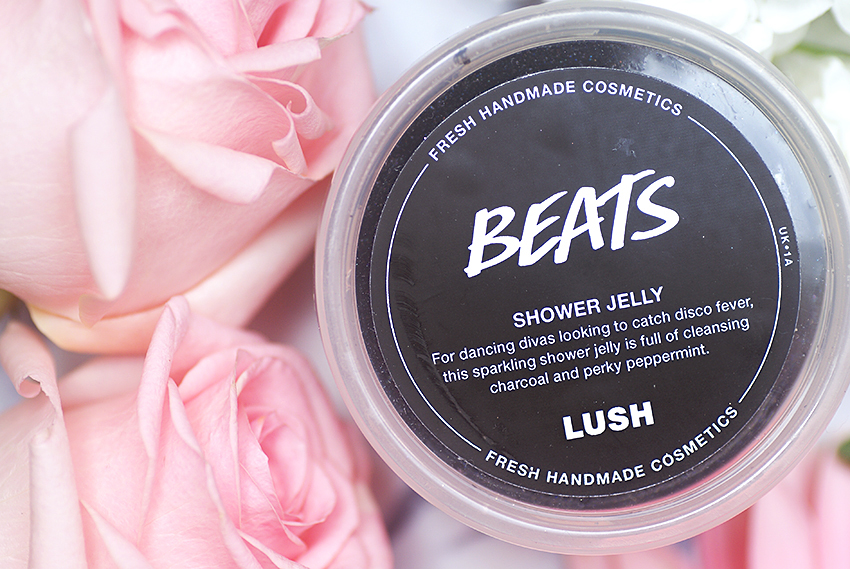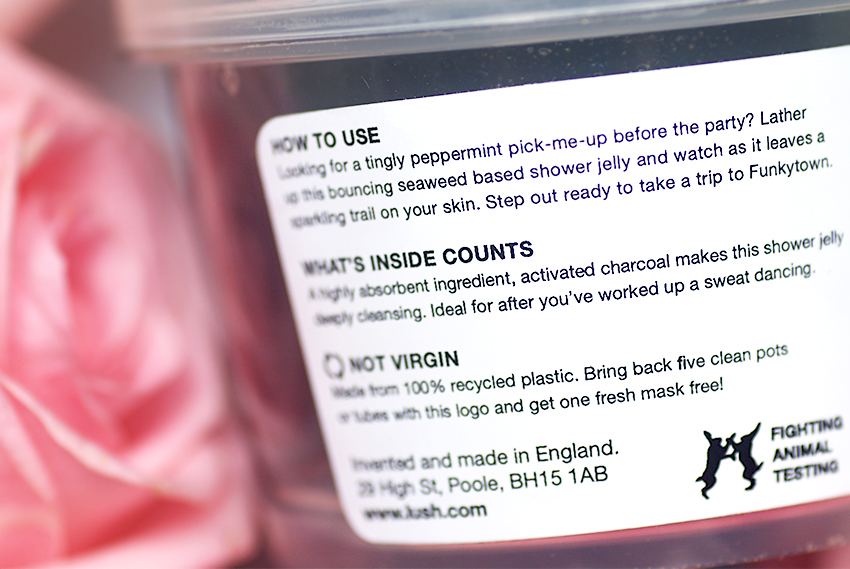 Wat is het?
Lush Beats Shower Jelly is een Liverpool exclusive die nu tijdelijk in de Lush Labs te koop is in de webshop, hier kost hij €13,95 voor 240 gram. In Liverpool kost hij £4.95 voor 100 gram en £9.95 voor 240 gram. Een shower jelly is een product dat je meeneemt in de douche en jezelf mee insmeert. Hij heeft z'n wiebelige structuur te danken aan de glycerine en carragaan extract (zeewier) erin, tevens zijn dit ook twee enorm hydraterende ingrediënten. Je gebruikt hem in één geheel, of snijd er een stukje van af — er zijn diverse manieren waarop je een Lush jelly kunt gebruiken.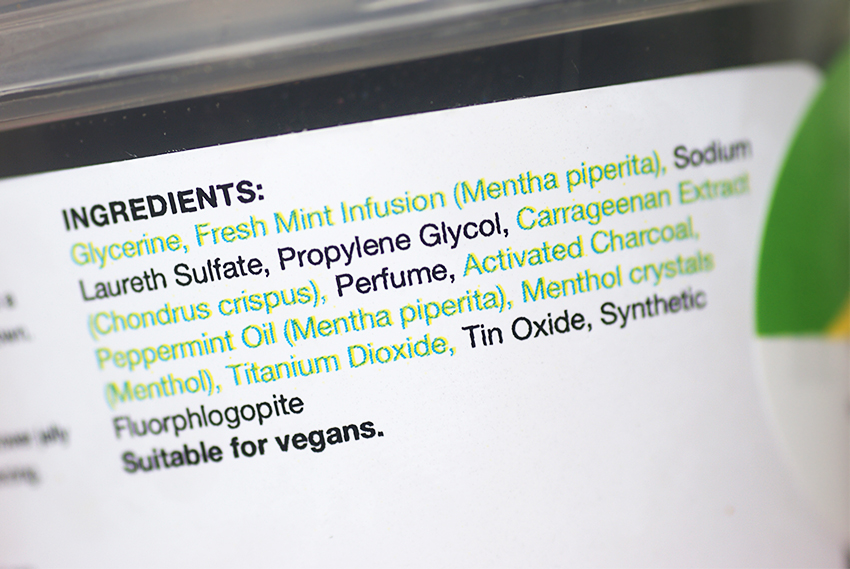 Wat zit erin?
Ingrediënten: Glycerine, Verse Muntinfusie, Natrium Laureth Sulfaat, Propyleen Glycol, Carrageenextract, Parfum, Geactiveerde houtskool, Pepermuntolie (Mentha piperita), Menthol Kristallen (Menthol), Titanium Dioxide, Tinoxide, Synthetische Fluorflogopiet
Beats is een prachtige jelly, hij doet me denken aan Sweetie Pie. Hij is zwart met regenboog-glittertjes erin, vooral in de zon is dit liefde op het eerste gezicht. Ik zei al dat hij z'n structuur te danken heeft aan glycerine en carragaan extract (zeewier) erin, maar verder bevat hij ook munt, houtskool en pepermunt. Hierdoor heb je waarschijnlijk al een idee van de geur — zeer fris en muntachtig. Toch is het niet alsof je een blik pepermuntjes hebt opengetrokken, hij is iets zoeter dan dat.
Van alle drie de Liverpool jellies, vind ik Beats het lekkerste. De geur is gewoon verrukkelijk, van mij mogen er meer producten met deze geur komen. Ideaal voor warme dagen, de geur is enorm verfrissend en opwekkend. Gooi je jelly eventjes in de koelkast, óf in de vriezer als je durft — dan kan het genieten op een hete zomerdag helemaal beginnen.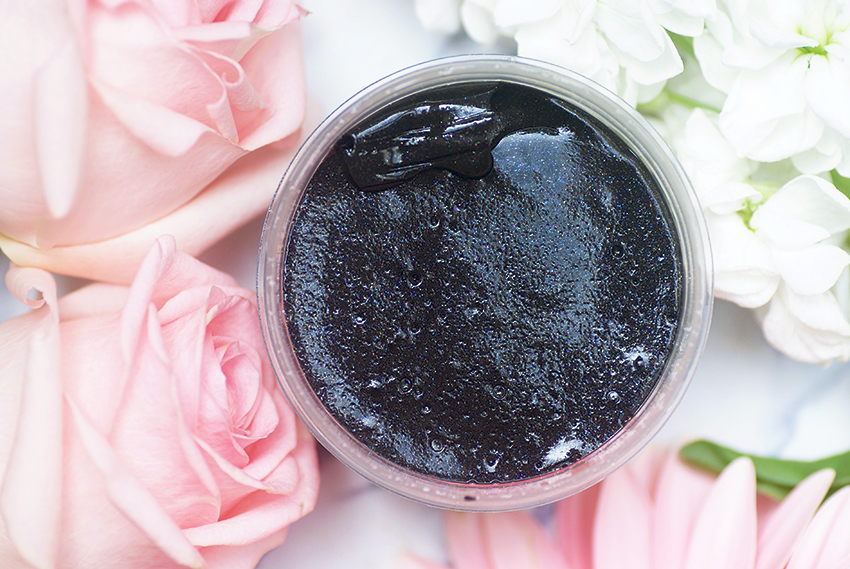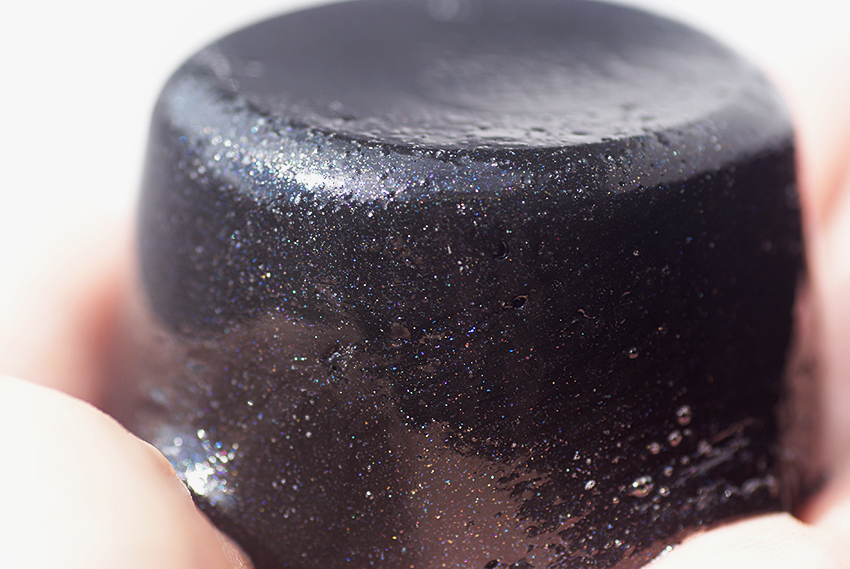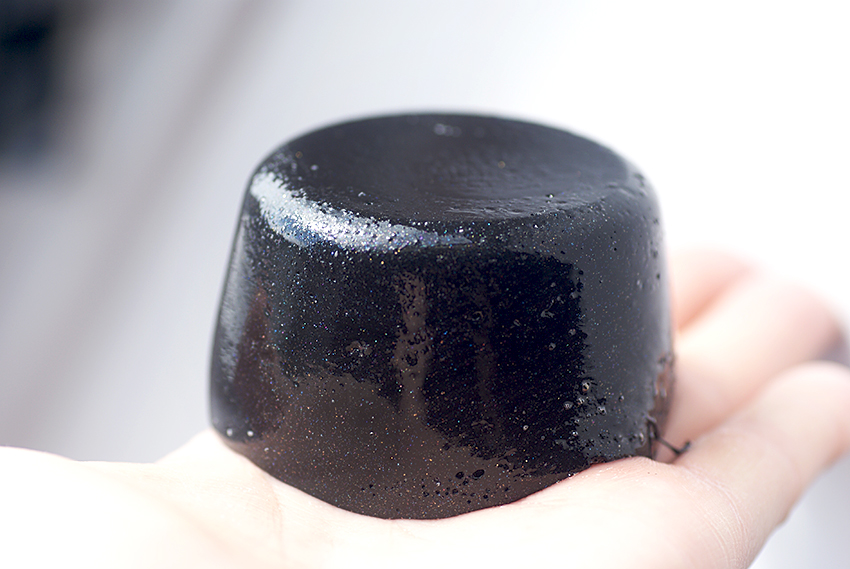 Mijn ervaring
Ik ben natuurlijk heel benieuwd of al die leuke glittertjes ook achterblijven op m'n huid na het douchen. Als ik hem een paar keer over m'n natte huid wrijf, begint hij steeds meer substantie af te geven. Nog eventjes kort onder de straal en hij begint goed te schuimen, hiermee smeer ik me vervolgens nog een goed in. De geur is tijdens het douchen goed aanwezig, heerlijk. Na afloop voelt m'n huid zijdezacht aan, lijkt het meer te glansen en ruikt het subtiel naar zoete pepermunt. Ik zie geen achtergebleven glittertjes op m'n huid, goed nieuws voor mensen die niet gehuld willen worden in glitters. (Kennelijk bestaan die??)
Beats is heerlijk en ik ben ontzettend blij dat ik nog een grote pot heb bijgekocht. De geur is geweldig, hij ziet er prachtig uit en heeft een fijne werking op de huid. Ook leuk dat Beats m'n huid een glow lijkt te geven, ditzelfde zag ik ook toen ik Conga jelly had gebruikt. Kennelijk is zeewier gewoon een oppepper voor de huid! Zo, en dan ga ik nu verder met duimen dat Lush hier meer producten van uitbrengt. Duimen jullie mee? 😍

Lush Beats Shower Jelly kost €13,95 en bevat 240 gram. Hij behoort tot de vaste collectie.
2 Responses to Review: Lush Beats Shower Jelly