Review: Lush Rudolph Nose Shower Bomb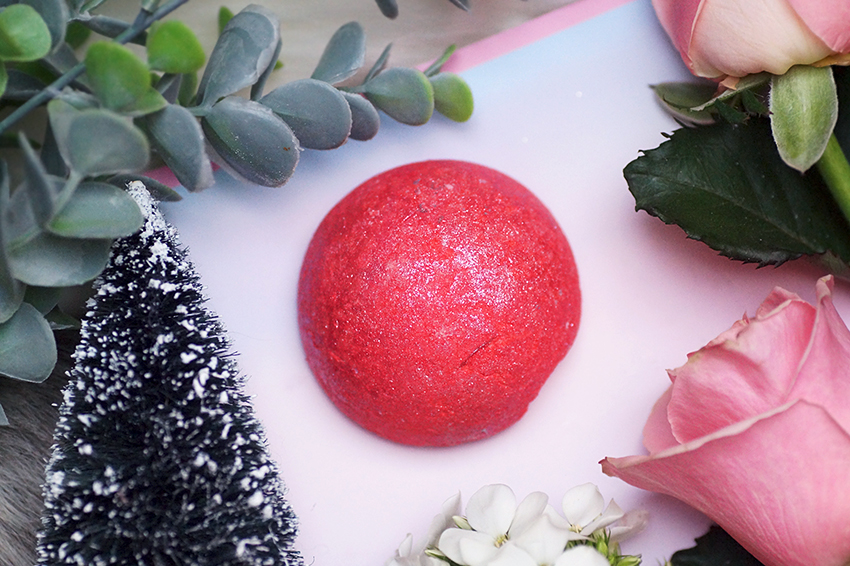 Hoe koud het buiten ook is, er is altijd wel een Lush product om je mee op te warmen. De shower bomb die ik vandaag ga reviewen, is er zo eentje. Boordevol heerlijke, kruidige oliën en een geur waar de meest ijzige zielen van opwarmen. Aangezien ik het altijd erg leuk vind om de shower bombs te gebruiken en te testen, verliet ik enthousiast de Lush winkel met drie shower bombs rijker. Ben je benieuwd hoe ik deze shower bomb vind, lees dan verder!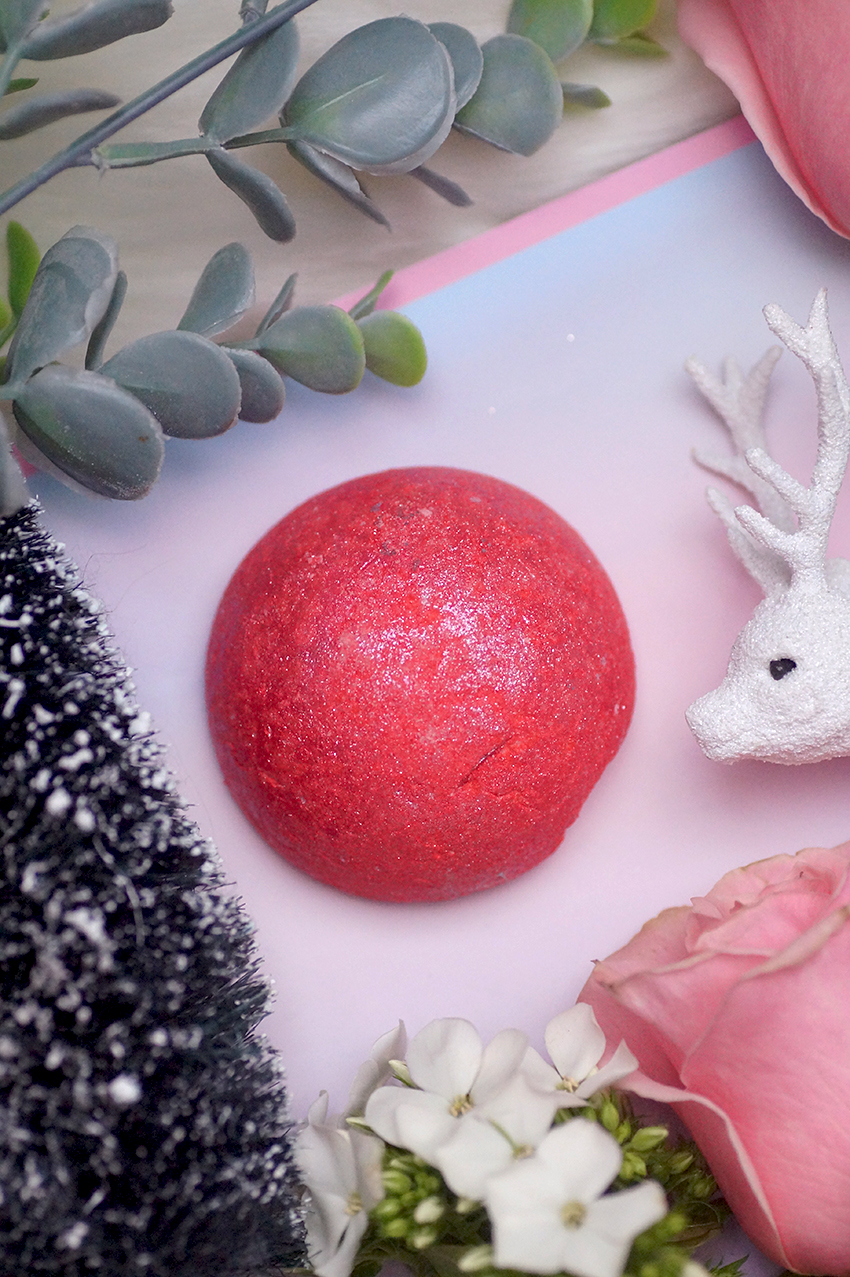 Wat is het?
Lush Rudolph Nose Shower Bomb kost €3,00 per stuk en is onderdeel van de Kerstcollectie. Het is één van 3 nieuwe shower bombs, samen met Snowman Nose en Polar Bear Nose. De shower bombs zijn allemaal iets groter dan de gemiddelde shower bombs lijkt wel, vooral Rudolph is vrij groot. Je kunt hier makkelijk drie keer mee doen. Je kunt hem vooraf in stukken snijden, of na gebruik ergens droog wegleggen.
Een shower bomb is een product dat je meeneemt in de douche en onder de straal houdt. Wanneer hij in aanraking komt met water, begint hij weldadig te schuimen. Dit schuim schep je er van af en daarmee smeer je jezelf in. Schuim is eigenlijk niet het juiste woord, het is meer een dik, zacht foam — een mousse. Als je het schuim eraf hebt gepakt, houd je hem weer eventjes onder de straal zodat hij weer gaat schuimen. Met de meeste shower bombs doe je meerdere keren, afhankelijk van hoe royaal je jezelf insmeert — maar de bedoeling volgens Lush is om hem in één keer op te maken. Het product is naked, het heeft dus geen verpakking.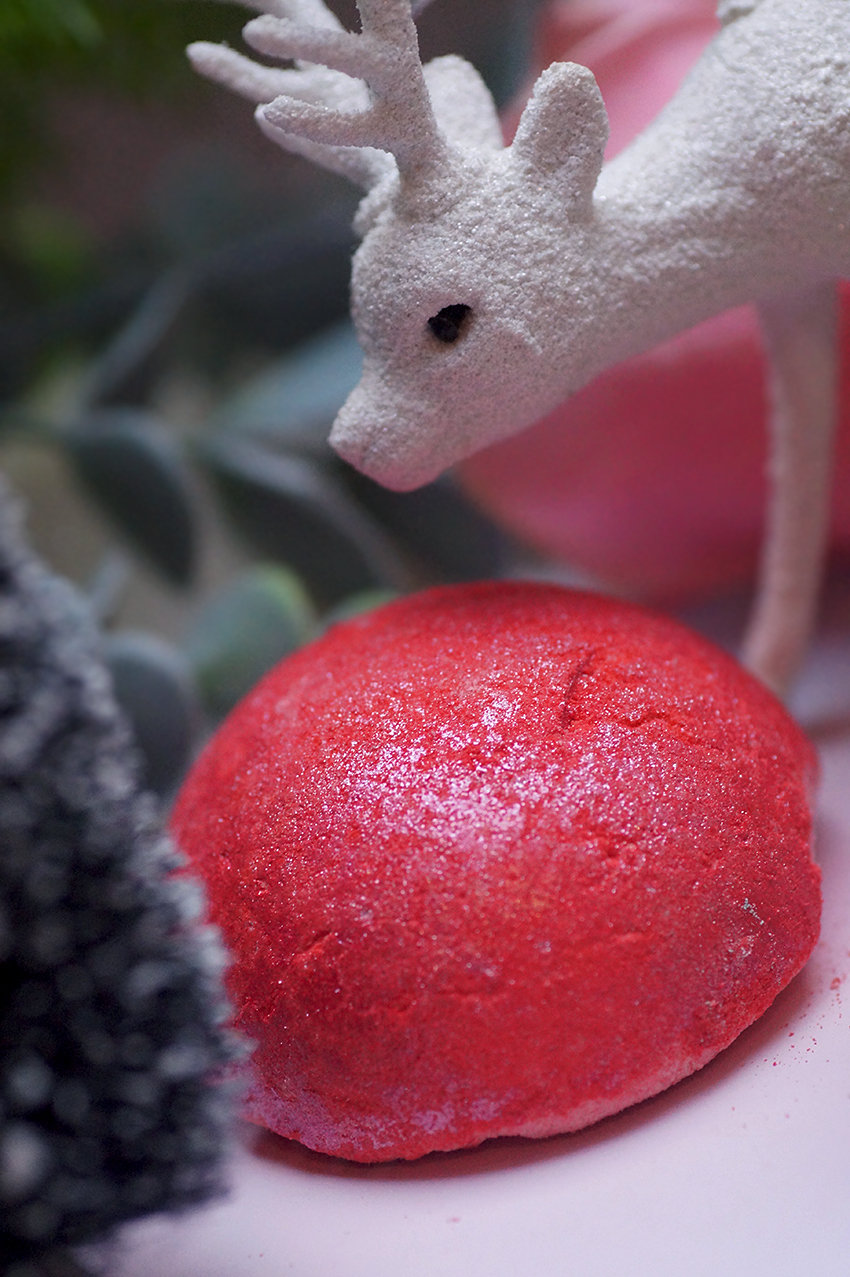 Wat zit erin?
Ingrediënten: Natrium Bicarbonaat (Sodium bicarbonate), Wijnsteenzuur (Potassium bitartrate), Citroenzuur (Citric acid), Aardappelzetmeel, Natrium Laureth Sulfaat, Calciumlactaat gluconaat, Natriumalginaat, DRF-alcohol, Cocamidopropyl-betaïne, Cederhoutolie, Kamferhoutolie (Cinnamomu camphora), Siciliaanse Citroenolie (Citrus limonum), Etherische Amandelolie (Prunus amygdalusl amara), Water (Aqua), Titanium Dioxide, Tinoxide, Synthetische Fluorflogopiet, Alpha-isomethyl-ionone, *Citronellol, Coumarine, *Eugenol, *Geraniol, *Limonene, *Linalool, Parfum, Kleurstof 14700 (CI 14700), Kleurstof 77491 (Cl 77491), Kleurstof 45410 (CI 45410)
Rudolph Nose bevat cederhoutolie, kamferhoutolie, citroenolie en amandelolie. Cederhoutolie is antiseptisch, helpt de talgproductie te balanceren en heeft een reinigende werking op de huid. Kamferhoutolie heeft een bloemig en houtachtig aroma, wat ideaal is om te ontspannen. Citroenolie reinigt de huid dankzij de aanwezige alha-hydroxyzuren, is anti-bacterieel, verheldert de huid en verfrist huid en geest. Amandelolie verzorgt, verzacht en kalmeert de huid.
De geur is heel kruidig en rokerig, een vrij zware geur. Het is wel een typische winterse geur, dus perfect voor koude dagen om even goed op te warmen. De geur lijkt trouwens héél sterk op Cherry Blossom bubble bar, die naar een combinatie van kersen en amandelen ruikt. Hoewel die ook nog wat van roos in de geur heeft, lijkt Rudolph Nose er heel erg op. Rudolph Nose is alleen iets minder zoet, en ietsje meer kruidig.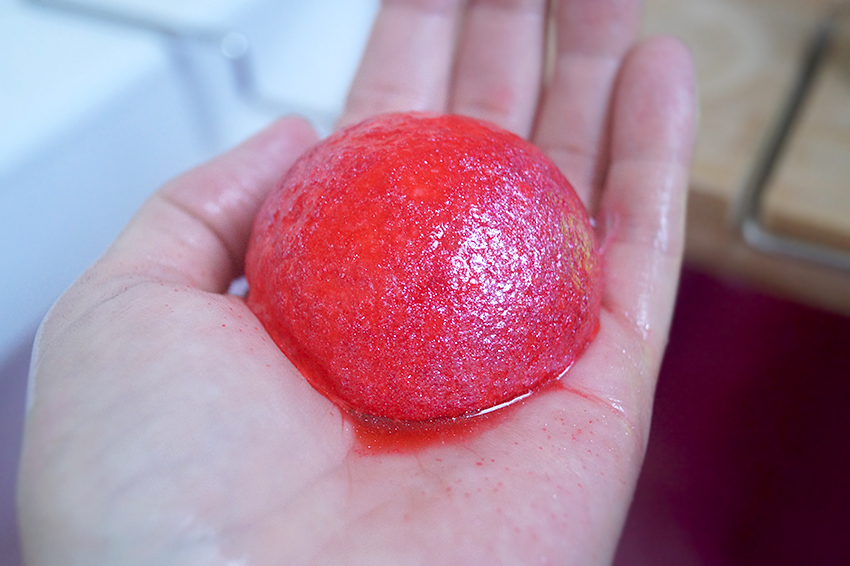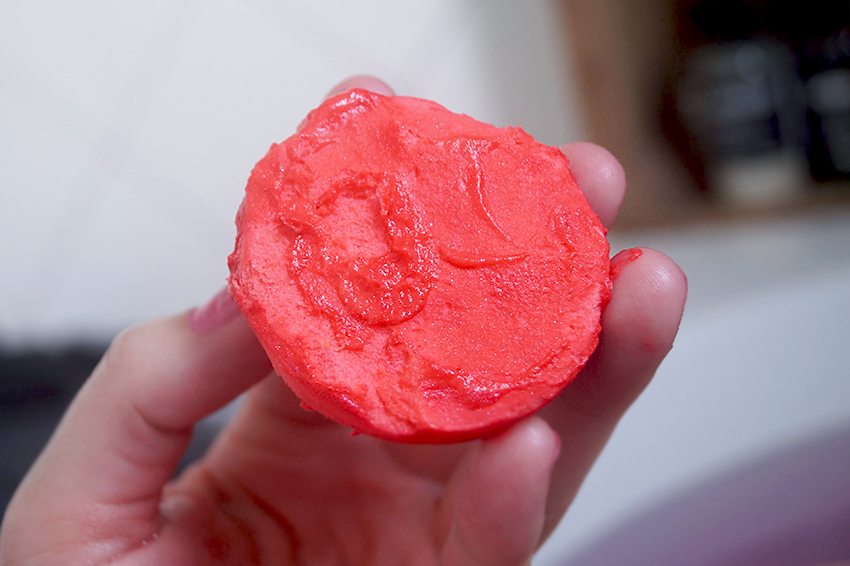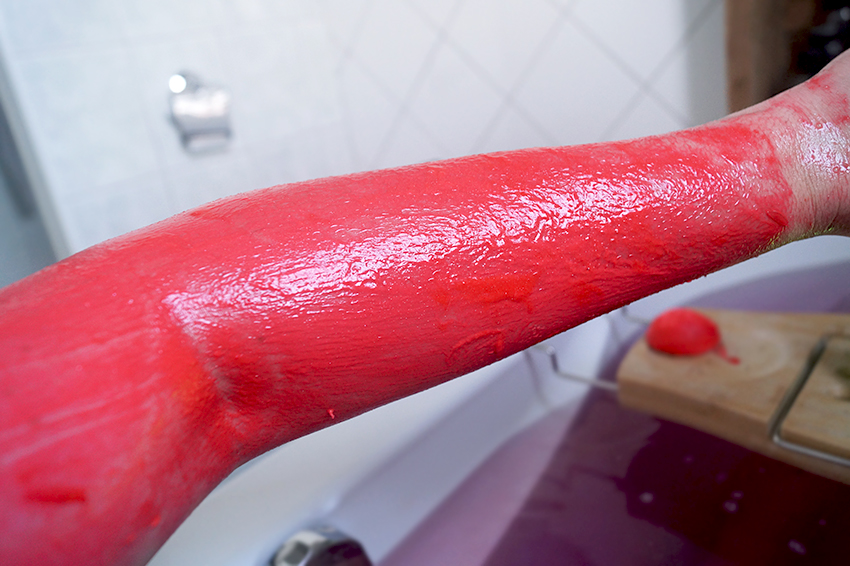 Mijn ervaring
De shower bomb heeft een prettige vorm en houdt daarom ook makkelijk vast. Hij glijdt moeiteloos over de huid en laat een dik, rood schuim achter. (Naarmate je hem vaker gebruikt, lijkt de shower bomb en dus ook het schuim steeds meer roze te worden!) Het is een zachte, romige mousse die je nu kunt uitsmeren over de huid. Ik vind dat de geur wel iets sterker had gemogen, hij is nu heel subtiel te ruiken.
M'n huid voelt na afloop zijdezacht aan, maar ook heel glad, alsof hij een goede scrub beurt gehad heeft. Wel lijkt hij m'n huid totaal niet te hydrateren, want m'n huid voelt wat droog aan en heeft in bepaald licht ook wat velletjes. Ik moet toegeven dat m'n huid op dit moment sowieso zo droog als een kurk is, gewoon niet grappig meer. Maar juist dan was een beetje hydratatie wel fijn geweest. In dat geval moet ik toch naar een ander product grijpen.. Desondanks vind ik de geur van Rudolph Nose heerlijk en zijn ze erg fijn in gebruik. Ik zou hem niet inslaan, of nogmaals kopen, maar het is zeker leuk jezelf eens te trakteren op dit product. Vooral als het ijskoud is buiten!

Lush Rudolph Nose Shower Bomb kost €3,00. Hij behoort tot de Kerstcollectie.
4 Responses to Review: Lush Rudolph Nose Shower Bomb