Review: Lush Shoot for the Stars Bath Bomb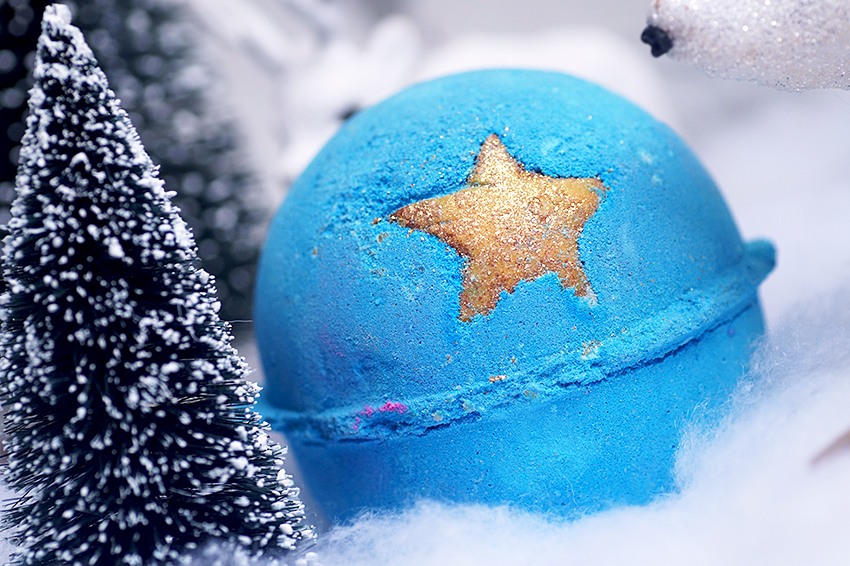 Als je vraagt waarom ik zo dol ben op de Kerstcollectie van Lush, kan ik kort maar krachtig zijn: Golden Wonder en Shoot for the Stars. Deze twee bath bombs zijn dé toppers, al jarenlang, die ik maar al te gretig insla iedere winter. Ik heb er ooit een review over geschreven, maar hij moest toen de review delen met een paar andere bath bombs. Het is nu toch wel tijd voor zijn eigen review. Want als er één bath bomb is die dat verdient, is het SFTS! Lees je mee?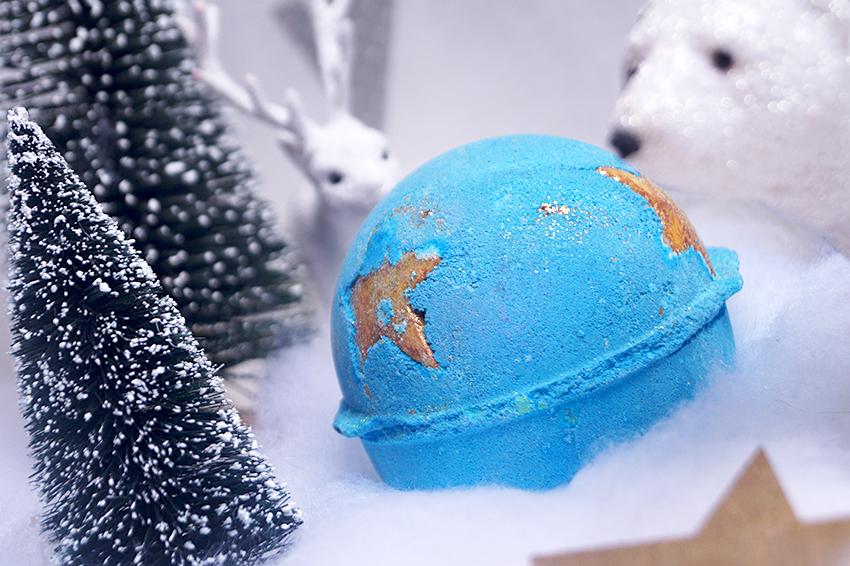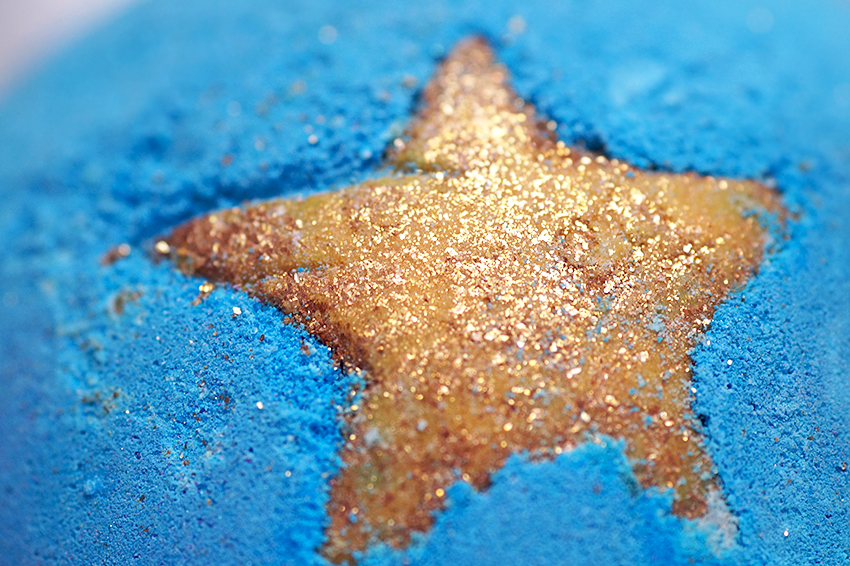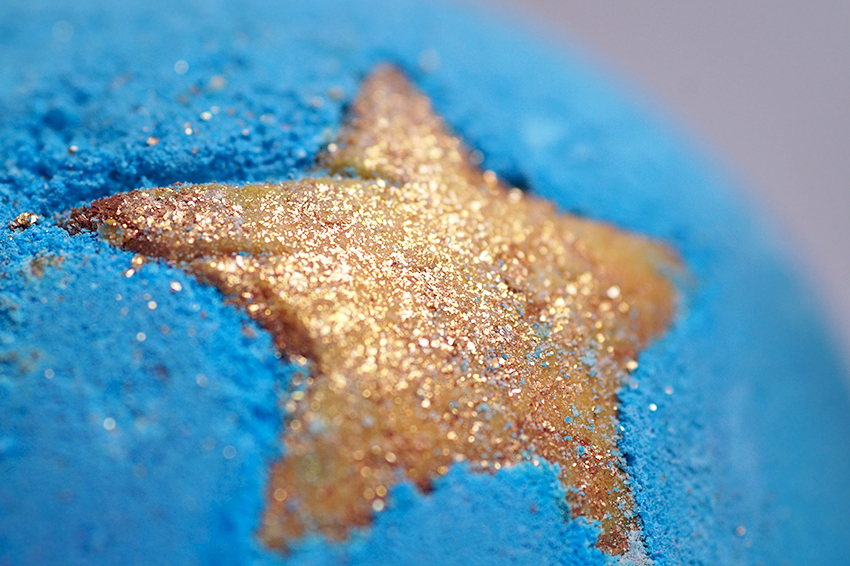 Wat is het?
Ingrediënten: Natrium Bicarbonaat (Sodium bicarbonate), Citroenzuur (Citric acid), Fair Trade en Biologische Cacaoboter, Braziliaanse Sinaasappelolie (Citrus sinensis), Bergamotolie (Citrus aurantium bergamia), Wijnsteenzuur (Potassium bitartrate), Water (Aqua), Gardenia-extract, Kokosnootcrème, Amandelolie (Prunus amygdalus dulcis), Maïszetmeel, Titanium Dioxide, Laureth 4, Natrium Laureth Sulfaat, Laurylbetaïne, Synthetische Fluorflogopiet, Tinoxide Silica, Butylphenyl Methylpropional, Citronellol, *Geraniol, *Limonene, *Linalool, Parfum, Kleurstof 42090:2, Kleurstof 42090, Kleurstof 77491 (Cl 77491), Kleurstof 19140:1(CI 19140:1), Kleurstof 19140
Lush Shoot for the Stars Bath Bomb kost €6,50 en is onderdeel van de Kerstcollectie. Deze felblauwe bath bomb met gouden sterren draait al járen mee in de Kerstcollectie — al sinds 2013. In 2015 had hij nog een ander uiterlijk, donkerblauw met een gele en roze streep, één witte vallende ster en één gele vallende ster. Nu, of nou ja, sinds 2016, is hij helder blauw en bevat hij cacaoboter in de vorm van sterren, zó leuk gedaan!
Hij bevat behalve klonten cacaoboter ook sinaasappelolie, bergamotolie, kokosnootcrème en amandelolie. Heerlijke hydraterende ingrediënten die de huid intens voeden, kortom — perfect voor de winter. Hij heeft de geur van de Honey I Washed The Kids geurlijn, oftewel: romig, zoet en zacht toffee, met een swirl honing, een beetje vanille, en wat karamel. Één van de lekkerste geurlijnen van Lush.
Speel het filmpje af in 2160p kwaliteit en op volledig scherm voor de beste ervaring! Het filmpje speelt zich versneld af.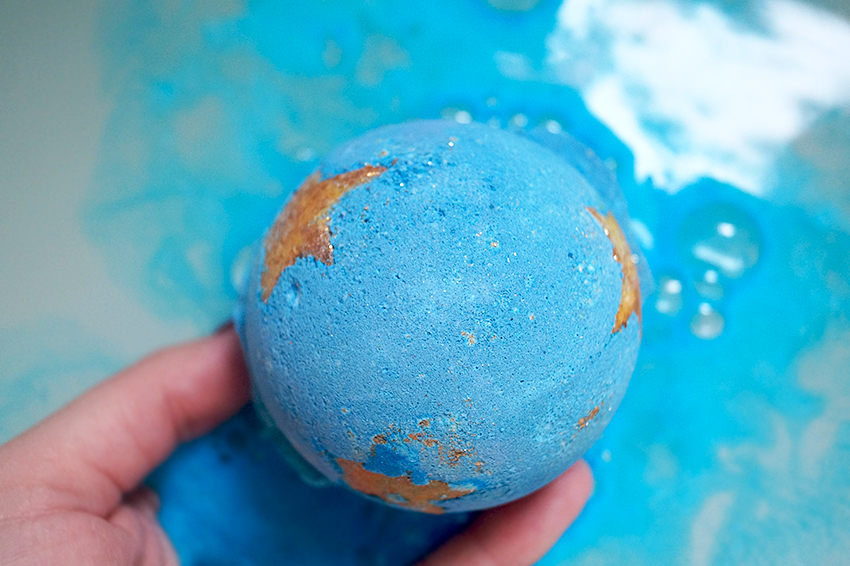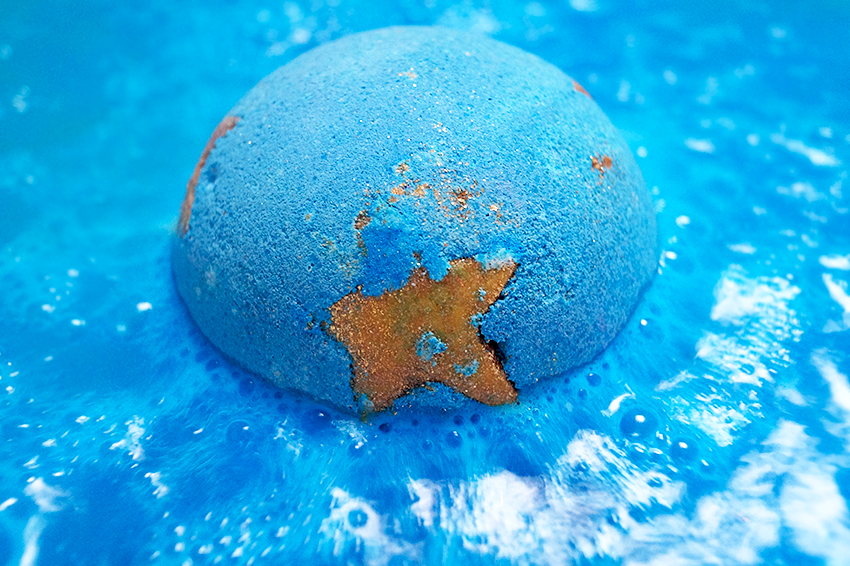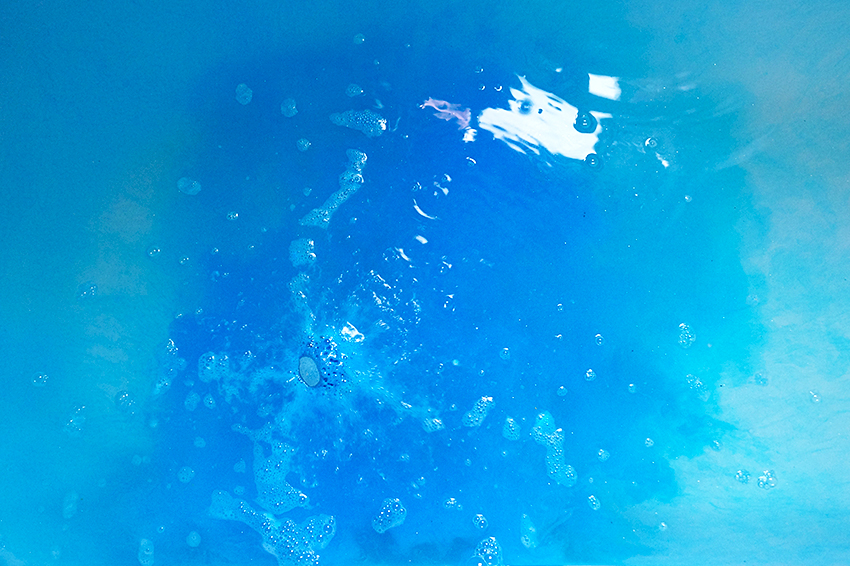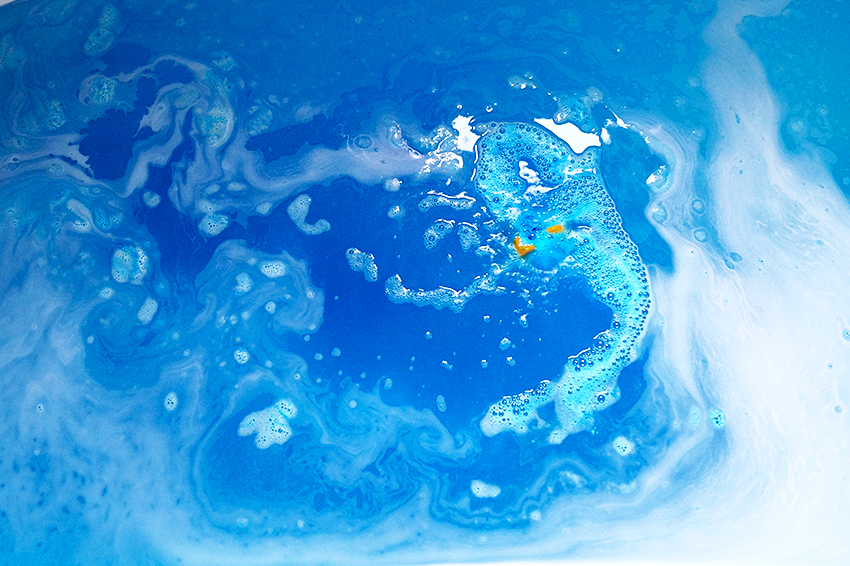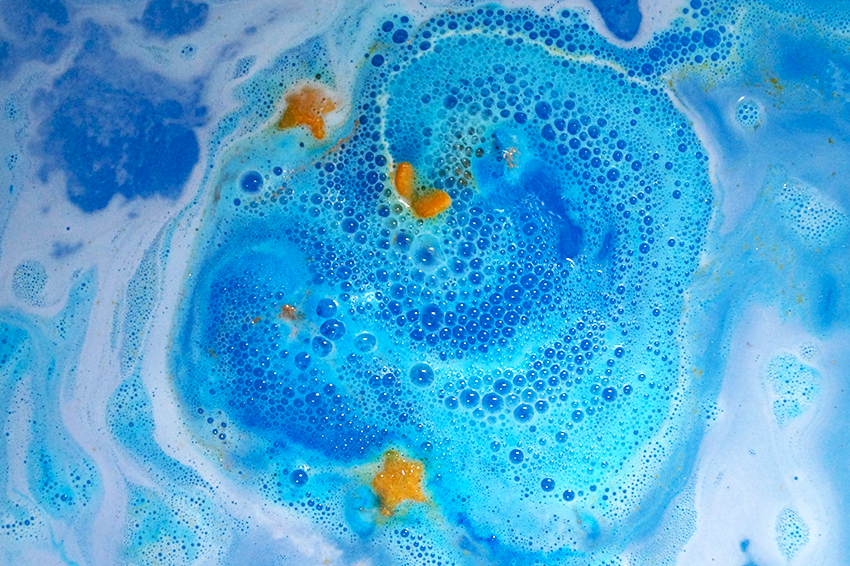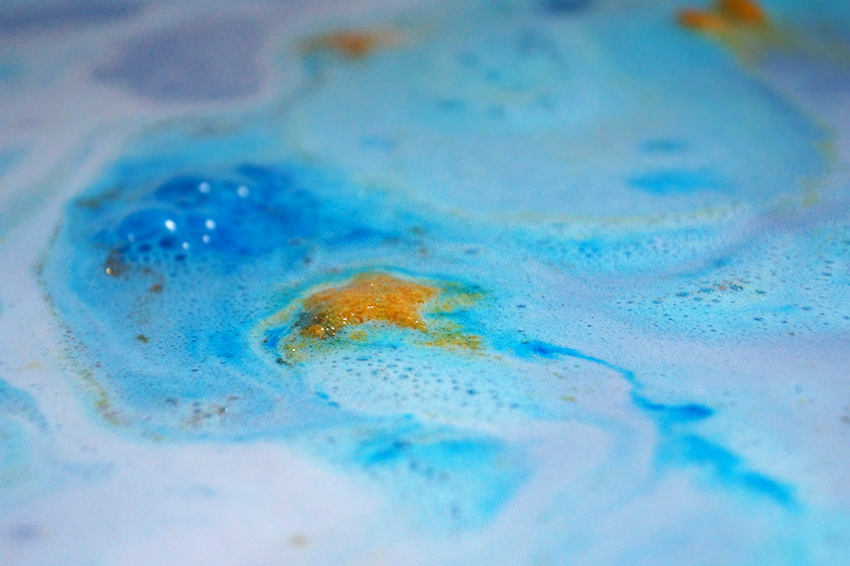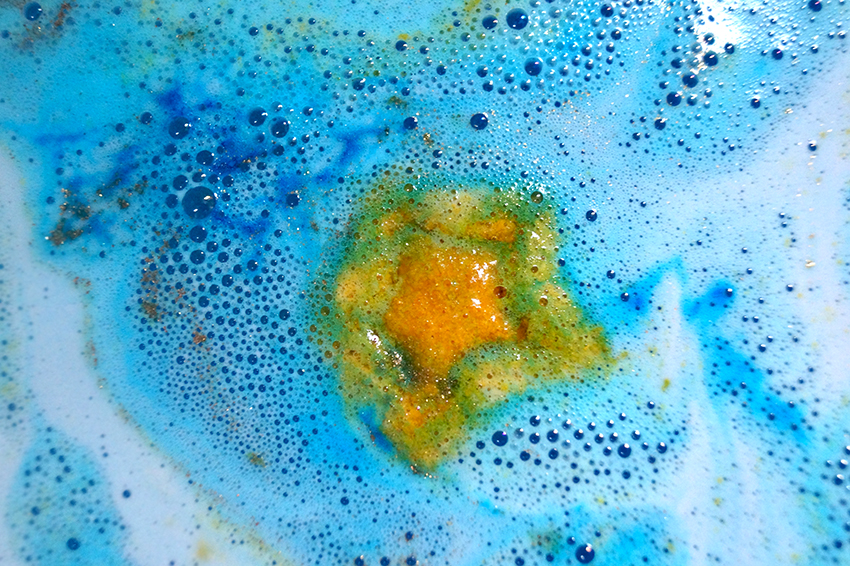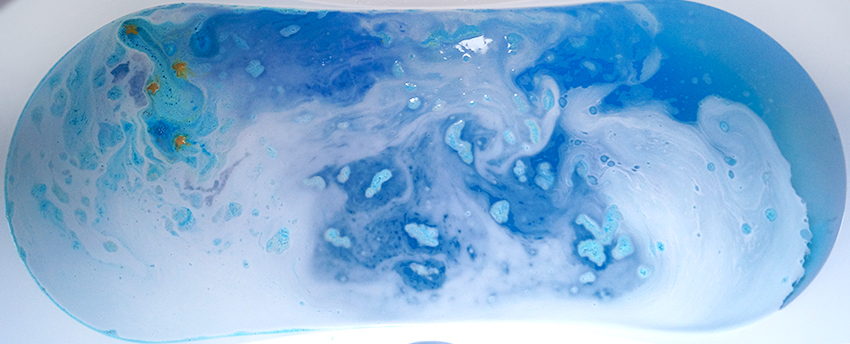 Mijn ervaring
Shoot for the Stars is prachtig in bad. Hij geeft direct veel blauw af, waardoor het water in no time in een prachtige, blauwe kleur verandert. Qua bath art is hij niet heel spectaculair, hij spuwt blauw uit, en daar blijft het bij. Hij is met 4 minuten volledig opgebruist, maar de gouden sterren (gemaakt van cacaoboter) smelten heel langzaam, bijna een kwartier. Zodra die helemaal opgelost zijn, heeft het water een "olievlekjes-laagje" — ik zie allemaal kleine olievlekjes op de oppervlakte liggen. Ook zie ik onder water gouden glitters. De geur is ontzettend goed aanwezig, ik kan hem gedurende het hele bad ruiken.
Na afloop voelt m'n huid licht vettig aan, maar totaal niet vervelend! Het is eerder dat m'n huid heel gehydrateerd aan voelt. Mijn droge huid is hier héél blij mee! M'n hele lichaam heeft een hydratatie-boost gekregen van Shoot for the Stars. Er zit een klein, subtiel gouden glittertje op de huid, maar niet overheersend. Ik kan de geur zeer goed ruiken op m'n huid, alleen is het niet echt de Honey I Washed The Kids geur meer, maar eerder wat vervormd door de warmte van mijn huid. Hoe dan ook, de badkamer ruikt nog úren naar de bath bomb. Normaal houd ik niet zo van smeltende dingen in bad, maar bij Shoot for the Stars is de dosering precies goed.
Dit is een bath bomb dat áltijd een favoriet van me zal blijven. Met de sale ga ik er echt een berg van inslaan. En halen ze hem uit het assortiment, ga ik een rel beginnen. Jullie zijn gewaarschuwd, Lush!

Lush Shoot for the Stars Bath Bomb kost €6,50. Hij behoort tot de Kerstcollectie.
6 Responses to Review: Lush Shoot for the Stars Bath Bomb