Review: Lush Almond Blossom Shower Gel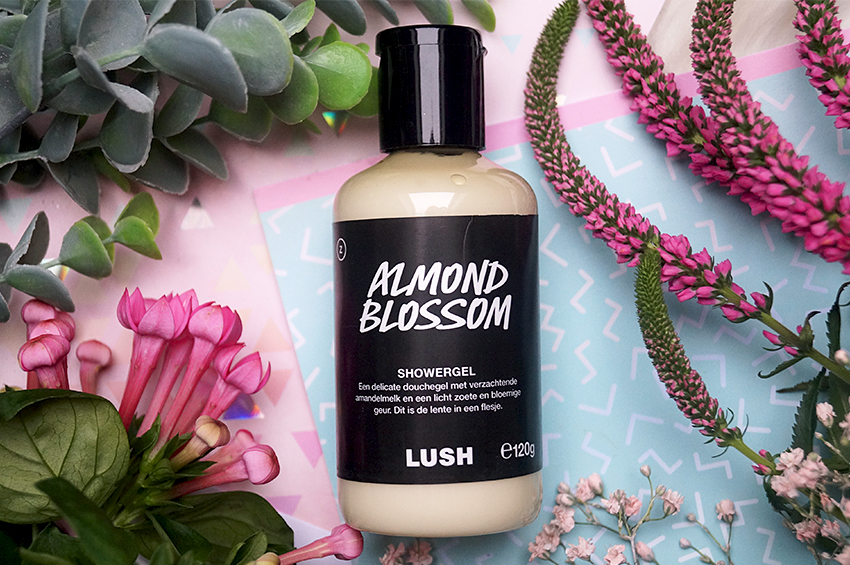 Samen met Nana is deze shower gel nieuw in het assortiment bij Lush. Toch blijkt Almond Blossom geen compleet nieuwe geur te zijn, want hij schijnt naar Snowflake te ruiken! Omdat ik niet heel dol was op Snowflake, besloot ik een klein potje Almond Blossom te kopen. Hoe ik deze douchegel ervaar, lees je vandaag!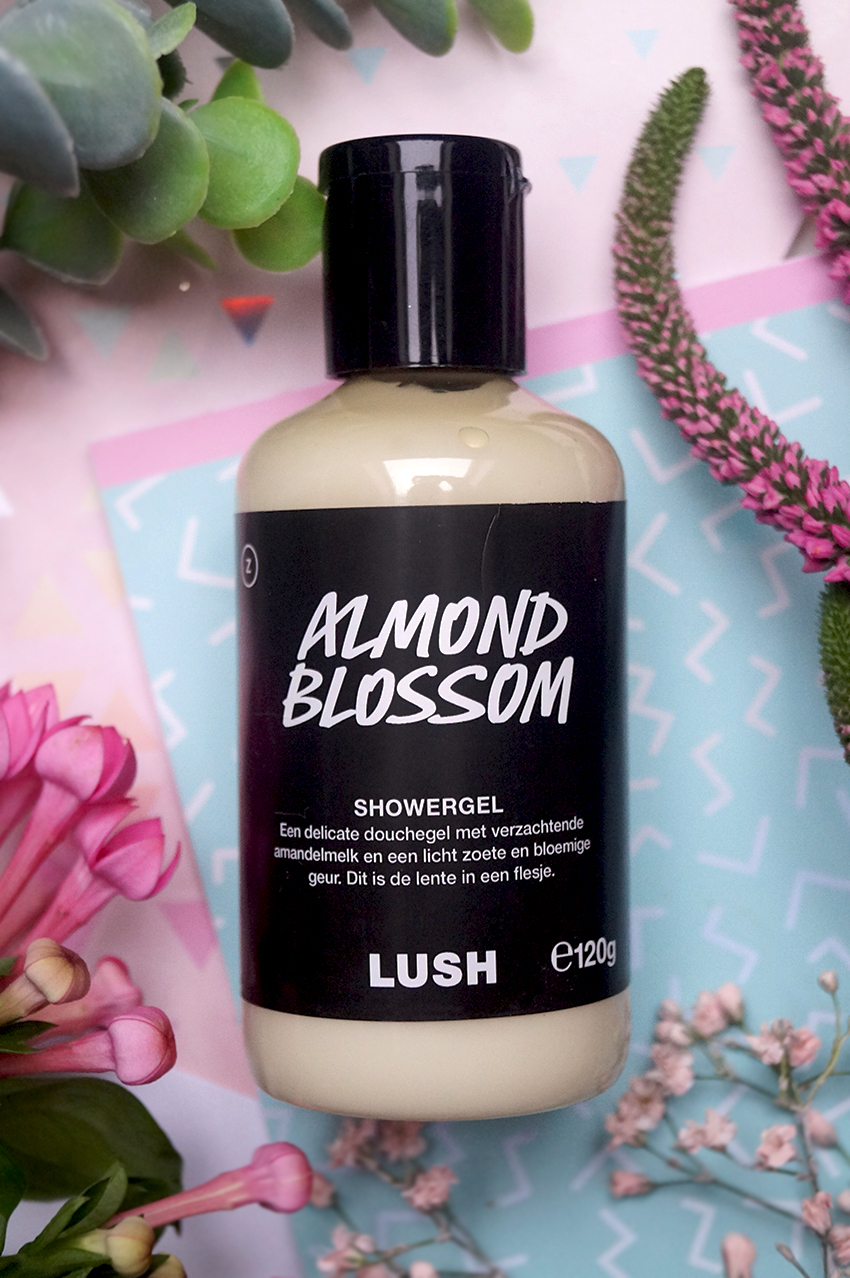 Wat is het?
Lush Almond Blossom Shower Gel kost €18,00 voor 275 gram. Hij is ook verkrijgbaar in 120 gram (€9,00), 575 gram (€30,00) en 1100 gram (€49,00). Tevens is deze er ook in naked versie! Deze shower gel is nieuw in het assortiment, samen met Nana. De douchegel heeft een nieuwe sulfaatvrije en palmolievrije formule, waardoor hij extra zacht voor de huid is. De geur is bekend van de Snowflake body lotion, die afgelopen Kerst te koop was. Momenteel is Almond Blossom het enige product met deze geur te koop.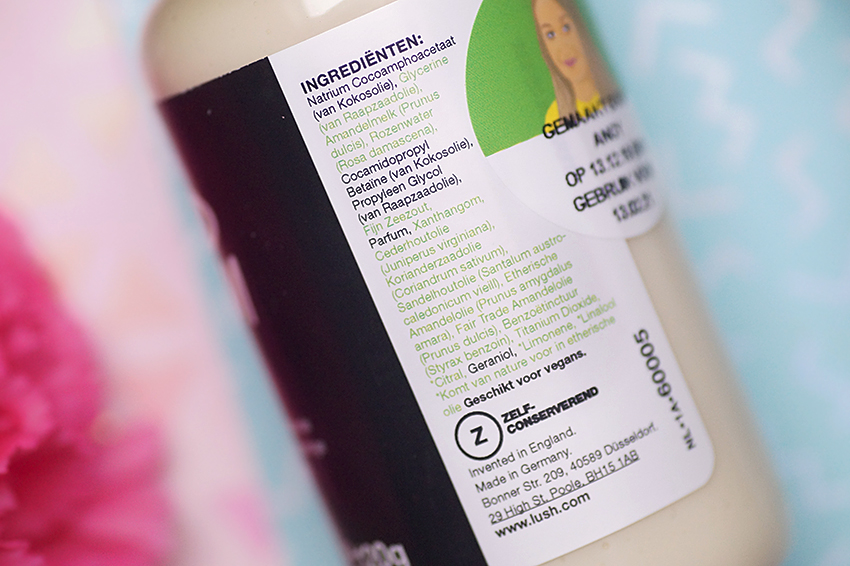 Wat zit erin?
Ingrediënten: Natrium Cocoamfoacetaat (van Kokosolie), Glycerine (uit Raapzaadolie), Amandelmelk (Prunus amygdalus dulcis), Rozenwater (Rose centifolia), Cocamidopropyl-betaïne (uit Kokosolie), Propyleen Glycol (uit Raapzaadolie), Fijn Zeezout (Maris sal), Parfum, Xanthaangom, Cederhoutolie, Korianderzaadolie, Sandalwood Oil, Etherische Amandelolie, Fair Trade Amandelolie, Benzoë-tinctuur (Styrax benzoin), Titanium Dioxide, *Citral, Geraniol (Geraniol), *Limonene, *Linalool
Behalve natrium cocoamfoacetaat (een milder alternatief voor SLS) en glycerine, bevat Almond Blossom (niet geheel verrassend) amandelmelk en amandelolie, rozenwater, fijn zeezout, cederhoutolie, korianderzaadolie, sandelhoutolie en benzoë. Veel hydraterende, maar ook verzachtende en kalmerende ingrediënten. Ik ben benieuwd wat mijn droge huid ervan vindt! Het fijne zeezout erin zorgt voor een zachte huid, dit ervaarde ik bij Nana al.
De geur
Hoewel ik geen fan was van Snowflake, vind ik Almond Blossom héérlijk. Het is een zachte, bloemige geur waarin de amandel erg goed te ruiken is. Toch is dit niet één en al amandel, want hij heeft echt een basis van bloemige noten. De aanwezigheid van de roos is te ruiken, maar tegelijkertijd wordt de algehele geur iets warmer gemaakt door de cederhout en sandelhout. De geur is warm, zacht, romig, met fleurige noten van bloemen en amandel.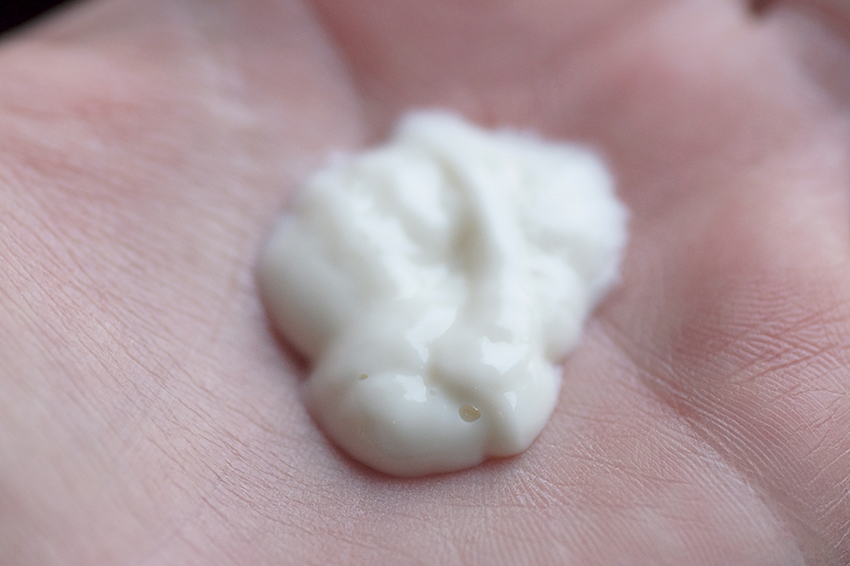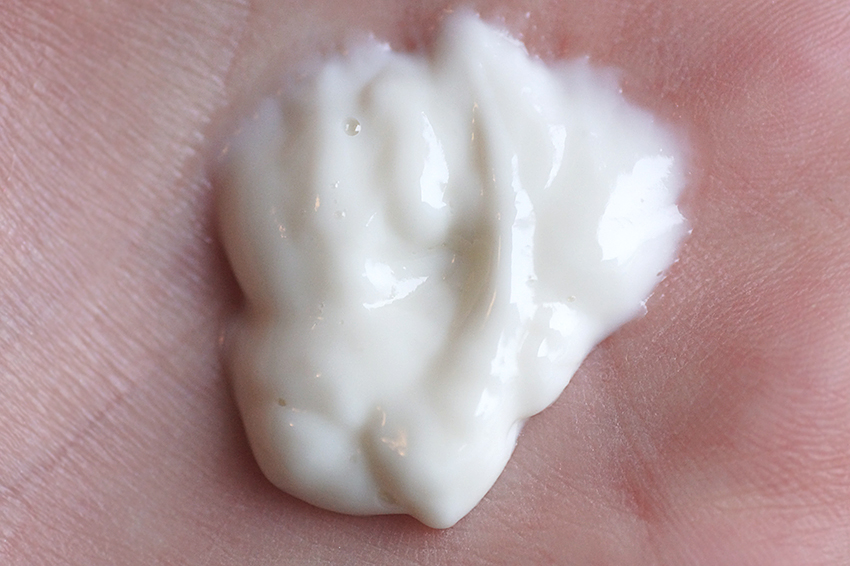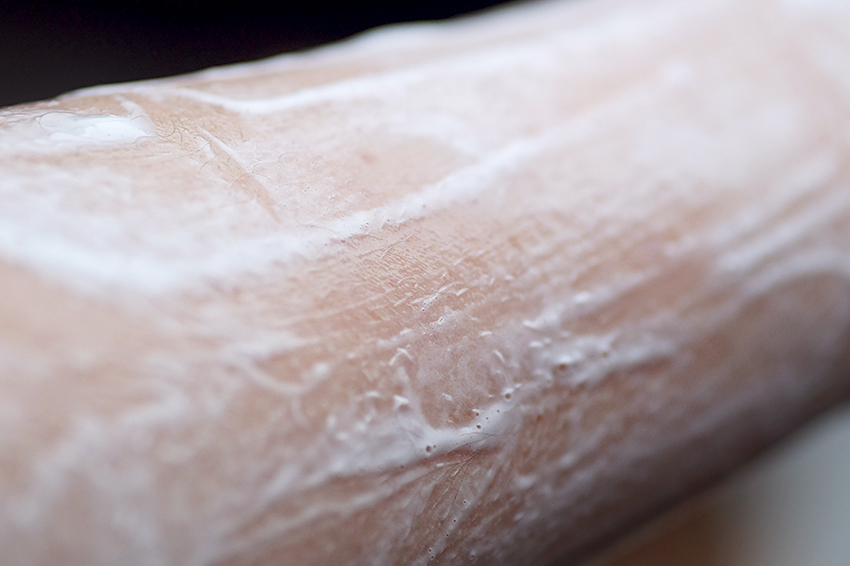 Mijn ervaring
De consistentie van de douchegel is precies zoals die van Nana — een kruising tussen een shower gel en shower slime. Vrij dik en slijmerig. Toch is hij in de douche goed uit te smeren over de huid en ontstaat er door de wrijving een heerlijke dik, luxe en romig schuim. De geur komt helemaal tot leven en ik ruik nu veel beter de amandelen dan rechtstreeks uit het flesje. De geur is warm en hout-achtig, met de amandelen die overheersen — op de goede manier! Wat een heerlijke geur is dit om mee te douchen, of het nu 's ochtends of 's avonds is, de geur is eentje die altijd goed is. Doordat de shower gel vrij geconcentreerd is, heb je niet veel nodig om veel schuim te produceren.
Na afloop voelt m'n huid zijdezacht aan en ziet m'n huid er ook een stuk minder droog uit. Schilfers zijn minder zichtbaar en de huid voelt soepeler en meer elastisch. Een likje body lotion kan alsnog geen kwaad, maar voor een shower gel vind ik dit al erg indrukwekkend. De geur is me alles mee gevallen, hij is echt heerlijk. Had ik hier maar een grotere fles van gekocht, en van Nana een kleinere! Lush omschrijft deze geur als 'lente in een flesje', en dat klopt wel aardig. Het is in ieder geval een vrolijke en fleurige geur, en de douchegel zelf is in staat om onze droge winterhuidjes een oppepper te geven, dus dat is ook wel tof.
Ik weet niet of ik een grotere fles ga kopen, want ik heb al heel veel douchegels staan. Maar zal hij op gaan? Dat sowieso! Ik ga hem een mooi plekje geven op het 'dit gebruik ik dagelijks'-rekje in de douche.

Lush Almond Blossom Shower Gel kost €9,00 en bevat 120 gram. Hij behoort tot de vaste collectie.
6 Responses to Review: Lush Almond Blossom Shower Gel