Review: Lush Noni I Washed The Kids bodylotion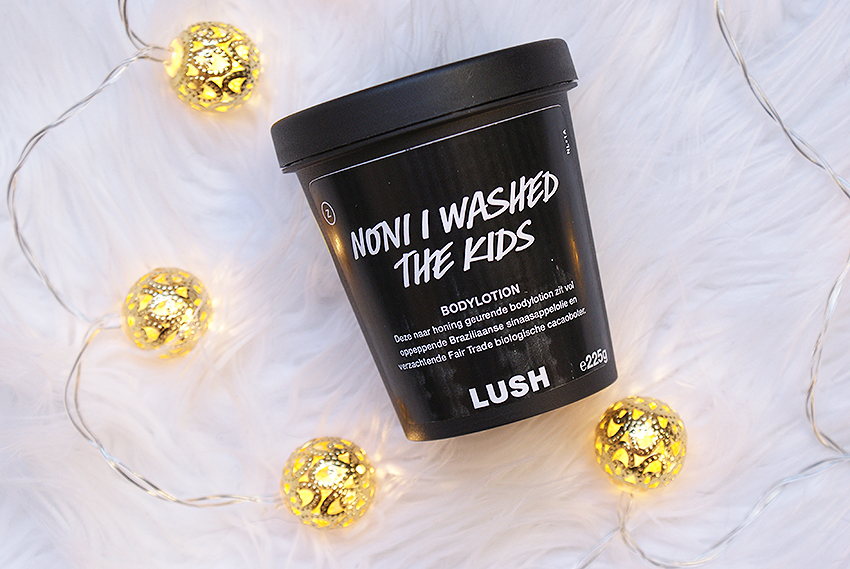 Na mijn, toch niet zo positieve, ervaring met Yog Nog bodylotion, zat ik vol hoop dat deze wel lekker zou zijn qua geur. Toen ik hem bestelde, dacht ik vanwege zijn naam, dat hij op Honey I Washed The Kids zou lijken qua geur. En gelukkig lijkt hij daar ook erg op, maar dan zonder de honing! Vandaag laat ik je kennismaken met deze bodylotion.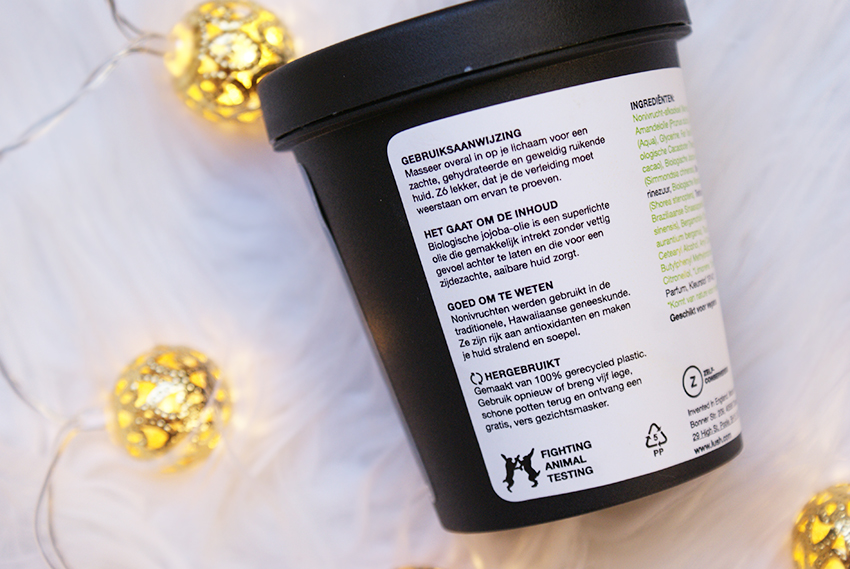 Lush Noni I Washed The Kids bevat 225 gram en kost €21,95. Dat lijkt duur, maar hij is erg zuinig in gebruik. Je hebt een klein beetje nodig van dit product. De geur zou op Honey I Washed The Kids moeten lijken. Dat klopt ook aardig, het enige verschil is dat HIWTK honing bevat en daardoor niet veganistisch is. NIWTK schopt de honing aan de kant en bevat daarentegen nonivrucht.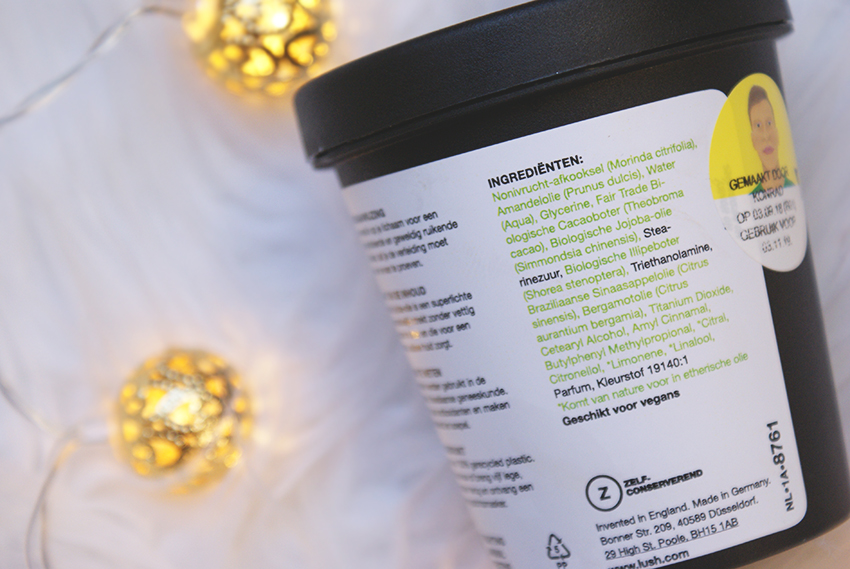 Het hoofdingrediënt is nonivrucht afkooksel, dit ingrediënt zorgt voor een stralende en soepele huid. Gevolgd door amandelolie, water en dan glycerine — op water na is alles hydraterend. Er zit flink wat cacaoboter in voor de hydratatie en elasticiteit van de huid. Verder bevat het jojoba-olie, illipeboter, braziliaanse sinaasappelolie en bergamotolie (voor zowel het bepalen als de geur als het soepel houden van de huid). Onderaan de lijst zie ik parfum, dus er zit daar een heel klein beetje van in.
De cacaoboter en illipeboter zorgen voor een stevige substantie, eentje die licht plakkerig op je huid achterblijft. Echter is dit met een half uur volledig ingetrokken. Maar geen aanrader vlak voor het slapen dus!
De geur.. het is net de befaamde Honey I Washed The Kids. Hij is heerlijk warm en zoet. Je ruikt de fruitige tonen, maar die worden overheerst door warme tonen. Dat maakt een heerlijke combinatie! Hij ruikt aardig goed naar honing en toffee – ook al zit dat er niet in! Good job dus, Lush. Je ruikt gewoon dat hij heerlijke romig is. Als je van warme, zoete (denk aan vanille, toffee, boterachtig) geuren houdt, dan is dit zeker een match voor je.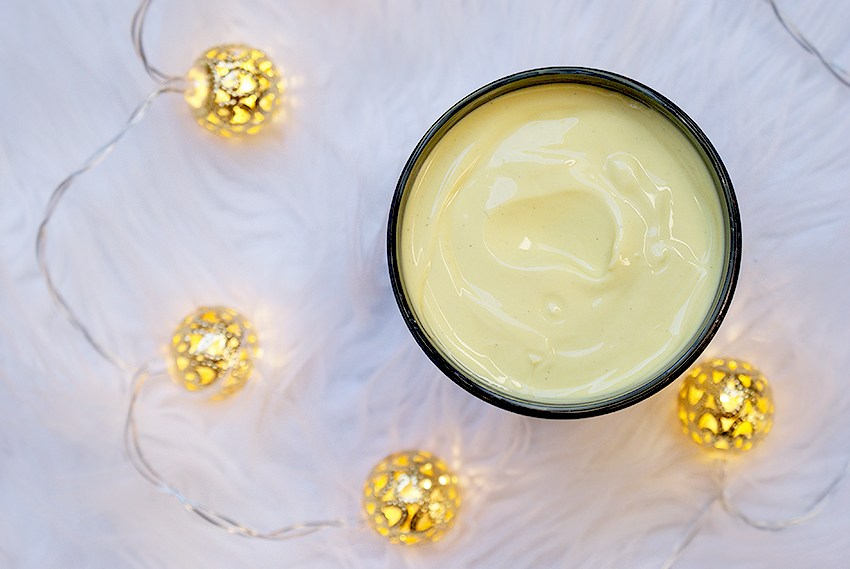 Hoewel het enige minpuntje is, is dat hij niet heel snel intrekt, vind ik het toch een geweldige bodylotion. De geur is hemels en romig — bijna om op te eten. Ik merk dat m'n huid veel baat heeft bij deze romige, volle substantie. M'n huid blijft urenlang zacht en soepel en ik ruik de geur nog een paar uur lang. Als je het mij vraagt, is dit echt een aanrader. En uiteraard dé must have voor HIWTK liefhebbers 😊
Lush Noni I Washed The Kids bevat 225 gram en kost €21,95. De bodylotion is veganistisch.
8 Responses to Review: Lush Noni I Washed The Kids bodylotion