Review: Lush Naked Attraction Massage Bar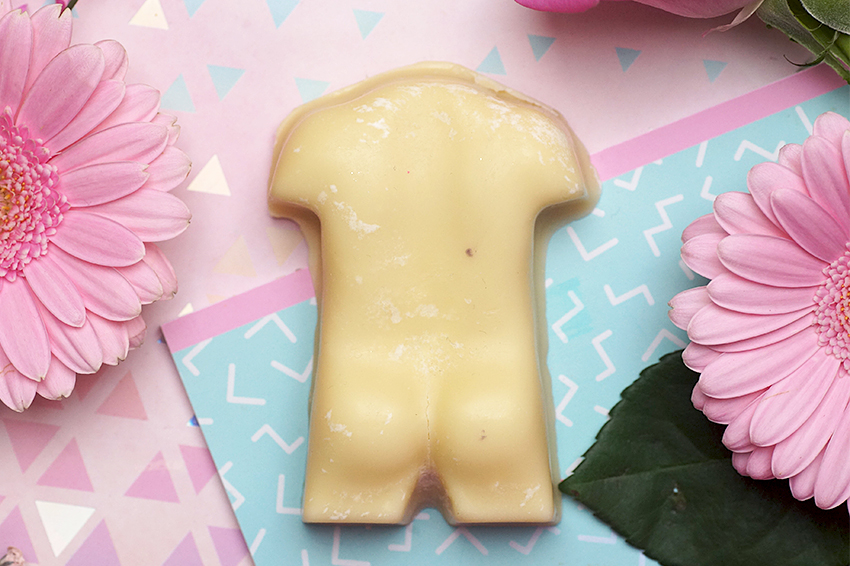 Lush heeft weer een naughty Valentijnsdag collectie gelanceerd, waaronder deze blote meneer met zijn ronde billen. Nu ben ik niet iemand die echt een massage bar gebruikt (sorry, verloofde van me) maar ook niet als body butter voor m'n eigen droge poten. Maar omdat er nog al wat vraag was voor een review, besloot ik hem toch maar in m'n winkelmandje te mikken. Vandaag lees je wat ik ervan vind!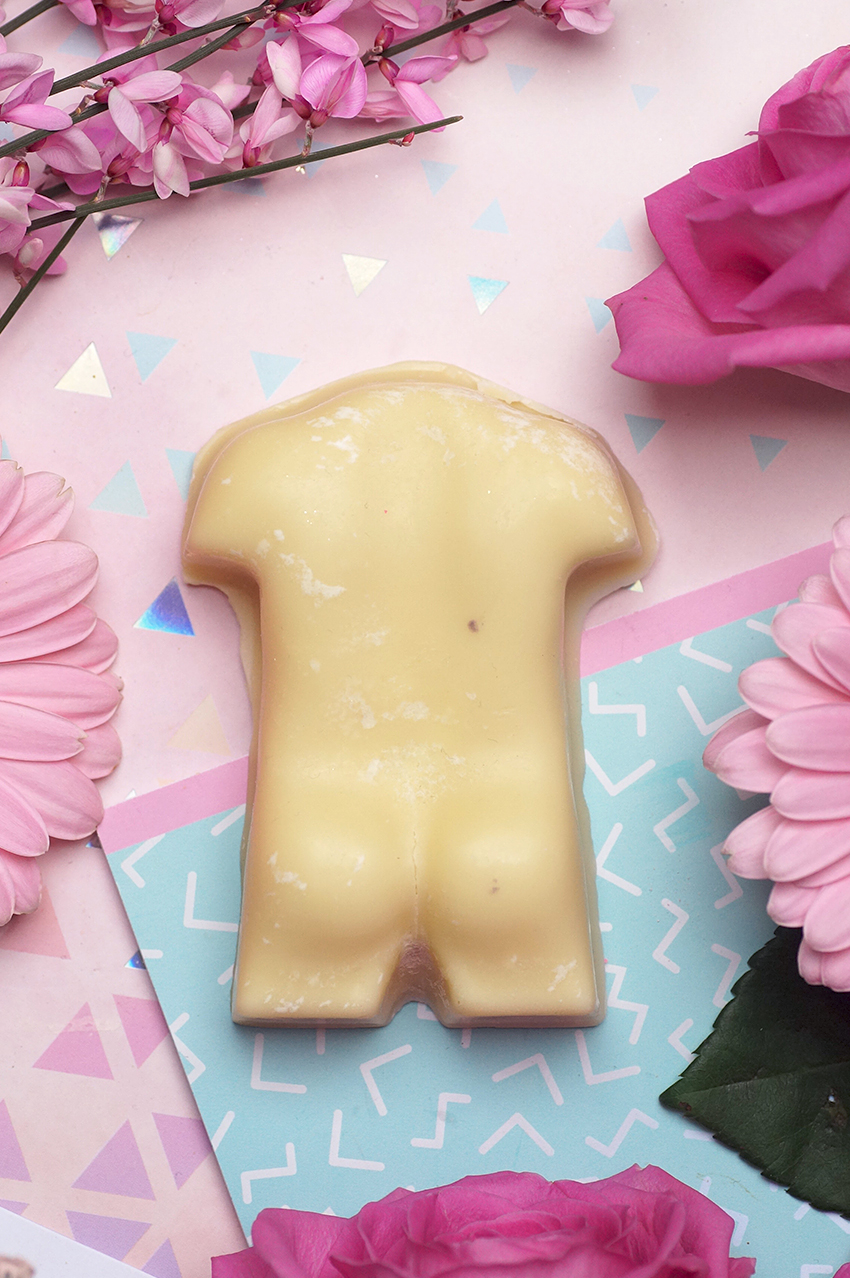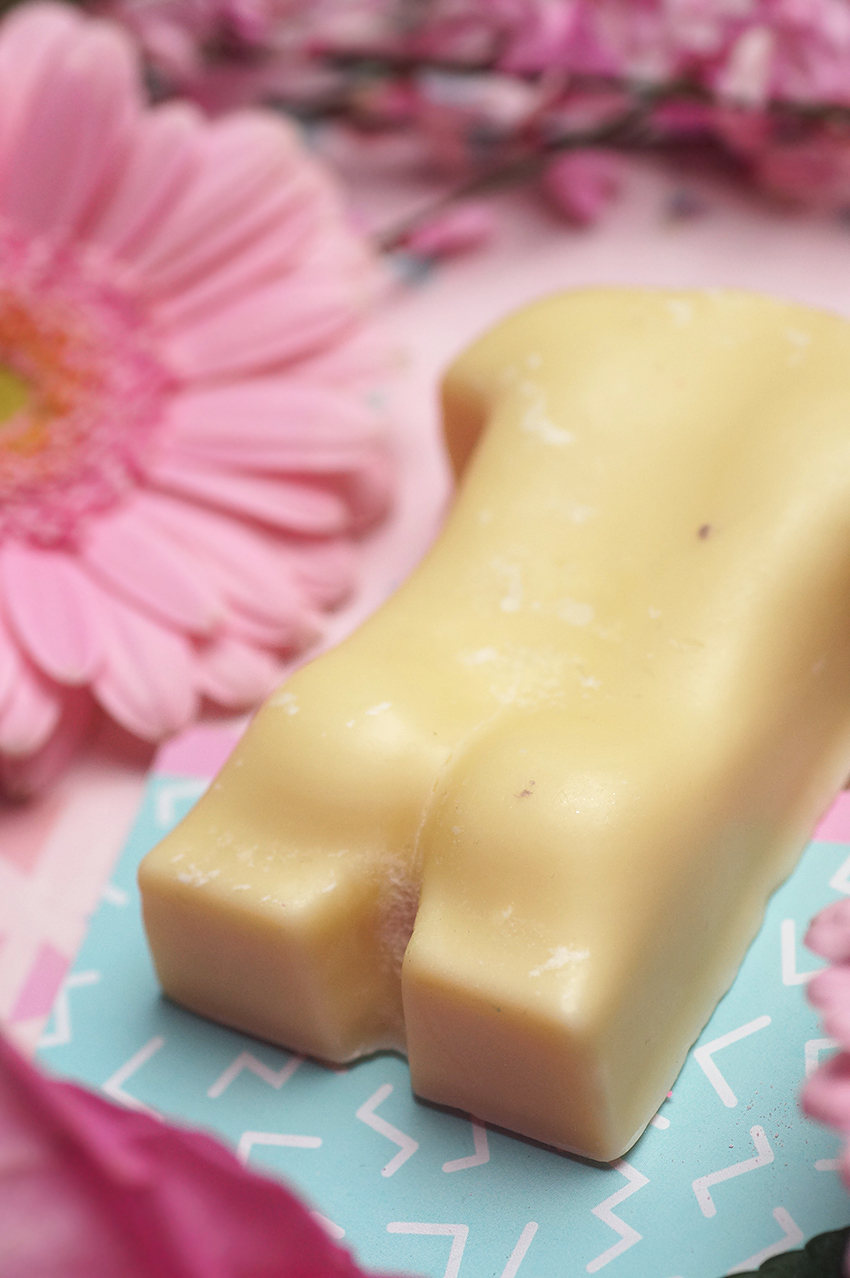 Wat is het?
Lush Naked Attraction Massage Bar kost €10,00 en bevat 65 gram. Hij is onderdeel van de Valentijnsdag collectie, dus tijdelijk te koop. Naked Attraction is bedoeld als massage bar — al kun je hem natuurlijk ook gewoon als body butter voor jezelf gebruiken, dus geen zorgen als je vrijgezel bent. Ik vind hem niet heel groot, al is het de gemiddelde grootte voor een massage bar; hij is ietsje kleiner dan een wc-rolletje. De boters in de massage bar smelten langzaam wanneer ze in aanraking komen met de warmte van onze huid, wat een boterachtig laagje achterlaat op de huid. Even lekker inmasseren en genieten maar van je gehydrateerde huid. Ik ben benieuwd wat ze kunnen betekenen voor mijn droge huid!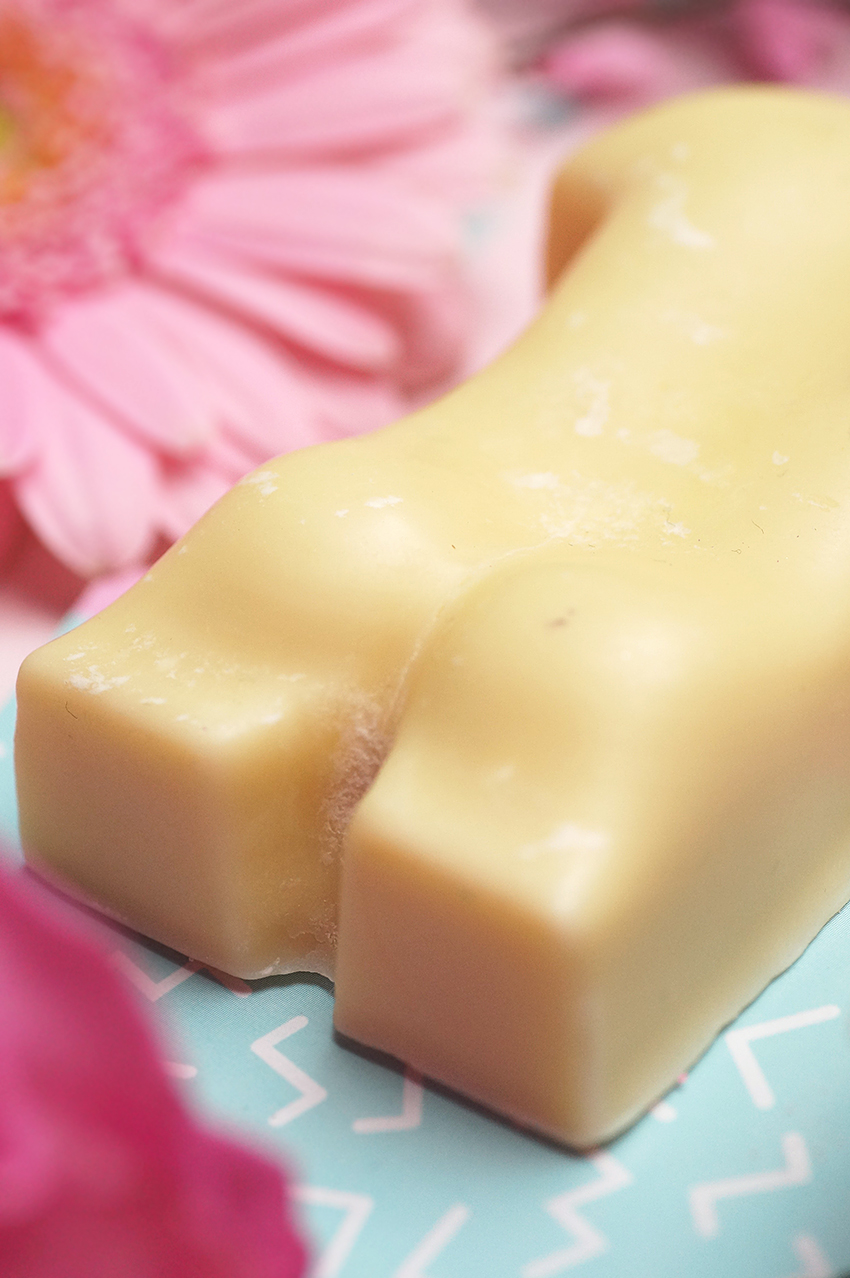 Wat zit erin?
Ingrediënten: Fair Trade en Biologische Cacaoboter, Fair Trade Sheaboter (Butyrospermum parkii), Parfum, Jasmijn Absolue (Jasminum Grandiflorum), Mimosa Absolue (Acacia decurrens), Ylang Ylang-olie (Cananga odorata), Osmanthus Absolue (Osmanthus fragrans), *Benzyl Alcohol, Benzyl Benzoaat, *Benzyl Cinnamaat, *Benzyl Salicylaat, *Cinnamal, *Citral, *Eugenol, *Farnesol, *Geraniol, *Isoeugenol, *Limonene, *Linalool
Behalve de voedende en hydraterende caocaboter en sheaboter, bevat deze knaap ook jasmijn, mumosa, ylang ylang en osmanthus. Dat is direct een indicatie van de geur: bloemig, zwoel, sexy, een volwassen geur. De jasmijn is erg sterk in de geur, maar ook ruik je goed de poederige, bloemige noot van de mimosa. Osmanthus ruikt een beetje naar viooltjes, wat ik ook wel herken in de geur. Ylang ylang voegt nog wat zoetheid toe, wat al met al zorgt voor een heerlijke geur van deze massage bar. Het is echt een sexy, zwoele geur dat precies bij deze naakte vent past.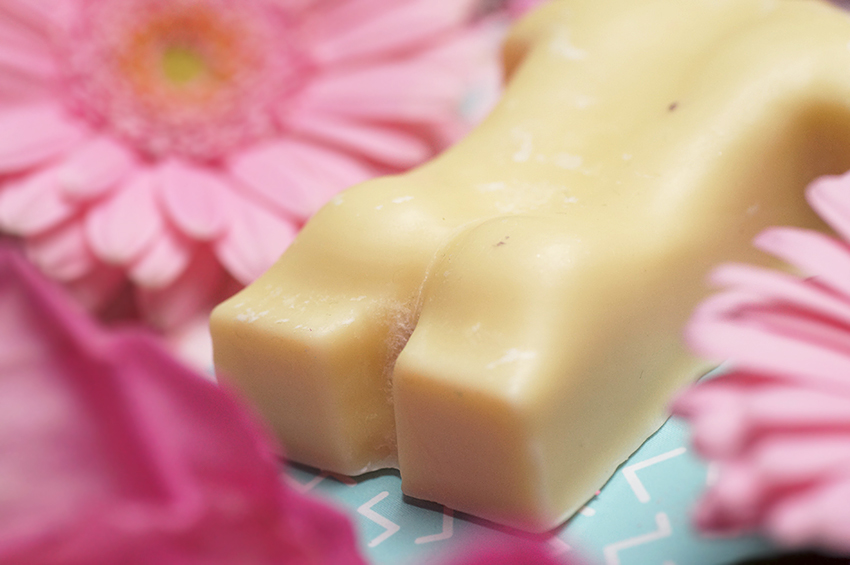 Mijn ervaring
Naked Attraction laat zich makkelijk uitsmeren, over welk lichaamsdeel dan ook — rug, benen, armen; na eventjes heen en weer smeren warmt hij op en smelten de boters langzaam. Er blijft een dun, vettig laagje achter op de huid, welke ik zelf nog even goed in masseer. Je kunt de massage bar ook laten opwarmen tussen je handen, maar zelf vind ik dat niet prettig werken omdat m'n handen dan meteen vettig zijn. Ik warm hem dus op door even goed over de huid te wrijven.
Ik moet zeggen, m'n droge huid ziet er meteen stukken beter uit! Echter trekken de oliën en boters niet echt in, er blijft een vettig laagje op je huid liggen — wat ik zelf echt háát. Dat is voor mij dan ook meteen een reminder waarom ik niet graag massage bars gebruik. Ik wil niet dat m'n kleding vettig wordt, of m'n beddengoed, het is voor mij een reden om dit soort producten te laten liggen. De enige manier waarop ik het acceptabel vind is als ik één arm insmeer, en met m'n andere (droge) arm het uitsmeer, waaronder meteen beide armen voorzien zijn — maar omdat je een normale portie verdeelt, is er amper een vettig laagje op de huid. Zó vind ik hem wel fijn.
De geur is heerlijk, de zwoele bloemengeur fladdert subtiel om je huid heen, terwijl de boters en oliën deze goed hydrateren en verzorgen. Hij maakt je huid zacht en soepel, en hij zal deze ook zeker minder droog maken — maar je moet hem wel de kans geven goed in te trekken. Niet geschikt voor mensen met permanent haast dus, of, als ik je net als ik, niet van een vette huid houdt. Om eerlijk te zijn weet ik niet of ik hem ga opmaken, want één blik in m'n kast en ik kan zo nog een paar massage bars zien liggen die maar 1x gebruikt zijn. Maar mocht het voor jou geen probleem zijn, dan is Naked Attraction absoluut een aanrader.

Lush Naked Attraction Massage Bar kost €10,00 en bevat 65 gram. Hij behoort tot de vaste collectie.
6 Responses to Review: Lush Naked Attraction Massage Bar