Review: Lush Pop Art Bath Bomb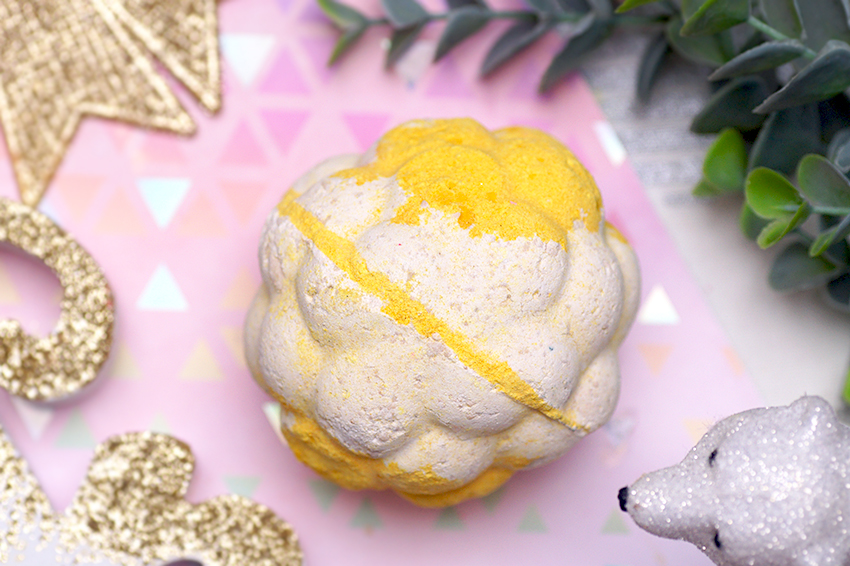 Een grijze, donkere en sombere dag hebben we deze periode veel. Wat is er dan beter om met wat zonnestralen in bad te duiken? Ik besloot deze gele rakker in bad te keilen, aangezien ik wel wat zonneschijn kon gebruiken. Vandaag review ik Pop Art voor je! Lees je mee?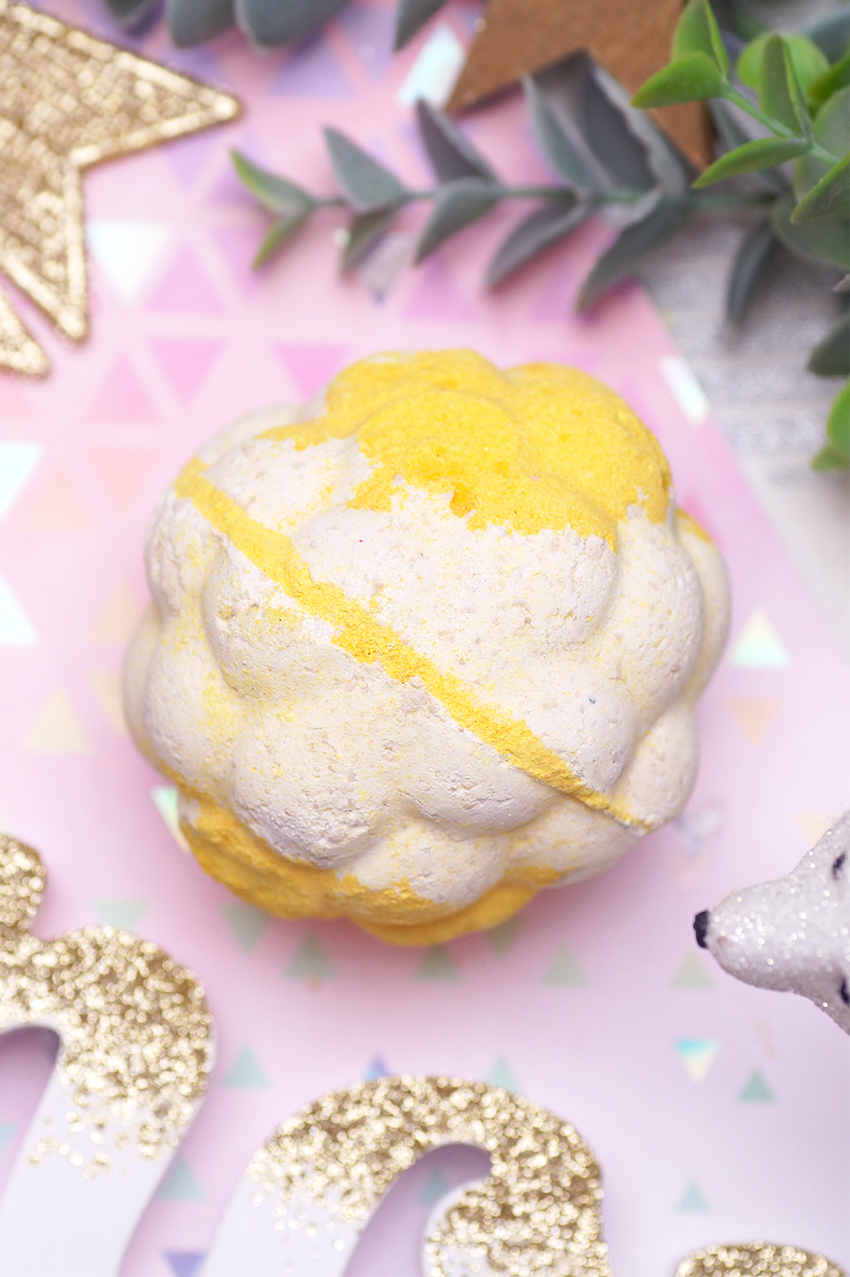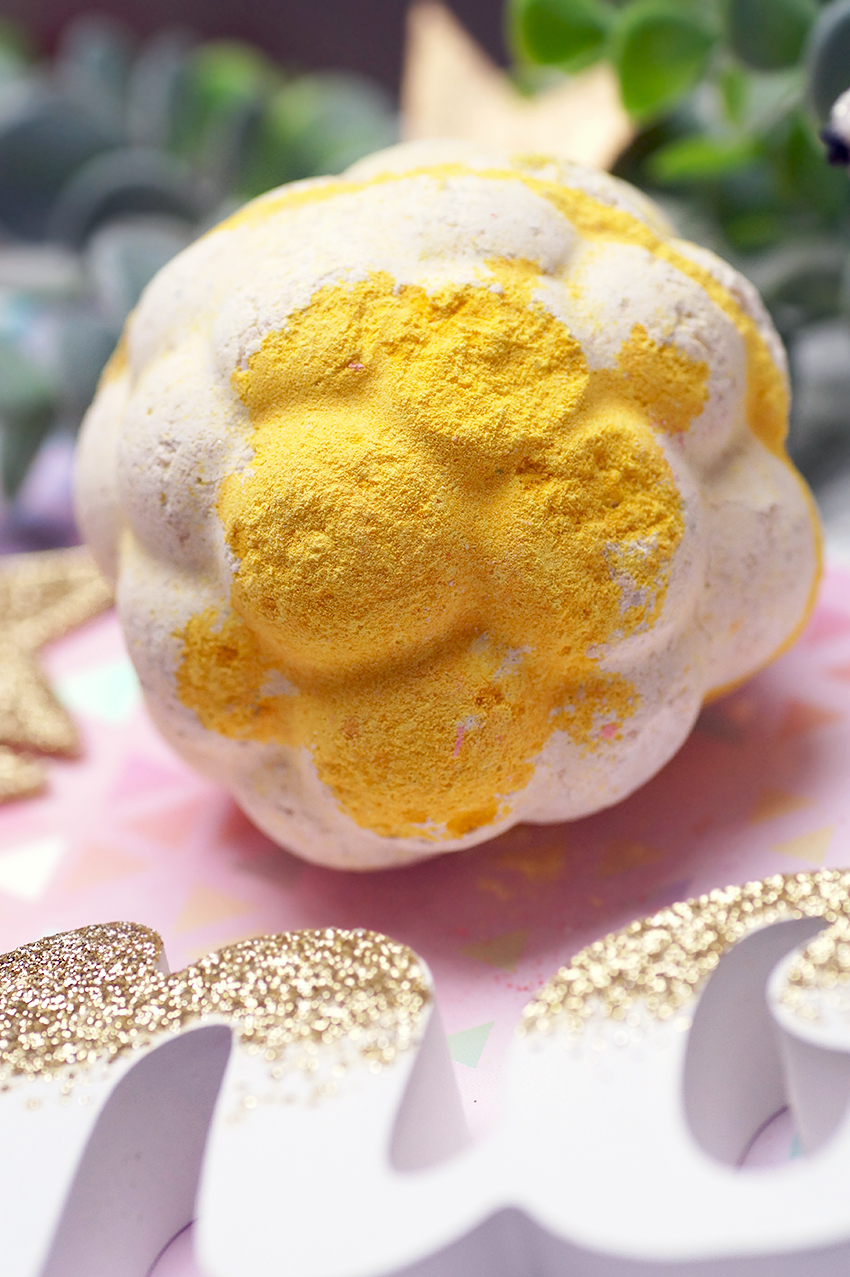 Wat is het?
Ingrediënten: Natrium Bicarbonaat (Sodium bicarbonate), Citroenzuur (Citric acid), Knettersnoep, Grof zeezout (Maris sal), Maïsmeel, Parfum, Titanium Dioxide, Water (Aqua), Natrium Coco Sulfaat, Dipropyleen Glycol, Kleurstof 47005, Kleurstof 14700 (CI 14700), Kleurstof 45350
Lush Pop Art Bath Bomb kost €6,50 en is onderdeel van de Kerst collectie. Deze vrolijke bath bomb heeft dezelfde vorm als Blackberry, al wordt er van Pop Art gezegd dat het op een stukje popcorn zou moeten lijken. Er gingen meteen geruchten rond dat Pop Art zijn geur zou delen met Let The Good Times Roll, de popcorn/maïs gezichtsreiniger, maar veel Lush winkels plaatsen Pop Art bij producten van de Yog Nog-geurlijn. Verwarrend! Zelf vind ik het een mix van beide. Hij is niet zo kruidig als Yog Nog, maar heeft wel die warme, zoete karamelgeur. Een lekker winters geurtje.
Pop Art bevat eigenlijk helemaal geen natuurlijke oliën. Hij bevat wel knettersnoep, grof zeezout voor een zachte huid en maïsmeel. Grappig, want (zoute) popcorn bevat ook zout, wordt gemaakt van maïs, en.. knettert ook lekker in de magnetron. Of denk ik nu te ver door? 🤔 Hoe dan ook, grappig dat het allemaal met elkaar te maken heeft. De combinatie van zeezout met maïsmeel zou je huid boterzacht maken, dat is altijd fijn meegenomen, dacht ik zo. M'n huid is momenteel erg functioneel als schuurpapier, dus kom maar op met die verzachtende ingrediënten.
Speel het filmpje af in 2160p kwaliteit en op volledig scherm voor de beste ervaring! Het filmpje speelt zich versneld af.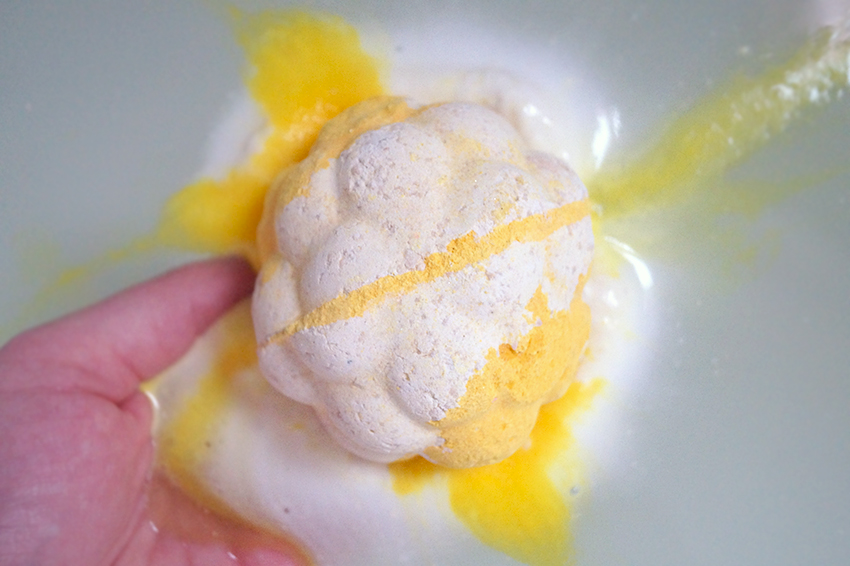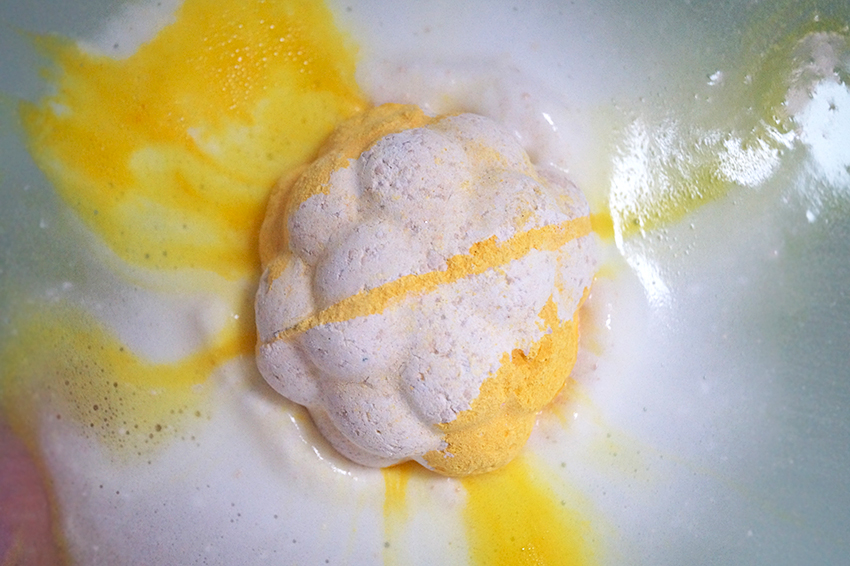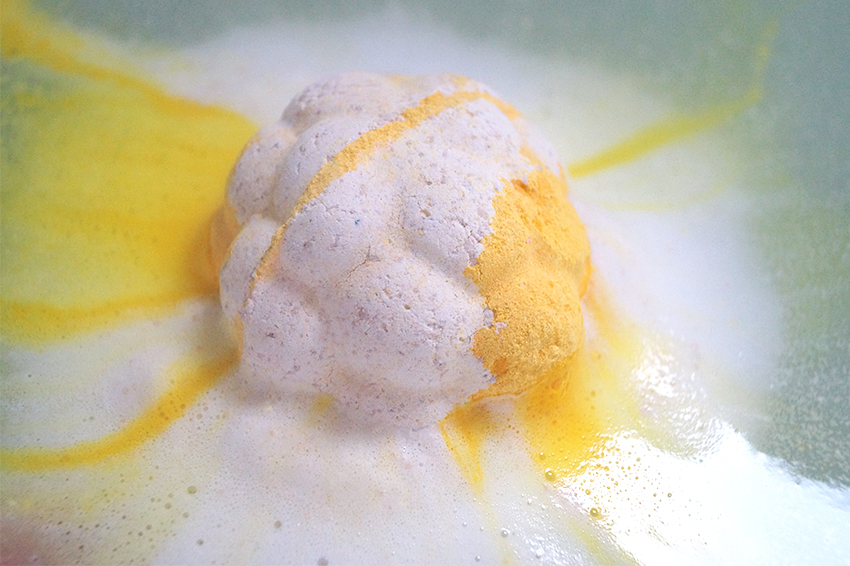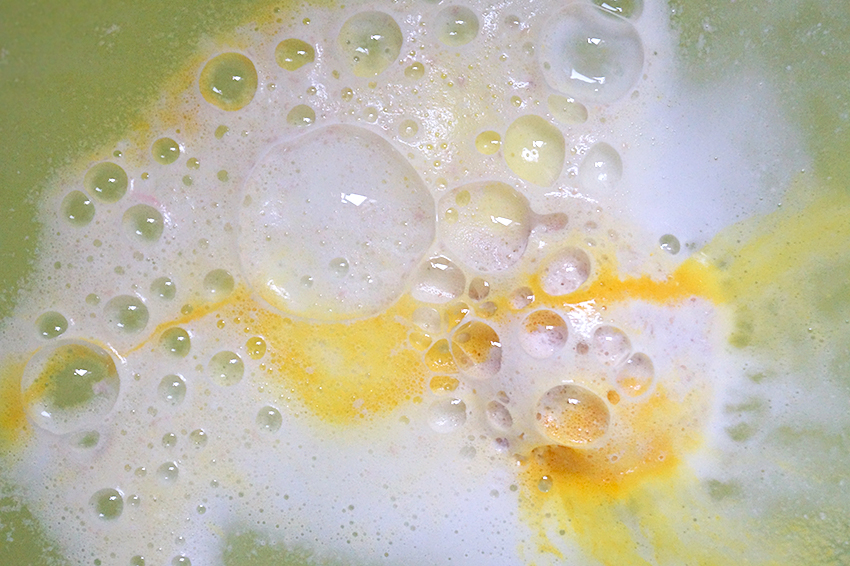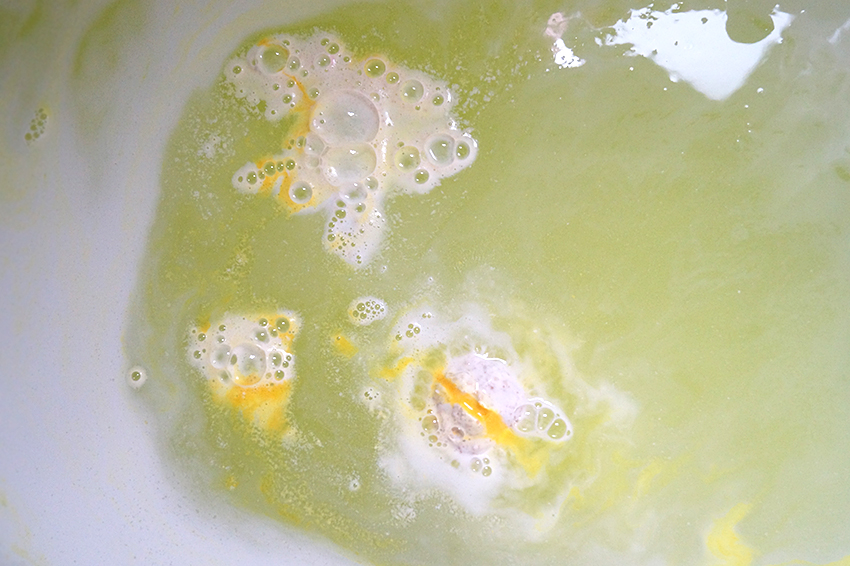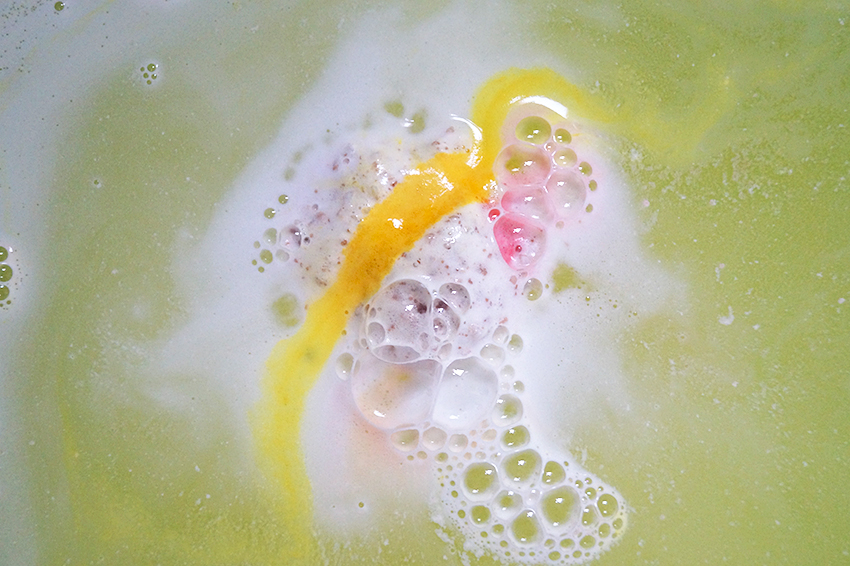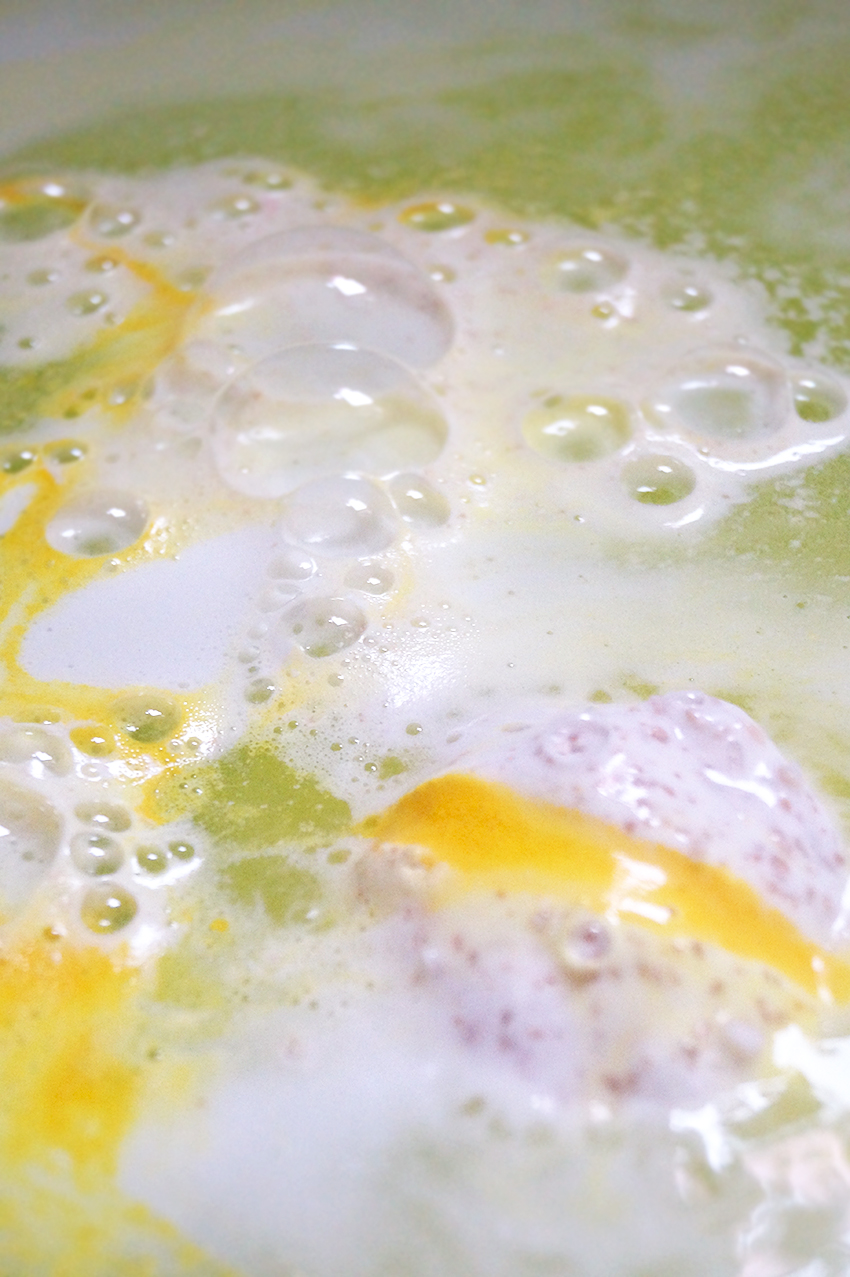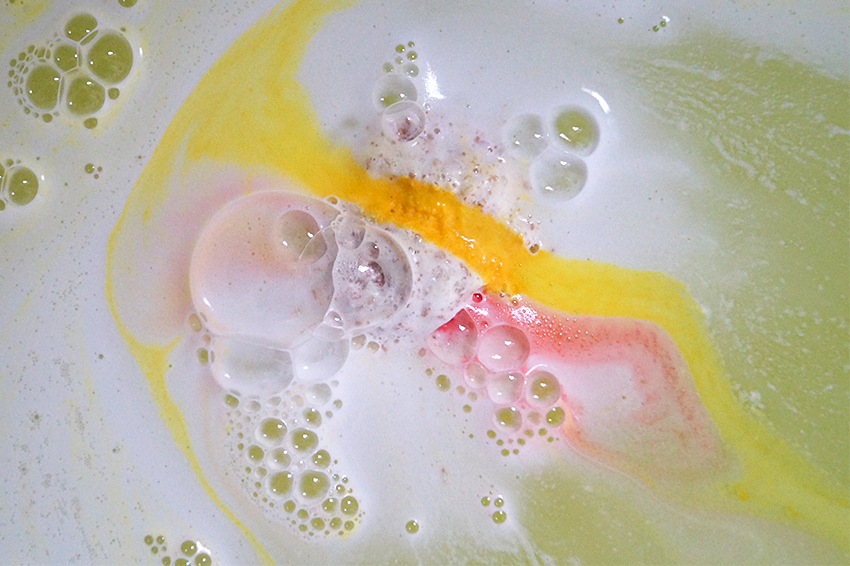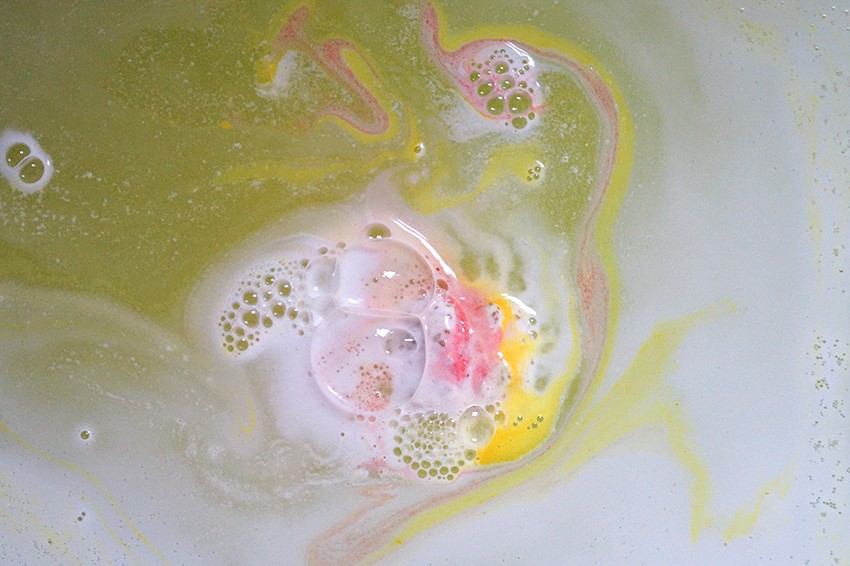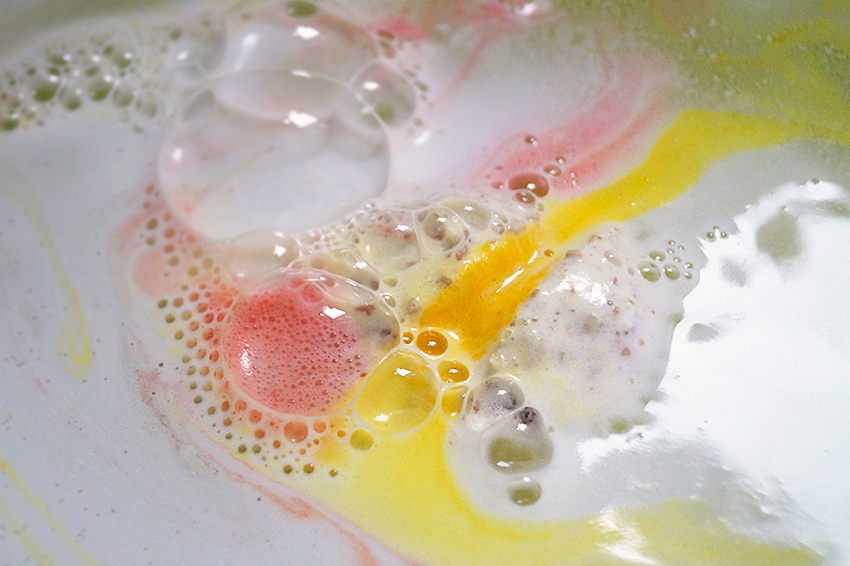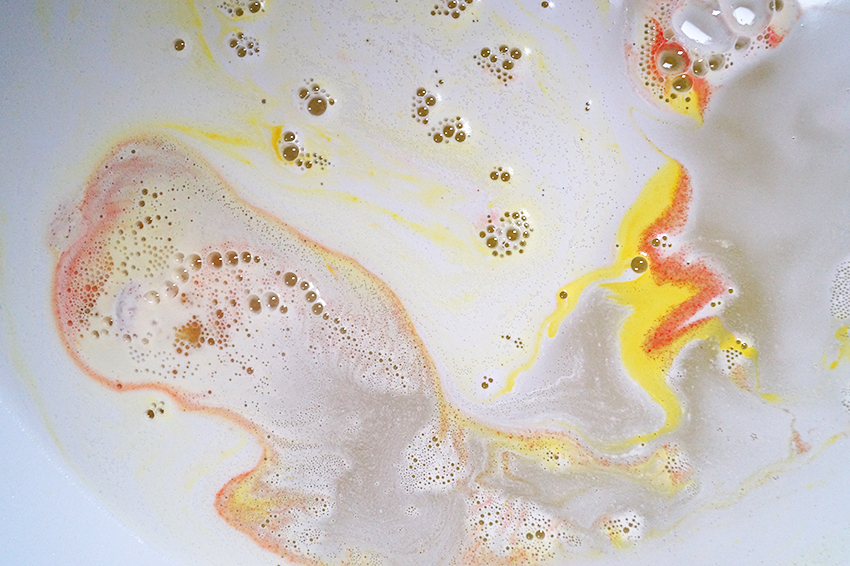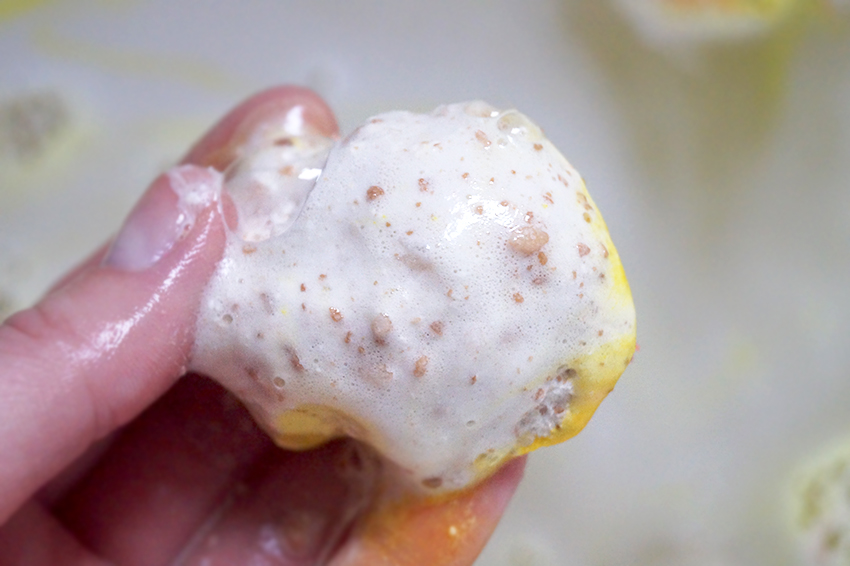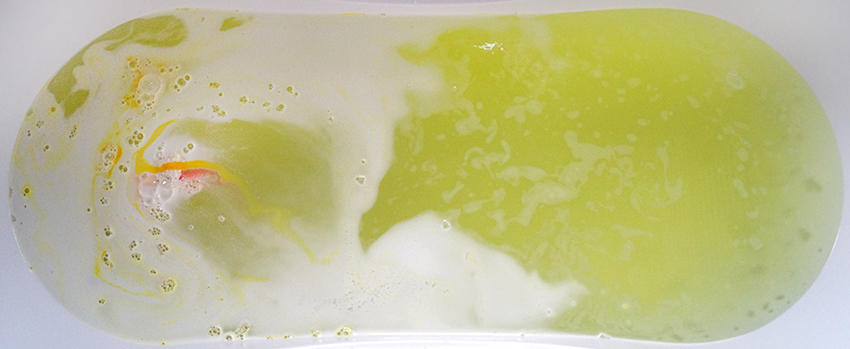 Mijn ervaring
Als ik hem in het water drop, komt er direct wit en geel schuim van af. Hoewel het witte in een soort schuimlaagje op de oppervlakte verandert, zorgen de gele stralen voor een geel kleurtje in het water. Het is een prachtige, levendige kleur, dat geel. Alsof de zon in mijn bad ligt te dobberen. Op gegeven moment begint de bath bomb wat te tollen in het water, en zie ik nu ook een andere kleurtje, namelijk rood! De rode kern openbaart zich en zorgt voor wat rode sliertjes schuim op de oppervlakte. De uiteindelijke kleur van het water is vrolijk, opwekkend geel. Een behoorlijk contrast met buiten, waar het grauw, donker en grijs is. Het knettersnoep kon ik heel lichtjes horen, en er bleef nog zeker 10 minuten een wit schuimlaagje op de oppervlakte liggen.
M'n huid voelde zeker wel zachter aan, maar de geur kon ik helaas niet terug ruiken op m'n huid, wat Lush wel zegt in de beschrijving. Wel rook de badkamer nog urenlang naar een zoete, warme karamelgeur! Ik denk dat ik van bath bomb nog een paar mee grijp in de sale. Altijd fijn, wat zonnestralen in bad.

Lush Pop Art Bath Bomb kost €6,50. Hij behoort tot de Kerst collectie.
3 Responses to Review: Lush Pop Art Bath Bomb