Review: Lush Big Body Spray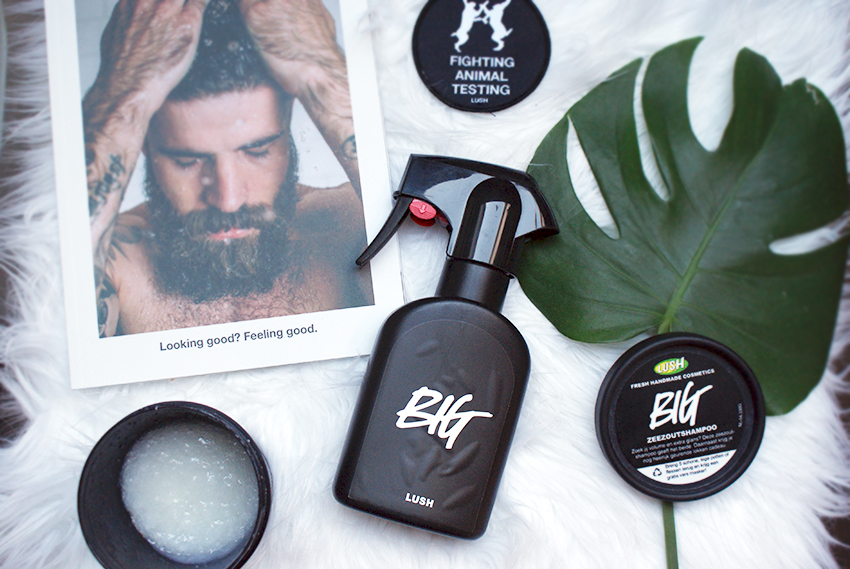 Big Shampoo is een shampoo die groot favoriet is hier. Ik gebruik hem niet dagelijks, omdat hij vrij grof is, maar wanneer ik hem gebruik is het echt een feestje onder de douche. En dat komt mede door de geur! Gelukkig heeft Lush gehoor gegeven aan onze gebeden, en kwamen ze met parfum, parfumolie en body sprays van een aantal populaire geuren. Hoewel ik ze het liefst allemaal wil, koos ik na lang twijfelen voor Big.
Ben je benieuwd of deze net zo lekker ruikt als Big shampoo? Lees dan verder.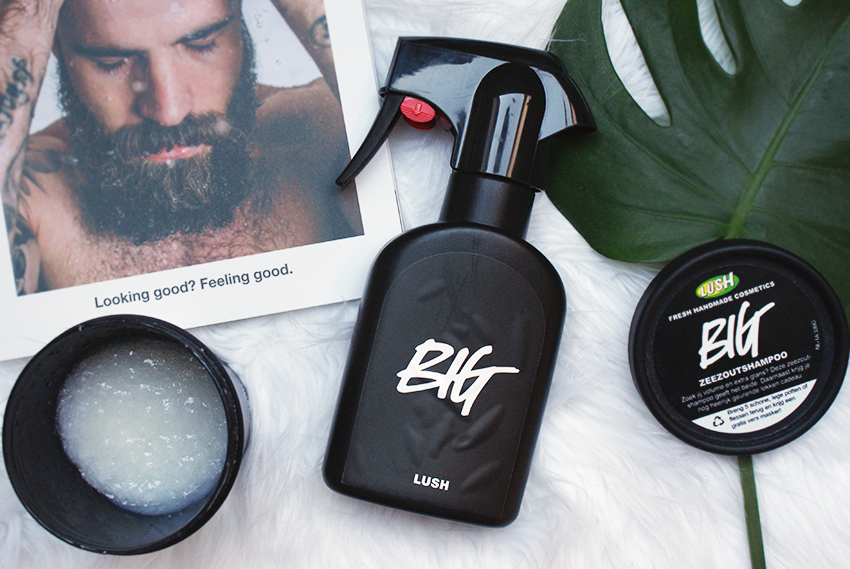 Lush Big Body Spray bevat 200 ml en kost €35,00. (In Engeland kost hij 25 pond!) Hoewel dit veel lijkt voor een body spray, moet ik erbij zeggen dat de body sprays van Lush erg geconcentreerd zijn en dus enorm sterk ruiken, en je heel weinig nodig hebt — één spray is al voldoende voor een hele dag lekker ruiken. De body spray is vegan.
De verpakking is al alle andere body sprays, gewoon lekker simpel en handig. Er zit een rood klik-dingetje (??) waarmee je het indruk-gedeelte (gaat lekker dit) blokkeert. Zo kun je hem dus rustig meenemen in je tas of op reis, zeker omdat hij niet van glas is en dus niet kapot kan gaan. Nog een voordeel is dat hij niet zo zwaar weegt als een ander parfum.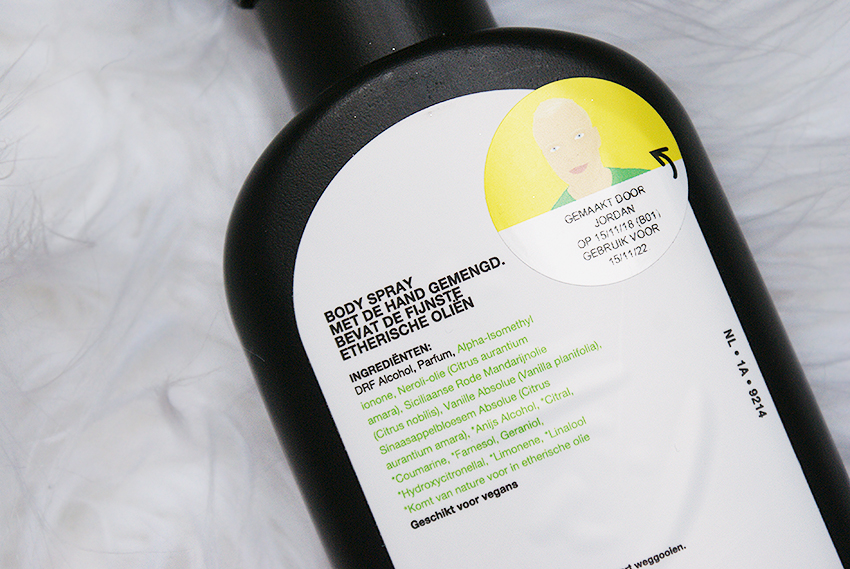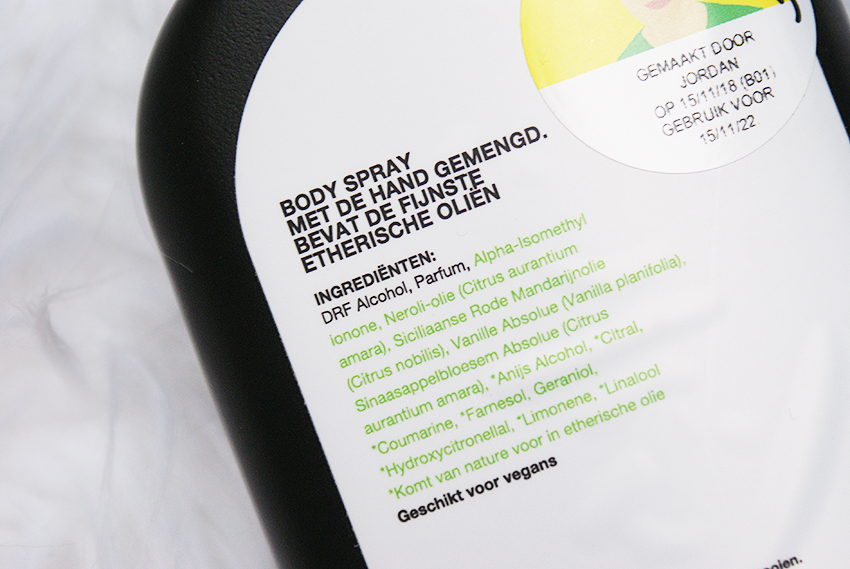 Ingrediënten: DRF-alcohol, Parfum, Alpha-isomethyl-ionone, Neroli-olie (Citrus Aurantium amara), Siciliaanse Mandarijnolie (Citrus Nobilis), Vanille Absolue, Sinaasappelbloesem Absolue (Citrus aurantium), *Anijsalcohol, *Citral, *Coumarine, *Farnesol, Geraniol (Geraniol), *Hydroxycitronellal, *Limonene, *Linalool
---
In de review van Big shampoo omschreef ik de geur van Big als "wat bloemig, maar ook fris". Ik vind de body spray iets bloemiger, maar alsnog overduidelijk goed te ruiken dat het Big is. De geur is niet zo zwaar en overduidelijk aanwezig als Rose Jam Body Spray. Big is iets subtieler aanwezig, gelukkig maar, want dankzij Rose Jam zijn sterke en aanwezige geur, ben ik hem echt zat aan het worden.
Om iets verder in te gaan op de geur — hij is bloemig, maar niet zwaar bloemig. Je ruikt goed de citrus en mandarijn in, dat maakt hem wat fris/fruitig. Door de combinatie bloemig met citrus, is het een vrij unieke geur die je niet snel zult vinden in een ander parfum. Lush zelf zegt dan ook: "een zoete, maar niet scherpe en lichtbloemige ondertoon". Omdat ik de geur link aan de Big shampoo, en daar zeezout in zit, link ik automatisch de geur aan vakantie en het strand. Hij ruikt sowieso lekker zomers, dus die vakantie vibes krijg je er cadeau bij.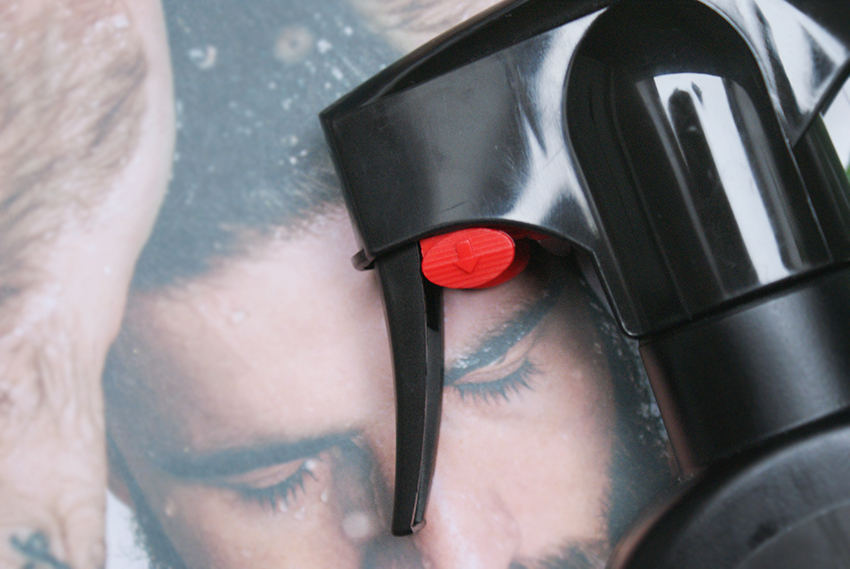 Omdat de geur minder intens is, blijft hij ook minder lang zitten. Na een paar uur ruikt mijn vriend "wel iets", maar de geur is zeker niet zo sterk aanwezig als Rose Jam na een paar uurtjes. Iets waar ik wel bang voor was, want een sterke parfum is echt niet lekker. Maar ja, nadeel is dus wel dat je hem iets vaker moet bij sprayen.
Om hem nog even goed te testen doe ik om 17:00 een hele spray in m'n hals. 's Avonds rond 22:00 ruik ik zelf helemaal niets meer, maar ook m'n vriend ruikt hem niet echt meer. Alleen in m'n kleding ruik ik heel licht iets lekkers, maar ik herken er geen Big meer in.
Ben ik tevreden? Nou, ik ben zeker niet ontevreden. Maar ik had wel gehoopt dat de intensiteit iets hoger zou zijn! Niet zo hoog als Rose Jam, maar gewoon, er tussenin. Ik weet het, het is nooit goed. Maar dit is mijn uitspraak en daar moeten jullie het mee doen! *slaat met hamertje op bureau*
Lush Big Body Spray bevat 200 ml en kost €35,00. Hij is alleen online te koop en behoort tot het vaste assortiment.
8 Responses to Review: Lush Big Body Spray