Review: Lush Strawberries and Cream Bath Bomb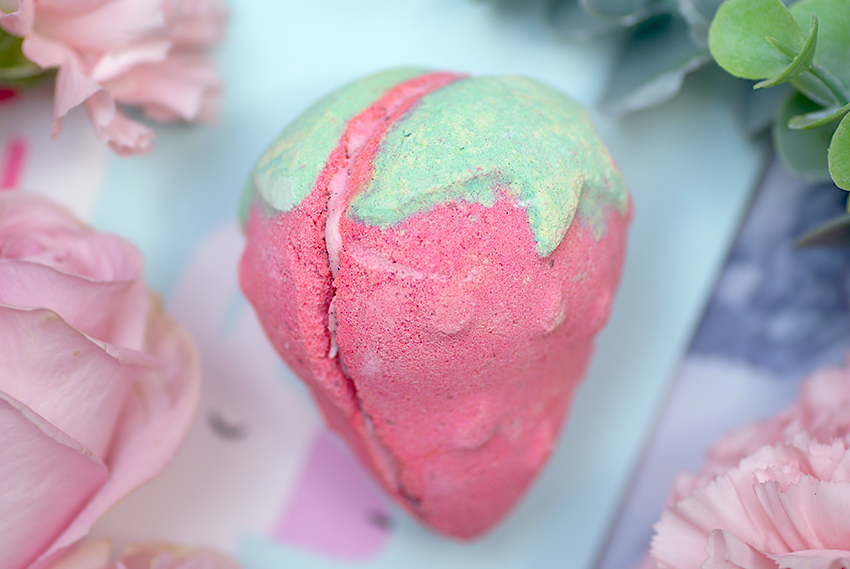 Als Lush me iets geleerd heeft, is het dat size doesn't matter. Een kleintje kan net zo goed presteren als een joekel. Deze kleine bath bomb (ja, want daar had ik het over, stelletje viespeuken) tovert je bad om in Strawberry Fields, en dat terwijl hij één van de goedkopere bath bombs is van de Harajuku collectie. Vandaag laat ik je zien hoe goed deze kleine man presteert in bad. Ja, ik heb het nog steeds over de bath bomb.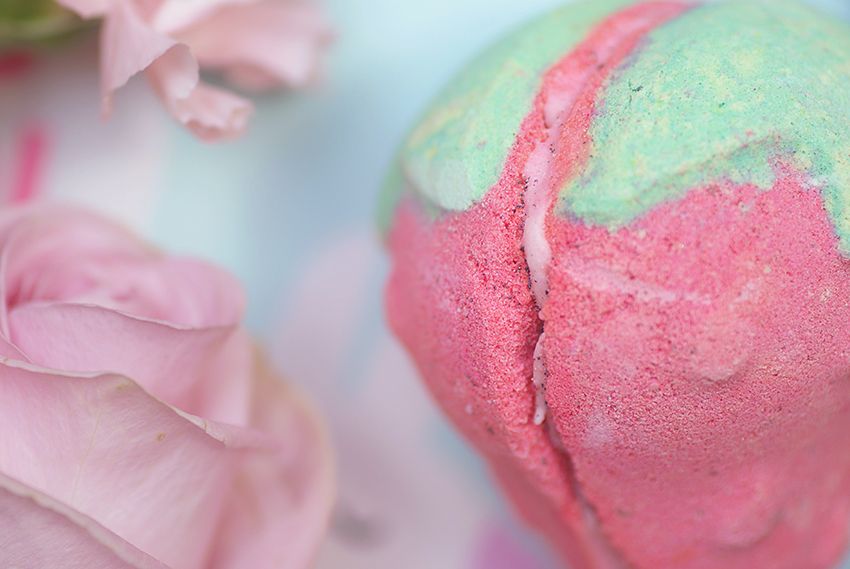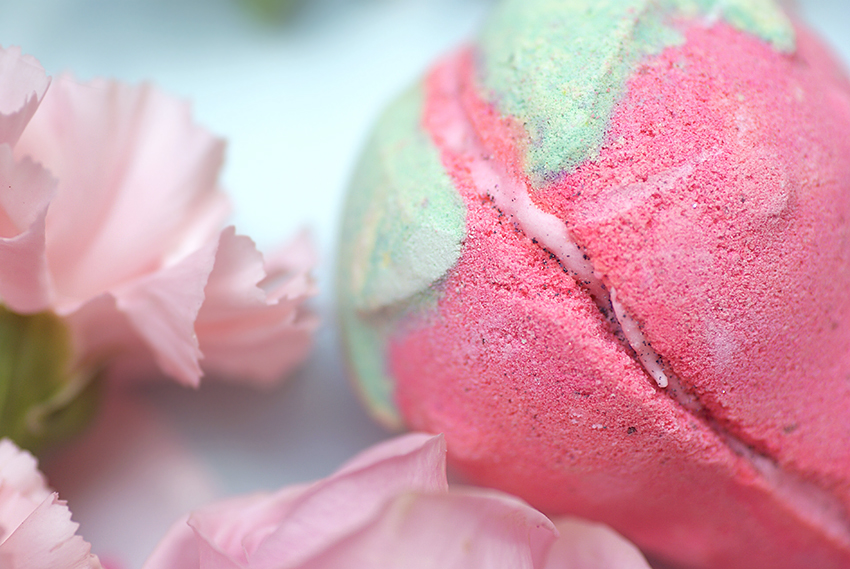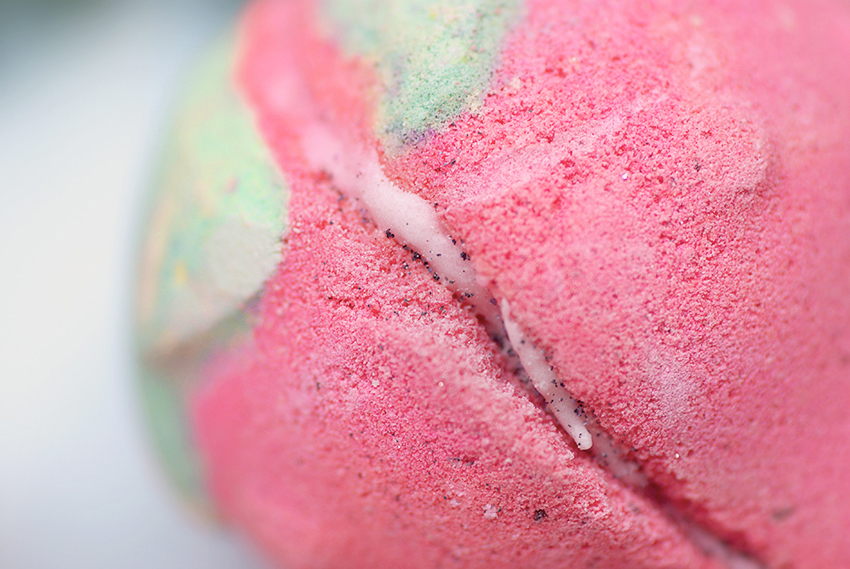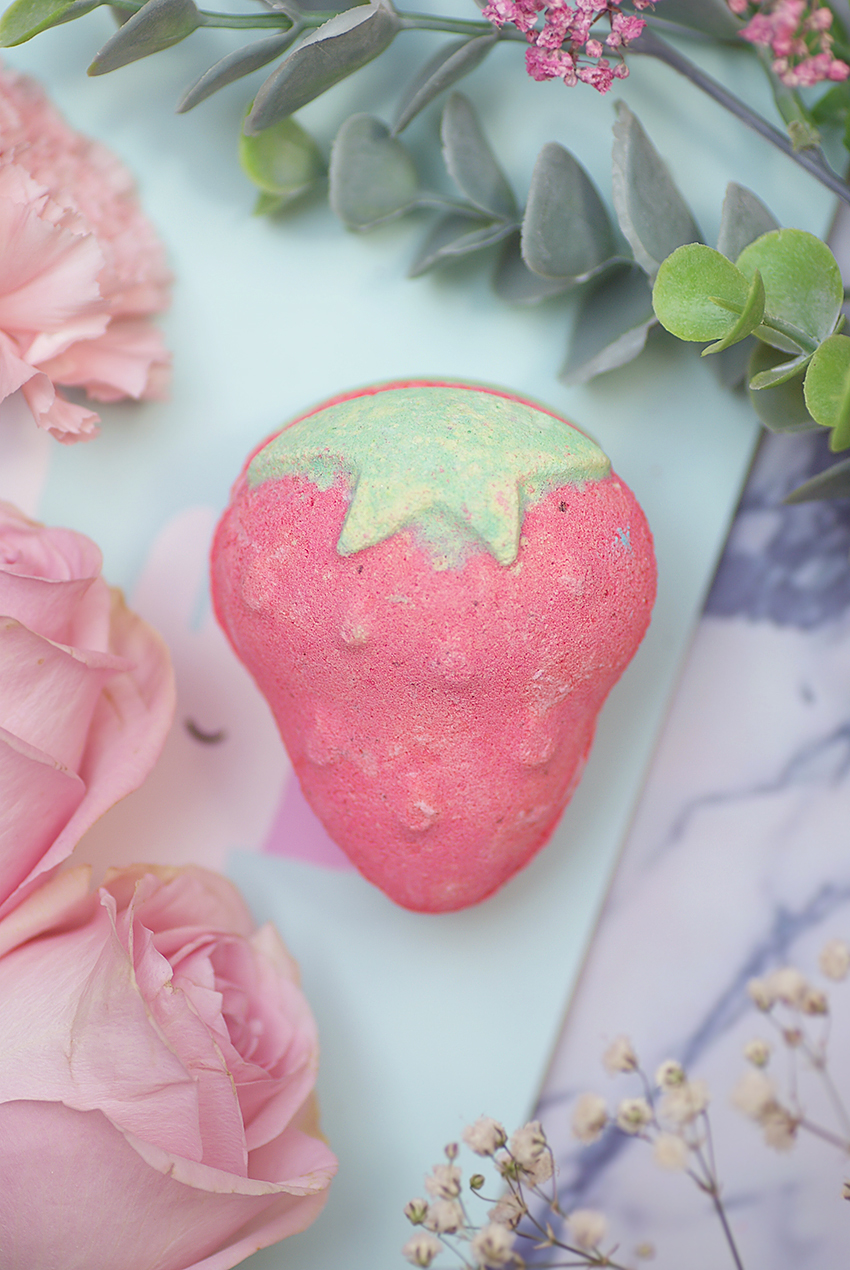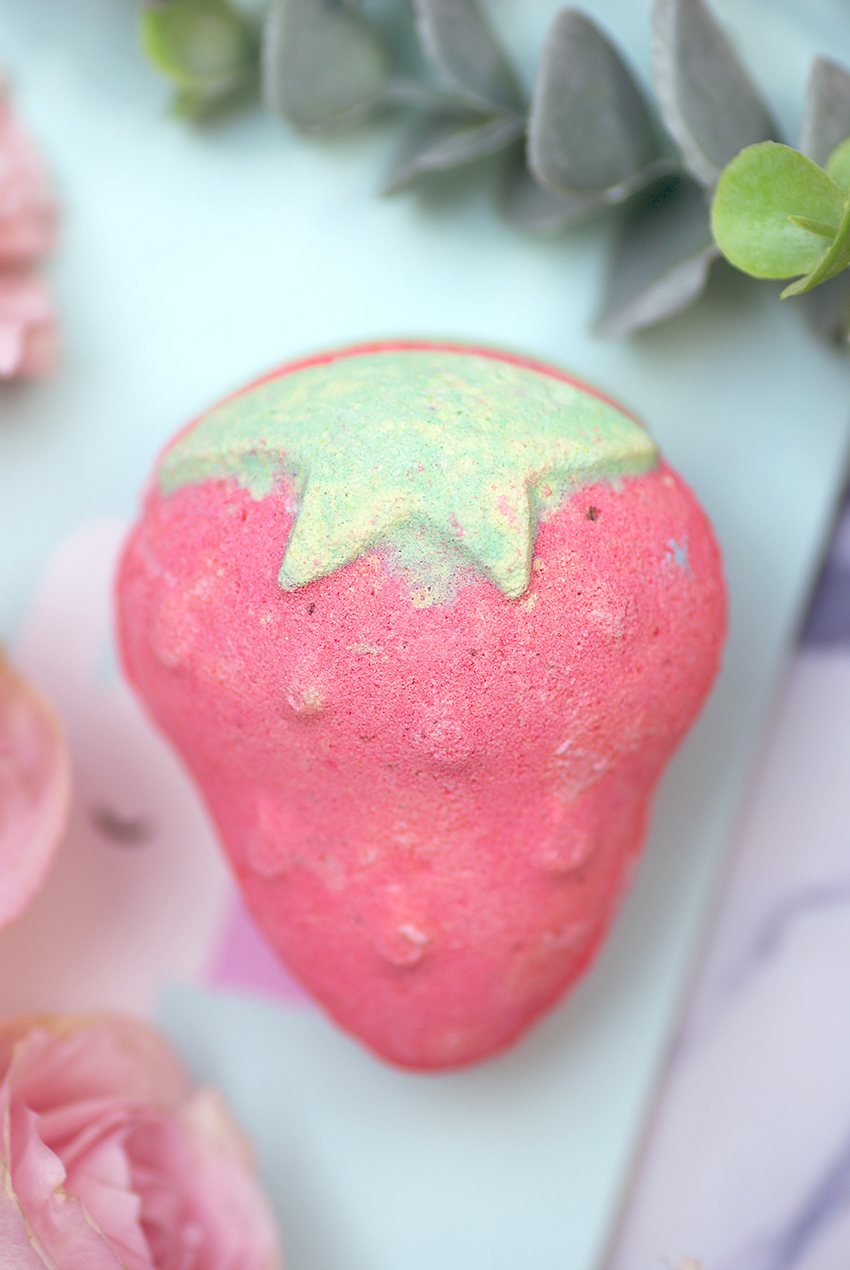 Wat is het?
Ingrediënten: Natrium Bicarbonaat (Sodium bicarbonate), Citroenzuur (Citric acid), Fair Trade en Biologische Cacaoboter, Water (Aqua), Olibanumolie (Boswellia carterii), Bergamotolie (Citrus aurantium bergamia), Geraniumolie (Pelargonium graveolens), Zwarte Peperolie (Piper nigrum), Wijnsteenzuur (Potassium bitartrate), Aardbeipoeder, Fair Trade Sheaboter (Butyrospermum parkii), Laureth 4, Natrium Laureth Sulfaat, Laurylbetaïne, Dipropyleen Glycol, Benzyl Alcohol, Hexyl Cinnamal, *Limonene, Parfum, Kleurstof 14700 (CI 14700), Kleurstof 47005, Kleurstof 45410 (CI 45410), Kleurstof 42090
Lush Strawberries and Cream Bath Bomb kost €5,50 en is onderdeel van de tijdelijke Harajuku collectie, bestaande uit uiteenlopende 54 bath bombs. Deze schattige aardbei is iets kleiner dan de gemiddelde bath bomb, maar is dan ook een paar euro goedkoper. Je kunt hem zelfs in tweeën breken, want er zit een sheaboter laagje tussen de twee helften, die de twee helften bij elkaar houdt.
Behalve sheaboter tussen de twee helften in, bevat hij ook cacaoboter, olibanumolie, bergamotolie, geraniumolie, zwarte peperolie en aardbeipoeder. Niet echt fruitige ingrediënten, ik vind de geur dan ook minder fruitig dan gedacht. Hij deelt z'n geur met de Yummy Mummy geurlijn, een fruitige, maar ook bloemige geur. Het is geen "hey dit is aardbei" geur, maar meer het resultaat van een beurt tussen een aardbei en een bloem. Hij heeft iets muskachtigs, iets warms. De olibanum geeft het geheel wat zoets, de bergamot maakt het wat frisser. De aardbeipoeder erin is een leuke toevoeging, tevens werkt dit als milde scrub! Het is echt een bath bomb met een bijeengeraapt zooitje aan geurnoten, maar het resulteert wel in een heerlijke geur. Vooral Yummy Mummy liefhebbers kunnen hun hart ophalen met deze bath bomb.
Speel de filmpjes af in 2160p kwaliteit en op volledig scherm voor de beste ervaring! Het eerste filmpje speelt zich versneld af.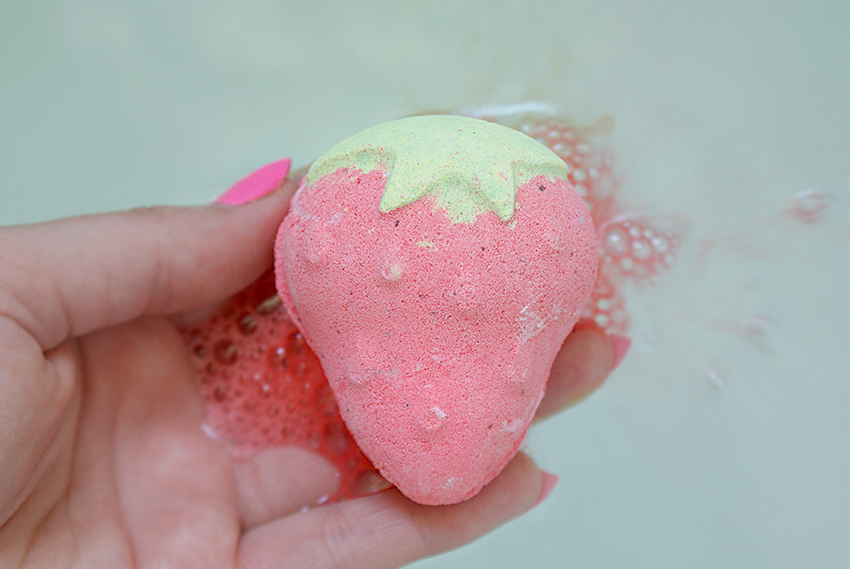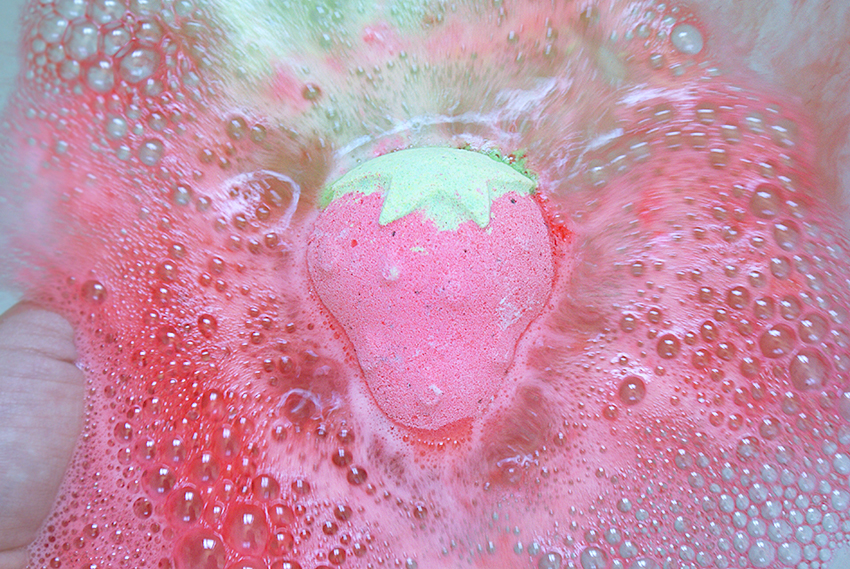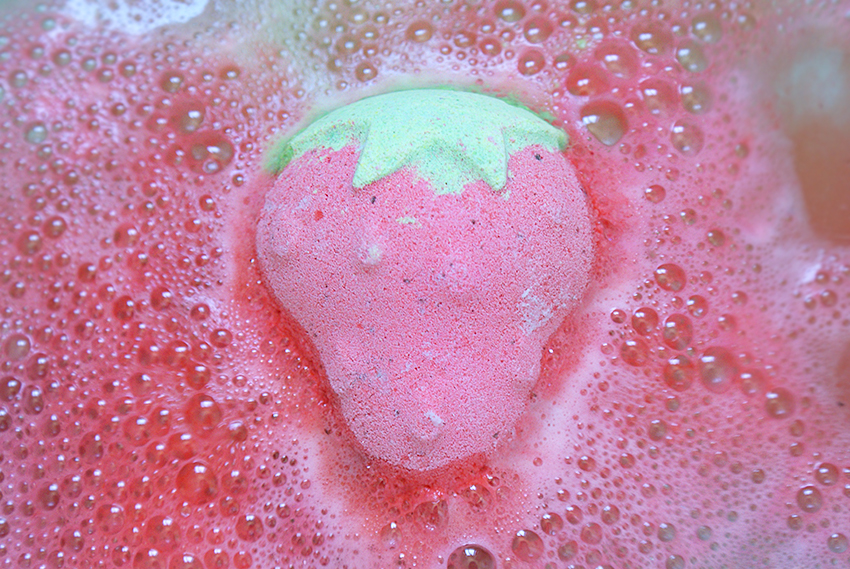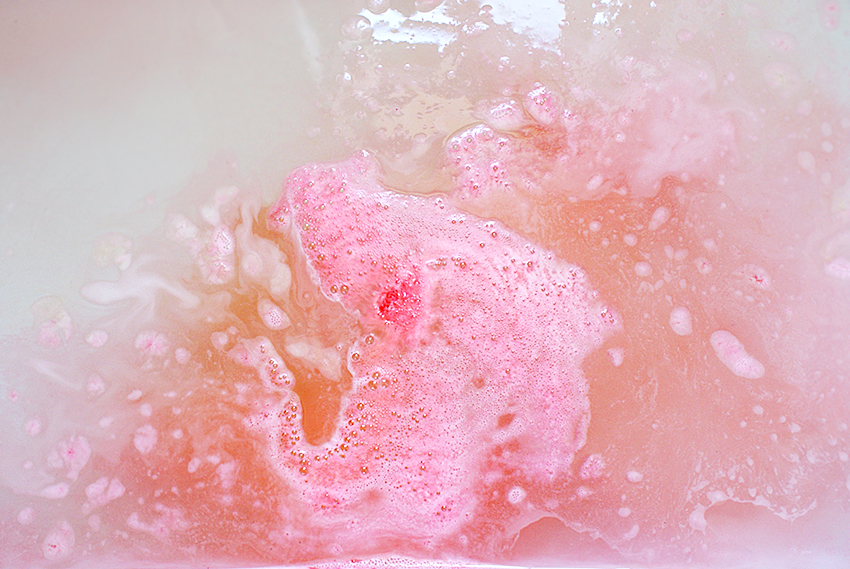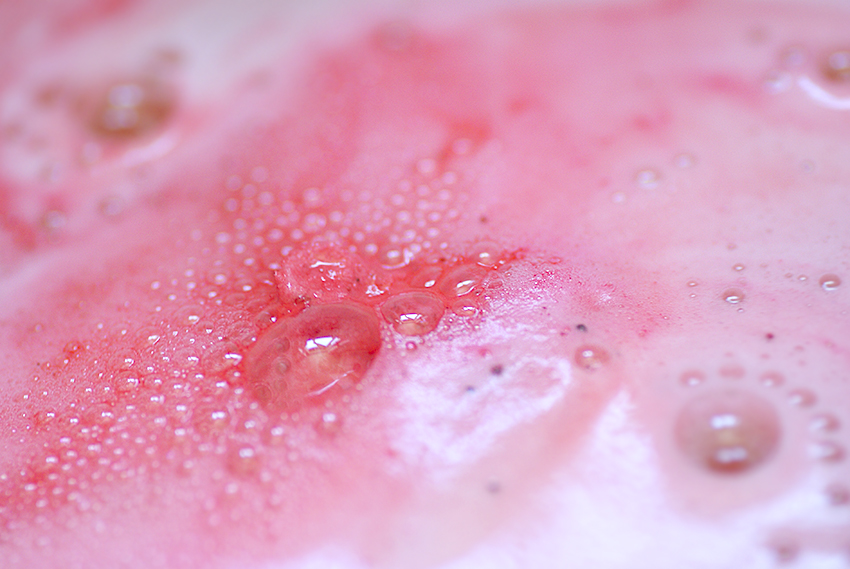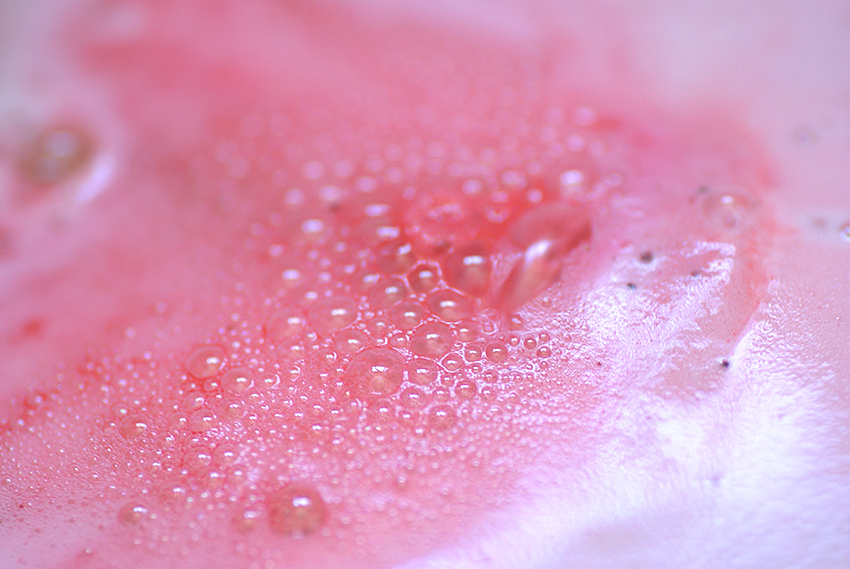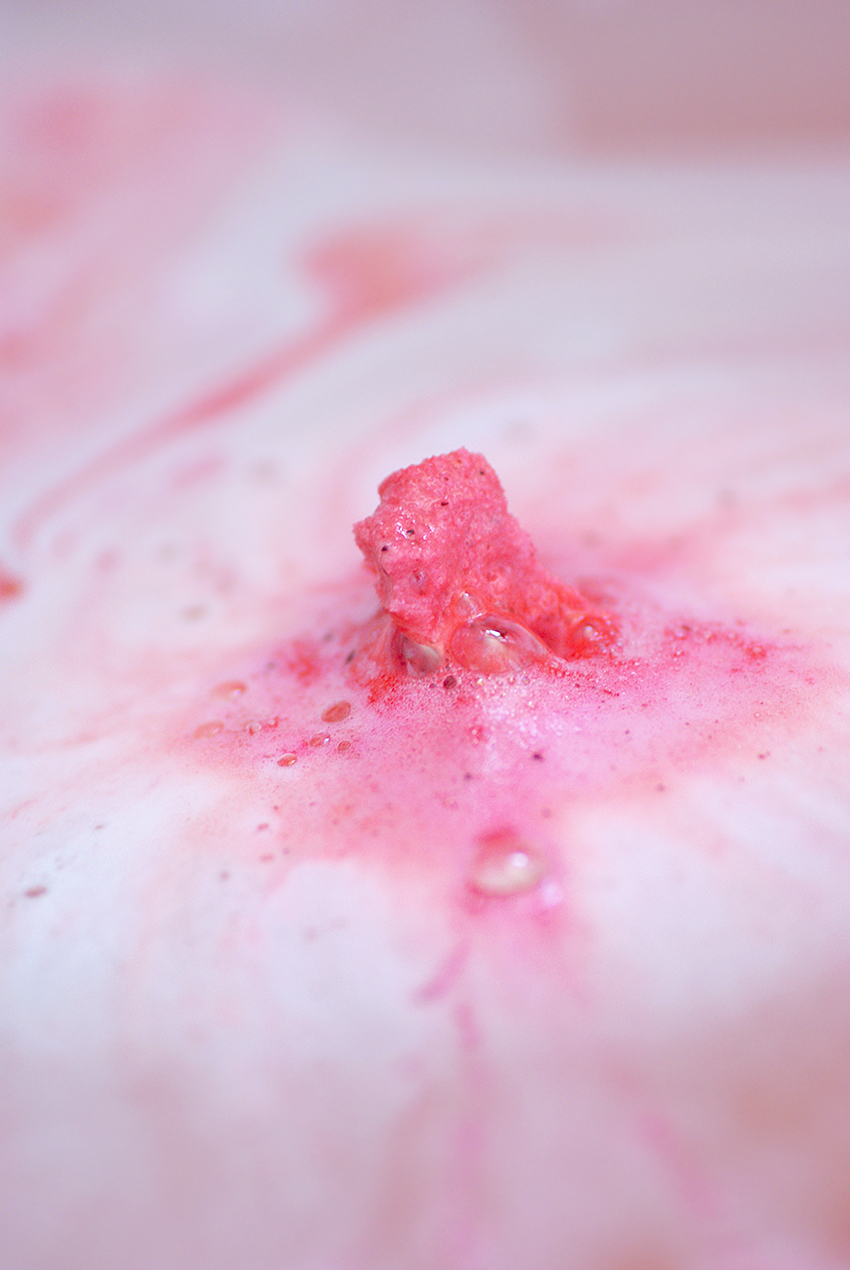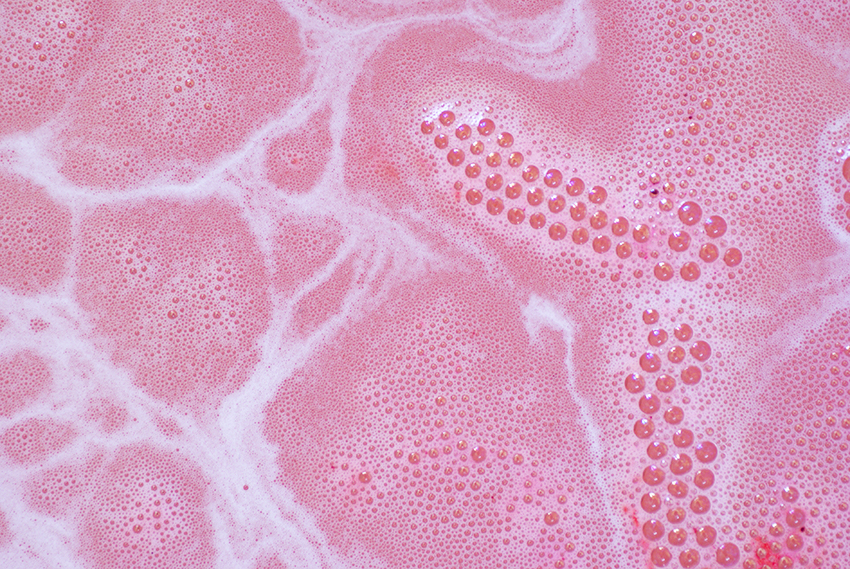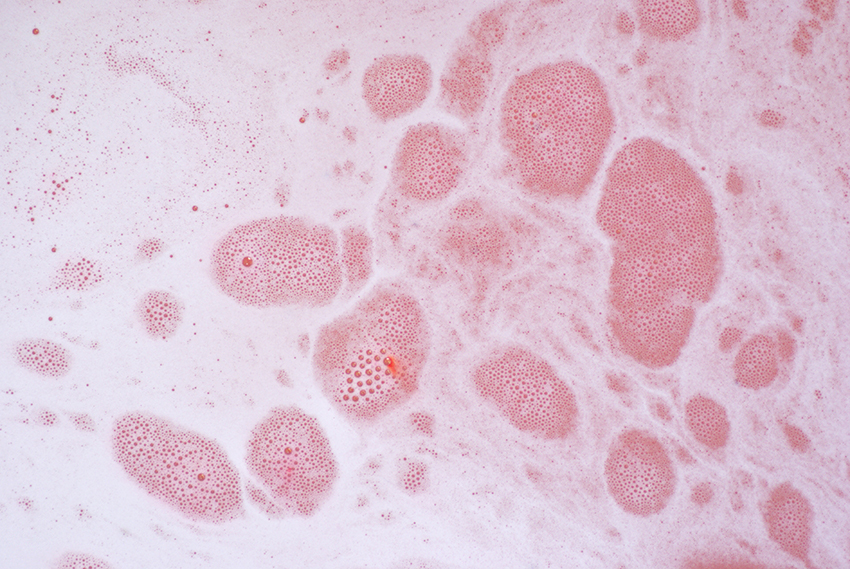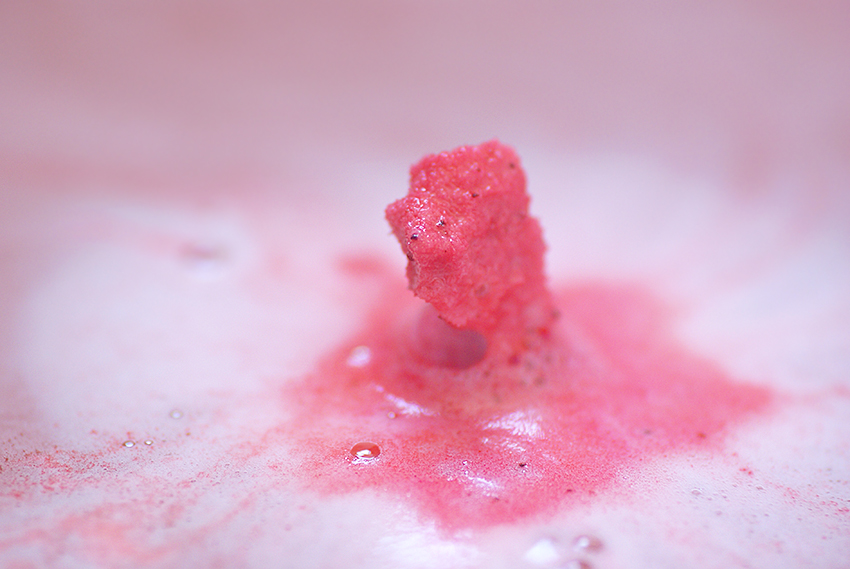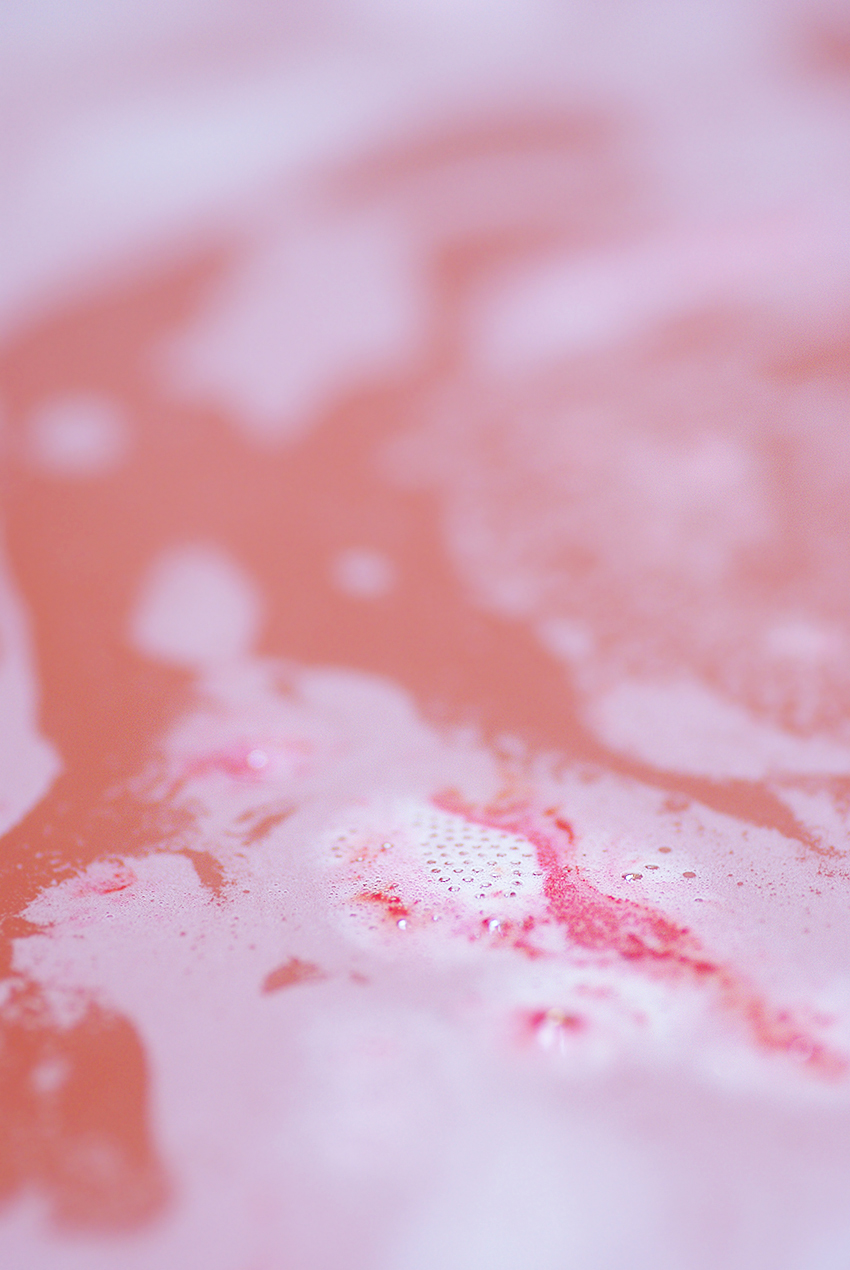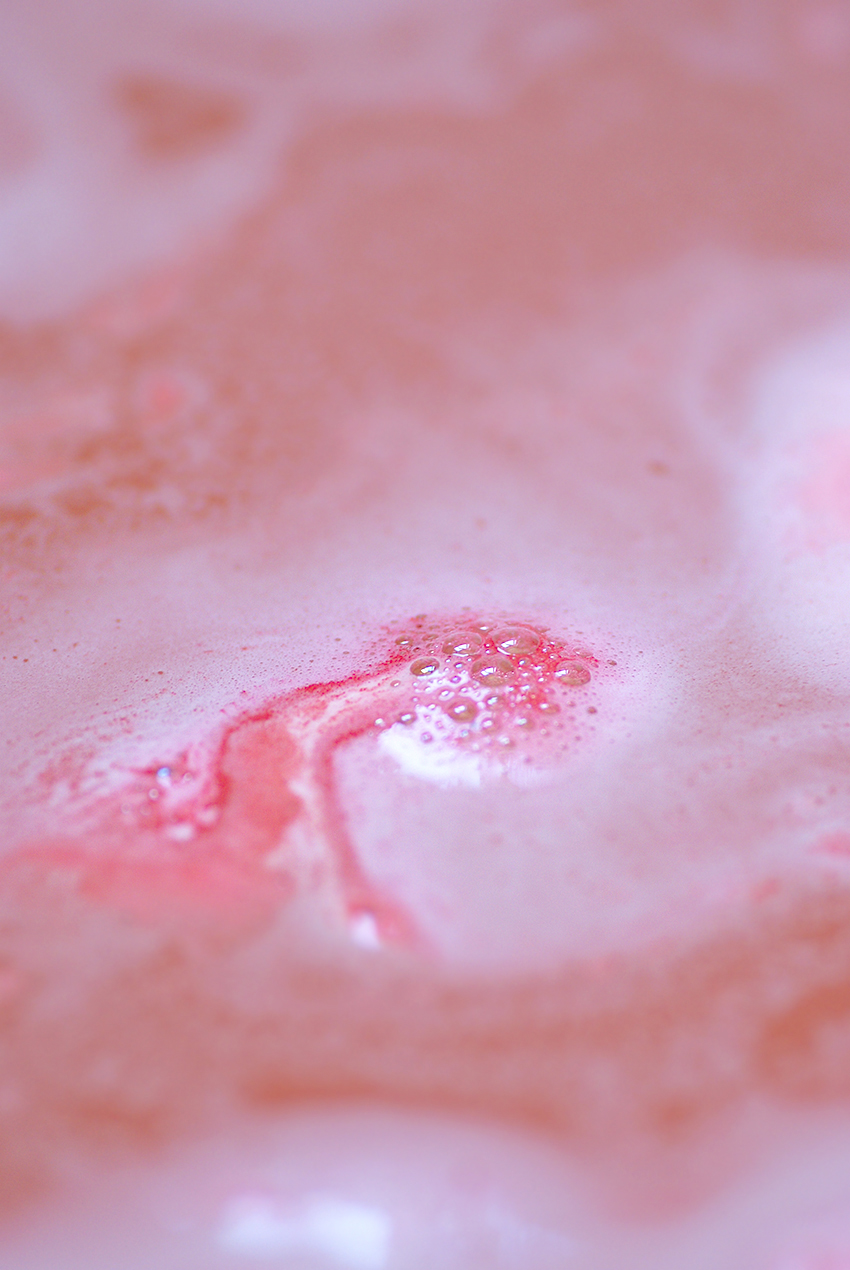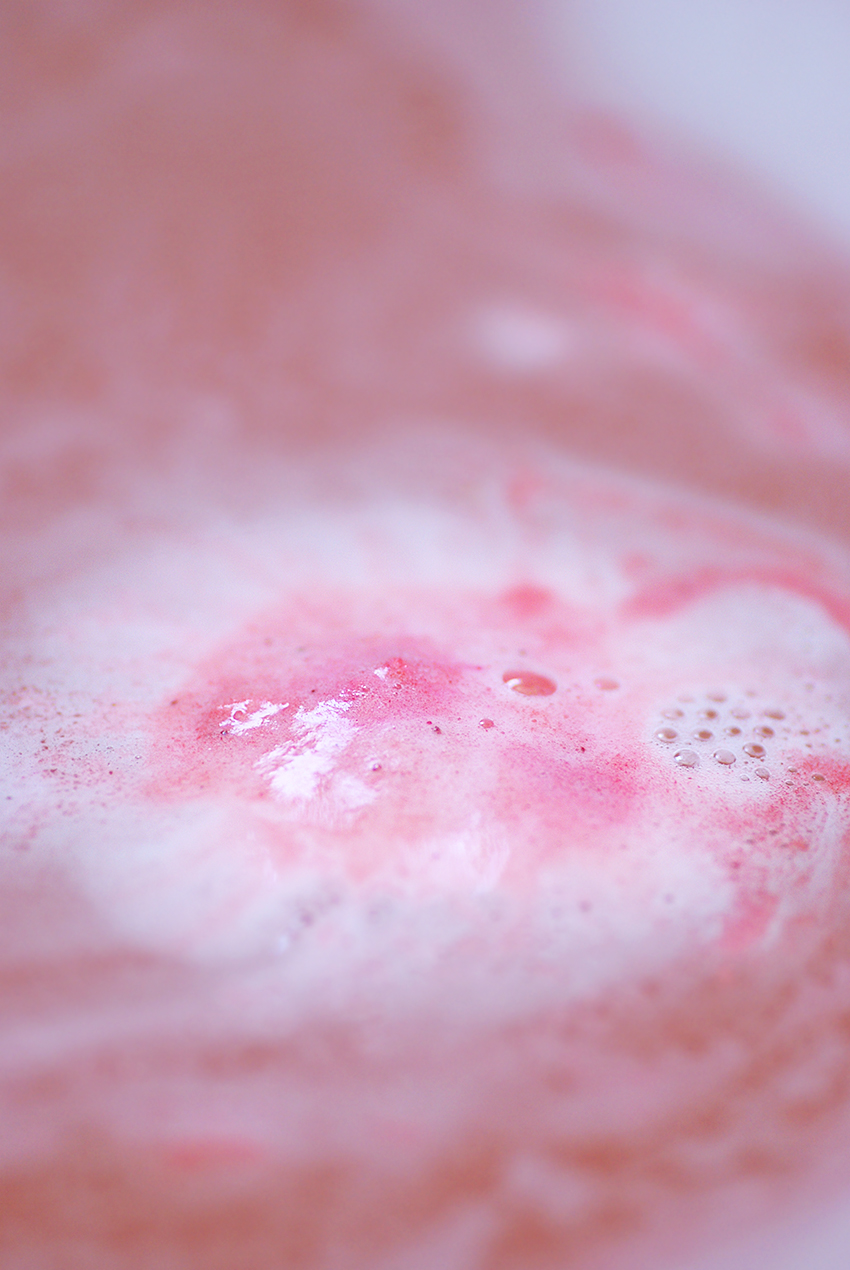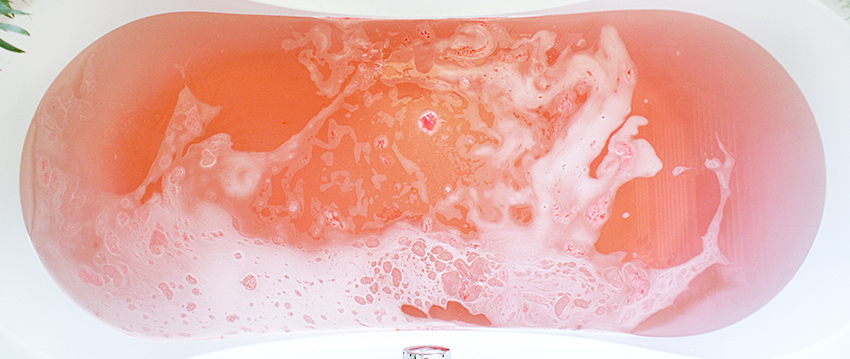 Mijn ervaring
Als ik de aardbei in het water laat zakken, komt er direct felgekleurd rood schuim van de bath bomb. Aan de bovenkant komt er wat groen schuim, maar dit wordt al snel overheerst door het rode schuim. Dat deze bath bomb kleiner dan gemiddeld is, weerhoudt hem er niet van het hele bad om te toveren in een aardbeienveld. Het water wordt helder rood, ook zie ik kleine donkerbruine stukjes door het water drijven, dit zijn de stukjes cacaoboter. Een duin laagje wit schuim bedekt de oppervlakte en mengt zich uiteindelijk met het water. Het water voelt onwijs zacht aan, ik merk ook dat deze bath bomb veel boteriger is dan andere bath bombs — de boters maken het bad zo glad dat ik moeite heb om te blijven zitten 😂
Ik kon de geur zeer goed ruiken tijdens het badderen, vooral toen ik mezelf in bad hees. Zelfs na afloop, tijdens het schrijven van deze review, ruik ik de geur nog heel subtiel na op m'n huid. De boters in het water zijn niet onopgemerkt gebleven bij m'n huid — deze voelt zijdezacht aan, maar ook wat meer gehydrateerd. Droge plekjes zijn minder droog. Al met al een kleine krachtpatser, niet alleen qua geur en kleur, maar ook qua werking.
Dit is een geweldige bath bomb als je weigert €7,50 of zelfs €8,50 neer te tellen voor een bath bomb. Deze kost maar €5,50 en zou je zelfs in twee keer kunnen gebruiken. 💕 Een aanrader, absoluut!

Lush Strawberries & Cream Bath Bomb kost €5,50. Hij behoort tot de tijdelijke Harajuku collectie.
5 Responses to Review: Lush Strawberries and Cream Bath Bomb