Review: Lush Magma Bath Bomb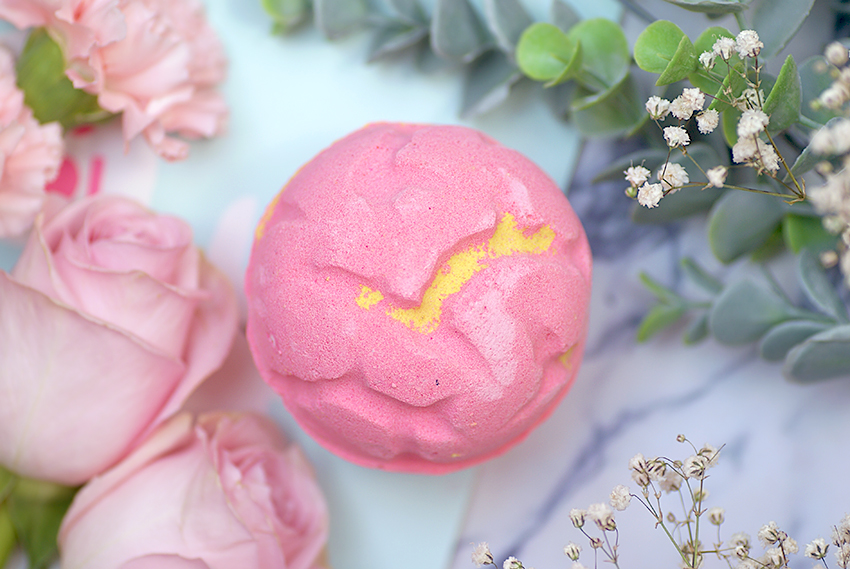 Als ik uitzoek welke bath bombs ik wil testen, kijk ik altijd naar de geurbeschrijving. Ik ben niet moeilijk met geuren, maar voor kruidige geuren hoef je mij 's nachts niet wakker te maken. Toch belandde op de één of andere manier Magma in m'n winkelmandje, misschien vanwege zijn leuke, roze uiterlijk? Er bleek toch nog wel wat vraag te zijn naar deze bath bomb, dus ik gooide 'm bij m'n bestelling. Vandaag ga ik je laten zien wat ik ervan vind!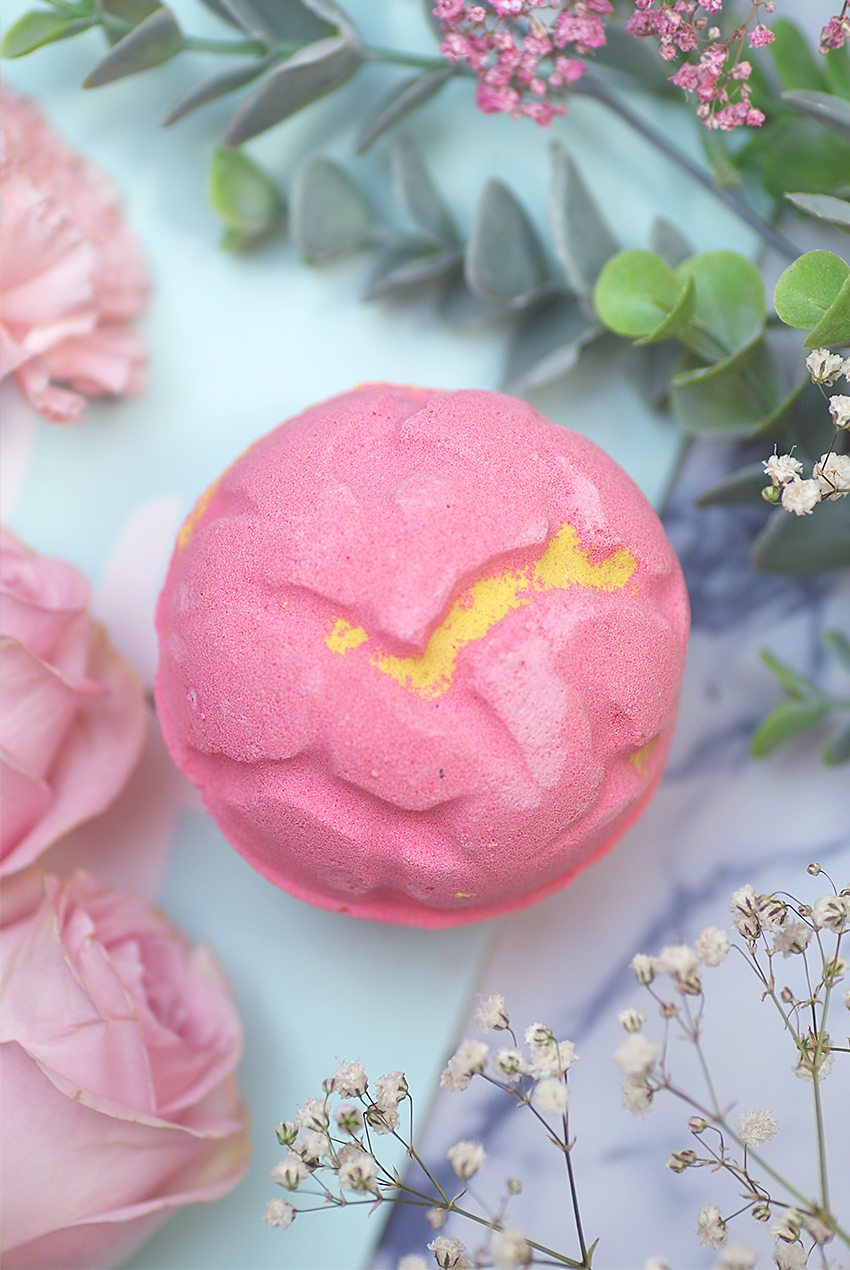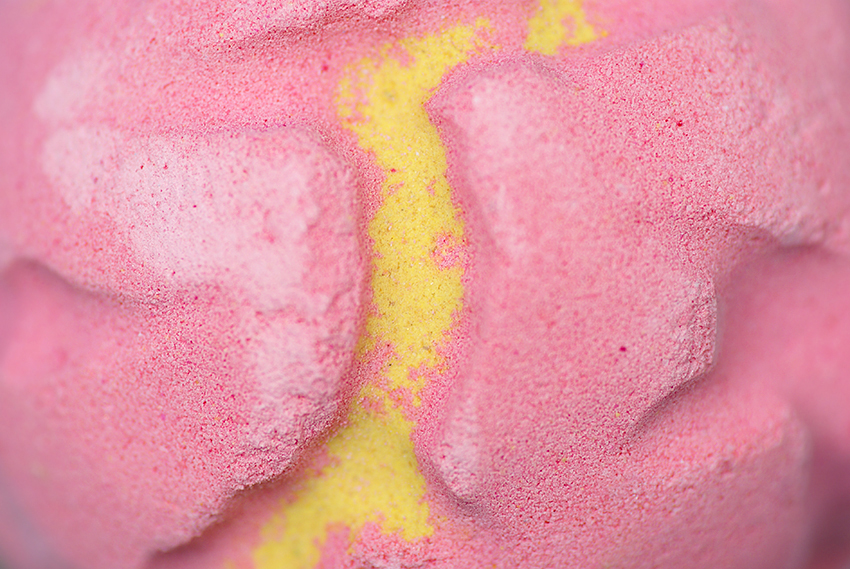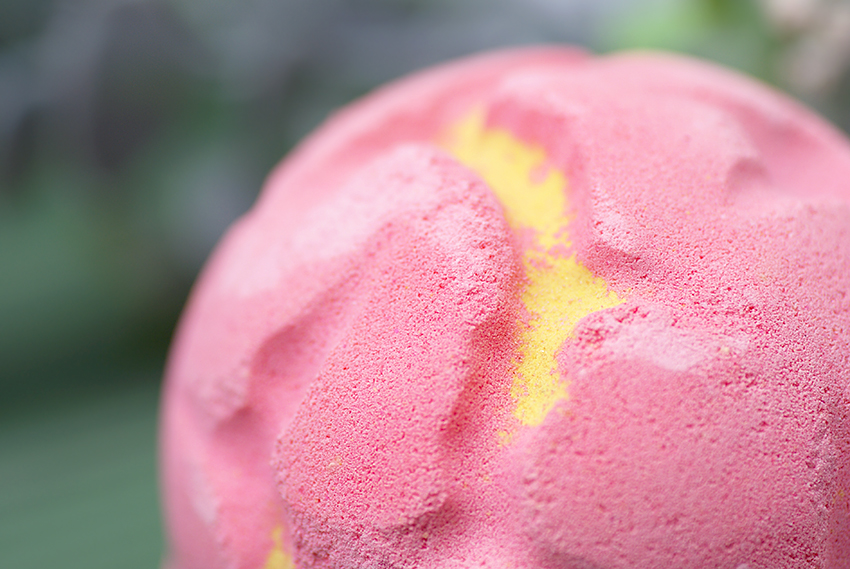 Wat is het?
Ingrediënten: Natrium Bicarbonaat (Sodium bicarbonate), Citroenzuur (Citric acid), Gemberpoeder, Mosterdpoeder, Dipropyleen Glycol, Kaneelbladolie (Cinnamomum zeylanicum), Pepermuntolie (Mentha piperita), Water (Aqua), Knettersnoep, Disodium Lauryl Sulfosuccinaat, Propyleen Glycol, *Eugenol, Parfum, Kleurstof 47005, Kleurstof 14700 (CI 14700), Kleurstof 45410 (CI 45410), Kleurstof 45430:1, Kleurstof 45350
Lush Magma Bath Bomb kost €8,50 en is onderdeel van de tijdelijke Harajuku collectie, bestaande uit uiteenlopende 54 bath bombs. Deze roze met gele bath bomb ziet er vrolijk uit, maar zijn geur is niet zoals je zou verwachten. De ingrediënten erin zijn gemberpoeder, mosterdpoeder, kaneelbladolie en pepermuntolie. Ook zit er knettersnoep in, dus mocht je geknetter horen, dan weet je waar het vandaan komt.
Het is één van de weinige Harajuku bath bombs met een erg kruidige geur. Om eerlijk te zijn vind ik het geen lekkere geur — hij doet me erg denken aan de Cinders bath bomb van jaren terug, die toen in tegenstelling tot nu, toen nog veel kruidiger rook. Ik vind de Cinders douchegel van afgelopen Kerst echt heerlijk, maar de bath bomb heb ik nooit lekker gevonden. Magma is erg warm en kruidig, maar er zit één overheersende geurnoot in die ik echt verschrikkelijk vind, ik ben bang dat het de kaneelbladolie is. Ik lees ook dat er pepermunt in zit, maar dat ruik ik er zelf niet in terug. Nee, dit is niet mijn geur. Hij deelt overigens zijn geur met de Wiccy Magic Muscles massage bar, die ideaal is voor als je spierpijn hebt, dankzij de kaneel en pepermunt.
Speel het filmpje af in 2160p kwaliteit en op volledig scherm voor de beste ervaring! Het filmpje speelt zich versneld af.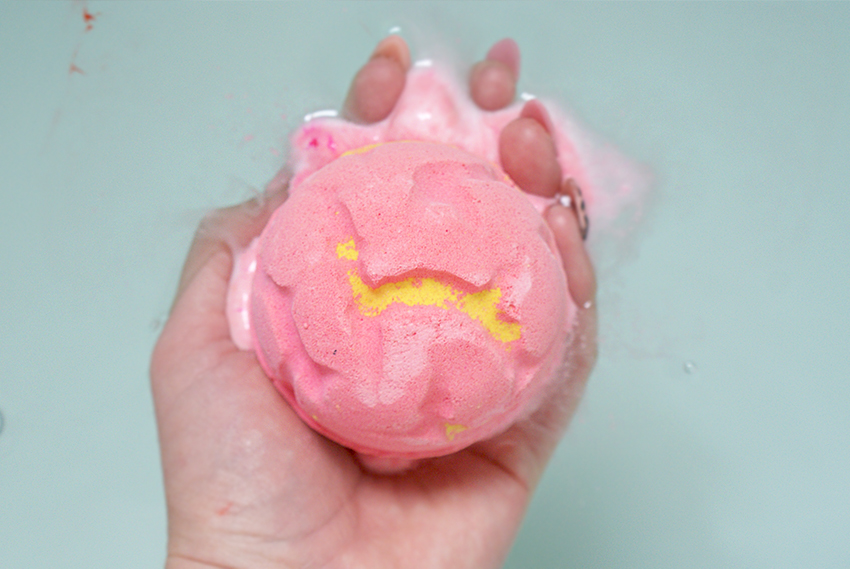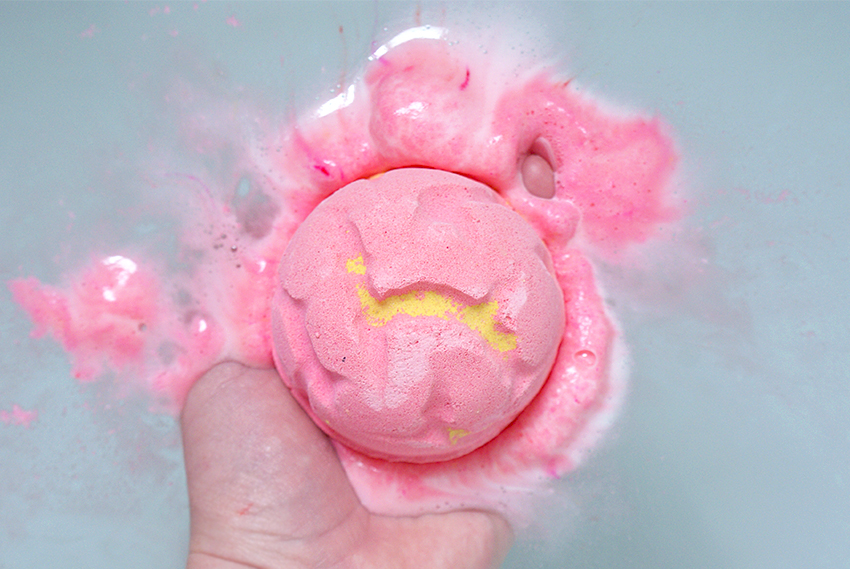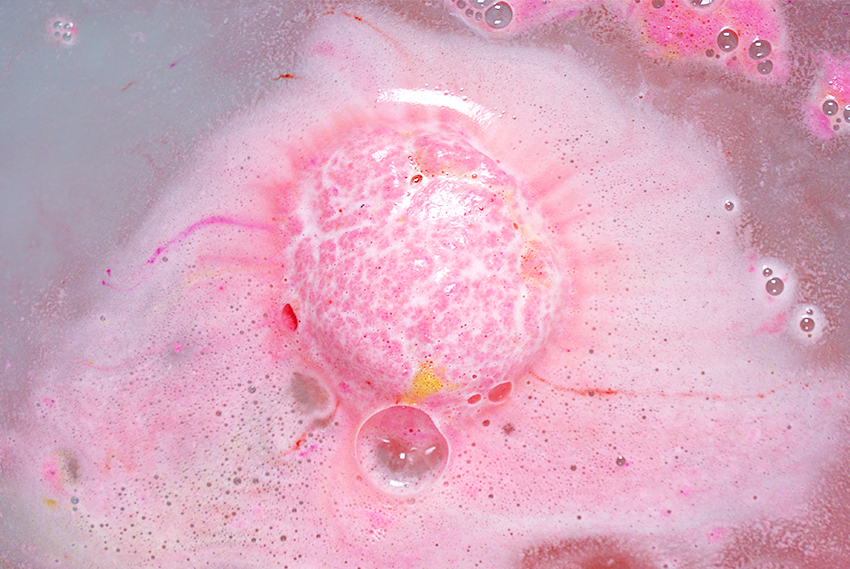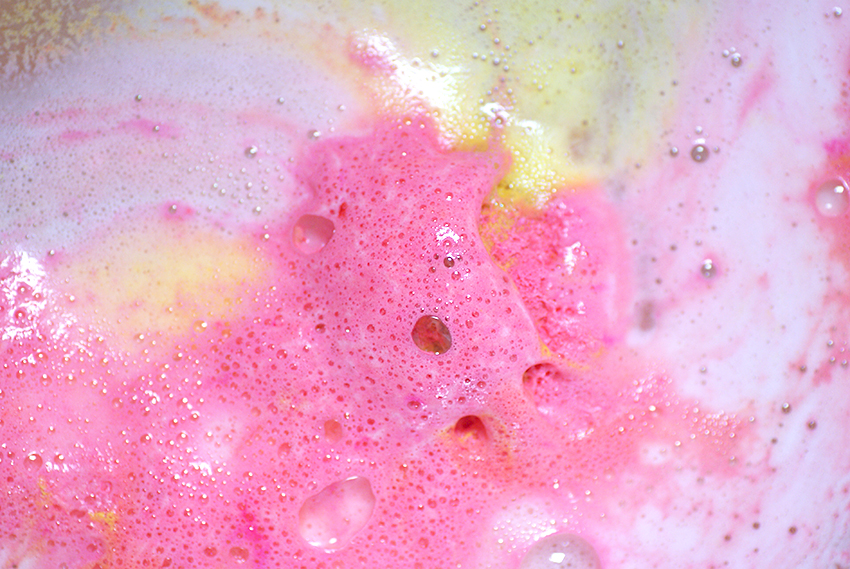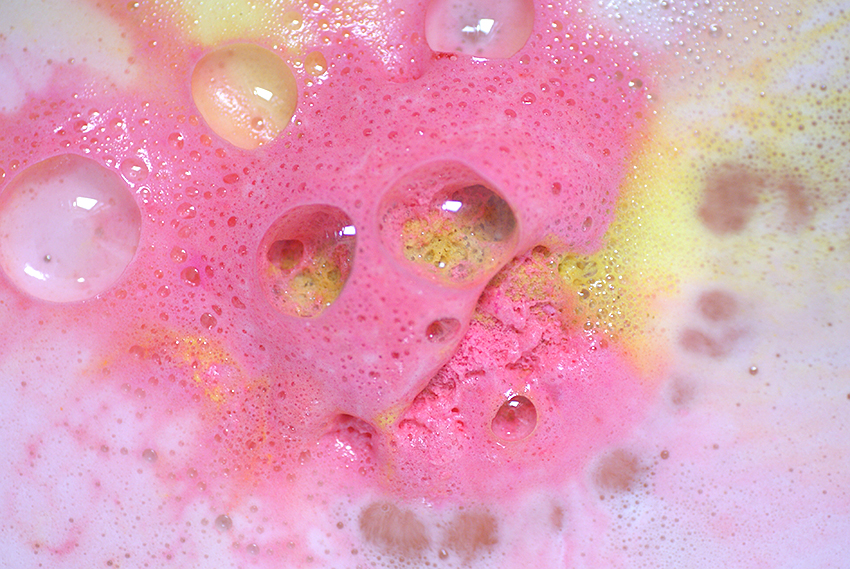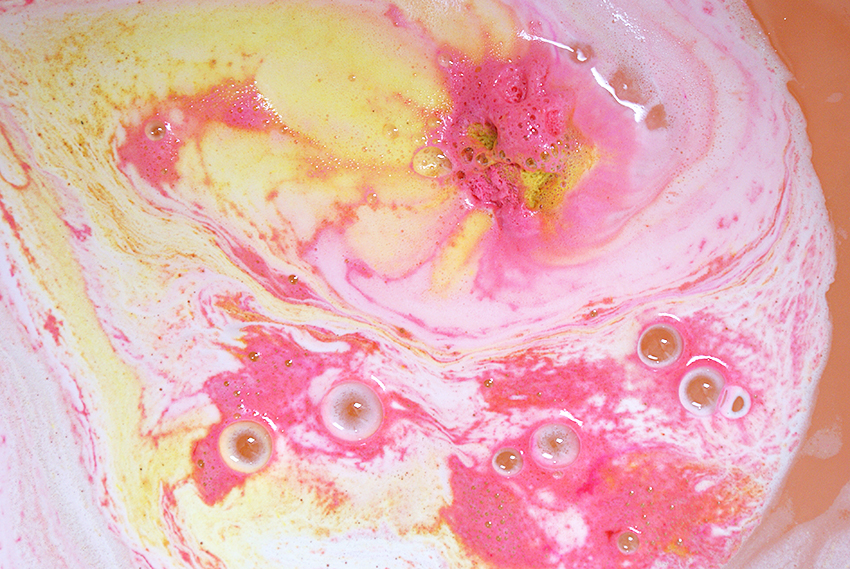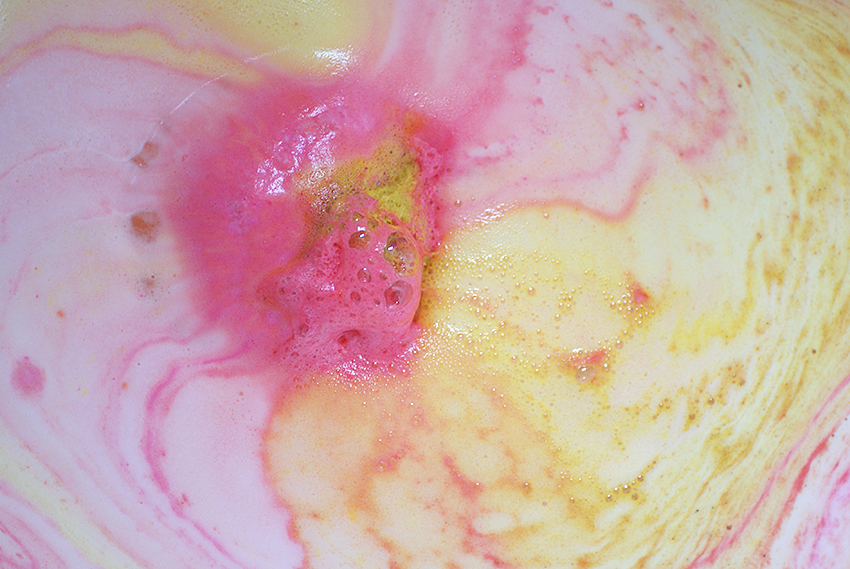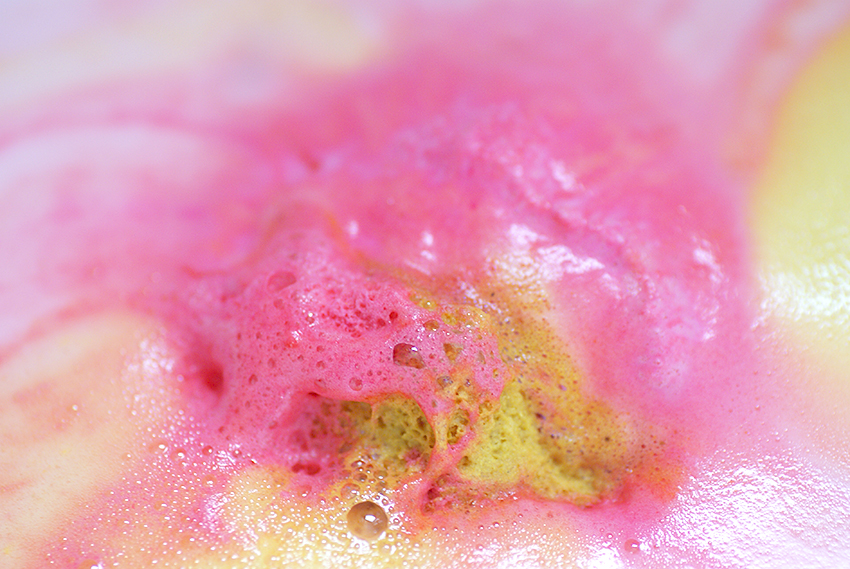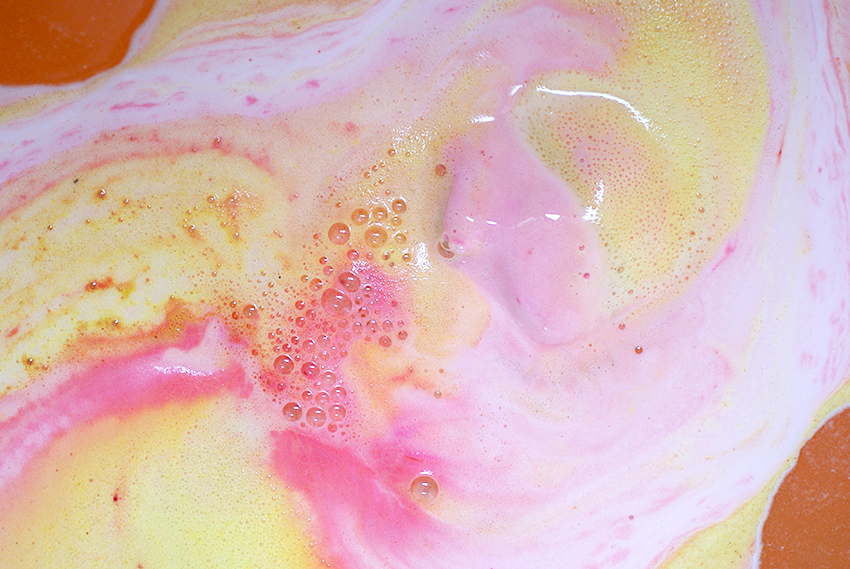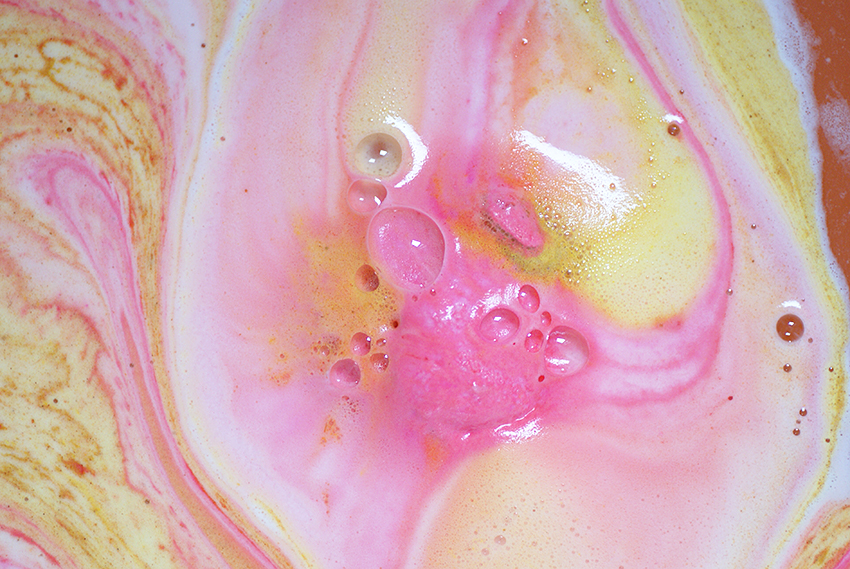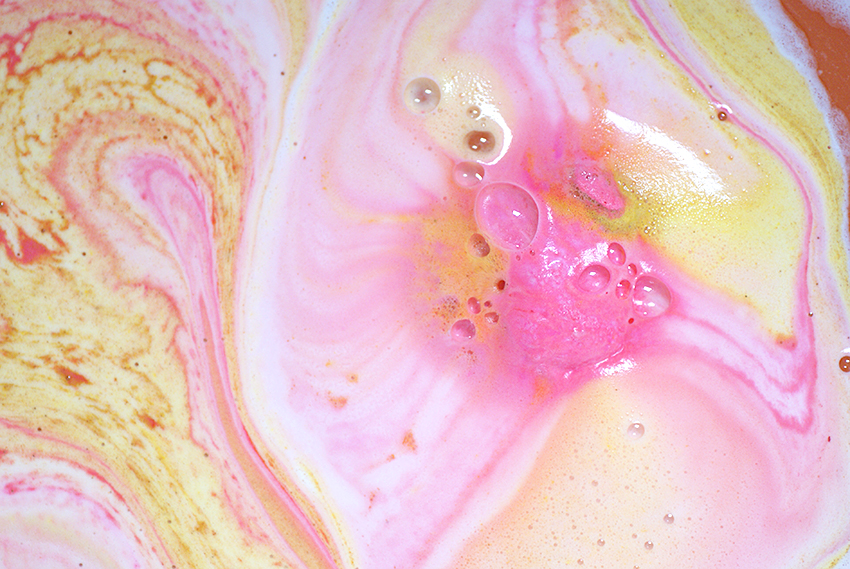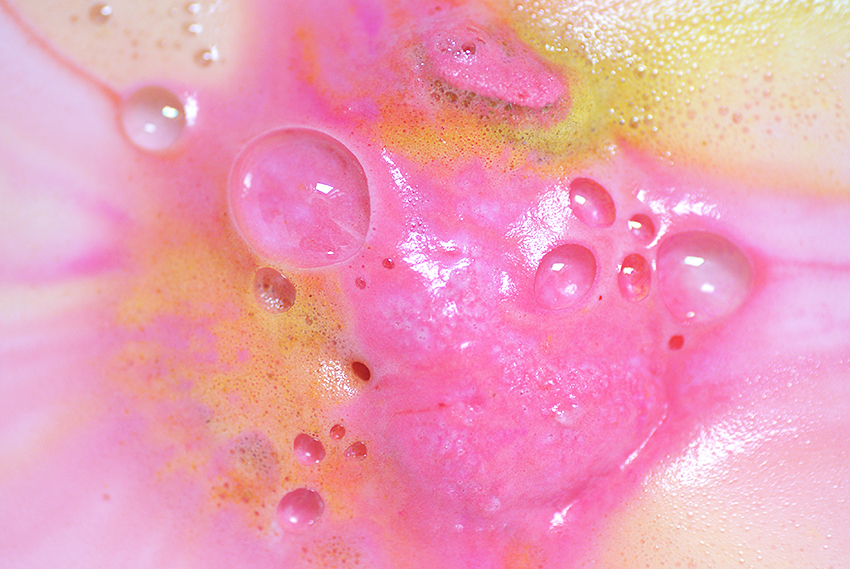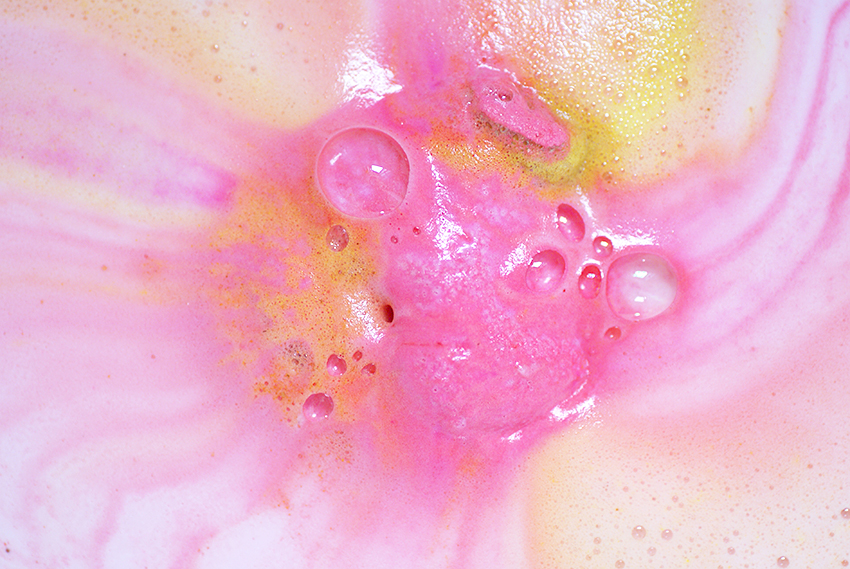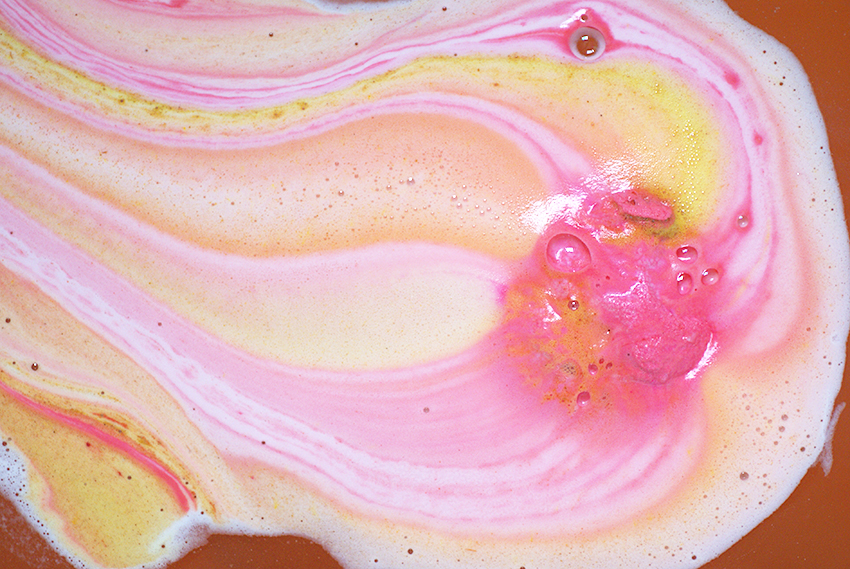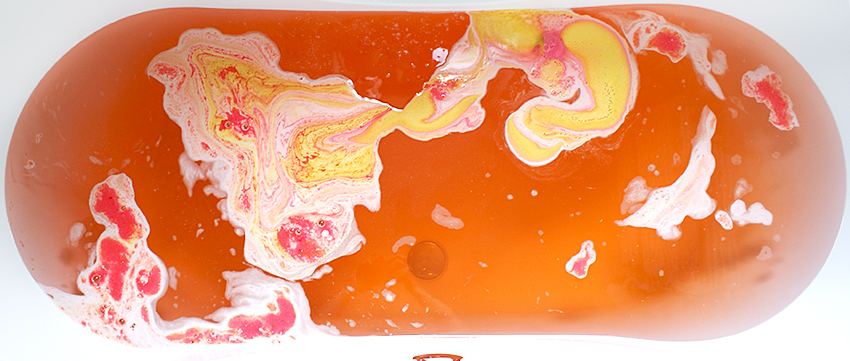 Mijn ervaring
Als Magma het water raakt, begint hij met het uitspuwen van enorm dik en luchtig schuim. Al snel drijft hij rustig door het bad, en laat niet alleen roze kleuren achter, maar ook geel. Ik moest direct denken aan Lush Groovy Kind of Love, ook roze met geel, maar de kleuren van Magma vind ik nog een stukje mooier. Het is een prachtige kleur roze met vrolijk geel, dat nu het bad overneemt. Met slechts twee kleuren tovert hij het bad om in een ware bath art show, de meeste prachtige vormen komen tevoorschijn.
De uiteindelijke kleur van het water wordt helder oranje, een mooie tint. De geur is iets afgezwakt, maar nog steeds wel te ruiken in de badkamer, alleen iets subtieler gelukkig. Magma blijft nog rustig 10 minuten bruisen, het duurt echt lang voordat hij helemaal opgebruist is. Op de oppervlakte liggen plassen met schuim, bedekt in mooie kleuren. Qua bath art is dit echt een pareltje. De knettersnoep was goed te horen, maar dit extra effect doet me eigenlijk vrij weinig 🤷🏻‍♀️ M'n huid voelde iets zachter na afloop, de geur kon ik (gelukkig) niet meer bespeuren op m'n huid. Het bad was ook makkelijk schoon te maken — er bleven geen kleuren achter.
Magma heeft me zeker verrast. In bad is hij prachtig, je krijgt echt wel waar voor je geld. Als je van kruidige en warme geuren houd, dan is Magma wellicht dé match voor je. Ook ideaal als je spierpijn hebt!

Lush Magma Bath Bomb kost €8,50. Hij behoort tot de tijdelijke Harajuku collectie.
3 Responses to Review: Lush Magma Bath Bomb