Review: Lush Wake Up Call Shower Bomb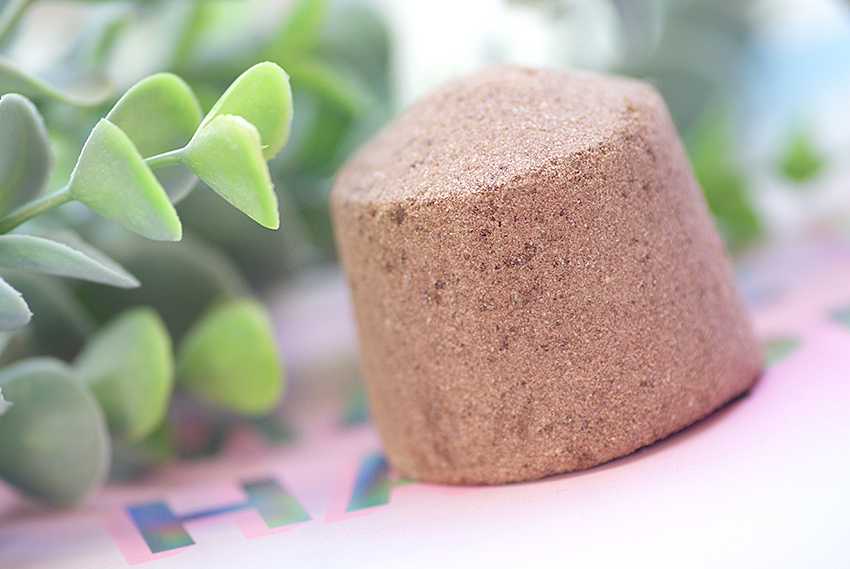 Is een kop koffie 's ochtends niet genoeg om jou wakker te krijgen? Dan kunnen we elkaar de hand schudden. Gelukkig is er Wake Up Call shower bomb van Lush, die we, in tegenstelling tot onze koffie, gewoon kunnen mee nemen onder de douche. Vandaag laat ik deze Liverpool exclusive aan je zien, dus mocht je benieuwd zijn.. lees dan vooral verder!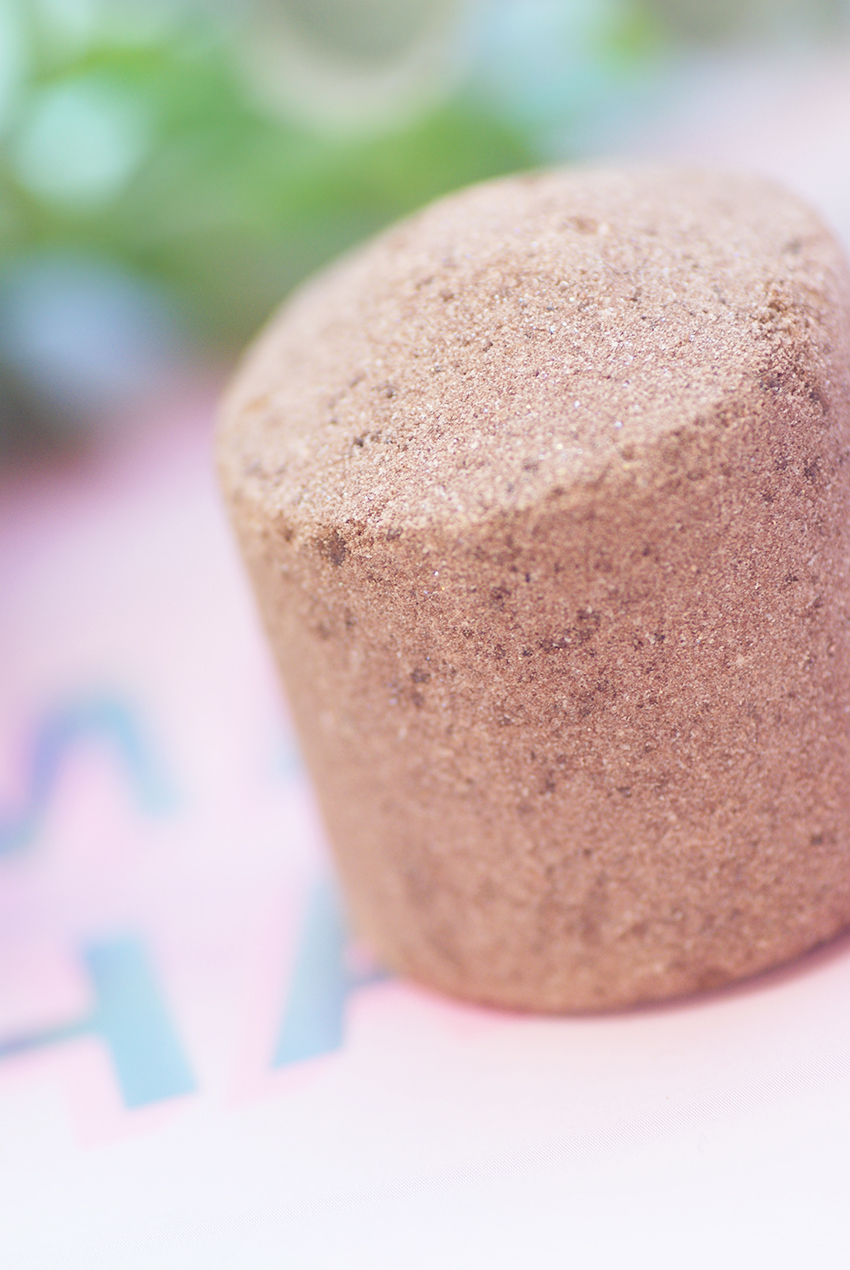 Wat is het?
Lush Wake Up Call Shower Bomb kost £2.75 en is alleen in Liverpool te koop. Een shower bomb is een kleine 'bruisbal' die je meeneemt in de douche en onder de straal houdt. Wanneer hij in aanraking komt met water, begint hij weldadig te schuimen. Dit schuim schep je er van af en daarmee smeer je jezelf in. Met de meeste shower bombs doe je meerdere keren, afhankelijk van hoe royaal je jezelf insmeert. Als je het schuim eraf hebt gepakt, houd je hem weer eventjes onder de straal zodat hij weer gaat schuimen. Schuim is eigenlijk niet het juiste woord, het is meer een dik, zacht foam — een mousse. Het product is naked, het heeft dus geen verpakking.
Je kunt hem droog wegleggen voor een volgende keer, maar je kunt hem ook vooraf in stukjes snijden. Zo doe je dus meerdere keren met één shower bomb. Lees hier meer daarover.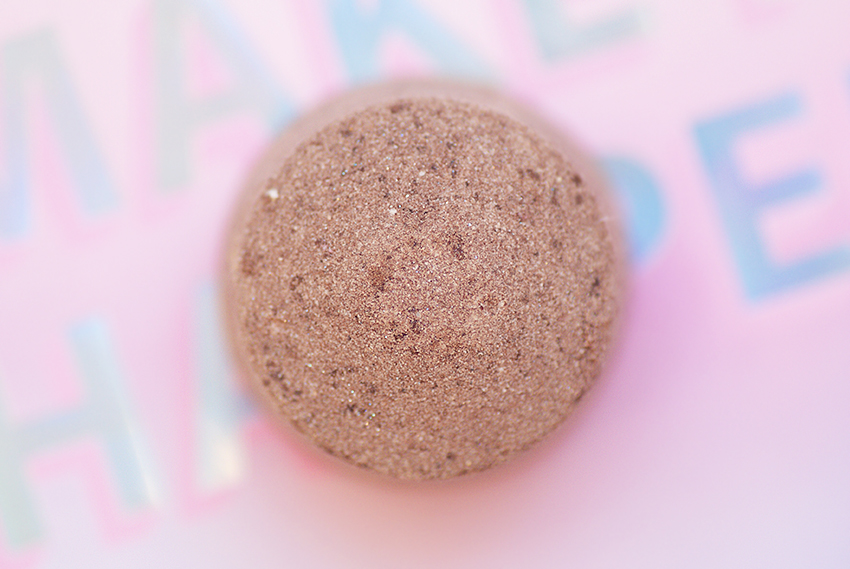 Wat zit erin?
Ingrediënten: Sodium Bicarbonate, Cream of Tartar, Citric Acid, Potato Starch, Cocoa Powder, Sodium Laureth Sulfate, Calcium Lactate Gluconate, Sodium Alginate, Cocamidopropyl Betaine, Perfume, Black Pepper Oil, Labdanum Resinoid, Guaiacwood Oil, Ground Coffee, Aloe Vera Extract, Benzyl Benzoate, Benzyl Salicylate, Cinnamyl Alcohol, Coumarin, Eugenol, Limonene
Wake Up Call is, zoals de naam al doet vermoeden, rijk aan ingrediënten die zorgen dat je je ochtendhumeur zo door het putje spoelt. Zwarte peperolie is verwarmend en stimulerend, cistusolie heeft een warm, musk-achtig aroma, guaiachoutolie heeft een zoete en houtachtige geur en heeft ook een verkwikkend effect, gemalen koffie is uiteraard opwekkend en heeft de bijpassende koffiegeur, en aloë vera staat bekend om z'n hydraterende en genezende werking.
De geur is heerlijk en precies zoals je zou verwachten van deze bruine shower bomb. Het is een kruidige, warme koffiegeur — hij doet me erg denken aan Cup O' Coffee, maar ook Copperhead shampoo bar. Geen idee of die geuren echt overeenkomen, ik heb ze momenteel niet dus ik kan het niet vergelijken, maar als je die beide producten lekker vindt, ga je deze ook heerlijke vinden! Een perfecte wake up call, zonder twijfel. Onder de douche ruikt hij wat meer zoet, het pittige er is af en het is nu meer een Kerstige chocoladegeur, een beetje als het Rudolph jelly masker, al ruikt die nóg iets meer naar chocolade.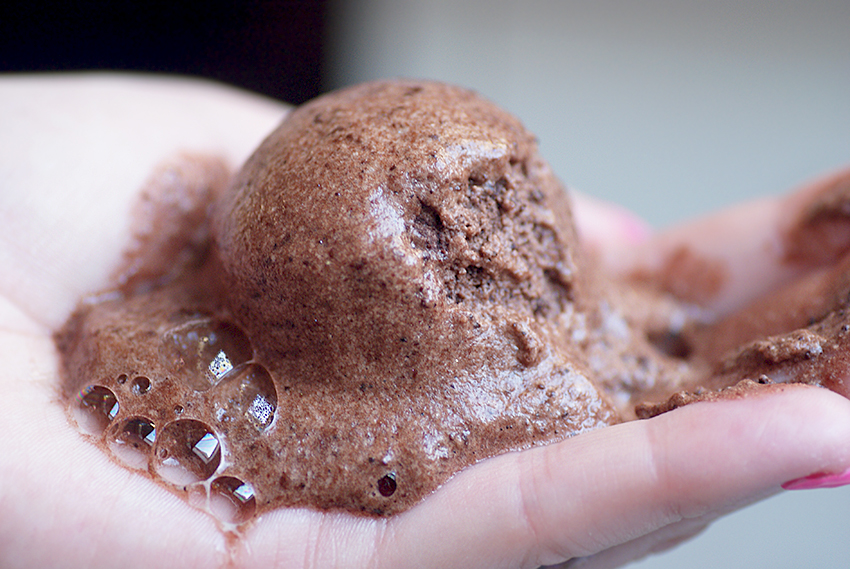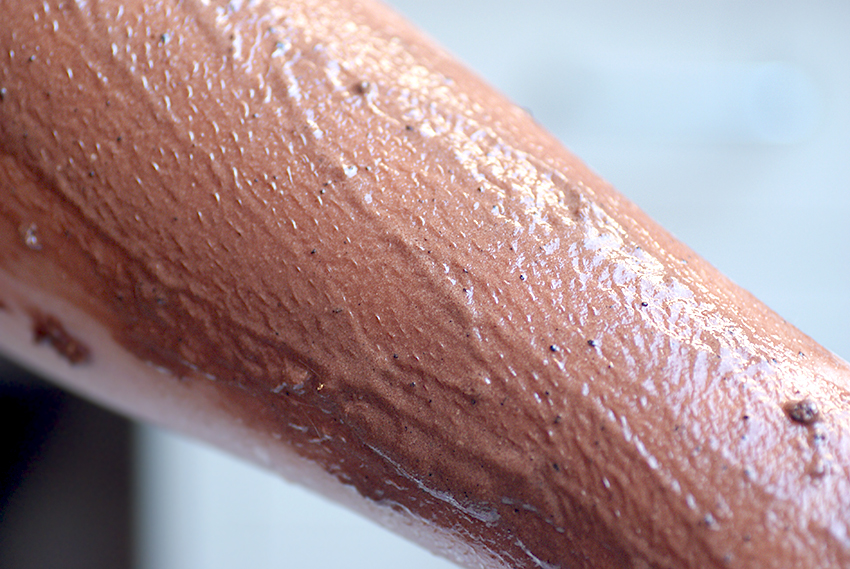 Mijn ervaring
Ik vind het heerlijk als de shower bombs explosief beginnen te schuimen wanneer er water op valt — met Wake Up Call word ik niet teleurgesteld. Zodra de straal de shower bomb raakt, begint hij enorm te schuimen, al is het meer een mousse dat eraf komt. De geur is onwijs goed aanwezig en heeft inderdaad een soort wake-up effect. Ik ben blij dat geur extra goed aanwezig is onder de douche, want dat versterkt toch het hele idee van de wake up call. De shower bomb bevat gemalen koffie, wat dus ook een scrub effect heeft. M'n huid voelt na afloop dan ook mega zacht aan, ook dankzij de Potato Starch (aardappelzetmeel) en Sodium Alginate (bruin zeewier). Dit voel je duidelijk na afloop! Ook glanst m'n huid meer — het heeft een mooie, gezonde glow gekregen. De geur is subtiel nog te ruiken op m'n arm; zeker toen ik hem de eerste keer gebruikte en hem een paar minuten op de huid liet zitten, toen kon ik zoete koffie geur nog úrenlang ruiken.
De tweede keer dat ik hem gebruik, schuimt hij helaas amper. Ik heb dit probleem eigenlijk altijd met de shower bombs. Er komt wel wat van substantie af, dus dat gebruik ik vervolgens om het uit te smeren. Wat extra water erop en het laat zich makkelijk verspreiden over de huid, dus niets aan de hand. Het is wel jammer, het haalt toch het leuke effect weg. Maar zoals ik bij Luck al zei — vooraf in tweeën snijden is de beste oplossing!
Ik ben heel blij met deze heerlijke shower bomb, en mocht hij ooit te koop zijn in Nederland, ga ik er zeker een aantal inslaan. Mocht je in de buurt van Liverpool zijn, raad ik hem ook écht aan!

Lush Wake Up Call Shower Bomb kost £2.75. Hij is alleen in Lush Liverpool te koop.
2 Responses to Review: Lush Wake Up Call Shower Bomb