Review: Lush Don't Let The Bells End Amazeball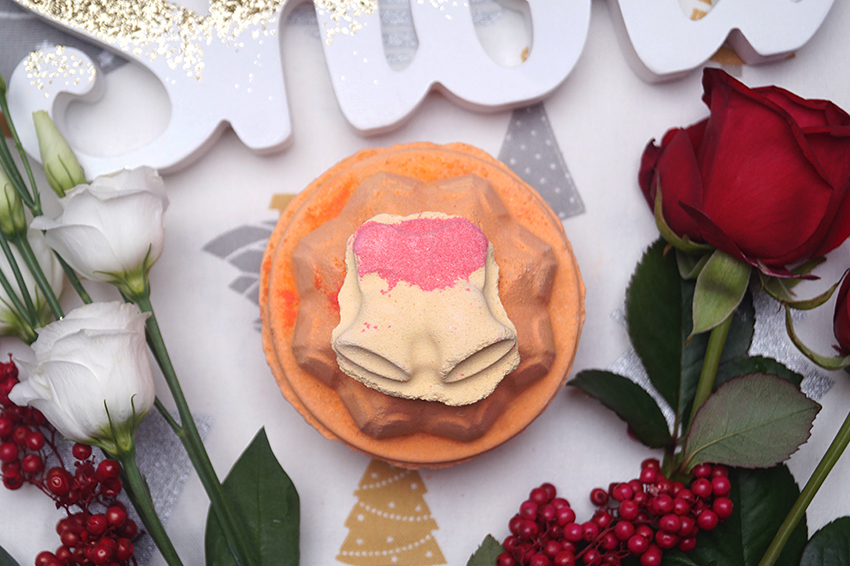 Ho ho ho! De Kerstcollectie ligt sinds eergisteren in de winkels, en ik was natuurlijk dezelfde nog in Lush Kalverstraat te vinden om het één en ander voor m'n blog te scoren. Waaronder deze toffe Amazeball, een bath bomb.. met een draai eraan! Een Amazeball is een bath bomb, maar dan hol van binnen. Hij zit boordevol met inhoud om leeg te strooien in bad. Ik besloot er eentje mee te nemen om eens te testen, en vandaag lees je wat ik ervan vind!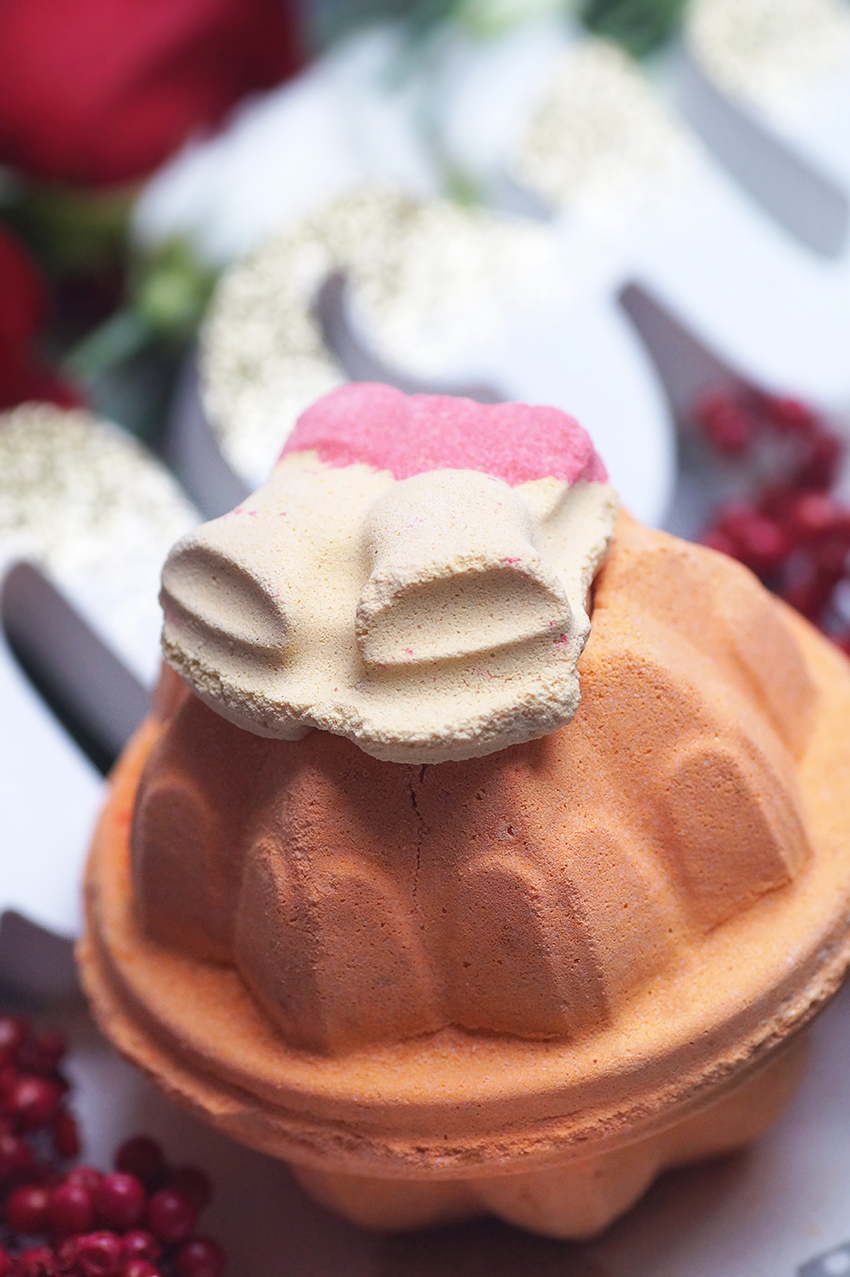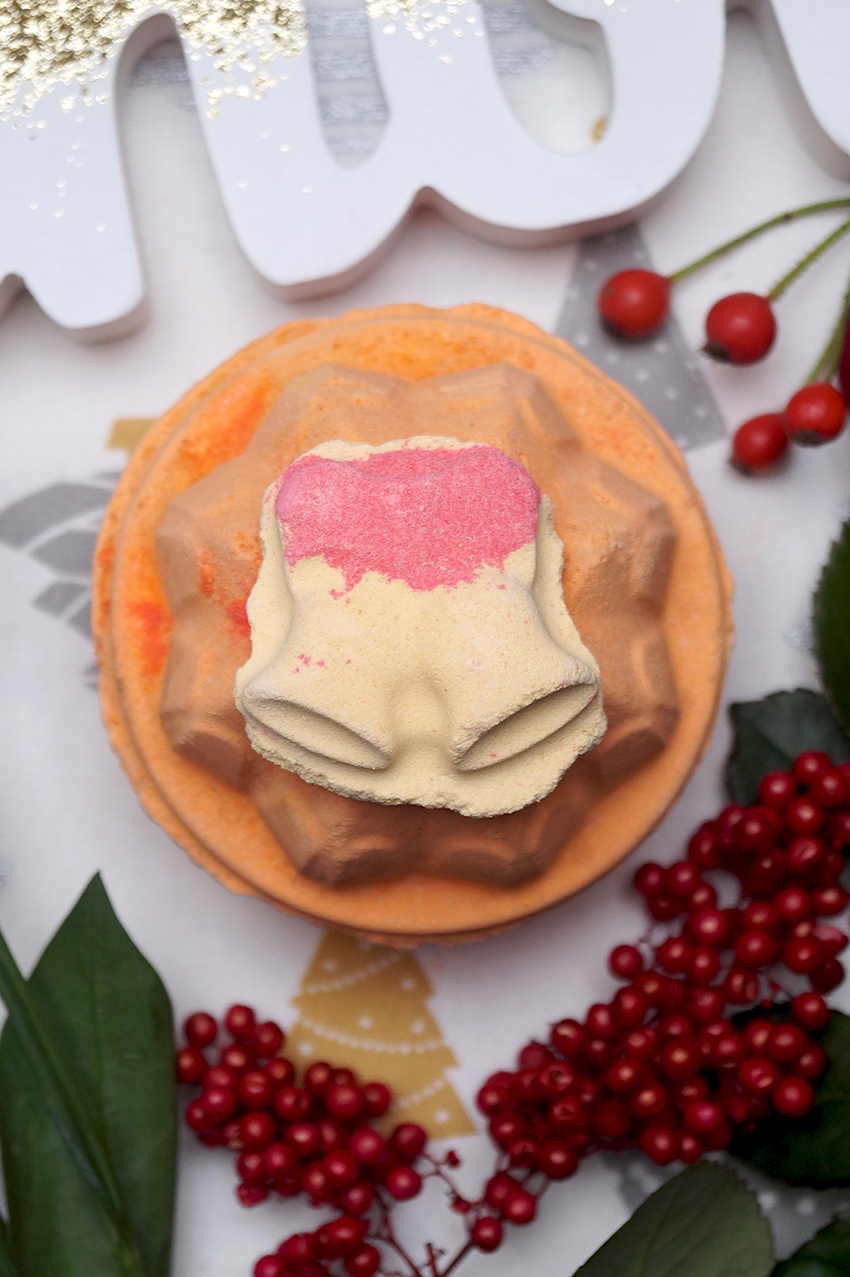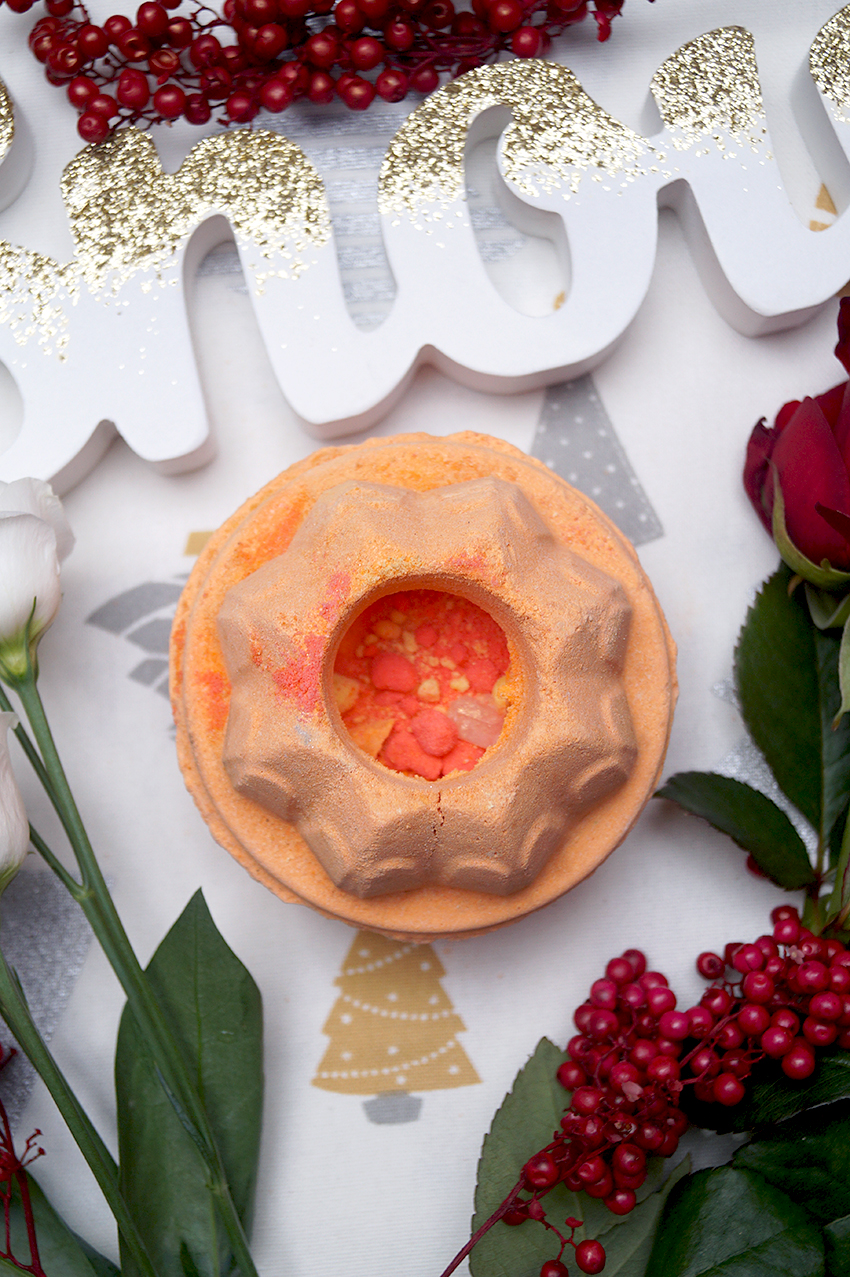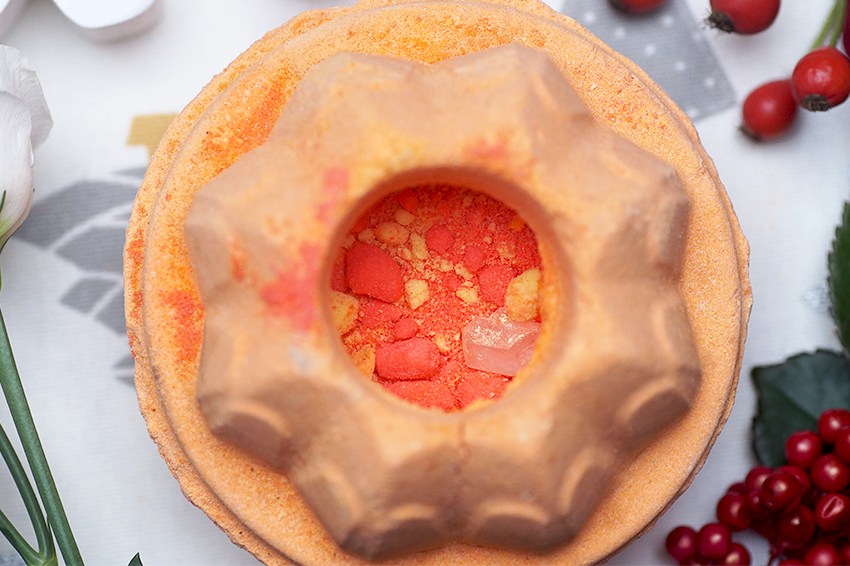 Wat is het?
Ingrediënten: Natrium Bicarbonaat (Sodium bicarbonate), Citroenzuur (Citric acid), Wijnsteenzuur (Potassium bitartrate), Disodium Lauryl Sulfosuccinaat, Propyleen Glycol, Parfum, Ylang Ylang-olie (Cananga odorata), Benzoëhars (Styrax tonkinensis), Etherische Amandelolie (Prunus amygdalusl amara), Titanium Dioxide, Water (Aqua), Natrium Laureth Sulfaat, Synthetische Fluorflogopiet, Tinoxide, Hexyl Cinnamal, Kleurstof 15510 (CI 15510), Kleurstof 15850:1, Kleurstof 19140, Kleurstof 14700 (CI 14700), Kleurstof 77491 (Cl 77491), Kleurstof 19140:1(CI 19140:1), Kleurstof 45410:1
Lush Don't Let The Bells End Amazeball kost €9,95 en is onderdeel van de tijdelijke Kerstcollectie. Het is een amazeball — nieuw in de collectie! Een amazeball is een bath bomb die hol van binnen is, maar wel gevuld is met allerlei lekkers voor in bad. Denk aan bubble bar kruimels, zeezout-kristallen, bath bomb gruis. Alle Amazeballs, op Jingle Bells na, hebben een dopje op de bovenkant. Deze haal je eraf, strooi je leeg in bad en dan leg je de bath bomb erbij. Ik vind het een leuk idee! Ze zijn een flink stuk groter dan reguliere bath bombs. Het zijn erg stevige en zware bath bombs, ondanks dat ze hol zijn.
Don't Let The Bells End is de oranje Amazeball, die verder nog ylang ylang-olie, benzoëhars en amandelolie bevat. Misschien gaat er al een belletje (ha-ha) rinkelen, maar dit zijn de geurnoten van de Happy Blooming geur! Don't Let The Bells End ruikt dan ook erg naar Happy Blooming — een warme, romige kersengeur — hoewel ik deze Amazeball toch minder kersig vind dan de echte Happy Blooming geur. Don't Let The Bells End is veel zachter en romiger in geur. Een zoete, marsepein-geur met een vleugje kersen. Het is een héérlijke geur!
Speel het filmpje af in 2160p kwaliteit en op volledig scherm voor de beste ervaring! Het filmpje speelt zich versneld af.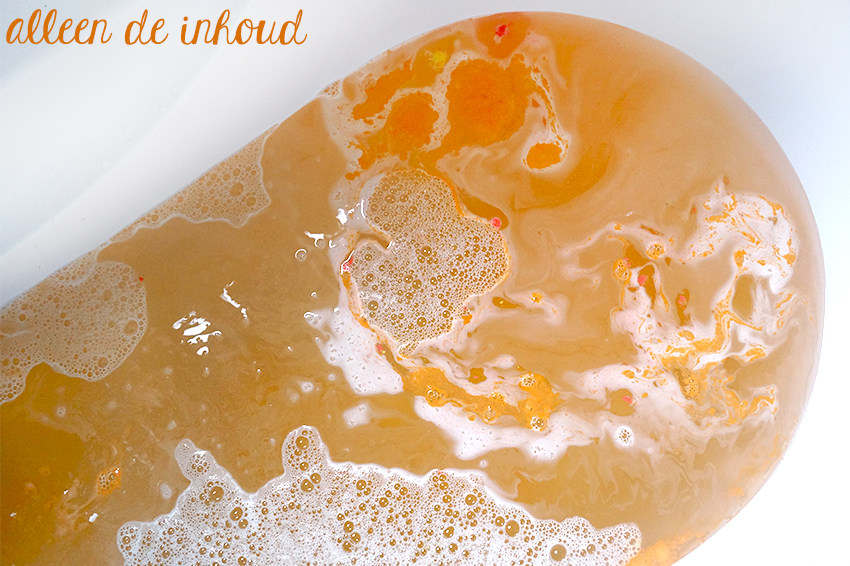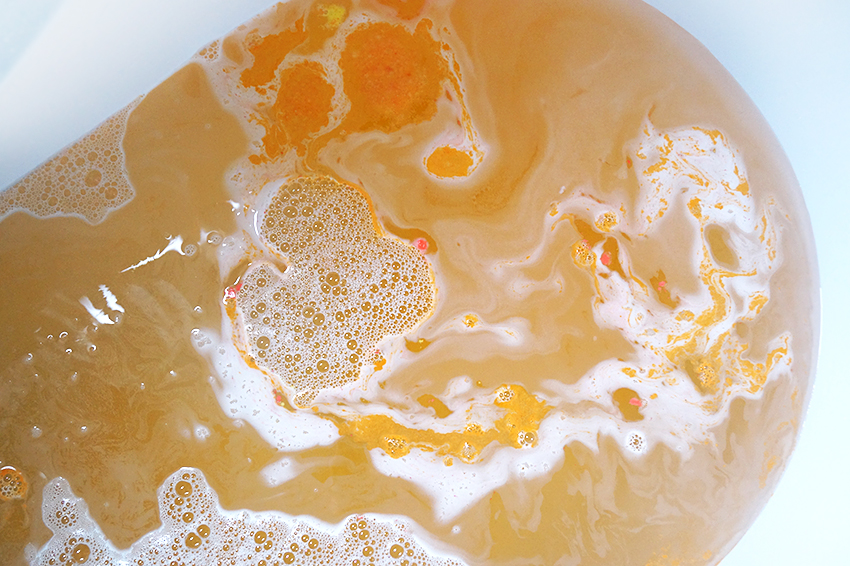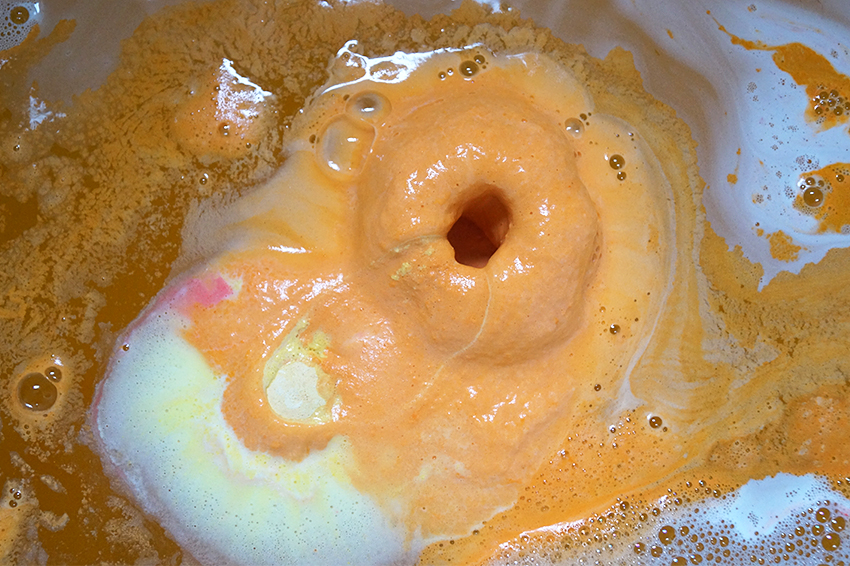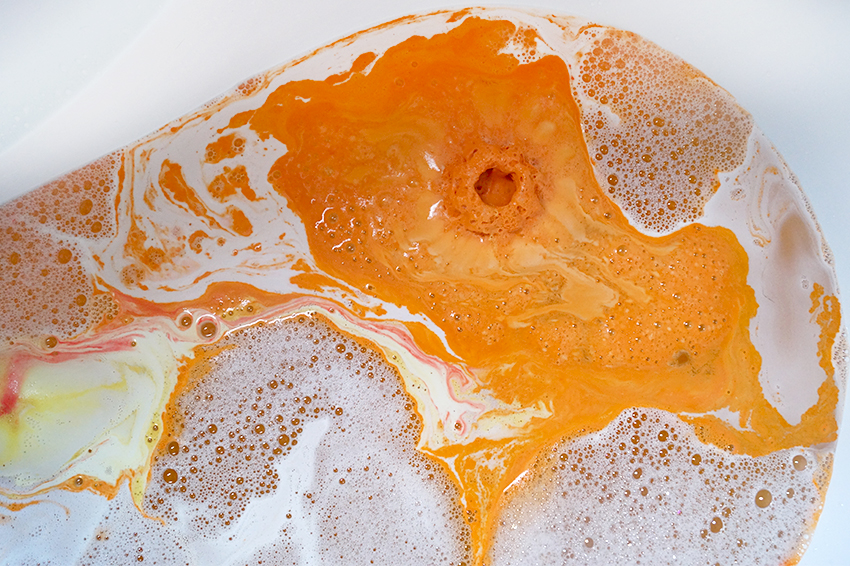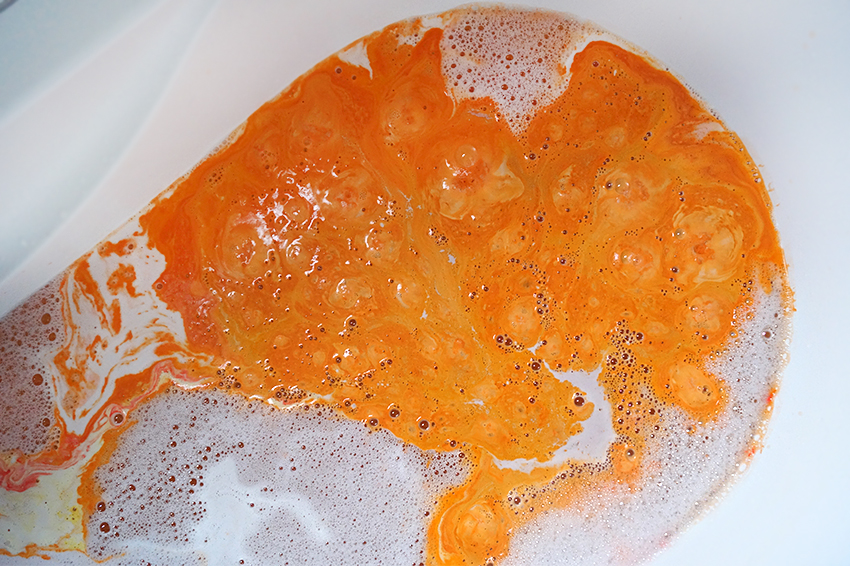 Mijn ervaring
Aangezien er bubble bar kruimels in de Amazeball zitten, strooi ik die in het water terwijl het water nog loopt, zodat er alvast wat bubbels ontstaan. Het verbaast me meteen al hoe het water eruit ziet als ik de inhoud in bad heb gestrooid — het lijkt al alsof ik een bath bomb heb gebruikt! Er zat best een hoop in, voornamelijk wat gruis, bubble bar kruimels maar ook een aantal kristallen. Het water is nú al behoorlijk oranje, dat belooft wat! Ik zet een harde straal op het water, zodat er flink bubbels ontstaan.
Terwijl dat gebeurt, leg ik de Amazeball in het water. Meteen ontstaat er een kraag van dik, romig en fluffy schuim rondom de Amazeball. Als ik de Amazeball loslaat, kiepert hij om en beland het dopje in het water, zorgend voor wat gele en roze kleurtjes. De Amazeball zelf ziet er nu erg.. apart uit, met een gapend gat in het midden. M'n vriend zei "hé wat leuk, een vulkaan" maar ik kon alleen maar aan iets.. anders denken. Wat me verder opvalt, is hoe enorm dik het schuim is dat van de Amazeball afkomt. Ook schuimt hij heel langzaam op — hij trekt er rustig zo'n 10 minuten voor uit. En hij is groot, dus sit back and enjoy the ride.
Het uiteindelijke water was écht onwijs oranje. Misschien wel iets teveel van het goede, m'n vingers en nagels zagen eruit alsof ik net drie zakken Cheetos weg had zitten kanen in bad. Het water is vrij doorzichtig, met gouden glittertjes onder water. De geur was tijdens het badderen goed aanwezig; de geur was minder fruitig dan Happy Blooming altijd is, hij was vooral in bad erg zoet en marsepein-achtig. Ik heb erg genoten van de geur, het is niet voor niets één van m'n favoriete geuren! Na afloop voelde m'n huid bizar zacht en glad aan en de geur kon ik heel lichtjes nog ruiken op m'n huid.
Ik ben erg positief over deze Amazeball! Misschien dat ik de andere varianten ook nog ga kopen, behalve de Snow Fairy dan 😂 Ik zou deze in de winkel zeker eens bekijken en besnuffelen!

Lush Don't Let The Bells End Amazeball kost €9,95. Hij behoort tot de tijdelijke Kerstcollectie.
5 Responses to Review: Lush Don't Let The Bells End Amazeball