Review: Lush Temple In The Skies Bath Bomb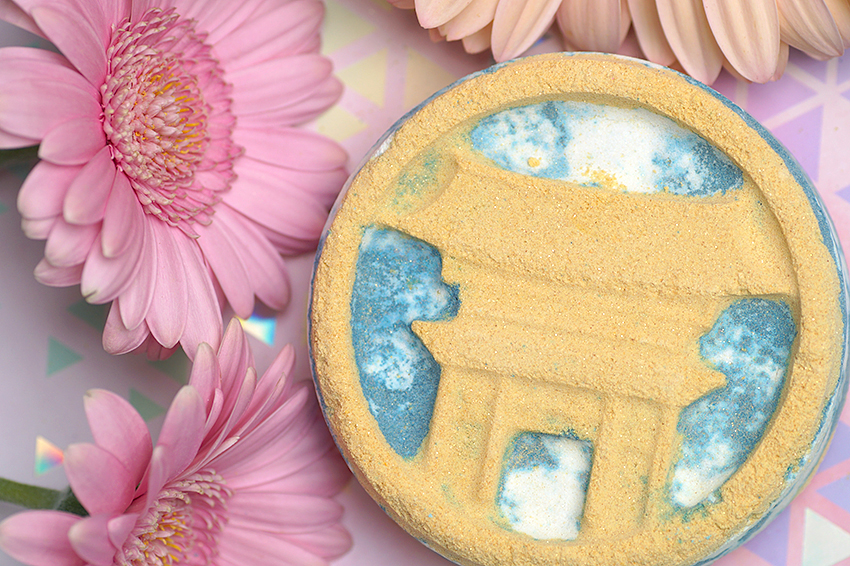 Mocht je denken: wtf, van die bath bomb heb ik nog nooit gehoord — dat kan kloppen. Temple in the Skies is één van de 89 Harajuku bath bombs die eerder dit jaar gelanceerd werden in de nieuwe winkel in Japan. Van die 89 zijn er 54 naar Europa gekomen — blijven er nog 35 over, er daar is Temple in the Skies eentje van.
Om dan je volgende vraag te beantwoorden: ik heb hem gewonnen! Op Instagram hield één van mijn favoriete Lush accounts, @lushestpanda een winactie waarbij je 3 exclusieve bath bombs kon winnen. En ík was de gelukkige. IK!!! Ik ben zó intens blij. Kijk nou hoe mooi 'ie eruit ziet. Bijna zonde om te gebruiken, maar ik deed het toch. Ben je benieuwd hoe hij er in bad uitziet, lees dan verder.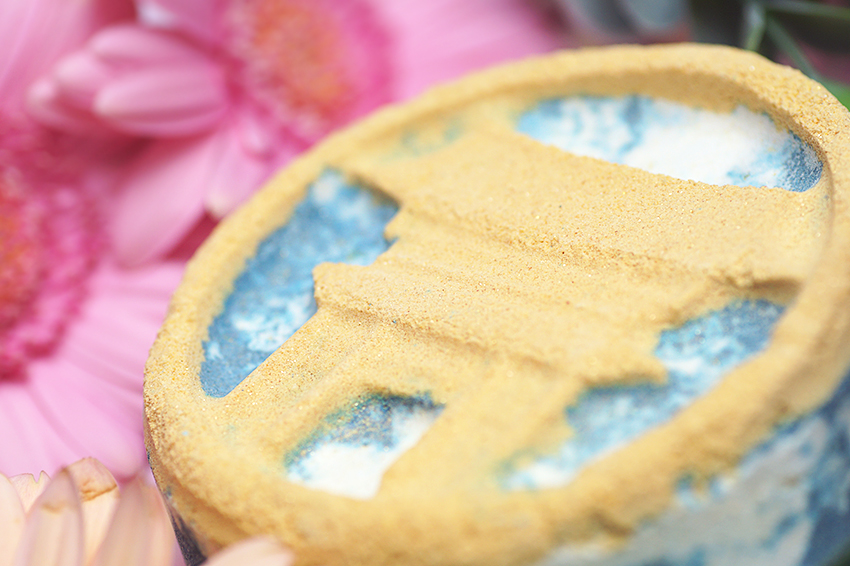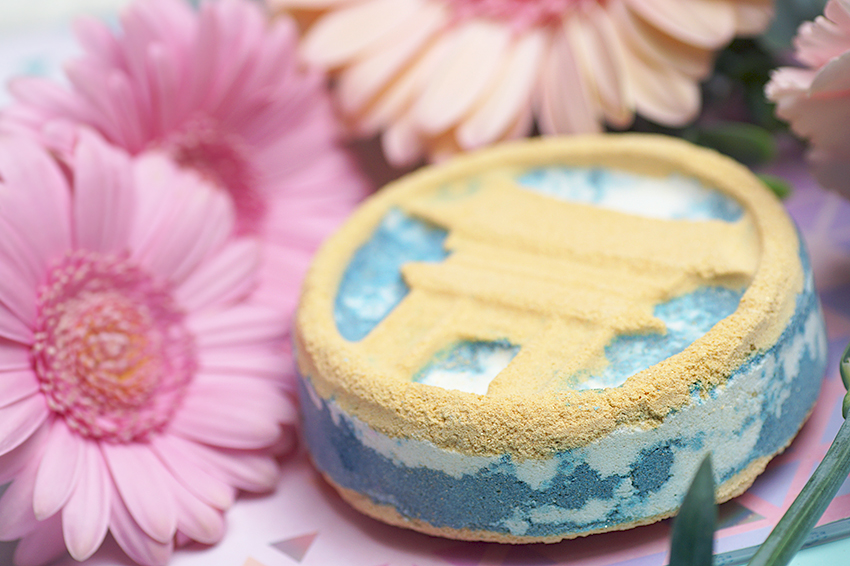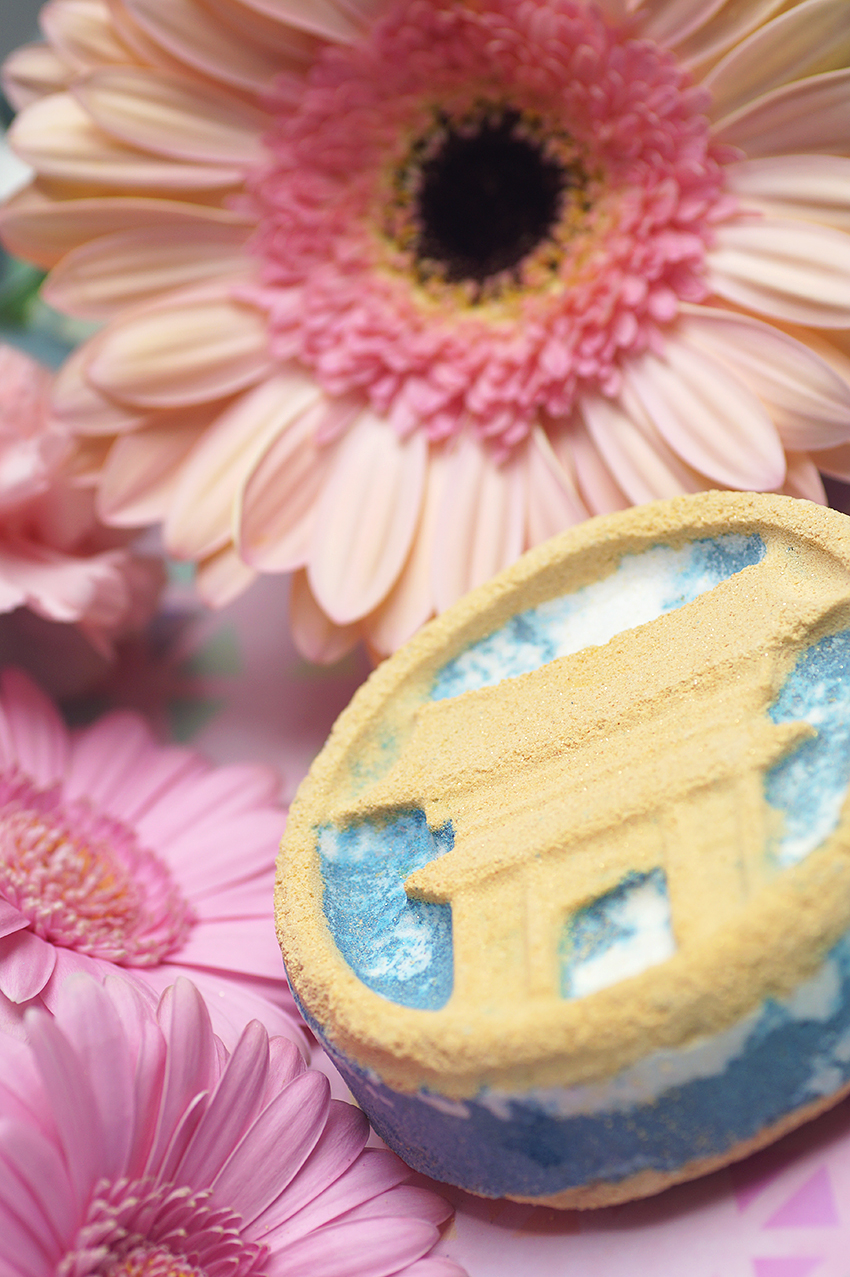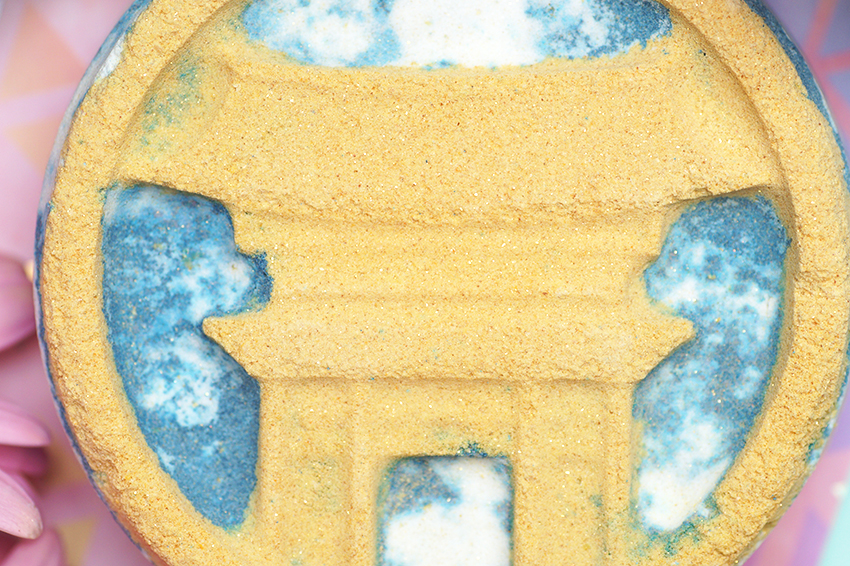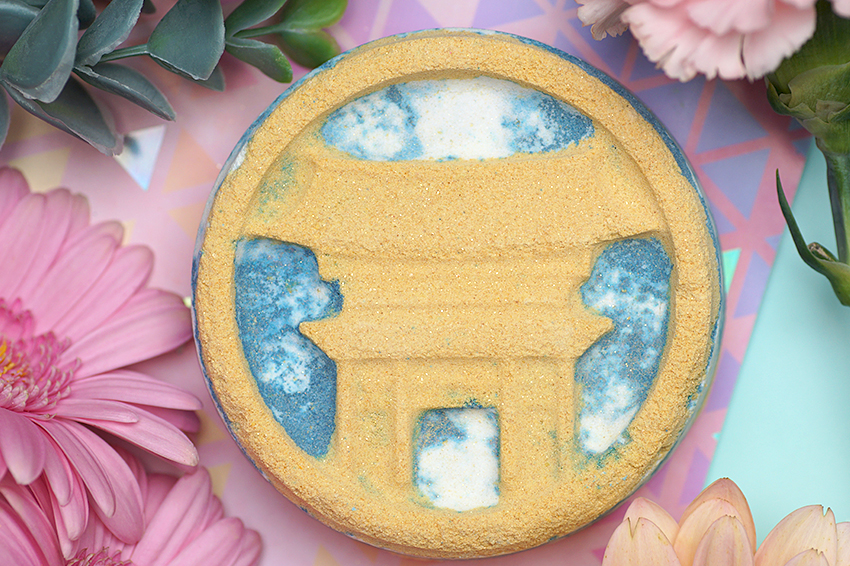 Wat is het?
Ingrediënten: Sodium Bicarbonate, Citric Acid, Perfume, Sicilian Lemon Oil (Citrus limonum), Sweet Wild Orange Oil (Citrus sinensis), Titanium Dioxide, Water (Aqua), Cornstarch (Zea mays), Disodium Lauryl Sulfosuccinate, Synthetic Fluorphlogopite, Dipropylene Glycol, Silica, Tin Oxide, *Citral, *Geraniol, *Limonene, *Linalool, Colour 42092:2, Colour 77491, Colour 19140:1, Colour 17200, Colour 42090, Colour 45350
Lush Temple In The Skies Bath Bomb is een exclusieve bath bomb, die je alleen in de Harajuku winkel in Japan kunt kopen. Het is één van de 89 bath bombs die eerder dit jaar gelanceerd werden, ter ere van Lush hun 30-jarig bestaan. (In 1989 opgericht, vandaar 89 bath bombs) Temple in the Skies is een prachtige bath bomb, echt een kunstwerk. Het is een schijf met daarop een Japanse tempel, een mooi stukje cultuur uit Japan. Ik kan verder weinig terugvinden over deze bath bomb. Ik weet dat hij ¥ 960 kost, omgerekend is dit zo'n 9 euro.
De geur is echt waanzinnig. Hij deed me al direct erg denken aan Golden Wonder, van de Celebrate geur familie — deze heeft een warme citrusgeur. Hoewel Temple in the Sky geen cognacolie bevat zoals andere producten van de Celebrate familie, vind ik de geur zowat identiek aan Golden Wonder. Diezelfde citrusgeur met een warme ondergrond. De sinaasappelolie is goed te ruiken en geeft de bath bomb een heerlijke, opwekkende geur. Er zit verder alleen citroenolie en sinaasappelolie in, beide hebben een reinigende en verhelderende werking.
Speel de filmpjes af in 2160p kwaliteit en op volledig scherm voor de beste ervaring! Het eerste filmpje speelt zich versneld af.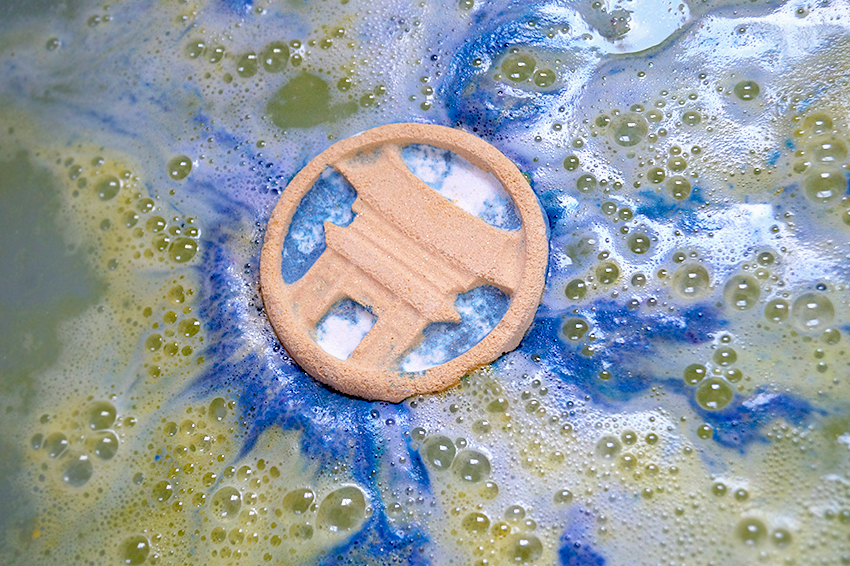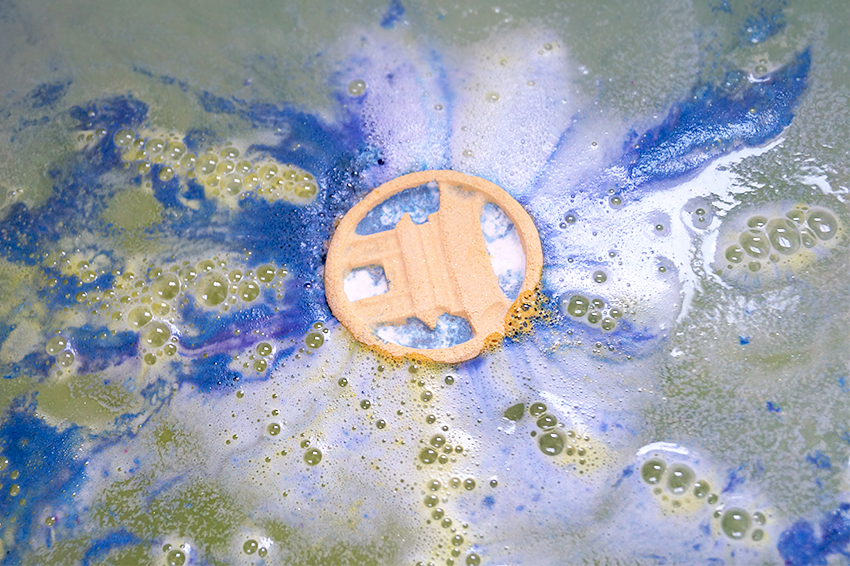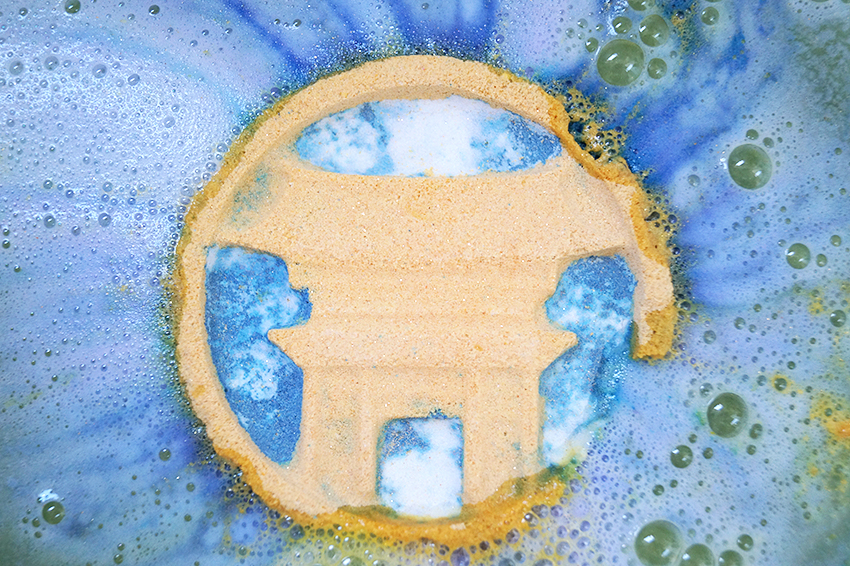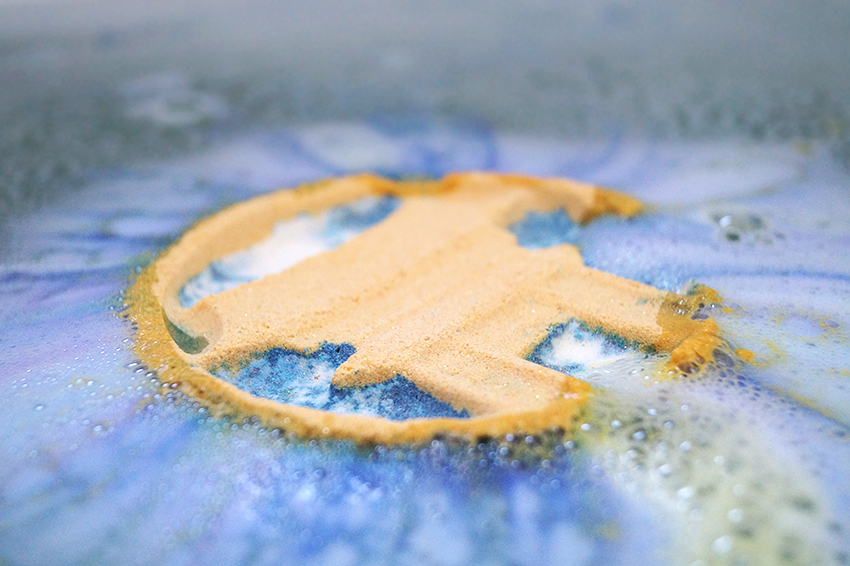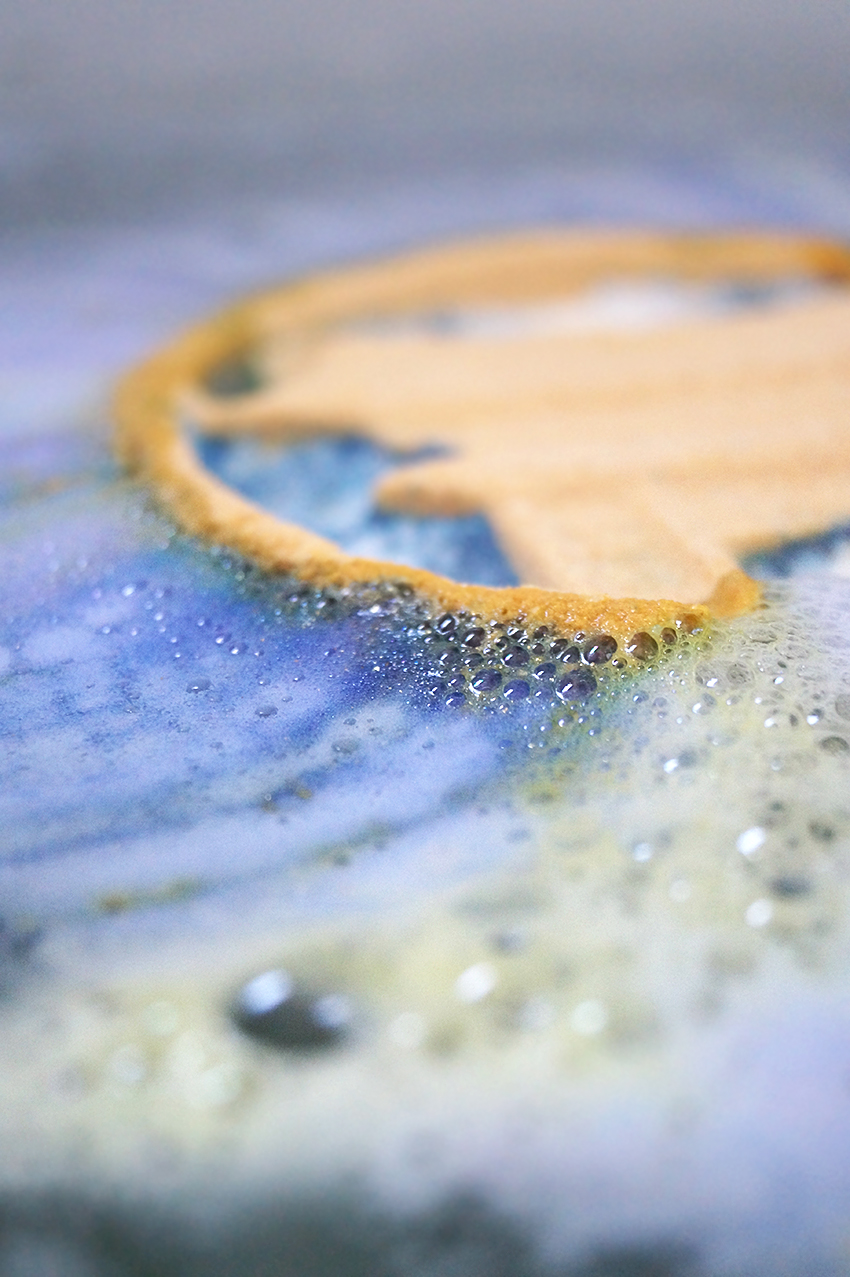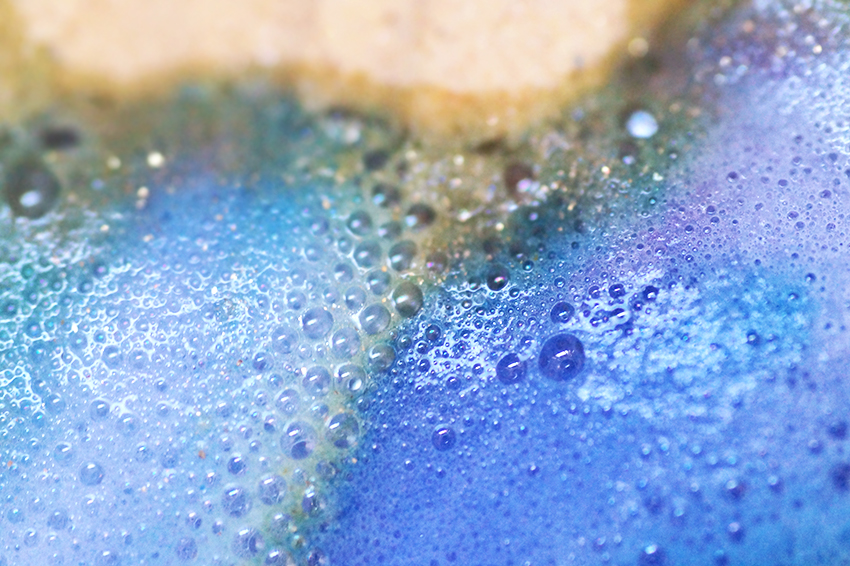 Mijn ervaring
Als Temple in the Skies het water aanraakt, begint hij meteen donkerblauwe en gele slierten uit te spuwen. Het is een erg langzame bruiser, dus je hebt zeker 10 minuten de tijd om dit schouwspel te bewonderen. Hij maakt wat rondjes door het bad en laat daarbij prachtige, heldere kleuren achter. Het water kleurt uiteindelijk een soort donkergroene tint — logisch, want blauw en geel wordt groen. Ook bevat het water talloze gouden glittertjes. De kleur niet de mooiste tint die ik heb gehad in bad, maar het is zeker geen vervelende kleur (zoals pisgeel). De warme citrusgeur laat zich goed ruiken en blijft nog lang aanwezig.
Het was een heerlijk, ontspannen bad. Ik was echt toe aan een lekker bad, dus dat deze dezelfde middag nog op de deurmat lag, was zéér welkom! Ik heb echt genoten van Temple in the Skies en van zijn heerlijke geur. Ik ben ook onwijs benieuwd naar de twee andere bath bombs die ik heb gewonnen; Roar en Flight. Maar ik ben door Temple in the Skies heel benieuwd geworden naar de andere 35 bath bombs.. En hoewel het een exclusive is, betekent "exclusive" niet zoveel bij Lush, want wat nu exclusive is ergens, is een maand later overal te koop. We zullen zien! Ik ga hem in ieder geval nogmaals kopen als ze naar Nederland komen.

Lush Temple In The Skies Bath Bomb is alleen te koop in de Harajuku winkel in Japan.
3 Responses to Review: Lush Temple In The Skies Bath Bomb