Review: Lush Validation Shower Bomb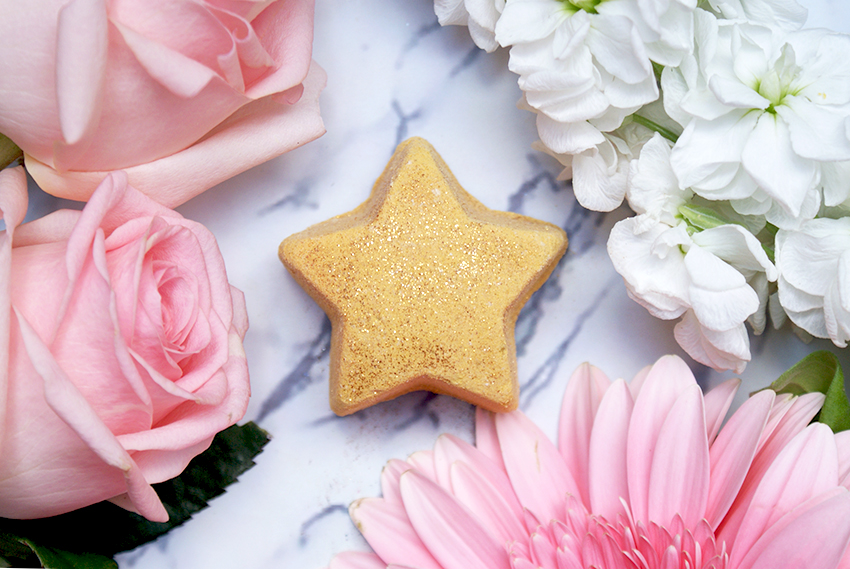 In Liverpool moest ik natuurlijk eventjes een kijkje nemen bij de shower bombs. Ze hadden maar liefst 10 nieuwe, waarvan ik er 7 mee nam naar huis om te testen. Welke ik niet kon laten liggen, was de Validation shower bomb. Een gouden ster die z'n geur zou delen met de Creme Anglaise geurlijn. Eenmaal thuis in Nederland vloog ik onder de douche ermee, en vandaag vertel ik je alles over deze shower bomb. Lees je mee?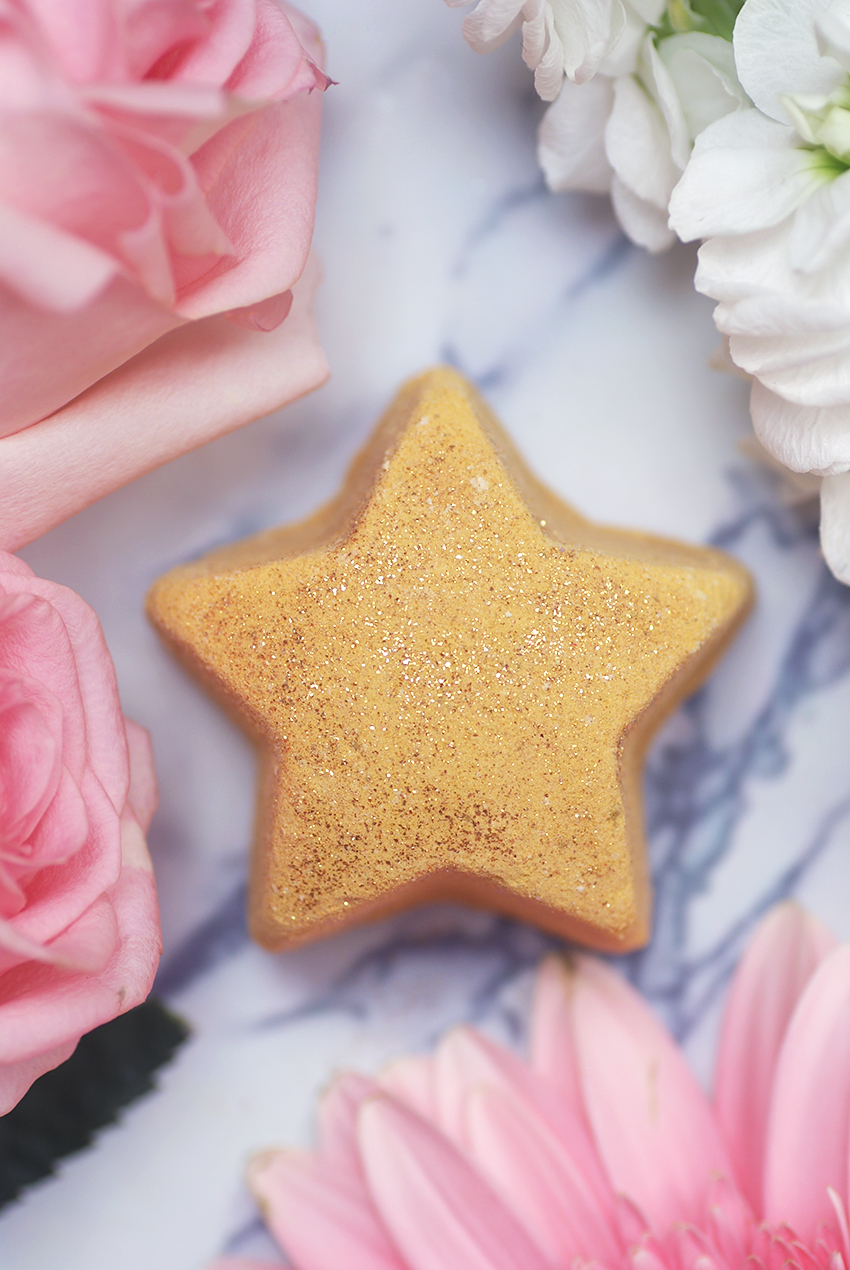 Wat is het?
Lush Validation Shower Bomb kost £2.75 en is alleen in Liverpool te koop. Een shower bomb is een kleine 'bruisbal' die je meeneemt in de douche en onder de straal houdt. Wanneer hij in aanraking komt met water, begint hij weldadig te schuimen. Dit schuim schep je er van af en daarmee smeer je jezelf in. Met de meeste shower bombs doe je meerdere keren, afhankelijk van hoe royaal je jezelf insmeert. Als je het schuim eraf hebt gepakt, houd je hem weer eventjes onder de straal zodat hij weer gaat schuimen. Schuim is eigenlijk niet het juiste woord, het is meer een dik, zacht foam — een mousse. Het product is naked, het heeft dus geen verpakking.
Je kunt hem droog wegleggen voor een volgende keer, maar je kunt hem ook vooraf in stukjes snijden. Zo doe je dus meerdere keren met één shower bomb. Lees hier meer daarover.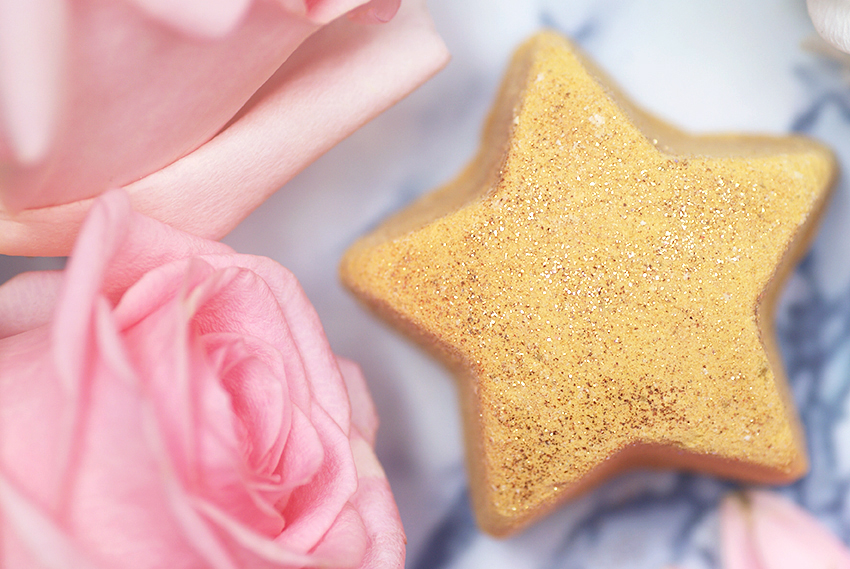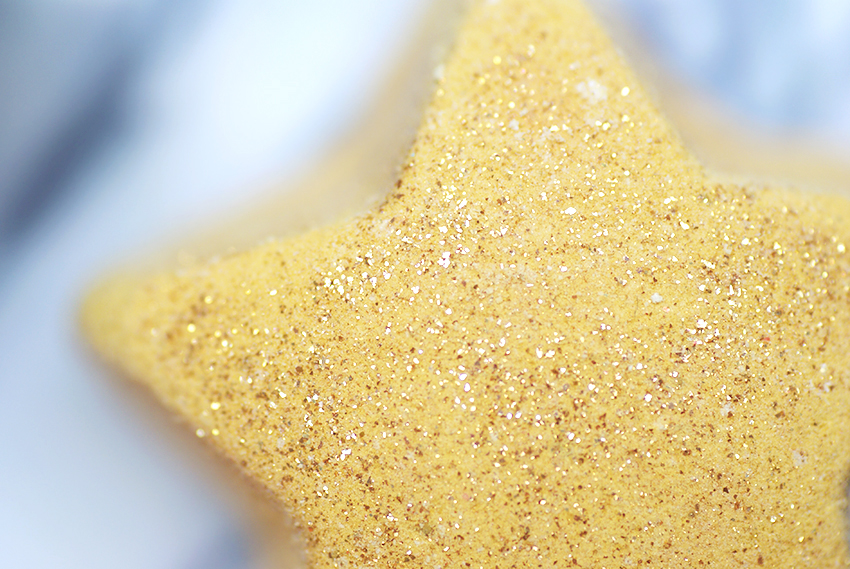 Wat zit erin?
Ingrediënten: Sodium Bicarbonate, Cream of Tartar, Citric Acid, Potato Starch, Sodium Laureth Sulfate, Calcium Lactate Gluconate, Sodium Alginate, Cocamidopropyl Betaine, Brazilian Orange Oil, Myrrh Resinoid, Vanilla Absolute, Synthetic Fluorphlogopite, Amyl Cinnamal, Benzyl Salicylate, Coumarin, Perfume, Colour 77492, Colour 77491
De shower bomb bevat Braziliaanse sinaasappelolie, mirre en vanille. Verder bevat hij ook SLES, een aandachtspuntje voor sommigen. Sodium Alginate is afkomstig van zeewier, dit zit ook in de andere shower bombs. Synthetic Fluorphlogopite zit er ook in, dit zijn de glittertjes. Deze zitten alleen op de buitenkant, eenmaal gebruikt zie ik ze binnenin niet meer zitten. Cream of Tartar is wijnsteenzuur, dit zit ook in bath bombs.
Creme Anglaise is een geurlijn van Lush dat vrij populair is, dankzij zijn verrukkelijke geur. Hij zou naar vla ruiken, koekjesdeeg of cakemix. Het is een warme, romige vanillegeur waar ook een kruidig tintje aan zit, waarschijnlijk is dit de mirre. Ik vind het een vrij winterse geur, dankzij de warmte van de geur. De geur van vanille wordt omhuld door een laag sinaasappelolie, wat het geheel wat zoeter maakt. Ik snap dat dit een populaire geur is onder Lushies!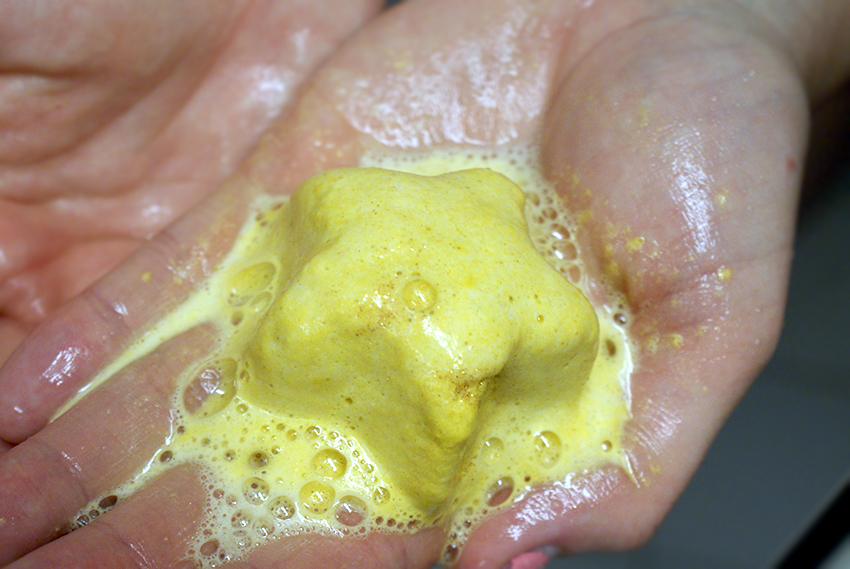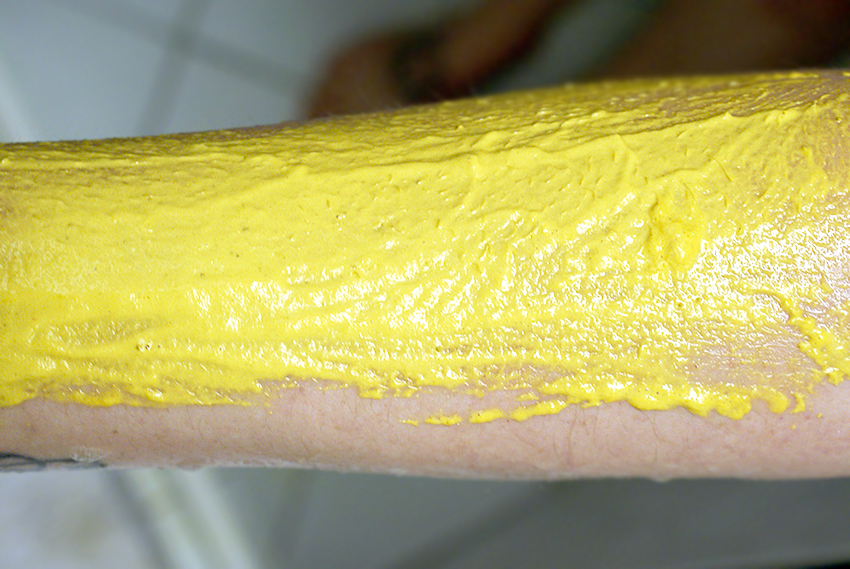 Mijn ervaring
De shower bomb begint rijkelijk en weldadig te schuimen wanneer hij ook maar een paar druppels op z'n dak krijgt. Bij de tweede keer gebruiken was dit helaas minder, hij schuimde toen minder dan bij de eerste keer — dit heb ik nog niet ervaren bij de andere shower bombs 🤔 Echter doet dit niks af aan het effect, gelukkig. Bij het uitsmeren is de romige en warme geur goed te ruiken. Laat je niet afschrikken door de gele kleur, hier zie je (of je douchewanden) na afloop niets meer van.
M'n huid voelt na afloop echt zóóó zacht en glad aan. Ook kan ik de geur ruiken op m'n huid, wat ik niet vaak kan bij producten! Een heerlijke shower bomb dus, ik ben echt dol op de geur. Ik vind de shower bombs echte aanraders en zou alleen al voor deze terugvliegen naar Liverpool. Bij wijze van spreken dan, hé. Misschien.
Validation is niet te koop in Nederland, maar wel zijn andere shower bombs te koop in Nederland, in de Lush Labs online zijn er zelfs een paar exclusieve uit Liverpool te koop momenteel!

Lush Validation Shower Bomb kost £2.75. Hij is alleen in Lush Liverpool te koop.
5 Responses to Review: Lush Validation Shower Bomb