Review: Lush Crash Shower Jelly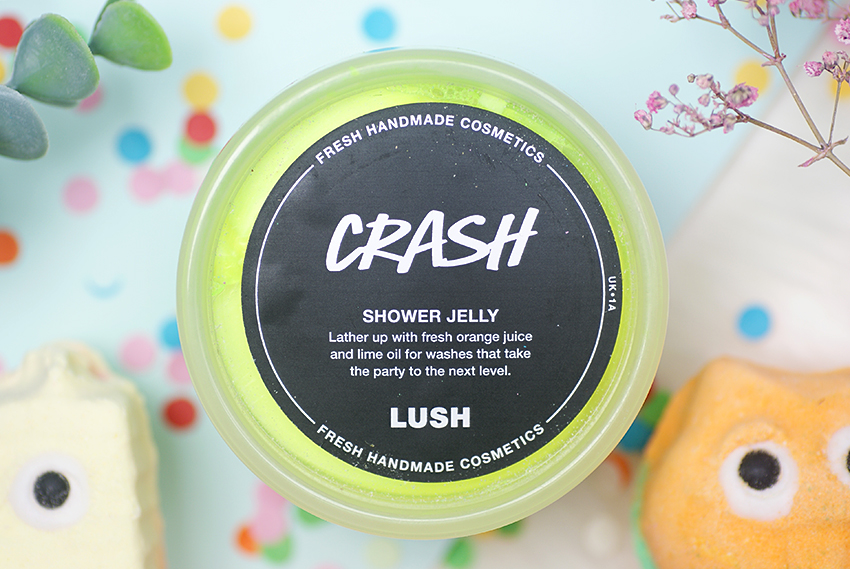 Toen ik in Liverpool was, zag ik hem staan: Crash shower jelly. Met levensgroot daarboven: PARTY EXCLUSIVE. Kortom, niet te koop. Moet je een party boeken daar. Ik baalde onwijs, zeker nadat ik hem geroken had. Een héérlijke geur, die heel bekend rook. Na even navragen blijkt Crash zijn geur te delen met Celebrate! Misschien beter bekend als Buck's Fizz, Bubbly of Golden Wonder — één van mijn favoriete geuren van Lush. Hoe dan ook, ik was onwijs blij toen ik hem laatst in de UK webshop zag staan. Helaas is hij inmiddels niet meer te koop, maar Lush zit vol verrassingen, dus ik gooi er toch maar een review tegenaan. Mocht je benieuwd zijn naar dele neon gele rakker, lees dan verder!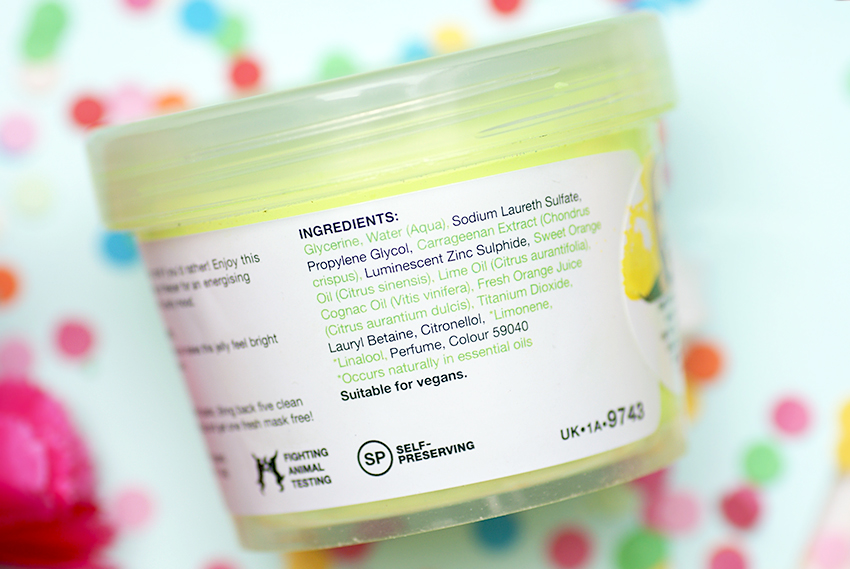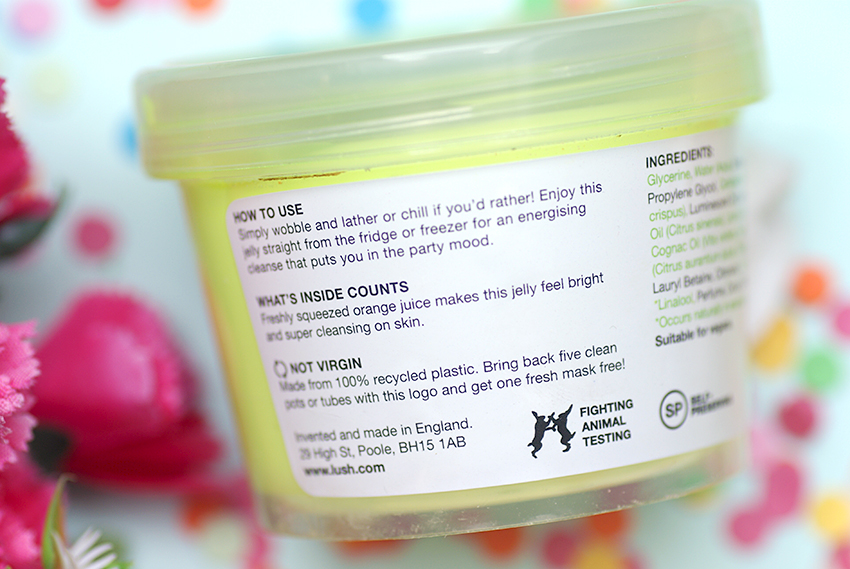 Wat is het?
Lush Crash Shower Jelly bevat 100 gram en kost £5.00. Het is een party exclusive, je krijgt hem als je een party boekt in één van de Lush winkels in England. Toch was hij laatst, zonder enige aankondiging, opeens te koop in de Engelse webshop, samen met de andere party exclusives, waaronder de Cilla the Caterpillar en Calm A Llama Party Piñata bath bombs. Ik was er als de kippen bij en kocht 3 potjes.
Hoe je een jelly gebruikt, daar heb ik al vaak over geschreven. Hier lees je hoe een jelly kunt gebruiken. Een 100 gram formaat, zoals deze, neem je wat makkelijker in z'n geheel mee onder de douche dan een 240 gram, maar ik blijf het handiger vinden om ze gewoon in stukjes te snijden en dan in een organza zakje te doen. Lekker schuimen, zonder hem 43x te hoeven oppakken van de vloer. (Wat ook nog een uitdaging op zich is)
In de warme zomermaanden kun je de jelly ook in de koelkast of zelfs vriezer leggen. Dit is heerlijk als het buiten heel warm is, zo kun je lekker afkoelen onder de douche. Zelf heb ik dat nog nooit gedaan, ik vind het idee van iets ijskoud tegen m'n lijf niet erg fijn..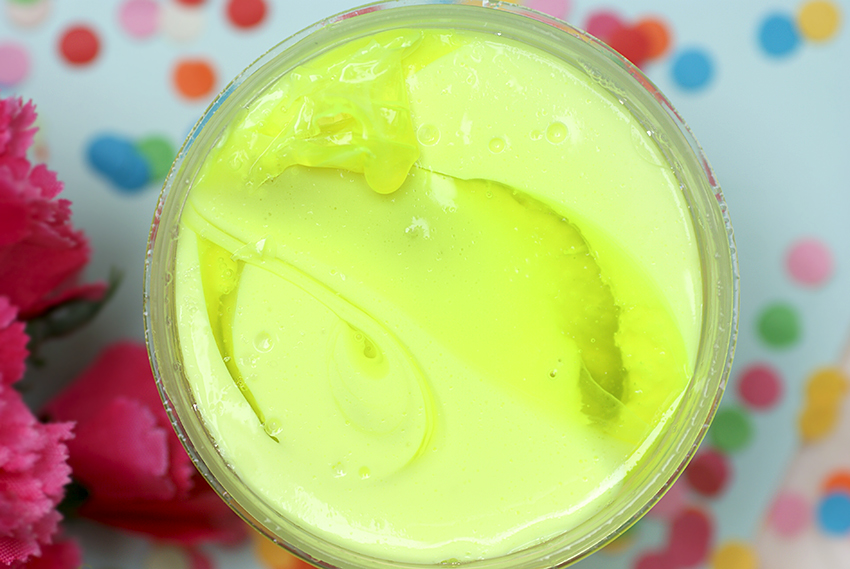 Wat zit erin?
Ingrediënten: Glycerine, Water (Aqua), Sodium Laureth Sulfate, Propylene Glycol, Carrageenan Extract, Luminescent Zinc Sulfide, Sweet Orange Oil, Lime Oil, Cognac Oil, Fresh Orange Juice, Titanium Dioxide, Lauryl Betaine, Citronellol, *Limonene, *Linalool, Perfume, Colour 59040
Deze fluorescerende jelly bevat behalve de hydraterende en zachtmakende ingrediënten glycerine en zeewier-extract, ook zoete sinaasappelolie, limoenolie, cognacolie en vers sinaasappelsap. Dit zijn de key ingrediënten van de Celebrate-geurlijn, die ook in Buck's Fizz body conditioner (zowel naked als de vloeibare) zitten, in Golden Wonder, Bubbly, de discontinued Snow Showers Shower Jelly, Celebrate bodylotion, Celebrate douchegel, First Snow Dusting Powder, noem het maar op. Één grote, goed ruikende familie.
En hoe ruikt dat nou precies, hoor ik je denken? Nou, verrukkelijk! Het is misschien wel mijn favoriete geurlijn van Lush. Een zoete, fruitige en sappige sinaasappelgeur, met een warme ondergrond. Het is werkelijk waar een perfecte balans tussen citrus en warm. Het frisse van de sinaasappel en limoen is zeker goed te ruiken, maar wordt iets minder scherp door de warme ondergrond van de geur. Kwijlen, echt waar.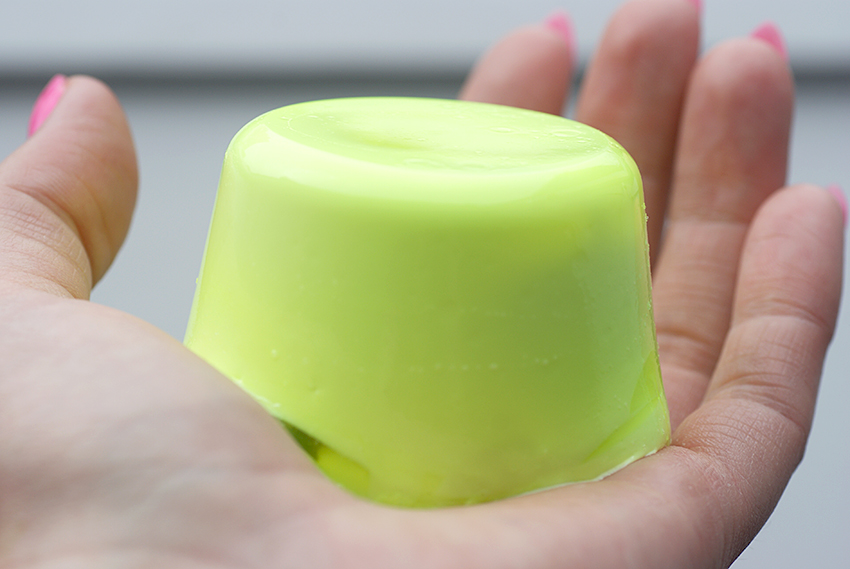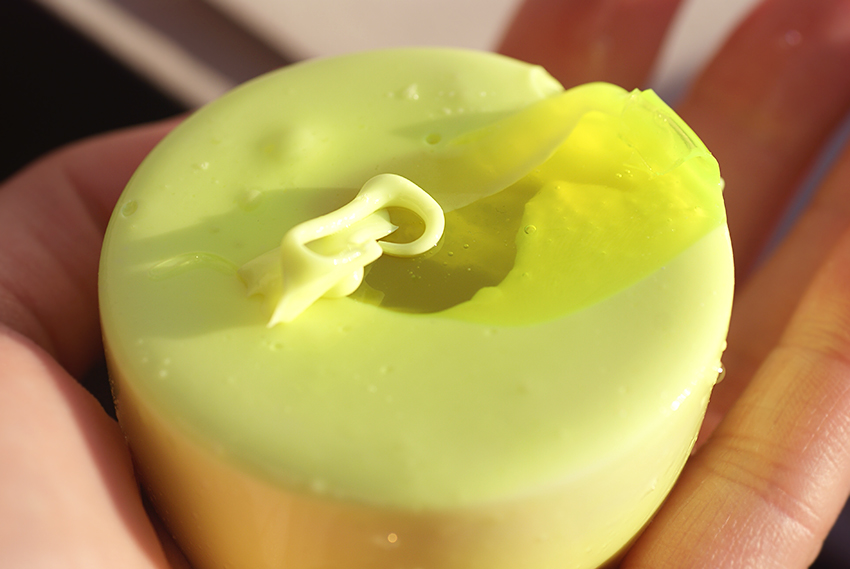 Mijn ervaring
Ugh, hoe geweldig ziet hij eruit? Niet alleen de kleur, maar ook de geur maakt me direct vrolijk. Onder de douche nam ik hem in z'n geheel mee, even goed je hand erom heen klemmen en wrijven maar. Hij laat een beetje substantie achter, wat gaat schuimen als er water op komt. Ik kan de warme, zoete geur goed ruiken in de douche — hij ruikt echt precies zoals ik hoopte.
Toen ik na afloop beneden zat te ontbijten viel het zowel m'n vriend als mij op hoe erg m'n huid glansde! Vanwege het vele in de tuin werken heb ik een aardig kleurtje, waardoor m'n huid er zowel glanzend als erg gezond uitzag. M'n huid voelde ook zachter aan, maar de gezonde glans op m'n huid is echt zo mooi. Ik leek wel een gloeilamp.
Ik ben onwijs blij met deze jelly, en ook dat ik er 3 heb gekocht. Ik hoop dat ze hem vaker gaan verkopen, want waarom hij opeens te koop is en daarna niet meer aangevuld wordt.. mij een raadsel. Gelukkig heeft Lush andere jellies die wel gewoon altijd te koop zijn, maar iets meer producten in deze geur zou ik sowieso niet erg vinden!

Lush Crash Shower Jelly kost £5.00 en bevat 100 gram.
One Response to Review: Lush Crash Shower Jelly