Review: Lush Lord of Misrule Bath Bomb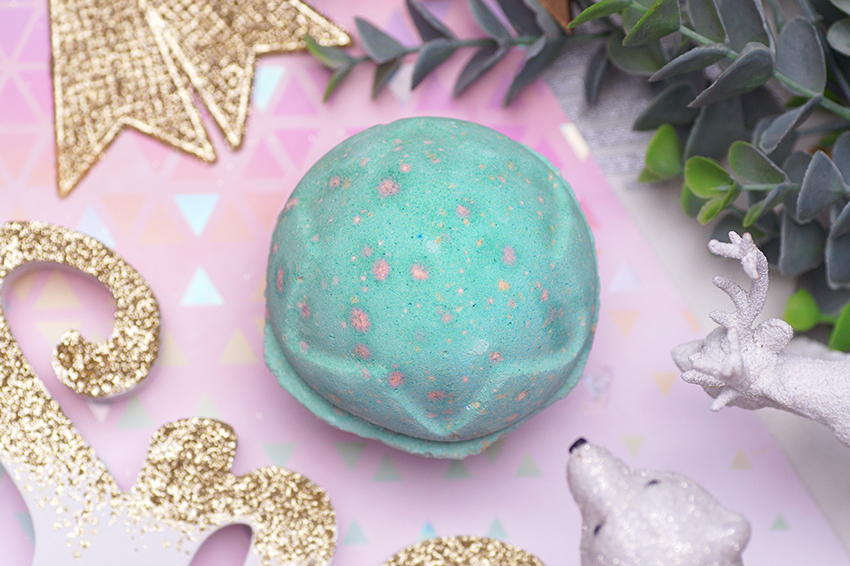 Ik schrok toen ik zag dat ik deze klassieker nog nooit had gereviewd! Het is wellicht de bekendste bath bomb uit de Halloween collectie. Hoog tijd om hem eens in bad te gooien weer. En ik moet zeggen… wat heb ik hem gemist! Vandaag ga ik hem uitgebreid voor je reviewen. Zit je klaar met een kop thee? Lees dan verder.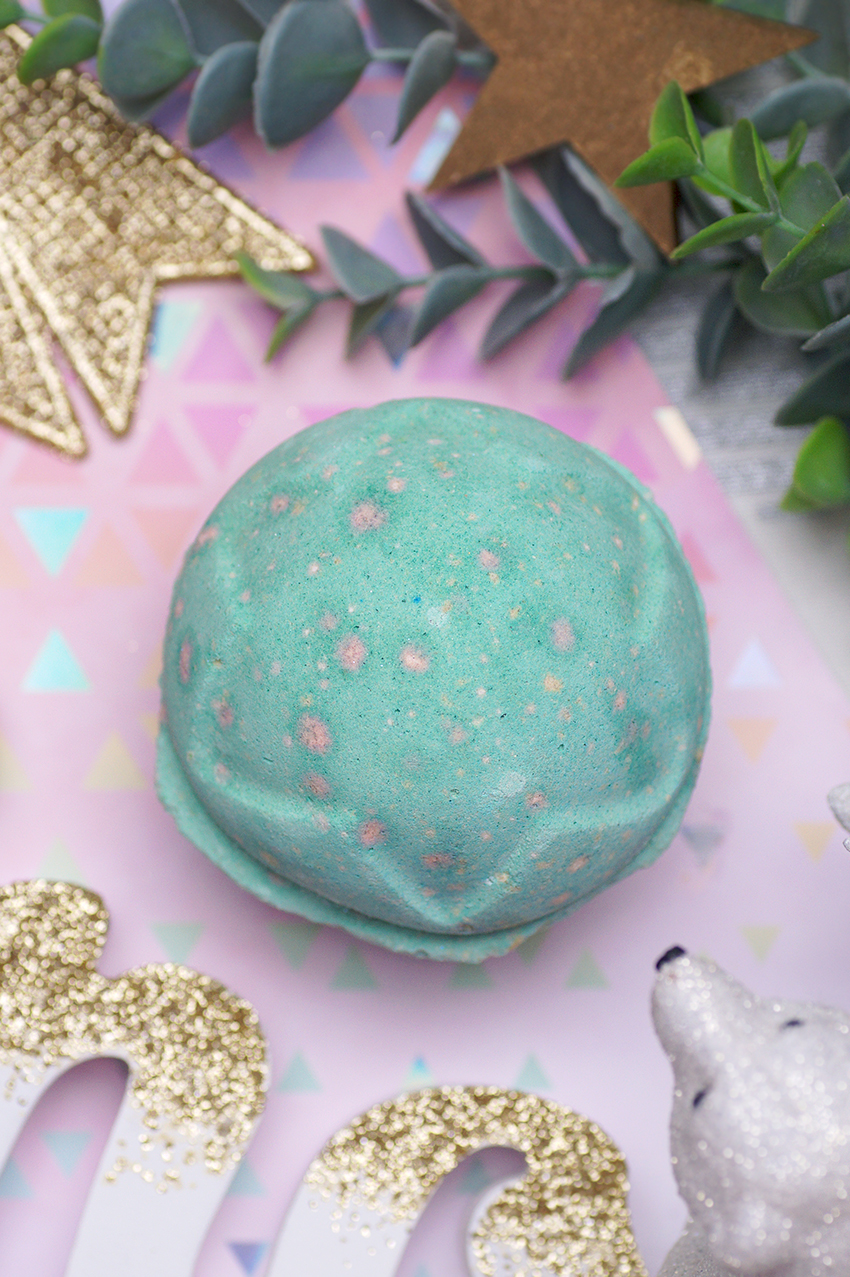 Wat is het?
Ingrediënten: Natrium Bicarbonaat (Sodium bicarbonate), Citroenzuur (Citric acid), Knettersnoep, Wijnsteenzuur (Potassium bitartrate), Zwarte Peperolie (Piper nigrum), Patchouli-olie (Pogostemon cablin), Vanille Absolue, Gardenia-extract, Water, Cocamidopropyl-betaïne, Natrium Coco Sulfaat, *Limonene, Parfum, Kleurstof 17200, Kleurstof 42090, Kleurstof 19140
Lush Lord of Misrule Bath Bomb kost €6,50 en is onderdeel van de Halloween collectie. Deze groene bath bomb draait al járen mee in de Halloween collectie — al sinds 2013! De geur is erg geliefd bij Lushies, er is inmiddels ook onder andere een shower gel en parfum van gekomen. Hij bevat zwarte peperolie, patchouli-olie, vanille en gardenia. Hij bevat ook knettersnoep, voor een extra leuk effect in bad.
Lord of Misrule staat bekend om zijn zoete, ietwat kruidige geur. Ik vind het een heerlijke geur, het is een typische Lush-geur. Hij is zoet, maar heeft in de verte ook een kruidige noot; de peper. Het is geen fris-zoete geur, eerder houtachtig-zoet, waarschijnlijk door de patchouli erin. De vanille maakt hem wat zoeter en maakt het geheel wat warmer in geur. Ik denk dat dit een vrij veilige geur is, en dat bijna iedereen hem wel kan waarderen.
Speel het filmpje af in 2160p kwaliteit en op volledig scherm voor de beste ervaring! Het filmpje speelt zich versneld af.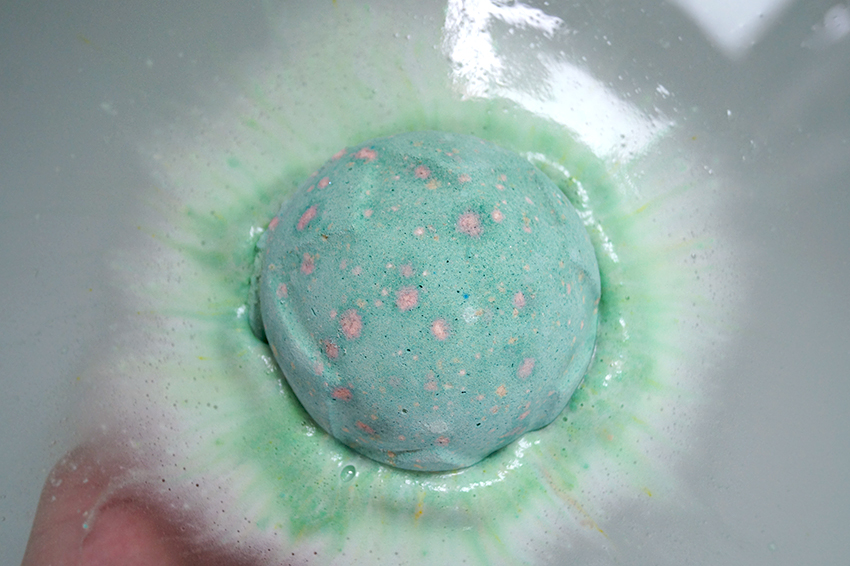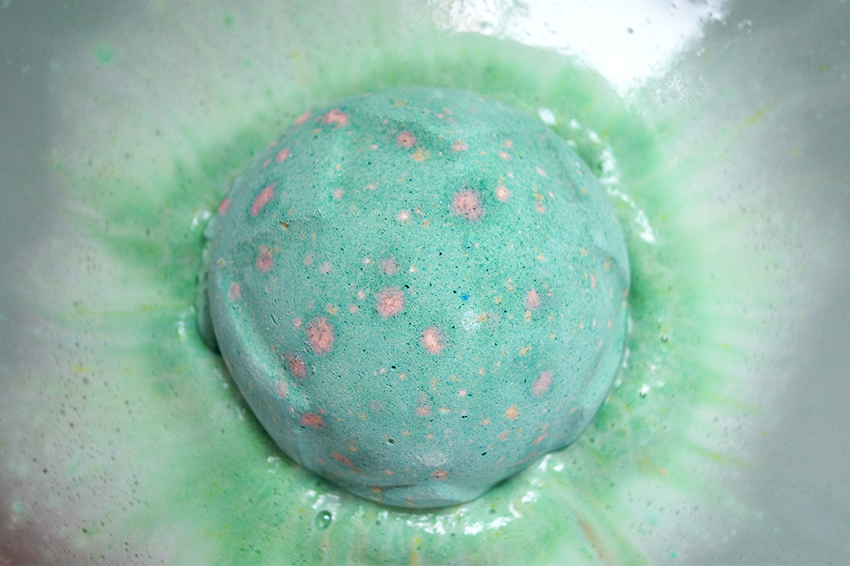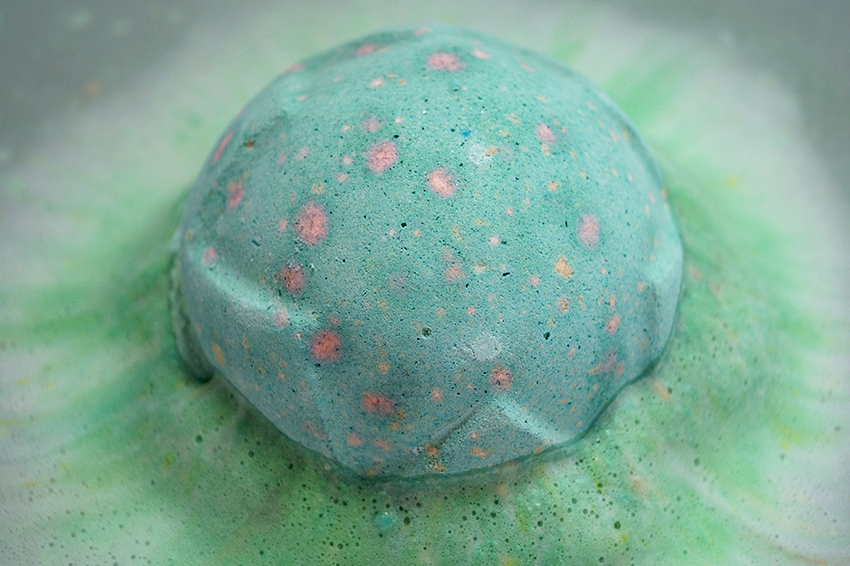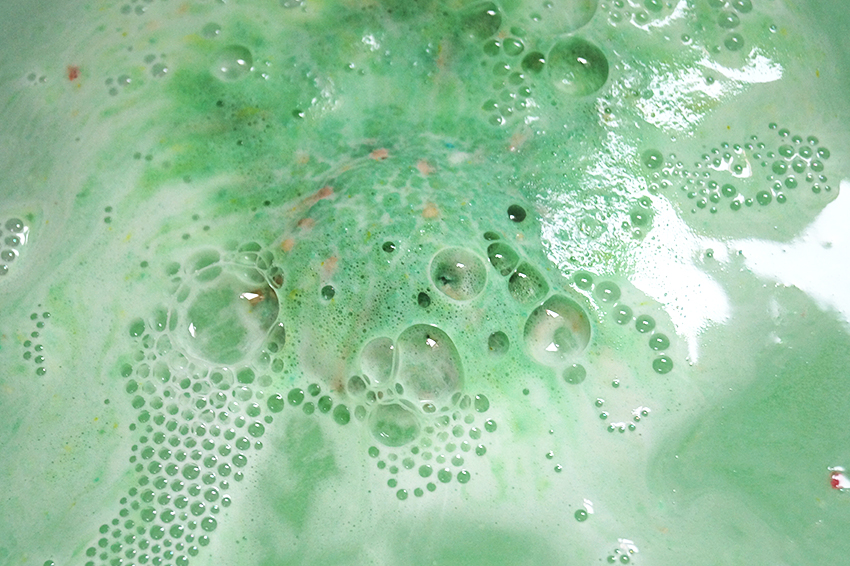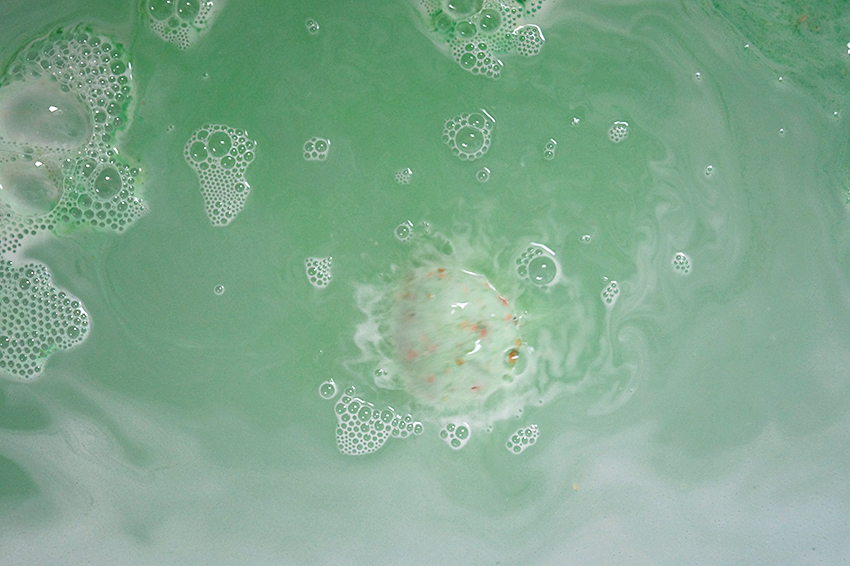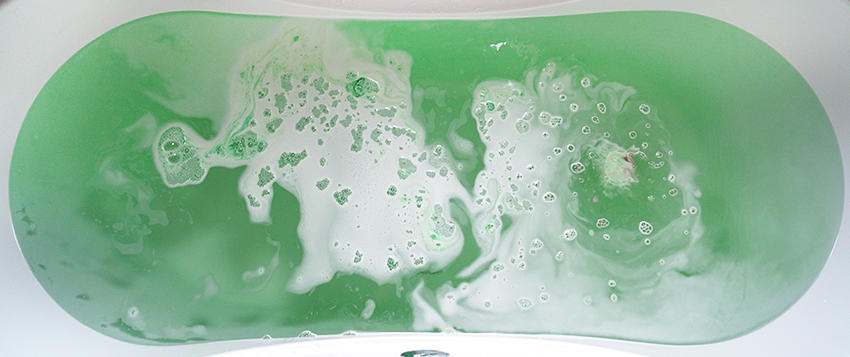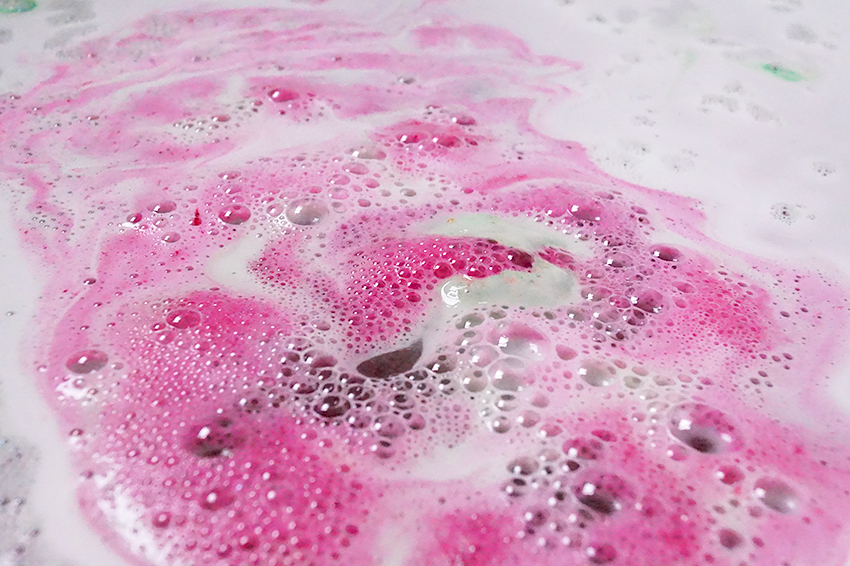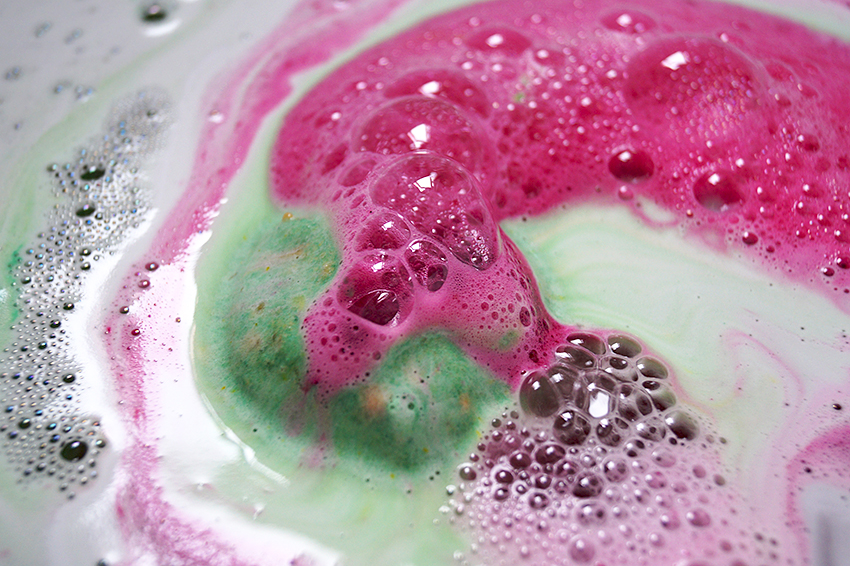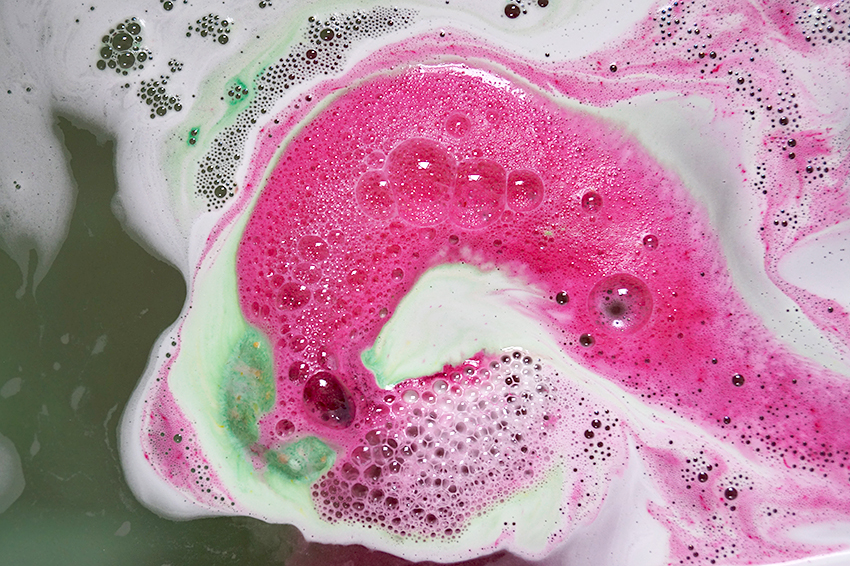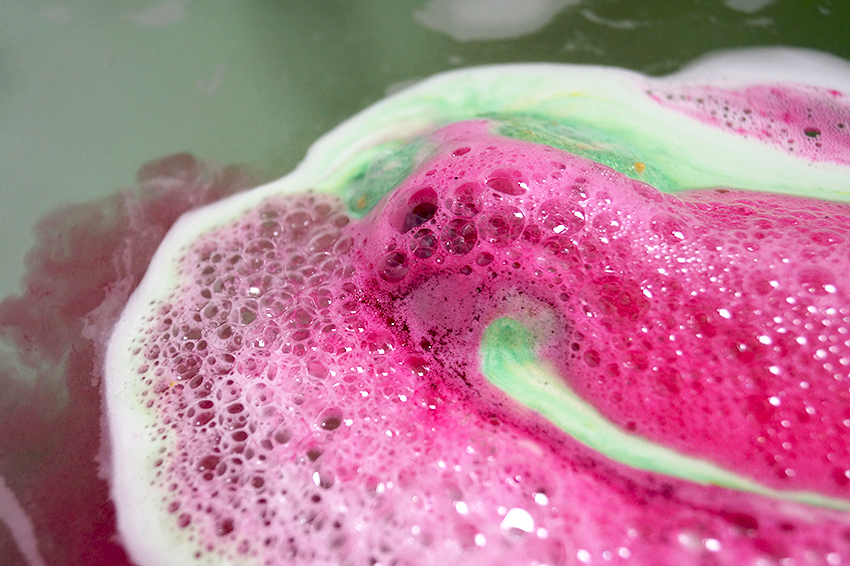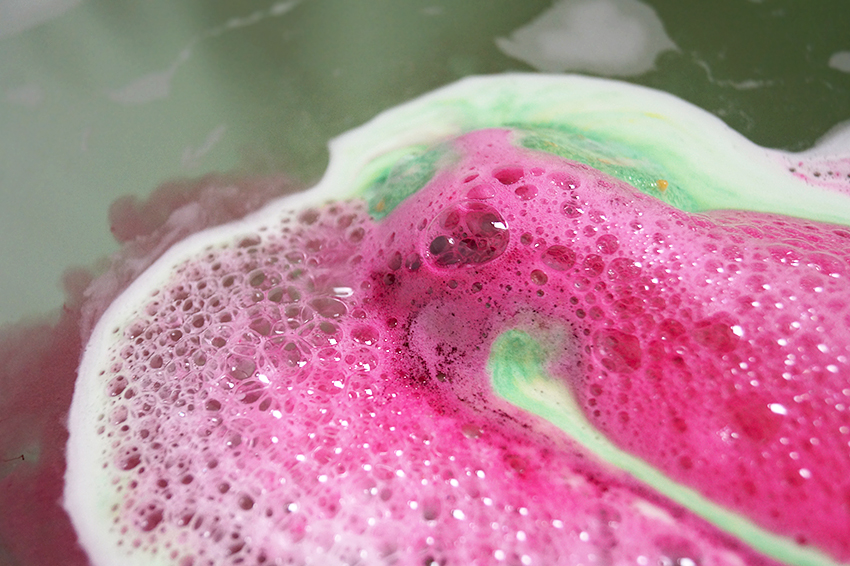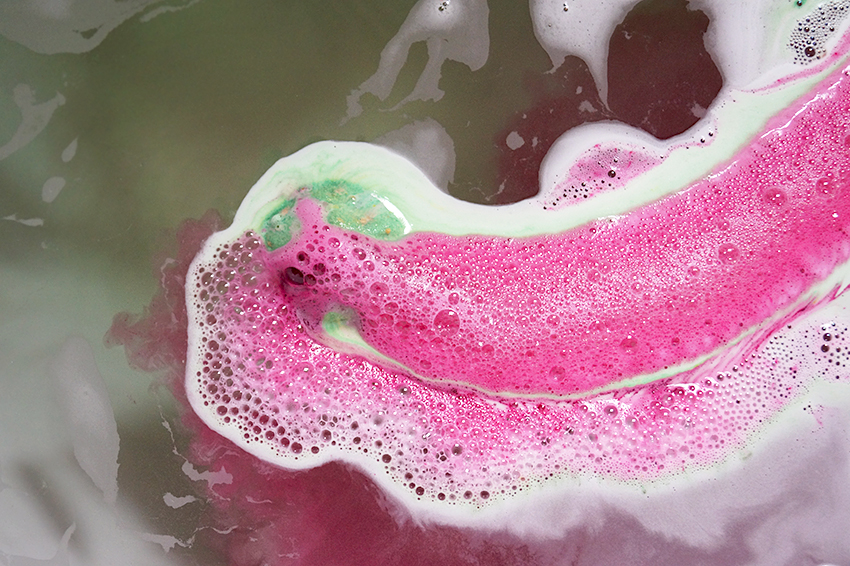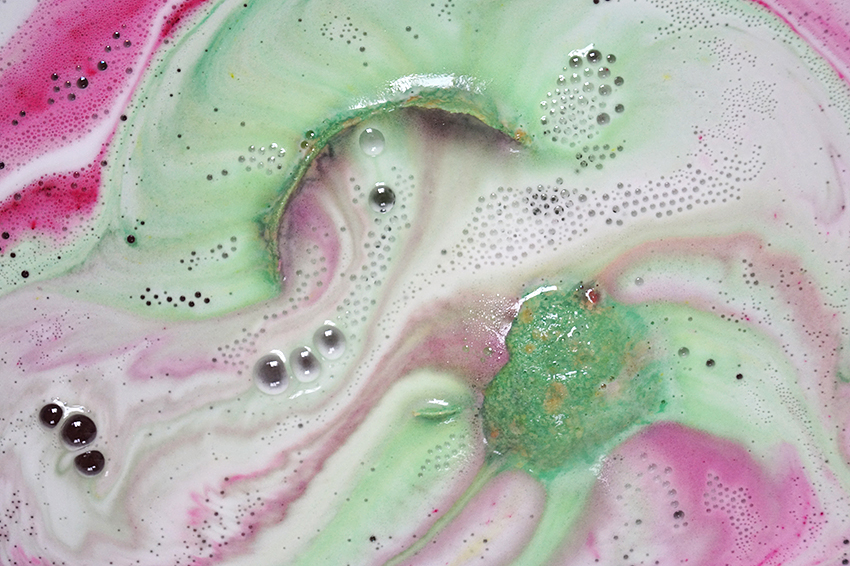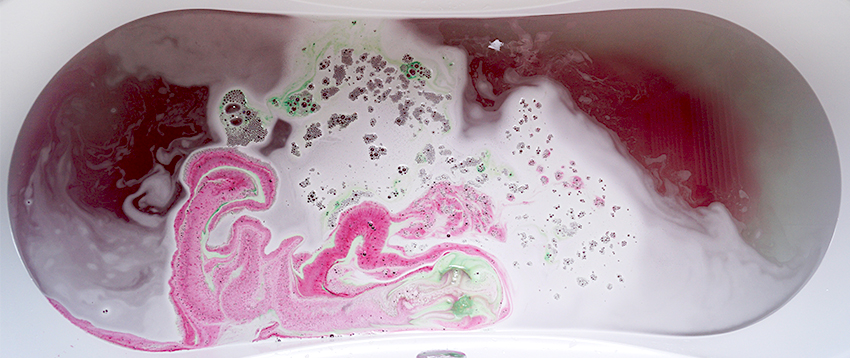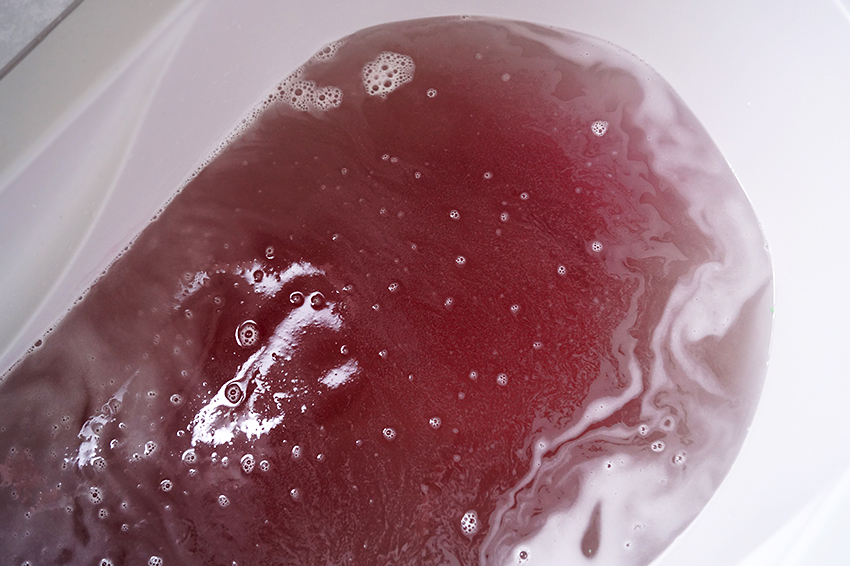 Mijn ervaring
Lord of Misrule is een bath bomb vol verrassingen! Zo denk je op het eerste gezicht te maken te hebben met een normale, groene bath bomb, maar niets is minder waar. Nadat hij de eerste paar minuten het water groen heeft gekleurd, komt de kern tot leven — een donkerroze kleur neemt het water over. De stralen donkerroze schuim worden onder de oppervlakte omgezet in een wijnrode kleur, wat een beetje ongemakkelijk op de bodem blijft liggen. Knettersnoep is luid aanwezig, terwijl Lord of Misrule door het water tolt. Op gegeven moment houd je een soort holle schelp over, waar nog wat donkerroze schuim uitgespuwd wordt. De lekkere, zoete geur is goed aanwezig en wat betreft bath art is Lord of Misrule een echte winnaar.
De uiteindelijke kleur van het water was wat apart, want de onderste helft van het water was wijnrood, de bovenste helft leek heel lichtgroen te zijn. (Check de één-na-laatste foto hierboven!) Toen ik met m'n handen door het water ging, kwamen de wijnrode kleurstoffen van de bodem af en mengden ze zich met de rest van het water. Deze bath bomb stelde me zeker niet teleur, sterker nog — hoe kon ik vergeten dat hij zo tof was? De geur had tijdens het badderen iets sterker aanwezig mogen zijn, maar behalve dat is dit zeker bath bomb die ik even ga inslaan!

Lush Lord of Misrule Bath Bomb kost €6,50. Hij behoort tot de Halloween collectie.
7 Responses to Review: Lush Lord of Misrule Bath Bomb