Review: Lush Yog Nog bodylotion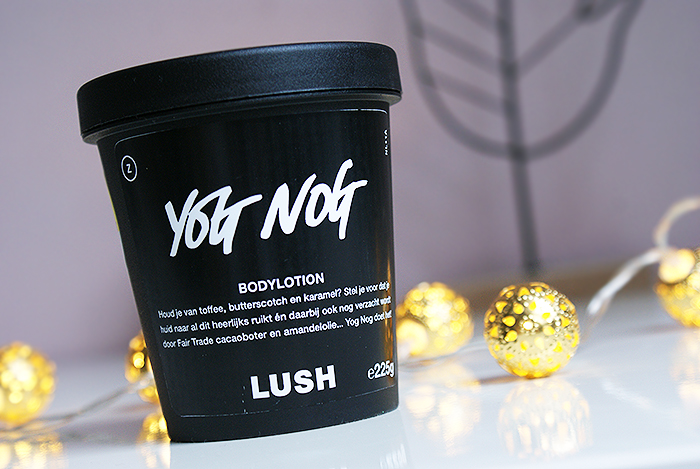 Een tijdje terug kondigde Lush aan dat ze tien nieuwe bodylotions zouden verkopen. Ik was er als de kippen bij, puur om te kijken welke geuren ze hadden. En daar zitten een paar heerlijke geuren tussen! Ik besloot voor mezelf er twee te mogen uitzoeken. Dat werden Yog Nog en Noni I Washed The Kids! Vandaag ga ik Yog Nog voor je reviewen. Lees je mee?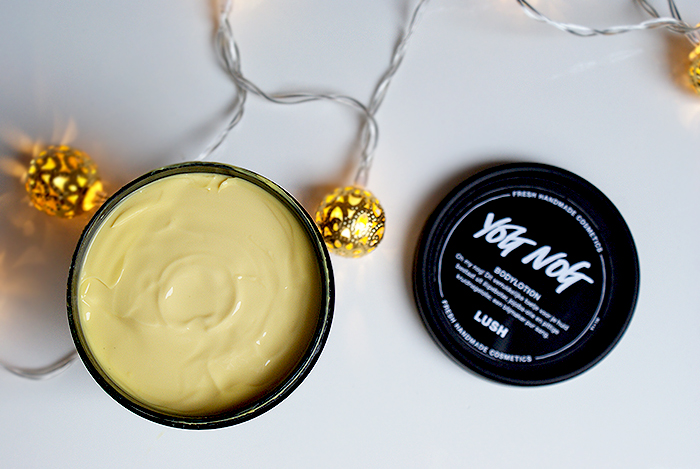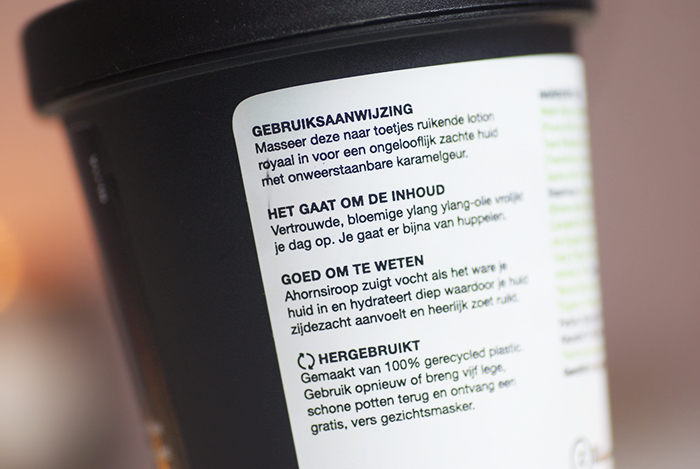 Lush Yog Nog bodylotion is er in een pot van 225 gram en deze kost €21,95. Dat is niet goedkoop, maar de bodylotion is vrij zuinig in gebruik. Let op, de bodylotions zijn alleen online te koop! Behalve deze geur, is er nog ook een bodylotion in de geur:
– Calacas
– Noni I Washed The Kids
– Sultana
– Lord of Misrule
– Yummy Mummy
– Karma Kream
– American Cream
– Butterball
– Yuzu & Cocoa
Ik besloot zelf om voor Yog Nog te gaan, aangezien ze hier de vorige jaren een zeep en roulade van hadden, en ik deze geur vanaf het begin al heerlijk vond. Momenteel zitten die niet in het assortiment, wel een bubble bar genaamd Yog Nog Yule Log. Van mij mogen ze de zeep en roulade wel weer terugbrengen! Wie start er een handtekeningenactie?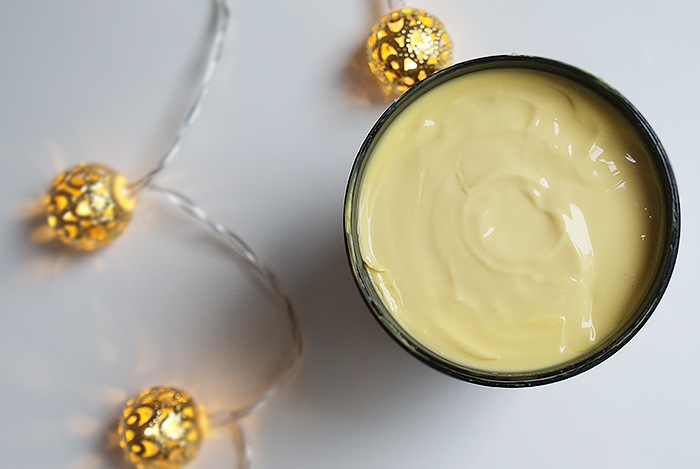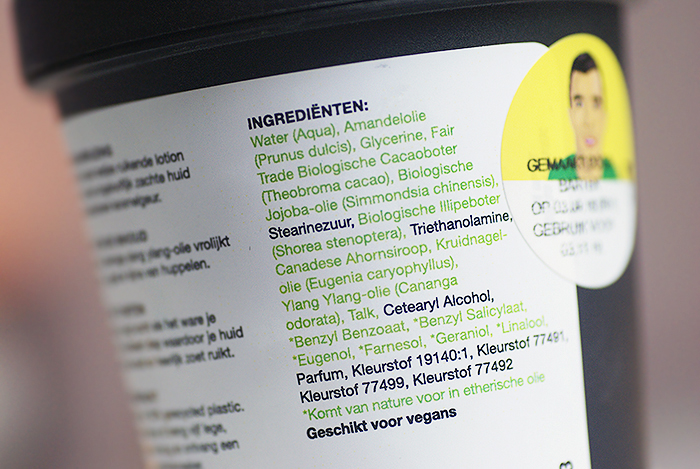 Yog Nog is qua ingrediënten wel echt een pareltje. Amandelolie (verzorgt en hydrateert), glycerine, cacaoboter (hydrateert en maakt de huid zacht), jojoba-olie (hydrateert), illipeboter (herstelt de huid), Canadese ahornsiroop, kruidnagelolie (ruikt kruidig en stimuleert) en ylang ylang-olie (zorgt voor geur). Er zit een klein beetje parfum in, verder zie ik geen gekke dingen. Hij is geschikt voor veganisten en zelfconserverend.
De geur is natuurlijk de reden dat ik hem kocht. Zlf zegt Lush dat hij naar karamel ruikt, maar ik ruik daar weinig van terug. Zo vanuit de pot ruikt hij heerlijk, ik kon heel lang de geur niet plaatsen maar opeens wist ik het. SLAGROOMVLA! Zo'n zoete, romige geur. Ik moet echt m'n best doen om m'n tong er niet in te hangen. (Ik heb deze zin op vijf verschillende manieren geschreven, maar het blijft ranzig klinken, sorry)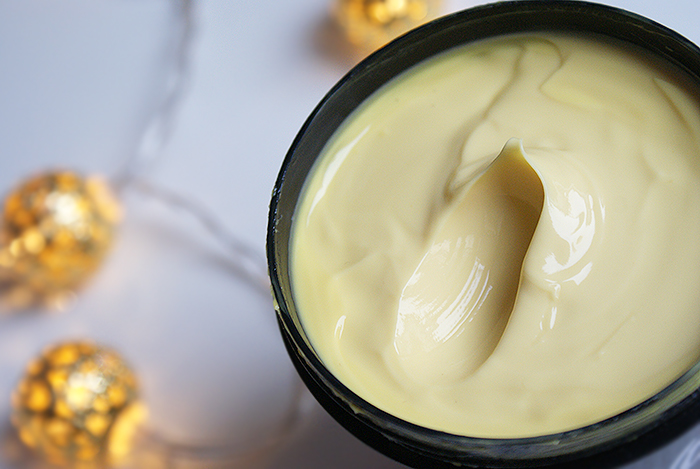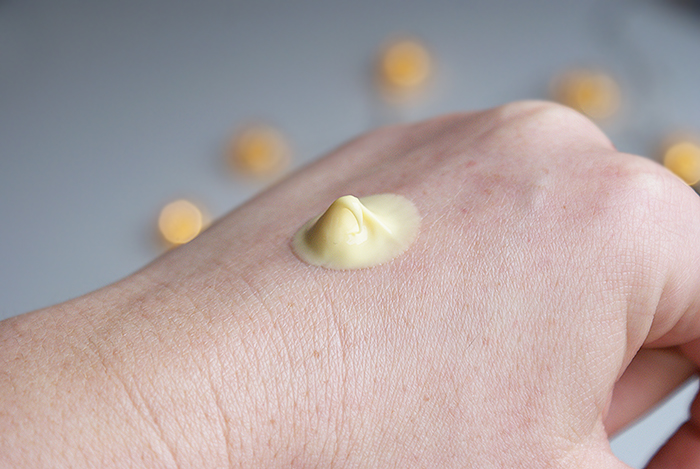 De structuur is vol en romig, maar niet hard zoals een body butter. Hij zit boordevol ingrediënten die hydrateren. (Zelf zeggen ze voedend of vochtinbrengend, maar die termen bestaan simpelweg niet) De bodylotion trekt niet snel in, maar blijft als een vettig laagje op je huid liggen. Daarom heb je er ook zo weinig van nodig! Dit kan dus wel vervelend zijn als je snel aangekleed moet zijn, of vlak voor het slapen gaan. Ik heb dan zelf liever een bodylotion die volledig intrekt, omdat m'n hoeslaken en dekbed anders vettig worden en daardoor 'vies' aanvoelen.
M'n huid blijft na het insmeren nog lang zacht, gehydrateerd en soepel. En dat urenlang!
De geur, als hij eenmaal opgesmeerd is, is totaal anders dan in de pot. Hij ruikt nu kruidiger. Sterker nog — hij ruikt nu naar kerrie. En laat ik nu een pesthekel hebben aan kerrie en alles wat daarmee te maken heeft. Het gekke is, wanneer hij nét opgesmeerd is, ruikt hij nog lekker zoet. Maar na een aantal seconde wordt hij heel kruidig, echt heel naar. 'Gelukkig' is het meeste van de geur na een half uur verdwenen. Misschien ligt het aan mijn neus, maar dit is voor mij een reden om hem niet meer te gebruiken! ☹
Welke bodylotion van de 10 zou jij kiezen?
16 Responses to Review: Lush Yog Nog bodylotion