Review: Lush Luck Shower Bomb
Read this post in
Engels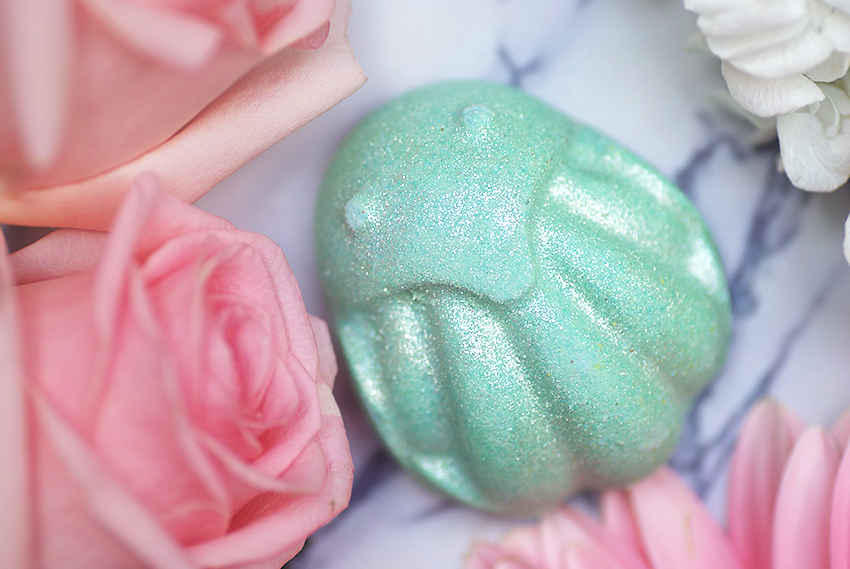 Een shower bomb die eruit ziet als een klein beestje, dat is natuurlijk te schattig om te laten liggen. Ik was sowieso enorm benieuwd naar de nieuwe shower bombs, want tot nu toe zijn ze allemaal erg goed bevallen. Het zijn geweldige producten voor onder de douche, ik heb er dan ook al een aantal versleten sinds ze te koop zijn! Vandaag onderwerp ik Luck aan de test. Mocht je benieuwd dus, lees dan verder.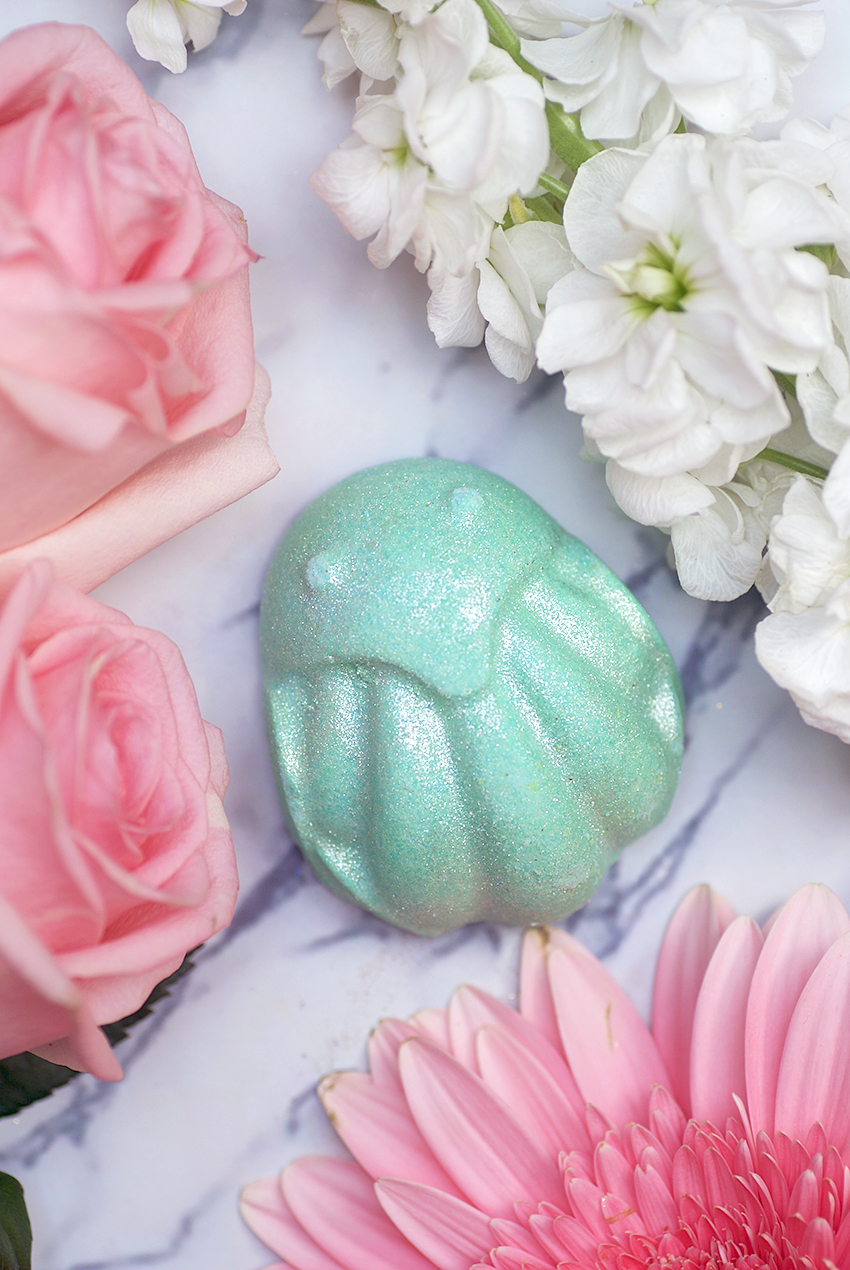 Wat is het?
"Misschien is vandaag wel jouw geluksdag, of -nacht! Deze shower bomb – met de geur van verse bloemen en in de vorm van het gelukssymbool van de oude Egyptenaren – zorgt onder stromend water voor oppeppend schuim waardoor je positieve mindset je helpt te geloven dat al je dromen uitkomen. Patchouli voegt een aardse, opbeurende geur toe die verkoelend en reinigend te werk gaat. Ylang ylang ruikt sensueel en bloemig, stimuleert je geest en schudt je wakker voor een dag vol nieuwe mogelijkheden. Petitgrainolie brengt je huid in balans, vermindert angsten en zorgt er met z'n frisse, groene en houtachtige geur voor dat je alleen nog maar happy thoughts hebt. En vergeet het geluk van mineraalrijk Iers mos niet: hierdoor glijdt het schuim als zijde over je huid. Of je nu zelf op zoek bent naar geluk, of het iemand anders toewenst, de toekomst lacht je tegemoet!"
Lush Luck Shower Bomb kost £2.75 en is alleen in Liverpool te koop. Een shower bomb is een kleine 'bruisbal' die je meeneemt in de douche en onder de straal houdt. Wanneer hij in aanraking komt met water, begint hij weldadig te schuimen. Dit schuim schep je er van af en daarmee smeer je jezelf in. Met de meeste shower bombs doe je meerdere keren, afhankelijk van hoe royaal je jezelf insmeert. Als je het schuim eraf hebt gepakt, houd je hem weer eventjes onder de straal zodat hij weer gaat schuimen. Schuim is eigenlijk niet het juiste woord, het is meer een dik, zacht foam — een mousse. Het product is naked, het heeft dus geen verpakking.
Je kunt hem droog wegleggen voor een volgende keer, maar je kunt hem ook vooraf in stukjes snijden. Zo doe je dus meerdere keren met één shower bomb. Lees hier meer daarover.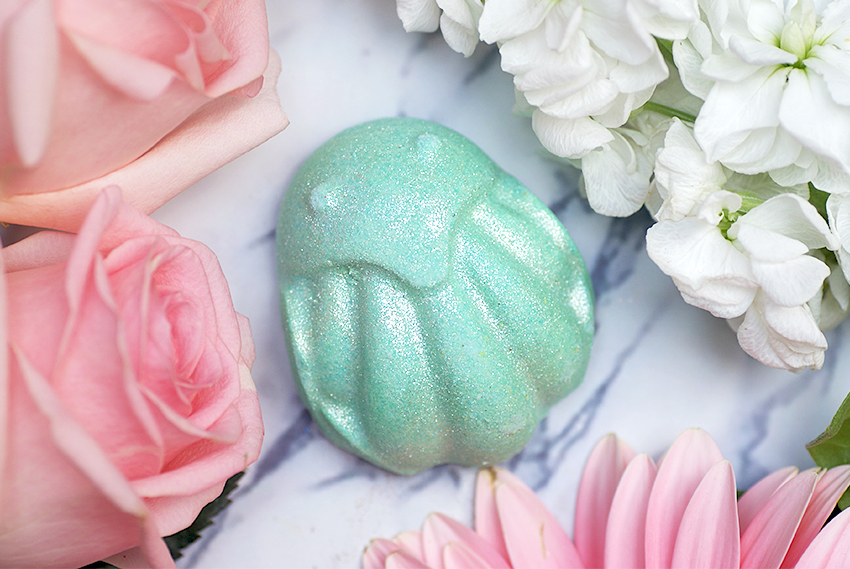 Wat zit erin?
Ingrediënten: Natrium Bicarbonaat (Sodium bicarbonate), Wijnsteenzuur (Potassium bitartrate), Citroenzuur (Citric acid), Aardappelzetmeel, Natrium Laureth Sulfaat, Calciumlactaat gluconaat, Natriumalginaat, Cocamidopropyl-betaïne, Parfum, Kamferhoutolie (Cinnamomu camphora), Patchouli-olie (Pogostemon cablin), Petitgrainolie (Citrus aurantium), Ylang Ylang-olie (Cananga odorata), Iers Mos-poeder (Chondrus Crispus), Maïszetmeel, Water (Aqua), Gardenia-extract, Titanium Dioxide, Synthetische Fluorflogopiet, Maltodextrine, *Limonene, *Linalool, Alpha-isomethyl-ionone, Coumarine, Hydroxycitronellal, Kleurstof 42090, Kleurstof 19140
Luck heeft een bloemige en houtachtige geur. Hij zou z'n geur met B Never Too Busy To Be Beautiful delen, maar in die review schrijf ik dat hij erg naar honing ruikt, en dat vind ik van Luck niet. Luck is juist bloemig, je ruikt de ylang ylang erin erg goed, maar hij heeft ook wat houtachtigs en kruidigs. Ik zou niet echt zeggen zoet, maar eerder bloemig en kruidig met een zeer warme ondergrond. Het is hoe dan ook een erg lekkere geur.
Mijn ervaring
De eerste keer dat ik Luck gebruik, begint hij in aanraking met water rijkelijk te schuimen. Het schuim voelt heerlijk aan de huid, en de bloemige geur is goed aanwezig in de douchecel. Echter heb ik hetzelfde probleem als dat ik bij Validation Shower Bomb heb, nu ook met Luck — namelijk dat hij de tweede keer niet echt meer schuimt. Zodra ik hem na de eerste douchebeurt laat drogen, is hij de tweede douchebeurt heel moeilijk schuimend te krijgen. Hoeveel water ik ook op Luck z'n kop laat vallen; het haalt niets uit, hij begint juist een beetje uit elkaar te vallen en het vallende water neemt kleine stukjes Luck mee richting het afvoerputje. Ik heb hem uiteindelijk als scrub gebruikt. Hij was net zo grof als een suikerscrub, erg lekker, maar wel jammer dat hij niet gewoon opschuimt.
M'n huid voelde, zeker na de tweede douchebeurt, heel zacht aan. Ook rook ik de bloemige geur nog heel subtiel op de huid. Ergens vind ik het jammer dat ze de tweede keer niet zo goed meer schuimen, maar volgens mij zijn ze dan ook bedoeld om in één keer te gebruiken. Dat is best zonde, want er komt een hóóp schuim vanaf — genoeg voor meerdere lichamen! Een oplossing zou dan zijn om de shower bomb vóóraf door tweeën te snijden. Je kunt hem ook de tweede keer als scrub gebruiken, maar dat gaat toch het doel van zo'n shower bomb voorbij. Mijn tip dus: vooraf door de helft snijden.

Lush Luck Shower Bomb kost £2.75. Hij is alleen in Lush Liverpool te koop.

Update: vanaf 25 juni is hij tijdelijk te koop in de Lush Labs! Klik hier voor het product.
3 Responses to Review: Lush Luck Shower Bomb