DIY: Lush douchegel maken van een jelly
Read this post in
Engels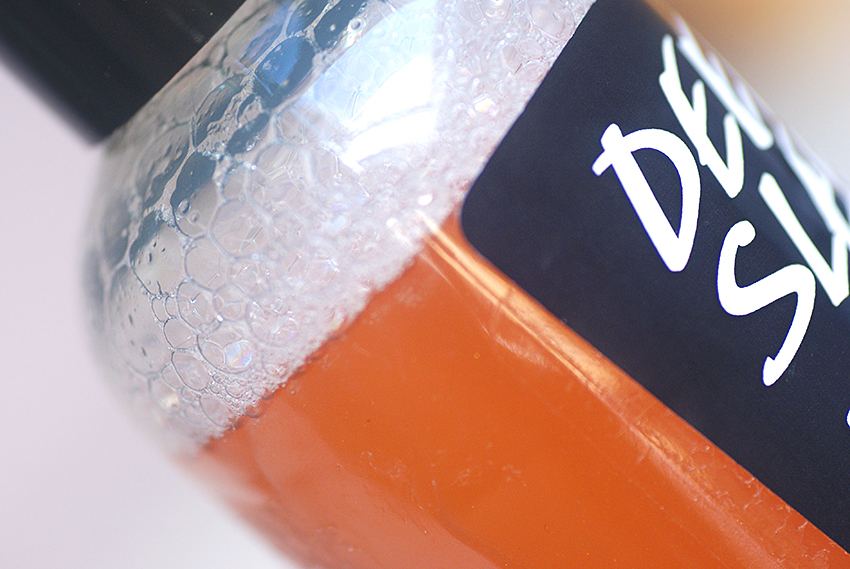 Als ik iets leuk vind, is het zelf producten maken. Nu doe ik dit eigenlijk zelden, maar ik heb wel eens scrubs gemaakt, die ik met veel plezier gebruikte. Ik heb dit eigenlijk nooit voortgezet, maar ik merk wel steeds hoe leuk ik het vind om bepaalde producten in iets anders te transformeren. Zo ook Lush producten! En dat kan heel goed. Om te beginnen ga ik vandaag laten zien hoe je van een jelly een douchegel kunt maken. Ideaal voor mensen (zoals ik) die wel Lush jellies hebben, maar ze er eigenlijk nooit bij pakken. Lees je mee?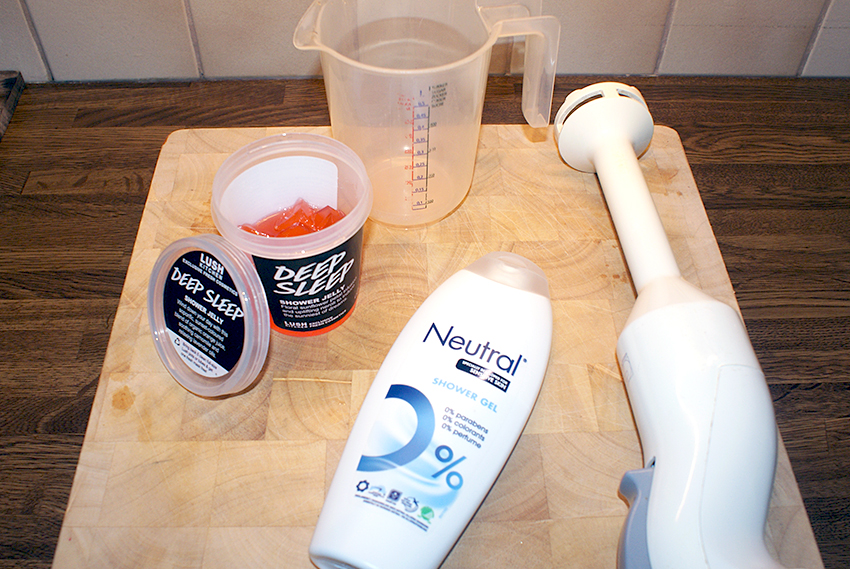 Wat heb je nodig?
Voordat we beginnen, is het handig om alvast wat dingen klaar te zetten op het aanrecht.
Een Lush jelly, zo'n 100 gram is voldoende
Een neutrale douchegel zonder geur en kleur, ik gebruikte Neutral douchegel
Een staafmixer of keukenmachine (gebruik géén smoothie blender)
Een leeg flesje waar de douchegel in kan
Ook heel handig om te hebben:
– een weegschaal
– een lepel
– twee maatbekers
– een schaaltje
Het is slim om vooraf de jelly in stukjes te snijden, dat maakt het blenden makkelijker. Ik gebruikte zelf 100 gram Deep Sleep jelly, die ik al in blokjes had gesneden.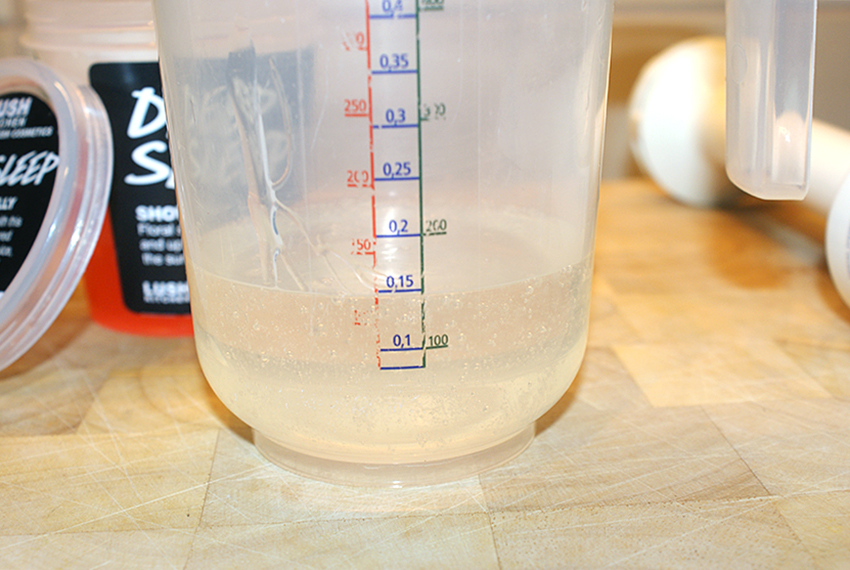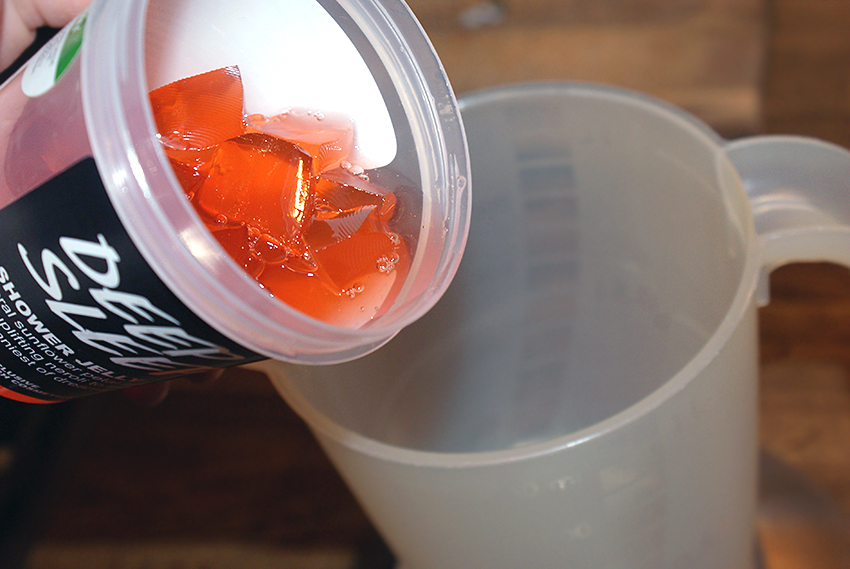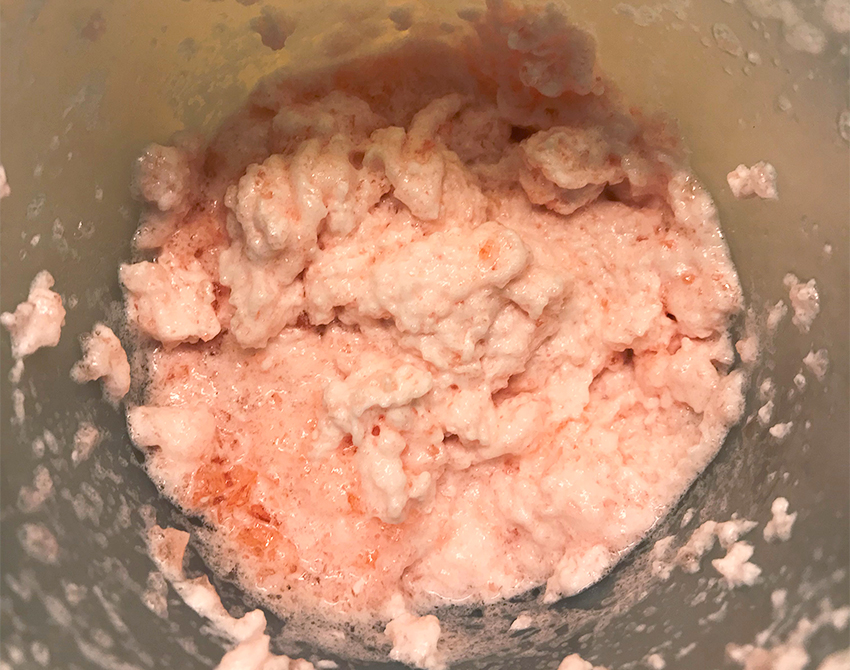 Blenden maar!
1. Weeg 100 gram jelly af en giet 150 ml neutrale douchegel in een maatbeker.
2. Pureer de 100 gram jelly met een staafmixer in een andere maatbeker, óf doe de jelly in een keukenmachine. Pureer één minuut op de middelste lang tot de jelly een mousse-achtig substantie krijgt. Dit kun je ook gebruiken onder de douche! Veel mensen pureren hun jellies op deze manier. Het is natuurlijk héérlijk om jezelf in te smeren met zo'n romige, dikke substantie. Je doet er alleen veel minder lang mee dan een normale jelly — je hebt van een mousse substantie meer nodig. Maar we gaan natuurlijk voor een douchegel, dus op naar de volgende stap!
3. Giet de 150 gram douchegel erbij en mix nog een minuut op de middelste stand, zie de foto's hieronder.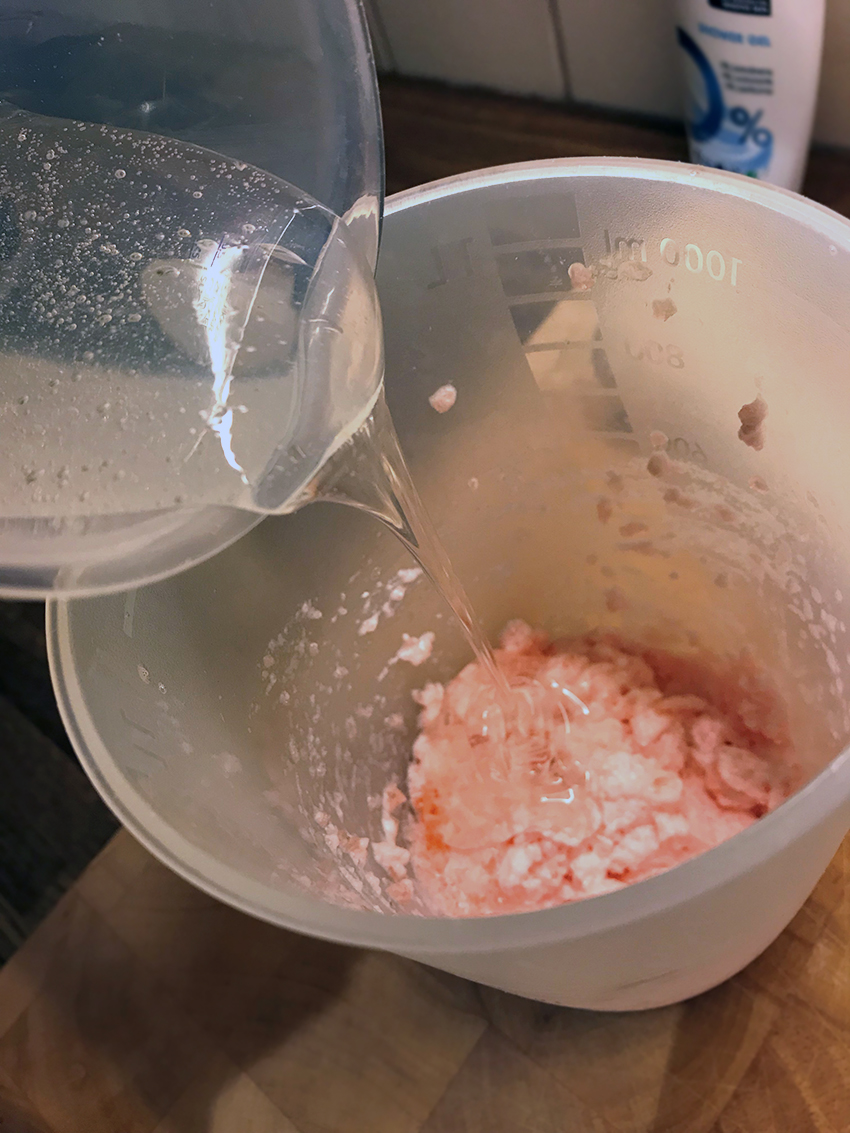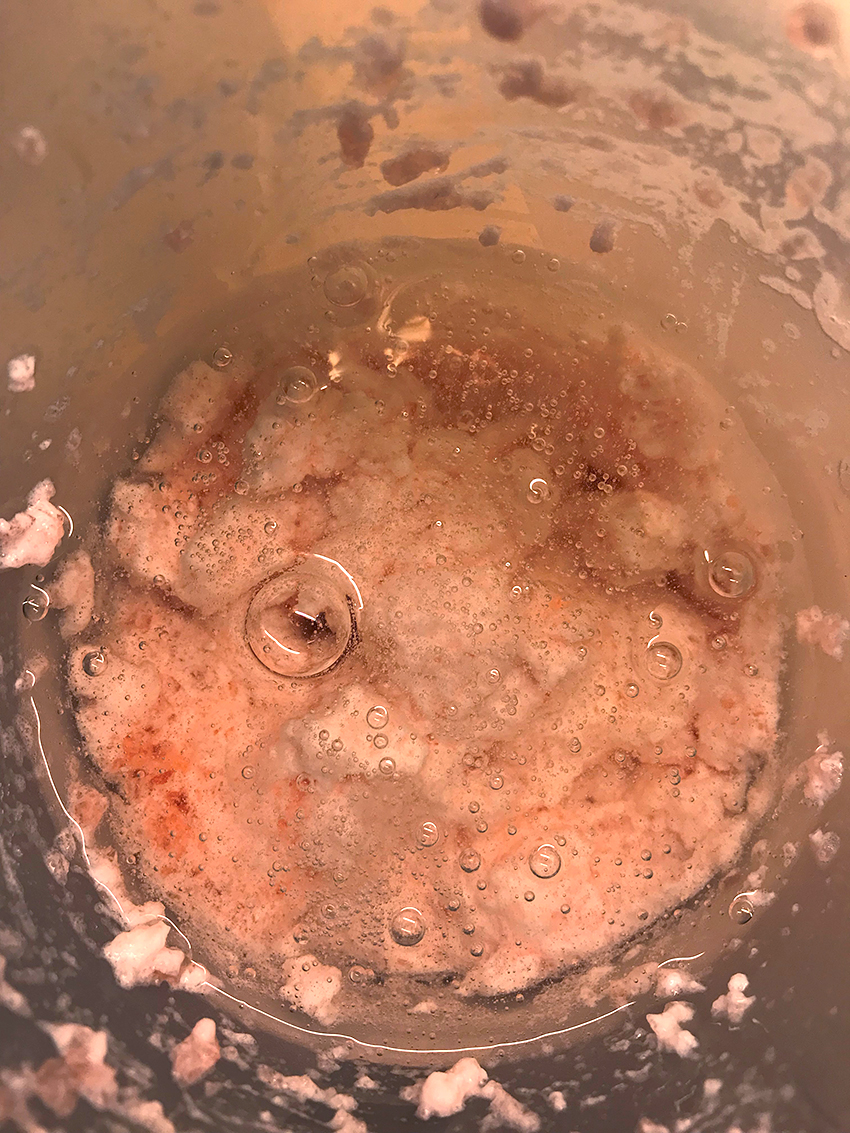 Dat was het eigenlijk al!
Ja, dat was het al eigenlijk! Ik deed er zelf nog een beetje water bij, al vond ik de substantie wel wat dun erna. Het is een beetje op gevoel doen. Het verschilt ook welke jelly je gebruikt, ze kúnnen onderling iets verschillen in substantie en ingrediënten. Het is gewoon mixen en wanneer je tevreden bent met de gewenste dikte, dan kun je door naar de volgende stap: het overgieten in een flesje!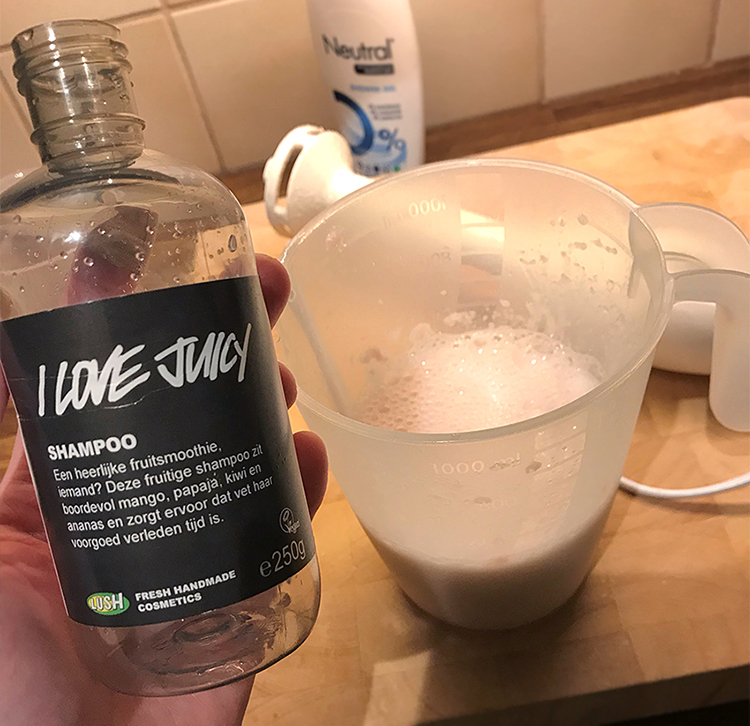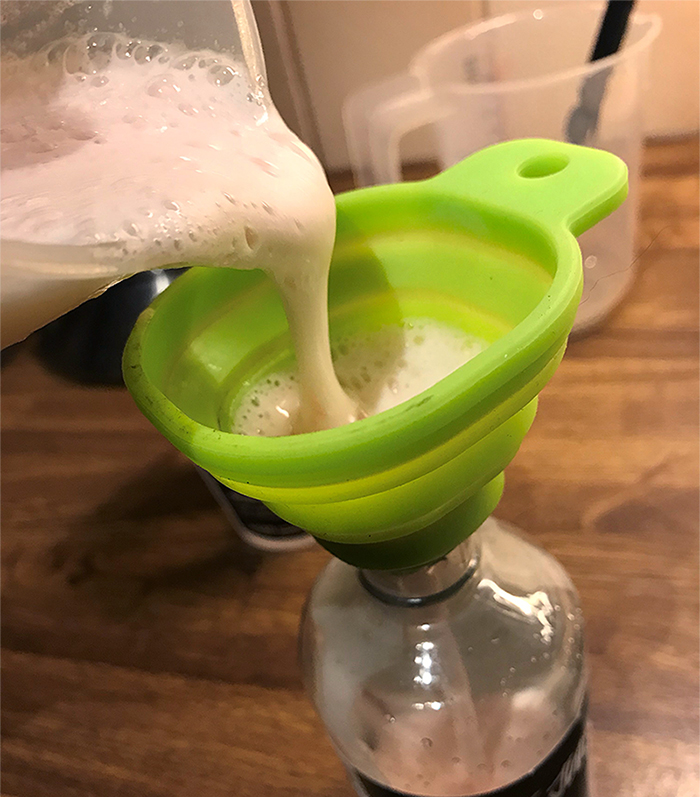 Je zult merken dat je nieuwe douchegel erg schuimt en amper kleur heeft — dit is normaal en minder naarmate hij langer staat. Je douchegel is in ieder geval klaar voor gebruik! Ik gebruikte uiteindelijk 100 gram jelly, 180 gram douchegel en 30 ml water. Ik heb een fles van 250 ml kunnen vullen én ik had nog 100 ml over. Ik raad je aan je douchegel binnen twee maanden op te maken, omdat er amper tot geen conserveringsmiddelen in zitten.
Vergeet ook niet om na afloop alle benodigdheden goed schoon te maken. Het is een beetje lullig voor de persoon na jou als zijn of haar eten naar lavendel of rozen smaakt 😂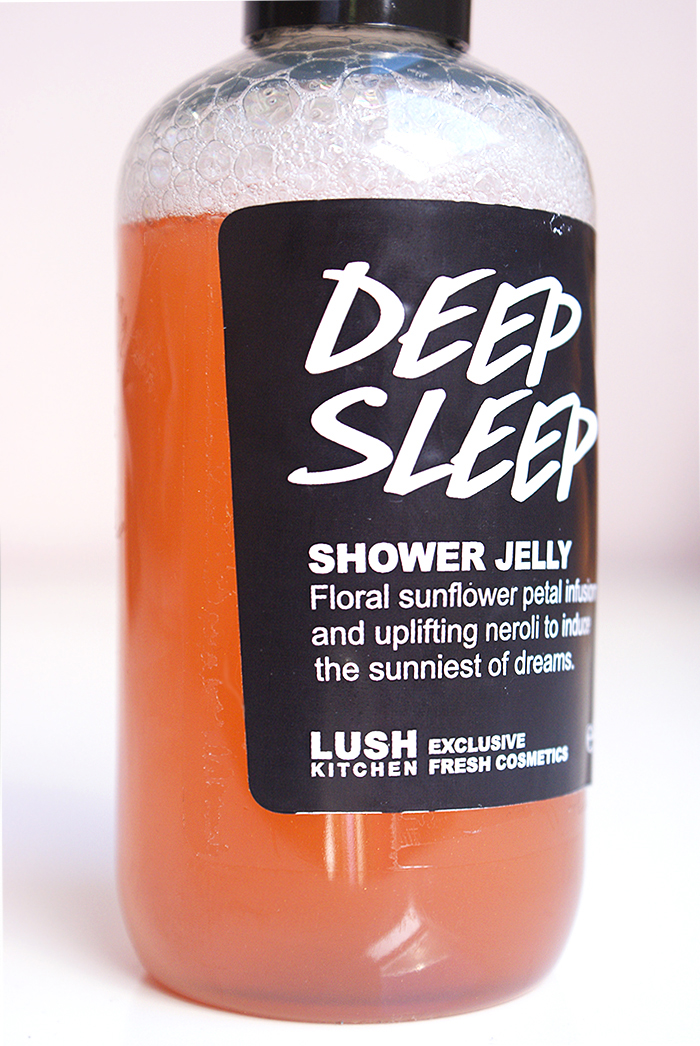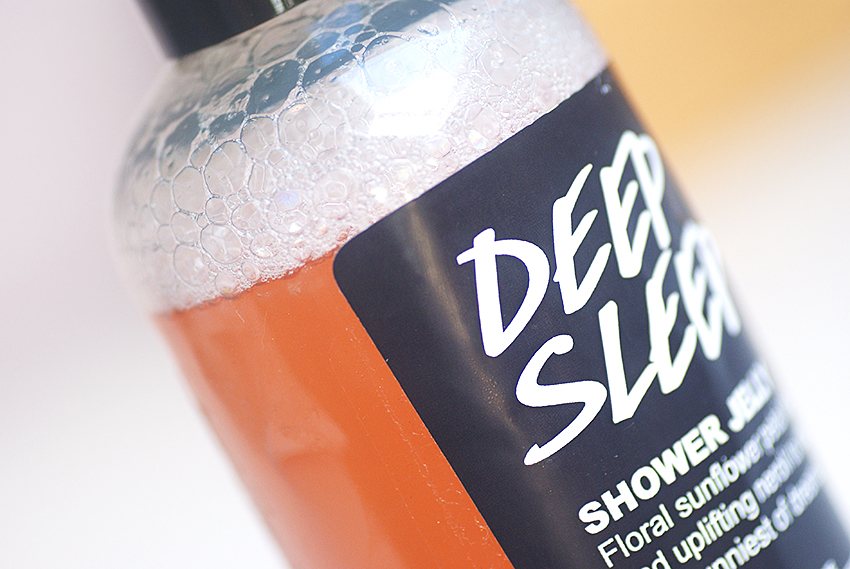 Hoe vind ik hem zelf?
Onder de douche is hij echt heerlijk. Net een echte douchegel, alleen dan iets dunner. Hij schuimt ook gewoon goed! Ik heb zelf Deep Sleep gebruikt, deze ruikt naar lavendel en kamille. Heerlijk voor 't slapen gaan! De geur was erg aanwezig, ook op m'n huid. M'n douchegel is dus goed gelukt, alleen was hij nog wat schuimig bovenop.
Ik hoop dat je deze DIY leuk vond! Ik heb al een paar jellies omgetoverd naar douchegels, en het is echt perfect voor degene die liever geen jelly gebruiken vanwege de glibberige substantie. Ik heb veel jellies in m'n stash, dus zo nu en dan tover ik er een paar om in douchegels.
Veel succes en mocht je vragen hebben, stel ze gerust! 😊
8 Responses to DIY: Lush douchegel maken van een jelly