Review: Lush Think Pink Bath Bomb
Read this post in
Engels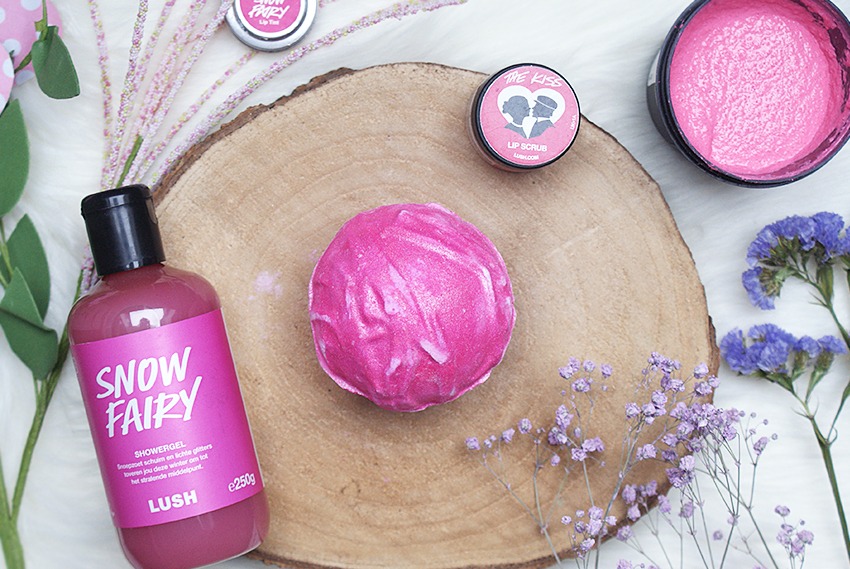 Dat ik deze bath bomb nog nooit eerder heb gereviewd, mag in het rijtje bizarre raadsels. Knalroze, glitters en een zoete geur. Als ik een bath bomb zou zijn, zou ik Think Pink zijn. Met een zwarte binnenkant, dat wel. *lacht duivels* Deze knalroze bath bomb is een must have voor elk persoon dat van.. roze houdt. Of zoet. Of glitters. Of eigenlijk, ik denk dat iedereen hem wel leuk zou vinden. Vandaag gooi ik 'm in bad, lees je mee?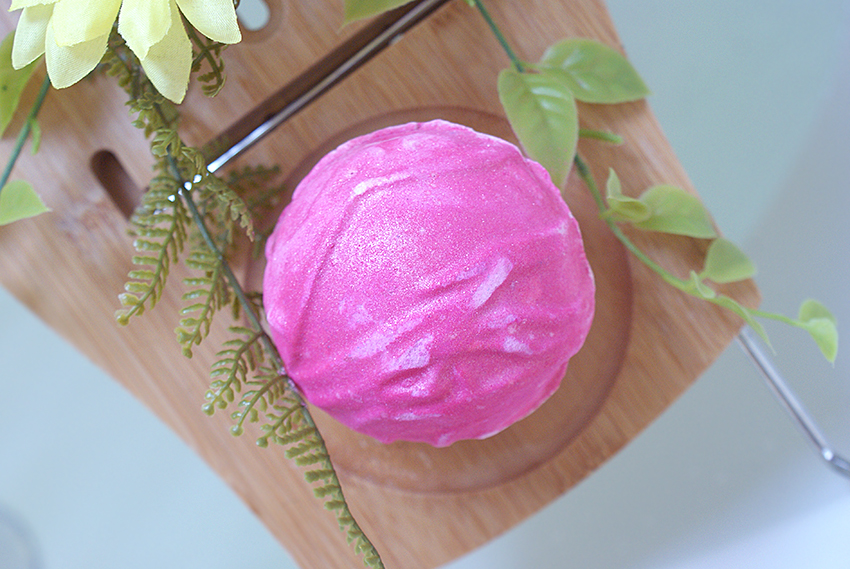 Wat is het?
Lush Think Pink Bath Bomb kost €6,25 en behoort tot de reguliere collectie. Hij is altijd te koop dus, woo! Zoals ik al zei, het is een raadsel dat ik hem nooit eerder geprobeerd heb. Ik heb ooit de oude Think Pink gehad in de beginperiode van m'n Lush verslaving. Hij was toen iets kleiner en had drie bloemetjes bovenop. In 2017 kreeg hij een make-over — hij is nu groter, nog rozer, ruikt nog steeds zoet en bevat meer zilveren glittertjes. Dit is dan ook de meest roze bath bomb die Lush heeft, volgens mij. Gemma Glitter zou trots zijn.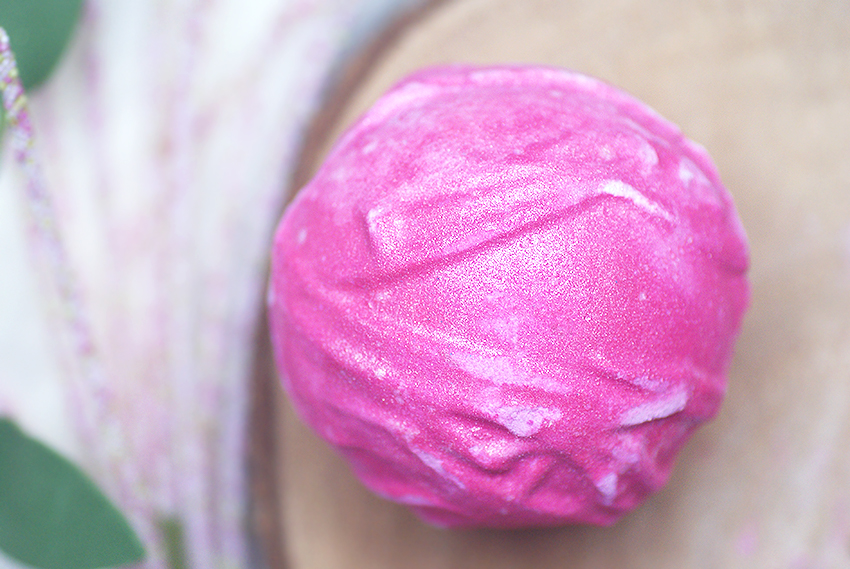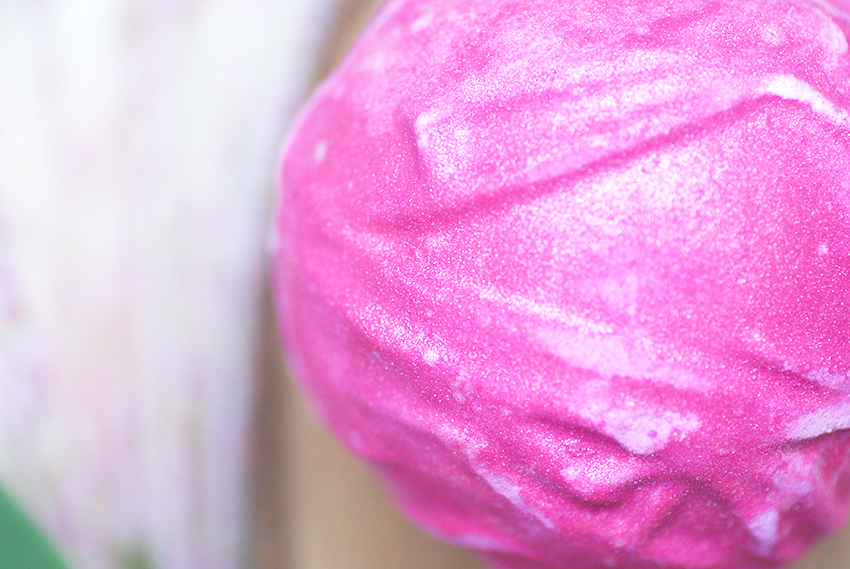 Wat zit erin?
Ingrediënten: Natrium Bicarbonaat (Sodium bicarbonate), Citroenzuur (Citric acid), Maïsmeel, Parfum, Snowflake; Silver Glimmer and Fandango, Pink Lustre, Synthetische Fluorflogopiet, Tinoxide, IJzer Oxiden (Iron Oxides), Kleurstof 15850:1, Kleurstof 45410:1, Lavendelolie (Lavandula augustifolia), Tonka Absolue (Dipteryx odorata), Vanille Absolue, Neroli-olie (Citrus Aurantium amara), Wijnsteenzuur (Potassium bitartrate), Titanium Dioxide, Natrium Laureth Sulfaat, Laurylbetaïne, DRF-alcohol, *Limonene, *Coumarine, Kleurstof 45410 (CI 45410), Kleurstof 14700 (CI 14700), Kleurstof 17200
Ik zie een hoop glitters! Maar liefst drie keer. Verder zie ik ook flink wat kleurstoffen, uiteraard voor de felle kleur, maar ik ben benieuwd of dit gaat vlekken in bad. Er zit lavendelolie in, tonka, vanille en neroli-olie. Hoewel de vanille zorgt voor een warme geur, voegt de neroli iets zoets en fruitigs eraan toe. Lavendel en tonka zijn de voornaamste geurnoten van de geurlijn Sleepy / Twilight, maar deze ruik je heel weinig terug. Het is voor echt een mix van warme, zoete vanille en fruitige neroli.
Als je deze wilt combineren met een bubble bar, denk ik dat Creamy Candy perfect is voor erbij! Maar ook Comforter past er goed bij. Dan wordt het geheel nóg zoeter en fruitiger. Wil je hem wat warmer qua geur, dan zou ik Rose Jam bubbleroon toevoegen.
Speel de filmpjes af in 2160p kwaliteit en op volledig scherm voor de beste ervaring!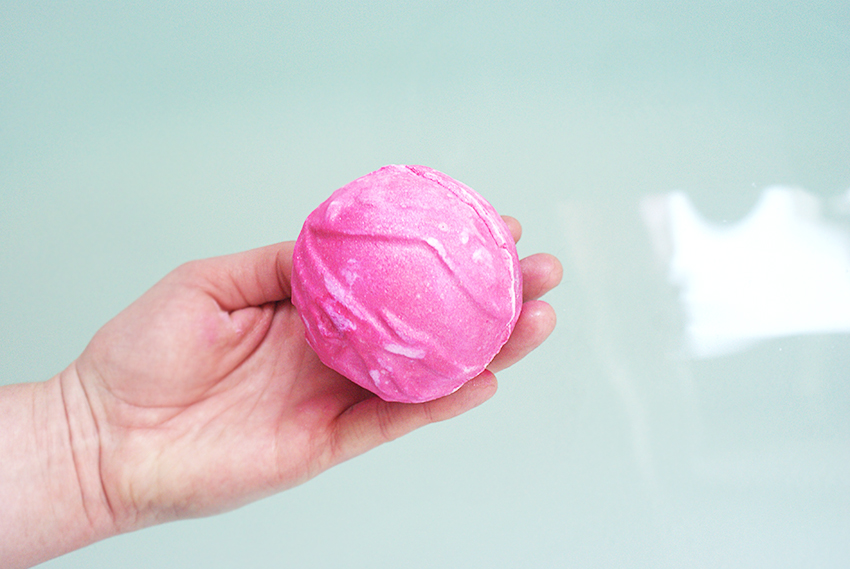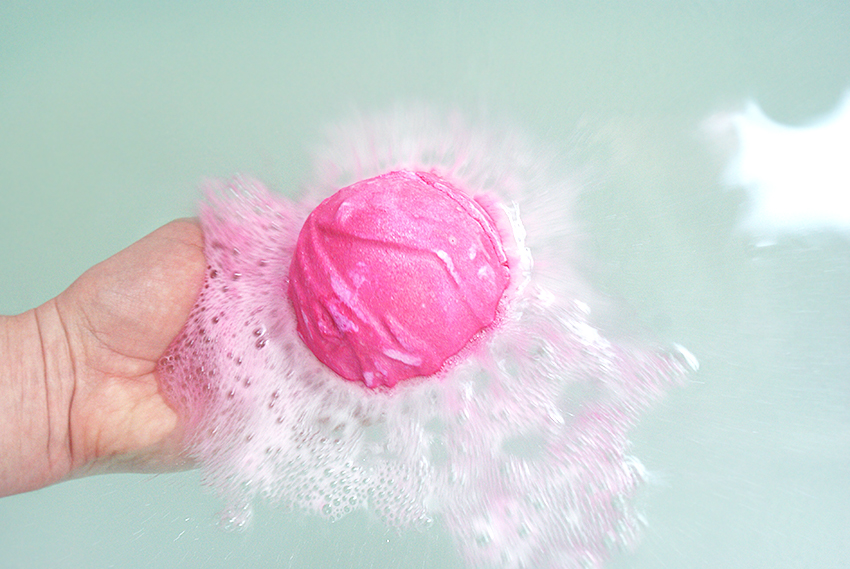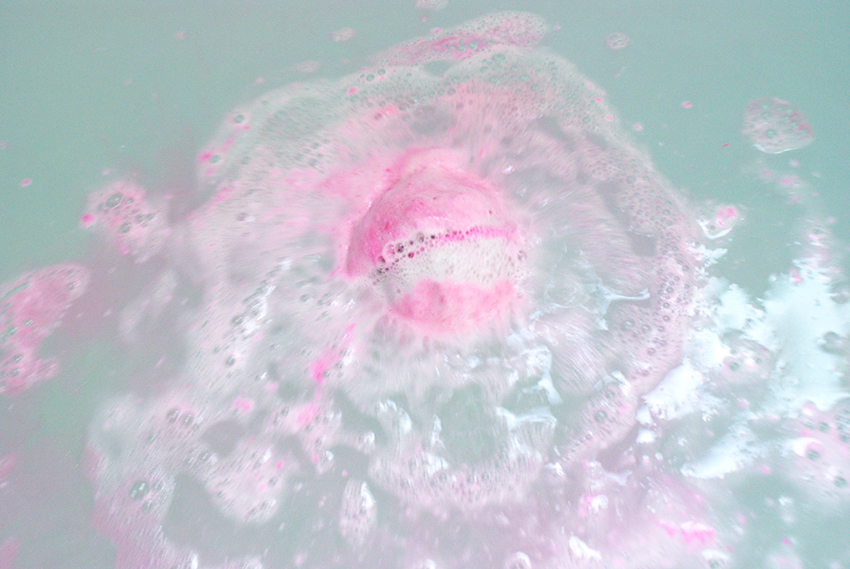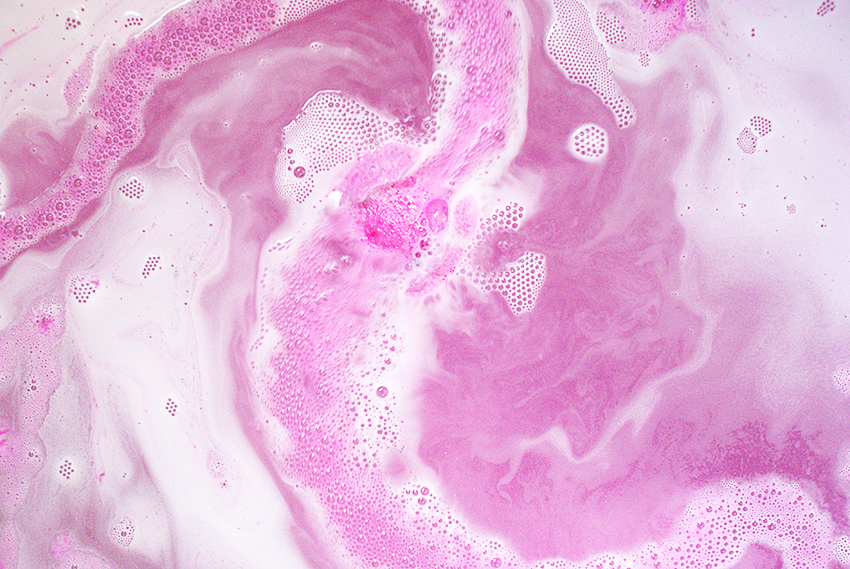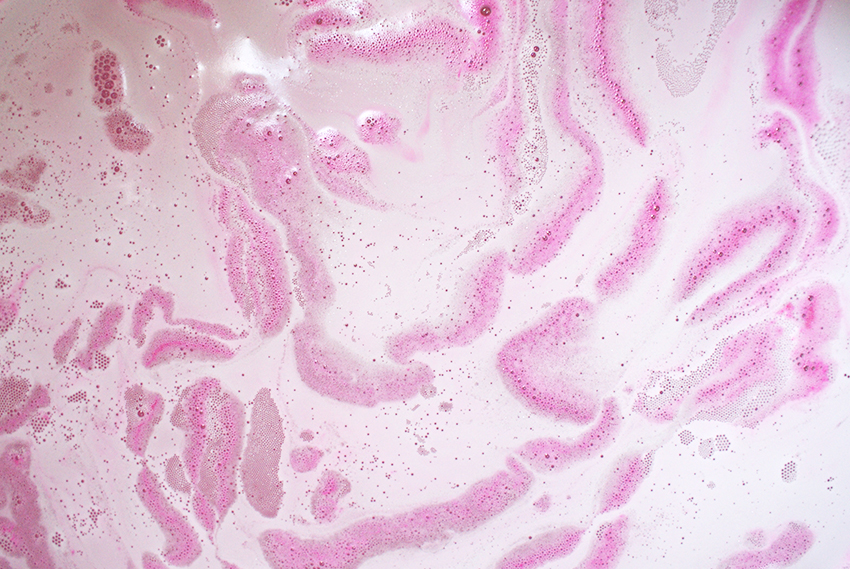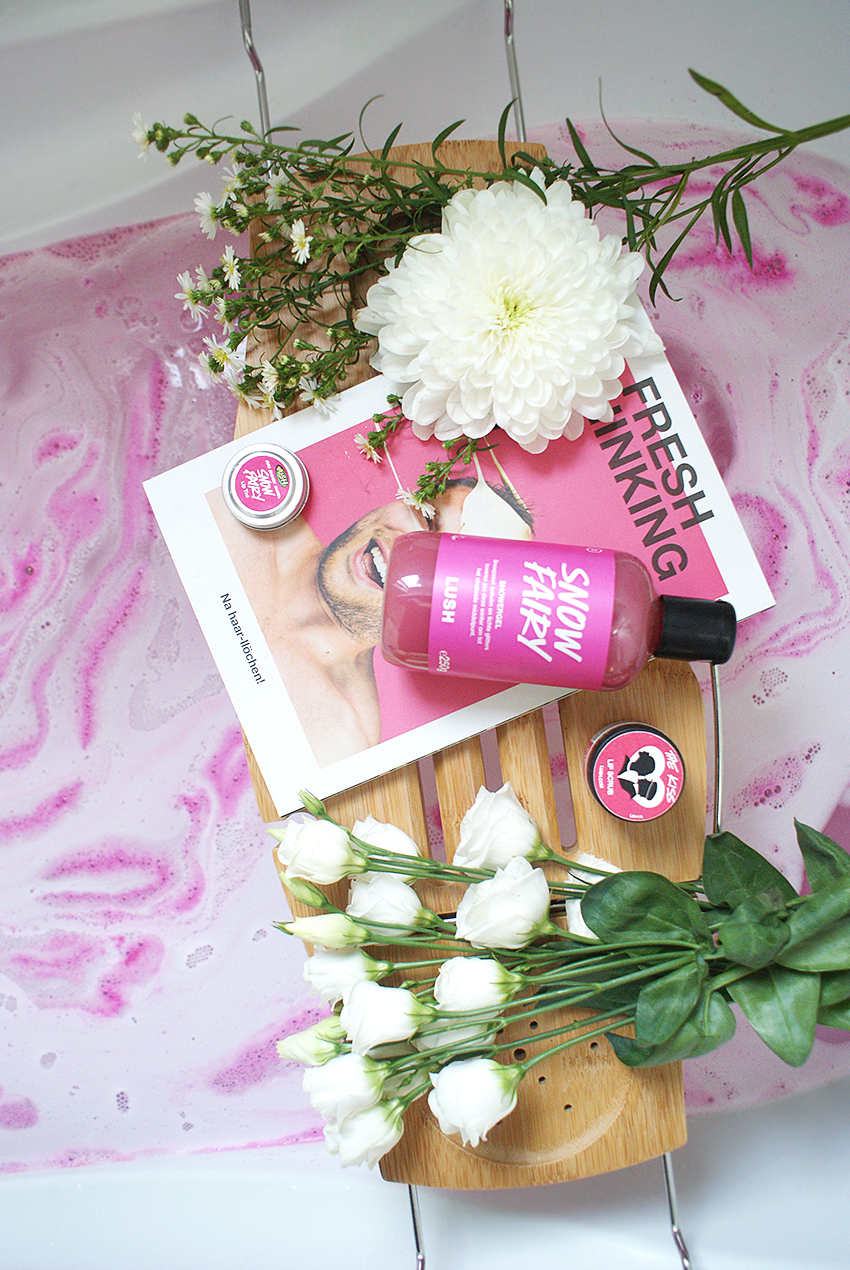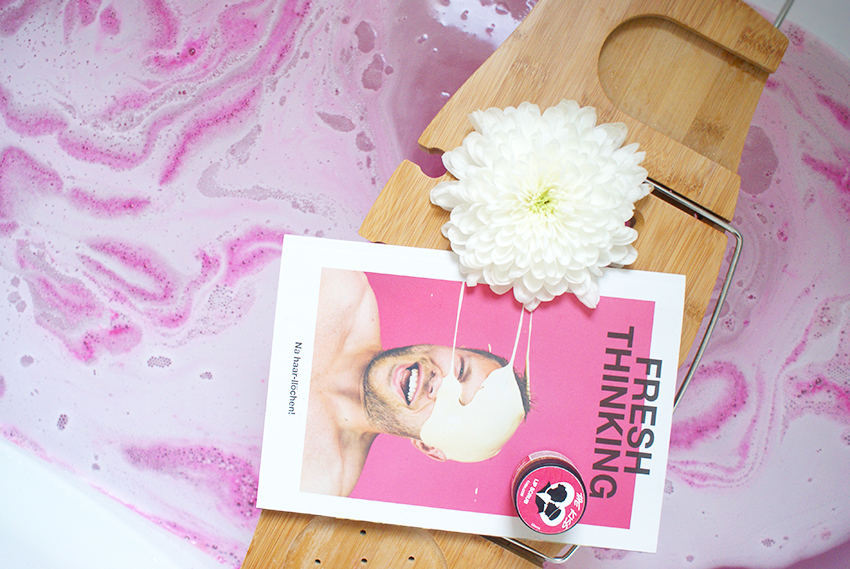 Mijn ervaring
Ooooh, hij is zo mooi in bad. Zodra hij in contact komt met het water, verspreiden de zilveren shimmers zich razendsnel door het bad heen. Doordat hij iets groter is, kleurt hij een bad moeiteloos felroze. Er ligt een deken van foam op het water, wat zacht aanvoelt en uiteindelijk zich mengt met het water. Bath art is echt 10/10, heel mooi om te zien. Think Pink is het bewijs dat je met één kleur ook een heel mooi bad kunt krijgen. De zoete geur verspreidt zich subtiel door de badkamer en zorgt ervoor dat je je waant in een snoepwinkel. En ik hoefde niet eens het bad schoon te maken na afloop!
Na afloop voelt m'n huid iets zachter aan, de geur ruik ik niet meer terug. Wel spot ik overal kleine zilveren shimmers, maar volgens mij zit ik als diehard fan sowieso altijd onder de glitters. Bovendien zát ik nog onder de glitters van Golden Egg. Ik ging diezelfde avond m'n nagels lakken met een doorzichtige nagellak, en omdat er nog gouden shimmers op m'n nagels zaten, zitten die er nu nog steeds. HAHA.
Al met al een heerlijk bad, de kleur is gewoon écht te gek. Ik raad je deze echt aan! Hij heeft op mij een goede indruk gemaakt waardoor ik hem vaker ga kopen.

Lush Think Pink Bath Bomb kost €6,25. Hij behoort tot de vaste collectie.
12 Responses to Review: Lush Think Pink Bath Bomb