Review: Lush Mango Exuberance shampoo bar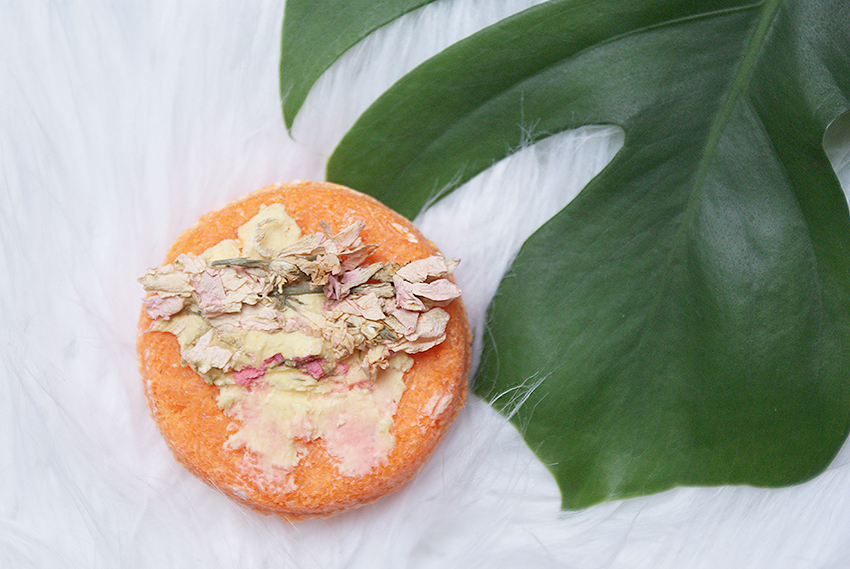 Een paar dagen terug stond er een review online van Lush Angel Hair shampoo bar, die helaas niet zo'n goede match was met mijn haar. Echter lag deze shampoo bar nog op me te wachten, dus het tijd om die eens onder de loep te nemen. Lees je mee?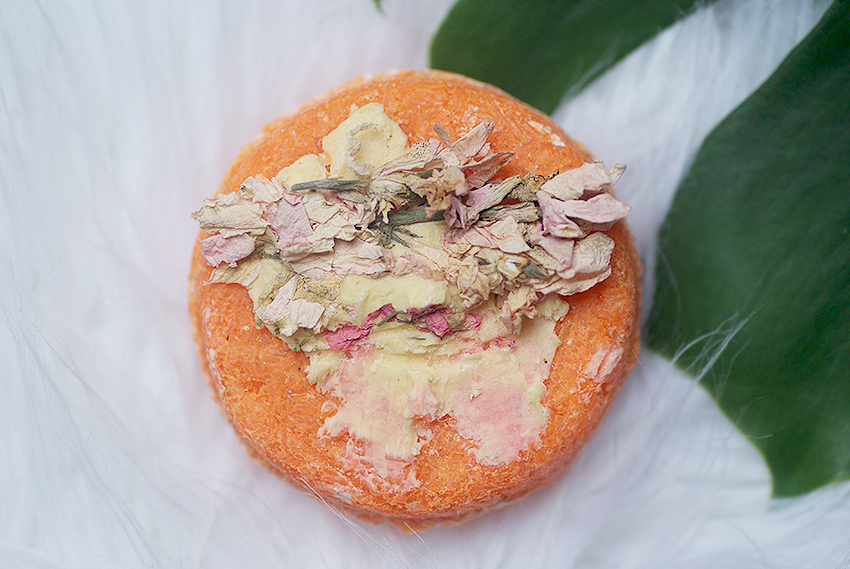 Mango Exuberance shampoo bar kost €10,95 en weegt 55 gram. Hij is onderdeel van Lush Labs, wat betekent dat producten tijdelijk te koop zijn om te peilen wat de consument ervan vindt. Jij kan feedback geven op een product, wat uiteindelijk er voor kan zorgen dat een product in het vaste assortiment komt, of gewoon verdwijnt!
Een shampoo bar van Lush gaat gemiddeld 80 wasbeurten mee. Dit is veel meer dan wat je uit een fles haalt, één shampoo bar staat gelijk aan 750 ml shampoo. Ze zijn handig voor op reis — het scheelt je een grote fles meesjouwen, het weegt een stuk minder en je hoeft niet bang te zijn dat de fles gaat lekken.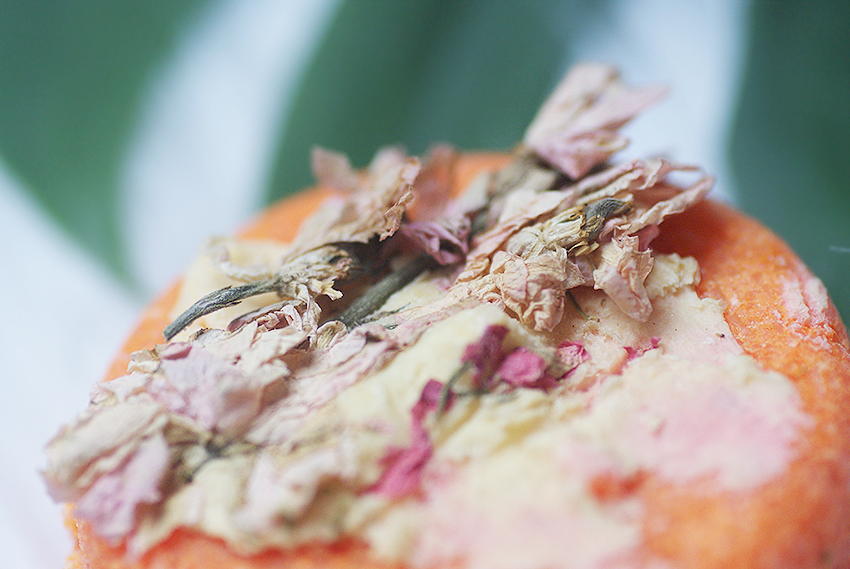 Mango Exuberance is ideaal voor mensen die iets meer glans in hun haar willen. Het bevat een cocktail aan fris fruit — mango, limoen, citroengras en ananas. Hieronder even de belangrijkste ingrediënten.
Het hoofdingrediënt is Natrium Coco Sulfaat — gemaakt van de vetzuren van kokosolie. Deze stof zorgt ervoor dat het product gaat schuimen, waardoor je het kunt verdelen over je hoofdhuid. Ook lost deze stof vuil en vet op. Dan zie ik mango (stimulerend, antioxidant, antibacterieel en verhelderend voor de huid), ananaspoeder (diep reinigend), citroengrasolie (werkt ontstekingsremmend en verstevigend en heeft een verkwikkende geur), citroenolie (verkwikkend, verzachtend, reinigend, aromatisch) en limoenolie.
Al deze ingrediënten zorgen voor een onwijs frisse, opwekkende geur. Als ik de ingrediënten zie, vind ik hem nog het meest ruiken naar citroengras.
Je kunt je wel voorstellen dat deze geur perfect is voor 's ochtends. Ik word er lekker wakker van, het is goed voor m'n (ochtend)humeur, en het belangrijkste.. de geur blijft nog een paar uur in m'n haar hangen! Helaas niet de hele dag, maar zeker als het net gewassen is, krijg ik complimenten van mensen om me heen.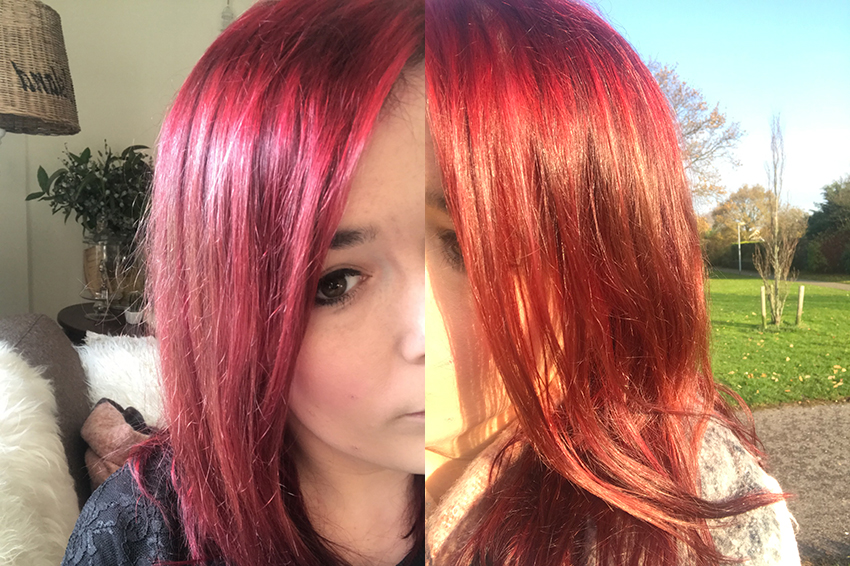 Onder de douche gebruik ik hem door over m'n natte haren te wrijven. Het schuim wat daarmee ontstaat, masseer ik in over m'n hele hoofdhuid. De geur is nu al zo lekker! Wanneer ik na het douchen m'n natte haar borstel, met m'n Wet Brush uberhaupt, gaat het erg stroef. Na m'n haar aan de lucht te hebben gedroogd, probeer ik het weer te borstelen. Dit gaat nog steeds niet heel makkelijker, maar al beter dan ervoor.
En dan mijn ervaring.. die is gelukkig beter dan met Angel Hair! Mango Exuberance maakt mijn haar enorm zacht en glad. Het valt op een hele mooie manier langs m'n gezicht, zonder er sluik uit te zien of zwaar aan te voelen. M'n haar lijkt meer licht te reflecteren en daardoor erg te glanzen, vooral in de zon is het mooi. De shampoo geeft m'n haar geen volume, maar het maakt m'n haar erg luchtig en licht. Gedurende dag heb ik steeds wat kleine knoopjes in m'n haar, die ik er even uit moet borstelen. Al met al ben ik erg tevreden!
Mango Exuberance shampoo bar kost €10,95. Vlak voor het publiceren van dit artikel kwam ik erachter dat hij uitverkocht is — hopelijk wordt hij nog aangevuld en anders zou je het via Marktplaats, het Lush forum of via de Facebook groep Lush Cosmetics NL/BE kunnen proberen.
4 Responses to Review: Lush Mango Exuberance shampoo bar