Review: Lush Jingle Spells Bath Bomb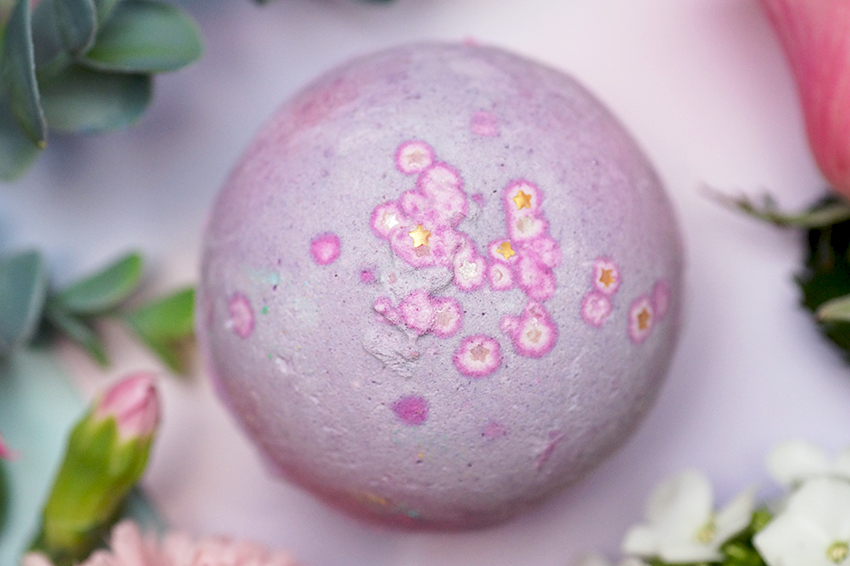 Jingle Spells, Jingle Spells, jingle all the way! In de advent calendar die ik vorige week kocht zaten 5 retro producten, waaronder deze. Een retro product is een ouder product van Lush die weer tijdelijk te koop is, behalve in dit geval — hij zit in de advent calendar, maar is verder niet te koop deze Kerst. Een extra lokkertje voor de mensen die twijfelde over de advent calendar dus. Desondanks ga ik hem toch reviewen! Als je net als ik ook benieuwd bent naar deze oude topper, lees dan verder.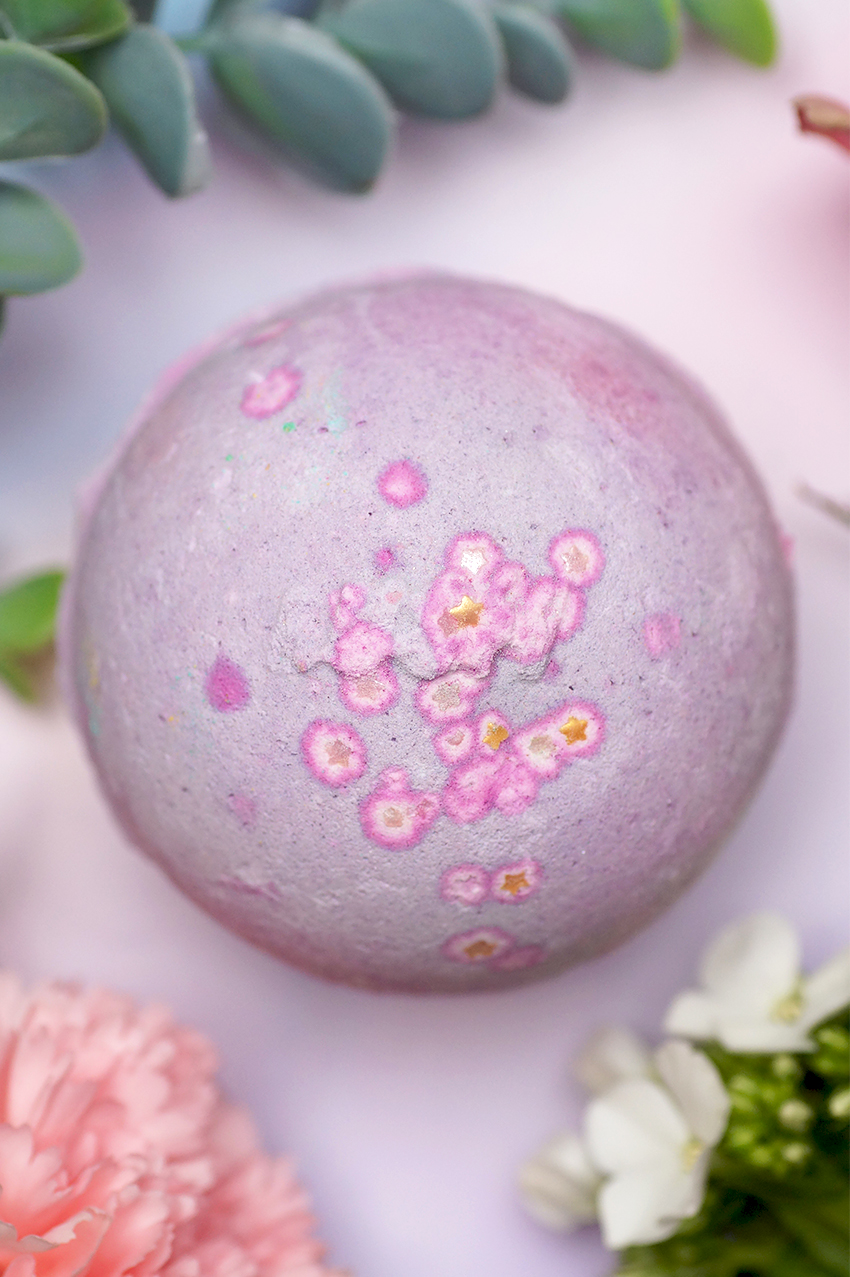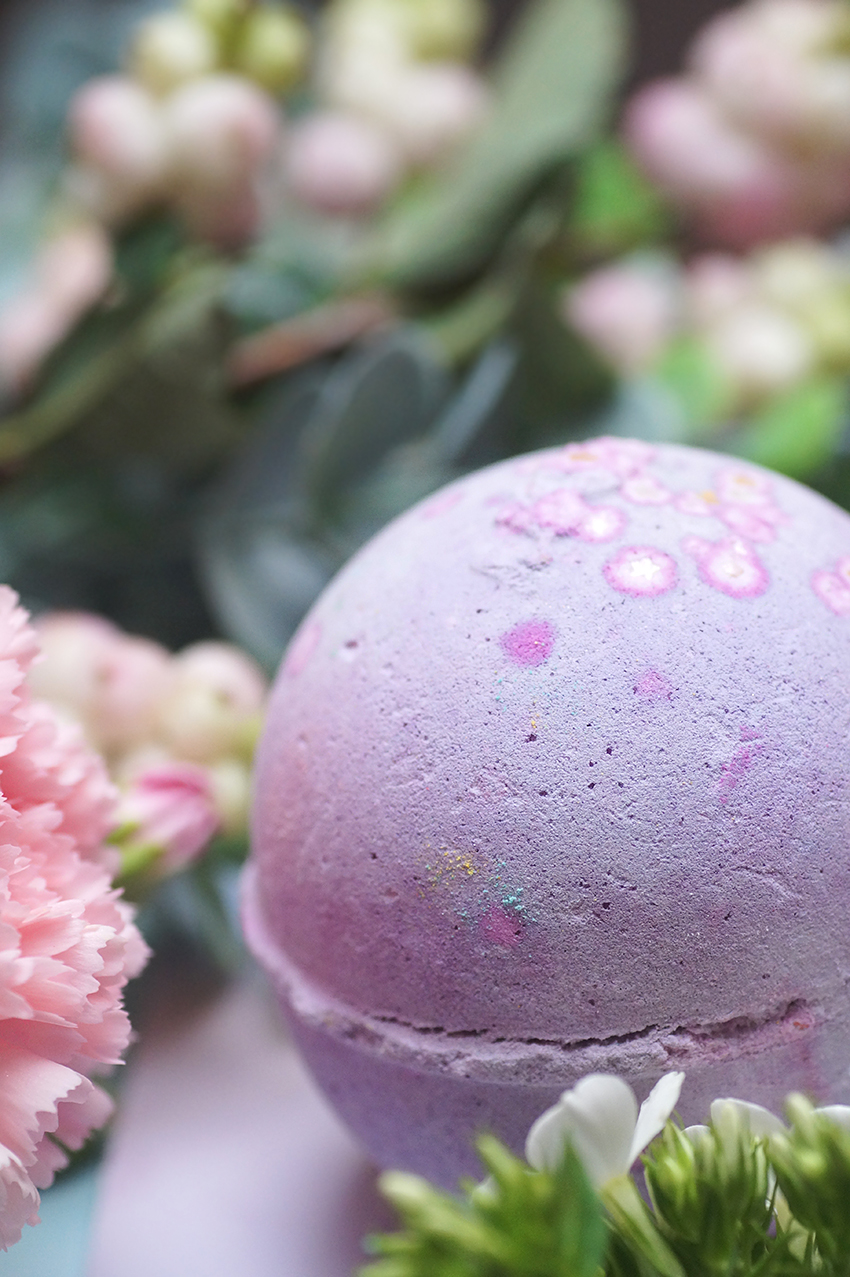 Wat is het?
Ingrediënten: Natrium Bicarbonaat (Sodium bicarbonate), Citroenzuur (Citric acid), Parfum, Jeneverbesolie (Juniperus communis), Tangerine-olie (Citrus reticulata), Venkelolie (Foeniculum vulgare), Ylang Ylang-olie (Cananga odorata), Water, Glycerine, Titanium Dioxide, Hydroxy propyl methyl cellulose, Natrium Carboxy Methyl Cellulose, Synthetische Fluorflogopiet, *Limonene, *Linalool, Kleurstof 17200, Kleurstof 42090, Kleurstof 77492
Lush Jingle Spells Bath Bomb is onderdeel van de Advent Calendar. Het was oorspronkelijk een product uit de Kerstcollectie, alleen is hij al jaren niet meer te koop. Voor de advent calendar maakte hij eenmalig een comeback. Oorspronkelijk verkocht Lush hem in 2001, met recht een retro product dus! Deze paarse bath bomb is bedekt met gouden sterretjes, al zijn die omgeven door rare vlekken, alsof de bath bomb waterpokken heeft. Hij bevat jeneverbesolie, tangerine-olie, venkelolie and ylang ylang olie. Hij bevat sterretjes en glittertjes, extra leuk.
Jingle Spells is bloemig en musk-achtig, dat rook ik direct al zonder naar de ingrediënten te kijken. Het is echt zo'n zware, sexy bloemengeur — denk aan Sex Bomb. De ylang ylang erin is heel herkenbaar, die geeft de bath bomb z'n verleidelijke, bloemige geur. Hij heeft een wat musk-achtige, poederige ondergrond waardoor de geur helemaal compleet is. Niet alleen de kleuren van de bath bomb, maar ook de geur doet me onwijs denken aan Sex Bomb Bath Bomb.
Speel het filmpje af in 2160p kwaliteit en op volledig scherm voor de beste ervaring! Het filmpje speelt zich versneld af.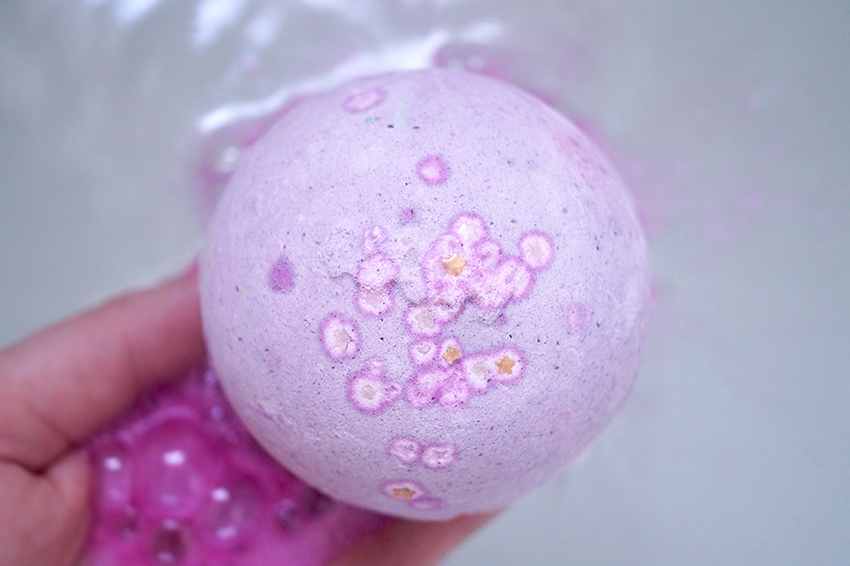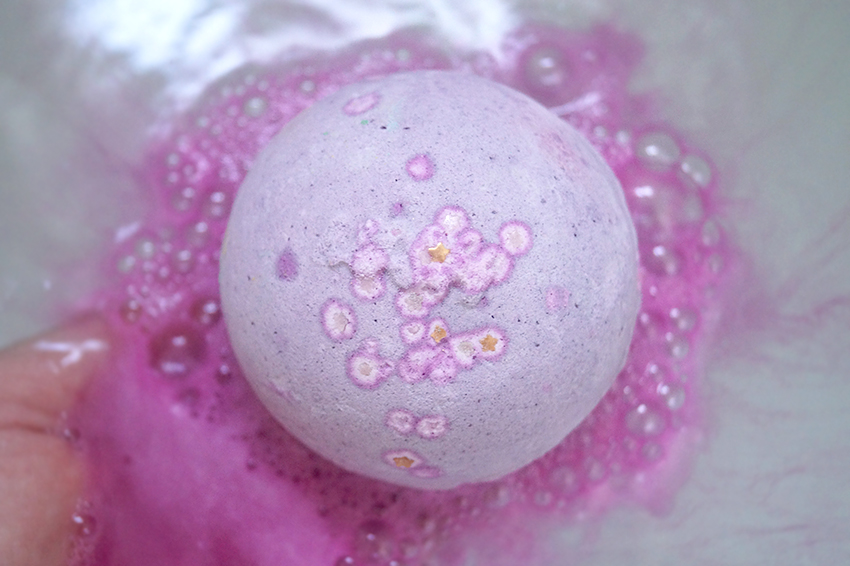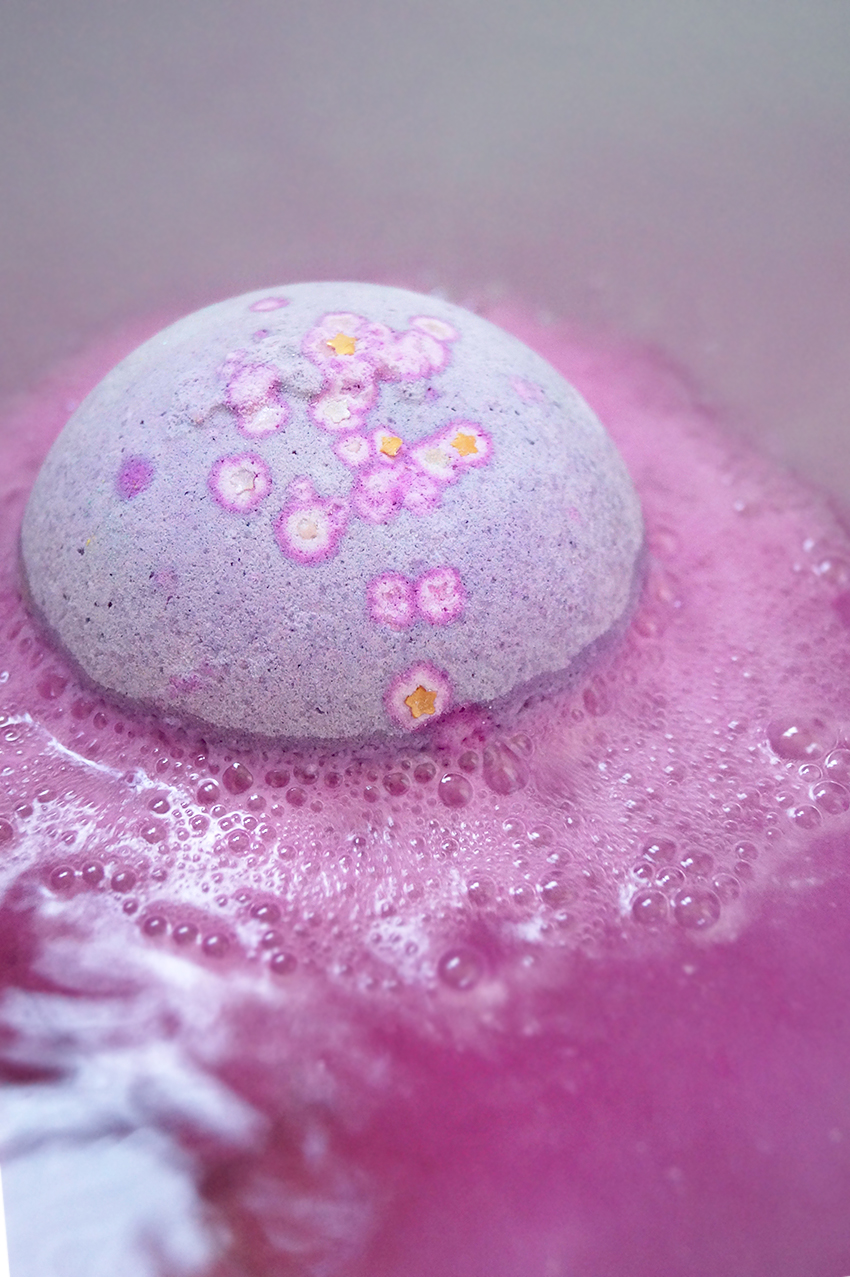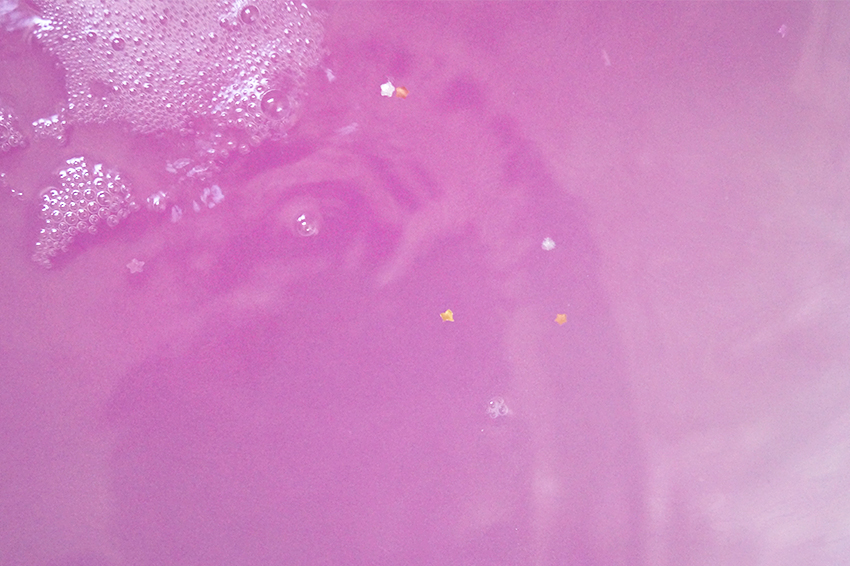 Mijn ervaring
Wanneer ik Jingle Spells in het water laat zakken, komen er direct magenta kleuren van de bath bomb af. In tegenstelling tot veel bath bombs, die echt schuim uitspuwen, spuwt deze alleen gekleurde bubbels uit. Wat me ook opvalt is dat de geur onwijs fris wordt nu hij aan het bruisen is! De mandarijn erin komt helemaal tot leven en geeft een frisse, fruitige en citrus-achtige geur af die nu behoorlijk overheerst. Toch kan ik ook iets van de venkel oppikken — venkel heeft een anijs en drop-achtige geur, en ik kan de dropgeur heel lichtjes ruiken. Heerlijk! Het is een enorm snelle bruiser, dus binnen no time is hij opgebruist. Ik kan de frisse, inmiddels lichtkruidige geur nu goed ruiken in de badkamer. Wanneer Jingle Spells opgebruist is, blijft er een donkerroze/paars bad over. Er drijft hier en daar een klein sterretje op de oppervlakte, ook een leuke extra.
Ik liet me in het felle kleurtje zakken en speelde wat met de sterretjes, die ik probeerde vast te pakken en fijn te knijpen met m'n vingers. Op de bodem voelde ik wat mini stukjes jelly, wellicht dat dat wat sterretjes waren? Hoe dan ook, ik vond het een mooi bad, en de geur was nog goed te ruiken! Na afloop voelde ik qua huid niet veel verschil, maar geestelijk kon ik er weer eventjes tegenaan. (Lees: 5 minuten)
Jingle Spells is niet te koop, maar om eerlijk te zijn.. mocht je een vergelijkbare bath bomb zoeken, dan komt Sex Bomb Bath Bomb wel erg in de buurt. Misschien niet helemaal hetzelfde, maar de geur en kleur tonen enkele overeenkomsten. 😊

3 Responses to Review: Lush Jingle Spells Bath Bomb