Review: Lush Gingerbread Man Sparkle Jar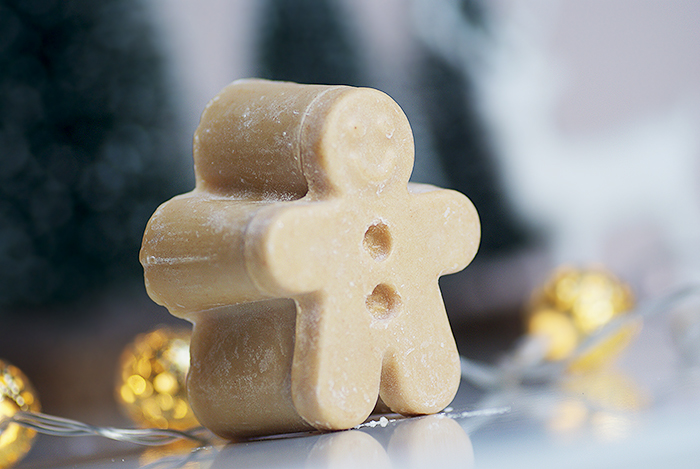 Toen ik in de webshop van Lush zat te snuffelen, en m'n oog op dit schattige mannetje viel, klikte ik hem meteen m'n winkelmandje in. Ik had geen idee wát voor product het was, maar ik moest hem hebben. Sinds ik de films van Shrek heb gezien, ben ik helemaal dol op gingerbread poppetjes. Toen ik las dat het een sparkle jar was, was het me nog niet helemaal duidelijk wat het nou was. Maar ik vermoedde een soort massage bar, maar dan met glittertjes erin. En dat klopt! (Applaus voor Evelien)
Wil je meer weten over deze glitterende, naar kerstkoekjes ruikende meneer? Lees dan verder.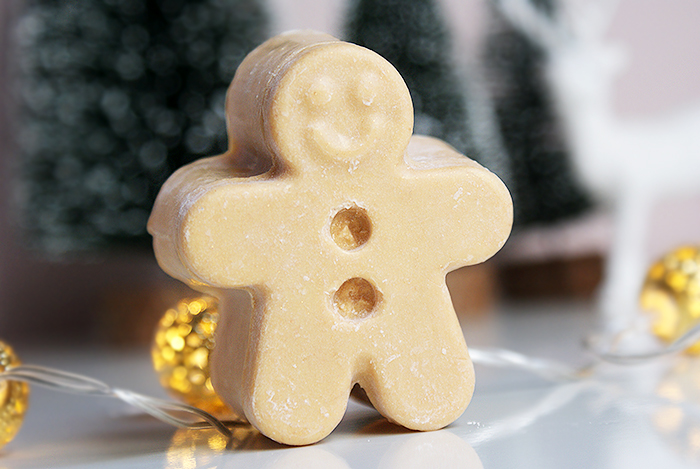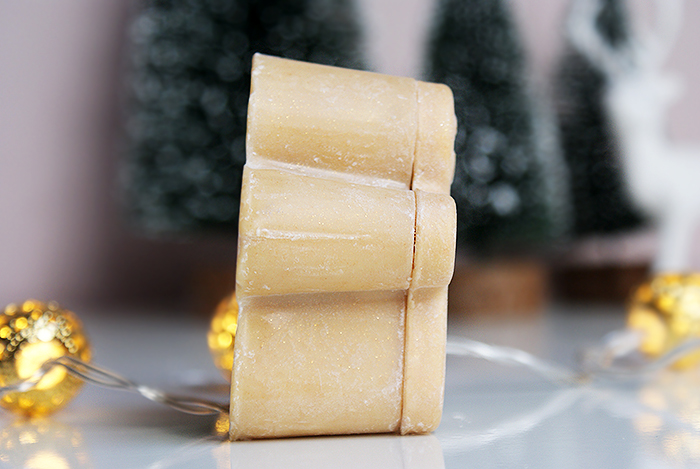 Lush Gingerbread Man kost €11,95 en is onderdeel van de kerstcollectie van Lush. Het product is geheel vegan. Ook verpakkingsvrij, dus geen plastic of andere troep.
De binnenkant is geheel gevuld met dusting powder — maïsmeel en pijlwortelpoeder, deze zijn beide geurloos. (Edit: volgens een medewerker van Lush zou het poeder wél geurend moeten zijn! Ik ruik het dus helaas niet) Ze maken de huid slechts gladder. Wat je dus 'overhoudt' aan body butter zelf, is niet heel veel. Als je met een mesje de bovenkant omhoog wipt, kun je zien hoeveel dusting powder erin zit. Dan zie je ook dat de randen nog geen halve centimeter dik zijn! Qua product zelf, zonder de dusting powder, is het dus niet erg veel. Als je hem elke dag zou gebruiken voor je ledematen, doe je er misschien nog geen drie weken mee, denk ik. Gezien de prijs, en het feit dat er 'gewoon' maïsmeel in zit, vind ik dat jammer. 🤔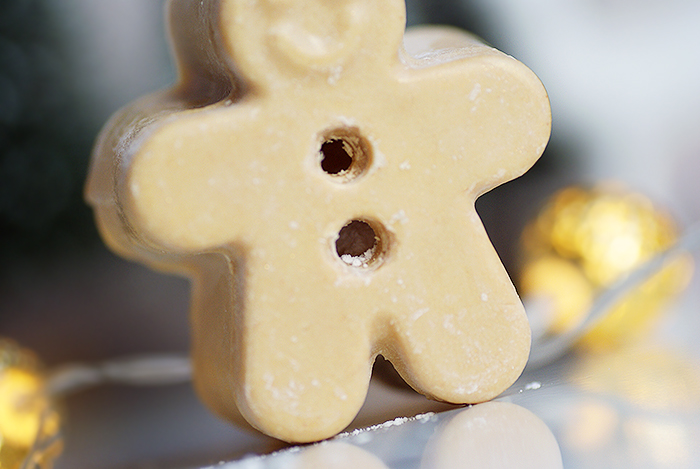 Nu heeft deze beste man dus geen organen en zenuwen binnenin zich, maar poeder. Volgens Lush kun je het beste zijn twee knopen voorop doorprikken. (Tip: doe dit niet met een pen, tenzij je de pen niet meer wenst te gebruiken.) Vervolgens heb je heel harteloos twee gaten in z'n lijf geprikt en kan ik je écht aanraden om hem dan niet op z'n kop te houden, want de poeder komt er gewoon in grote hoeveelheden uitdonderen. 😑 Probeer hem dus rechtop te laten wanneer je je insmeert, tenzij het eruit moet zien alsof je zes oliebollen in de wind hebt gegeten.
De buitenkant zelf bestaat voornamelijk uit cacaoboter. Daaraan toegevoegd zijn gemberolie, dennennaald absolue (absolue is een geurende stof die wordt verkregen door de extractie van natuurlijk materiaal) en kruidnagelolie. Het product bevat geen alcohol of parfum. Kortom, een stevige boter, die smelt wanneer het in aanraking komt met de huid. Vanwege de huidtemperatuur smelten de boter en oliën, en kun je hem goed uitsmeren over de huid.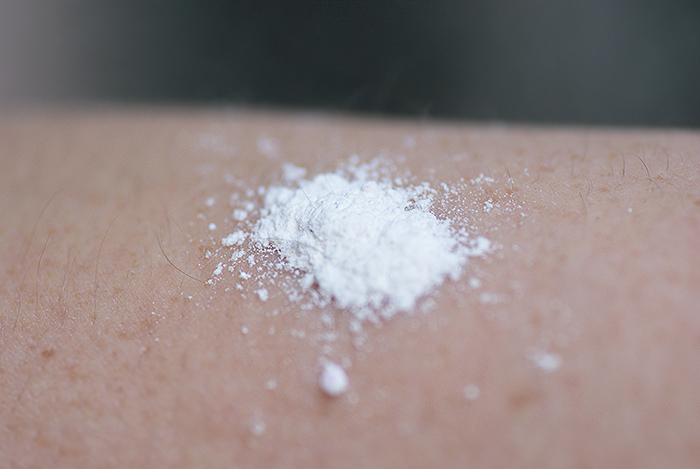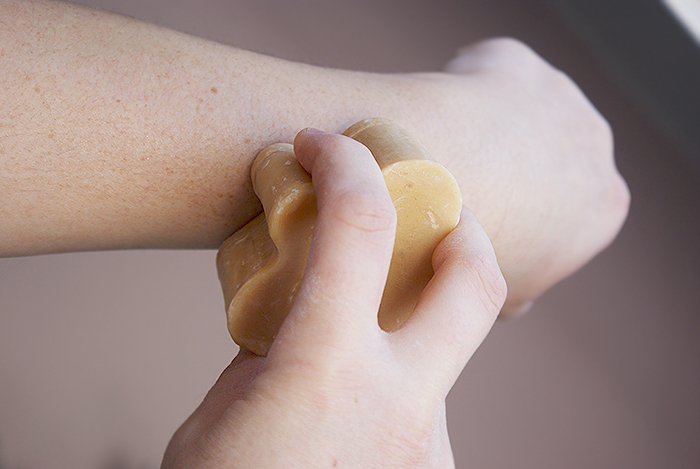 Ik begin gewoon met smeren en na vijf seconden smelt hij lichtjes. Vervolgens wrijf ik de boter en oliën uit over m'n huid en dan kan het rustig intrekken. Houd je niet van het plakkerige gevoel? Strooi er dan wat extra dusting powder over. Het duurt best lang tot het product volledig is ingetrokken. Het resultaat is wel direct zichtbaar (en ruikbaar) — een zachte, soepel, gehydrateerde huid vol met kleine glitters. Lekker feestelijk. Na een paar uur ruik ik nog weinig van m'n speculaashuid, wel voelt hij nog iets zachter aan dan normaal.
Oh, ik heb het nog niet over de geur gehad! Die is namelijk écht verrukkelijk. Het hoogtepunt van dit product. Het is een mix van kerstkoekjes en kruidige gember. Dit is hoe de winter ruikt, zoet en kruidig. Een warme geur, alsof je een speculaasje bent.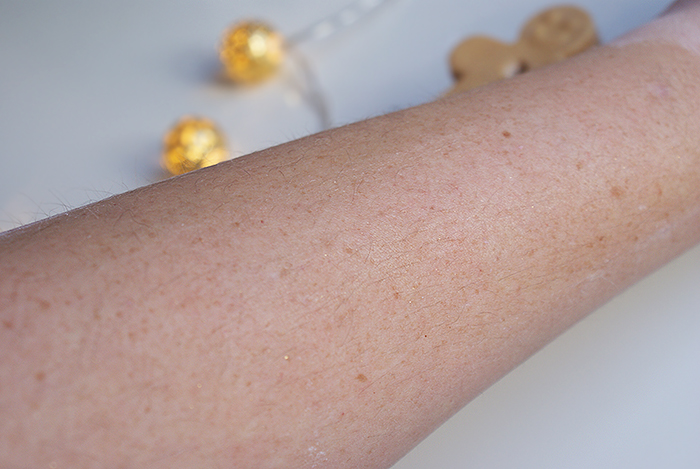 Ja, ik vind het een lekker product. Wel wat prijzig, want heel lang gaat hij niet mee. Wel ideaal om te vragen als cadeau, voor bijvorbeeld Sinterklaas of Kerst! Dit product geeft je niet alleen het ultieme Kerstgevoel, ook een heerlijk gehydrateerde huid. Ik zou deze meneer echt even besnuffelen in de winkel, wedden dat hij je hart steelt? ❤
Lush Gingerbread Man kost €11,95 en is onderdeel van de kerstcollectie van Lush.
12 Responses to Review: Lush Gingerbread Man Sparkle Jar