Review: Lush Volcano Voetmasker
Read this post in
Engels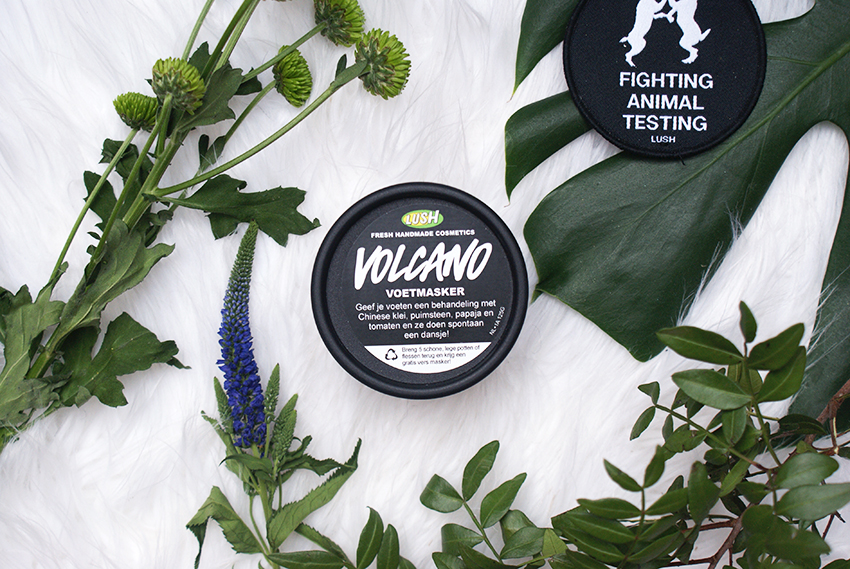 Niets vervelender dan een droge huid. Helemaal als het op gegeven openbarst en gaat bloeden! Hoewel dat erg dramatisch klinkt, komen kloofjes vaak voor in de winter. Ook mijn voeten zijn slachtoffer geworden van de kou momenteel. Ik heb al een aantal kloofjes in m'n hielen, en geloof mij — deze doen zó pijn! Lopen wordt gewoon pijnlijk er door. Het duurt ook dagen voordat de huid weer dichtgroeit, dus in dit geval is voorkomen beter dan genezen. Toen ik bij Lush rondwandelde (ja, op mijn zielige, zere pootjes), viel m'n oog op dit voetmasker. Hij klinkt veelbelovend, dus hierrr ermee!
Benieuwd of hij goed bevalt? Lees dan verder.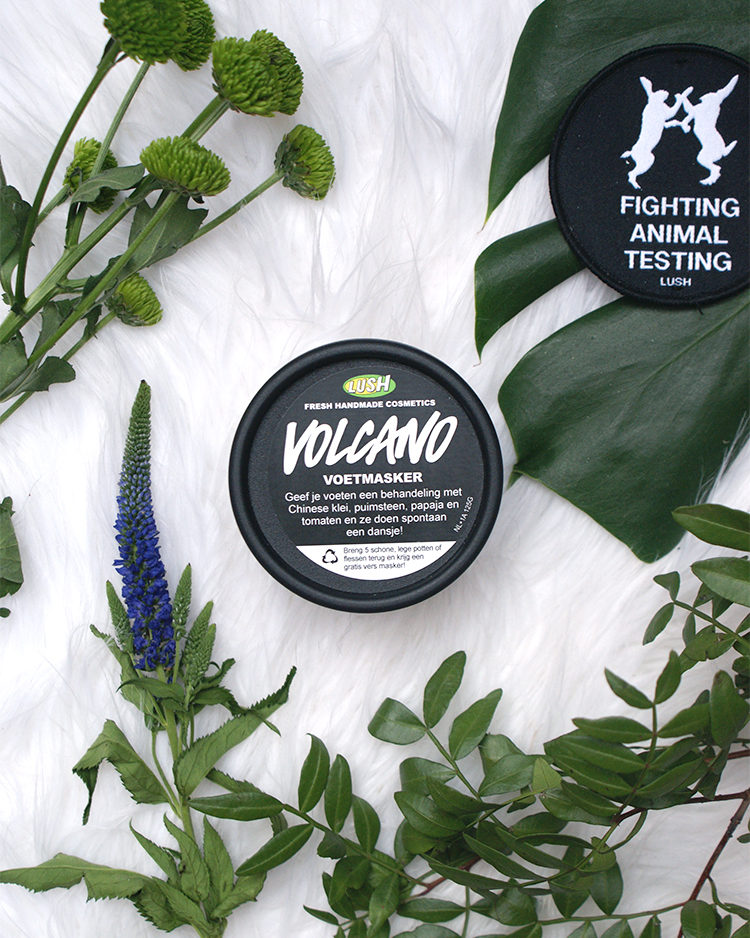 Wat is het?
Kaoline (Kaolin), Lindebloesem- en Kleefkruid-afkooksel (Tilia europaea, Galium aparine), Verse Tomaten, Verse Papaja (Carica papaya), Aardappelen (Solanum tuberosum), Glycerine, Bentoniet Gel, Menthol Kristallen (Menthol), Citroenolie (Citrus limon), Kaneelbladolie (Cinnamomum zeylanicum), *Benzyl Benzoaat, *Limonene, *Linalool, Parfum, Methylparabeen, Propylparabeen
Lush Volcano Voetmasker kost €10,95 en bevat 125 gram.
Het fijne aan dit product is dat geen water bevat. Water droogt de huid namelijk enorm uit! Wel bevat dit masker kaoline, dit werkt absorberend en trekt gifstoffen, vet, vuil en oneffenheden uit de huid. Altijd fijn voor frisse poten. Lindebloesem- en kleefkruid-afkooksel zouden een genezende werking hebben, doordat ze flavonoïden en fytochemicaliën bevatten. Puimsteen werkt als een soort scrub — het verwijdert droge huidcellen en laat je voeten zacht aanvoelen.
Tomaten verfrissen, papaya geeft ze een oppepper, de aardappelen erin.. ik heb geen flauw idee waar zat voor kan zijn 😂, glycerine hydrateert enorm, bentoniet gel is een soort klei dat reinigt en kalmeert, menthol is lekker fris (fijn voor je omgeving ook), citroenolie ook en kaneelbladolie ruikt gewoon lekker.
De geur is erg apart, het is niet echt een geur waar je een parfum van zou willen. Ik vind hem erg aards, je ruikt de kaoline erin best goed. Ik vind hem niet vies, maar hij is gewoon een beetje raar ofzo? Gelukkig smeer ik het op m'n voeten en ben ik met m'n 181cm een flinke afstand met m'n neus van m'n voeten verwijderd. 😅
Wat ik trouwens nog belangrijk vind om te vermelden: het voetmasker is niet lang te bewaren, ik gok vanwege het klei erin. Mijn voetmasker is gemaakt op 17 december 2018 (en dta terwijl ik hem op 25 januari kocht 😒) en de t.h.t. staat op 17 maart 2019. Kortom, vier maanden. Na die vier maanden droogt hij echt compleet uit, dus probeer hem echt in die tijd op te maken.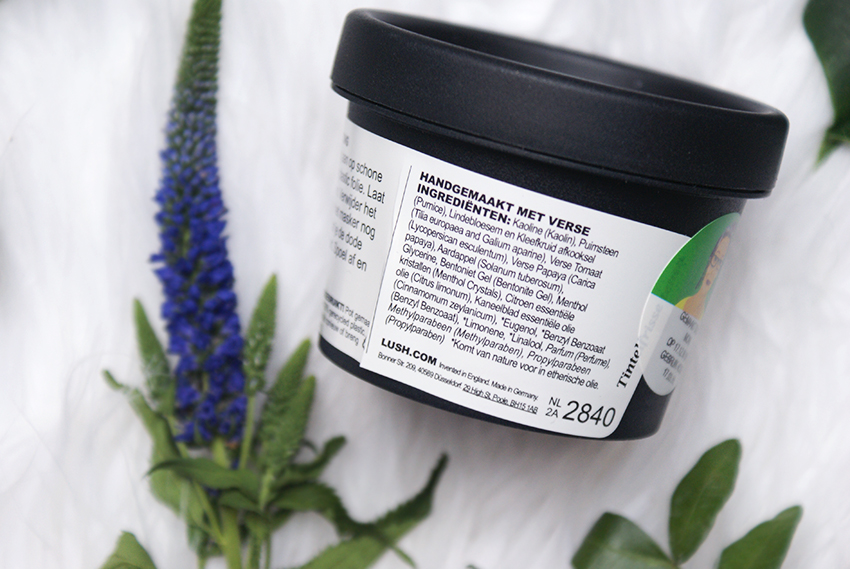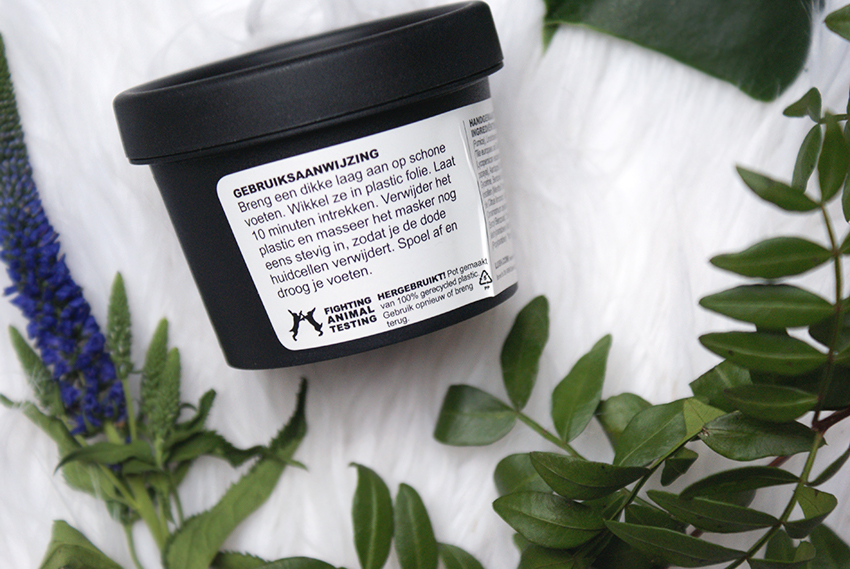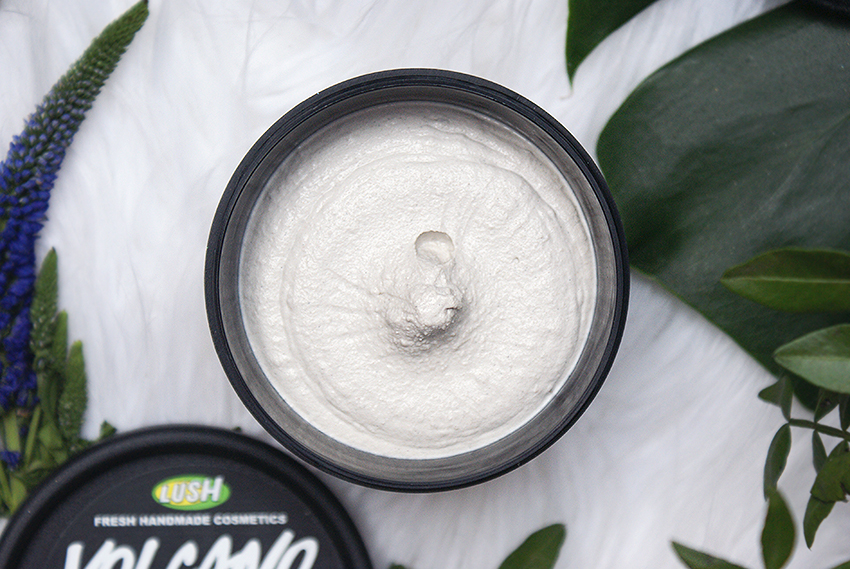 Wat zit erin?
De huid van je voeten bevat van nature weinig talgkliertjes en droogt daarom snel uit. Een droge huid is minder elastisch en soepel waardoor de huid bij niet soepel kan meebuigen. Hierdoor barst de huid en ontstaan er kloofjes. Ik had al een tijdje zeer droge hielen, maar nu er kloofjes in m'n hielen komen, is het tijd om ze nóg intensiever te verzorgen.
Dit masker laat je 10 minuten intrekken op schone voeten, maar langer lijkt mij geen kwaad te kunnen. Wikkel je voeten na het insmeren in plastic folie, zodat het masker nog beter z'n werk kan doen. Daarna smeer je je voeten even goed in met het masker, en dan kun je ze schoonspoelen.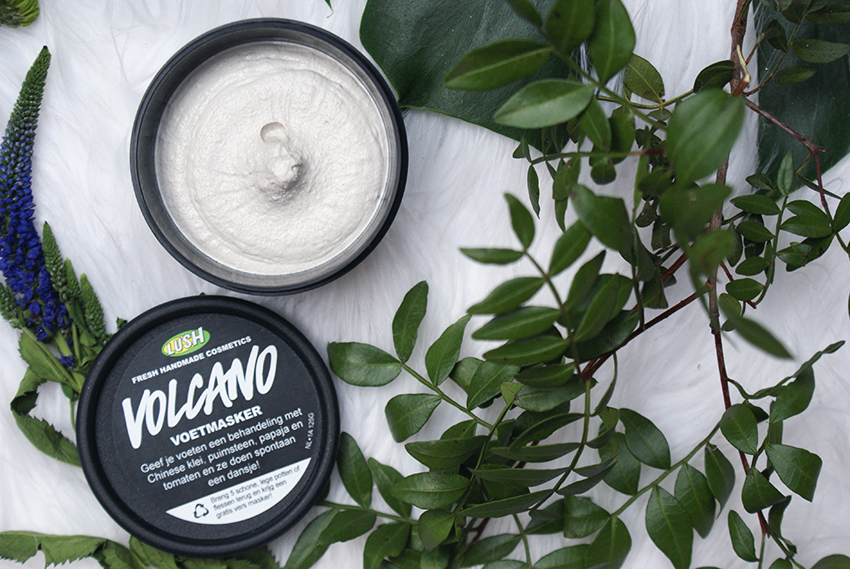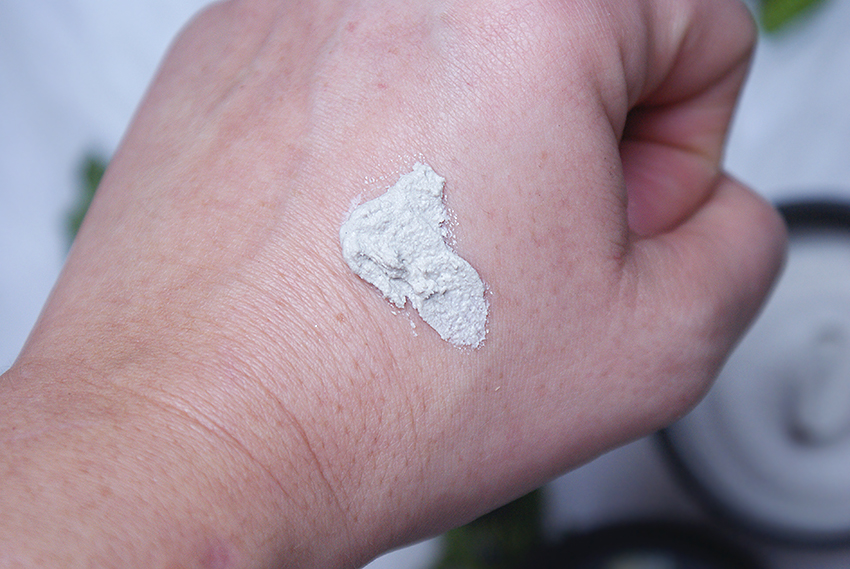 Het gebruik ervan
De substantie is erg stevig, duidelijk een product met veel klei erin. Het brengt prettig aan en smeert fijn uit. Het is even klooien met insmeren, je handen wassen en dan het plastic folie erom heen aanbrengen, maar als het eenmaal zit kun je veilig erop lopen. Zelf liet ik het zo'n 20 minuten intrekken terwijl ik op bed ging lezen. Wat me opviel was dat de bovenkant van m'n voeten een beetje prikten. Niet pijnlijk hoor, maar ik merkte het toch op.
Toen ik het plastic folie eraf haalde, was de substantie opgedroogd — dat is natuurlijk een eigenschap van klei. Ik gooide m'n been over de wastafel heen, voet in de wasbak (dit is nog best een uitdaging als je de 30 bent gepasseerd) en spoelde het masker eraf met warm water. Andere been in de wasbak, voet afspoelen en beide voeten afdrogen. Er staat dat je de substantie nog even goed moet insmeren voordat je het eraf spoelt, maar dat gaat nogal moeilijk als het opgedroogd is.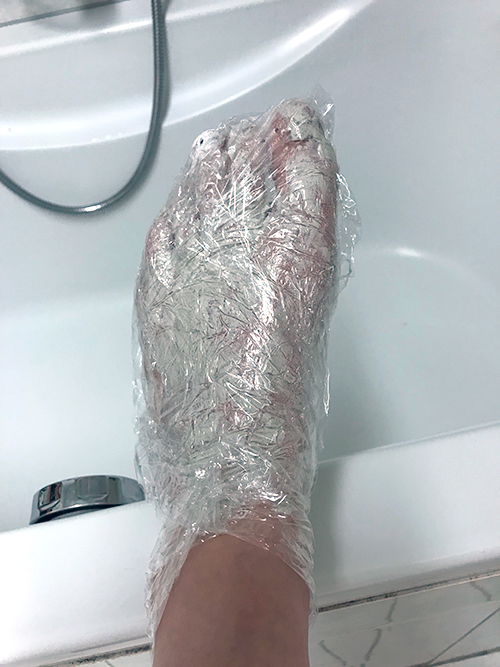 Mijn ervaring
Het verdict: de ruwe velletjes die uitstaken voelde ik niet meer, 24 uur later wel weer een beetje. M'n hielen leken iets minder droog, ze zagen er wat gezonder uit. De huid was niet per se heel soepel nu, maar ik had ook niet het idee dat ze nog zo droog was als ervoor. De bovenkant van m'n voet was echter wel rood, iets wat na een half uurtje wegtrok. Het kapotte van m'n hielen leek wel merendeels te zijn verminderd.
Ik ben op zich niet ontevreden over dit product, maar het verricht geen wonderen na één keer. Wellicht is het dus een kwestie van vaker gebruiken — goed om te weten dat je zo'n 3x kunt doen met een potje — dus ik ga het zeker volgende week nog eens gebruiken.
Droge voeten en kapotte hielen vereisen echter veel verzorging, dus het is logisch dat één voetmasker niet alles oplost. Die nacht smeerde ik het dik in met kloofcrème en deed ik sokken erover heen aan. M'n hielen waren de dag erop nog steeds droog, maar iets minder kapot. Blijven hydrateren is dus the key to this solving problem.

Lush Volcano Voetmasker kost €10,95 en bevat 125 gram. Hij behoort tot de vaste collectie.
11 Responses to Review: Lush Volcano Voetmasker