Review: Lush Moon Spell Bath Bomb
Read this post in
Engels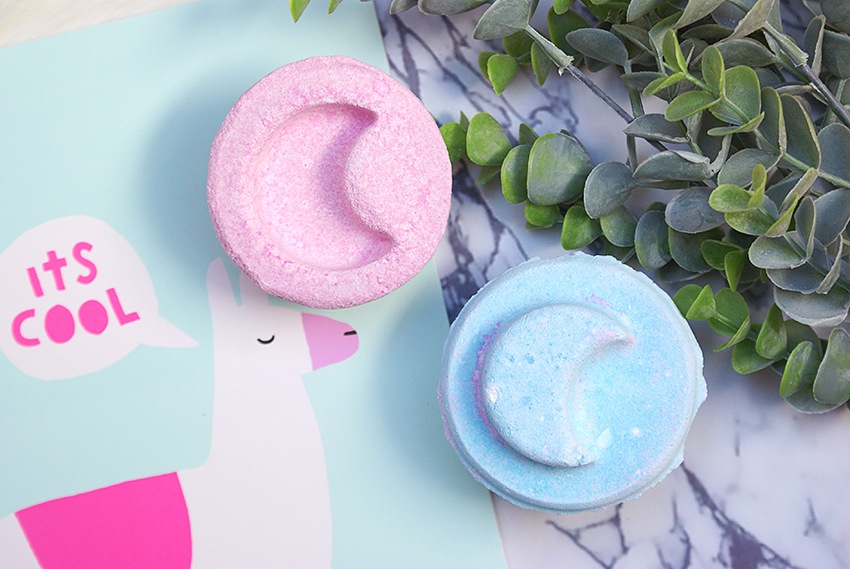 De bath bomb die ik vandaag ga reviewen, komt uit m'n tweede bestelling. Ik had eerst 11 bath bombs van de Harajuku collectie besteld, daarna nog eens 6, waaronder deze. De tweede bestelling was een beetje een "shit ik had dit eigenlijk nog gewild" bestelling. Ik kon bij nader inzien Moon Spell niet ongereviewed laten. Roze en babyblauw, mijn twee favorieten kleuren, en hoe leuk is dat maantje? En beide helften passen ook nog eens precies in elkaar! Vandaag ga ik Moon Spell aan je voorstellen. Lees je mee? 🌙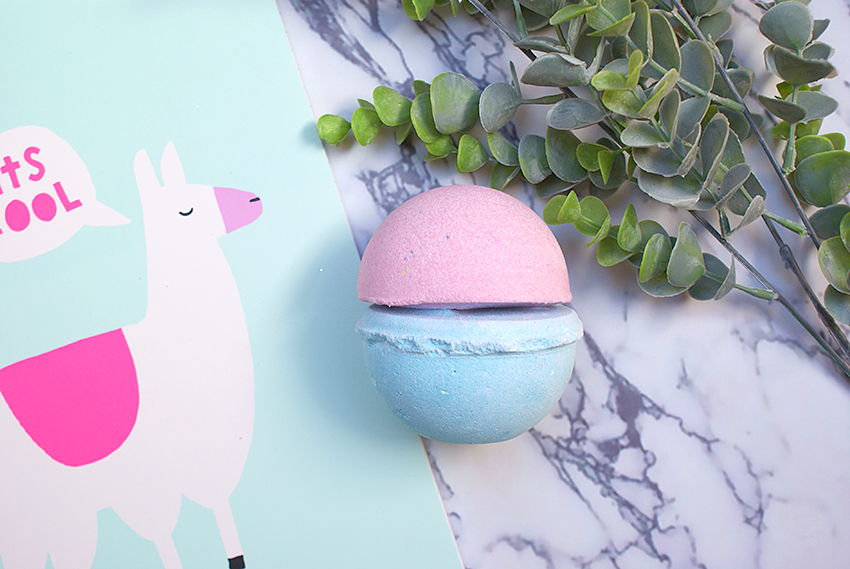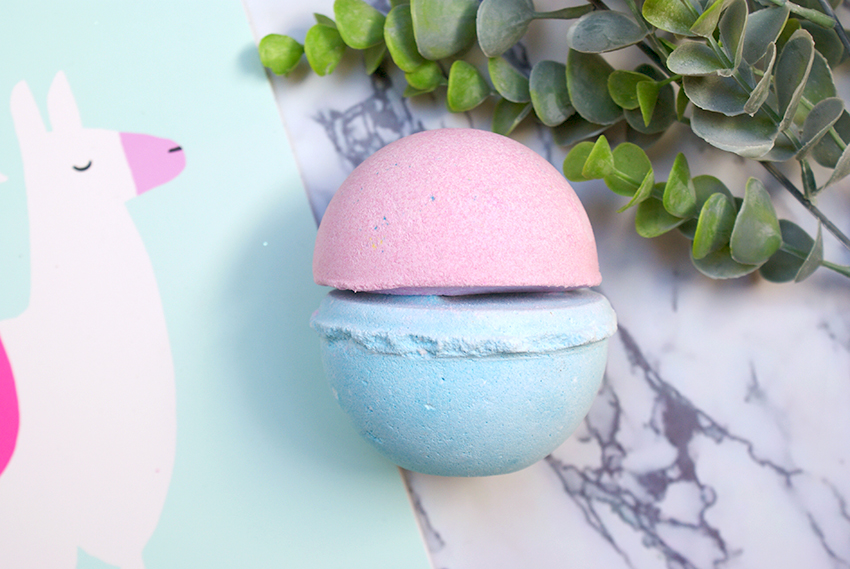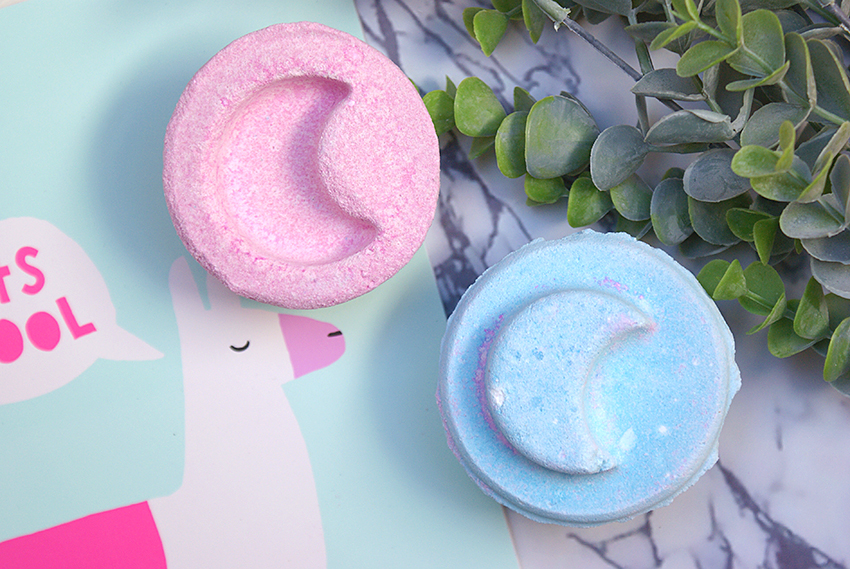 Wat is het?
Lush Moon Spell Bath Bomb kost €7,50 en is onderdeel van de tijdelijke Harajuku collectie, bestaande uit uiteenlopende 54 bath bombs. Deze bath bomb bestaat uit twee helften, die precies in elkaar passen. Perfect voor mensen die 7,50 te duur vinden voor een bath bomb, want zou je een helft gebruiken, dan ben je 'slechts' 3,75 kwijt. Of je gebruikt hem in één keer, ook geen probleem natuurlijk. Er is ook nog Star Spell Bath Bomb, — hetzelfde uiterlijk, alleen andere kleurtjes en een andere geur. Echter vind ik van Moon Spell de pastelkleuren zó mooi, als ik ergens een sucker voor ben, zijn het pastelkleuren.
Moon Spell heeft één helft die carrageenextract bevat. Kortom, één helft is een jelly bath bomb. Overigens heb ik diverse meningen gelezen over Moon Spell. De één zou hem erg vinden tegenvallen qua kleuren in bad, de ander prijst Moon Spell helemaal de hemel in vanwege de jelly erin. Nu ben ik zelf niet dol op de jelly bombs, ik vind de stukjes slijm erin een beetje een naar idee.. alsof je een paar keer goed hebt geniest in bad. Gelukkig lossen ze vrij snel op in warm water, waardoor je wel heel zacht water krijgt.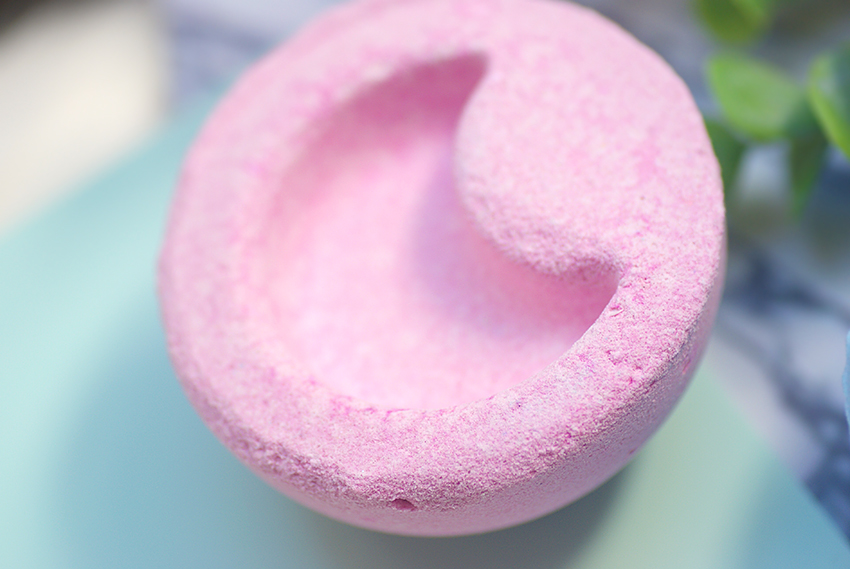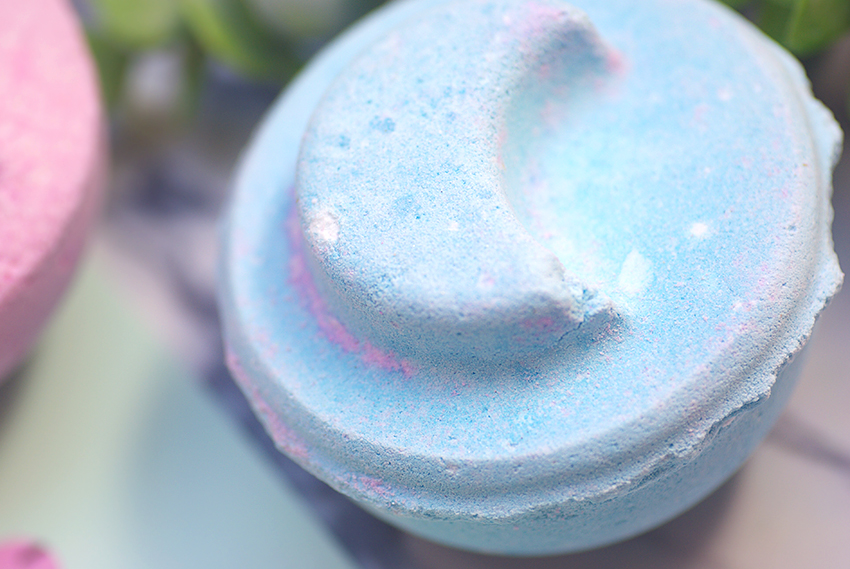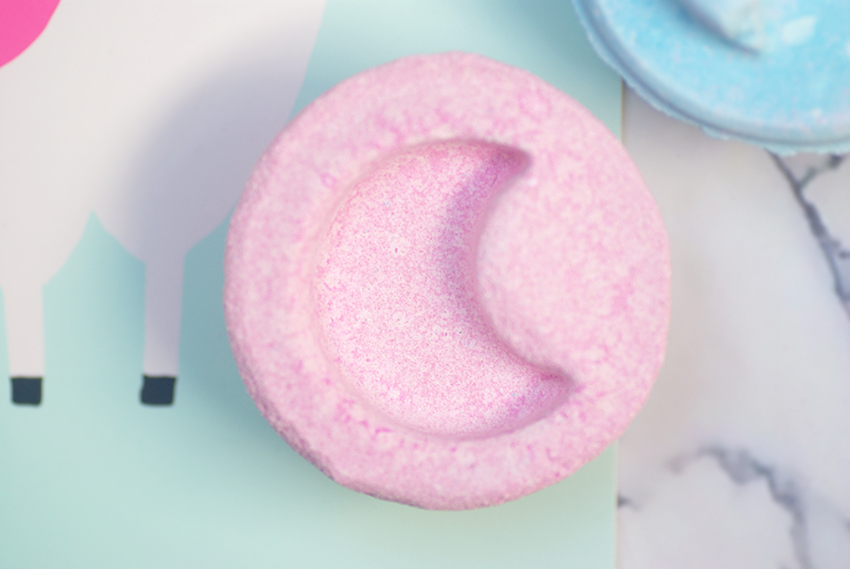 Wat zit erin?
Ingrediënten: Natrium Bicarbonaat (Sodium bicarbonate), Citroenzuur (Citric acid), Carrageenextract, Braziliaanse Sinaasappelolie (Citrus sinensis), Water (Aqua), Glycerine, Titanium Dioxide, Dipropyleen Glycol, Disodium Lauryl Sulfosuccinaat, Hydroxy propyl methyl cellulose, Natrium carboxy methyl cellulose, *Limonene, Parfum, Kleurstof 45410 (CI 45410), Kleurstof 42090, Kleurstof 17200
Moon Spell bevat dus carrageenextract (de jelly), sinaasappelolie en.. oh, dat was het al. Dat is wel een beetje een tegenvaller. Misschien ben ik gewoon verwend, maar ik ben van Lush toch wel gewend dat de bath bombs vaak meer natuurlijke oliën bevatten. Nou goed, vooruit maar weer. Je zou nu denken dat de bath bomb naar sinaasappel ruikt — nou, mooi niet. Ik vind de geur juist iets snoeperigs hebben. Ik kan er de vinger niet op leggen wat ik nu precies ruik (maar dit lijkt voor elke bath bomb wel te gelden) maar het is gewoon een lekkere, zoete, iets fruitige, iets snoeperige geur. Sorry, daar zul je het mee moeten doen.
Speel de filmpjes af in 1080p kwaliteit en op volledig scherm voor de beste ervaring! Het eerste filmpje speelt zich versneld af.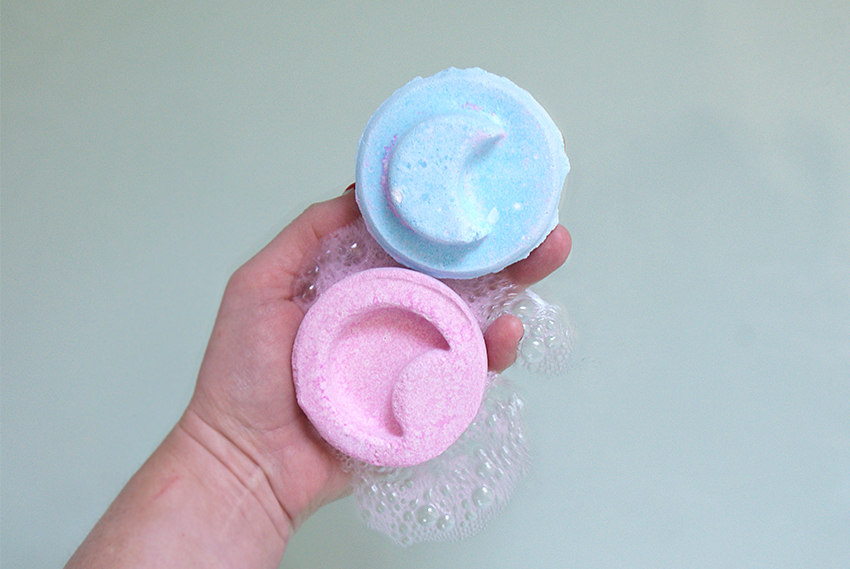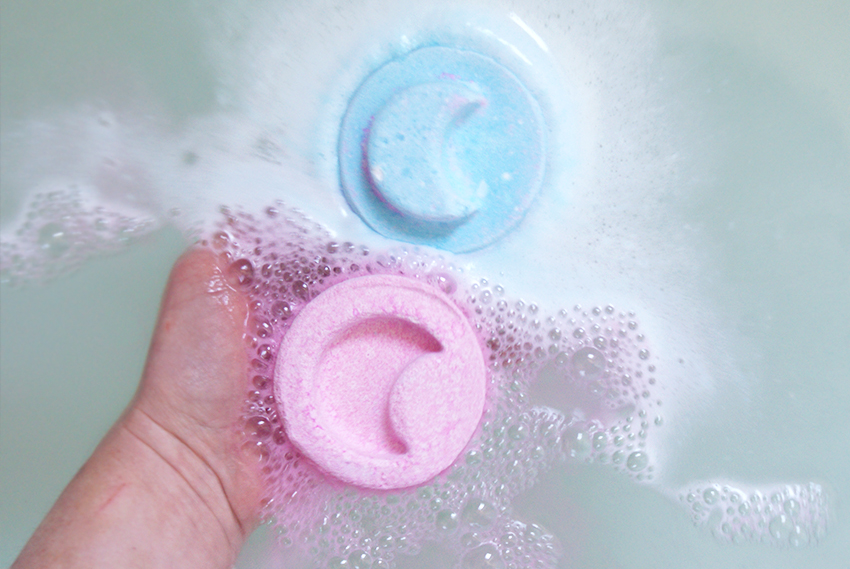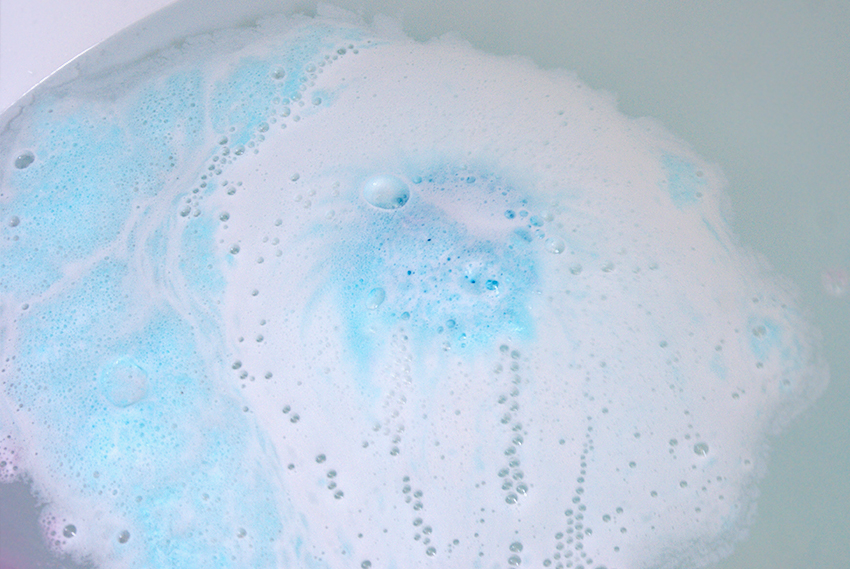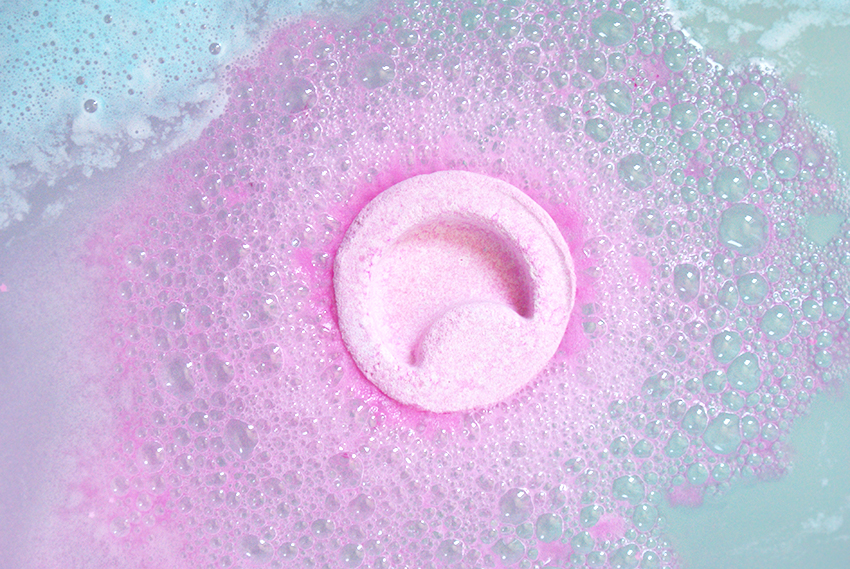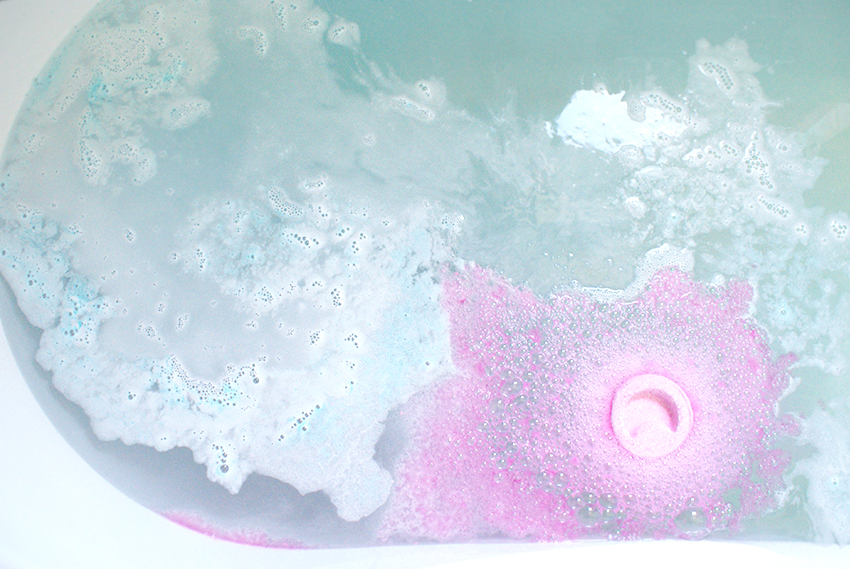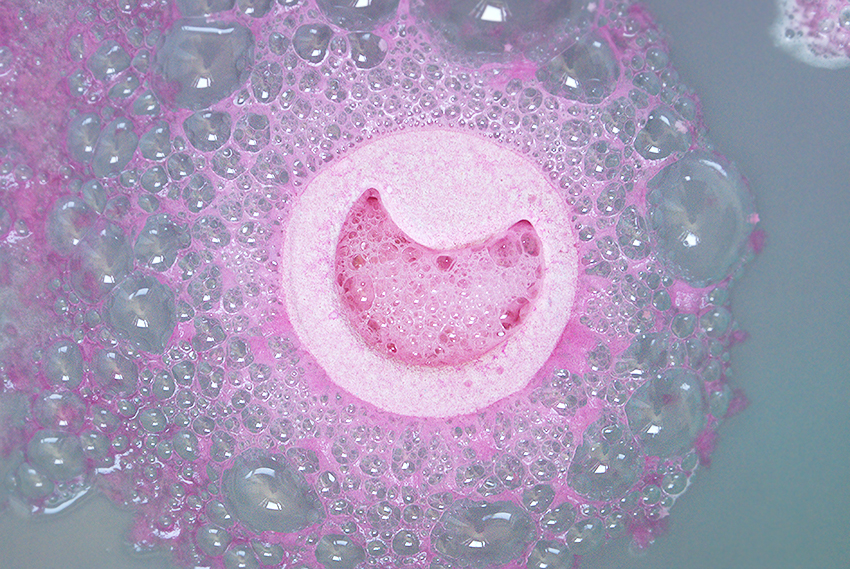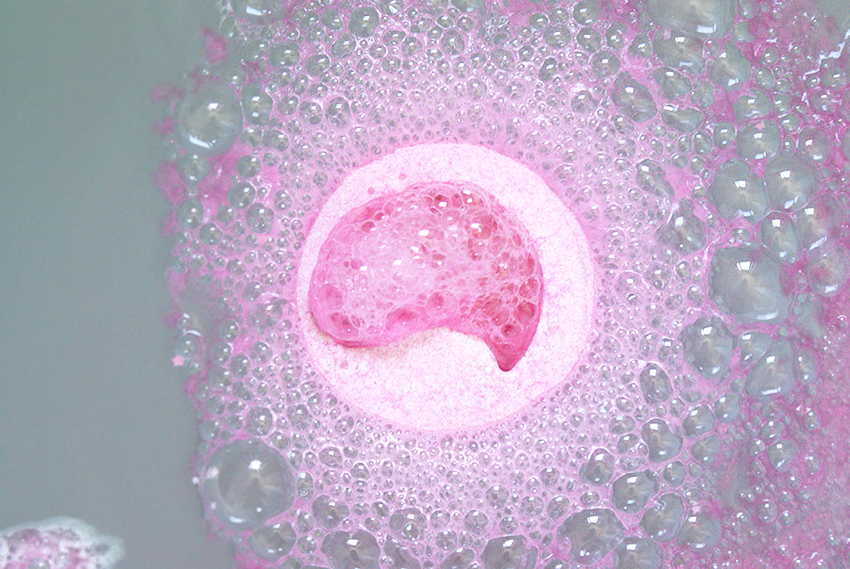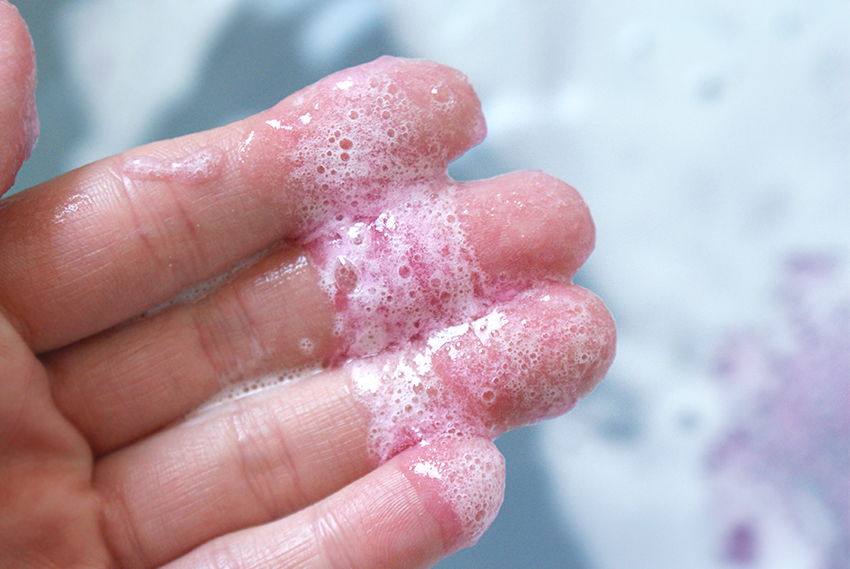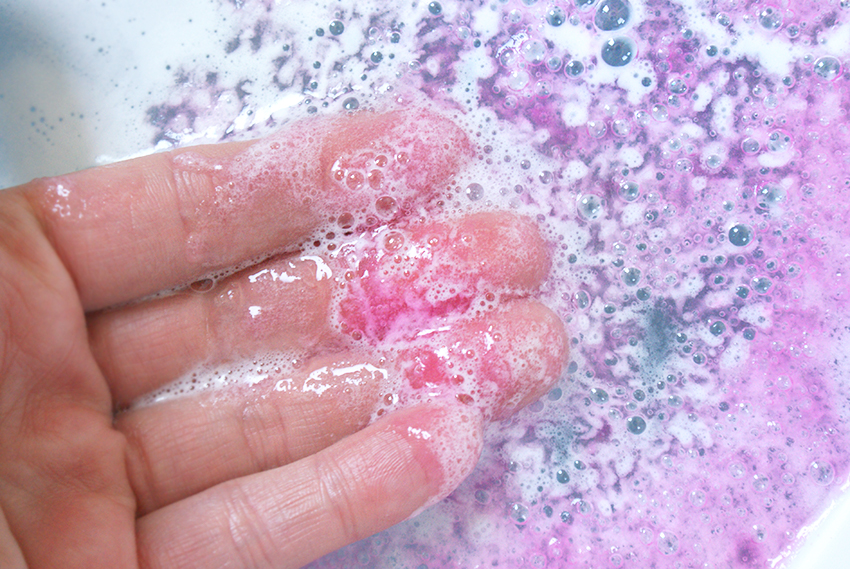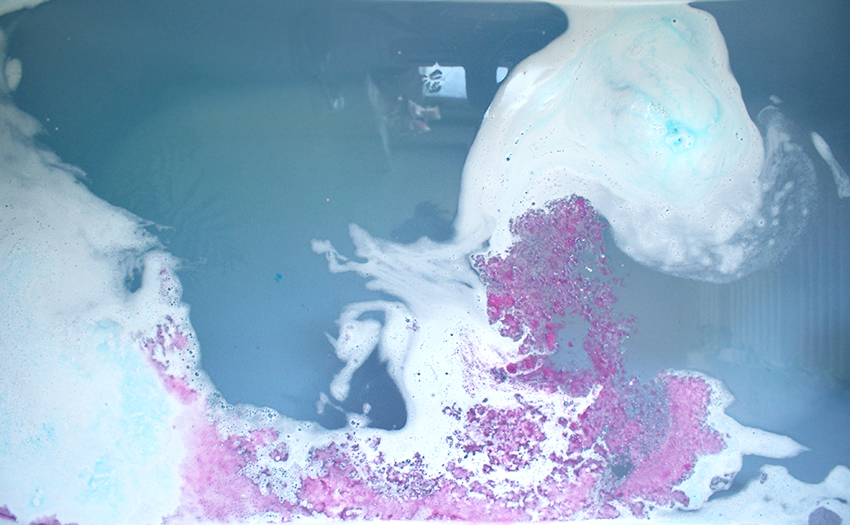 Mijn ervaring
Wanneer ik de helften in het water laat zakken, gaan ze allebei afzonderlijk van elkaar hun eigen weg. De roze helft blijft een beetje op één plek, bruist niet heel weldadig maar geeft wel wat kleur af, terwijl de blauwe helft zich nét onder de oppervlakte een weg baant door het hele bad. Hij bruist harder en geeft meer blauw en wit zacht schuim af, terwijl de roze helft juist meer bubbelt en op gegeven moment een soort roze kikkerdril uitspuugt — de jelly, dus. Wat ik achteraf pas in het filmpje zag, waren de mini sterretjes die uit de roze helft kwamen. Zó leuk! Terwijl de blauwe helft kopje onder is en steeds kleiner wordt, racet hij door het water heen. Ze duurden beide vrij lang om compleet op te lossen, zeker zo'n vijf minuten.
Ik moet zeggen dat de jelly minder akelig was dan gedacht. Het loste vrij snel op in het water, waardoor ik geen stukjes snot rondom m'n lijf had drijven. De kleur van het water had van mij wel sterker gemogen, het werd een beetje een vale blauwe tint. In bad vond ik het water een beetje naar watermeloen ruiken, heel apart. Het was een frisse, fruitige geur geworden, dus ik gok dat de sinaasappelolie toen echt zijn intrede maakte. Het water voelde zacht aan en tevens m'n huid ook na afloop.
Zou ik hem opnieuw kopen? Nee, ik vond het effect toch wat 'meh, is dit alles?'. Ik zou dan ook zeker de bath bomb niet in 2x gebruiken, of je moet een kleiner bad hebben. Of je moet geen waarde hechten aan een mooie kleur in bad. In dat geval is hij wel chill. Maar toch zou ik alsnog een andere bath bomb aanraden.

Lush Moon Spell Bath Bomb kost €7,50. Hij behoort tot de tijdelijke Harajuku collectie.
5 Responses to Review: Lush Moon Spell Bath Bomb