Wishlists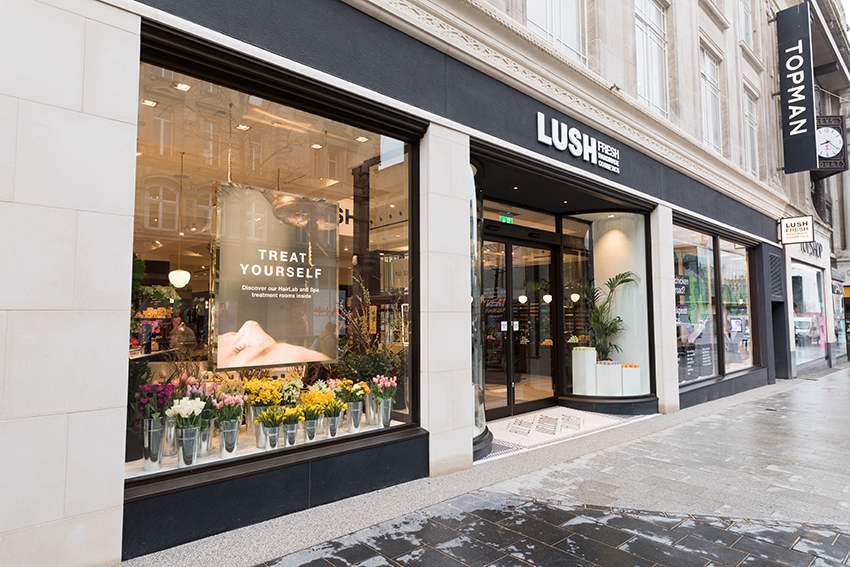 Haiii! Zoals je misschien weet, ga ik 30 april naar Liverpool met een vriendin. Doel van het reisje? Lush, natuurlijk! De nieuwste en tevens grootste Lush winkel ter wereld is daar sinds kort geopend. Voorheen was Lush Oxford Street de grootste, maar Liverpool heeft nu een winkel die nog net even wat groter is. Ook heeft Lush Liverpool meer dan 300 exclusieve producten, dus ik besloot als onderdeel van de voorpret alvast een wishlist te maken. Kijk je mee?
Mijn favoriete merk Lush flikt het iedere keer weer: samples met mijn bestelling meesturen. Ik probeer de samples vervolgens uit, en raak onmiddelijk verliefd op het product. Waardoor ik nogmaals ga bestellen, wéér samples toegestuurd krijg, etc. etc. Hoe presteren ze het toch steeds weer? Bijna alles wat ik van Lush uitprobeer, bevalt me direct! Omdat ik de laatste tijd een no-buy had, ben ik me nu alvast mentaal aan het voorbereiden voor mijn salarisstorting. Want ik ga los. Héél hard. En dit is wat ik allemaal ga bestellen!
Karma Komba shampoo bar en Ultimate Shine shampoo bar
Het is even wennen, maar een shampoo in vaste vorm is veel zuiniger in gebruik, en beter voor het milieu. Sinds ik Seanik heb, ben ik om. Ik was even bang dat zo'n shampoo bar niet erg schuimt, maar integendeel: dat doet hij erg goed! Je doet met één shampoo bar net zolang als 3 flessen van 250 ml. Dat is 750 ml en euh.. heel veel! Lekker zuinig dus. Houden we van.
Honeybee, Sex Bomb en Twilight Bath Bomb
Ik ben gezegend met een bad, dus daar maak ik dan ook gretig gebruik van. Bruisballen van een ander merk gebruik ik niet meer, alleen Lush is nog goed genoeg voor mijn bad. Aangezien ik er de laatste tijd weer veel opmaakte, is het tijd voor een paar nieuwe! Ik kies voor Honeybee omdat hij naar honing ruikt (duh), Sex Bomb omdat ik weet dat die erg lekker is, en Twilight omdat hij.. roze is.
Grass, Happy Hippy en Dirty Springwash showergel
Mijn collectie douchegels kent al redelijk wat favorieten van Lush, maar deze drie zijn nog onbekend! Grass ruikt, je raadt het al, naar pasgemaaid gras. Ondanks dat ik een hekel heb aan die geur (het doet me denken aan grasmaaiers en daar ben ik bang voor) vind ik deze showergel wel héél lekker ruiken. Happy Hippy is onbekend voor me, maar hij ziet er erg fris en fruitig uit, dus ik neem de gok met een kleine 100 gram. Dan nog Dirty Springwash, een bekende van Lush. Een enorme frisse douchegel, die móet ik wel lekker vinden.
Veganese Hair Conditioner, H'Suan Wen Hua, Roots
Ik ben dóóól op m'n haar wassen, het liefst met alles erop en eraan, dus ook een lekkere conditioner of crèmespoeling na afloop. Maskers zijn ook heel welkom! Veganese wil ik graag uitproberen dus ik wil een kleintje bestellen, H'Suan Wen Hua is er alleen in 225 gram, maar schijnt erg lekker te zijn volgens anderen. En van Roots had ik een sample, die was goddelijk én goed voor m'n haar, dus ook die mag niet ontbreken in m'n douche.
Aqua Marina en Ocean Salt
Beide gezichtsreinigers, en nog nooit geprobeerd! Ja, een sample. En die smaakte naar meer, meer, meer! Aqua Marina bevat zeewier en heel veel mineralen, en ik houd van de geur! Alsof je met je gezicht flat face in de zee flikkert, in een berg zeewier. Ocean Salt voelt ook een beetje zo, maar is meer een scrub voor zowel het gezicht als je lichaam.
Sympathy for the Skin, Handy Gurugu en Ultrabalm
Lekkere smeersels voor handen en lichaam! Sympathy is een klassieker en de sample beviel me (uiteraard) erg goed. Handy Gurugu is de enige handcrème die ik nog niet heb van Lush, en aangezien ik een handcrème hoarder ben, kan die ook niet ontbreken. Tot slot Ultrabalm, een klein potje met een vettige substantie wat dient als wondermiddel. Voor allerlei droge, kapotte, ruwe, schrale plekken op het lichaam. En die heb ik! Vast wel. Ergens.
Heb jij één van deze producten? Raad je hem wel of niet aan?