Review: Lush Ro's Argan Body Conditioner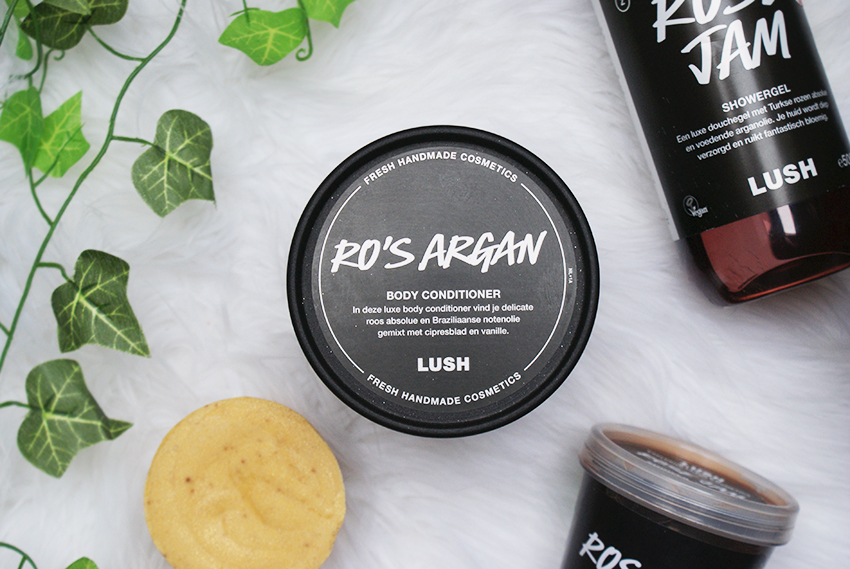 Ik zou mezelf nooit echt omschrijven als een soort Guus Geluk, maar toen ik tijdens het sale shoppen bij Lush zag dat Ro's Argan ook afgeprijsd was, beschouwde ik mezelf heel eventjes het gelukkigste meisje van de hele wereld. Dat euforische gevoel verdween al snel toen ik zag dat hij uitverkocht was, maar ik geef niet op zonder een gevecht. Urenlang refreshen zorgde er uiteindelijk voor dat ik een 500 gram (!!) pot in m'n winkelmandje kon gooien. Met 50% korting. Ik herhaal: met. 50%. korting. Move over, Guus Geluk.
Benieuwd hoe deze gigantische pot mij bevalt? Lees dan snel verder.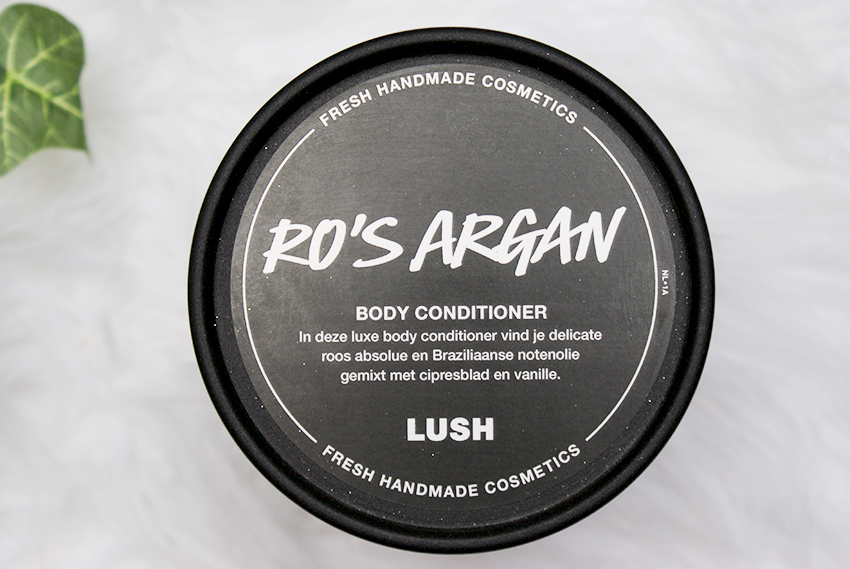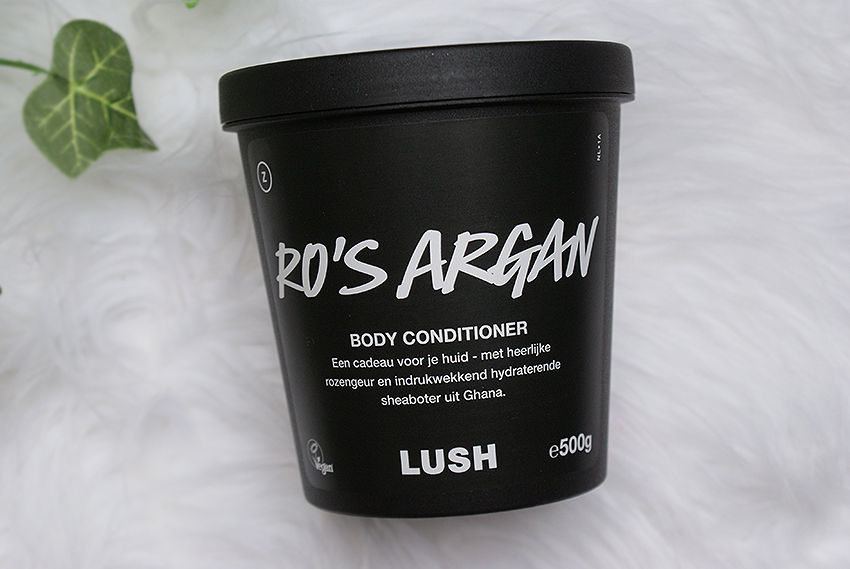 Lush Ro's Argan Body Conditioner kost — schrik niet — €49,95 voor een pot van 500 gram. Ik scoorde hem dus in de sale met 50% korting, dus hij was toen nog maar €24,95. En dat terwijl een pot van 225 gram €28,95 is! Mocht je hem echt graag willen, is het misschien handiger om hem te bestellen in de Engelse webshop, daar is hij £29.95 voor een 500 gram pot. Dat is ruim 33 euro, dat scheelt 17 euro! De verzendkosten zijn wel duurder, dus misschien is het handig om iemand te zoeken die ook wilt bestellen, of een groepsorder doen, of meerdere dingen bestellen.
Ik wilde dit product al heel lang, al sinds ik kennis maakte met Rose Jam. Maar de prijs hield mij altijd tegen. Ik had wel eens een potje van 45 gram uit een giftset, die gebruikte ik dan ook gretig. Nu kan ik met een gerust hart zeggen dat ik een pot heb for life. Bovendien is Ro's Argan ook nog eens vegan en zelfconserverend!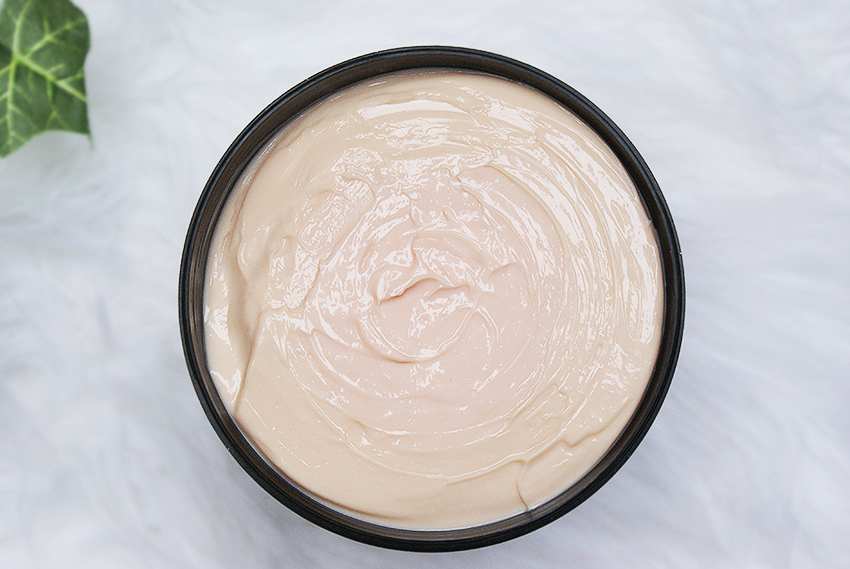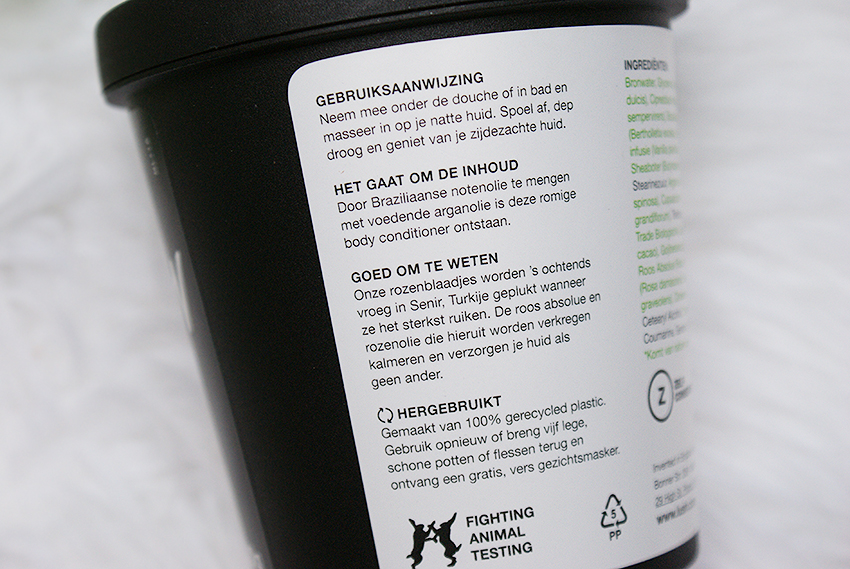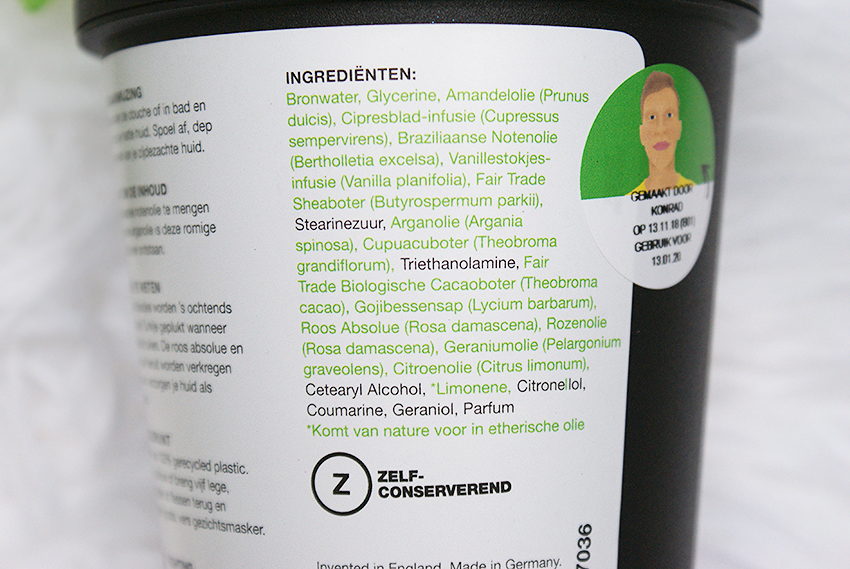 Ik kan je niet vertellen waarom Ro's Argan zo duur is, maar dat het met de ingrediënten te maken heeft is wel zeker. Het hoofdingrediënt is bronwater, gevolgd door glycerine. Vervolgens hebben we o.a. amandelolie, cypresbladinfusie, notenolie, vanillestokjes-infusie, sheaboter, arganolie, cupuacuboter, cacaoboter, gojibessensap, roos absolue, rozenolie, geraniumolie en citroenolie.
Ja, dat is me ook een beste ingrediëntenlijst hoor. De beste ingrediënten zitten in dit product! De rozen worden bij zonsopgang Senir (Turkije) geplukt, wanneer de geur op z'n sterkst is. De sheaboter is afkomstig uit Ghana en is uiteraard fair trade en biologisch. En tot slot komt de notenolie uit Brazilië. Je hoort het al, Ro's Argan is een luxepaardje.
Ro's Argan is, zoals je al vermoedde of wist, een product met de geur van Rose Jam. Het is dan ook niet gek dat dit product de verrukkelijke geur van rozen heeft, maar de geur is zoveel lekkerder dan 'gewoon rozen'. De luxe ingrediënten zorgen ervoor dat dit product een warme, zoete rozengeur heeft. De vanille erin maakt hem zoeter, terwijl amandelolie, notenolie en arganolie hem weer wat nootachtig maken. Als luxe een geur had, is het deze geur wel.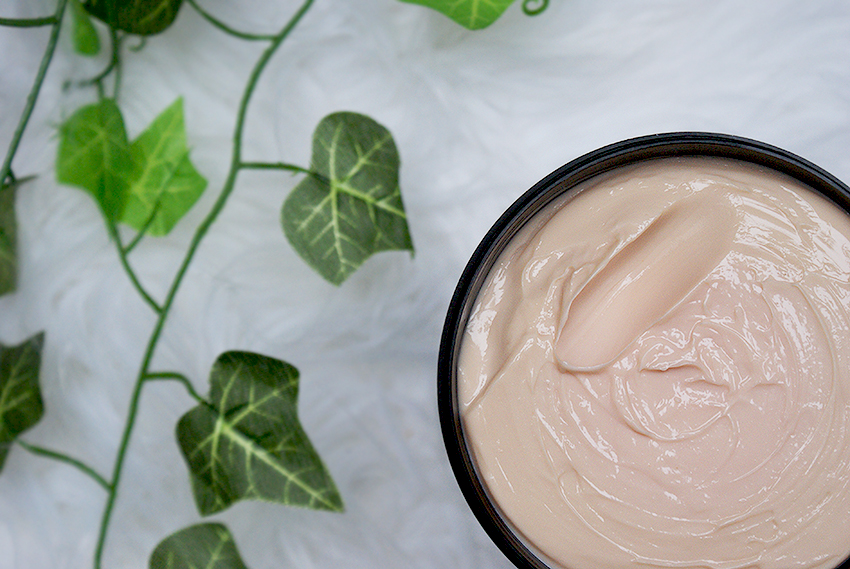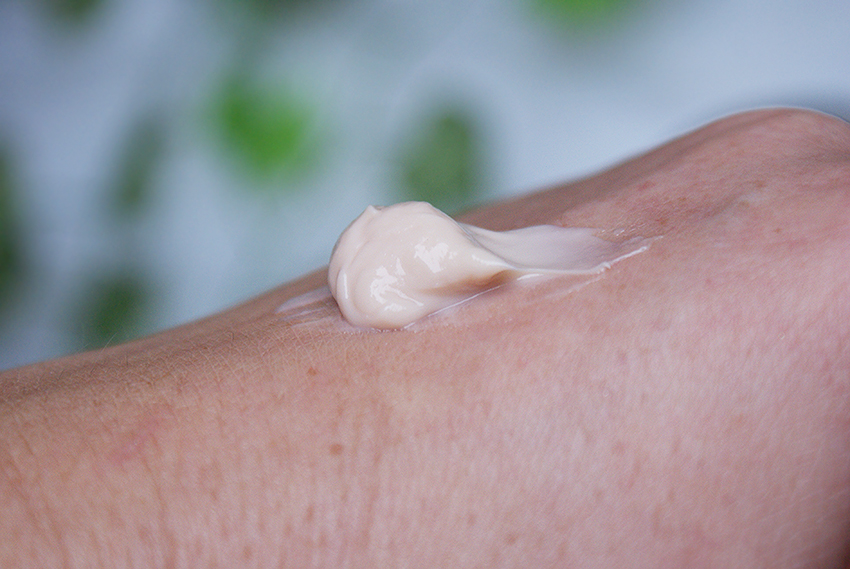 Deze body conditioner gebruik je onder douche, eigenlijk zoals je een haarconditioner gebruikt. Een haarconditioner gebruik je na je shampoo, wat in dit geval een douchegel (tip: Rose Jam douchegel voor extra intense geur!) zou zijn. De body conditioner geeft de huid een flinke portie verzorging en hydratatie, net als een haarconditioner dat doet voor je haar. En ook een body conditioner spoel je af! Wees er alleen wel bedacht op dat je bij het afdrogen, heel voorzichtig de huid dept. Zo blijft het 'laagje' van de body conditioner goed op de huid zitten en kan hij deze optimaal verzorgen en verder hydrateren. Bovendien is het gewoon zonde om een body conditioner van 50 euro meteen van je huid af te rossen, niet?
Voordat je je hand in een pot van 50 euro stopt, lees eerst dit even: hij is enorm zuinig in gebruik! Je hebt maar een klein beetje nodig. De body conditioner verspreidt zich heel makkelijk over de huid, en je hebt geen dikke klodder nodig. Een klein beetje is al voldoende om de rijke ingrediënten te laten werken voor hun geld. Je zou met één klein likje (niet met je tong natuurlijk) al genoeg hebben voor je onderarm. A little goes a long way, ofzo.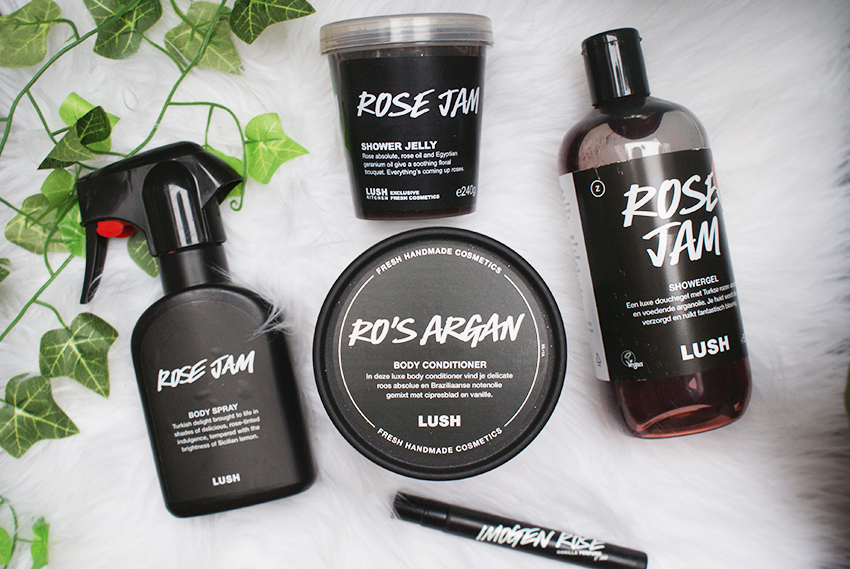 Nadat je de douche bent uitgestapt, dep je de huid af. Ik zweer het — niet gaan rossen als een idioot, want dan veeg je alle product weg! En dat zou gewoon strafbaar moeten zijn, maar goed, dat terzijde. Het eerste wat je voelt nadat je huid droog is, is dat de huid enorm soepel en elastisch aanvoelt in plaats van droog of strak. En er blijft geen plakkend laagje over op je huid!
Mijn hemel, en dan heb ik nog niet eens over de geur gehad. Je mag het product dan wel eraf gespoeld hebben en daarna met een handdoek hebben gedept — JE RUIKT HEM NOG STEEDS. En het is geweldig, jongens en meisjes. Warm, zoet en een beetje nootachtig. Je wordt gewoon verliefd op je eigen huid. De geur blijft urenlang hangen, langer dan menig parfum in mijn kast.
Je huid voelt zacht, gehydrateerd en soepel aan. En dit effect blijft zo, voor de rest van de dag. Je kunt je bodylotion wel de deur uitdoen, deze body conditioner is all you need. Maar even serieus, de hamvraag is natuurlijk — vind ik hem 50 euro waard? Hoewel ik een die hard Lushie ben, en dol ben op Rose Jam, vind ik het toch wel erg veel geld voor een doucheproduct. Ik geloof echt wel dat de body conditioner zijn prijs waard is, gezien de ingrediënten, maar 50 euro is en blijft een hoop geld voor een doucheproduct. It's all up to you of course, maar zelf zou ik het er niet voor neerleggen. Ik vond 25 euro precies een goede prijs, en ben dan ook over the moon met dit koopje.

Lush Ro's Argan Body Conditioner is er in 225 gram (€28,95) en 500 gram (€49,95). Hij behoort tot de vaste collectie en is zowel online als in de winkels te koop.
10 Responses to Review: Lush Ro's Argan Body Conditioner