Review: Lush Willow The Wisp Thickening Serum
Read this post in
Engels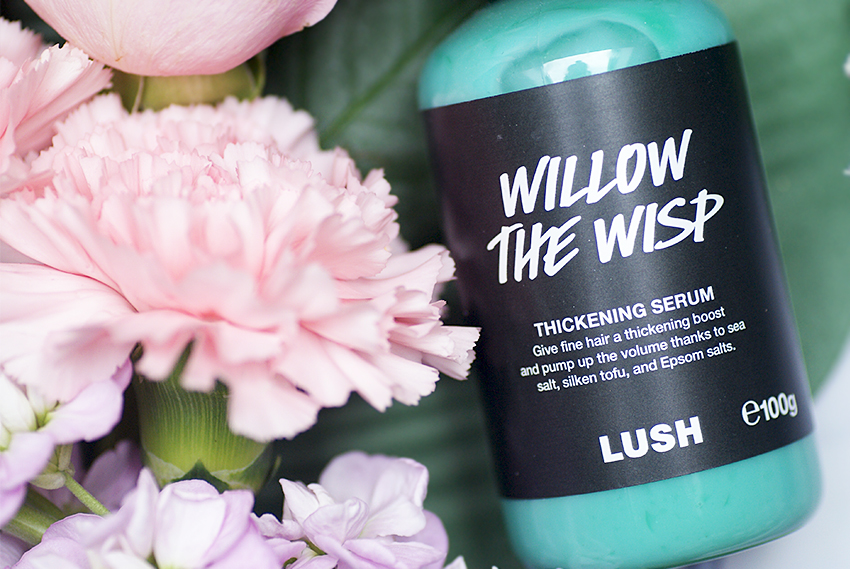 Een serum dat je haar dikker maakt? Nou, kom maar door. Ik ben erg benieuwd geworden naar de haarproducten van Lush sinds ik een paar ge-wel-di-ge producten heb gebruikt, zoals Candy Rain, Valkyrie en Super Milk. Keer op keer raak ik weer verliefd op een haarproduct, dus ik stond te popelen deze te testen. Vandaag vertel ik je er alles over en vertel ik ook hoe ik hem vind.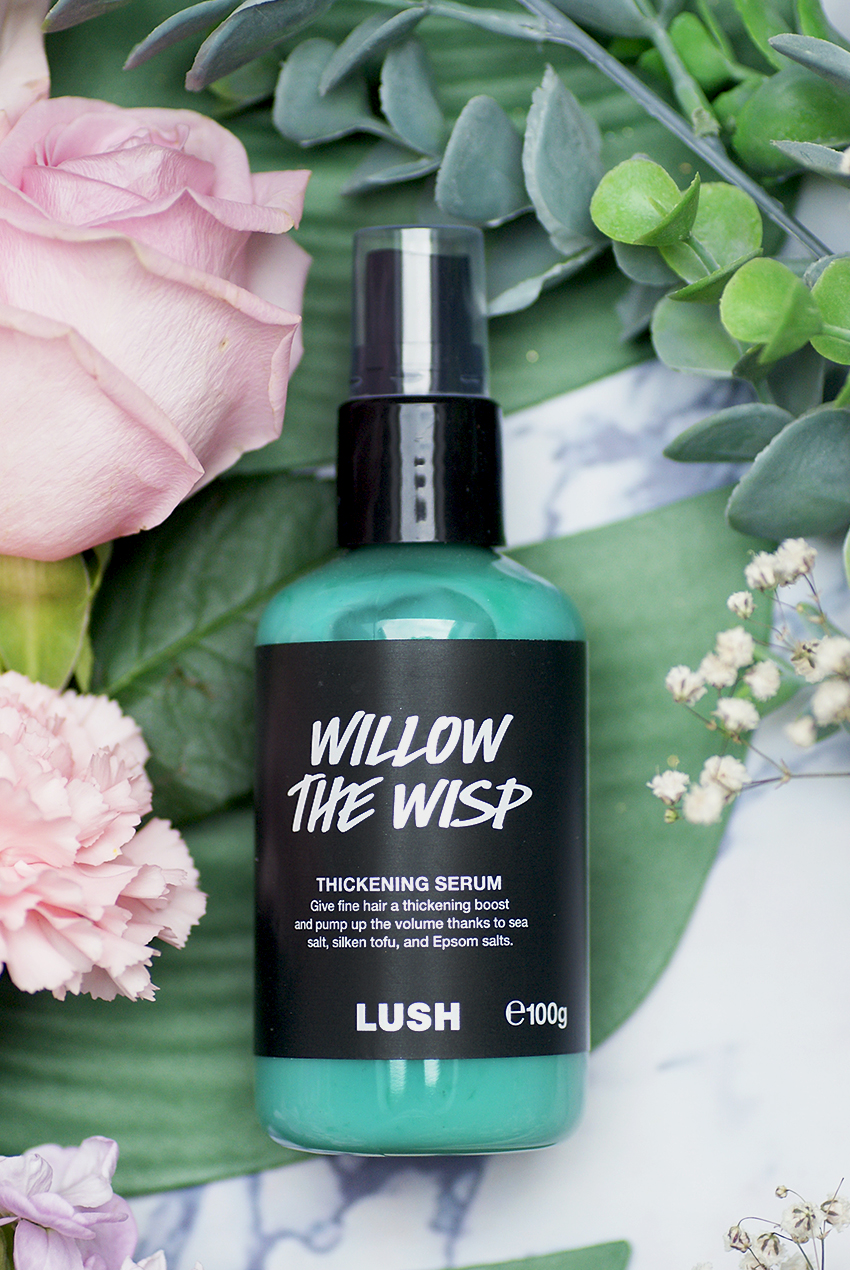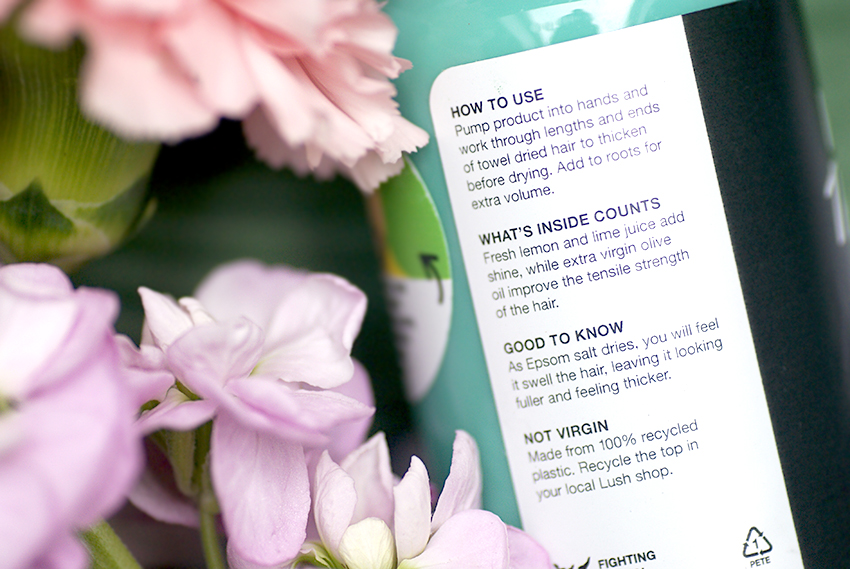 Wat is het?
Lush Willow The Wisp Thickening Serum kost £14.95 voor 100 gram. Het is een Liverpool exclusive, maar hij is vanaf 29 mei ook in de Lush Labs te koop voor €19,95. Deze zal ongeveer een maand blijven staan, wellicht iets langer, tot hij uitverkocht is. Willow The Wisp een haarserum dat je na het douchen gebruikt op handdoekdroog haar, voor je het droogt of laat drogen. Het is bedoeld om volume te krijgen in het haar zodat het dikker, luchtiger en voller oogt, het haar textuur en glans te geven en om het haar te beschermen tegen luchtvochtigheid.
Het serum zit in een klein flesje met verstuiver, zo kun je makkelijk en gedoseerd de substantie eruit krijgen. 1 á 2 pompjes zouden voldoende zijn om je haar van een volumeboost te voorzien. Verdeel het serum in je handen en breng aan op de lengtes van je haar, waarna je het laat opdrogen of zelf droogt. Er staat ook dat je wat serum aan kunt brengen bij de wortels van je haar voor nóg meer volume.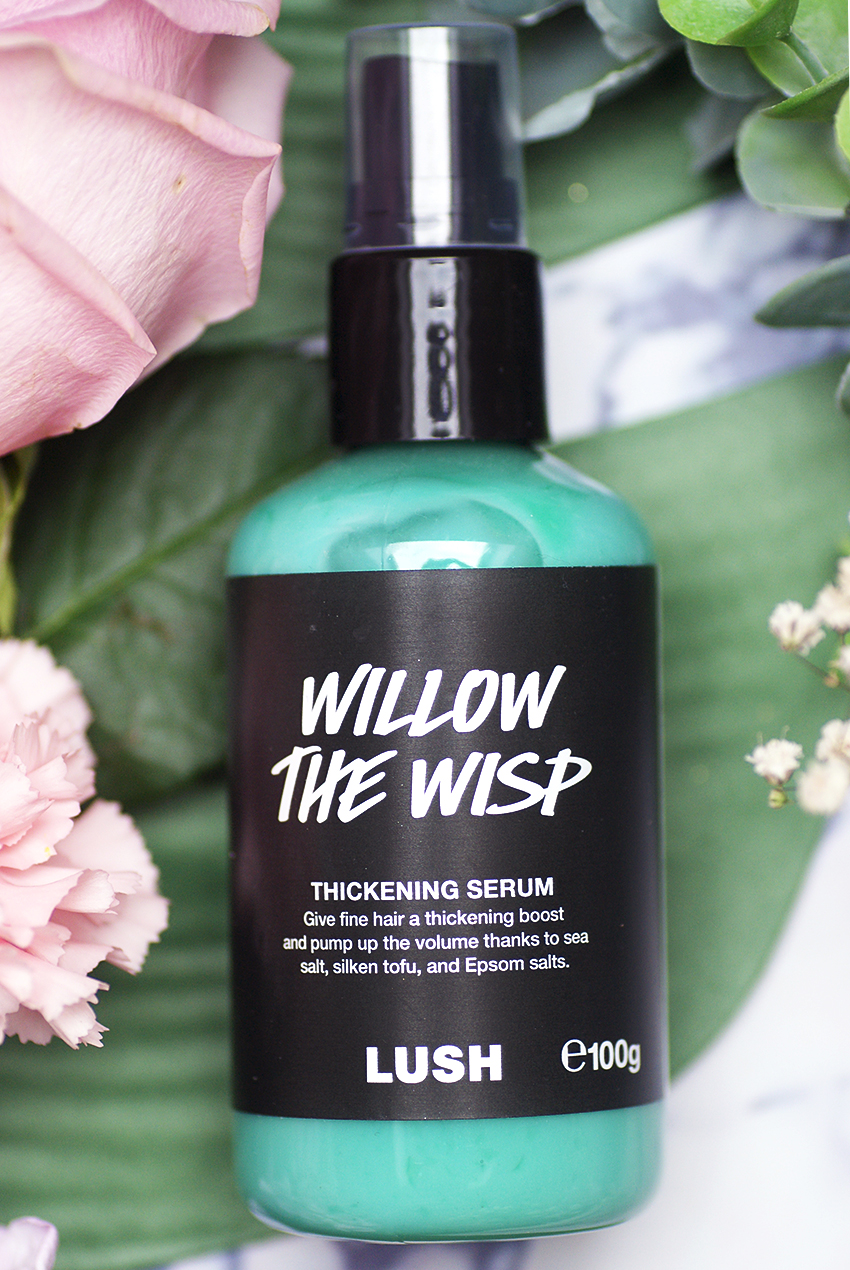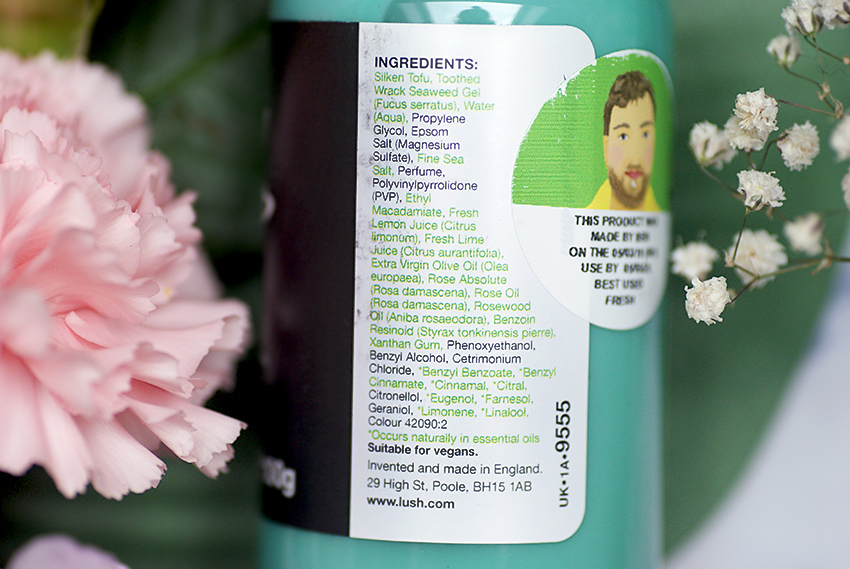 Wat zit erin?
Ingrediënten: Zijde-tofu, Gezaagde Zee-eik-gel, Water (Aqua), Propyleen Glycol, Epsomzouten, Fijn Zeezout (Maris sal), Parfum, Polyvinylpyrrolidone (PVP), Macadamia Ethyl, Vers Citroensap (Citrus limonum), Vers Limoensap, Extra Virgin Olijfolie (Olea europaea), Roos Absolue (Rosa damascena), Rozenolie (Rosa damascena), Rozenhoutolie (Aniba rosaeodora), Benzoëhars (Styrax tonkinensis), Xanthaangom, Phenoxyethanol, Benzyl Alcohol, Cetrimoniumchloride, *Benzyl Benzoaat, *Benzyl Cinnamaat, *Cinnamal, *Citral, Citronellol, *Eugenol, *Farnesol, Geraniol (Geraniol), *Limonene, *Linalool, Kleurstof 42090:2
Als je naar de ingrediëntenlijst kijkt zie je dat de eerste ingrediënten zijde-tofu en zeezout zijn. Zijde-tofu is een verzachtend ingrediënt dat olie en water aan elkaar bindt, ook bevat veel proteïne en vitamines. Gezaagde Zee-eik-gel is zeewier, deze zorgt voor glans, hydratatie en bescherming. Zeezout is rijk aan natrium, magnesium en mineralen — maar staat het meest bekend om zijn werking, namelijk de volume-boost die je haar van dit product krijgt. Epsomzout draagt hier ook aan bij, maar verdikt ook iedere haar. Er zit ook citroensap en limoensap in, deze zorgen samen met de olijfolie erin voor glans, maar ik denk dat je met gekleurd haar hier wel wat mee moet oppassen misschien. Macadamia ethyl beschermt je haar tegen luchtvochtigheid en PVP verstevigt het haar. De shitload aan soorten rozenolie erin die je meestal in lichaamsproducten, in dit geval ben ik niet zeker wat ze doen in dit product. Ik kan het niet terugvinden, misschien is het vanwege de geur?
De geur is een frisse, bloemige zeezout-geur. Daar kun je je vast niets bij voorstellen, ben ik bang. Als ik hem vergelijk met Big vind ik Willow the Wisp veel bloemiger, en heeft hij ook duidelijk een scherpe citrus geurnoot erin. Ik vind het een bijzondere geur, zowel bloemig als citrus, toch pakt deze unieke combinatie erg goed uit. Het is een heerlijke geur, vrij scherp en aanwezig. Hopelijk snappen jullie een *beetje* wat ik bedoel hiermee 😂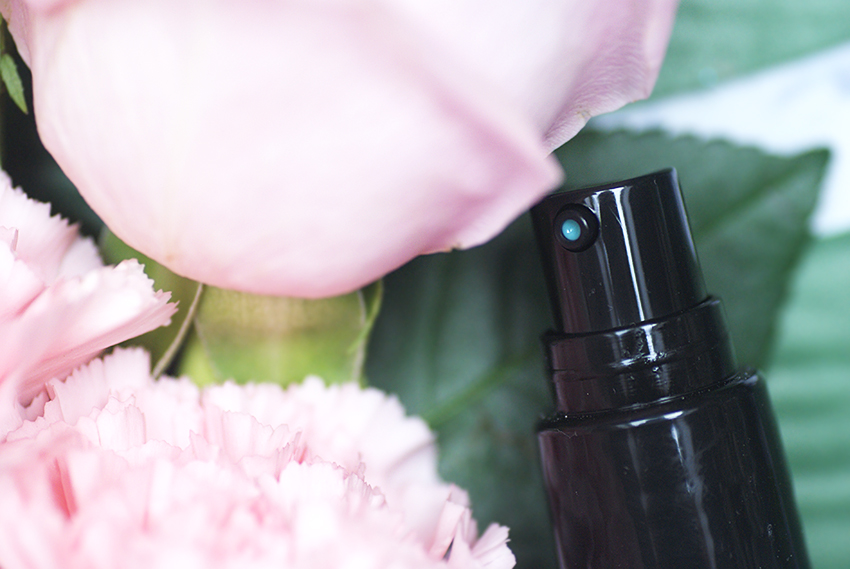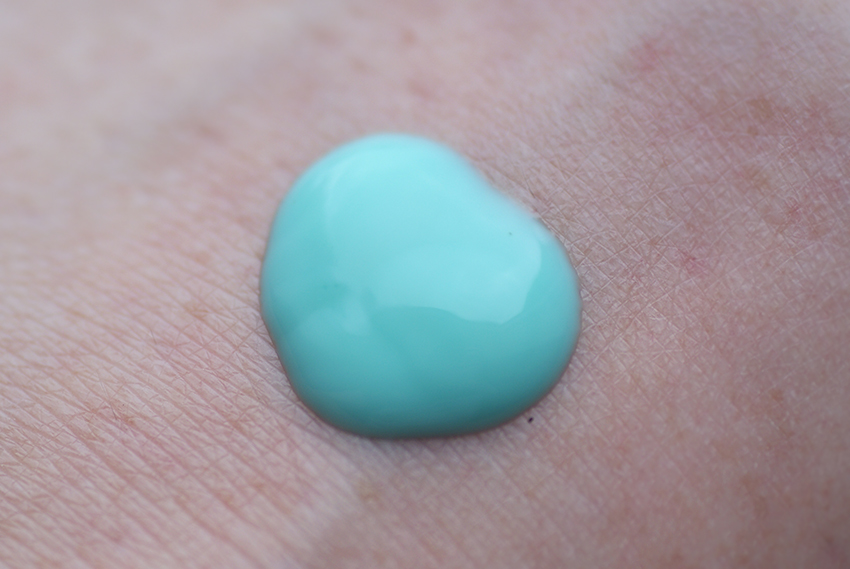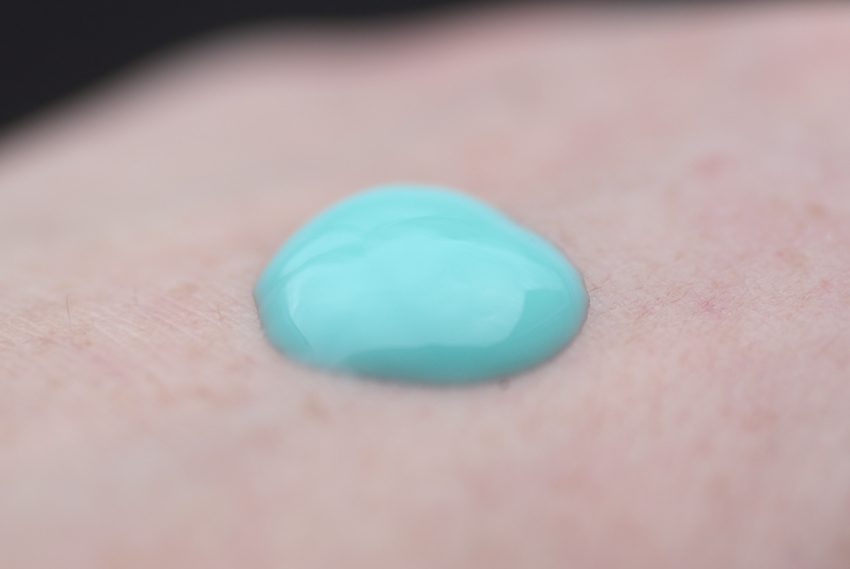 Mijn ervaring
Na het douchen doe ik m'n haar in een handdoek en na 5 minuten haal ik hem eruit. Ik buig dan voorover en verdeel vier pompjes van het serum in m'n handen, en vervolgens door m'n haar — alleen op de 'hangende' haren, dus niet bovenop m'n hoofd. De geur laat zich goed ruiken en de substantie voelt niet vettig aan, hij voelt eigenlijk precies goed aan. Niet te dik, niet te dun, niet plakkerig of vet. Als ik m'n haar doorkam is het wat stroever dan normaal, ik gok dat de zouten erin het kammen wat lastiger maakt. Lush raad aan je haar te drogen met een föhn — zo activeer je de ingrediënten. Ik heb eigenlijk al een tijdje geen föhn meer, dus dat kan ik niet testen.
M'n haar voelt, als het volledig gedroogd is aan de lucht, een stuk luchtiger en het heeft meer volume. De zouten hebben duidelijk effect gehad, m'n haar lijkt inderdaad dikker te voelen. De geur kon ik nog de hele dag ruiken, die bleef trouw aanwezig tot de volgende dag. Het serum is niet heel hydraterend, m'n haarpunten oogde nog steeds vrij droog, maar het profiteert wel van meer glans, meer volume en luchtigheid. Ik kan me alleen maar inbeelden hoeveel volume je haar zou krijgen als je het combineert met Big shampoo! Overigens heb je van dit product niet veel nodig, dus ondanks dat het een kleiner flesje is, gaat hij echt heel lang mee. Je hebt misschien maar 2 tot 4 pompjes nodig, afhankelijk van de lengte van je haar.
Raad ik hem aan? Ja! Als je haar behoefte heeft aan wat meer dikte, luchtigheid en volume dan zou ik zeker eens kijken naar dit product. Ik zie weinig minpunten aan dit product. Niets dan lof voor Lush hun haarproducten. Ik zie mezelf nooit meer een ander merk gebruiken!

Lush Willow The Wisp Thickening Serum kost €19,95 en bevat 100 gram. Hij behoort tot de Liverpool exclusives, maar is nu tijdelijk te koop in de Lush Labs.
4 Responses to Review: Lush Willow The Wisp Thickening Serum