Review: Lush Wasabi Shan Kui Shampoo
Read this post in
Engels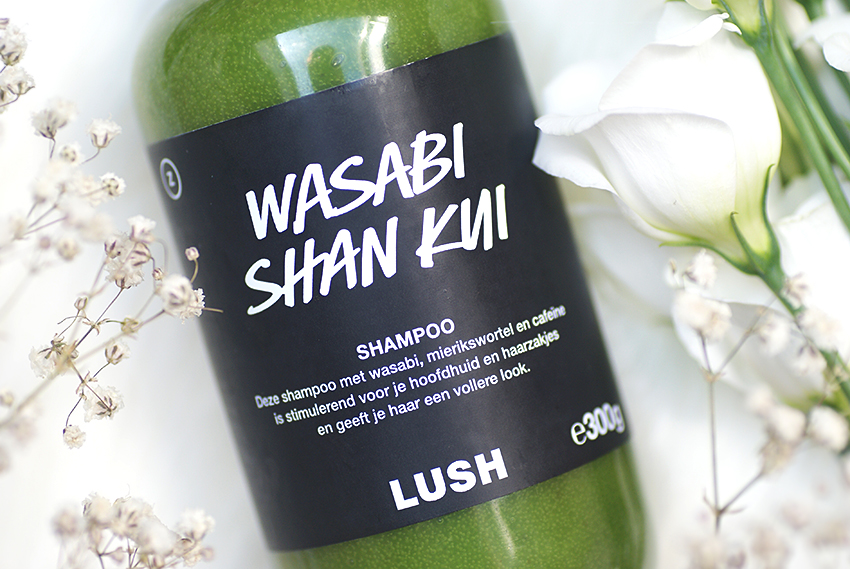 Ik vertíkte het: een fles shampoo van 24 euro kopen. Ik kan dan wel helemaal Lush obsessed zijn, er zijn grenzen. Ik baalde dan ook heel erg toen ik zag dat iedereen hysterisch werd vanwege zijn tijdelijke komst, ik bedoel, de komst van Sinterklaas is er niks bij. Iedereen leek wel lyrisch te zijn over deze shampoo. Dus ja, ik baalde, want dat wekte natuurlijk meteen mijn interesse. En ja hoor, drie keer raden wat ik afrekende niet veel later: een shampoo van 24 euro. Ik laat je vandaag weten of hij het geld waard is. Mijn ongezeezouten, uh, ongezouten mening. Lees maar verder.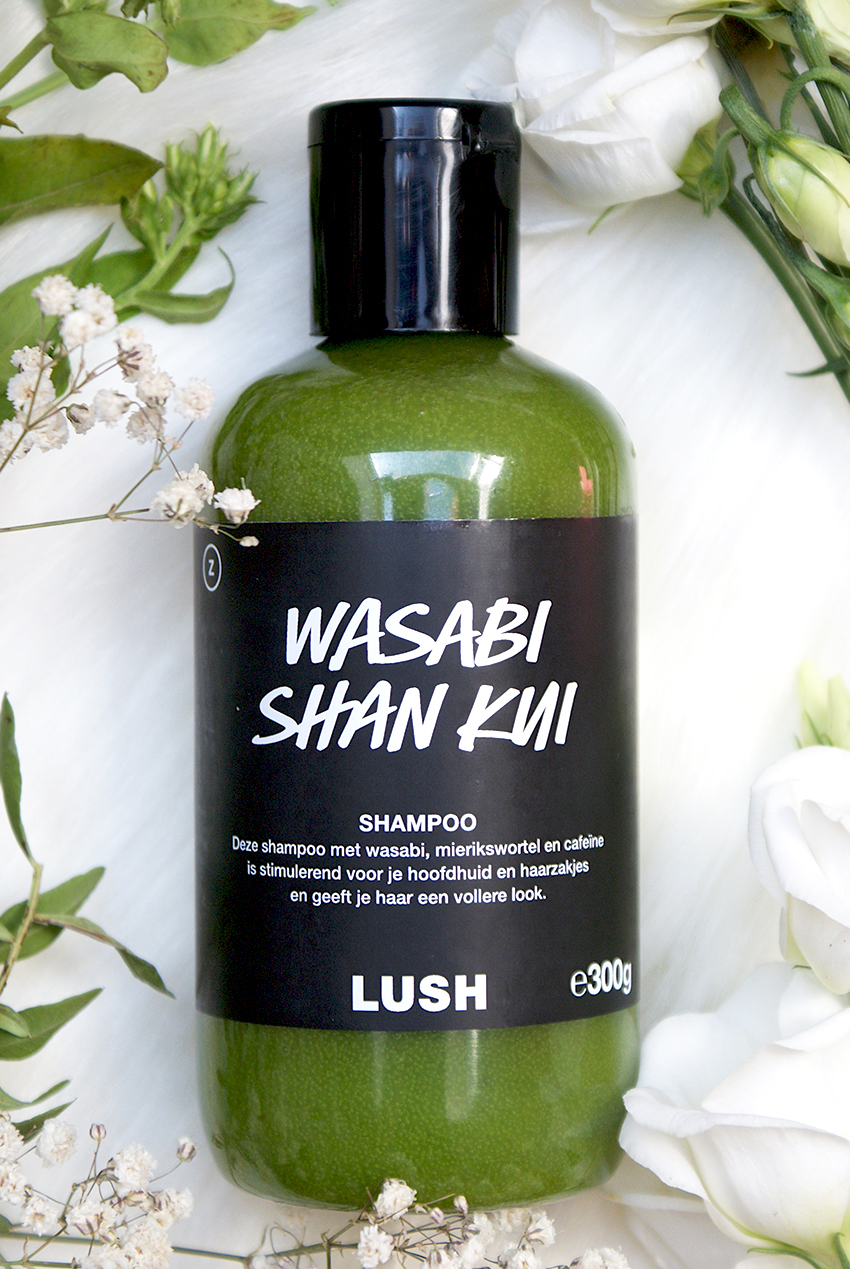 Wat is het?
Lush Wasabi Shan Kui Shampoo kost €23,95 voor 300 gram. Het is een Liverpool exclusive, maar nu ook tijdelijk in de Lush Labs te koop. Hij is alleen in 300 gram te koop in de Lush Labs, in Liverpool is hij er in vier formaten:
100 gram = £8.95
300 gram = £17.95
500 gram = £29.95
1 kilo = £50.95
Wasabi Shan Kui is dus een shampoo. Maar waarom is hij in godsnaam 24 euro? Ik bedoel, I Love Juicy kost €29,95 voor 500 gram. (Sterker nog, in 2014 kostte 500 gram slechts €23,35!) Voor dat geld, ja sorry, verwacht ik wel echt wonderen. Maar goed, laten we eerst eens kijken naar de inhoud. Deze shampoo zou de haarzakjes wakker maken, de haargroei bevorderen, haarwortels een boost geven, en tot slot de haarelasticiteit versterken waardoor je haar minder snel breekt. Voor dat geld hoop je toch dat hij ook je boekhouding doet en tuin onkruid vrij maakt, maar helaas. Staat niet op z'n takenlijst.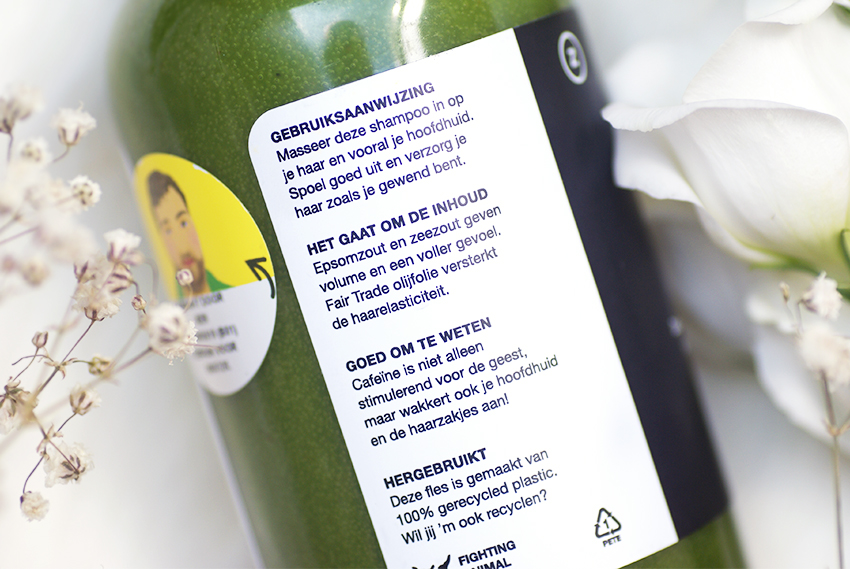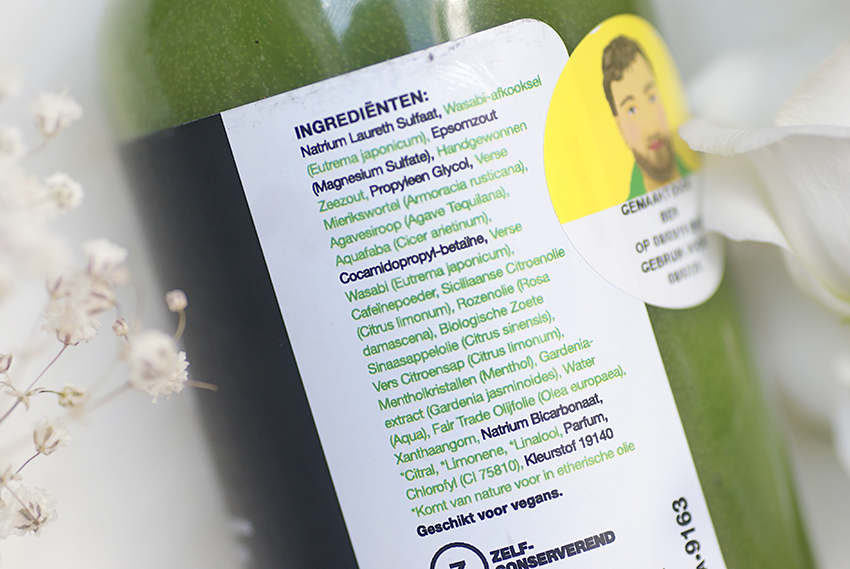 Wat zit erin?
Ingrediënten: Natrium Laureth Sulfaat, Wasabi-afkooksel, Epsomzouten, Handgewonnen Zeezout (Maris sal), Propyleen Glycol, Verse mierikswortel, Biologische Agavesiroop, Aquafaba, Cocamidopropyl-betaïne, Verse wasabi, Cafeïnepoeder, Siciliaanse Citroenolie (Citrus limonum), Rozenolie (Rosa damascena), Biologische Zoete Sinaasappelolie (Citrus sinensis), Vers Citroensap (Citrus limonum), Menthol Kristallen (Menthol), Gardenia-extract, Water (Aqua), Fair Trade Olijfolie (Olea europaea), Xanthaangom, Natrium Bicarbonaat (Sodium bicarbonate), *Citral, *Limonene, *Linalool, Parfum, Chlorofyl, Kleurstof 19140
Nou, eerlijk is eerlijk, het is geen lullige ingrediëntenlijst. Het begint met wasabi-afkooksel, dit ingrediënt stimuleert de hoofdhuid, waardoor de haargroei wordt bevordert en de haarzakjes beter doorbloed raken. Dan hebben we epsom-zouten, een ingrediënt dat we gister ook al tegenkwamen in Willow the Wisp. Dit mooie ingrediënt verdikt iedere haar op je kop, waardoor het luchtiger en meer volumineus wordt. Zeezout kennen we natuurlijk van de topper Big shampoo, dit geeft je haar enorm veel volume. Verse mierikswortel is rijk aan vitamines en heeft anti-bacteriële eigenschappen. Dan hebben we agavesiroop, wat anti-bacteriël en ontstekingsremmend werkt. Aquafaba kwamen we tegen in Valkyrie; lijkt qua eigenschappen erg op eiwit en maakt je lokken dus stukken sterker. Verse wasabi heeft net als wasabi-afkooksel een stimulerende werking op haar en hoofdhuid. Cafeïnepoeder maakt niet alleen mij 's ochtends wakker, maar ook m'n haarzakjes. Hoe precies, lees je hier. Citroenolie, rozenolie, sinaasappelolie en gardenia zijn gewoon fijne, verzorgende ingrediënten die tevens een zeer positieve bijdrage hebben aan de geur van het product. Citroensap maakt je haar erg glanzend, altijd fijn. Olijfolie versterkt de haarelasticiteit, maar zorgt ook voor glans. Dan hebben we nog menthol kristallen, dit zou je moeten voelen tijdens het inmasseren van de shampoo; je hoofdhuid begint te tintelen en wordt warm en koud tegelijk.
Poe, nou, dat was de lijst in het kort. Ik voel me al iets minder schuldig over deze aankoop. Dit soort shampoo's maken me altijd wel heel verwend, tegenwoordig sta ik in de drogist met opgetrokken lip te kijken naar de ingrediëntenlijst van een 99 cent shampoo omdat er geen aquafaba, zeezout of zoete sinaasappelolie in zit.
De geur moet ik nog even omschrijven. Laat ik beginnen met het feit dat deze groene shampoo er niet heel appetijtelijk uitziet, ik weet dat het waarschijnlijk gewoon de wasabi is, maar het ziet eruit alsof iedereen in de fabriek omstebeurt erin heeft zitten niezen. De geur is bijzonder. Ik ruik de frisheid van de menthol, maar ook is hij fruitig, neigend naar citrus-achtig. Het is vrij sterke, duidelijk geur in ieder geval. Ik denk dat ik hem het best kan omschrijven als citrus-achtig met een dosis frisheid toegevoegd, en iets mosachtig. Lekker? Dat sowieso.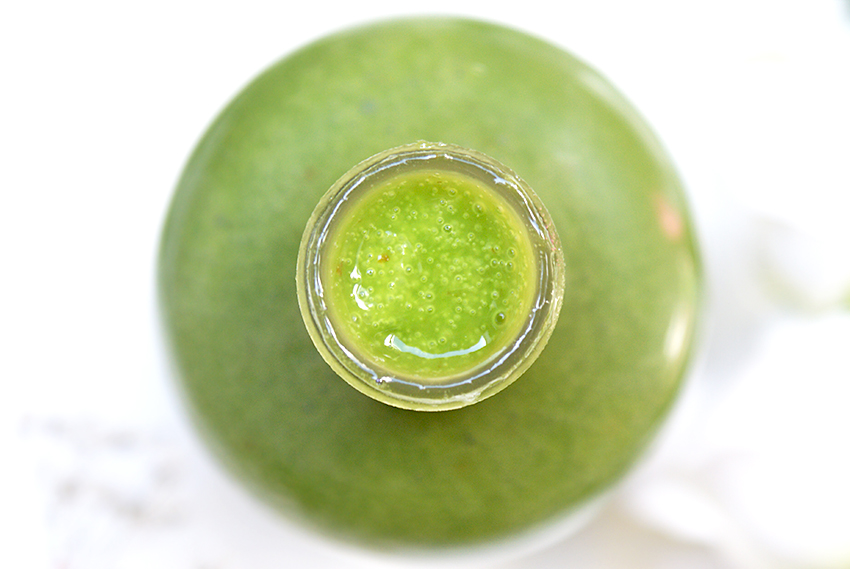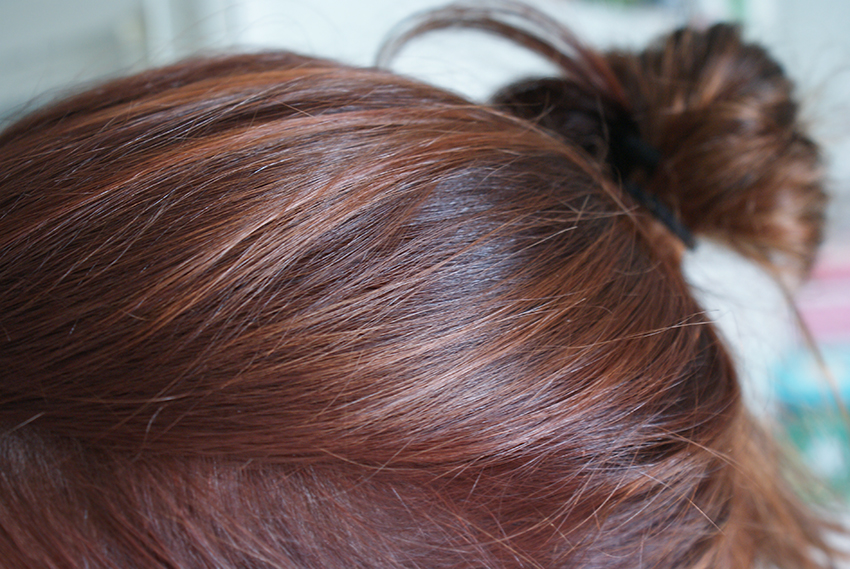 Mijn ervaring
Onder de douche merk ik direct dat je weinig nodig hebt van dit product. Een portie ter grootte van een muntstuk is voldoende. Hij schuimt lekker op, ik voel dat de textuur zeezout bevat, maar niet zo grof als in Big shampoo. Op de hoofdhuid moet je wel iets voorzichtiger zijn met aanbrengen, vanwege het zout erin. Probeer hem voorzichtig met je vingers op de hoofdhuid te masseren, net zolang tot je hoofdhuid helemaal bedekt is met schuim. Na het inmasseren voel je de frisheid van de menthol duidelijk op je hoofdhuid — deze gaat tintelen. het verschil in warm en koud voel ik zelf niet, maar wel dat hij lekker fris aanvoelt bovenop m'n bol.
Het uitspoelen is minder magisch; m'n haar voelt al gelijk kurkdroog aan, als touw. Het voelt squeaky clean, ofwel piepend schoon, je hoort het ook als je je vingers over je haar laat glijden. Meestal is dit het moment om een flinke dot crèmespoeling of conditioner erin te kwakken, maar ik wil ervaren hoe de shampoo op zich is, dus: geen andere producten erbij.
Als m'n haar handdoekdroog is, is het niet veel beter. Het is niet zacht, in tegendeel juist. Het is stroef en stug en ik moet echt m'n best doen om er een borstel door heen te halen. Ik heb snel klittend en fijn haar, dus borstelen is sowieso geen feestje. Ik borstel m'n haar grof, niet door grondig, en besluit het aan de lucht te laten drogen.
Als het droog is, is het verhaal totaal anders. M'n haar is PRACHTIG. Het valt mooi in model, het is luchtig en volumineus, het glanst als een motherf*cker!!, het ruikt goddelijk en nadat ik het nog een keer geborsteld hebt, ziet het er zó gezond en mooi uit. Het heeft een goede kambeurt nodig, maar dan heb je ook wat. Wanneer ik een elastiekje in doe terwijl het nog iets nat is, en na een paar uur het elastiekje eruit haal, heb ik mooie, golvende lokken, een soort beach look. Aan het einde van de dag is m'n haar nog onwijs volumineus en luchtig, ook ruik je de geur nog de héle dag lang heel subtiel. Het voelt niet zwaarder aan; m'n haar is alleen niet erg gehydrateerd, maar daar zou ik wat aan kunnen doen d.m.v. een ander product, zoals een serum.
Ik ben echt onwijs positief verrast. Vind ik hem het geld waard? Ja, eigenlijk wel. Zeker omdat je zo'n klein beetje nodig hebt. Nu was ik mijn haar iedere dag, maar ik heb van diverse mensen al gehoord dat hun haar dagenlang mooi en volumineus blijft. Dan is het helemaal ideaal, dan gaat een fles echt lang mee. Ja, ik ben om!

Lush Wasabi Shan Kui Shampoo kost €23,95 en bevat 300 gram. Hij behoort tot de Liverpool exclusives, maar is nu tijdelijk te koop in de Lush Labs.
4 Responses to Review: Lush Wasabi Shan Kui Shampoo