Review: Lush Yog Nog Body Conditioner
Read this post in
Engels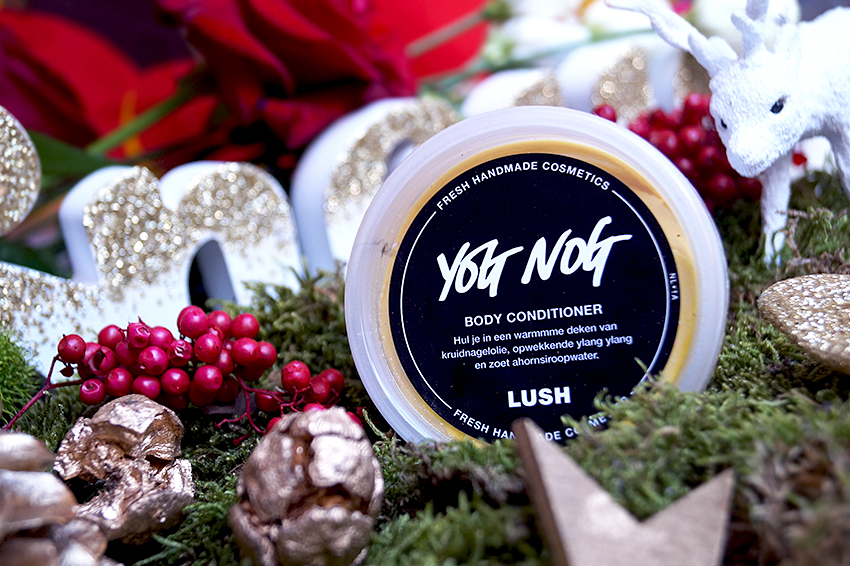 Er zijn van die producten waarvan je wéét dat je ze geweldig gaat vinden. Dit had ik met de Yog Nog body conditioner — als groot fan van de Yog Nog geurlijn, stond ik te springen om de komst van zowel de douchegel, als de body conditioner. Ik kon niet wachten om de heerlijke, romige geur de hele dag bij me te dragen. En als mijn kurkdroge huid daarbij ook nog profiteert, is het helemaal een topper. Ondanks de vrij pittige prijs (15 euro voor 100 gram potje) besloot ik hem toch te kopen. Ben je benieuwd of ik dit inderdaad een topper vind (spoiler alert: niet echt) lees dan snel verder.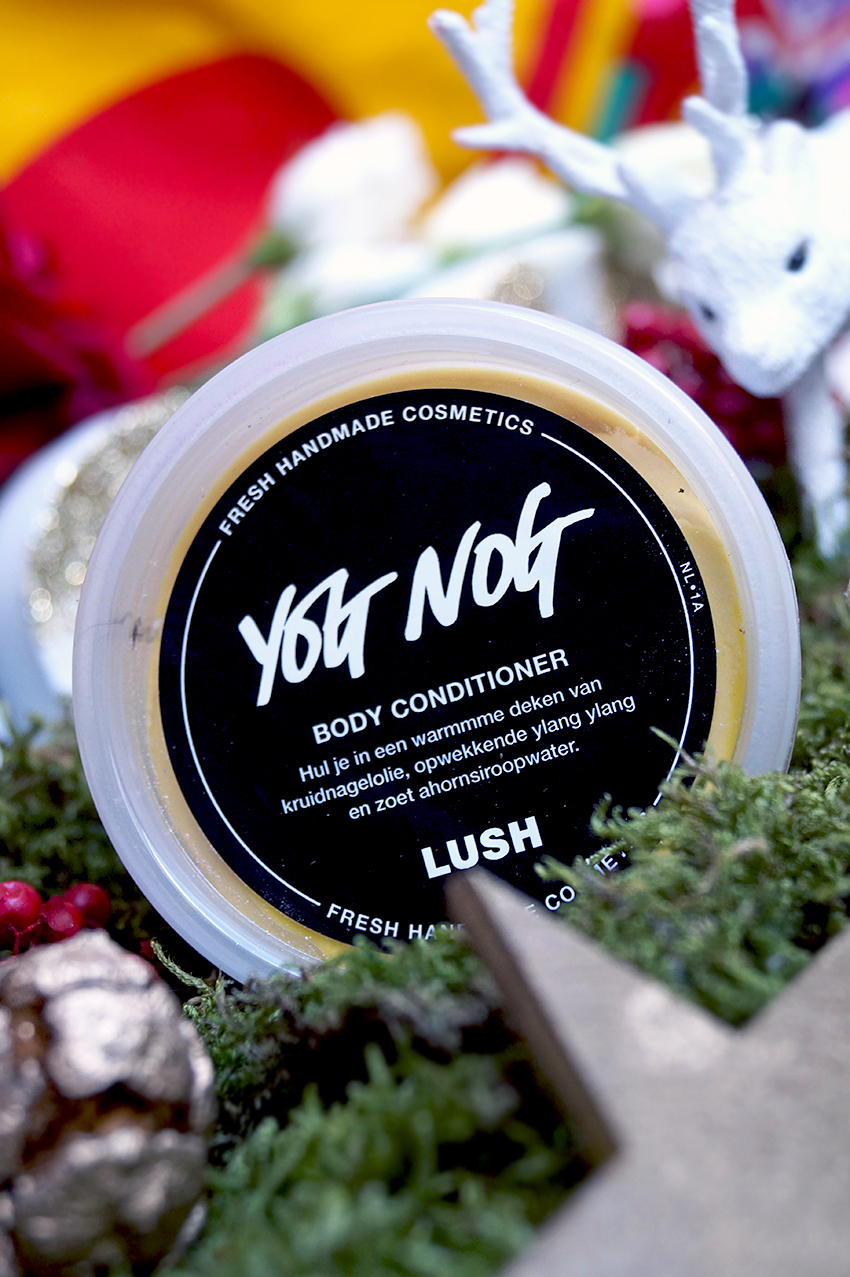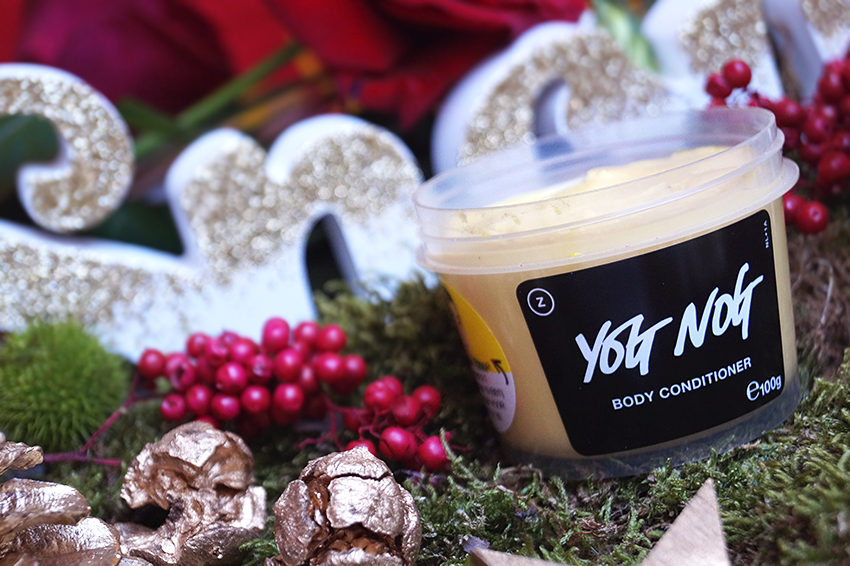 Wat is het?
Lush Yog Nog Body Conditioner kost €15,00 voor 100 gram, €27,50 voor 225 gram en €45,00 voor 500 gram. De body conditioner is onderdeel van de Kerstcollectie. Lush heeft meerdere body conditioners voor onder de douche, maar nu ook voor het eerst eentje met de geur van Yog Nog. De Yog Nog geurlijn is erg populair, vooral tijdens de winter. De body conditioner is tevens erg welkom, want onze droge huidjes kunnen nu wel wat hydratatie gebruiken! Wat me opvalt aan deze body conditioners, is dat de potjes doorzichtig zijn, in plaats van zwart! Veel leuker, vind ik.
Een body conditioner gebruik je onder de douche, bij voorkeur ná je douchegel. Schep met je vingers een beetje uit de pot, smeer uit over je natte huid en spoel dan af. Het is belangrijk dat je je huid na het douchen droog dept, in plaats van wrijft. Het vettige laagje wat na gebruik op de huid zit, wil je er natuurlijk zo lang mogelijk op houden. Niet er meteen afwrijven dus. Zachtjes deppen. Je kan het.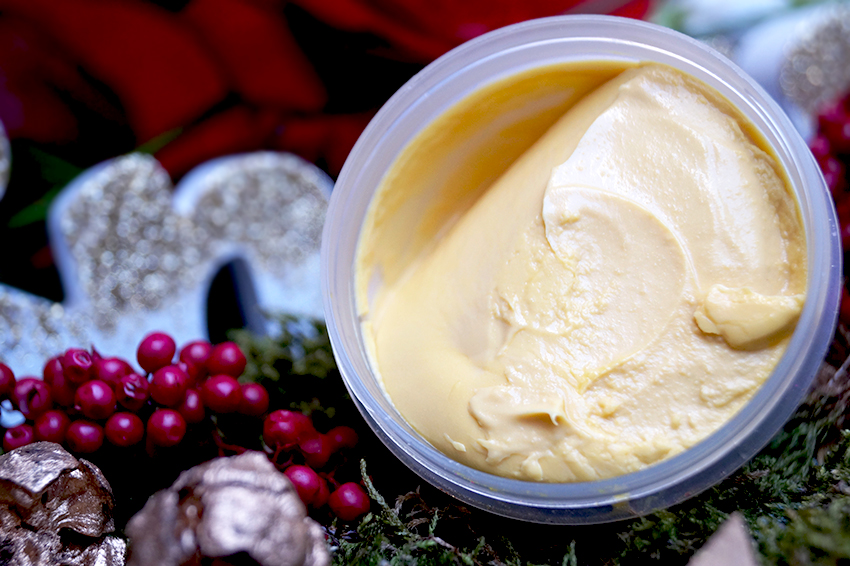 Wat zit erin?
Ingrediënten: Ahornsiroopwater, Amandelolie (Prunus amygdalus dulcis), Glycerine, Water (Aqua), Fair Trade Sheaboter (Butyrospermum parkii), Fair Trade cacaoboter uit Colombia, Haverolie, Stearinezuur, Biologische Illipeboter (Shorea stenoptera), Parfum, Triethanolamine, Kruidnagelolie (Eugenia caryophyllus), Ylang Ylang-olie (Cananga odorata), Titanium Dioxide, Cetearyl Alcohol, Synthetische Fluorflogopiet, Tinoxide, *Eugenol, *Linalool, Kleurstof 19140, Kleurstof 77491
Noem me een Nederlander, maar voor het geld wat ik ervoor betaal, mag ik hopen dat er minstens 50 gram goud in de body conditioner zit. Allereerst zie ik ahornsiroopwater; hydraterend en verzachtend. Dan zie ik amandelolie in de lijst; verzorgend, hydraterend en zit vol vitamine E. Dan zit er sheaboter en cacaoboter in, beide rijke, vettige substanties die bekend staan om hun enorm hydraterende werking. Buiten de hydratatie om, verzachten en verzorgen ze ook de huid. Haverolie houdt vocht vast, zodat de huid niet uitdroogt. Illipeboter voedt de huid, verzorgt deze en herstelt deze ook nog eens. Kruidnagelolie heeft een stimulerend effect op de huid. Ylang ylang-olie draagt bij aan de geur. Nou, geen goud dus. Wel veel hydraterende en verzorgende ingrediënten (waaronder drie boters!) dus ik ben heel benieuwd.
De geur is heerlijk; een warme, romige, zoete karamelgeur. Een typische wintergeur, vol en romig, maar ook lichtkruidig door de kruidnagelolie. Ik link deze geur aan de warmte van de feestdagen 💛 Echt een toetje, zoals Lush al zegt, een zoet karameltoetje. In de verte ruik ik ook iets lichtbloemigs, wellicht de ylang ylang? Hoe dan ook, deze geur is goddelijk. Hemels. Dit is winter in een potje.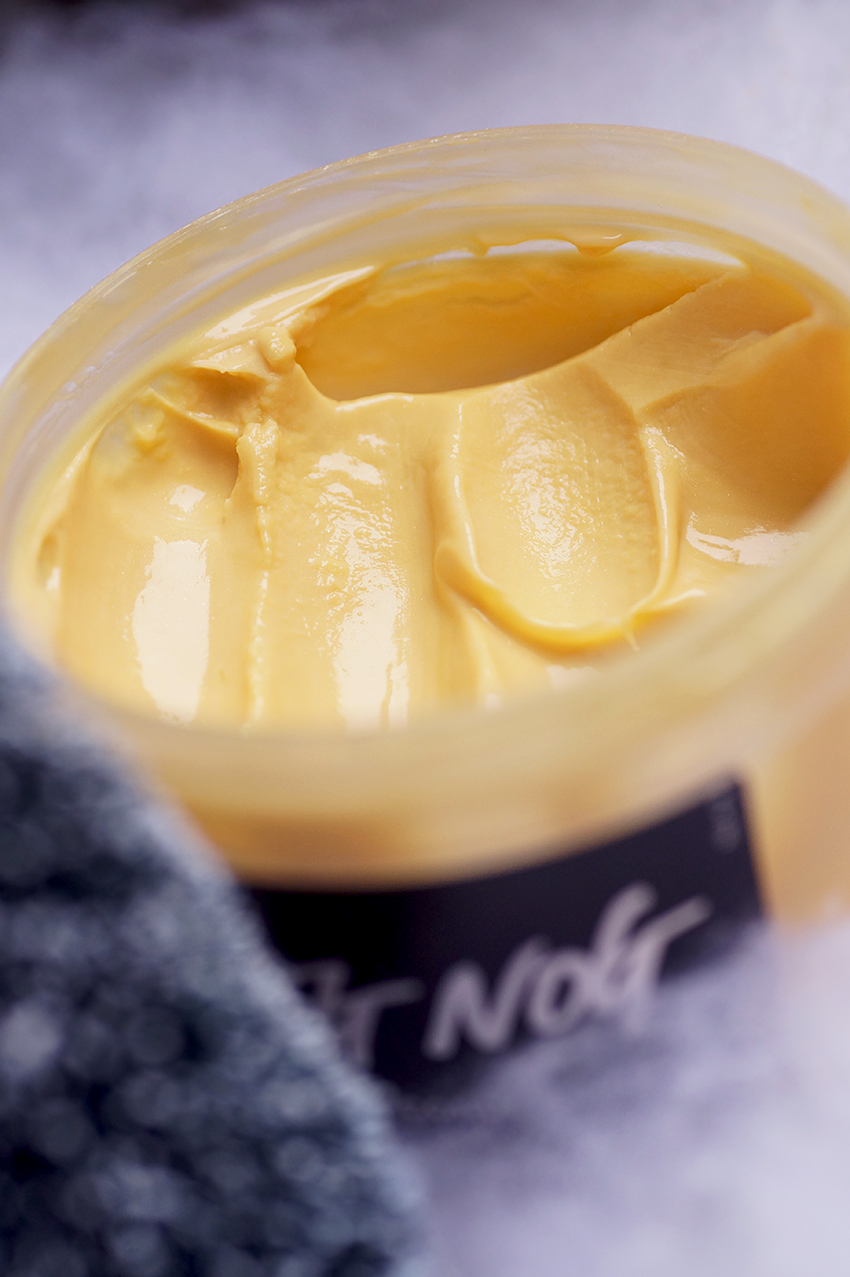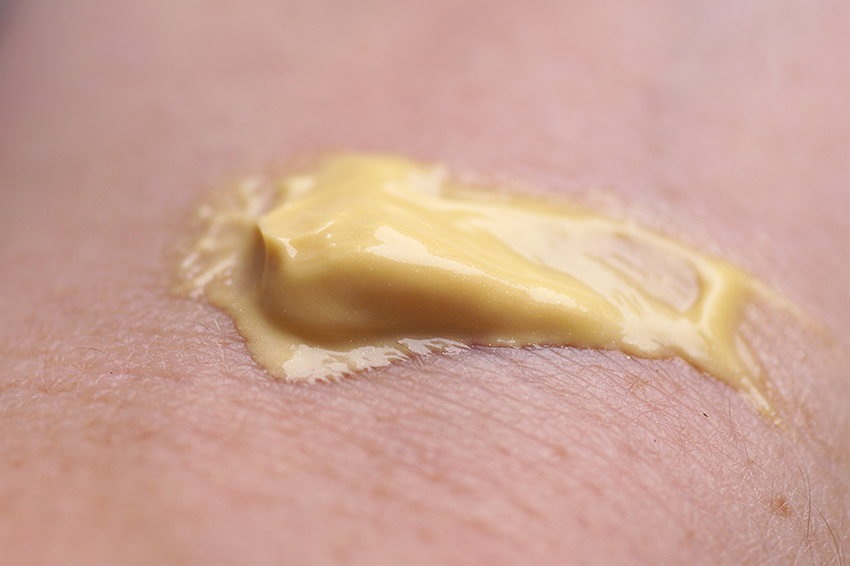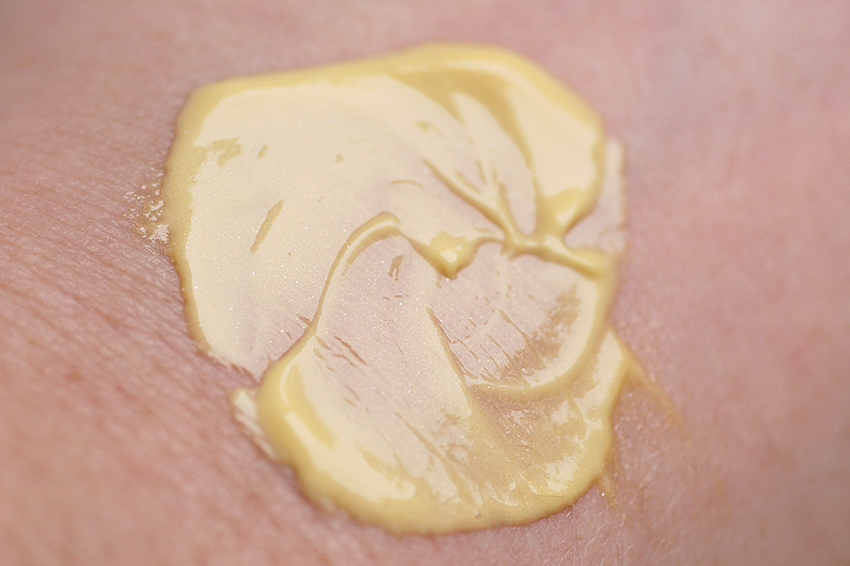 Mijn ervaring
Onder de douche smeer ik een likje van de body conditioner uit over m'n huid. Ik merk direct al dat de body conditioner, in combinatie met water, heel dun wordt en hij lijkt wel 'op te lossen'. Er blijft weinig van de body conditioner over op m'n huid. De geur lijkt niet echt tot uiting te komen, ik ruik het alleen als ik m'n neus dicht bij m'n arm houd. Ik spoel het resterende product van de huid af, en na het douchen dep ik heel voorzichtig m'n huid droog. De huid voelt niet heel vettig — juist erg gehydrateerd. Dat klinkt goed!
Helaas is m'n huid na nog geen half uur alweer kurkdroog. Ik twijfel even of ik niet per ongeluk iets van kleding langs de huid heb gehaald, waardoor het vettige laagje er misschien afgegaan is. De dagen erop gebruik ik steeds de body conditioner onder de douche, elke dag pak ik iets meer. Inmiddels is m'n potje bijna voor de helft leeg, en het enige wat ik eraan overhoud, is de conclusie dat deze body conditioner totaal niets doet voor mijn huid. Het hydraterende laagje en de soepele, gevoede huid duurt hooguit 10 minuten. Daarna is m'n huid weer droog en voelt hij ook enorm droog aan. Wat een FLOP.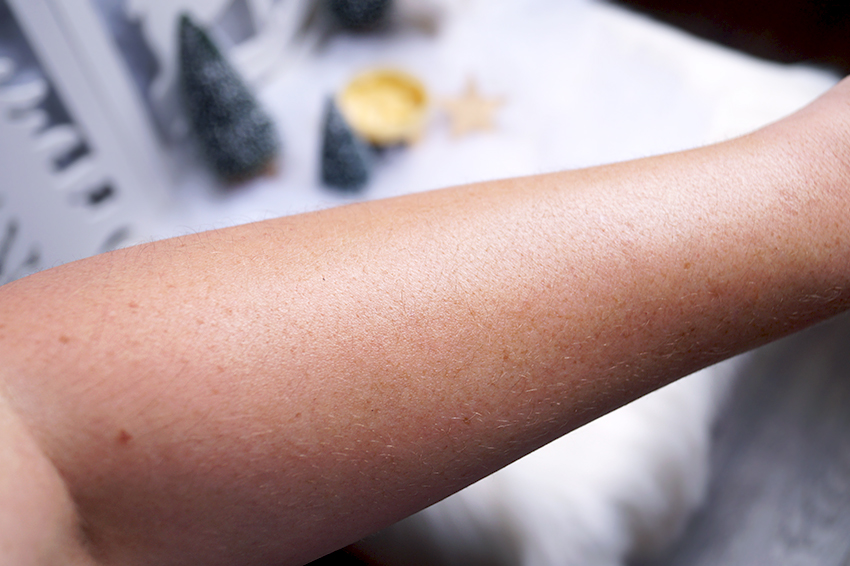 Enigszins geïrriteerd over dit product (ik betaal 15 euro voor zo'n klein potje, waarvan het product niets voor me doet) probeer ik de body conditioner uit op de droge huid. Niet onder de douche dus, en zonder af te spoelen. Gewoon als body lotion. En dat werkt misschien nog wel het beste — kijk maar naar de foto hierboven. Dan wél is m'n huid gehydrateerd, zacht, soepel en ziet hij er mooi glanzend uit. De droge velletjes en schilfers zijn weg. M'n bruine kleurtje van de vakantie komt nu mooi tot z'n recht, én de geur is nu wel goed te ruiken! Hij ruikt goddelijk op de huid, de geur is zelfs iets warmer nog. Het merendeel van de substantie lijkt na 20 minuten te zijn ingetrokken, maar ik nu in ieder geval wel het idee dat ik waar voor m'n geld heb.
Conclusie? Als hij niet werkt als body conditioner, gebruik hem dan als body lotion! Misschien is mijn huid te droog, maar dit is voor het eerst dat een body conditioner niets doet voor mijn huid. Jammer, want juist als iemand met een droge huid, had ik gehoopt extra veel baat te hebben bij dit product. Ik vind de prijs aan de hoge kant, en als je het mij vraagt, zitten er niet eens zoveel dure ingrediënten in. Ik vind dat erg jammer, maar ik ben in ieder geval blij dat ik hem nu alsnog goed kan gebruiken.

Lush Yog Nog Body Conditioner kost €15,00 en bevat 100 gram. Hij behoort tot de Kerstcollectie.
3 Responses to Review: Lush Yog Nog Body Conditioner