Review: Lush A French Kiss Bubble Bar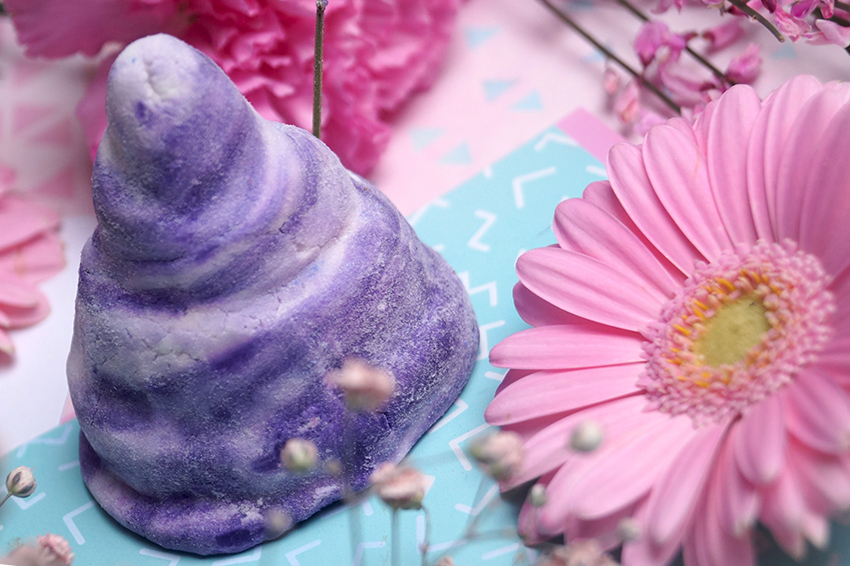 Het is niet dat je me ervoor wakker kunt maken (dat kun je alleen voor een stuk Carrot Cake van De Drie Graefjes of voor sesamballen), maar ik ben wel écht onwijs gek op lavendel. Ik houd van bloemen, maar het rustgevende en kalmerende van de lavendelplant maakt dat lavendel toch wel één van mijn favoriete bloemige geuren is. Het verbaasde me dan ook dat ik A French Kiss nog nooit had gehad! Tijd om daar verandering in te brengen. Ik bestelde hem in de webshop, en vandaag ga ik hem voor je reviewen. Lees je mee?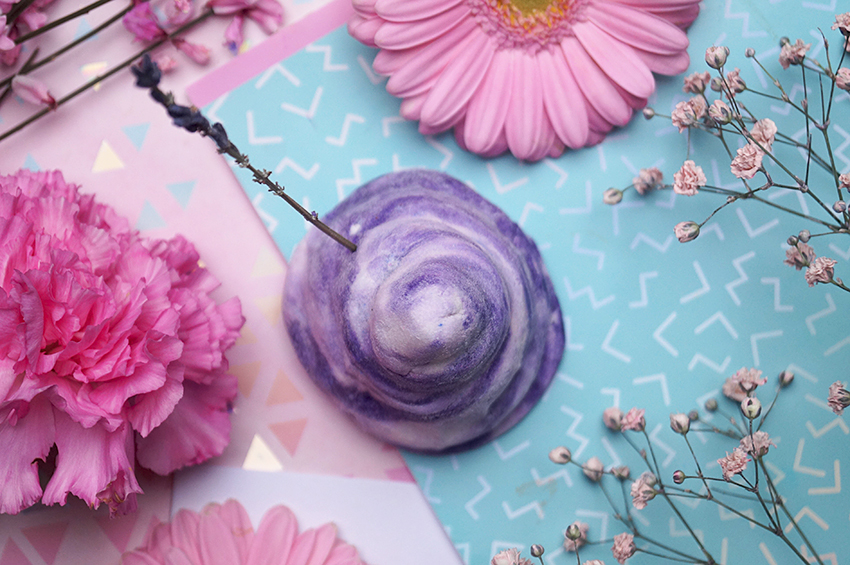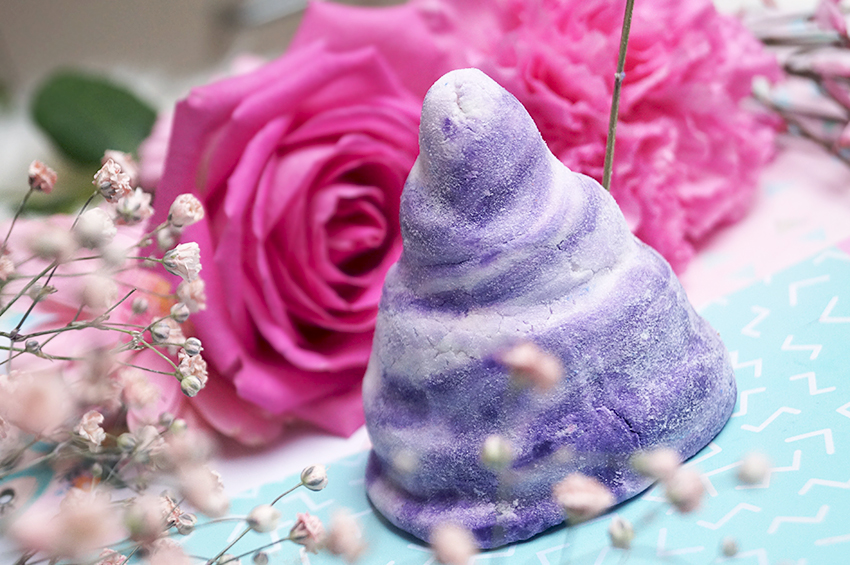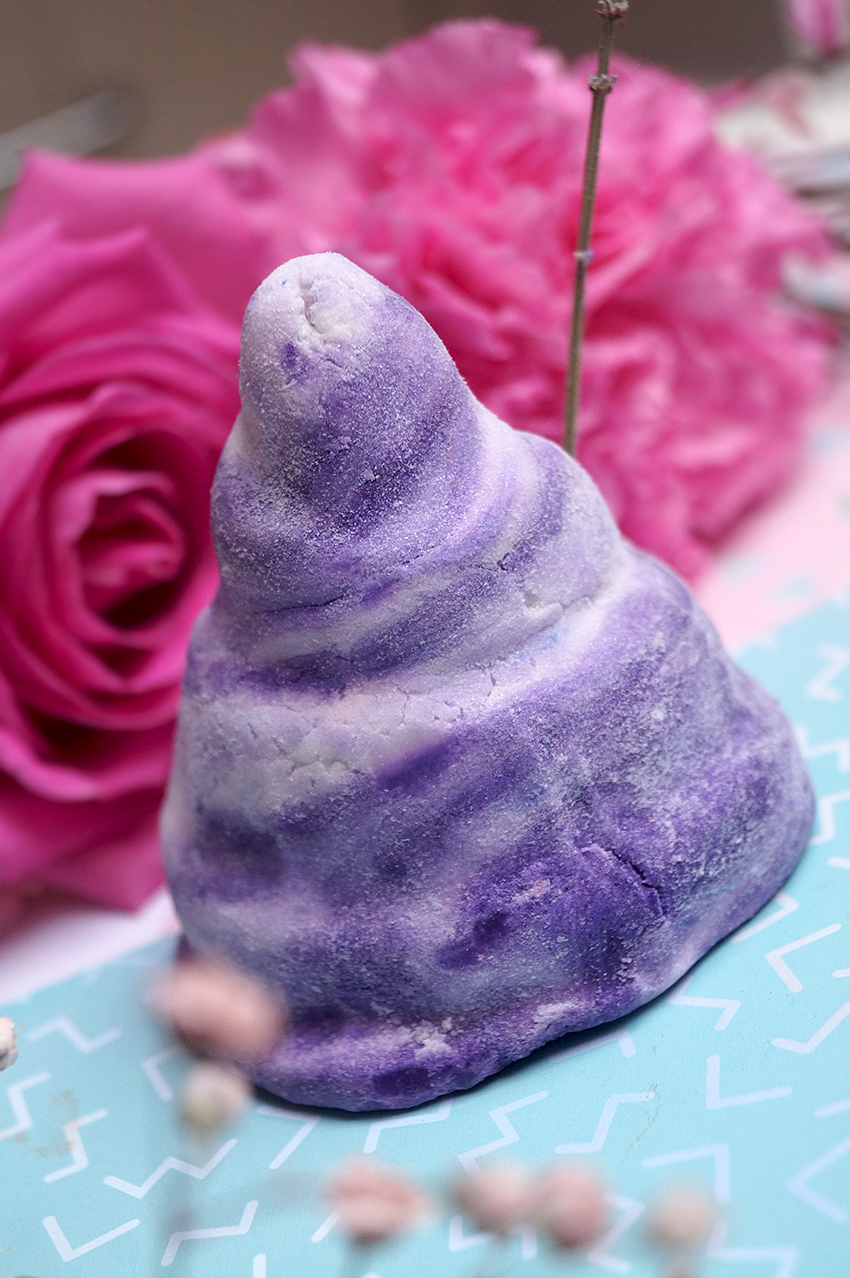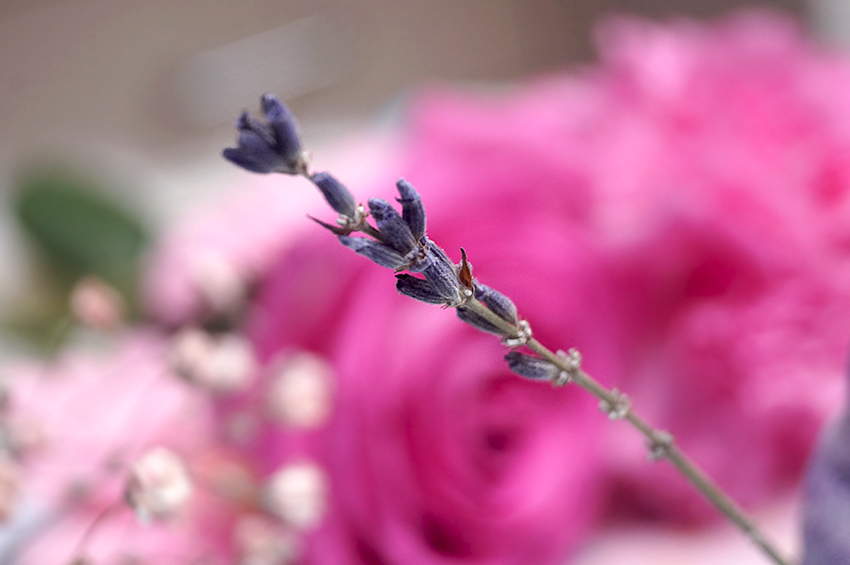 Wat is het?
Ingrediënten: Natrium Bicarbonaat (Sodium bicarbonate), Wijnsteenzuur (Potassium bitartrate), Natrium Laureth Sulfaat, Laurylbetaïne, Maïsmeel, Parfum, Extra Virgin Kokosolie (Cocos nucifera), Citroenzuur (Citric acid), Rozemarijnolie (Rosmarinus officinalis), Tijmolie (Thymus zygis), Lavendelolie (Lavandula augustifolia), Lavendel Absolue, (Lavandula angustifolia), Lavendeltakje (Lavandula angustifolia), Glycerine, Benzyl Benzoaat, *Limonene, *Linalool, Kleurstof 45430 (Cl 45430), Kleurstof 17200, Kleurstof 42090
Lush A French Kiss Bubble Bar kost €6,75 en is onderdeel van de vaste collectie. Deze kegelvormige bubble bar, inclusief een lavendeltakje, is dé bubble bar voor het slapen gaan. Ik reviewde gisteren al Unicorn Horn, waar ik veel lavendel in zit, maar A French Kiss gaat nog een stapje verder. De geur is dan ook écht lavendel, maar met een (groene) kruidige ondertoon. Niet kruidig als in spicy dus, maar echt herbal. De rozemarijn en tijm erin zorgen hiervoor, en laten zich geweldig combineren met het bloemige van de lavendel. De geur is zacht, dromerig en bloemig — je ticket naar de Franse lavendelvelden. Dit is hoe lavendel zou moeten ruiken, in welk product dan ook — van wc-verfrissers tot toiletblokken.
Speel de filmpjes af in 2160p kwaliteit en op volledig scherm voor de beste ervaring! De filmpjes spelen zich versneld af.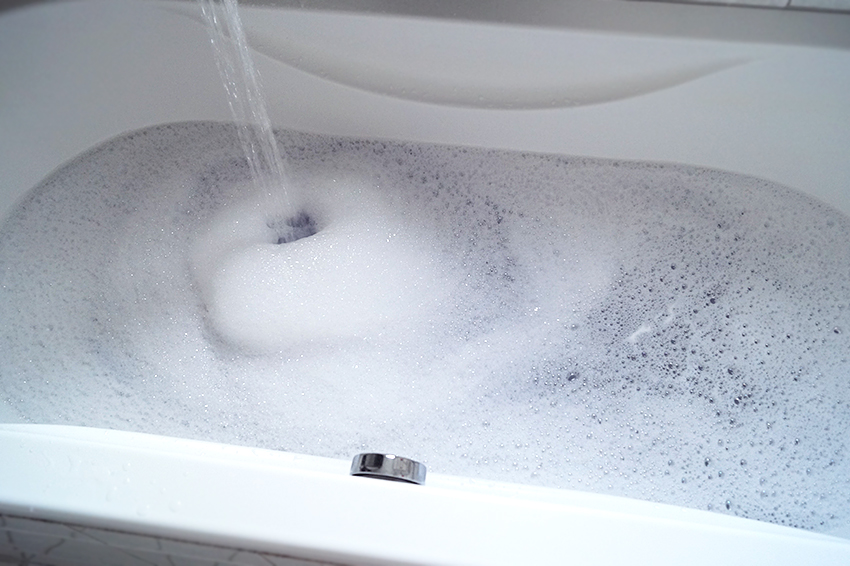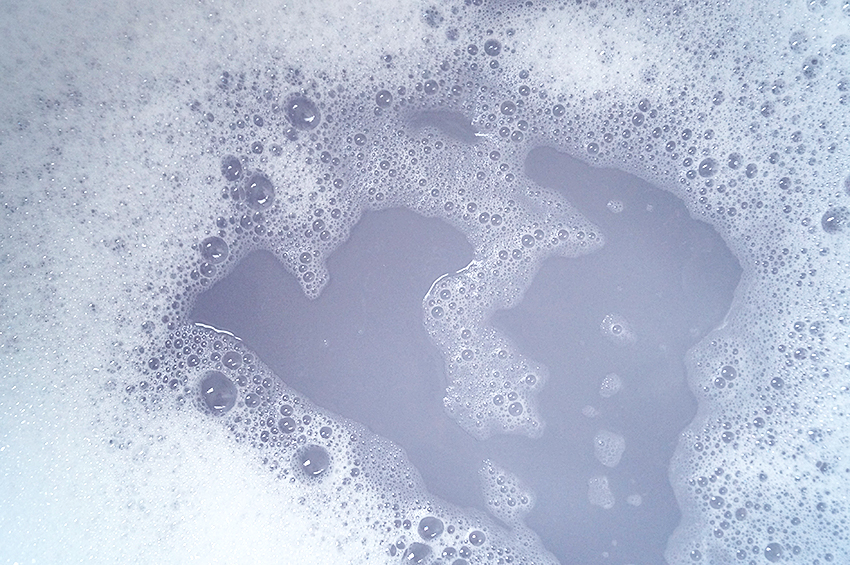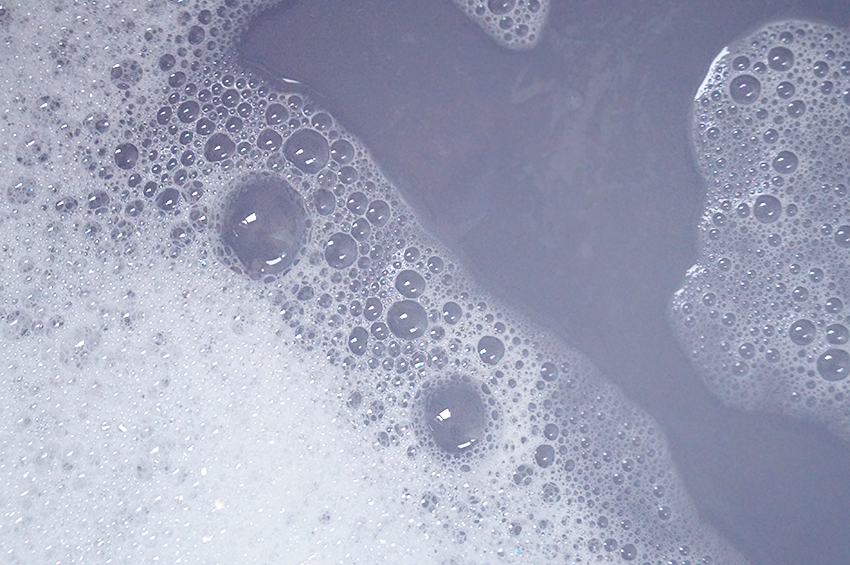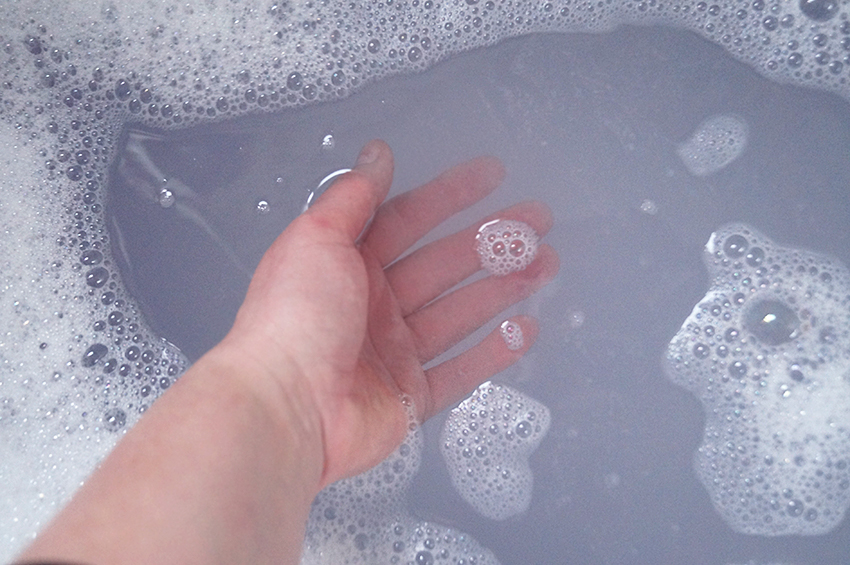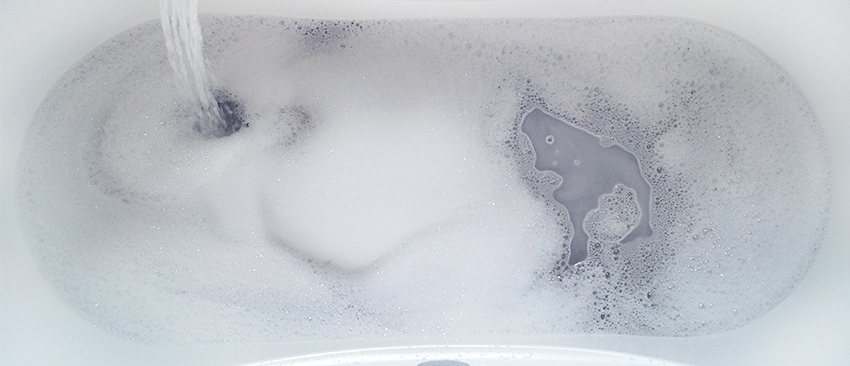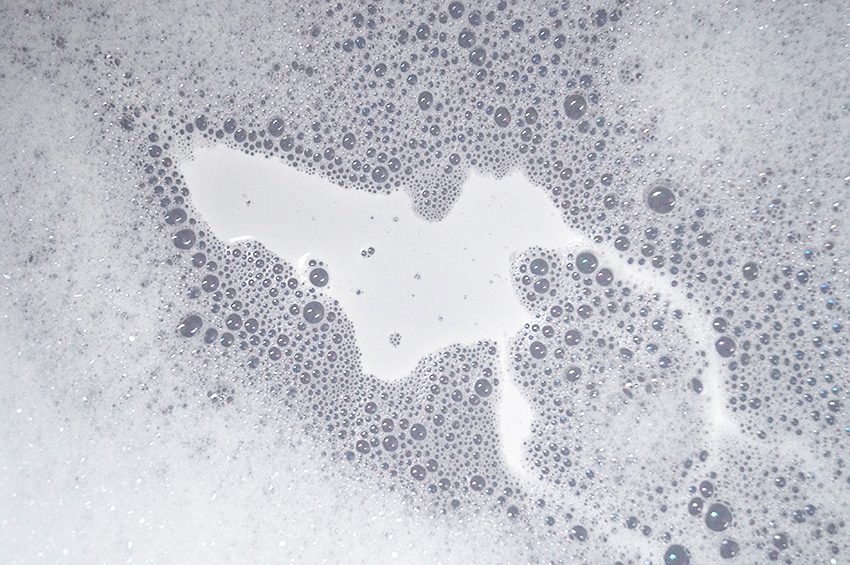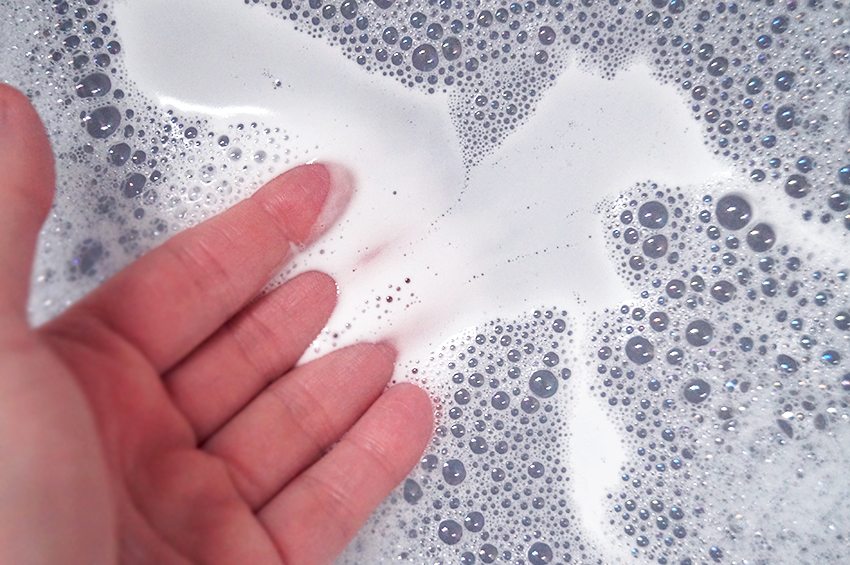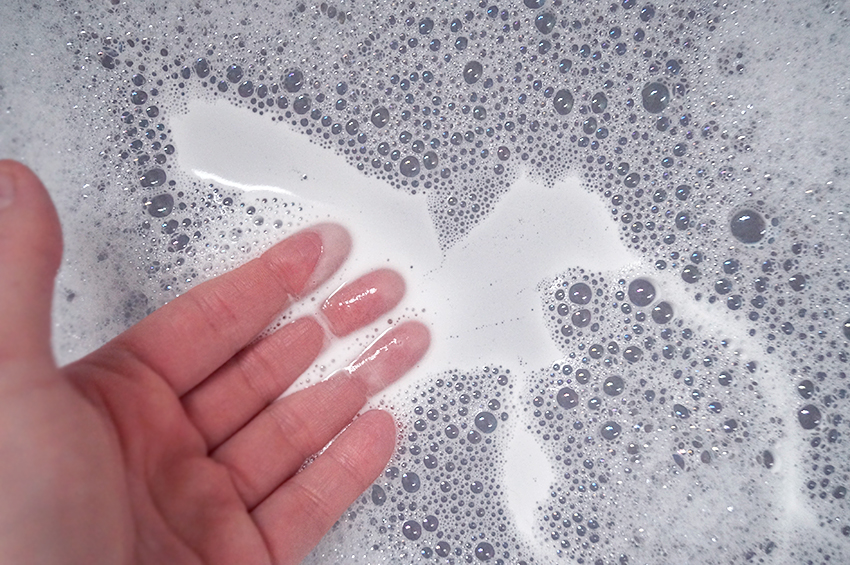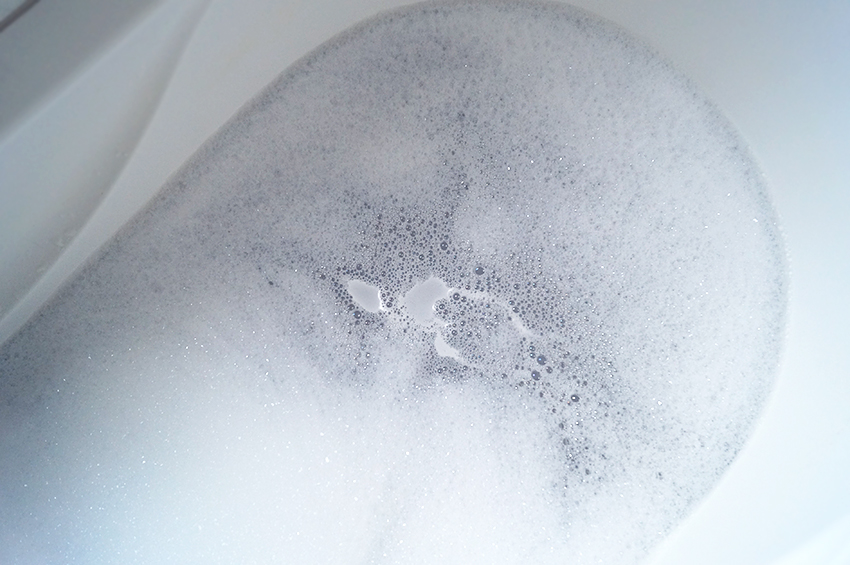 Mijn ervaring
Ik gooi in totaal een halve, verkruimelde bubble bar in m'n zeef en houd het onder de harde straal. Meteen ontstaat er een flink schuim, terwijl het water een lichtpaars kleurtje krijgt. De lavendelgeur is zeer goed te ruiken! Na zo'n 5 minuten met de straal op het water, heeft zich een flinke muur met schuim ontwikkeld. Tussen het schuim door zie ik dat het water nog steeds een lichtpaarse kleur heeft, vrij doorzichtig, met een melk-achtig laagje op het water. Het voelt heerlijk zacht en hydraterend aan, dus ik ben benieuwd!
Eenmaal in bad blijf ik de lavendelgeur goed ruiken in de badkamer. Wel subtiel, maar ik moet er wel bij zeggen dat ik nog steeds slecht ruik door een flinke verkoudheid. De kleur van het water had van mij wel iets opvallender gemogen, het was een vrij saaie kleur. Maar de bubbels bleven erg lang op de oppervlakte drijven en vanwege de heerlijke geur voelde ik me helemaal ontspannen en zen. Dit is echt de perfecte bubble bar als je op zoek bent naar ontspanning! Ik gebruikte een halve bubble bar, maar je zou er zelfs 3 keer mee kunnen doen. Een hele zou ik niet doen, tenzij je tijdens het badderen al in slaap wilt vallen.
M'n huid voelde na afloop echt zó zacht aan — uren later, na m'n powernap (blame it on the lavendel) kon ik nog voelen hoe zacht m'n huid was. Ook kon ik na het badderen nog heel goed de lavendelgeur ruiken op m'n huid. Hier ga ik er zeker nog een paar van kopen, zodat ik altijd een voorraadje heb!

Lush A French Kiss Bubble Bar kost €6,75. Hij behoort tot de vaste collectie.
3 Responses to Review: Lush A French Kiss Bubble Bar