Review: Lush The Comforter Bath Bomb
Read this post in
Engels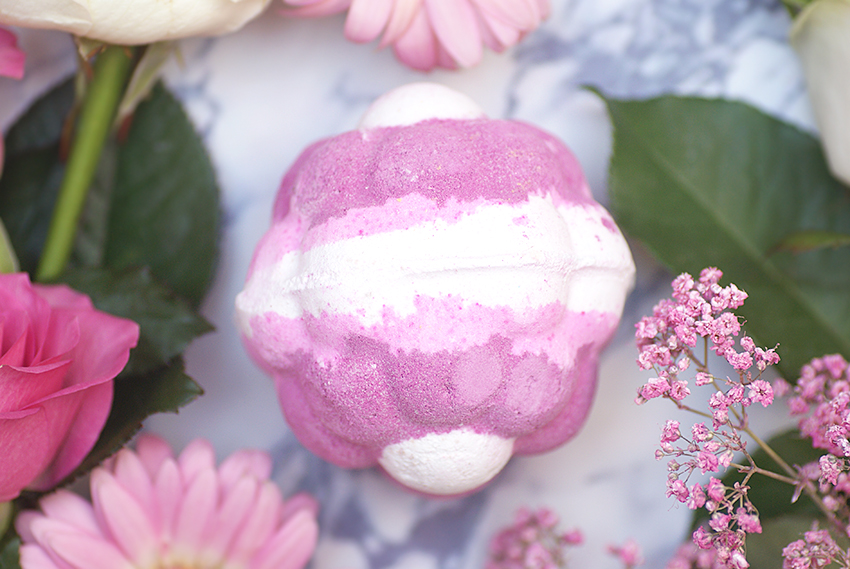 Ondanks dat de The Comforter geurlijn en ik geen vrienden zijn, en dat ook nooit zullen worden, heb ik toch de bath bomb gekocht. Er was toch best wat vraag naar een review, bovendien sprak het uiterlijk me wél aan, dus ik zou me gewoon over de geur heen zetten. Ja, de verschrikkelijke dingen die ik voor jullie over heb, jongens. Vandaag laat ik je The Comforter zien, dus mocht je benieuwd zijn.. je weet wat te doen.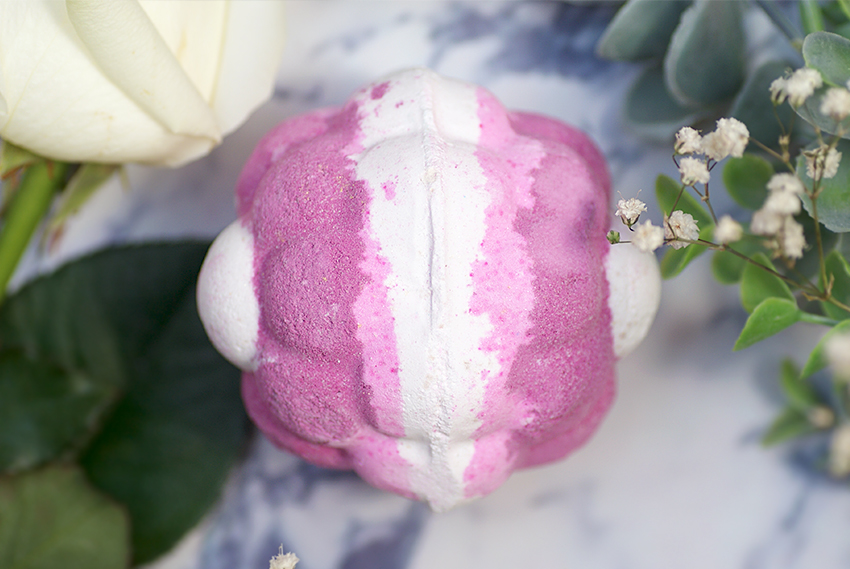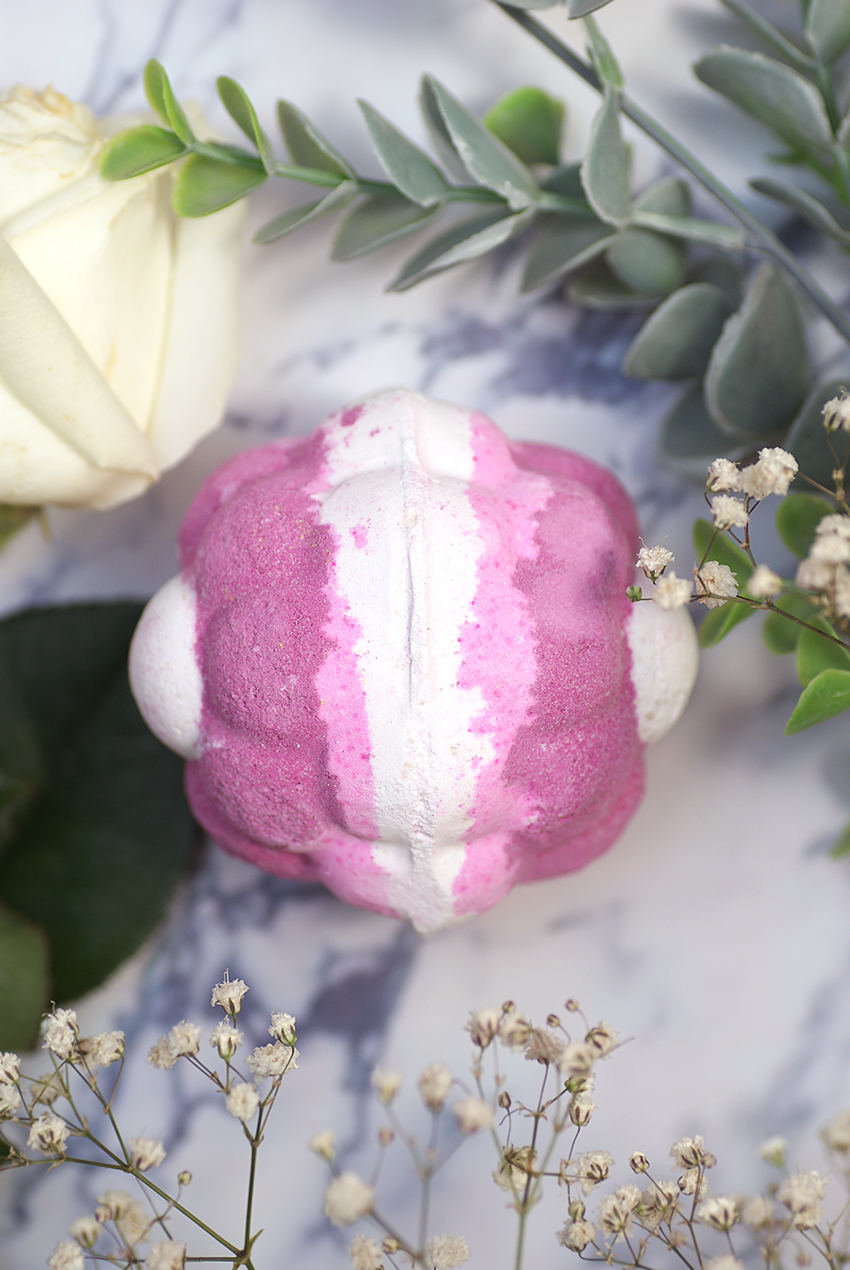 Wat is het?
Ingrediënten: Natrium Bicarbonaat (Sodium bicarbonate), Citroenzuur (Citric acid), Bergamotolie (Citrus aurantium bergamia), Cassis Absolue, Cypresolie, Water (Aqua), Wijnsteenzuur (Potassium bitartrate), Titanium Dioxide, Maïszetmeel, Natrium Coco Sulfaat, Propyleen Glycol, Dipropyleen Glycol, Synthetische Fluorflogopiet, Tinoxide, Cocamidopropyl-betaïne, *Limonene, Parfum, Kleurstof 45410 (CI 45410), Kleurstof 17200
Lush The Comforter Bath Bomb kost €5,50 en is onderdeel van de tijdelijke Harajuku collectie, bestaande uit uiteenlopende 54 bath bombs. The Comforter deelt zijn naam met de populaire The Comforter bubble bar, één van Lush hun bestsellers. Deze zoete, fruitige bessen bubble bar is een opvallende geur — ik vind hem altijd erg sterk en overheersend ruiken. Dit is met de bath bomb niet anders, deze heeft diezelfde zware bessengeur. Erg zoet a la Snow Fairy, maar ook heel bessen-fruitig. Het is geen subtiele geur, dus mocht je geen fan zijn van bessengeuren (hoi!) dan zou ik deze misschien toch skippen.
The Comforter bevat bergamotolie, cassis extract en cypresolie. Je kunt wel raden dat de cassis errrg overheerst. Normaal gesproken zwakken andere ingrediënten één bepaalde geur wel af, maar bij The Comforter niet. Verder zie ik Synthetische Fluorflogopiet staan, dus ik gok dat er ook glitters in zit. Overigens vind ik de prijs van The Comforter wel stukken vriendelijker dan de andere bath bombs, die toch 7,50 of 8,50 kosten. Dan is 5,50 opeens een stuk goedkoper. Afijn, er mee naar de badkamer!
Speel het filmpje af in 2160p kwaliteit en op volledig scherm voor de beste ervaring! Het filmpje speelt zich versneld af.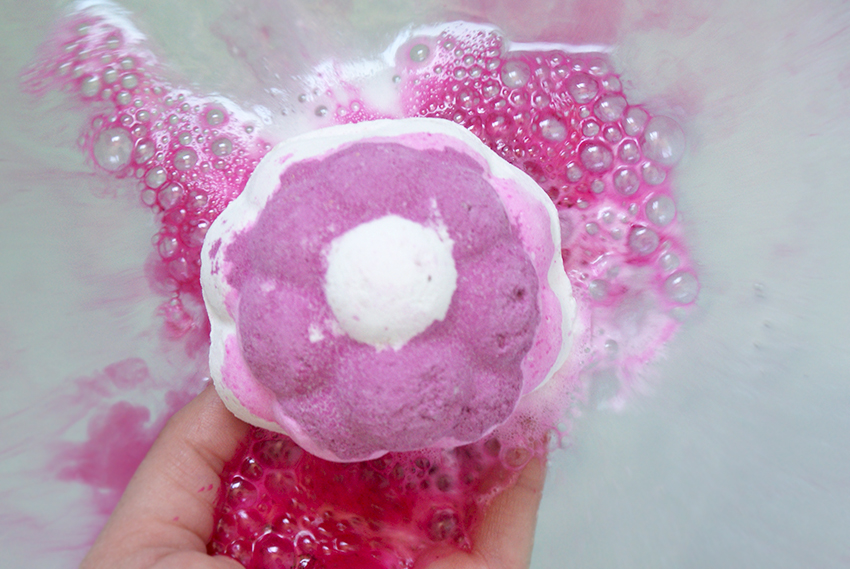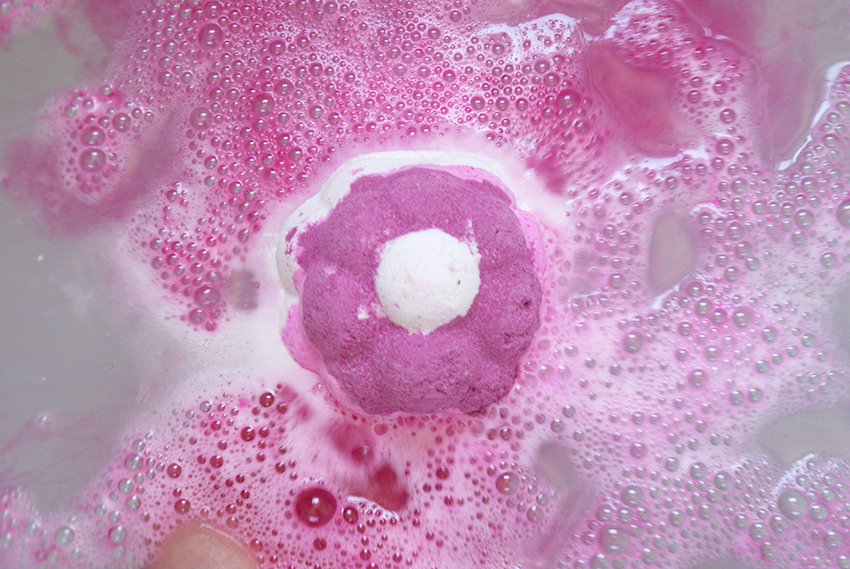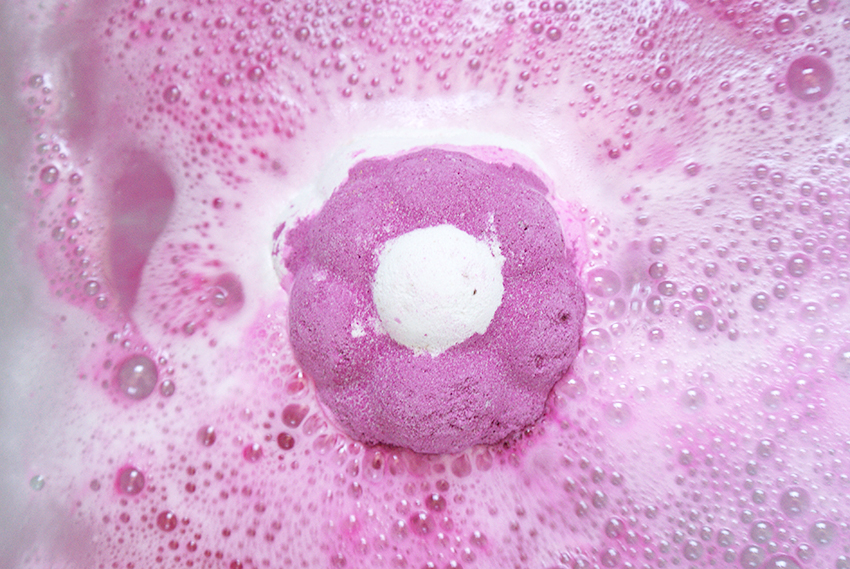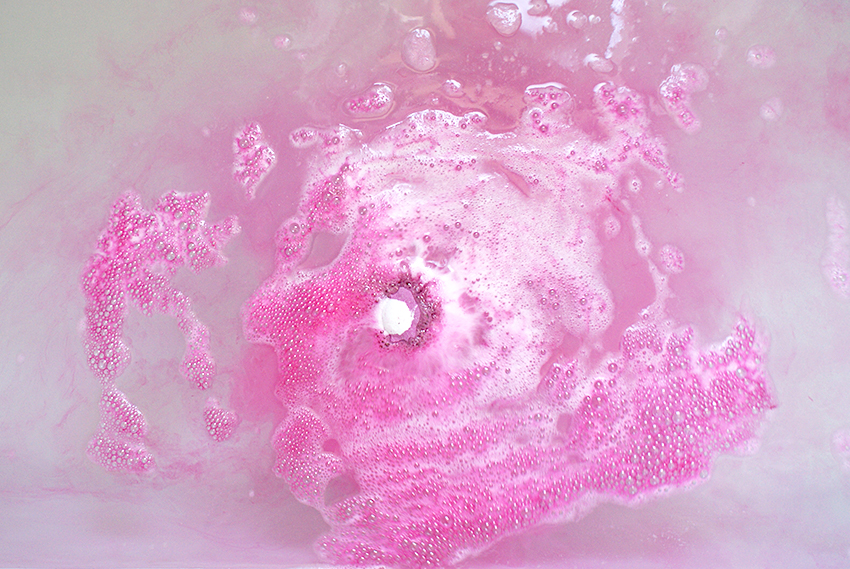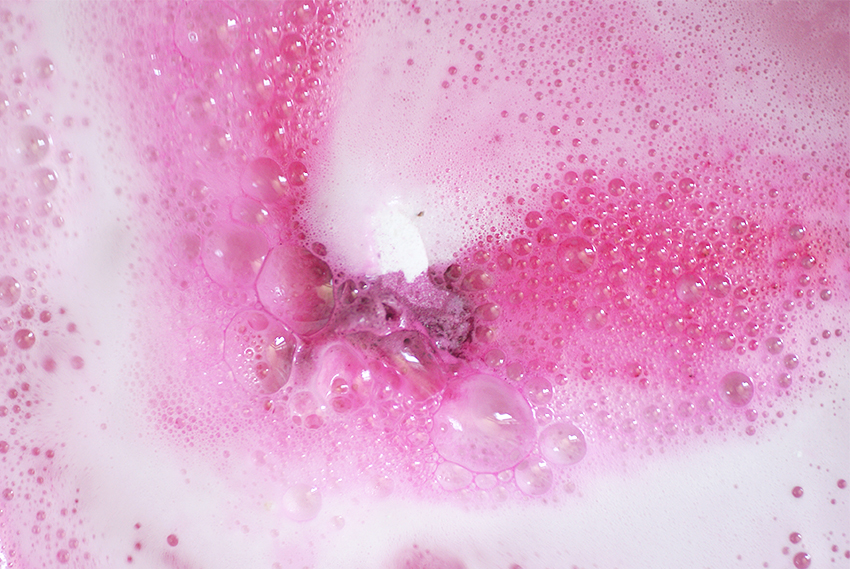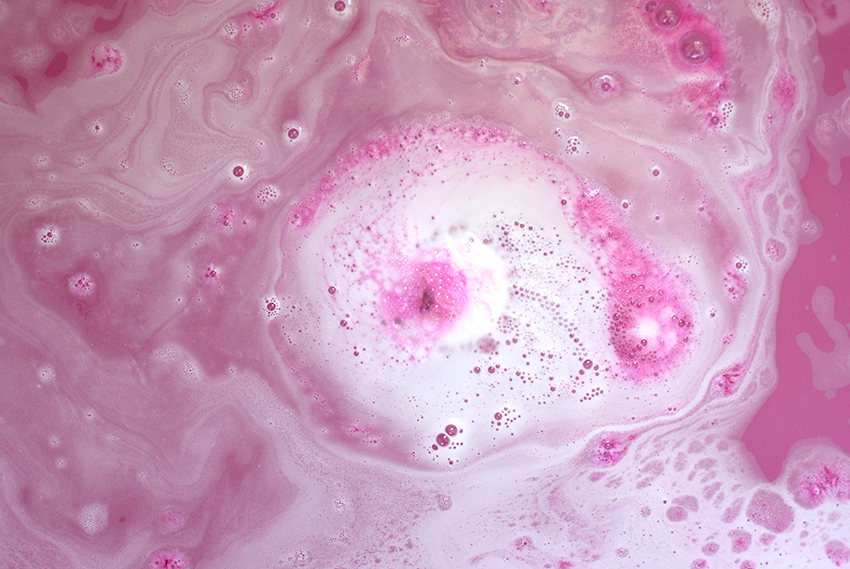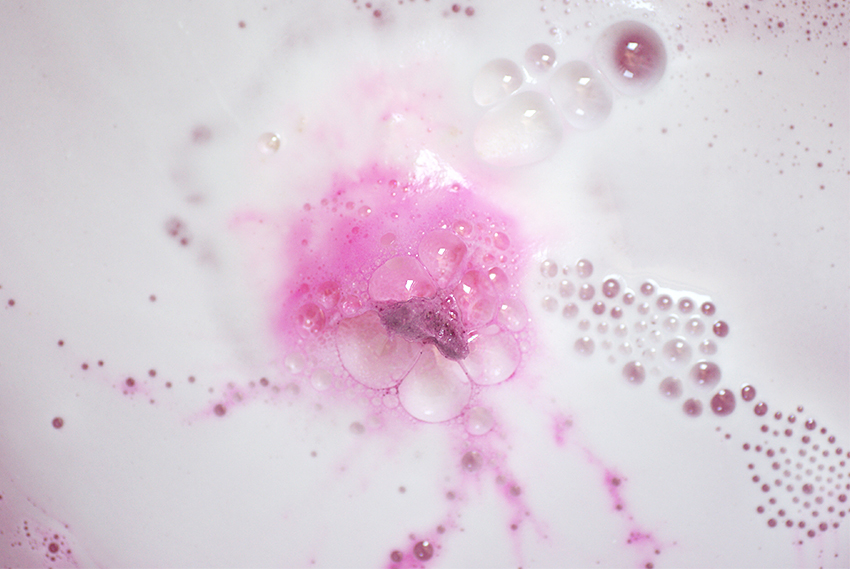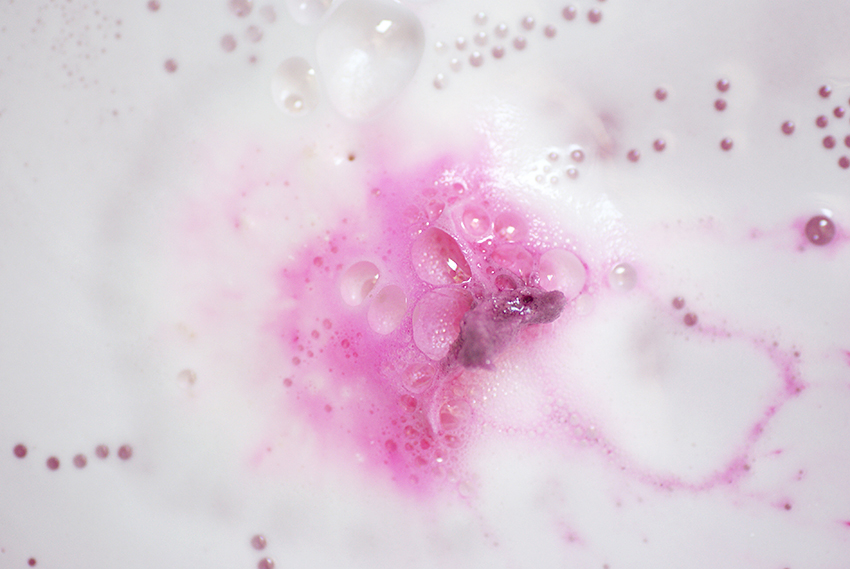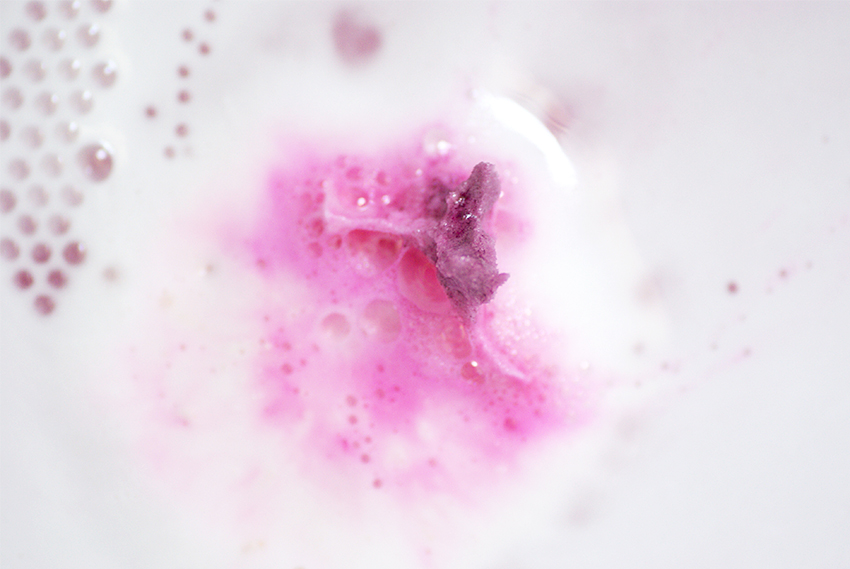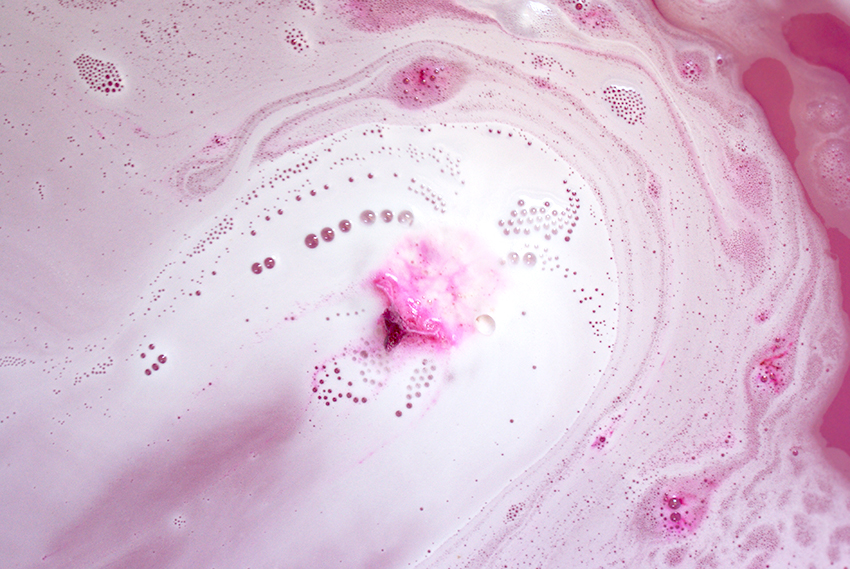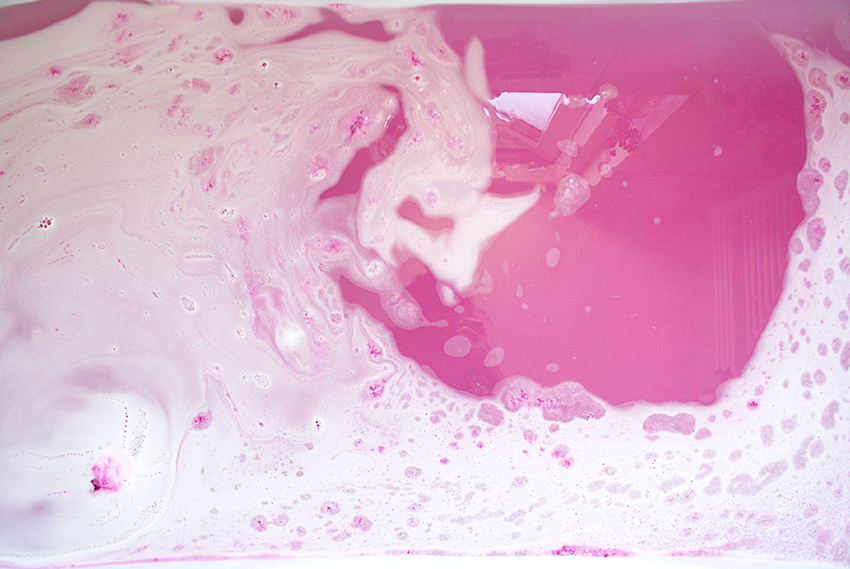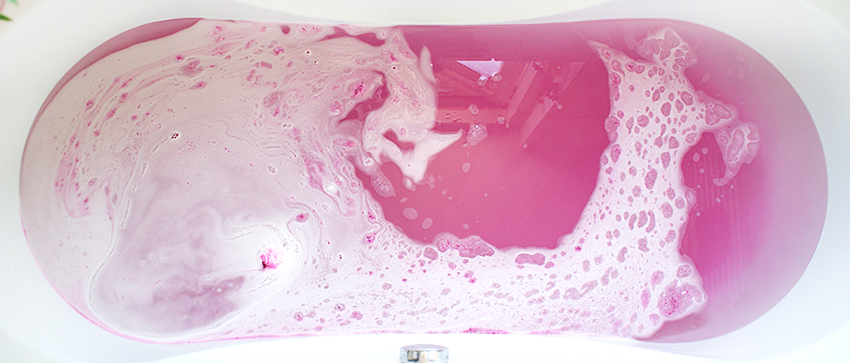 Mijn ervaring
The Comforter is een langzame bruiser die veel roze en witte slierten met schuim uitspuwt, totdat er een deken van zacht schuim zich verdeeld over de gehele oppervlakte, terwijl onder water alles in roze verandert. Tussen het witte schuim door komen af en toe wat donkerroze sliertjes vanuit de bath bomb. De bessengeur is erg sterk aanwezig, maar niet op een vervelende manier. Ik was bang dat de zwarte bessengeur echt te sterk zou zijn, waardoor ik kokhalzend de badkamer uit zou rennen.
Het water verandert in de mooiste kleur die er bestaat — felroze. Serieus, er is tot nu toe geen andere bath bomb geweest die water zó mooi roze kon kleuren. Dat moet ik hem meegeven — qua kleur is hij wel echt perfect. Normaal gesproken zou ik nu zeggen "maar jammer van de geur", maar zelfs die viel uiteindelijk best mee in de badkamer. Oke, het is niet mijn lievelingsgeur, dat zal het ook nooit worden. Maar de fruitige bessengeur liet zich wel van zijn beste kant zien, door de badkamer op te vrolijken met een iets subtielere, fruitige geur.
Behalve de prachtige roze kleur water, ligt er een zacht schuim op de oppervlakte wat zich uiteindelijk mengt met het water. Het witte kleurtje steekt goed af tegen het roze en zorgt niet alleen voor een mooi beeld, maar ook voor heel zacht water. In het water is hier en daar een enkele glitter te bespeuren — geen overdosis (ja, ik kijk naar jou Hi Ho Silver). Deze glitters, eveneens als de roze kleuren, bleven niet achter in m'n bad. Het bad was heel makkelijk schoon te spoelen weer.
Het was heerlijk badderen met deze bath bomb, eerlijk waar. Ik zal er nog geen The Comforter bubble bar en I Want A Pony bath oil bij flikkeren de volgende keer, voordat ik wél bezwijk aan een overdosis cassis. Maar zo als bath bomb alleen vind ik hem best wel okay. Misschien zou ik hem zelfs nog een keer kopen, vanwege de leuke prijs en het mooie kleurtje in bad. Voor dit geld heb je echt wel waar voor je geld.

Lush The Comforter Bath Bomb kost €5,50. Hij behoort tot de tijdelijke Harajuku collectie.
5 Responses to Review: Lush The Comforter Bath Bomb