Review: Lush Guardians of the Forest Shower Gel
Read this post in
Engels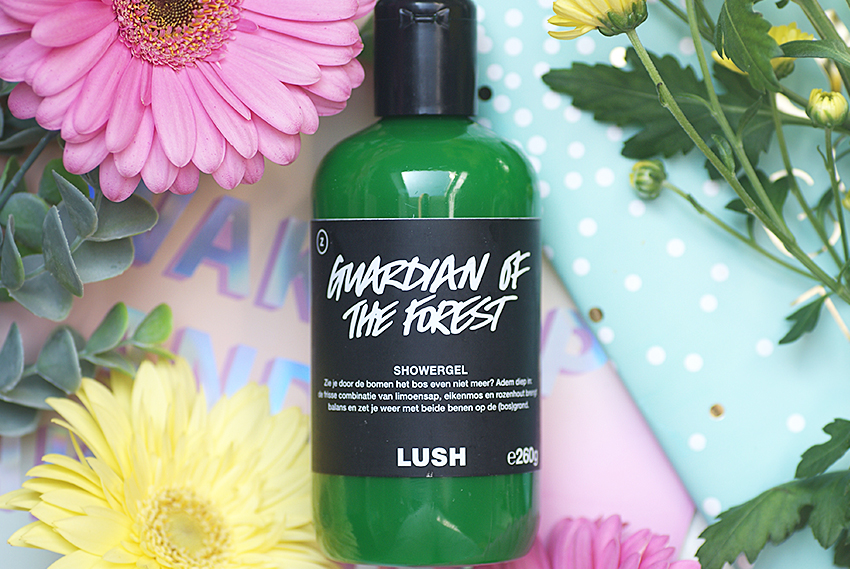 Zin in een boswandeling, maar geen bos in de buurt? Geen probleem, met Guardians of the Forest waan je je midden in een dennenbos. Deze gifgroene douchegel is wederom gebaseerd op een bestselling bath bomb, namelijk bosnimf Guardians of the Forest. Hoewel ik zelf nog maar één keer heb gebadderd met deze bath bomb, was ik –je raadt het nóóit– te nieuwsgierig naar deze douchegel. Wij zijn gezegend hier met een strand, geen bos — dus de geur van dennenbomen zijn maar al te welkom hier. Vandaag lees je alles over deze douchegel!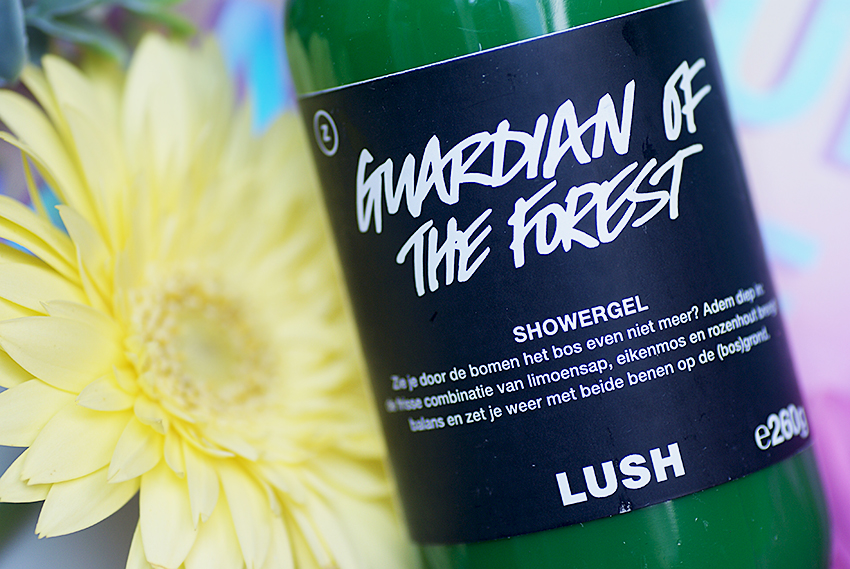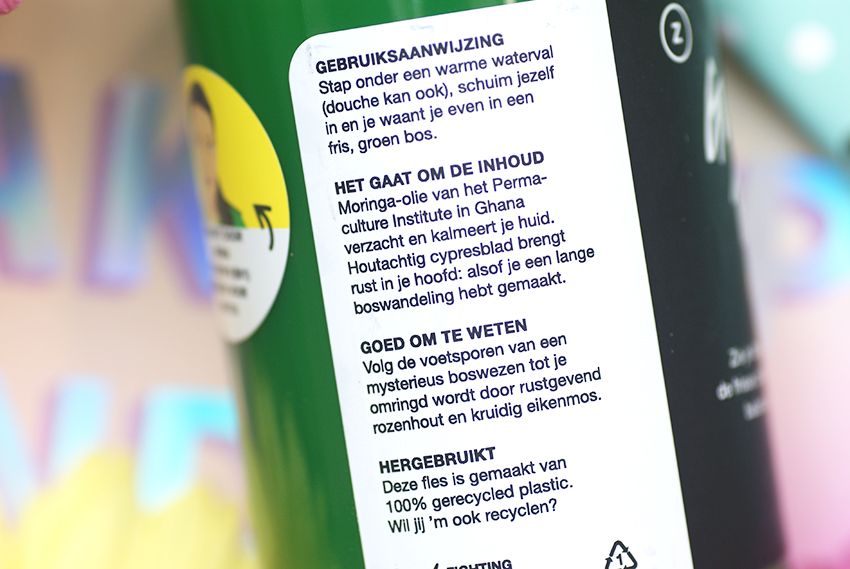 Wat is het?
Lush Guardians of the Forest Shower Gel kost €18,00 voor 260 gram en is onderdeel van de Community Favourites — tijdelijke online favorieten. Net als de andere limited douchegels, is ook deze gebaseerd op een populaire bath bomb. Guardians of the Forest Bath Bomb is een groene bath bomb, bekend om zijn aardse, groene geur en rustgevende effect op geest & lichaam. Veel fans zijn dan ook blij met de komst van de douchegel — zelf heb ik niet veel met aardse geuren, maar vanzelfsprekend was ik toch wel benieuwd naar de geur.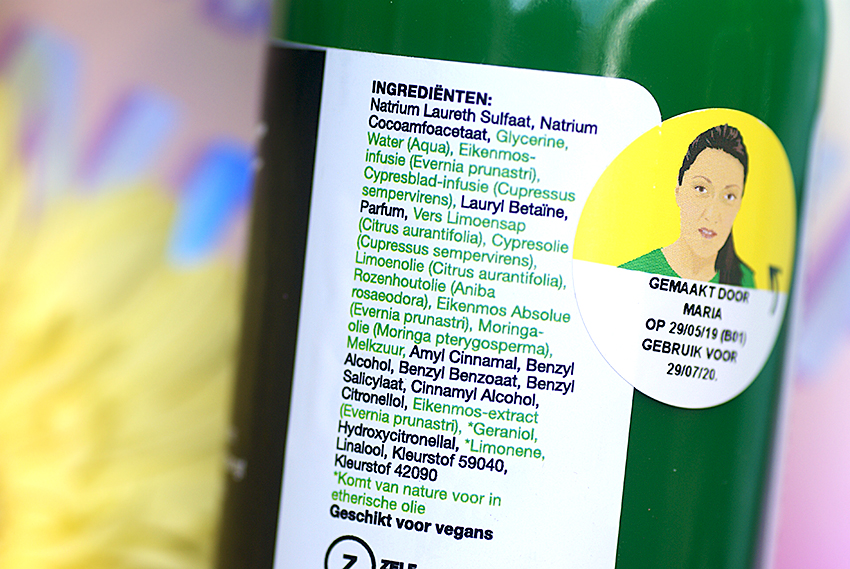 Wat zit erin?
Ingrediënten: Natrium Laureth Sulfaat, Natrium Cocoamfoacetaat, Glycerine, Water (Aqua), Eikenmosinfusie (Evernia Prunastri), Cypresbladinfusie (Cupressus sempervirens), Laurylbetaïne, Parfum, Vers Limoensap, Cypresolie (Cupressus sempervirens), Limoenolie (Citrus aurantifolia), Rozenhoutolie (Aniba rosaeodora), Eikenmos-absolue, Moringa-olie (Moringa pterygosperma), Melkzuur (Lactic acid), Cinnamal Alcohol, Benzyl Alcohol, Benzyl Benzoaat, Benzyl Salicylaat, Cinnamyl Alcohol, Citronellol, Eikenmos-extract (Evernia prunastri), *Geraniol, Hydroxycitronellal, *Limonene, *Linalool, Kleurstof 59040, Kleurstof 42090
Ik spot al een hoop fijne ingrediënten in de douchegel, beginnend met glycerine, onze hydratatie boost. Dan hebben we eikenmosinfusie (voor een bos- en mosachtig aroma) en cypresbladinfusie (kalmerend en ontgiftend). Vers limoensap werkt herstellend en heeft natuurlijk een verkwikkende geur. Cypresolie stimuleert de bloedcirculatie, en heeft een ontgiftende werking. Limoenolie voegt nog eens een portie verkwikkende geur toe, maar bevat ook enzymen die helpen dode huidcellen te verwijderen, waardoor de huid gaat stralen. Rozenhoutolie heeft een kruidig en houtachtig aroma, en werkt ook ontstekingsremmend. Eikenmos absolue én eikenmos-extract zijn beide essentieel wanneer je een bosgeur wilt, het heeft namelijk mosachtige, aardse geur. Moringa-olie is rijk aan antioxidanten; ook verzorgt het de huid intensief door het hoge gehalte aan beheenzuur. Kortom — veel ingrediënten die een steentje bijdragen aan de geur, maar ook ontstekingsremmende, verkwikkende, verzorgende en hydraterende eigenschappen hebben.
Als een douchegel je moet teleporteren naar het bos, dan moet de geur wel écht goed zijn. Bij Guardians of the Forest zit dit hélemaal snor. Groener dan dit, wordt de geur niet. Wanneer ik hem ruik, moet ik in eerste instantie denken aan pas gemaaid gras. M'n vriend zegt dat hij ruikt naar afwasmiddel, en hoewel ik het daar niet mee eens ben, ruik ik wel de typische limoengeur erin die afwasmiddel ook vaak heeft, dat frisse citrus geurtje. Maar de geur is verder veel te groen om echt naar afwasmiddel te ruiken, dus wees gerust. Nadat ik even goed geroken heb, ruik ik wat warms, aards en houtachtigs. Deze geurnoten zijn zeker aanwezig, maar worden wel naar de achtergrond gedrukt door de frisheid van de limoenen, maar ook de cypres. Cypres ruikt een beetje naar peterselie, en hoewel ik geen peterselie erin ruik, ruik ik zeker wel zo'n 'groene kruid'-geur. Ik vind het echt een lastige geur om te omschrijven. Ik zou zeggen; fris, citrus, groene kruiden, ietwat houtachtig.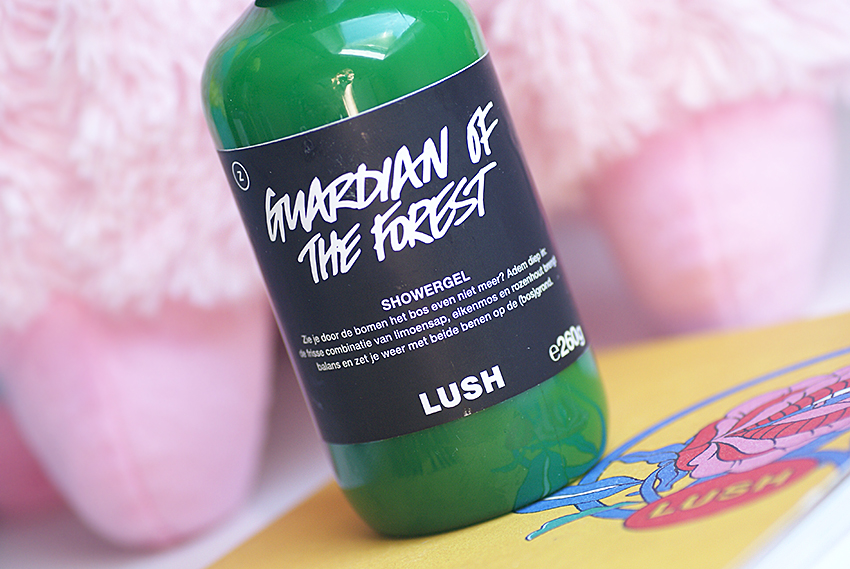 Mijn ervaring
Onder de douche merk ik al snel dat de douchegel iets dunner is dan de rest, maar alsnog heerlijk uitsmeert over de huid en daarbij ook zeer goed schuimt. Omdat ik mezelf écht midden in het bos wil wanen en niet op de parkeerplaats bij het bos, pak ik iets meer douchegel dan normaal. De geur is onwijs goed aanwezig, zelfs nog lang na het douchen is de geur te ruiken op de gehele bovenverdieping in huis. Ook m'n huid ruikt nog urenlang naar dennen. Ik denk dat dit, van alle Community Favourites douchegels, de meest sterke is qua geur. Onder de douche is dit dan ook echt een genot, want als ik m'n ogen dicht doe en de geur goed opsnuif, waan ik me echt eventjes in het bos. Missie geslaagd, Lush!
Na afloop is m'n huid zachter en minder droog. Maar stiekem is dat echt m'n minste zorg — de reden voor mij om deze douchegel erbij te pakken, is omdat hij je echt in een vingerknip transporteert naar het bos. Toen ik hem binnenkreeg en eraan rook, vond ik hem in eerste instantie niet heel lekker. Een te grassige geur. Maar onder de douche is hij heerlijk, en ik ben heel bij dat ik hem heb gekocht. Ik ken geen andere douchegel van Lush die de badkamer zó goed omtovert in een dennenbos. 💚

Lush Guardians of the Forest Shower Gel kost €18,00 en bevat 260 gram. Hij behoort tot de tijdelijke Community Favourites.
3 Responses to Review: Lush Guardians of the Forest Shower Gel