Review: Lush Ginger Ninja Bath Bomb
Read this post in
Engels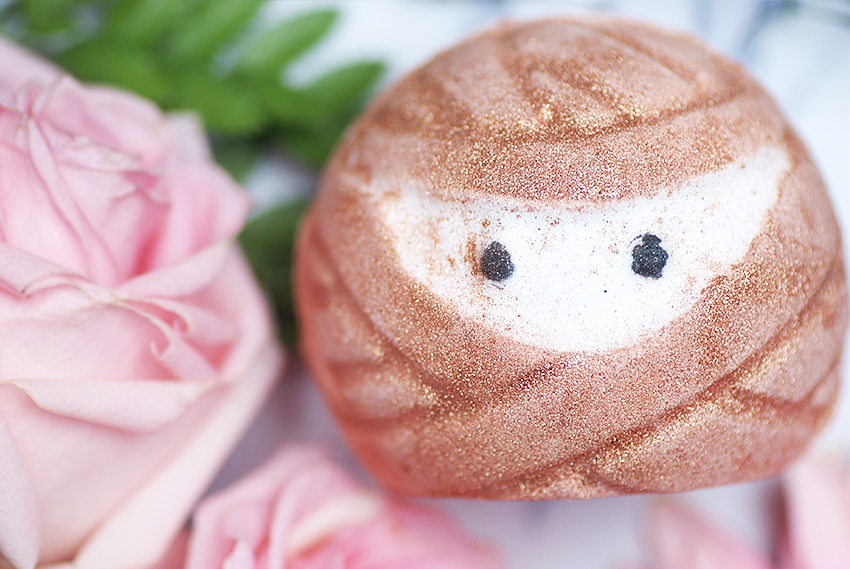 Ik heb eventjes getwijfeld of ik deze review wel moest schrijven. Ik wil op m'n blog altijd 100% eerlijk zijn tegen jullie, maar ik vind het ook vervelend om een review te schrijven die veel mensen mogelijk weerhoudt iets te kopen. Mijn ervaring met Ginger Ninja was een absolute ramp. Toch een kleine kanttekening: Lush heeft mijn klacht onwijs goed en lief opgelost, ze namen het heel serieus en gaan de zaak verder onderzoeken. Dit wilde ik echt even duidelijk maken, alvorens mijn rampzalige ervaring met Ginger Ninja te delen met jullie.
Ben je benieuwd naar de ellende, lees dan verder.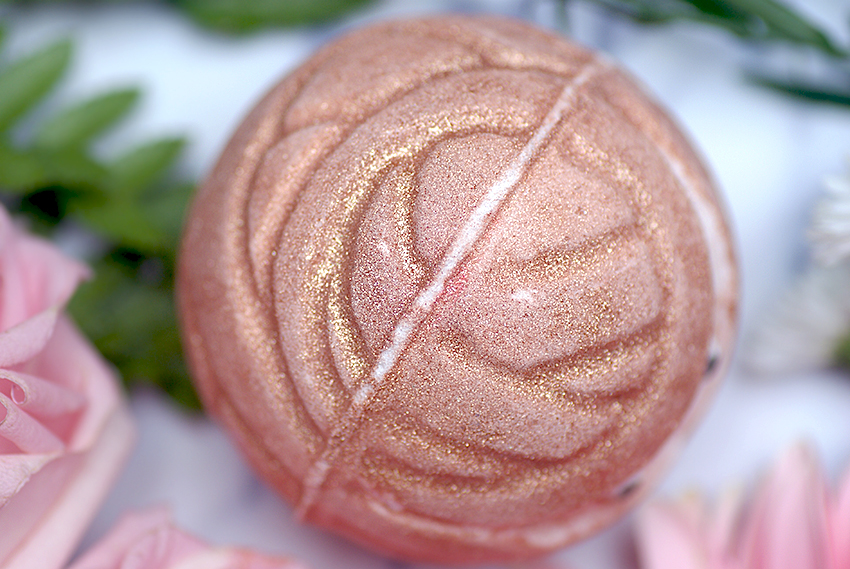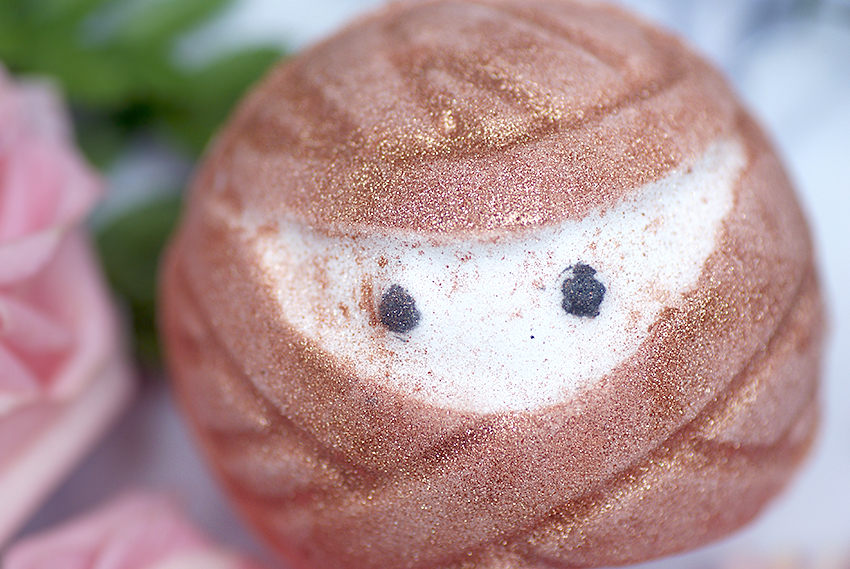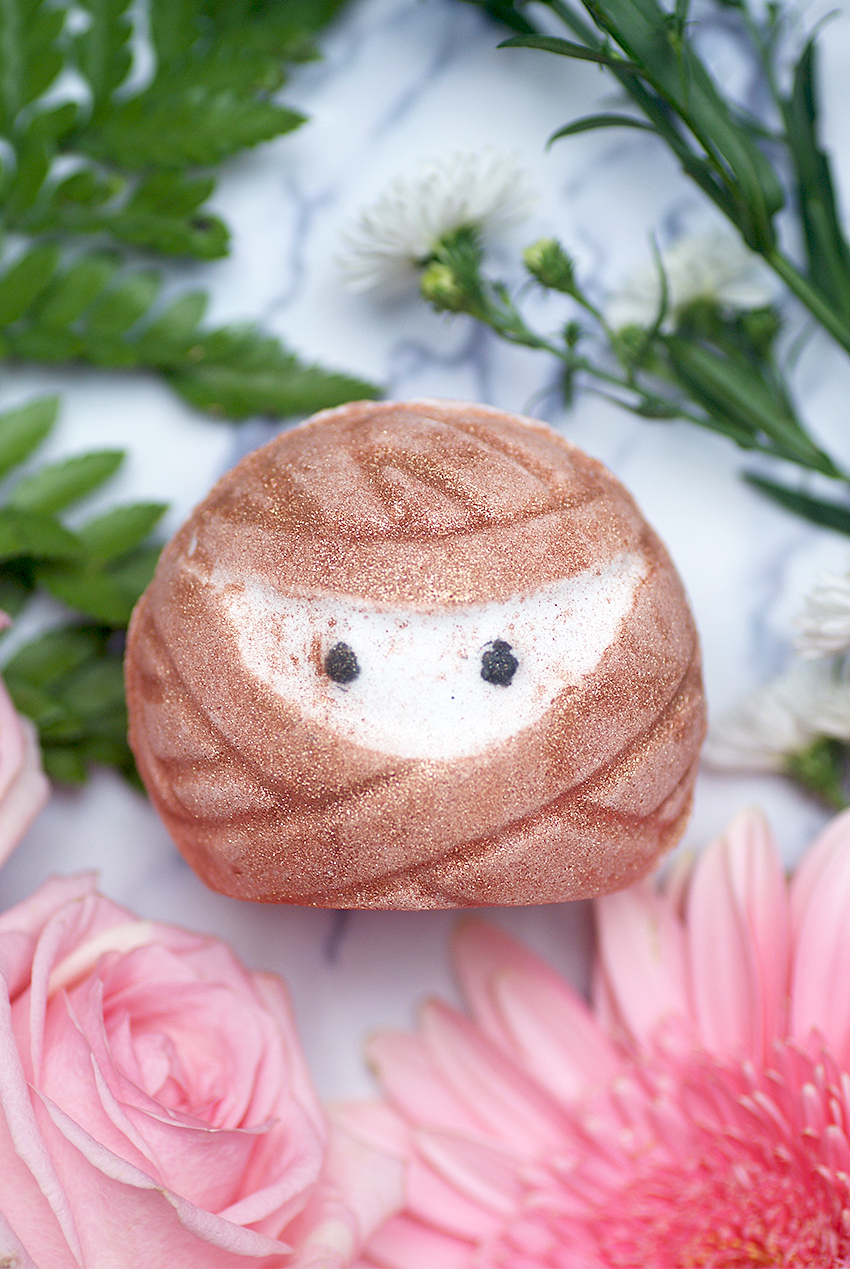 Wat is het?
Ingrediënten: Natrium Bicarbonaat (Sodium bicarbonate), Citroenzuur (Citric acid), DRF-alcohol, Gemberolie (Zingbiber officinale), Mimosa Absolue (Acacia decurrens), Siciliaanse Rode Mandarijnolie, Sandalwood Oil, Geraniumolie (Pelargonium graveolens), Bergamotolie (Citrus aurantium bergamia), Knettersnoep, Water (Aqua), Titanium Dioxide, Synthetische Fluorflogopiet, Tinoxide, Hydroxy propyl methyl cellulose, Natrium Carboxy Methyl Cellulose, Alpha-isomethyl-ionone, *Limonene, Parfum, Kleurstof 77491 (Cl 77491), Kleurstof 15850:1, Kleurstof 77499 (CI 77499)
Lush Ginger Ninja Bath Bomb kost €8,50 en is onderdeel van de tijdelijke Harajuku collectie, bestaande uit uiteenlopende 54 bath bombs. Ginger Ninja trok mij aan vanwege zijn koperen glans; deze witte bath bomb wordt met de hand geverfd, heel gaaf. De 'ginger' in de naam zorgde dat ik hem niet eerder kocht, ik was bang dat hij teveel naar gember zou ruiken. Gelukkig bleek dit reuze mee te vallen, dus sneakte Ninja onopgemerkt in m'n winkelmandje.
Ginger Ninja bevat gemberolie, mimosa extract, mandarijnolie, sandelhoutolie, geraniumolie, bergamotolie en ook nog knettersnoep — waar ik niets van merkte tijdens het badderen. Wel merkbaar was zijn heerlijke geur, een mix van bloemen met een kruidige tintje dankzij de gember. Het is heerlijke en warme geur. Hij zou het goed doen in de koudere maanden, maar is ook absoluut héérlijk als het buiten 20 graden is.
Speel het filmpje af in 2160p kwaliteit en op volledig scherm voor de beste ervaring! Het filmpje speelt zich versneld af.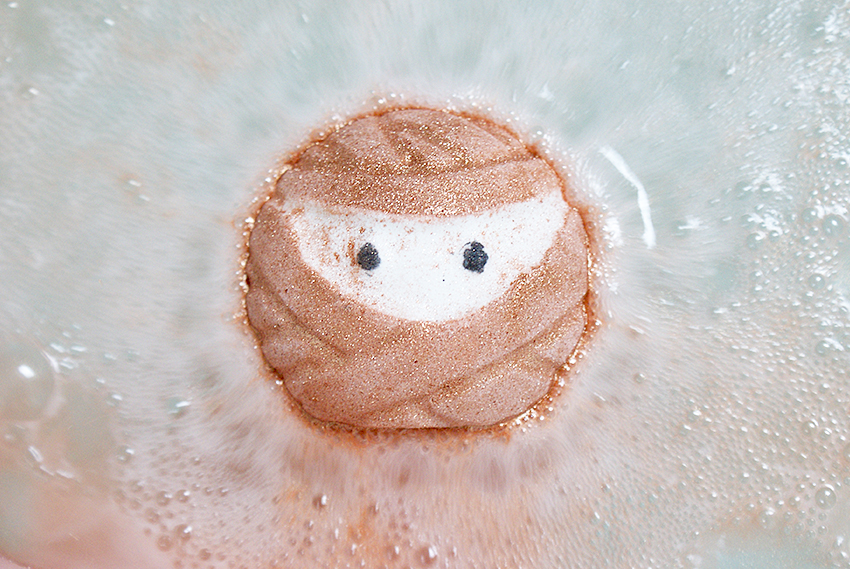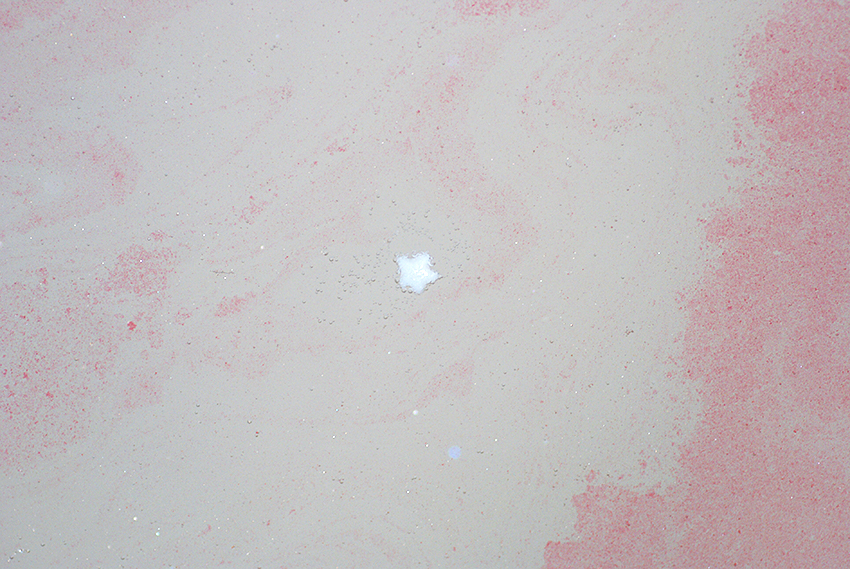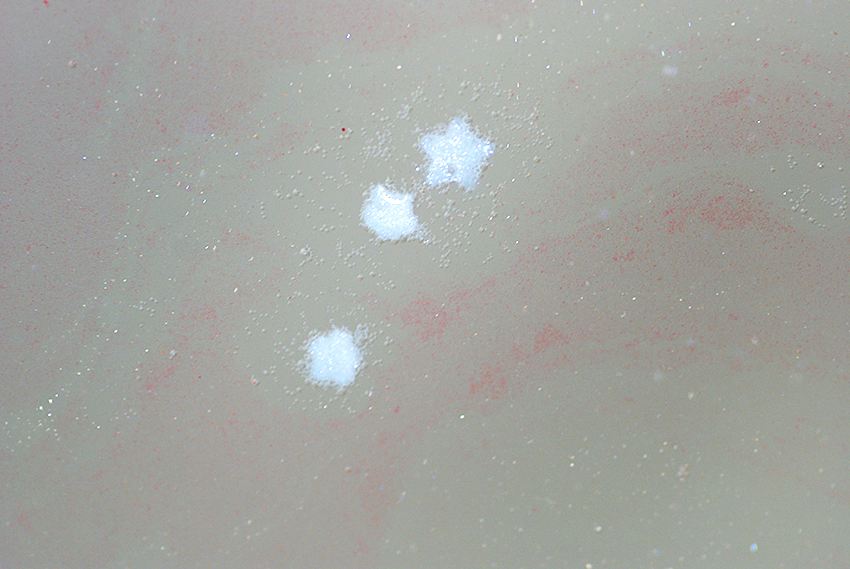 Mijn ervaring
Goed, tot nu ben ik erg positief geweest over Ginger Ninja. Maar dat alles veranderde toen ik hem in bad liet zakken. Zakken deed hij zeker — naar de bodem. Vanaf daar bruiste hij vrij fanatiek, waarbij een koperen en daarna roze gloed het water kleurde. Het water kleurt steeds meer roze, dankzij zijn roze kern, en de oliën vormen zich in olie-vlekken op het water. Nu weet ik van Geo Phyzz dat een zinker niet altijd slecht hoeft te zijn. Hoewel dat soort bath bombs niet mijn favoriet zijn, kunnen ze voor je huid veel goeds doen, zoals Geo Phyzz ook doet. Dat hij zakte vond ik erg jammer, maar dat er witte sterretjes aan de oppervlakte verschenen, vond ik wel een leuke toevoeging.
Maar Ginger Ninja is een absolute ramp. Ik vind het leuk dat Ginger Ninja heel sneaky, verstopt op de bodem, het water kleurt. Maar ik heb nog nooit een bath bomb meegemaakt die m'n bad zo verkleurde. De roze kleur gaf onwijs veel kleur af op m'n bad, voornamelijk bij de rand tot waar het water kwam. Nu deins ik niet snel terug voor vlekken, maar het ging er gewoon niet van af! Hoe meer ik met m'n vinger over de roze vlekken wreef, hoe meer ik het uitveegde — het ging gewoon niet weg, wat ik ook erop smeerde. Terwijl ik bezig was met m'n roze-gekleurde bad, had ik niet door dat ik zelf ook een roze streep op m'n lijf had, precies daar tot waar het water kwam. En dat waren m'n boobies. Er liep een felgekleurde roze streep over m'n boobies die er de eerste paar dagen niet af ging. Ook op m'n been, arm en buik zaten roze vlekken/strepen.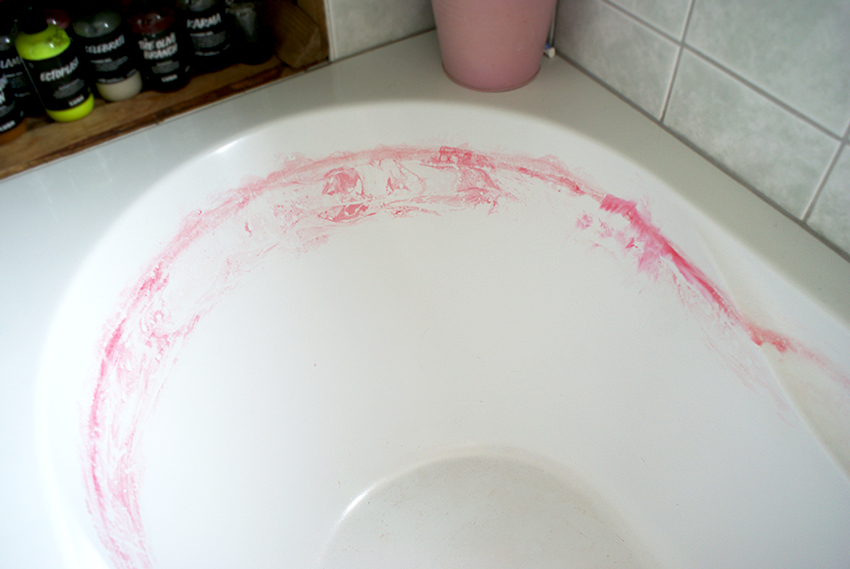 Omdat ik niet blij was hiermee, heb ik voor het eerst sinds 2013 een klacht ingediend bij Lush. Dit kon niet zo horen. Dit moest een fabrieksfout zijn. Lush pakte het, zoals ik al zei in de intro, onwijs goed en lief op en heeft een passende oplossing gezocht waar ik 100% tevreden mee ben. Ook gaven ze in hun uitgebreide antwoord terug, een aantal goede tips om de vlekken weg te krijgen. Ik heb uiteindelijk de vlekken uit het bad gekregen met wat schuurmiddel, maar dit is niet voor elk bad geschikt. De vlekken op m'n lijf sleten en waren na een paar dagen weg. Eind goed al goed, maar het was een enorme domper.
Ik heb foto's gezien van Ginger Ninja's die wel heel mooi waren in bad, met schuim op de oppervlakte en roze swirls. Ik denk dus dat die van mij een fabrieksfout is. Of ik hem zou aanraden, eerlijk gezegd niet, ik zou voor één van de andere bath bombs gaan. Mocht je echt je zinnen hebben gezet op Ginger Ninja, dan zou ik in een Lush winkel wellicht eerst om een demo vragen alvorens hem te kopen.. wellicht dat Ginger Ninja wel goedgehumeurd is 👀

Lush Ginger Ninja Bath Bomb kost €8,50. Hij behoort tot de tijdelijke Harajuku collectie.
7 Responses to Review: Lush Ginger Ninja Bath Bomb