Review: Lush Sunnyside Up Shower Jelly
Read this post in
Engels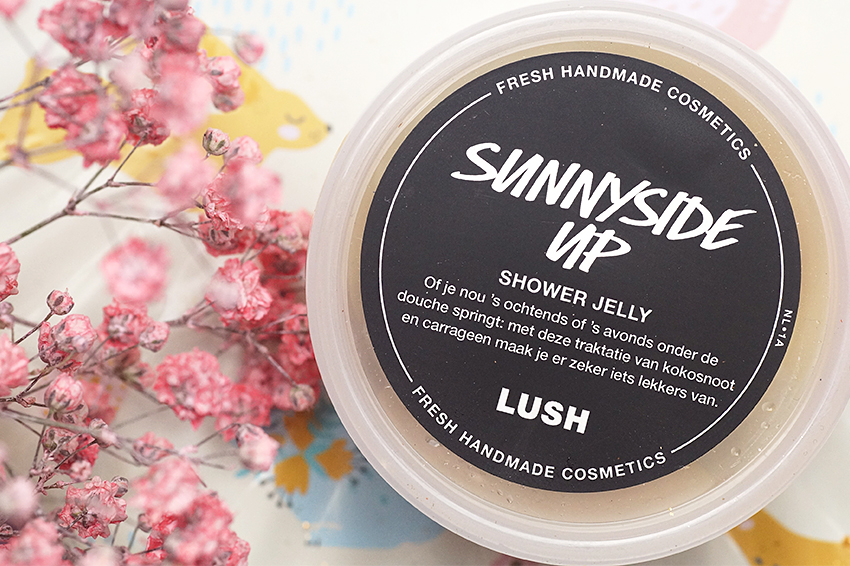 Hoe wil jij je eitje 's ochtends? Gebakken, gekookt, gepocheerd, misschien zelfs bevrucht, of vanuit een potje onder de douche? Mocht je nou veganist zijn, dan heb ik goed nieuws — dit eitje is 100% vegan. Als onderdeel van de Pasen collectie is dit wiebelige eitje een leuke variatie op de standaard shower jellies van Lush. Jullie waren het meest benieuwd naar dit product, dus tijd om hem te reviewen. Lees je mee?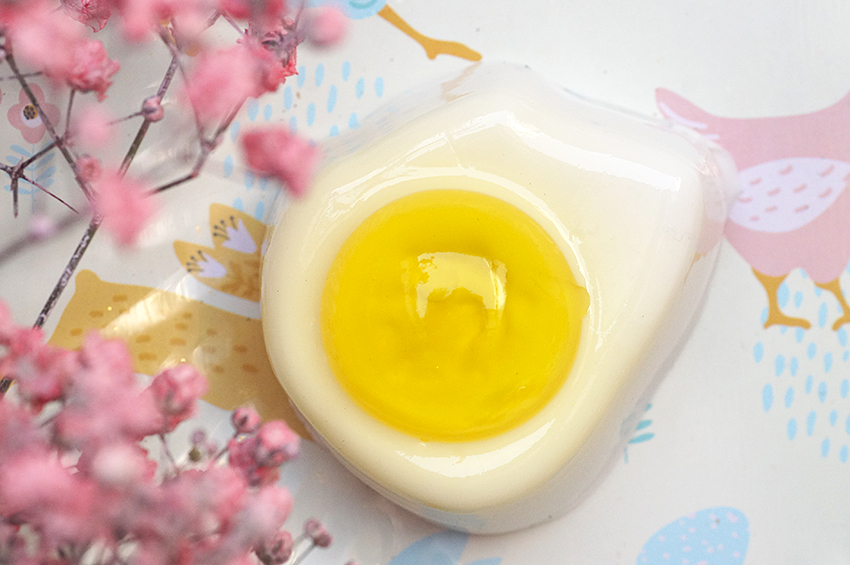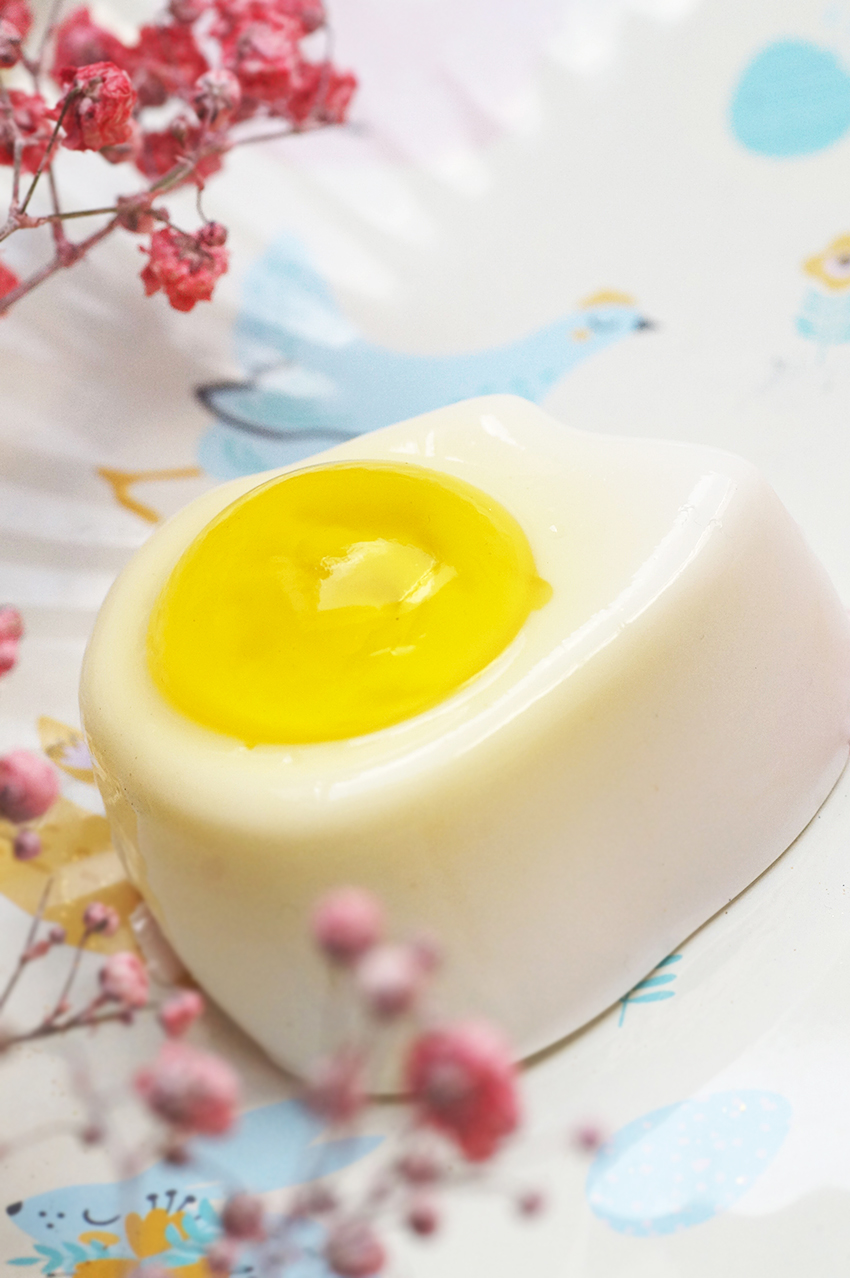 Wat is het?
Lush Sunnyside Up Shower Jelly kost €7,00 voor 60 gram en is onderdeel van de Pasen collectie. Hij is er in één formaat, en gezien de prijs is hij best klein. Vaak heb je voor dit geld een 100 gram, maar deze is best bescheiden met zijn 60 gram. Het is geen jelly zoals je ze kent — deze heeft de vorm van een gebakken ei, inclusief doorzichtige dooier bovenop. Ik vind het helemaal mooi. Hij past precies in een 100 gram potje, dus dan heb je meteen een idee van z'n omvang.
Je gebruikt hem in één geheel, of snijd er een stukje van af — er zijn diverse manieren waarop je een Lush jelly kunt gebruiken. Zelf snijd ik het liefst een stukje af en doe ik dit in een organza zakje, zo glibbert hij niet uit m'n handen én schuimt hij extra veel.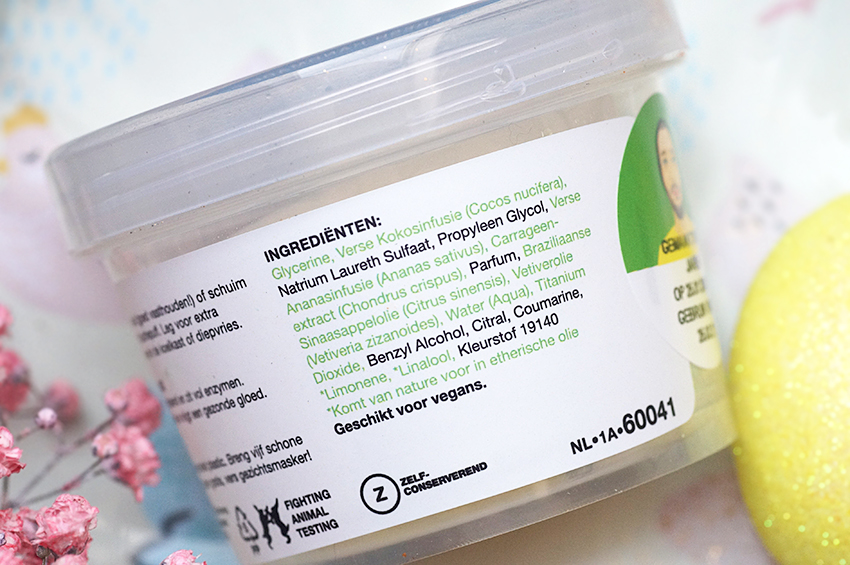 Wat zit erin?
Ingrediënten: Glycerine, Verse Kokosinfusie (Cocos nucifera), Natrium Laureth Sulfaat, Propyleen Glycol, Verse Ananasinfusie (Ananas sativus), Carrageenextract, Parfum, Braziliaanse Sinaasappelolie (Citrus sinensis), Vetiverolie, Water (Aqua), Titanium Dioxide, Benzyl Alcohol, Citral, Coumarine, *Limonene, *Linalool, Kleurstof 19140
Er gingen al geruchten rond dat Sunnyside Up z'n geur deelt met Big Calm shower jelly. Ik hoor ook Coco Loco shower oil, maar daarvan is de geur net even iets anders, doordat die korianderzaadolie en citroengrasolie bevat, en juist weer geen ananas, zoals Big Calm. Sunnyside Up is dus 100% de geur van Big Calm. Maar als je Big Calm niet kent (wat begrijpelijk is, aangezien hier nooit echt veel producten van zijn uitgekomen) lees dan even verder, want ik leg je precies uit hoe de geur ruikt.
De geur
Sunnyside Up bevat kokos- en ananasinfusie — beide versoepelen en voeden de huid. Sinaasappelolie en vetiverolie herstellen de huid, maar geven de geur wat meer dimensie. In eerste instantie ruik ik ananas, maar met de warme, typische geur van kokosnoot eronder. Deze combinatie zorgt voor een tropische en exotische geur — iets fruitig, maar door de toevoeging van kokosnoot waan je je direct op het strand op Paramaribo. Nou, scheelt je toch mooi een paar duizend euro en een vliegreis van bijna 10 uur. Ik blijf ook steeds denken aan Bongo jelly, dit is kokosnoot met mango, en lijkt wel een beetje qua geurnoten op Sunnyside Up. Sunnyside Up is een warme en tropische geur, maar met een fruitig tintje van ananas erin. Ik heb een hekel aan kokosnoot, maar gelukkig kan ik dit eitje wel handelen — de kokosnoot is niet overheersend.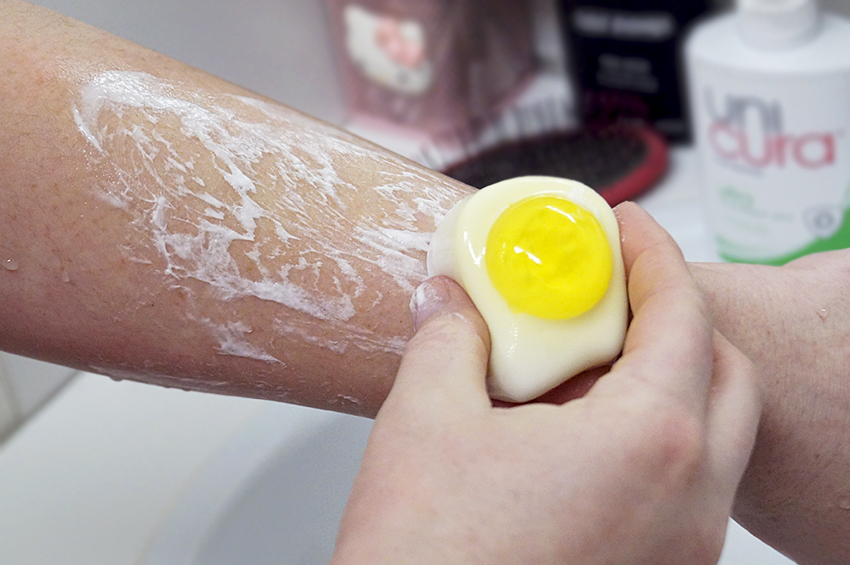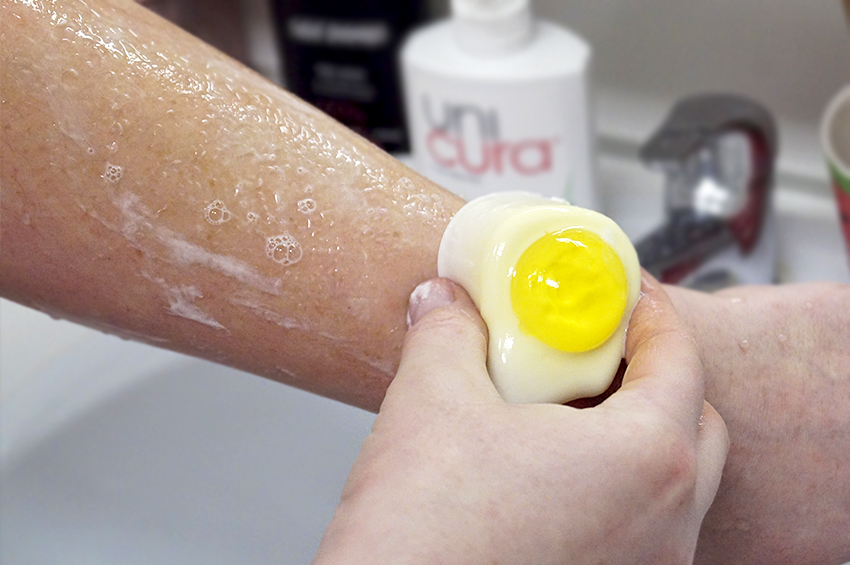 Mijn ervaring
Onder de douche valt het me op hoe makkelijk de jelly is vast te houden, in tegenstelling tot sommige jellies. Misschien door de vorm, of door de stevigheid, of een combinatie van beide — maar ik heb hem nog geen één keer laten vallen! Verder is hij in gebruik prima, niets aan op te merken. Hij laat op de natte huid een wit laagje achter, en in aanraking met water transformeert dit in een rijkelijk schuim. De tropische geur komt vrij en is heerlijk, ongeacht hoe warm of koud het buiten is. Na het afspoelen voel ik meteen al verschil tussen de huid waarop ik Sunnyside Up heb gebruikt, en de huid waar ik niets op heb gebruikt.
Na het afdrogen schrik ik gewoon bijna van het verschil. M'n huid glanst sowieso al meer na het gebruik van jellies, maar zo gezond en glanzend als m'n huid er nu uitziet heb ik het nog niet meegemaakt. Lijkt wel een spiegelei! (Snap je.. spiegel 😅) Maar jokes aside, m'n huid glanst echt heel mooi dankzij de toevoeging van o.a. carrageen in de jelly. Ik zie hier en daar een glittertje, love it. M'n huid voelt zacht, alsof ik fluweel streel. Ook oogt m'n huid iets minder droog en zie ik iets minder velletjes dan op de 'onbehandelde' huid. Het is geen hydratatie boost, maar toch, minder velletjes is al heel wat. Ik kan de geur alleen niet echt terug ruiken op m'n huid, maar dat geeft niet. Zo kan ik juist gerust een compleet ander parfum op doen, zonder dat de geuren gaan botsen.
Ik ben positief verrast door deze jelly. Ik gebruik eigeel-lijk (lach even want hier heb ik zeker 5 minuten over nagedacht) amper jellies, maar deze krijgt een vast plekje in de douche. De tropische geur is heerlijk en m'n huid oogt en voelt een stuk beter na afloop. Aanrader? Ja, zeker weten! 🍳

Lush Sunnyside Up Shower Jelly kost €7,00 en bevat 60 gram. Hij behoort tot de Paascollectie.
5 Responses to Review: Lush Sunnyside Up Shower Jelly