Review: Lush The World's Smallest Disco Bath Bomb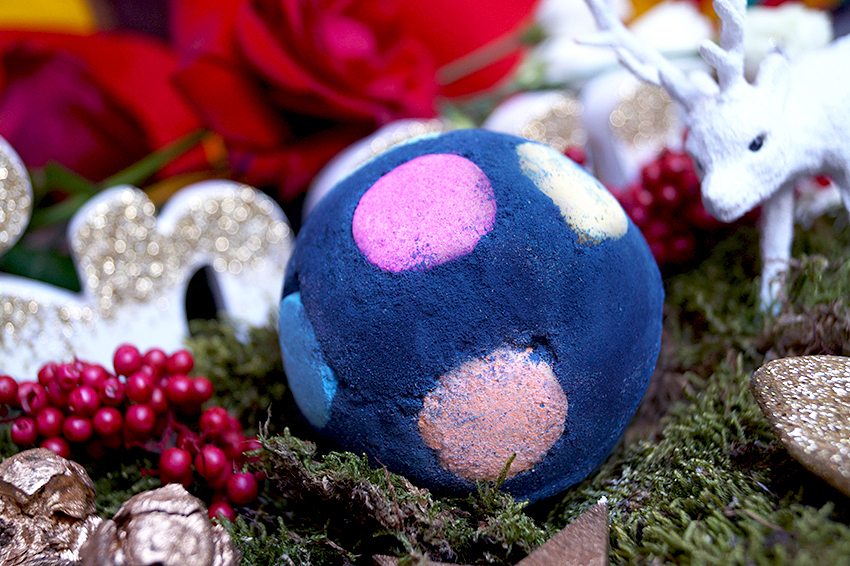 Ik spreek wel eens over een 'feestje in bad', maar met The World's Smallest Disco wordt dat wel heel werkelijk. Deze discobal pleur je in bad, en de felgekleurde lichten komen tot leven in het water. Het was echt al een paar eeuw geleden dat ik deze bath bomb gebruikte, dus tijd om hem nog eens te reviewen. Ben je benieuwd, lees dan verder!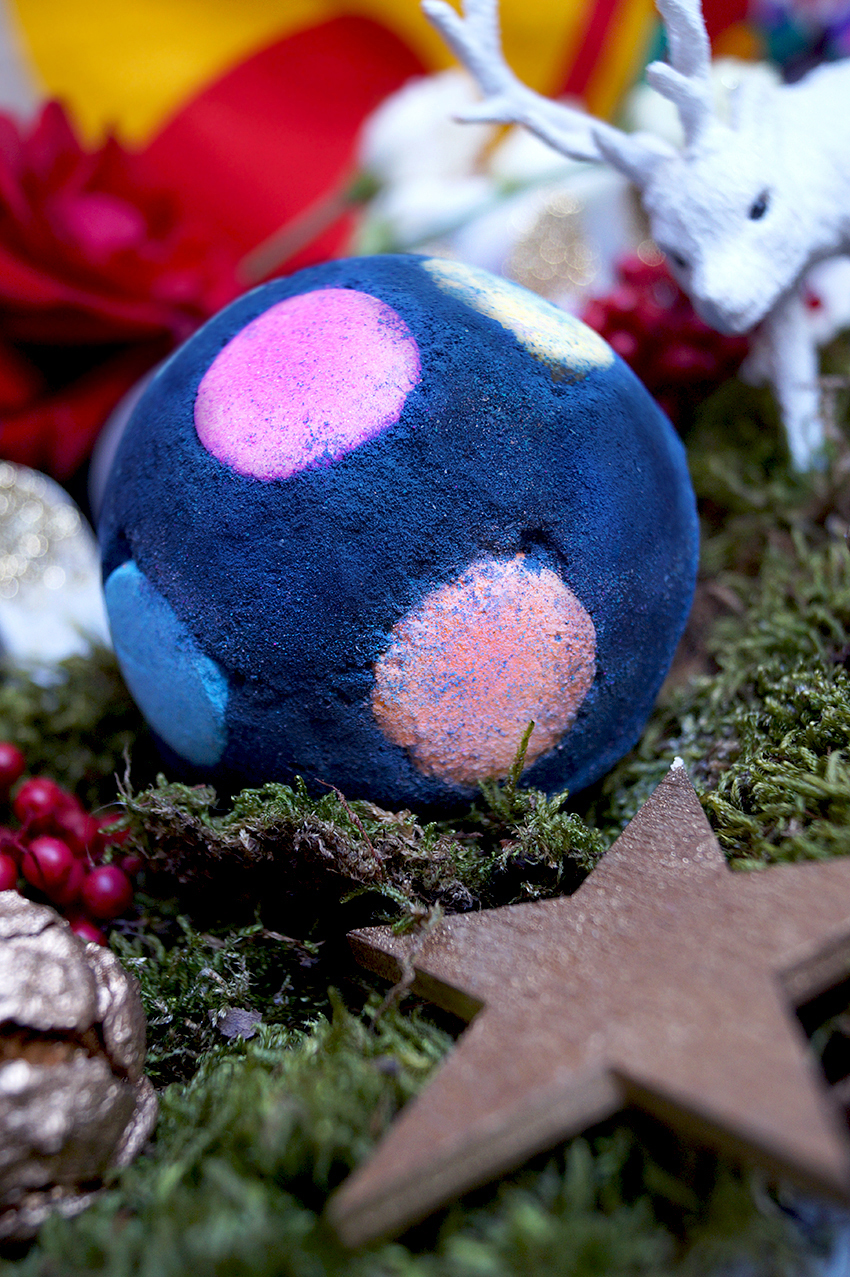 Wat is het?
Ingrediënten: Natrium Bicarbonaat (Sodium bicarbonate), Citroenzuur (Citric acid), Knettersnoep, Limoenolie (Citrus aurantifolia), Grapefruitolie (Citrus paradisi), Cognacolie, Wijnsteenzuur (Potassium bitartrate), Water (Aqua), Titanium Dioxide, Houtskool, Natrium Coco Sulfaat, Cocamidopropyl-betaïne, Propyleen Glycol, Dipropyleen Glycol, Synthetische Fluorflogopiet, Tinoxide, *Citral, *Limonene, Parfum, Kleurstof 77491 (Cl 77491), Kleurstof 47005:1, Kleurstof 45430:1, Kleurstof 19140, Kleurstof 15510 (CI 15510), Kleurstof 42090, Kleurstof 42090:2, Kleurstof 45380:3 (CI 45380:3), Kleurstof 45410 (CI 45410), Kleurstof 17200
Lush The World's Smallest Disco Bath Bomb kost €6,95 en is onderdeel van de Kerstcollectie. Deze discobal draait (ha-ha) al sinds 2018 mee in de Kerstcollectie. Hij is een beetje het tegenovergestelde van Luxury Lush Pud, die roze met wit is, maar dezelfde kleuren heeft. Deze zwarte bath bomb heeft allerlei gekleurde rondjes als decoratie — roze, geel, blauw, groen en oranje. Hij bevat limoenolie, grapefruitolie, cognacolie, en ook nog knettersnoep en houtskool.
De geur is erg fris en fruitig. Je ruikt duidelijk de limoen en grapefruit erin, hoewel de cognacolie (of ylang ylang?) hem iets warmer maakt. Het frisse en citrus-achtig overheerst nog steeds, maar het is niet een "limoen in your face" geur. Als je heel goed ruikt, ruik je ergens in de verte een warme, bijna houtachtige noot.
Speel het filmpje af in 2160p kwaliteit en op volledig scherm voor de beste ervaring! Het filmpje speelt zich versneld af.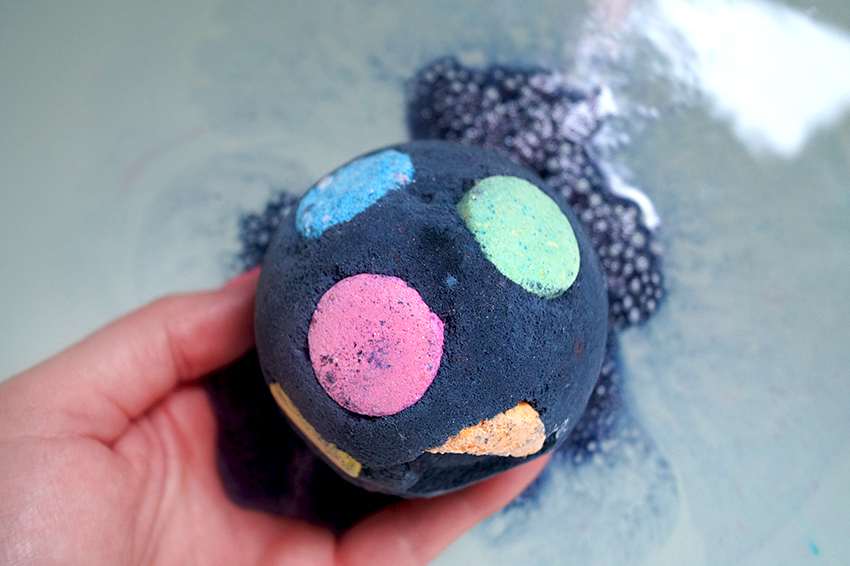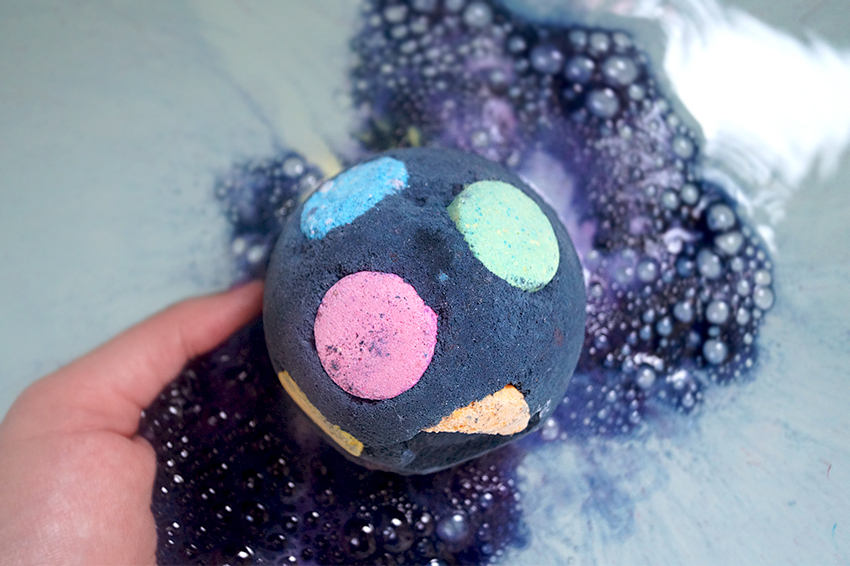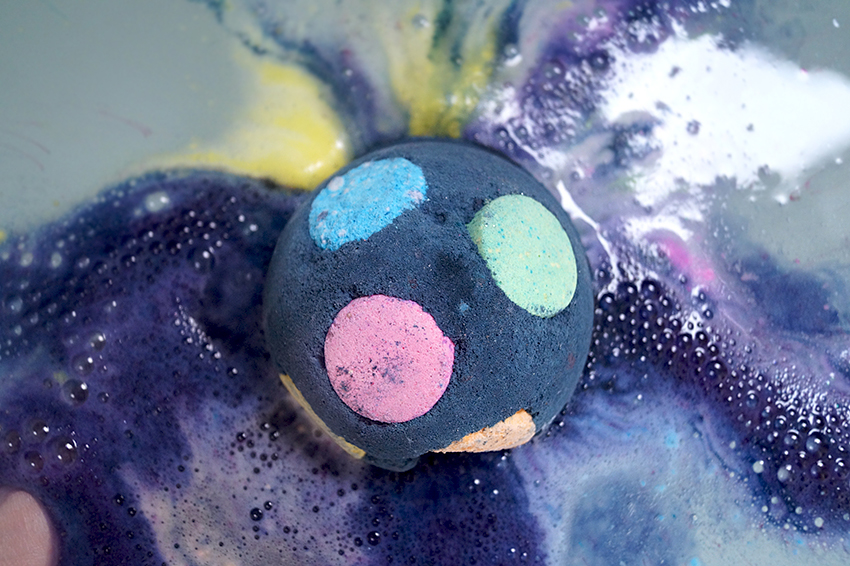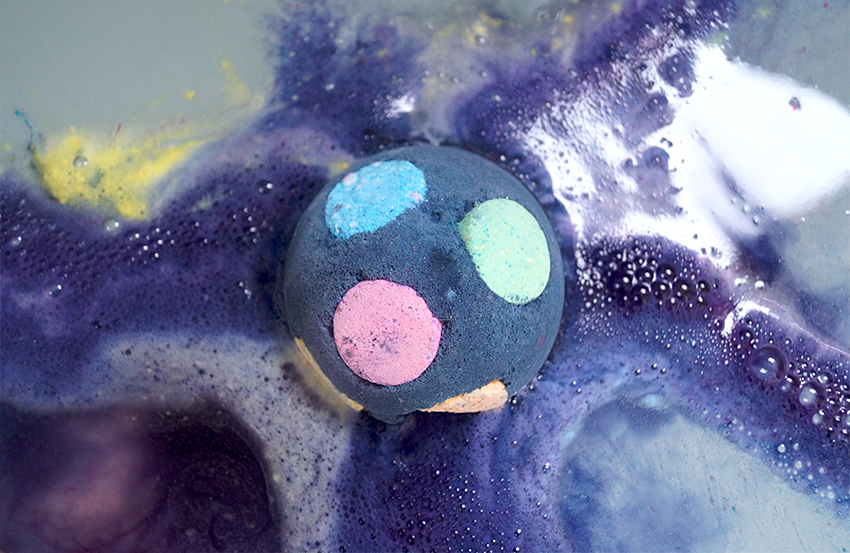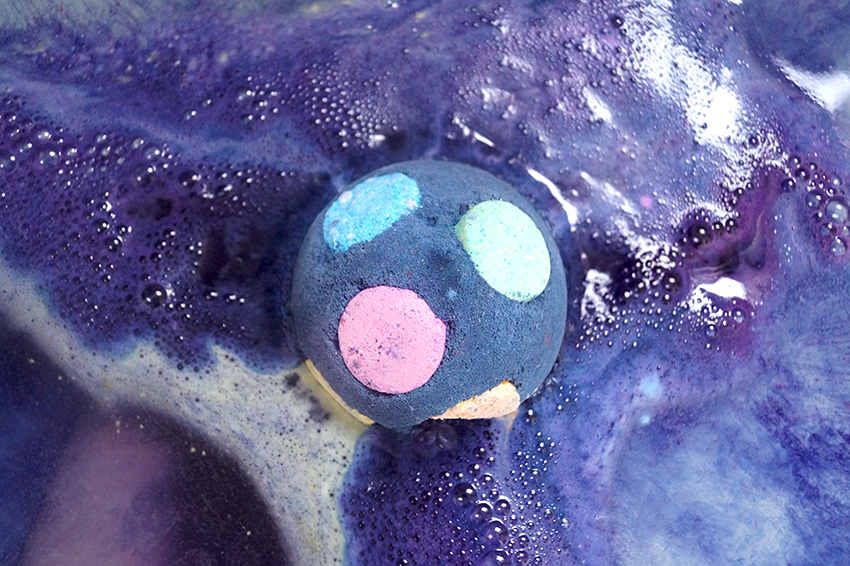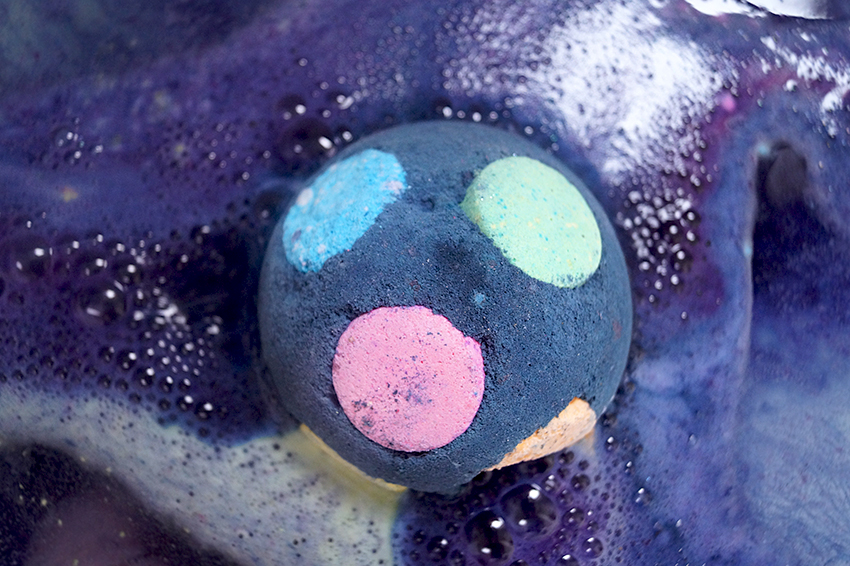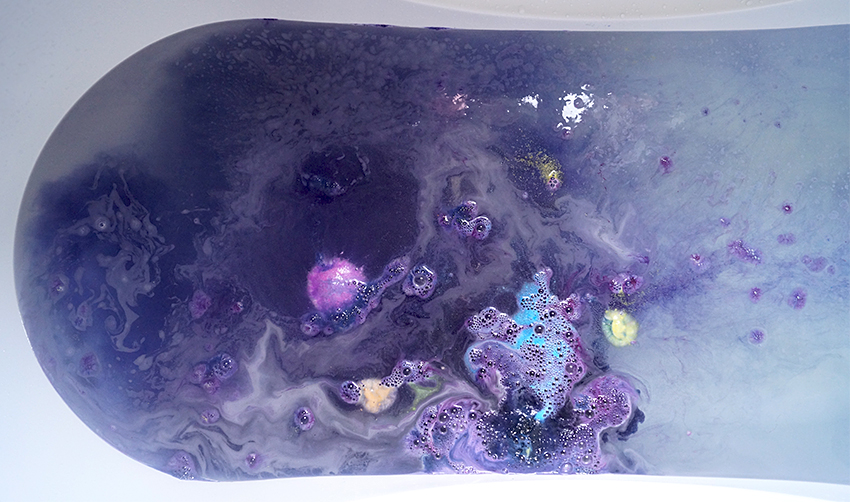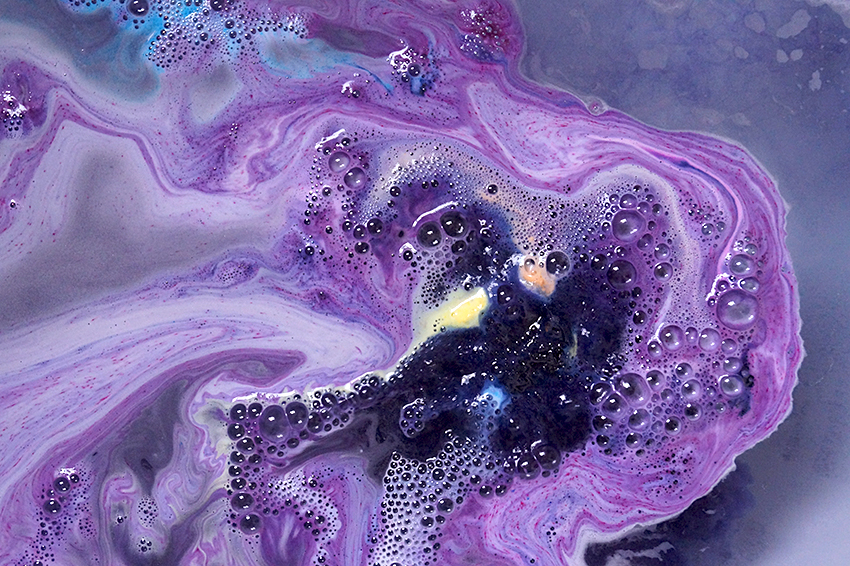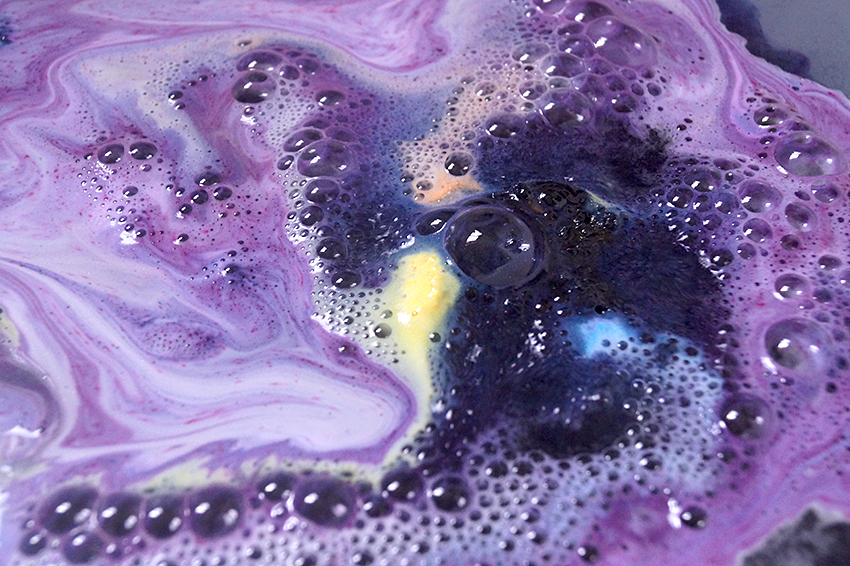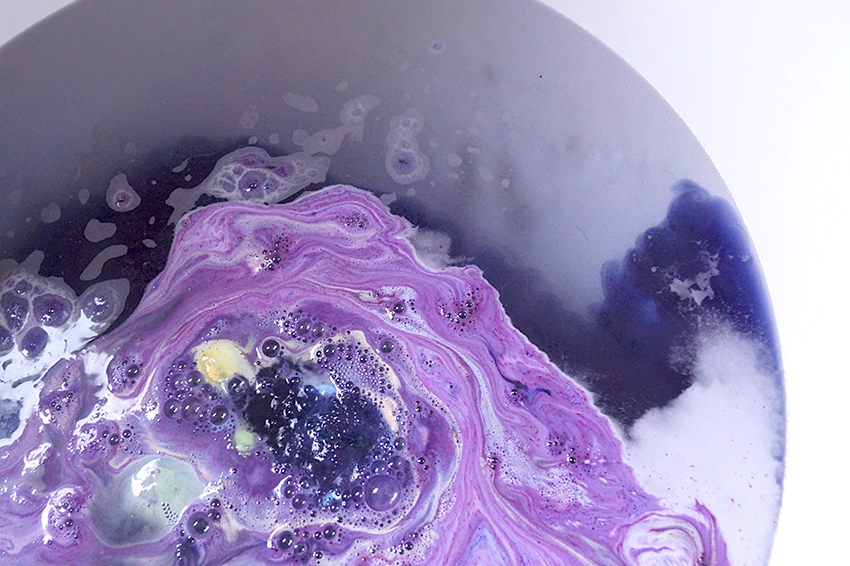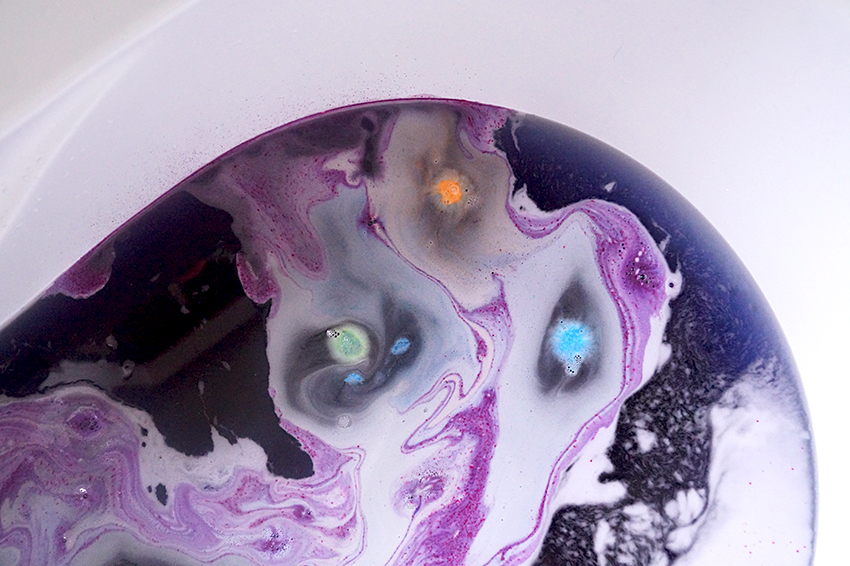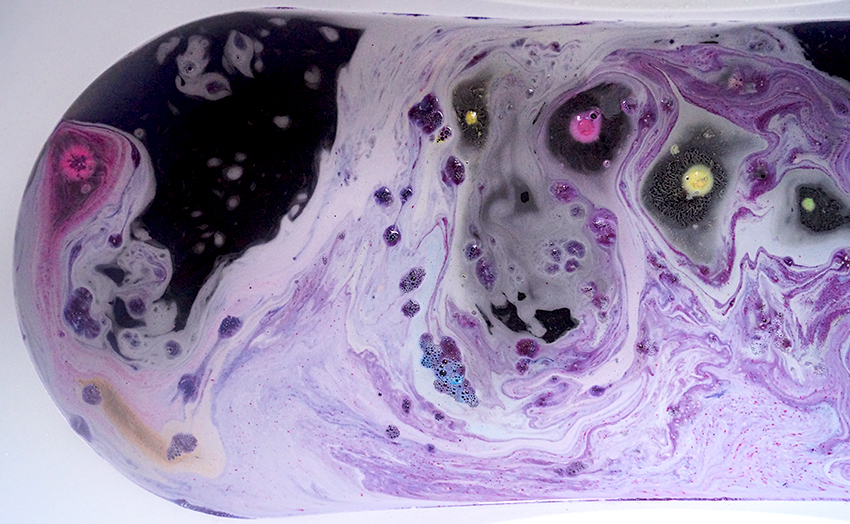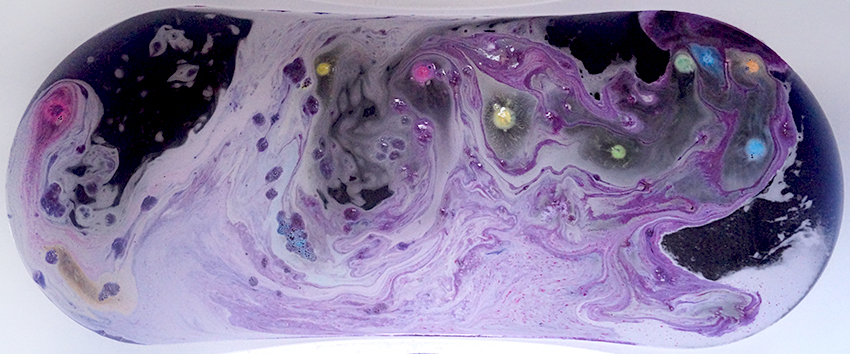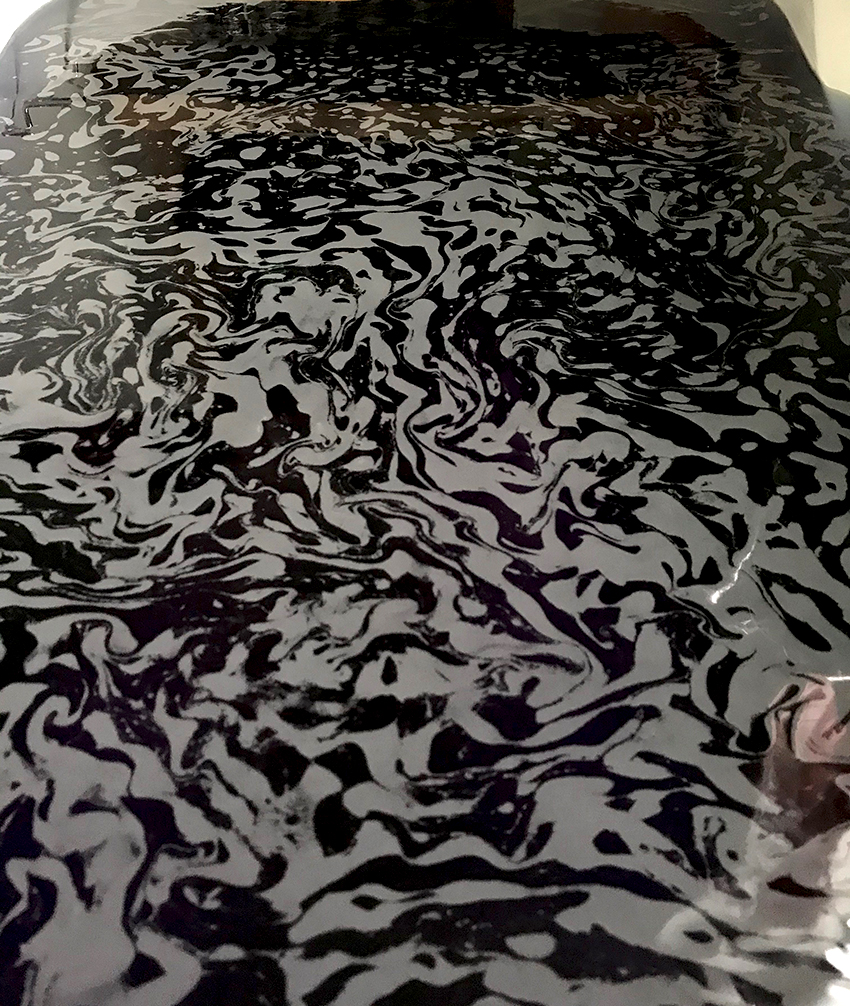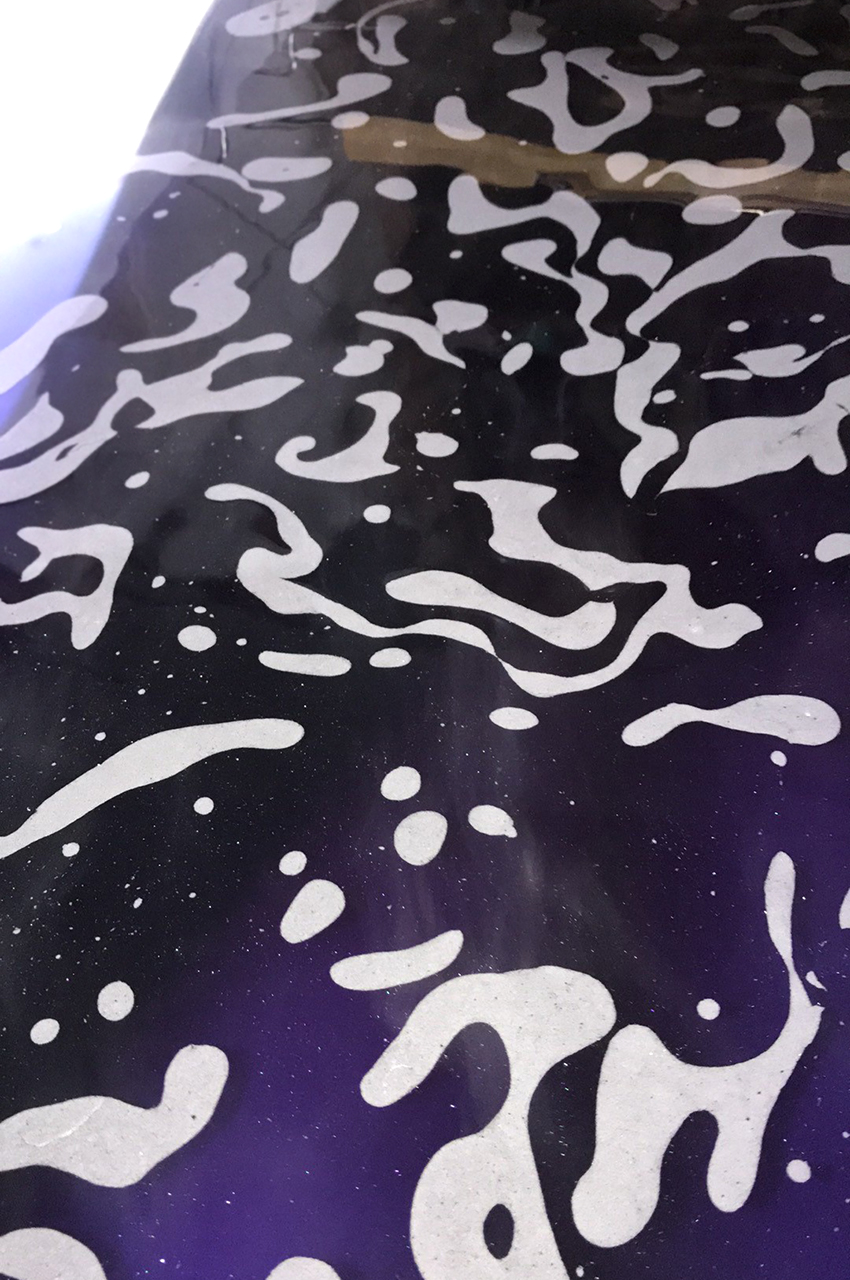 Mijn ervaring
Holy shit! Wat een kleurexplosie! Dit had ik oprecht niet verwacht. Er komt een berg héél donkerpaars uit de bath bomb, maar ook allerlei levendige kleurtjes. Die schieten elk een eigen richting uit, terwijl dikke, donkerpaarse wolken zich onder de oppervlakte verspreiden en het water heel donkerpaars kleurt. De gekleurde schijfjes laten nu los en dobberen afzonderlijk van elkaar door het water. Bath art is echt een dikke 10, hoor. Een deken van felle kleuren bedekt een intens donker water, terwijl onder de oppervlakte allerlei kleine glittertjes tot leven komen. Ze zweven door het water, terwijl er op de oppervlakte een dun laagje schuim verschijnt. Uiteindelijk houd je donkerpaars, neigend naar inktblauw, water over met een klein glittertje erin. Ge-wel-dig.
De geur was continu goed te ruiken. Ik rook een warme bessengeur, het deed me denken aan The Comforter! Het was heerlijk om in zulk donker water te badderen, zeker een leuke, aangename verrassing. Na afloop voelde m'n huid lekker zacht aan, ook ruik ik heel lichtjes de geur op m'n huid. Het bad was verrassend makkelijk schoon te spoelen — ik was bang dat dat een hele klus zou worden, met al die kleurstoffen erin. Alleen op de bodem zag je wat zwarte vegen, maar die had ik met een vochtige doek zo weg.
Is dit een bath bomb die ik vaker ga kopen? Yes, absoluut! Hij heeft me echt positief verrast. Ben je op zoek naar een prachtig bath art, een waar kleurspektakel in bad, probeer dan The World's Smallest Disco eens! Goedkoper dan een avondje uit 😉

Lush The World's Smallest Disco Bath Bomb kost €6,95. Hij behoort tot de Kerstcollectie.
4 Responses to Review: Lush The World's Smallest Disco Bath Bomb