Review: Lush Honey I Washed The Kids Bath Bomb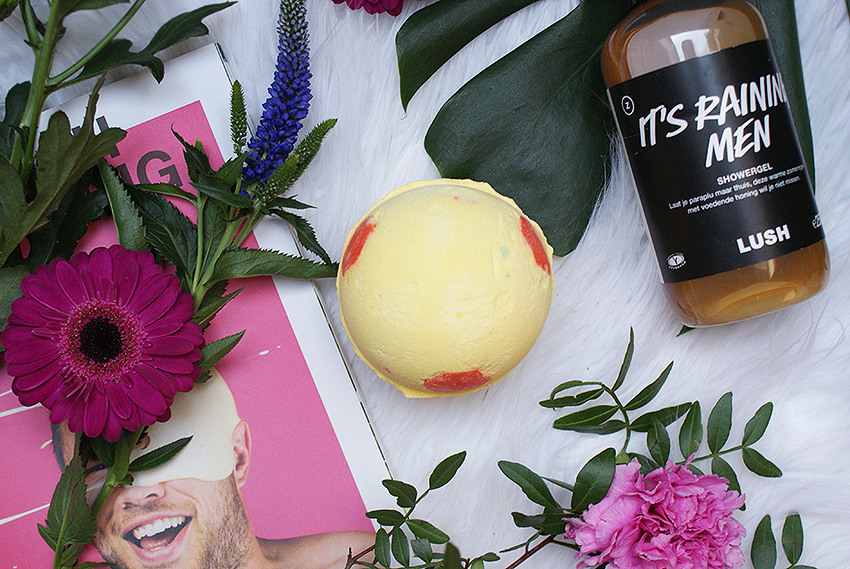 Eén van de bekendste geurlijnen van Lush is toch wel Honey I Washed The Kids. Producten van deze geurlijn bevatten de overheerlijke geur van honing, vanille en karamel. Ik heb vrijwel alle producten (gehad) van deze geurlijn, en elke keer geniet ik weer zo van de warme geur. Ik was dan ook nieuwsgierig naar de bath bomb met deze geur! Dus hop, van het winkelmandje rechtstreeks in bad. Lees je verder?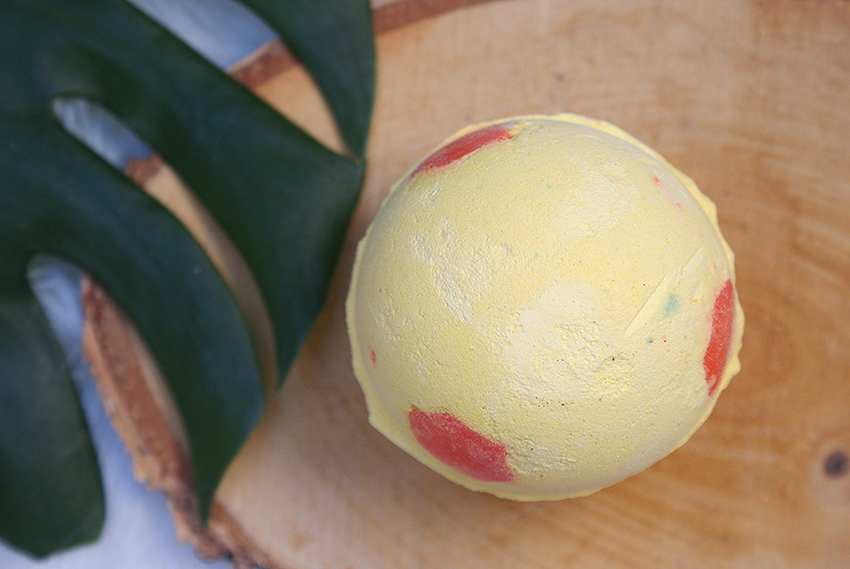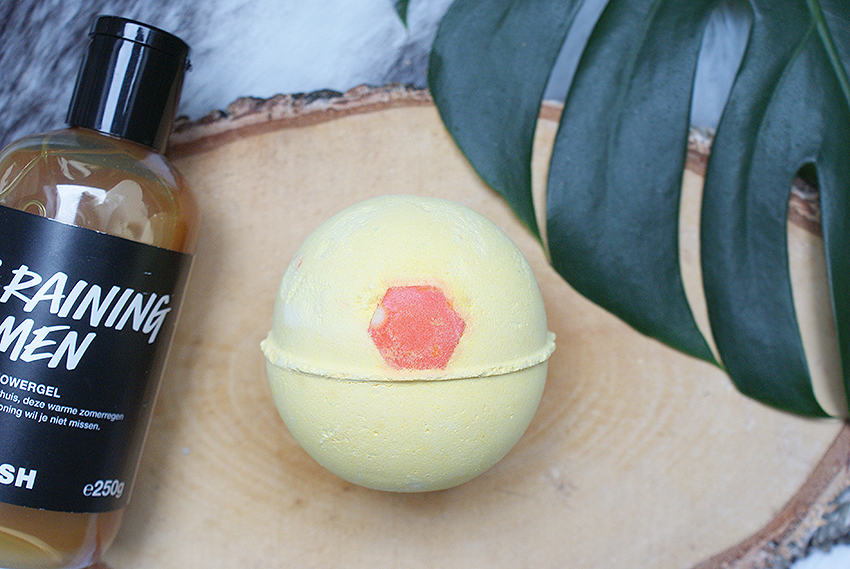 Wat is het?
Ingrediënten: Natrium Bicarbonaat (Sodium bicarbonate), Citroenzuur (Citric acid), Fair Trade en Biologische Cacaoboter, Braziliaanse Sinaasappelolie (Citrus sinensis), Bergamotolie (Citrus aurantium bergamia), Gardenia-extract, Extra Virgin Olijfolie (Olea europaea), Biologische Castorolie (Ricinus communis), Aloë Vera-extract (Aloe barbadensis), Dipropyleen Glycol, Laureth 4, Butylphenyl Methylpropional, Citronellol, *Limonene, Parfum, Kleurstof 47005, Kleurstof 15510 (CI 15510), Kleurstof 45410 (CI 45410), Kleurstof 19140
Lush Honey I Washed The Kids Bath Bomb kost €5,50. Uiteráárd is hij op het moment dat ik dit schrijf, opeens verdwenen uit de webshop. Leuk. 😒 Als ik meer weet over de beschikbaarheid van deze bath bomb dan laat ik het weten in dit artikel.
In de intro verklapte ik de geur al — honing, vanille, karamel, toffee. Dat is precies hoe hij ruikt, zoet en warm. De bath bomb is niet per se aantrekkelijk om te zien, fel geel met oranje stukken erin. Toch is dit echt een bath bomb die je puur voor de geur koopt, niet voor z'n uiterlijk. Hij bevat sinaasappelolie, bergamotolie, gardenia-extract, olijfolie, castorolie en aloë vera — en de gekleurde stukjes zijn cacaoboter!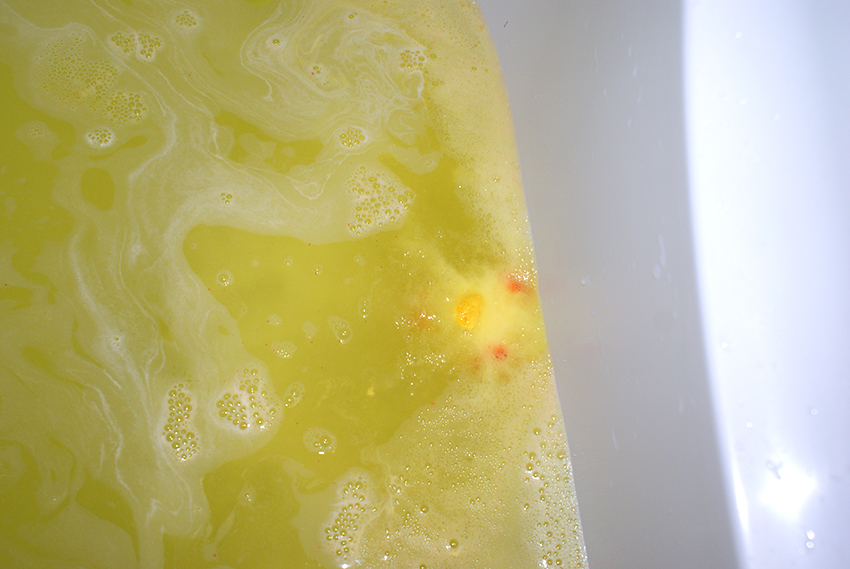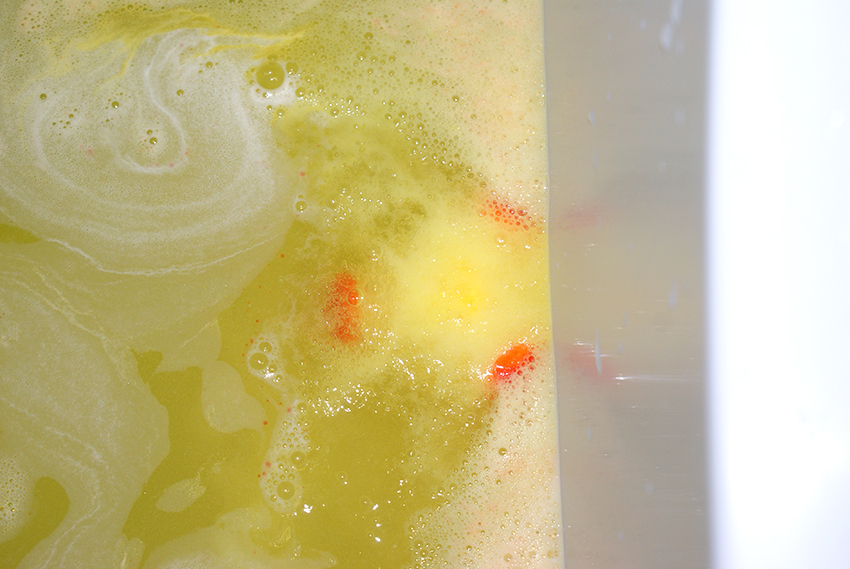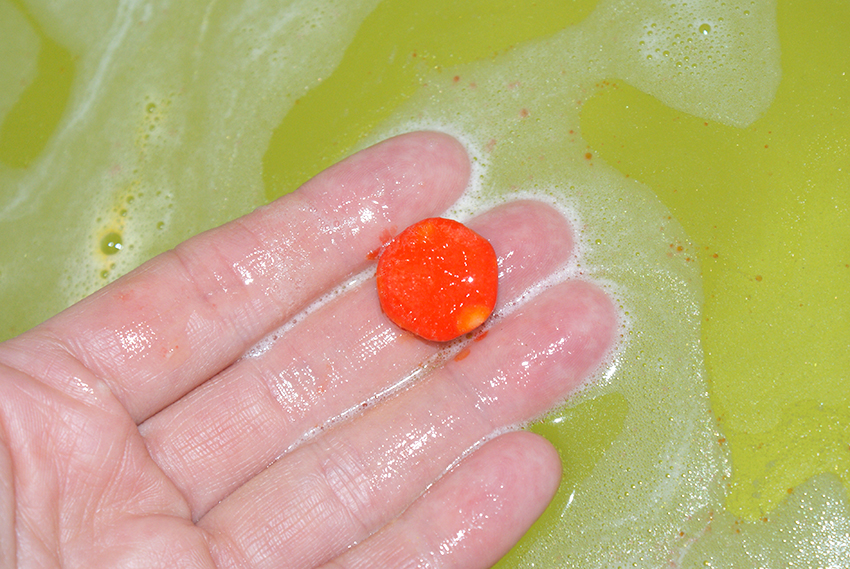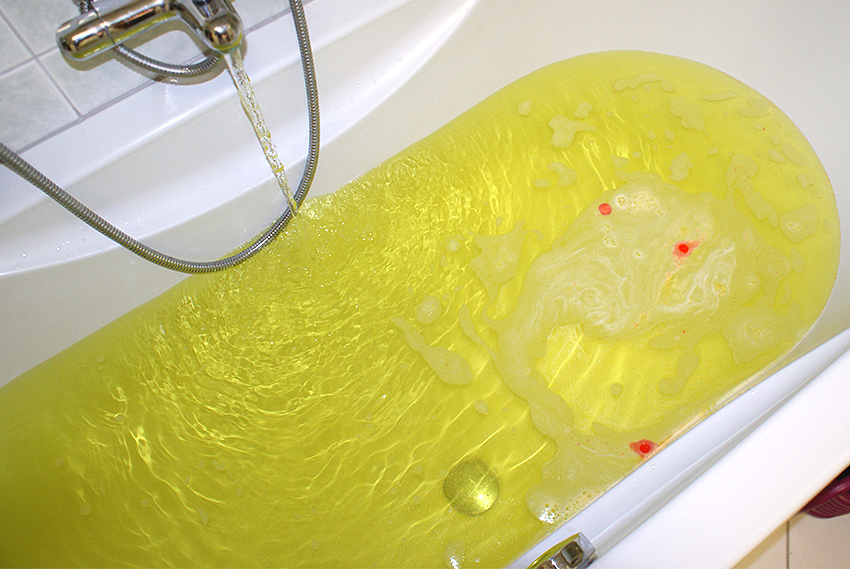 Mijn ervaring
Zoals je ziet kleurt het badwater vrij oncharmant geel. Hij is vrij snel opgebruist, de stukjes cacaoboter smelten langzaamaan in het warme water. Uiteindelijk houd je gewoon een felgeel bad over, maar de geur maakt gelukkig alles goed. De geur is vrij sterk van deze bath bomb, je ruikt hem zéér goed in de badkamer — na afloop ook nog zelfs. Absoluut één van de sterkst geurende bath bombs die Lush kent!
Nog een groot pluspunt aan deze bath bomb is dat hij enórm hydraterend is. 😨 Ik voel nooit echt verschil, maar bij deze voelde m'n huid na afloop zó zacht en soepel aan! Je voelde een héél licht vettig laagje, wat ik niet voelde bij m'n schouders die niet onder water kwamen! De stukjes cacaoboter erin hebben dus echt goed hun werk gedaan.
Ik baal dat de bath bomb opeens uit de webshop is gehaald, ik snap ook de reden ervan niet. Ik heb het nagevraagd bij Lush, dus zodra ik meer weet vind je het terug in dit artikel. Maar mocht hij weer te koop zijn — inslaan! Zeker als je fan bent van deze geur. You won't regret it, en je huid ook niet! 💛
Edit: Ik was er al bang voor, maar na contact te hebben gehad met Lush laten ze mij weten dat deze niet meer verkocht wordt. Hij was onderdeel van de Community Favourites en daarbij geldt kennelijk op=op. ☹️
Edit nummer 2: Honey I Washed The Kids Bath Bomb gaat onderdeel worden van de 54 excluvieve bath bombs die 29 maart te koop zullen zijn in (in ieder geval) in Engeland en Amerika, of we ze in Nederland krijgen weet ik nog niet officieel.
9 Responses to Review: Lush Honey I Washed The Kids Bath Bomb