Review: Lush Lemony Flutter Cuticle Butter
Read this post in
Engels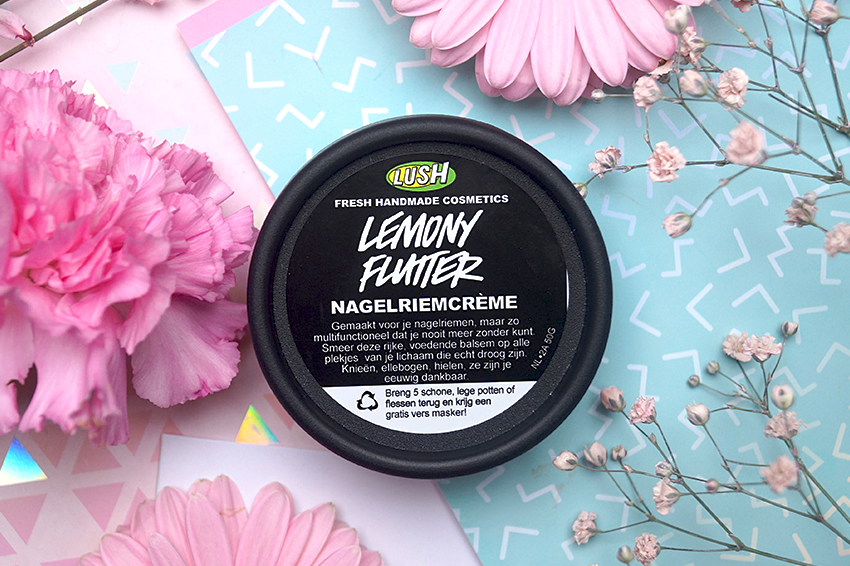 Lush heeft een aantal onwijs populaire producten. Zo populair, dat mensen het product kennen, maar vaak niet weten dat Lush verder ook nog producten maakt! Dream Cream is daar eentje van, maar Lemony Flutter mag ook zeker niet ontbreken. Dit bestselling product bestaat al sinds 2005 (dankjewel @lush.scents voor je eeuwige kennis ♥), en als ik op dit product Google, zie ik ontelbare reviews van dit product. Hoe raar is het dat ik nooit dit product heb gereviewd? Shame on me! Maar no worries, vandaag ga ik hem dan echt reviewen. Lees je mee?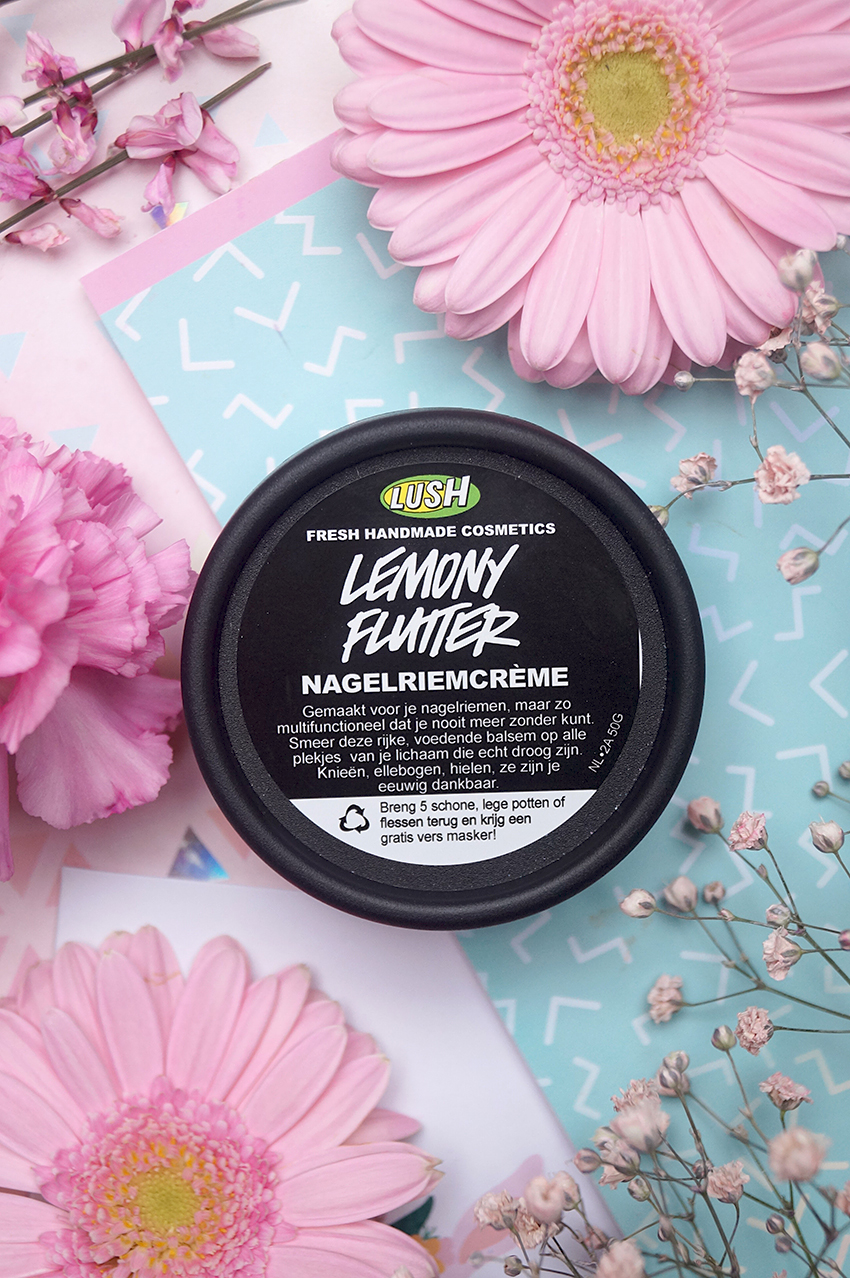 Wat is het?
Lush Lemony Flutter nagelriemcrème kost €12,00 voor 50 gram. Voordat je roept "WAT DUUR!!" — je hebt van dit product maar héél weinig nodig. Één likje is al voldoende voor alle 10 nagels — het is heel geconcentreerd. 50 gram is tevens het enige formaat dat er is, maar hier doe je dus best lang mee. Het is bedoeld voor je nagelriemen, maar alle droge plekken op je lichaam hebben er baat bij. Denken aan ruwe ellebogen, schrale hielen, kloofjes, noem het maar op. Vanwege de honderdtachtig oliën en boters erin is dit goedje gewoon een godsgeschenk voor droge, schrale, gebarsten, schilferige huid. En laat mijn huid nou net zo droog als de Sahara 's nachts in de winter zijn. Lemony Flutter staat dan ook steevast op mijn nachtkastje, zodat ik mijn kapotte hielen en troosteloze nagels kan voorzien van een beetje verzorging.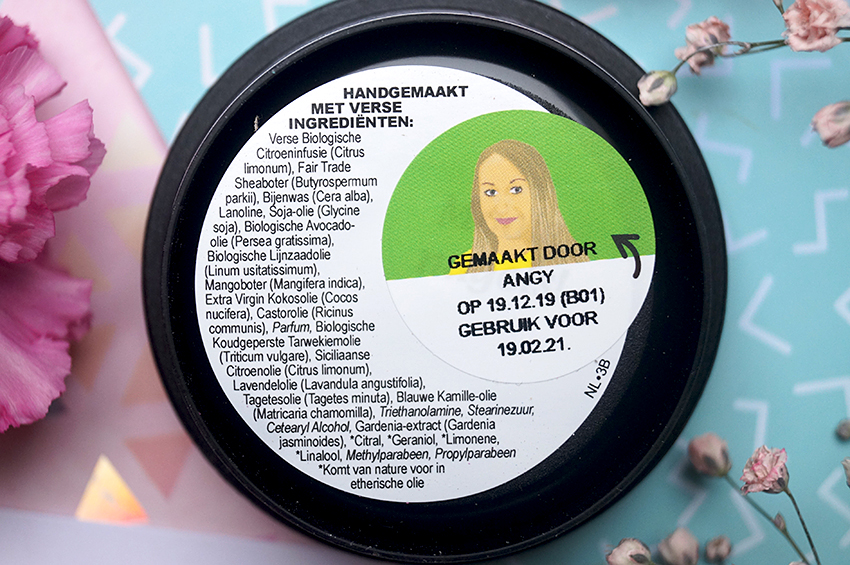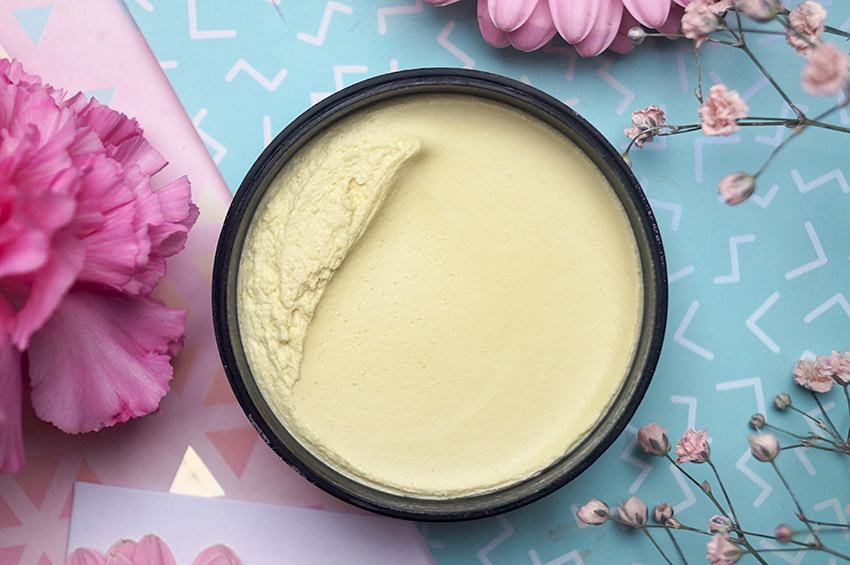 Wat zit erin?
Ingrediënten: Verse Biologische Citroeninfusie (Citrus limonum), Fair Trade Sheaboter (Butyrospermum parkii), Bijenwas (Cera alba), Lanoline (Lanolin), Soja-olie (Glycine soja), Biologische Avocado-olie, Biologische Lijnzaadolie, Mangoboter (Mangifera indica), Extra Virgin Kokosolie (Cocos nucifera), Castorolie (Ricinus communis), Parfum, Biologische Koudgeperste Tarwekiemolie (Triticum vulgare), Siciliaanse Citroenolie (Citrus limonum), Lavendelolie (Lavandula augustifolia), Afrikaanse Goudsbloemolie (Tagetes minuta), Blauwe Kamille-olie (Chamomilla recutita), Triethanolamine, Stearinezuur, Cetearyl Alcohol, Gardenia-extract, *Citral, *Geraniol, *Limonene, *Linalool, Methylparabeen, Propylparabeen
Zoals ik al zei, zitten er gigantisch veel oliën in dit product. Het hoofdingrediënt is citroeninfusie, wat de geur ook verklaart. Sheaboter kan natuurlijk niet ontbreken, dit is hét ingrediënt tegen een droge huid. Bijenwas is het ingredient waardoor dit product niet vegan is. Het zorgt ervoor dat de huid 'waterproof' wordt (een laagje op de huid waardoor vocht niet kan ontsnappen) maar is ook diep hydraterend. Verder is er nog soja-olie, avocado-olie, lijnzaadolie, mangoboter, kokosolie, castorolie, tarwekiemolie, citroenolie, lavendelolie, goudsbloemolie en kamille-olie. Ja, ik overdrijf niet als ik zeg honderdtachtig oliën, hoor. Misschien een beetje, maar niet veel.
De geur
Lemony Flutter is zeer goed te herkennen aan zijn kenmerkende geur. De geur is namelijk écht citroenen. Toch is het niet alsof je je citroensap opsnuift, het is eerder een citroen toetje. Of een citroen cheesecake. De citroen-ige geur heeft een vrij boterige ondergrond, waardoor de geur iets zachter en warmer wordt. Iets minder "citroensap in your face". Ik vind het geen vervelende geur, om eerlijk te zijn.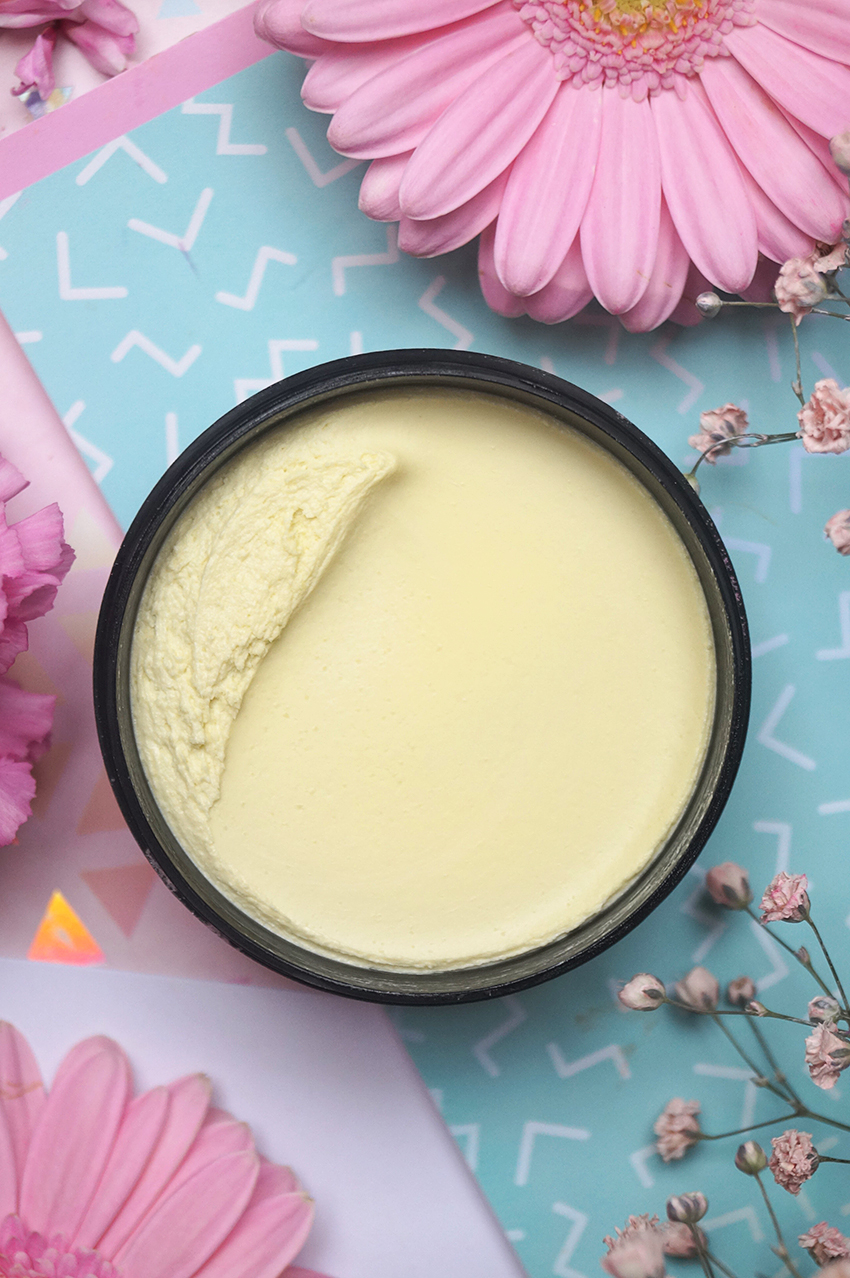 Mijn ervaring
Ik heb dus een potje Lemony Flutter standaard op mijn nachtkastje staan, zodat ik voor 't slapen gaan m'n nagelriemen flink goed kan insmeren. De keren dat ik teveel pak, smeer ik uit over m'n handen. Vanwege mijn schoonmaakwerk, vele handen wassen én het feit dat ik een velletjesbijter ben, zien mijn handen en zeker mijn nagelriemen en vingertoppen er triest uit. Ik had toevallig dit product al maanden niet meer gebruikt, dus toen ik een pot kocht laatst, kon ik het effect meteen goed testen.
En ik kan je vertellen, nadat ik een week lang iedere avond m'n vingertoppen en nagelriemen heb ingesmeerd hiermee, zie ik al positieve resultaten. (De huid rondom) m'n nagelriemen zien er zo gehydrateerd, zacht, fatsoenlijk en gezond uit! M'n nagelriemen zijn niet stuk en rafelig meer, velletjes zijn minder zichtbaar en m'n nagels zien er gewoon zóveel beter uit. Het goedje voorziet elke millimeter huid en nagel van een flinke portie hydratatie en verzorging, waardoor m'n vingers en dus ook handen, er nu véél mooier uit zien. En noem me gek, maar volgens mij zien m'n nagels zelf er ook witter en gezonder uit. Als ik de vele review's van anderen mag geloven, zouden je nagels er ook sneller door groeien, en minder broos zijn en minder splijten.
Ik kan niet meer zonder product, serieus. Ik doe gerust een beetje in een sample potje voor in m'n tas, of voor bij m'n computer. Ik heb periode's waarin ik nagelbijt, zeker als ik achter de computer zit gaat dit onbewust. Door een beetje Lemony Flutter op m'n nagels te smeren, in combinatie met de sterke citroengeur, weerhoudt het me om m'n nagels in m'n mond te stoppen. Enige minpunt is wel dat je nagels, en vaak dus ook je vingers, erg vettig blijven. Nu probeer ik vaak alléén m'n nagels in te smeren zodat niet alles wat ik pak uit m'n handen lazert, maar het is wel een aandachtspuntje. Hierdoor pak ik hem dus niet de hele dag door, want ik haat vette vingers. 's Nachts maakt het me niet uit, dus dan smeer ik het royaal in — dan word ik 's ochtends gegarandeerd wakker met mega zacht handen!
Heel verhaal, en dan heb ik het nog niet eens gehad over andere droge plekken op m'n lichaam. M'n ellebogen zijn gelukkig nooit schraal, maar m'n hielen.. poe. Ze zijn droog, kapot en ruw, echt niet grappig meer. Ik smeer er regelmatig wat Lemony Flutter op, en hoewel ik dat nog lang moet blijven doen voor écht resultaat, zie ik na een week toch al verschil. De ruwe velletjes zijn wat minder en de cracks zijn minder diep.
Ik hoef niet te herhalen wat ik van Lemony Flutter vind, right? Een tl;dr — geweldig en effectief product. Doet wat hij belooft. Snel resultaat. Citroen toetjes geur. Ik zal dit product blijven kopen, en hoop er nog véél droge plekjes mee weg te toveren!

Lush Lemony Flutter Cuticle Butter kost €12,00 en bevat 50 gram. Hij behoort tot de vaste collectie.
3 Responses to Review: Lush Lemony Flutter Cuticle Butter