Review: Lush Cookie Dough Lip Scrub
Read this post in
Engels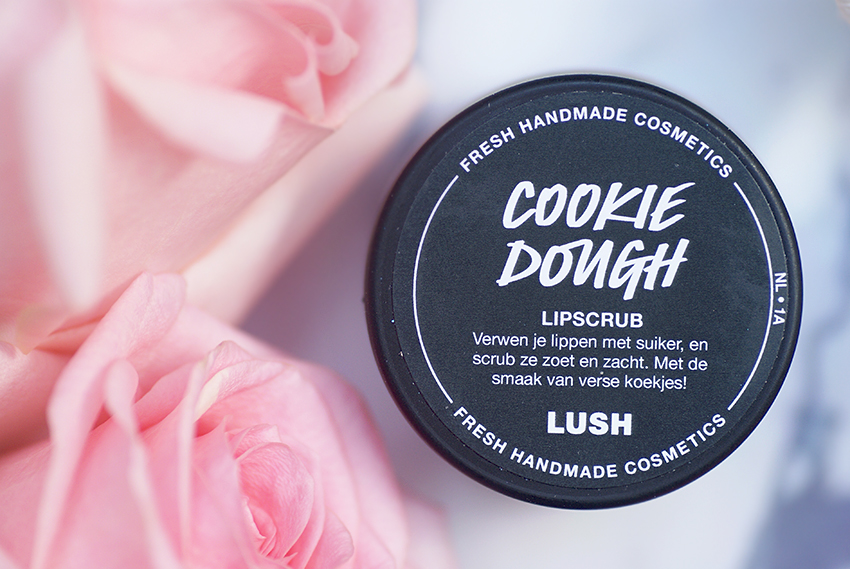 Hét product waar het meest voor gestemd was (om online verkrijgbaar te zijn in de Lush Labs), is de Cookie Dough lip scrub. Logisch, want wie wilt zijn lippen niet insmeren met een lipscrub dat naar koekjesdeeg ruikt én smaakt? Lush heeft weer eens een geniaal product op de markt gebracht, dat nu echt tot één van mijn favorieten behoort. En ondanks dat dit een Liverpool exclusive is, is hij tijdelijk ook in Nederland te koop. Ik zeg: inslaan!
Vandaag lees je alles over deze overheerlijke lipscrub. Lees je mee?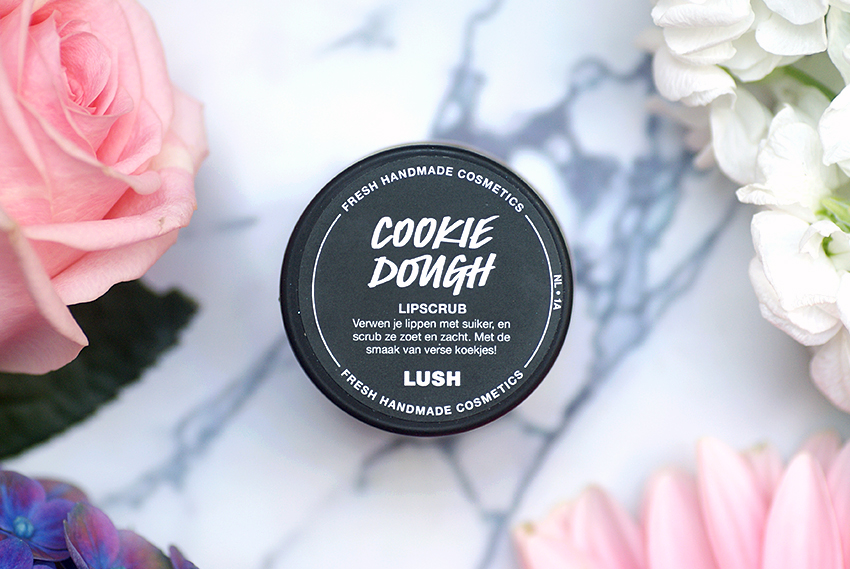 Wat is het?
Lush Cookie Dough Lip Scrub kost €8,95 en is tijdelijk te koop in de Lush Labs, waar iedere maand nieuwe, innovatieve producten te verkrijgen zullen zijn. Er zit zo'n 25 gram in het glazen potje — zelf heb ik nog nooit een lipscrub opgemaakt, je doet erg lang met zo'n potje. Je hebt maar een klein beetje nodig namelijk, als je teveel pakt valt het van je lippen af. Je haalt er een beetje uit met je vinger, scrubt je lippen ermee in en vervolgens lik je de scrub af. Snoepen maar! In de lipscrubs van Lush zitten geen ingrediënten die je niet kunt eten. Helemaal veilig dus.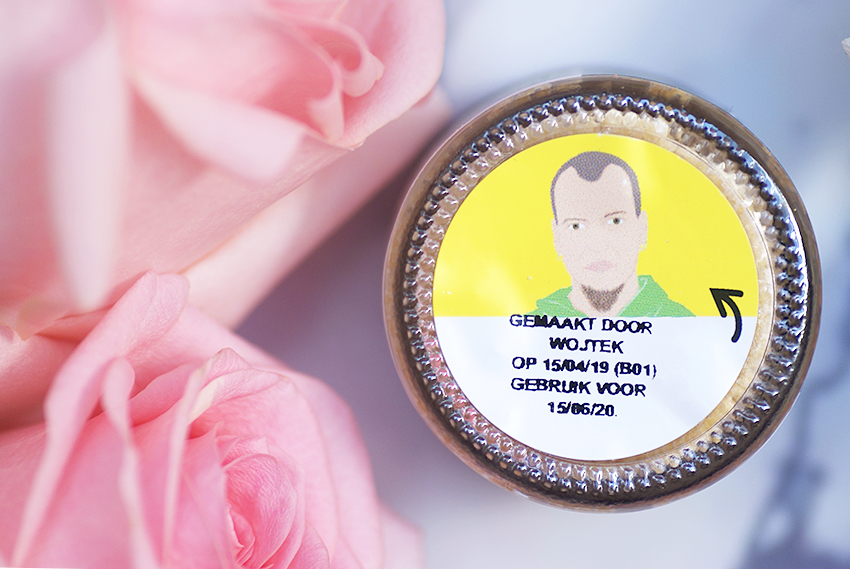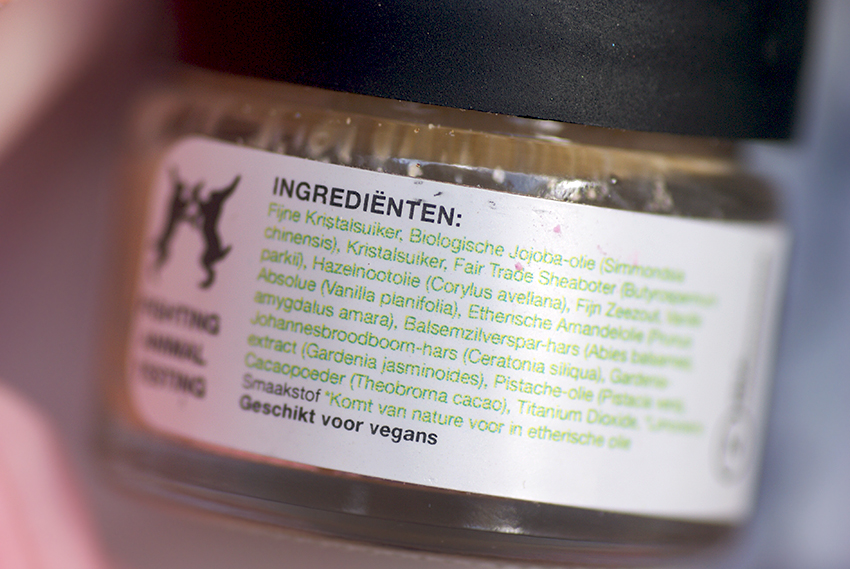 Wat zit erin?
Ingrediënten: Fijne Kristalsuiker (Sucrose), Biologische Jojoba-olie, Kristalsuiker (Sucrose), Fair Trade Sheaboter (Butyrospermum parkii), Hazelnootolie Fijn, Zeezout (Maris sal), Vanille Absolue, Etherische Amandelolie (Prunus amygdalusl amara), Balsemzilverspar-hars (Abies balsamea), Johannesbroodboom-hars, Gardenia-extract, Pistache-olie, Cacaopoeder (Theobroma cacao), Titanium Dioxide, *Limonene, Smaakstof
Cookie Dough is een veganistische en zelfconserverende lipscrub. Hij is 14 maanden houdbaar, maar ik gok dat ik hem voor die tijd allang op heb. De basis is kristalsuiker en fijn zeezout, daaraan toegevoegd zijn allerlei heerlijke, natuurlijke ingrediënten — jojoba-olie, sheaboter, hazelnootolie, vanille, amandelolie, balsemzilverspar-hars, johannesbroodboom-hars, pistache-olie en cacaopoeder. Je scrubt dus niet alleen je lippen, je verzorgt en hydrateert ze ook tegelijkertijd.
Door je lippen te scrubben maak je je zacht en glad, ook verwijder je velletjes en dode huidcellen. De sheaboter hydrateert je lippen, waardoor ze minder droog aanvoelen. Een lipscrub is dus niet alleen heel lekker; het is ook heel belangrijk om je lippen goed te verzorgen, vooral in de winter. Door de koude lucht buiten en de droge lucht binnenshuis kunnen je lippen heel droog aanvoelen en zelfs kapot gaan. Gebruik een week lang een paar keer per dag een lipscrub en je zult zien dat ze na een paar dagen al direct opknappen! Het is niet voor niets mijn geheim voor mooie, volle lippen. Het is tevens ook een aanrader voordat je lipstick aanbrengt.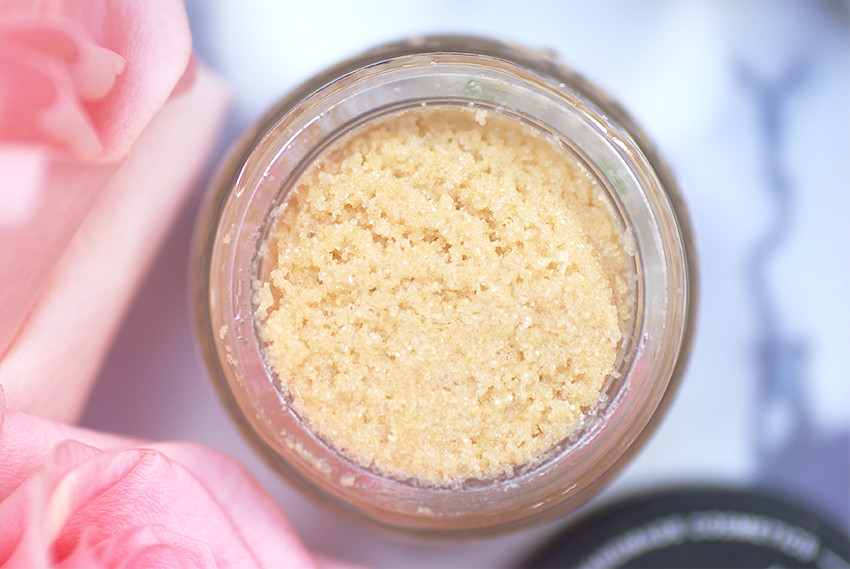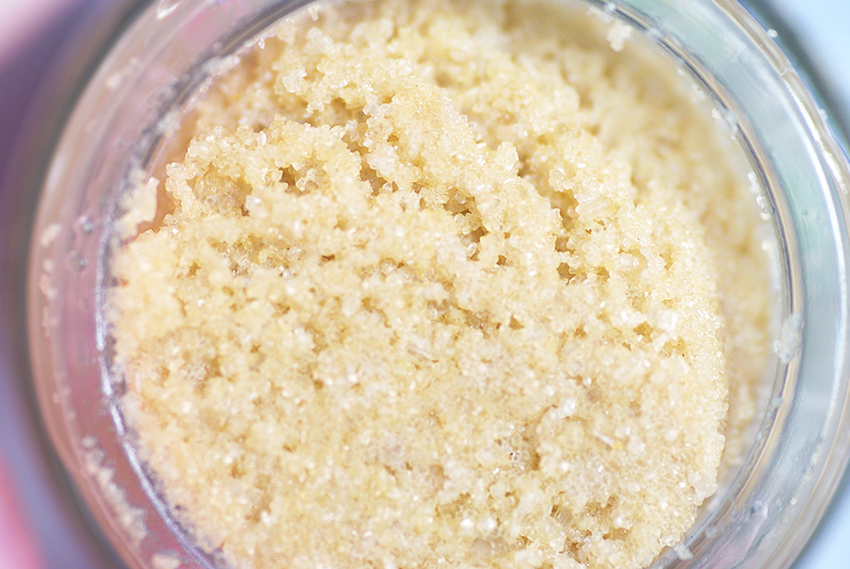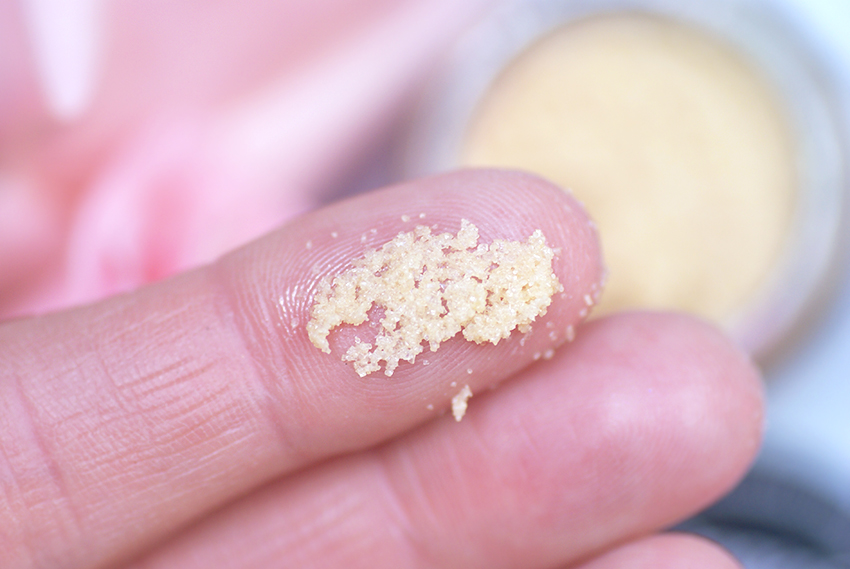 Mijn ervaring
Ik had het al verwacht, maar Cookie Dough ruikt niet alleen goddelijk, ook smaakt hij zó lekker. Dat m'n lippen er zacht en gehydrateerd van worden is ook fijn, maar ik vind het stiekeme snoepen ervan toch wel het leukst. Hij smaakt precies naar koekjesdeeg — zoet en warm, alsof je een beslagkom zit uit te lebberen. De substantie is precies goed; niet te fijn, maar ook niet te grof. Hierdoor scrubt hij zachtjes, maar effectief m'n lippen. Ik baal dat ik maar één potje heb gekocht, aangezien hij tijdelijk te koop is, ga ik er zeker nog een paar inslaan. Zolang je ze dichtgedraaid houdt, blijven ze veel langer goed. (Draai nieuwe producten dus niet open voordat je ze daadwerkelijk gebruikt — zolang er geen zuurstof bij komt, kun je ze héél lang bewaren!)
Ik moet dit potje niet naast me hebben staan als ik honger heb, want ik vreet 'm helemaal leeg. Hij is zo lekker, de beste lipscrub van Lush tot nu toe. Ik raad hem iedereen aan — of je nu een lipscrub nodig hebt of niet, deze lipscrub heb je gewoon écht nodig in je leven.

Lush Cookie Dough Lip Scrub kost €8,95 en bevat 25 gram. Hij is tijdelijk te koop in de Lush Labs, alleen online. Ook kun je hem in Lush Liverpool kopen.
7 Responses to Review: Lush Cookie Dough Lip Scrub