Review: Lush Meditation Shower Bomb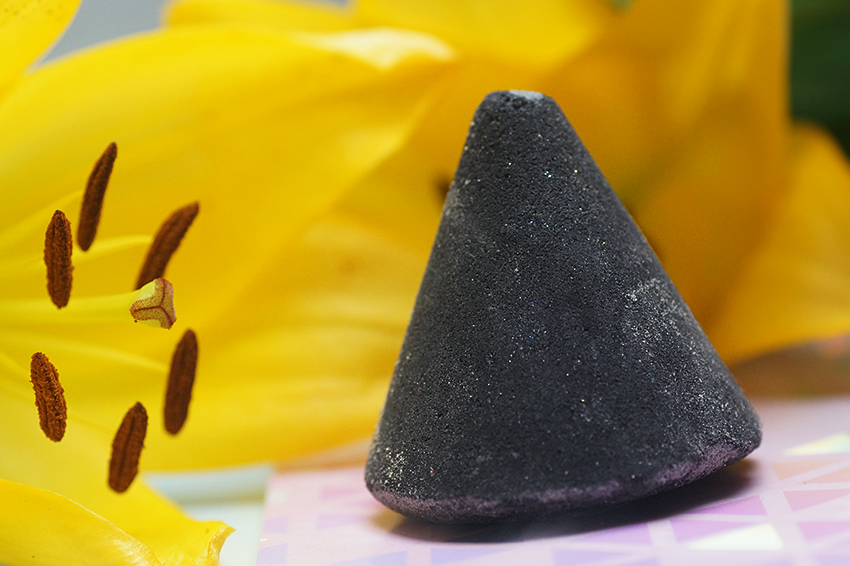 Één van de shower bombs waar ik het meest nieuwsgierig naar was, is Meditation. Een zwarte kegel, hoe zou dat eruit zien onder de douche? De naam suggereert een rustgevende geur, hartstikke welkom hier. Als iemand die vrij snel gestresst kan raken, is het heerlijk om soms even een stapje terug te doen met wat kalmerende geuren onder de douche of in bad. Ik neem hem mee, en vandaag lees je alles over deze shower bomb en mijn ervaring er mee.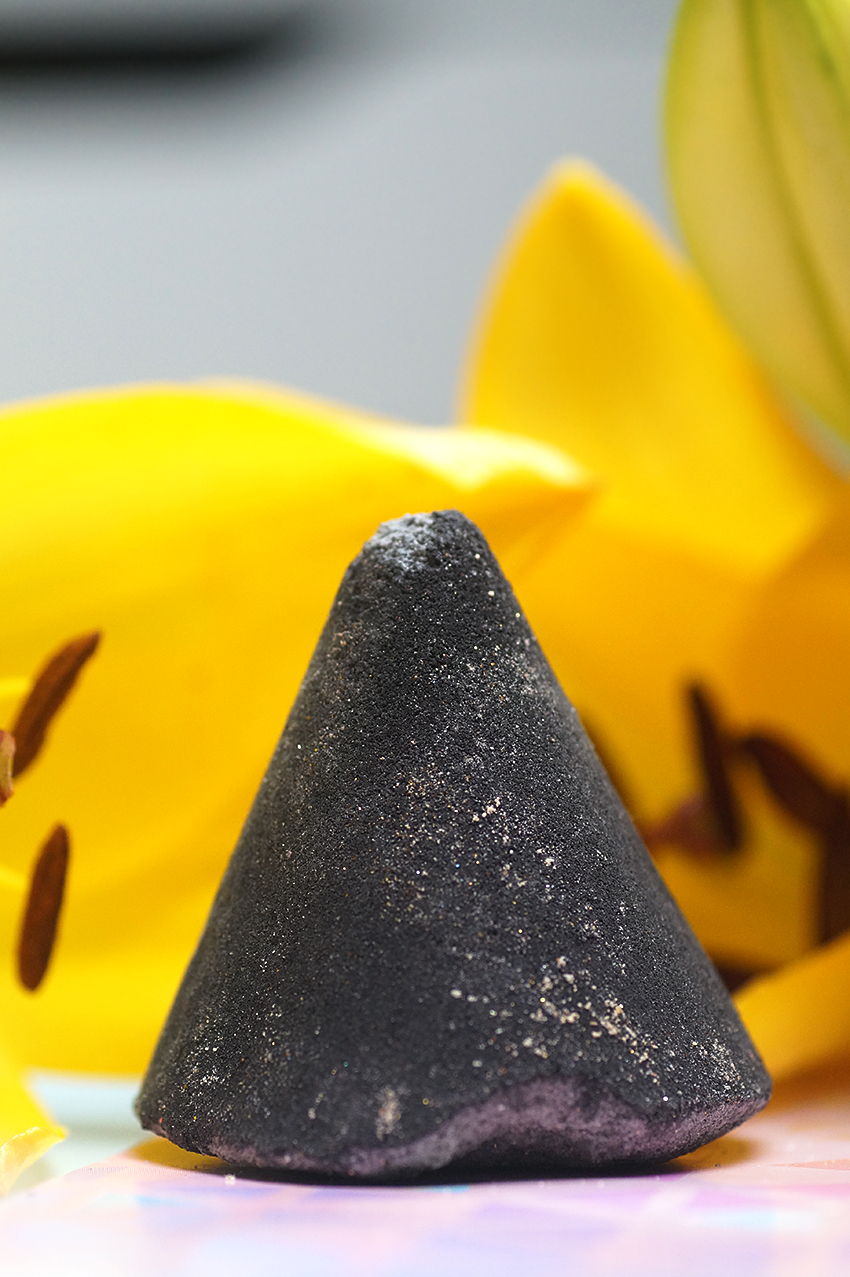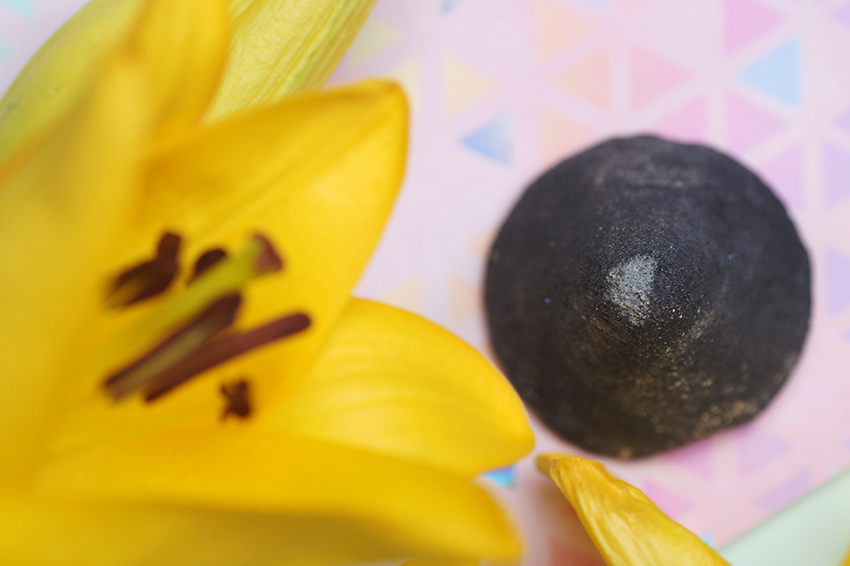 Wat is het?
Lush Meditation Shower Bomb kost £2.75 en is een Liverpool exclusive. Een shower bomb is een product dat je meeneemt in de douche en onder de straal houdt. Wanneer hij in aanraking komt met water, begint hij weldadig te schuimen. Dit schuim schep je er van af en daarmee smeer je jezelf in. Schuim is eigenlijk niet het juiste woord, het is meer een dik, zacht foam — een mousse. Als je het schuim eraf hebt gepakt, houd je hem weer eventjes onder de straal zodat hij weer gaat schuimen. Met de meeste shower bombs doe je meerdere keren, afhankelijk van hoe royaal je jezelf insmeert — maar de bedoeling volgens Lush is om hem in één keer op te maken. Het product is naked, het heeft dus geen verpakking.
Je kunt hem droog wegleggen voor een volgende keer, maar je kunt hem ook vooraf in stukjes snijden. Zo doe je dus meerdere keren met één shower bomb. Lees hier meer daarover.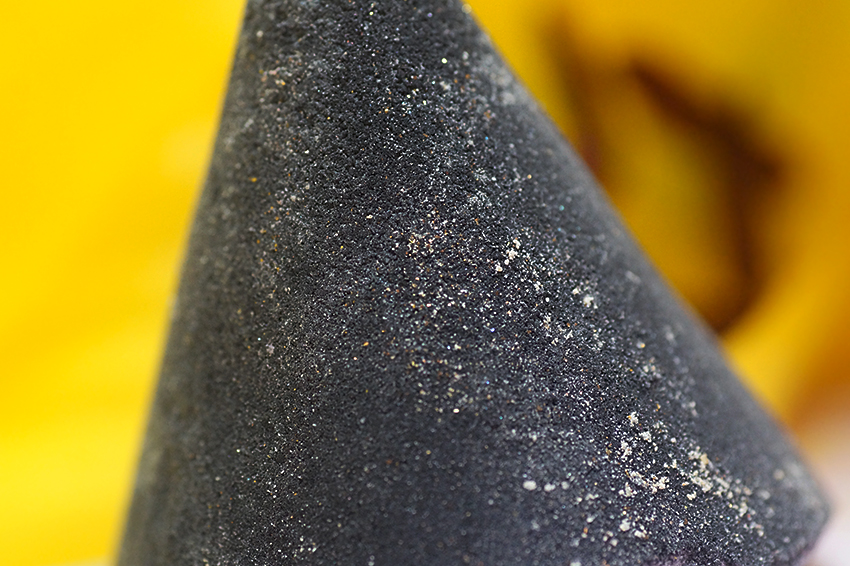 Wat zit erin?
Ingrediënten: Sodium Bicarbonate, Cream of Tartar (Potassium bitartrate), Citric Acid, Potato Starch (Solanum tuberosum), Sodium Laureth Sulfate, Calcium Lactate Gluconate, Sodium Alginate (Algin), Cocamidopropyl Betaine, Sandalwood Oil (Santalum austro-caledonicum vieill), Guaiacwood Oil (Bulnesia sarmientoi), Olibanum Oil (Boswellia carterii), Activated Charcoal, Water (Aqua), Dragon's Blood Powder (Daemonorops draco), DRF Alcohol, Butylphenyl Methylpropional, Coumarin, Hydroxycitronellal, *Limonene, *Linalool, Perfume, Colour 77499
Meditation bevat sandelhout, guaiachout, olibanum, geactiveerde houtskool en drakenbloed poeder. Sandelhout wordt vaak in aromatherapie gebruikt vanwege zijn rustgevende, houtachtige aroma. De olie zelf zorgt voor een strakkere huid en is ontstekingsremmend. Guaiachoutolie heeft een houtachtige geur, en wordt ook in aromatherapie gebruikt, maar dan vanwege z'n verkwikkende effect. Olibanum heeft wederom een rustgevende werking, het heeft een beetje een bos-achtige geur. Houtskool op de barbecue? Zó 2018. In 2019 gebruiken we het als effectieve reiniger, ideaal omdat houtskool vuil, overtollig talg en bacteriën aantrekt en dus verwijdert. Tot slot drakenbloed poeder. No dragons were harmed in making this ingredient! Het heeft een kruidige, aromatische geur.
De geur van Meditation is houtachtig, maar ook iets kruidig en rokerigs. Hij heeft dezelfde geur als Superdad Bath Bomb, misschien dat je die nog kent? Het is een heerlijke geur, vrij zacht en het heeft inderdaad een soort van rustgevende geur.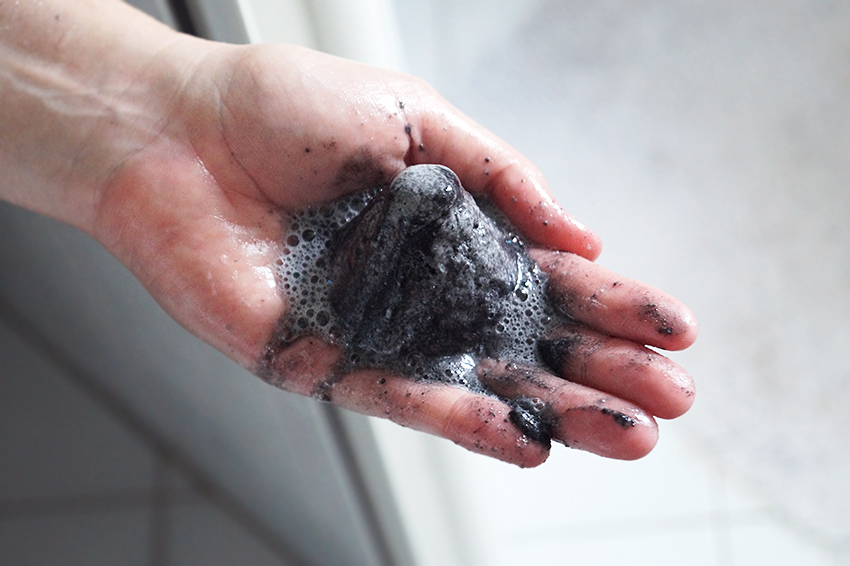 Mijn ervaring
Ik besluit Meditation in één keer te gebruiken, omdat ik gewoon even lekker wil relaxen tijdens de douchesessie. Hij produceert heel wat mousse, wat donkergrijs is, zo grappig! De mousse voelt zo zacht en dik aan, het is heerlijk om uit te smeren over m'n huid. De geur is iets intenser aanwezig en ruikt nóg lekkerder in de douche. Alsof de geur helemaal tot leven komt. De houtskool in de shower bomb reinigt de huid, waardoor m'n huid na afloop schoon aanvoelt en ook een mooie glans heeft.
M'n huid voelt niet alleen schoon aan, maar ook zacht en gehydrateerd. Maar ik moet zeggen dat de geur nog wel het allerbeste was. Het was inderdaad een heerlijke douchesessie, en ik ging er naar met een leeg koppie naar bed. Mocht hij ooit te koop zijn in Nederland, dan ga ik hem zeker nog een keer kopen. Aanrader!

Lush Meditation Shower Bomb kost £2.75. Hij is alleen in Lush Liverpool te koop.
2 Responses to Review: Lush Meditation Shower Bomb