Review: Lush Bunny Bomb Bomb
Read this post in
Engels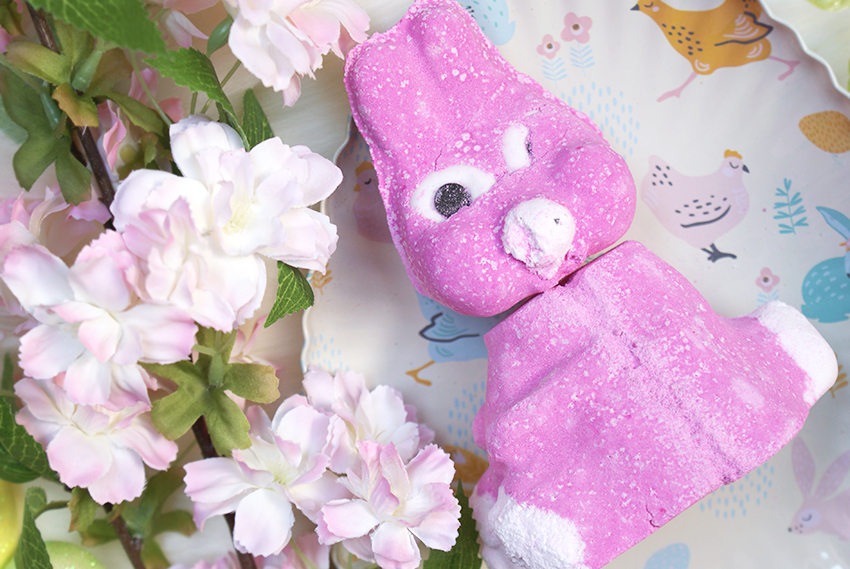 Ik dacht eigenlijk dat ik alles wat ik wilde, van de Paascollectie, al had gekocht. Maar toch bleef het steeds kriebelen om dit roze konijntje ook steeds mee te bestellen. Hij is knalroze en ik vind de dieren bath bombs uit deze Paascollectie, zoals Lamb Bomb Bomb, zo enorm leuk.
Maar hoe lang zou de Paascollectie überhaupt nog in de winkels liggen? Zou het nog zin hebben om het te kopen en te reviewen? Ik bedoel, hij kost wel 13 euro. Ik nam contact op met Lush, en die zeiden dat de Paascollectie nog zeker tot een maand na Pasen er zou zijn. Ze hadden hun zin nog niet eens beëindigd en Bunny zat al in m'n winkelmandje. Come to mommyyy.
Vandaag lees je alles over dit roze, schattig konijntje!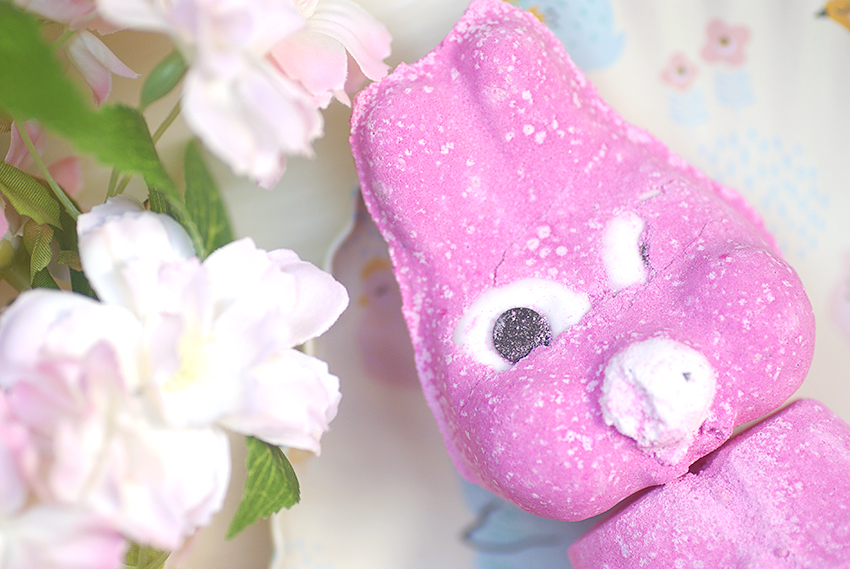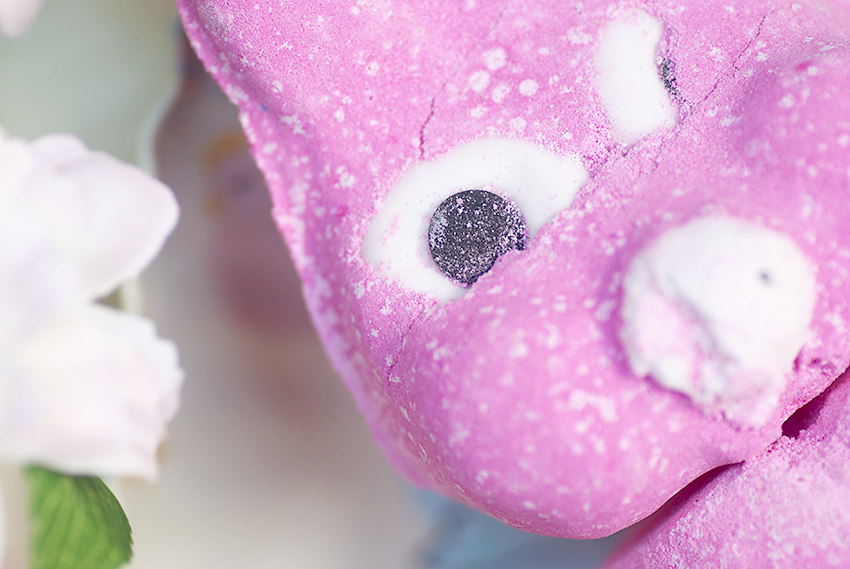 Wat is het?
Lush Bunny Bomb Bomb kost €12,95 en is onderdeel van de tijdelijke Paascollectie. Zoals je in de intro al kon lezen, was ik niet van plan niet iets te kopen van de Paascollectie. Ik wil me eigenlijk focussen op de Harajuku exclusives momenteel, maar ik had steeds zo'n spijt dat ik deze niet had meebesteld. Ik was dan ook erg blij toen hij binnenkwam, en helemaal toen ik zag hoe groot hij was!
Bunny Bomb Bomb bestaat uit twee delen, het hoofd en het lijf. Het lijf is echt mega groot, hij past amper in m'n hand! Het hoofd is iets kleiner. Dit rechtvaardigt de prijs wel iets — Bunny is twee keer te gebruiken. In de webshop ziet Bunny er iets fraaier uit dan mijn versie, die er nogal uitziet alsof 'ie in elkaar is geslagen onderweg van de webshop naar mijn deurmat. En in tegenstelling tot de foto in de webshop, heeft die van mij maar anderhalf oog. 👀 Ach, ook dit soort konijntjes hebben liefde nodig, dus ik nam hem met liefde op in mijn hart gevuld met dierenliefde.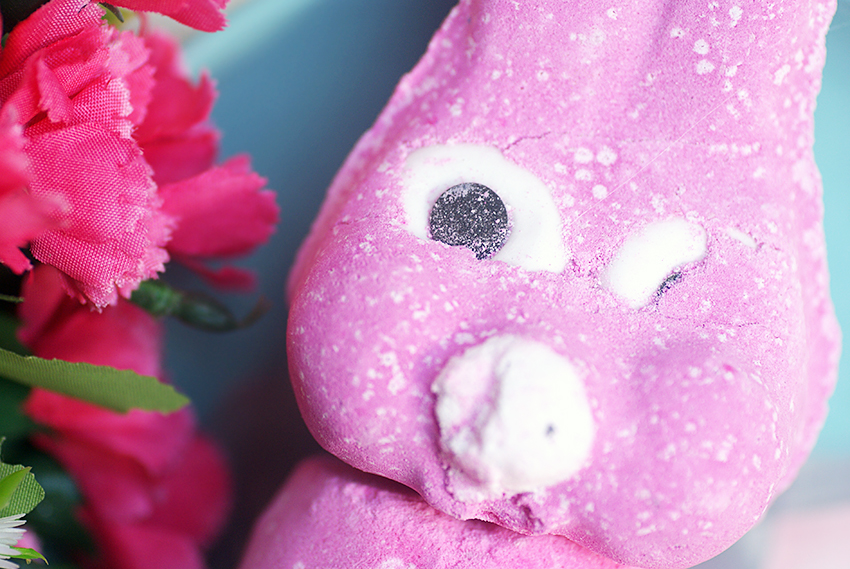 Wat zit erin?
Ingrediënten: Natrium Bicarbonaat (Sodium bicarbonate), Citroenzuur (Citric acid), Knettersnoep, Titanium Dioxide, Bergamotolie (Citrus aurantium bergamia), Kamferhoutolie (Cinnamomu camphora), Braziliaanse Sinaasappelolie (Citrus sinensis), Water (Aqua), Dipropyleen Glycol, Propyleen Glycol, Citronellol, *Limonene, Parfum, Kleurstof 45410 (CI 45410), Kleurstof 14700 (CI 14700), Kleurstof 17200, Oog (snoepje)
Bunny bevat bergamotolie, kamferhoutolie en sinaasappelolie. Alle drie zijn dit vrij frisse en fruitige citrusgeuren. Toch is de geur iets romiger en warmer dan je zou verwachten. Ik vind de geur erg lijken op Shoot for the Stars, en dat terwijl die juist naar honing en karamel ruikt. Ik herken zeker weten de citrus-componenten in Bunny, maar de algehele geur is gewoon erg warm en ook iets houtachtig.
Speel de filmpjes af in 1080p kwaliteit en op volledig scherm voor de beste ervaring! Het filmpje speelt zich versneld af.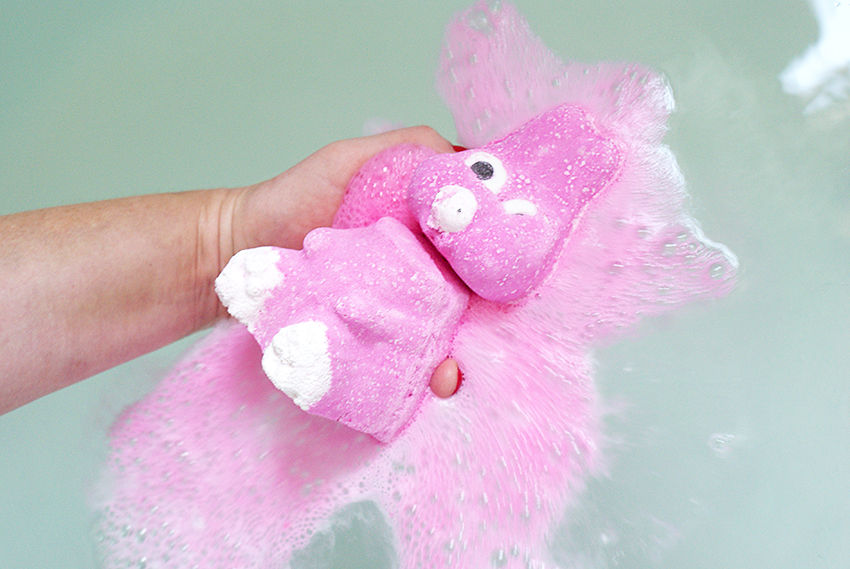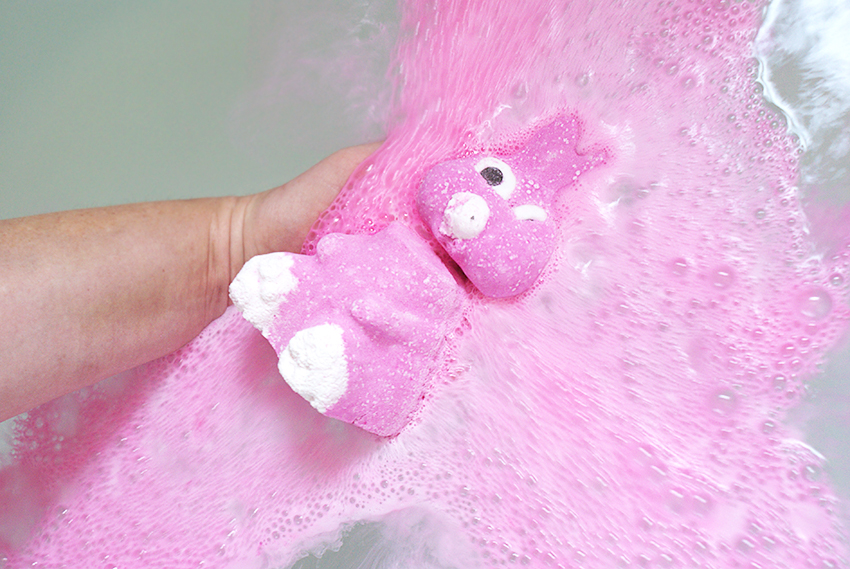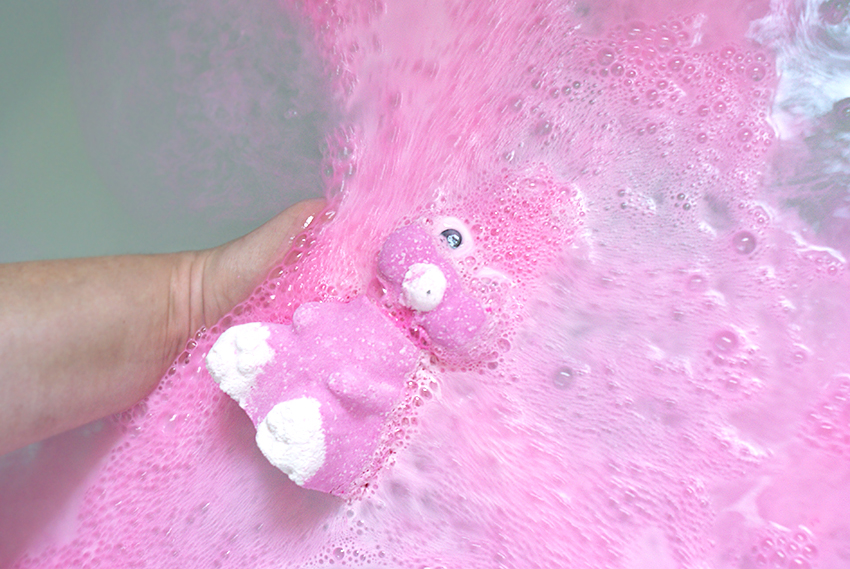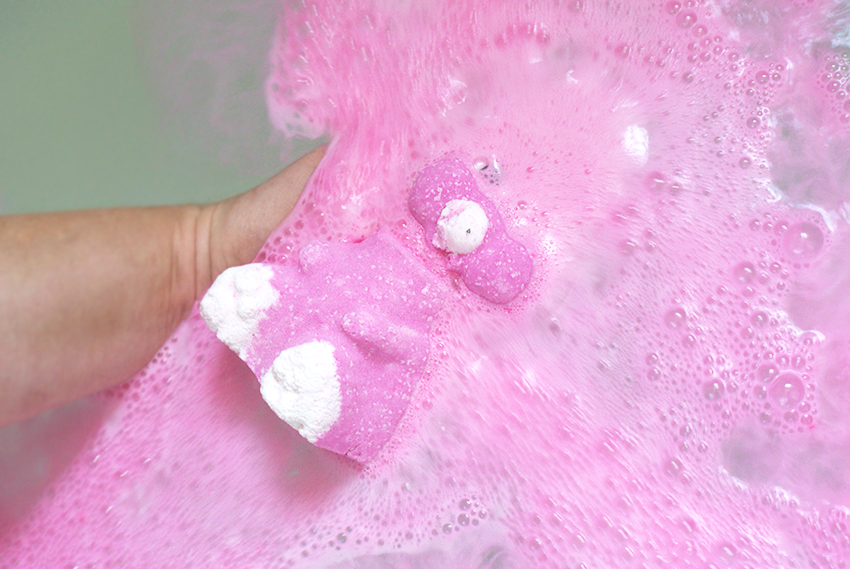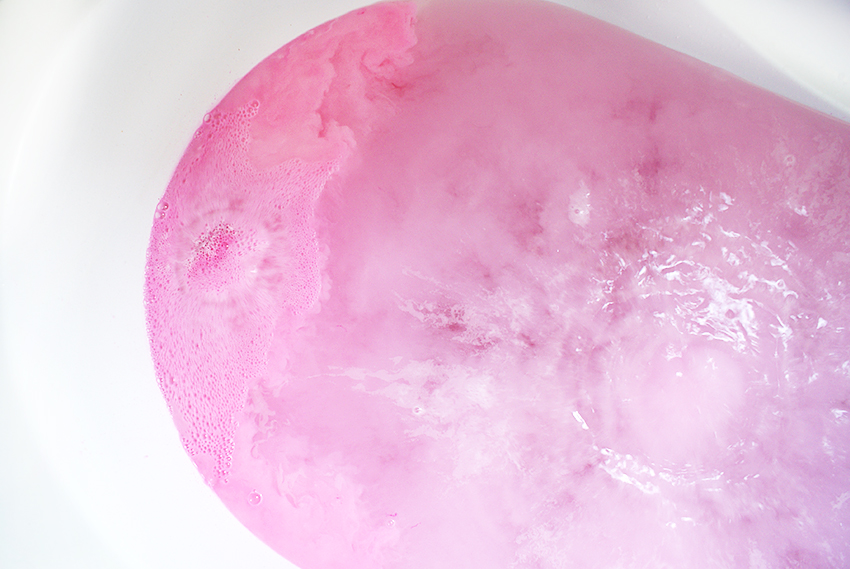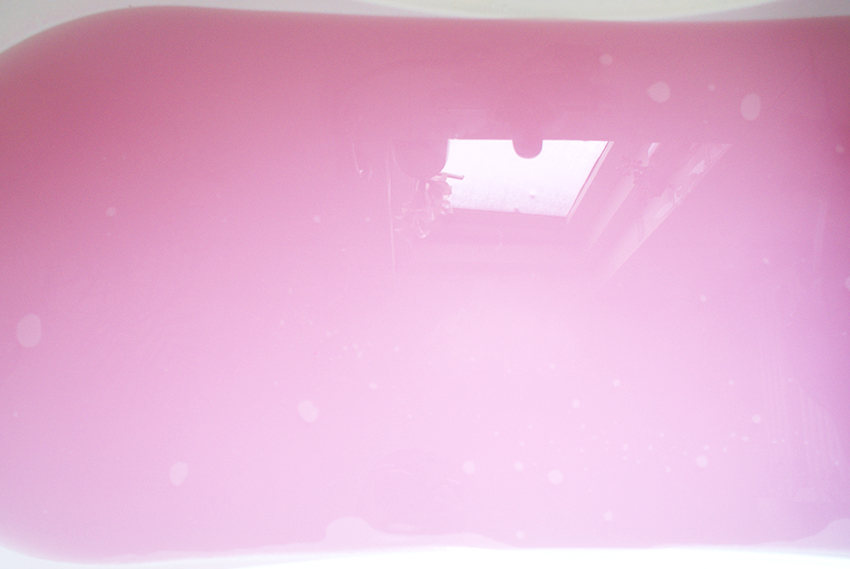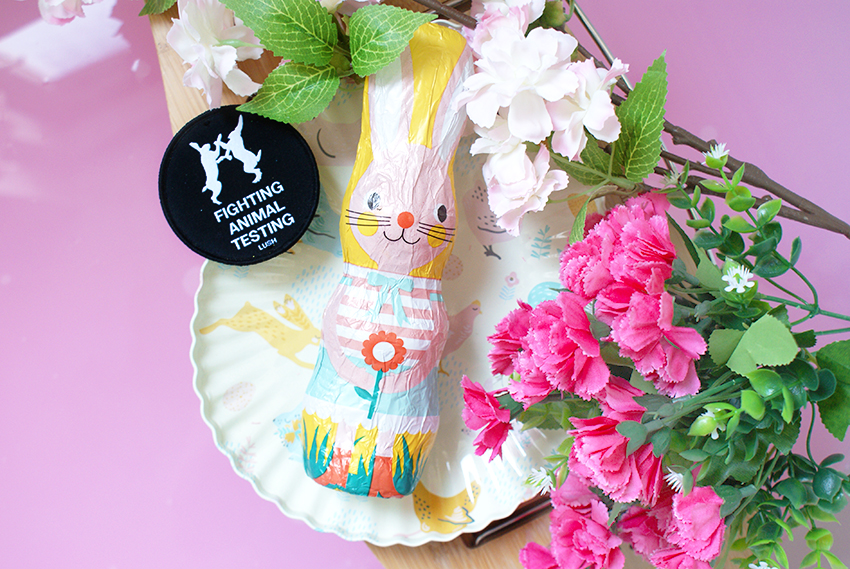 Mijn ervaring
Bunny bruist erg snel, en geeft daarbij het water een prachtige roze kleur. Het water is erg melkachtig, wat ik altijd een stuk mooier vind dan gewoon helder badwater. Hij geeft niet echt een showtje weg, hij bruist gewoon erg snel, en ik zou hem dan ook niet kopen als je wilt genieten van een minutenlange, kleurrijke show. Van de geur merkte ik niet heel veel terug, soms rook ik een vleugje, niet echt bewonderenswaardig. Er zou ook knettersnoep in Bunny moeten zitten, maar daar merkte ik niet veel van, het snelle bruisen maakte nogal wat geluid.
Wat wel af en toe voorbij kwam, waren zijn oogjes. Ik ben niet vies van een beetje horror, maar deze shit was toch wel luguber. Ook vind ik zijn 'ten onder gaan' blik ook best.. eng. Hij bleef me recht aan staren terwijl ik hem oploste in het water. Alsof je iemand in een vat met zuur laat zakken. Niet dat ik weet hoe dat is, natuurlijk, maar toch. (Maar misschien is mijn fantasie gewoon té levendig..)
Het water is toch echt wel de eyecatcher van deze bath bomb, samen met het uiterlijk ervan. Roze water dat melkachtig eruit ziet én ook zo voelt, waardoor je huid na afloopt ook lekker zacht aanvoelt. Als het effect net zo sterk is bij een halve Bunny, dan zou ik het zeker overwegen om hem nogmaals te kopen! Ik gooide hem er helemaal in, dat is wel een duur geintje. Hoe dan ook, ik ben blij dat ik Bunny alsnog heb besteld. Hij is gewoon echt nét zo leuk als dat 'ie eruit ziet. Op z'n macabere blik na.

kost €12,95. Hij behoort tot de tijdelijke Paascollectie.
4 Responses to Review: Lush Bunny Bomb Bomb