Review: Lush Super Milk Hair Conditioner Spray
Read this post in
Engels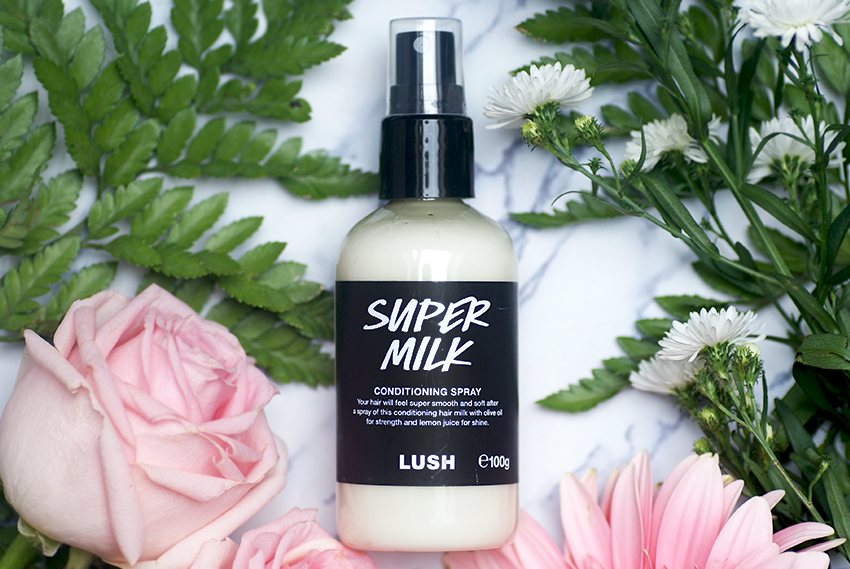 Voordat ik naar Liverpool ging, had ik nog even rond gevraagd op Instagram of er nog producten waren die ik écht niet mocht laten staan. Eentje daarvan was Super Milk, een spray voor je haar. Sceptisch als ik was over een spray van 15 pond, nam ik hem toch maar mee. M'n haar is slachtoffer van heel veel verven, dus het kan zeker wel wat verzorging gebruiken. Super Milk heeft een aantal mooie beloftes waarvan ik precies ga testen welke er kloppen. Ben je benieuwd, lees dan verder!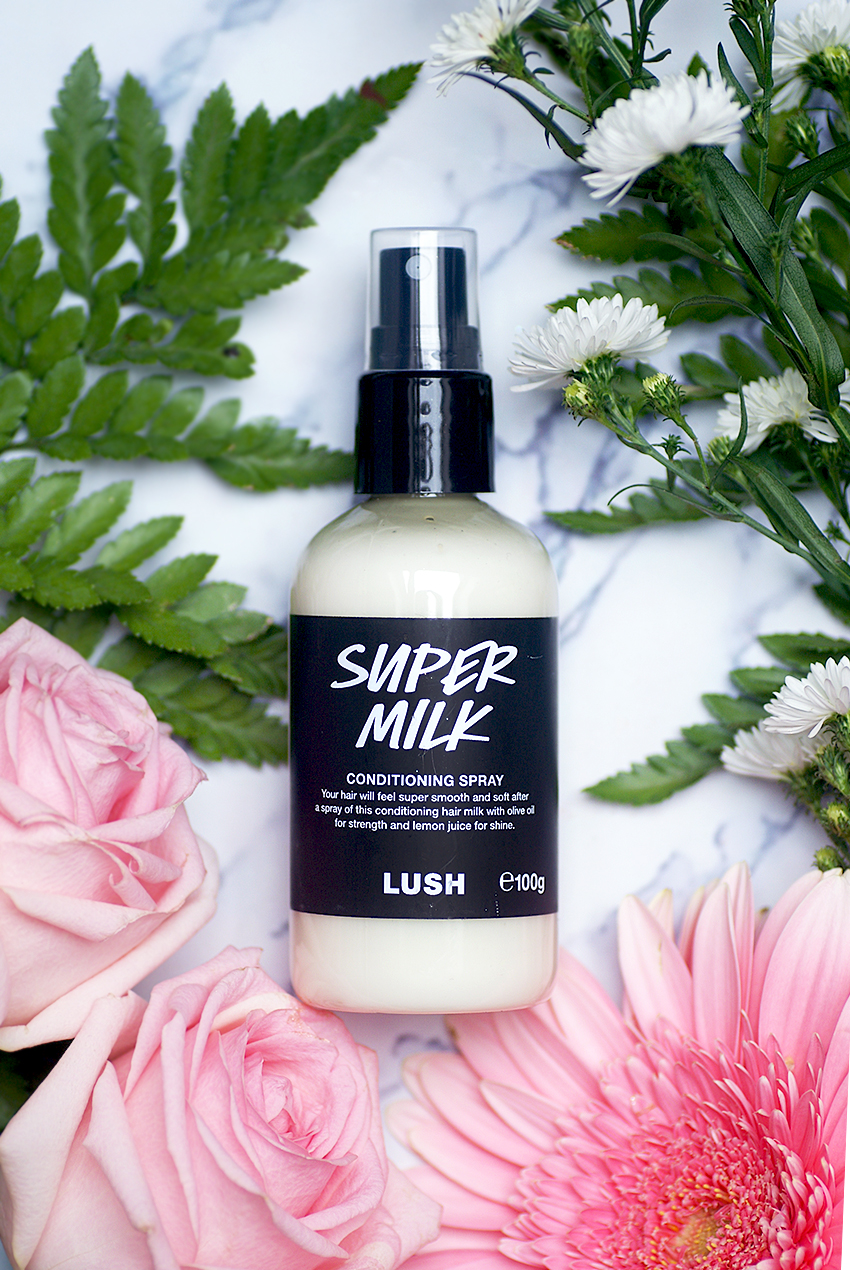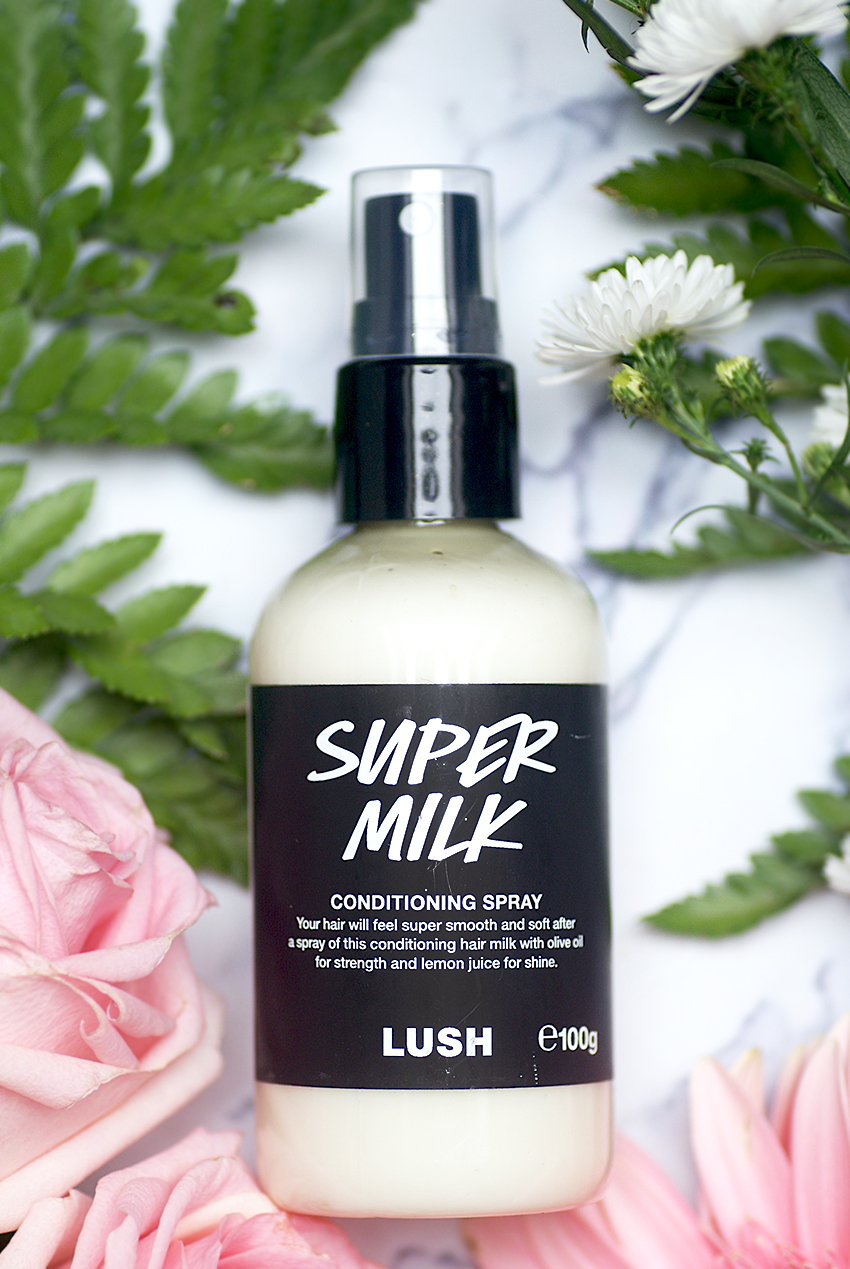 Wat is het?
Lush Super Milk Hair Conditioner Spray bevat 100 gram en kost £14.95. Er is ook een 250 gram, deze kost £29.95. Super Milk is een spray voor je haar, dat je gebruikt op handdoek droog haar. Je spray't het op je haar en laat het erin zitten, dus niet eruit spoelen. De verzorgende ingrediënten zorgen ervoor dat je haar makkelijker doorkambaar is, beschermd wordt, dat het zacht en glad aanvoelt én dat het meer glans krijgt. Nou, dat willen we allemaal wel, niet? Alleen ben ik zelf maar al te bekend met dit soort praatjes — veel haarproducten doen niks voor mijn haar. Dus Super Milk heeft een flinke uitdaging voor zich liggen. Ik heb steil, snel klittend en vrij droog haar. Het is lang en (vaak) geverfd. Ik ben heel benieuwd.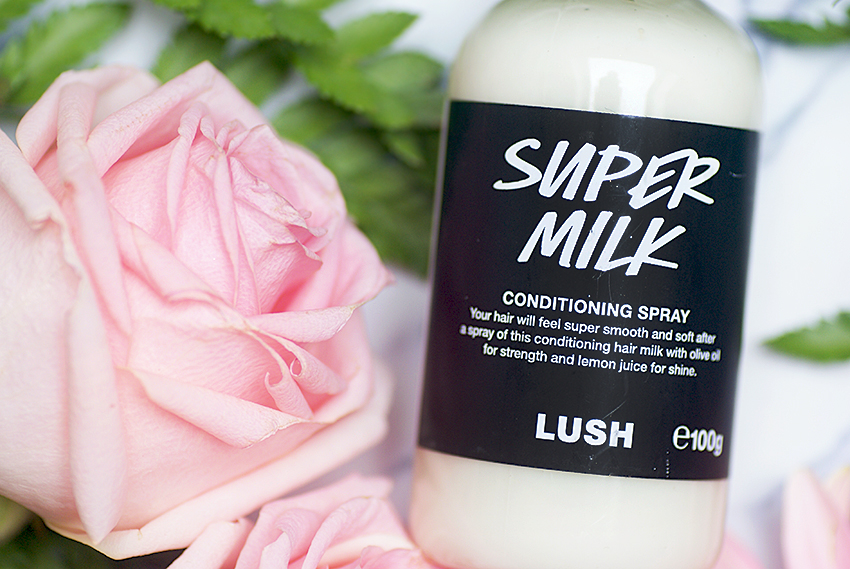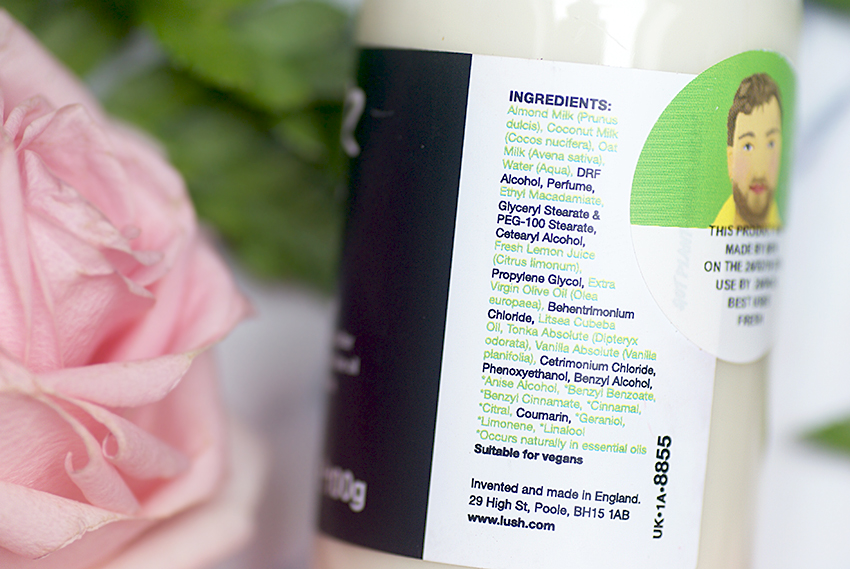 Wat zit erin?
Ingrediënten: Almond Milk, Coconut Milk, Oat Milk, Water, DRF Alcohol, Perfume, Ethyl Macadamiate, Glyceryl Stearate & PEG-100 Stearate, Cetearyl Alcohol, Fresh Lemon Juice, Propylene Glycol, Extra Virgin Olive Oil, Behentrimonium Chloride, Litsea Cubeba, Tonka Absolute, Vanilla Absolute, Cetrimonium Chloride, Phenoxyethanol, Benzyl Alcohol, Anise Alcohol, Benzyl Benzoate, Benzyl Cinnamate, Cinnamal, Citral, Coumarin, Geraniol, Limonene, Linalool.
De basis van deze spray is amandel- kokosnoot en havermelk. Drie krachtige soort melk — amandelmelk is verzachtend en hydraterend, kokosnootmelk voedt dankzij vitaminen en mineralen erin, en havermelk is enorm verzachtend. Dan zit er ook nog verse citroensap in de spray, alsmede olijfolie, litsea, tonka, en vanille. Ook zit er DRF Alcohol en parfum in, hopelijk ondervindt m'n haar daar geen nadelige effecten van, al kan ik me dat niet voorstellen met Lush. Verder in de lijst staat Ethyl Macadamiate (alternatief voor siliconen, legt een beschermend laagje om het haar), en Behentrimonium Chloride en Cetrimonium Chloride (beide een anti-statisch effect en verzorgen het haar).
De substantie is een soort dunne melk, logisch wel gezien de ingrediënten. Het is vrij geconcentreerd en dus heb je niet veel nodig — een paar spray'tjes zijn voldoende als je middellang haar hebt. De grootste mindfuck was wel de geur; ik verwachtte een soort warme, romige en melkachtige geur. Nou, not even close. Het is een frisse geur, hij doet me erg denken aan Avocado Wash shower gel. De citroensap is goed te ruiken, maar niet overheersend dankzij de warme geurnoten van amandel, kokosnoot, haver en vanille. Hierdoor krijg je een combinatie van fris en warm — echt een opmerkelijke geur. Het geheel heeft ook iets nootachtigs in de geur, vind ik. Al met al een enorm lekkere geur!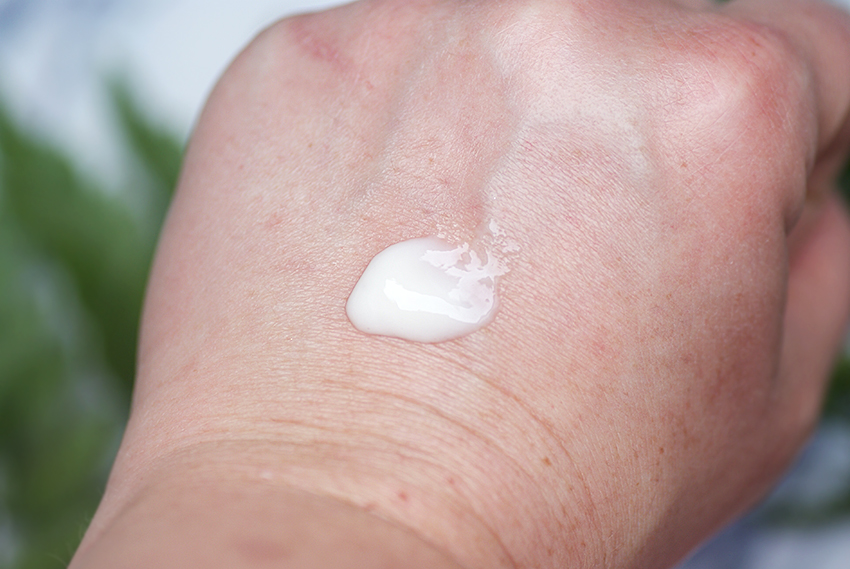 Mijn ervaring
Nog steeds een beetje sceptisch breng ik iets van 5 á 6 spray'tjes aan in m'n haar, voornamelijk op de onderste 20 cm. Als ik de spray te dichtbij houd zie ik de melk die eruit wordt gesproeid zitten op m'n haar, in dat geval haal ik dan even m'n handen door m'n haar om het goed te verdelen. Het is een beetje vogelen met de afstand qua sprayen, ik wil de spray ook niet te ver van m'n haar afhouden, met zo'n klein flesje wil ik geen druppel verspillen door ernaast te sprayen 😂 Als de spray eenmaal in m'n haar zit merk ik meteen de heerlijke, frisse geur op. Die is goed te ruiken, maar wel op een fijne en subtiele manier. Als ik m'n haar borstel, merk ik al dat het minder klit. Ik kan nu gewoon voorzichtig m'n haar borstelen zonder allemaal klitten tegen te komen onderweg.
Eenmaal droog is wanneer het echte wonder zich geschiedt. M'n haar voelt zo enorm zacht en glad aan! Ik vind niet per se dat het meer glanst, maar het heeft wel volume en valt mooier in model. Het is totaal niet verzwaard — in tegendeel juist, m'n haar is stukken luchtiger. Ik haal moeiteloos m'n vingers door m'n haren zonder te blijven haken door klitten. Wat ik ook enorm prettig vind is dat de geur heel goed te ruiken is. Elke zwaai of zwiep met m'n haar zorgt voor een subtiele walm van frisheid en warmte. Mensen die in m'n aura staan ruiken het ook, en zelf merk ik de geur ook meerdere keren per dag op.
Ik vind het bijzonder hoe m'n haar reageert op deze spray — het is echt een godsgeschenk. Ik kan serieus geen nadelen bedenken aan deze spray, op het feit na dat hij alleen in Liverpool te koop is. Ik ben dan ook wanhopig op zoek naar iemand die binnenkort naar Liverpool gaat en voor mij de grote fles wilt meenemen! Tot die tijd blijf ik hem trouw iedere dag gebruiken. Hij is zuinig in gebruik, dus hopelijk gaat hij nog lang mee.

Lush Super Milk Hair Conditioner Spray is een Liverpool exclusive en dus alleen in Lush Liverpool te koop.

Update: vanaf 25 juni is hij tijdelijk te koop in de Lush Labs! Klik hier voor het product.
7 Responses to Review: Lush Super Milk Hair Conditioner Spray