Mijn Lush badkamer stash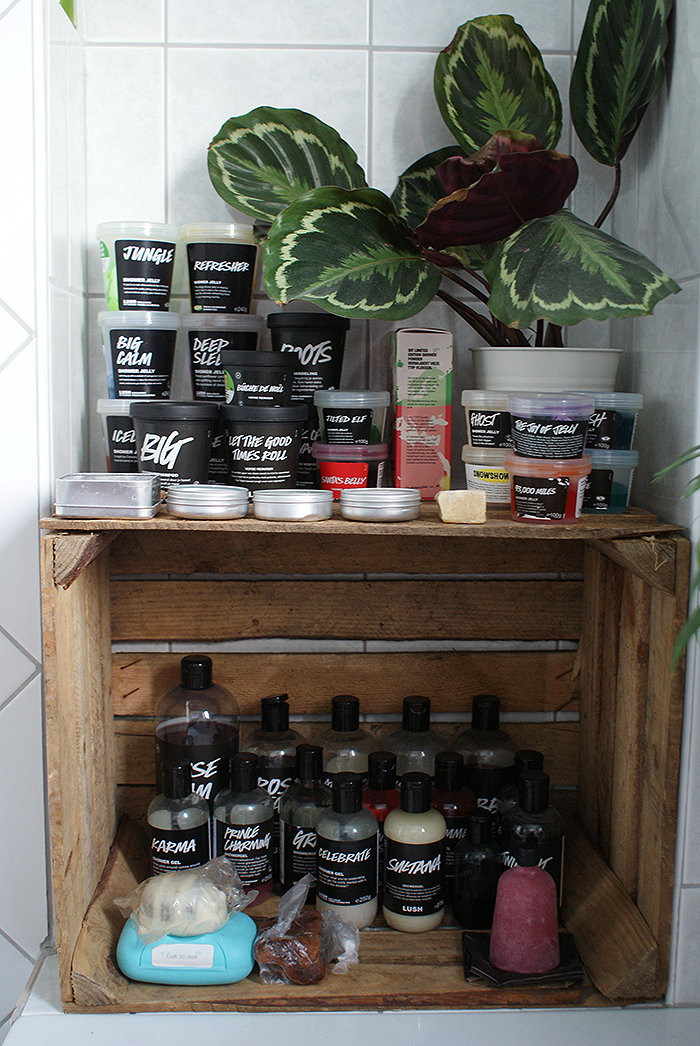 Het afgelopen jaar heb ik weinig geblogd, omdat ik een vreselijke dip had. Er is veel gaande geweest, wat nu gelukkig voorbij is en wat mij tot een nieuw, beter mens heeft gemaakt. Maar dankzij die dip heb ik ook m'n Lush stash wat uitgedund — ik was er van overtuigd dat spullen mij niet gelukkig maakte — wat resulteert in een kleinere stash dan ooit tevoren. Ik deed alle producten weg die ik niet (meer) gebruikte en dit hierboven is wat ik overhield. Vandaag ga ik laten zien wat dat allemaal is!
Klik verder om m'n Lush badkamer stash te bekijken.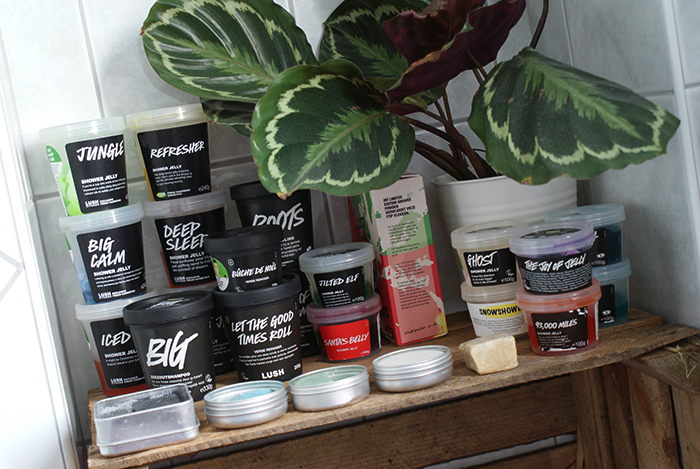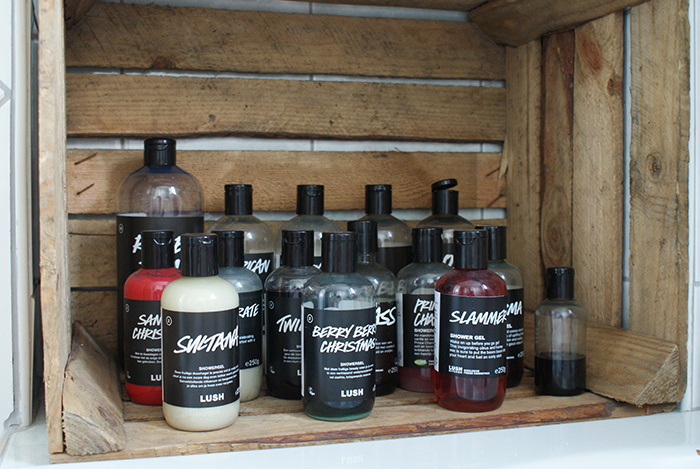 Ik had voorheen een dvd-kastje in de badkamer staan, met daarin rond de honderd douchegels. Ik heb onlangs een enorm veel gedoneerd aan het Blijf van m'n Lijf huis, en een deel heb ik weggegeven of zelf opgemaakt. Ik heb nu nog een aantal dingen over (voornamelijk van The Body Shop, Philosophy en Balea) maar m'n 'doel' is om alleen nog maar Lush te gebruiken.
Toen ik in bad lag, en diezelfde middag een fruitkist ergens had gekocht, viel het me op dat die fruitkist wel heel perfect zou passen in die nis. Niet veel later haalde ik het kastje weg en zette ik de fruitkist er neer. Het past précies. Hemels is dat. 🤤 Ik had eerst alles er 'gewoon' in gezet, maar dan zou ik van geen enkel product kunnen zien wat het is. Gelukkig heb ik soms (héél soms) een geniale uitspatting; de fruitkist op z'n kant neerzetten. Plant erop, en klaar! Grote blij.
De plant die op de fruitkist staat is een Calathea Medaillon. Deze plant doet het goed in een lichte kamer en een hoge luchtvochtigheid.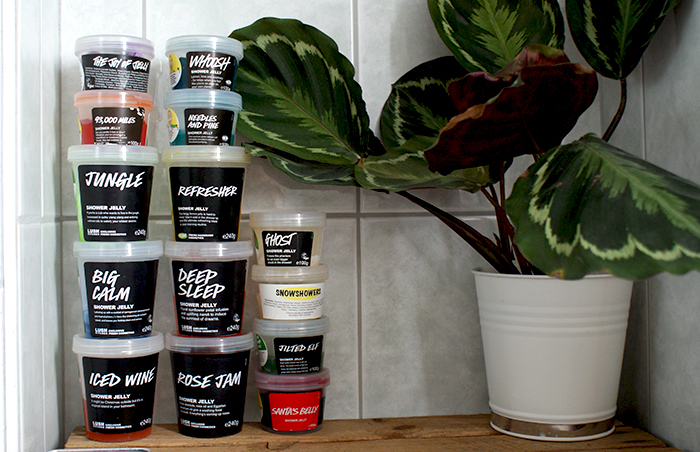 Ik had ooit een gigantische stash met shower jellies, zo'n ruim 20. Nu heb ik er 'nog maar' 14, een mooi aantal vind ik. Rose Jam en Joy of Jelly zijn mijn favorieten. Ik vind ze niet handig onder de douche, maar toch moet ik ze altijd hebben. Geen idee wat dat is. #opbiechting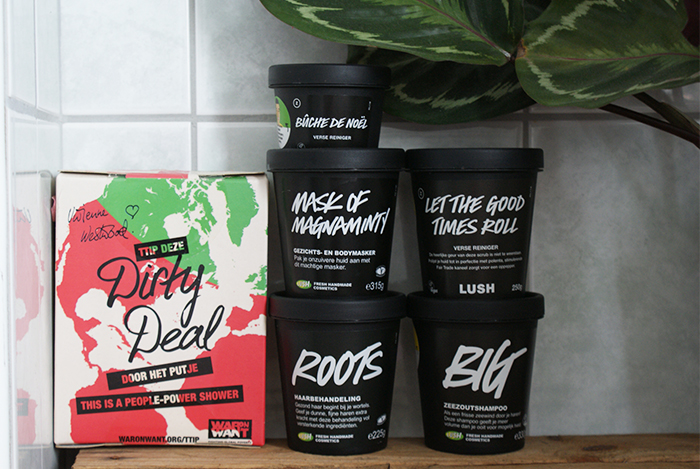 Producten voor m'n gezicht en haar, en een verloren doos Dirty Deal showder voor je lichaam. Normaal gesproken zou Cup O' Coffee scrub er ook tussen staan, maar die heb ik laatst opgemaakt. Let The Good Times Roll is een groot favoriet van mij, dat was m'n allereerste Lush sample, waardoor ik verliefd werd op het merk. LTGTR heeft dus een speciaal plekje in mijn hart! Roots vind ik heerlijk voor als ik m'n haar weer ernstig heb toegetakeld. (Lees: verven en ontkleuren)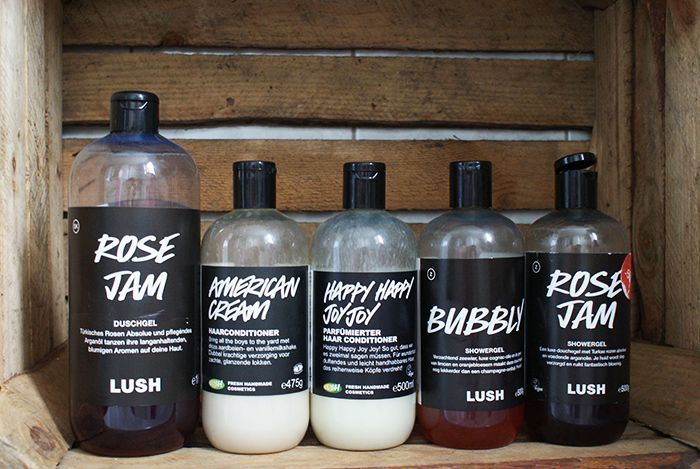 Een liter fles Rose Jam omdat ik verslaafd ben aan die geur, met daarnaast m'n twee favoriete haarconditioners. American Cream zal ik forever blijven kopen, want die geur is goddelijk. Bubbly en nog een Rose Jam in beide 500 gram, de grote flessen dus.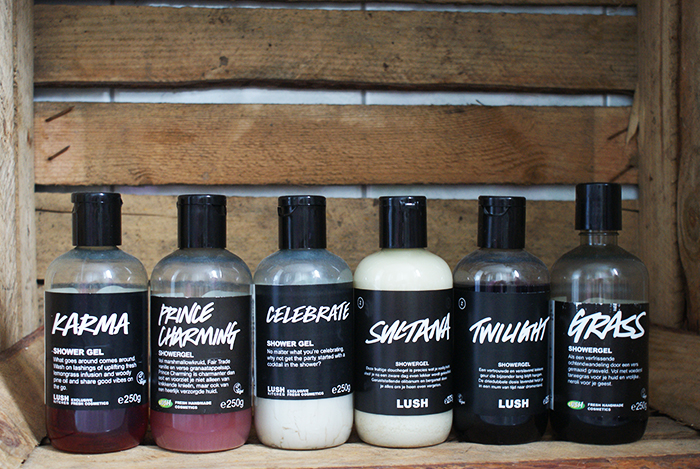 Douchegels! Sultana heb ik net nieuw, daar komt nog een review over. Celebrate vind ik echt goddelijk. De rest is ook heerlijk, maar Celebrate blijft m'n favoriet, samen met Rose Jam.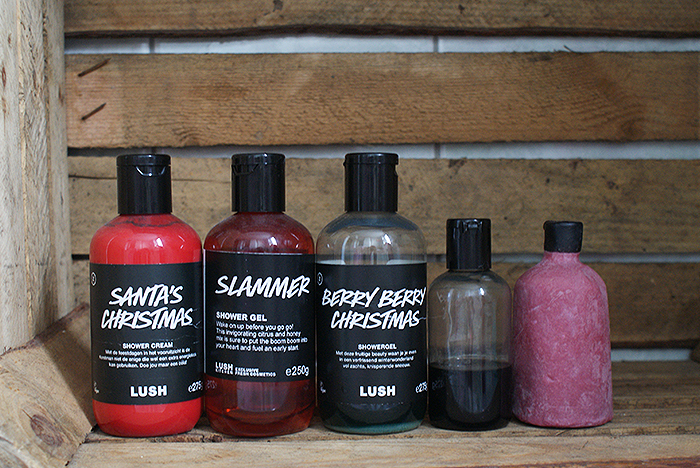 Nog meer douchegels; Slammer vind ik hiervan het lekkerst. In dat kale flesje zit Tramp douchegel, en helemaal rechts staat Tender Is The Night Naked shower gel. Nu het weer kouder wordt, zal ik vaker Santa's Christmas shower cream erbij pakken.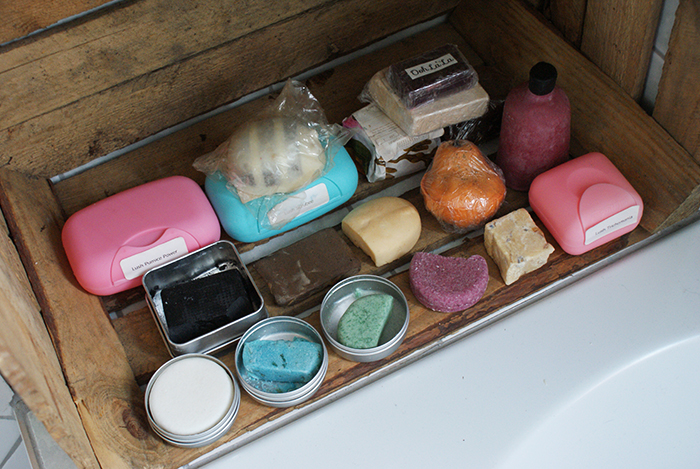 Shampoo's en zepen in vaste vorm, en nog wat losse producten. Scrubee is m'n favoriete vaste scrub van Lush, ik heb er daar twee van. Helemaal vooraan liggen (stukken) vaste shampoo. Ultimate Shine, Seanik, Karma Komba, Jason & the Argan Oil, Odango en Trichomania. En die naked shower gel staat er weer tussen, excuses daarvoor. 😋
---
Dat was mijn badkamer stash! Het is niet zoveel als voorheen, maar ik ben er blij met wat ik heb staan. Hopelijk vond je het leuk om te zien wat ik momenteel heb staan.
Wat heb jij van Lush in de badkamer staan?
24 Responses to Mijn Lush badkamer stash