Review: Lush Goddess Shower Gel
Read this post in
Engels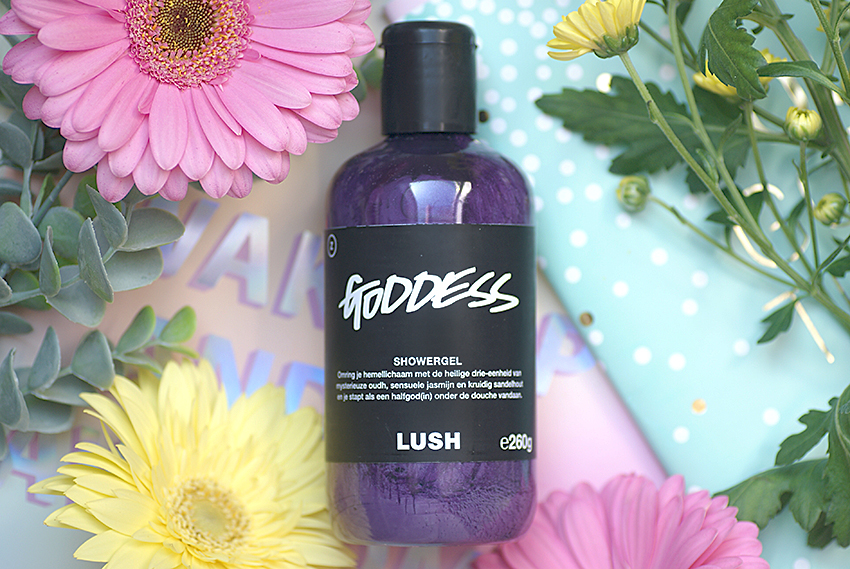 Mocht het je ontgaan zijn de afgelopen week: ja, er is nu een douchegel van de (vrij nieuwe) geurlijn Goddess. Vorige week hintte Lush dat er nieuwe douchegels zouden komen. Dat zijn Groovy Kind of Love, Sex Bomb, Goddess, Intergalactic, Guardians of the Forest en Turmeric Latte. Ook is Cookie Dough Body Scrub nu te koop. Serieus, de hele Lush community ging batshit crazy toen het bekend werd. Ik ook, en ik heb ze dan ook allemaal gekocht (zó vervelend dat ik ze allemaal moet testen voor m'n blog 😪) en vandaag begin ik met Goddess shower gel. Ben je benieuwd, lees dan verder!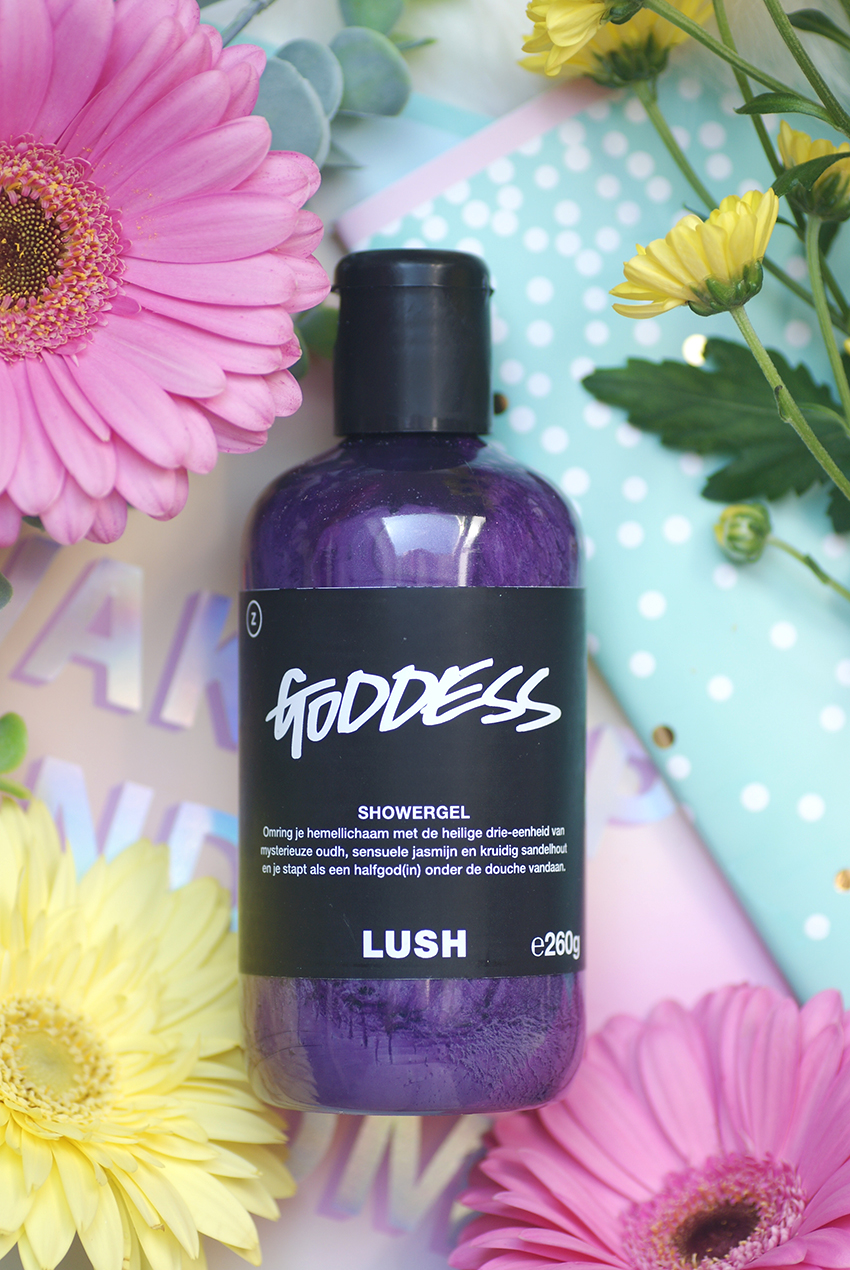 Wat is het?
Lush Goddess Shower Gel kost €20,00 voor 260 gram en is onderdeel van de Community Favourites — tijdelijke online favorieten. Goddess producten zijn al een tijdje te koop, zoals de bath bomb en het parfum. Hoewel ik de bath bomb erg lekker vond ruiken, vond ik de andere producten, die een tijdje later werden gelanceerd, niet heel boeiend. Het is bloemig en kruidige geur, dat is gewoon niet mijn favoriete geur. Toch vond ik het niet heel erg om deze te 'moeten' kopen, want na alle geurbeschrijvingen die ik op social media las erover, werd ik toch wel nieuwsgierig. En laten we wel wezen.. hij ziet er gewoon práchtig uit: donkerpaars met zilveren glittertjes erin.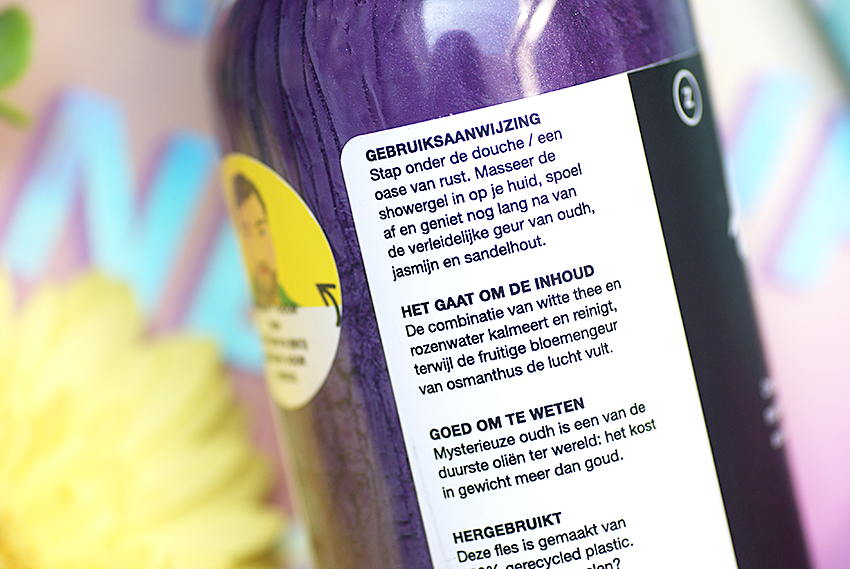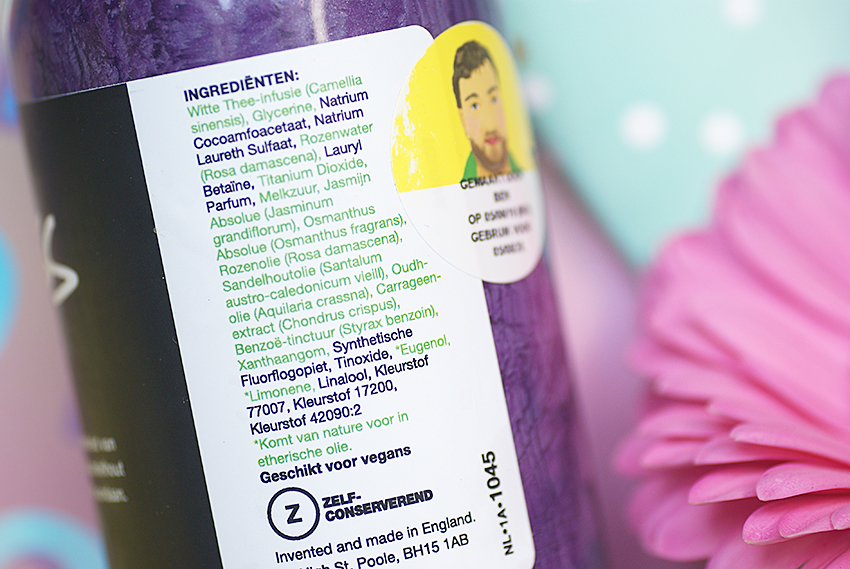 Wat zit erin?
Ingrediënten: Witte Thee-Infusie (Camellia sinensis), Glycerine, Natrium Cocoamfoacetaat, Natrium Laureth Sulfaat, Rozenwater (Rose centifolia), Laurylbetaïne, Titanium Dioxide, Parfum, Melkzuur (Lactic acid), Jasmijn Absolue (Jasminum Grandiflorum), Osmanthus Absolue (Osmanthus fragrans), Rozenolie (Rosa damascena) Sandalwood Oil, Oudh-olie, Carrageenextract, Benzoë-tinctuur (Styrax benzoin), Xanthaangom, Synthetische Fluorflogopiet, Tinoxide, *Eugenol, *Limonene, *Linalool, Kleurstof 77007, Kleurstof 17200, Kleurstof 42090:2
Goddess laat je als een godin in de badkamer wanen. Helaas zitten er bij deze douchegel geen gespierde mannen inbegrepen die je trosjes druiven voeren. Had wel gemogen van mij, als ik de prijs zie. Afijn. Wat zit er wél in? Rozenwater sowieso, dat kalmeert en reinigt de huid. Jasmijn is een bloemig aroma, onmisbaar in dit product, net als Osmanthus. Rozenolie is ook weer verzachtend en kalmeert, maar heeft ook een heerlijk aandeel in de geur. Sandelhout staat ook bekend om zijn heerlijke, houtachtige geur, maar ook zijn verzachtende werking op de huid. Oudh-olie is één van de duurste oliën ter wereld (dat verklaart de prijs), nog duurder dan goud. Hij heeft een kenmerkende, donkere, houtachtige geur. Alle Goddess producten bevatten deze olie, overigens, en hebben dus ook allemaal deze geurnoot gemeen. Dan zit er ook nog carrageebextract in, oftewel zeewier. Maakt je huid lekker zacht, maar hydrateert het ook.
Ik ga proberen de geur te omschrijven, maar ik vind het verdomd lastig met Goddess. In eerste instantie ruik ik een kruidige, ietwat rokerige geur. Erg zwaar en warm. Dan dringen de bloemige geurnoten m'n neusgaten binnen, de sensuele geur van jasmijn, maar ergens ruik ik ook het warme en zoete van rozen op de achtergrond. Er zit een houtachtige noot in, duidelijk de sandelhout en oudh erin. Maar kort samengevat zou ik zeggen: kruidig en bloemig. Een rokerige, zwaardere geur. Een sensuele geur, dat wel. Hopelijk heb je d'r wat aan.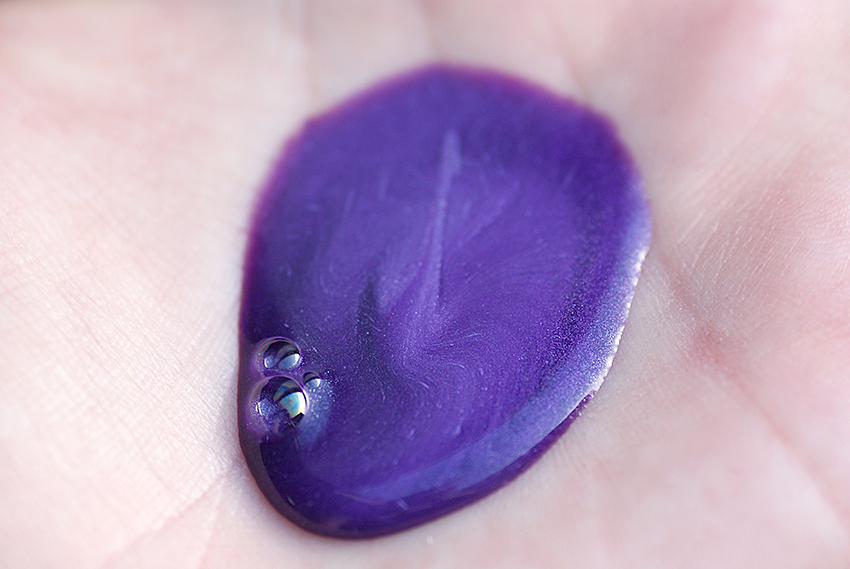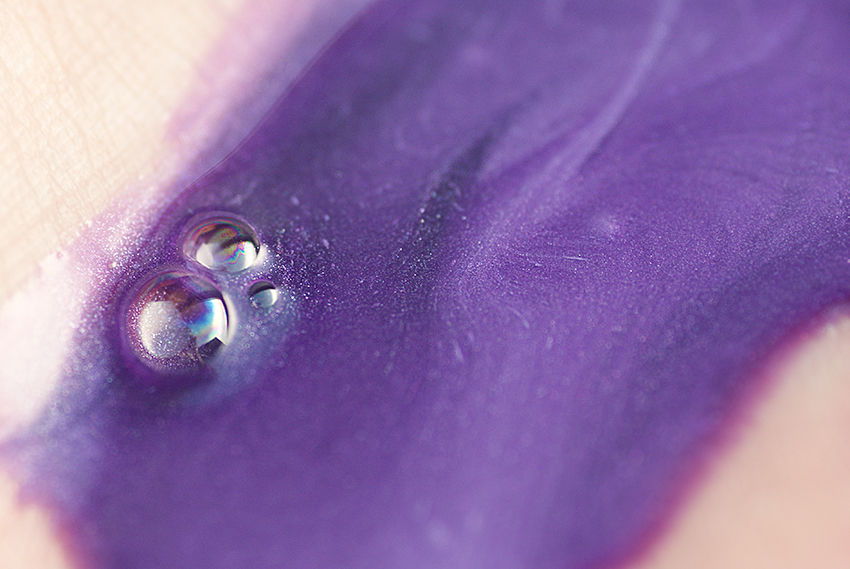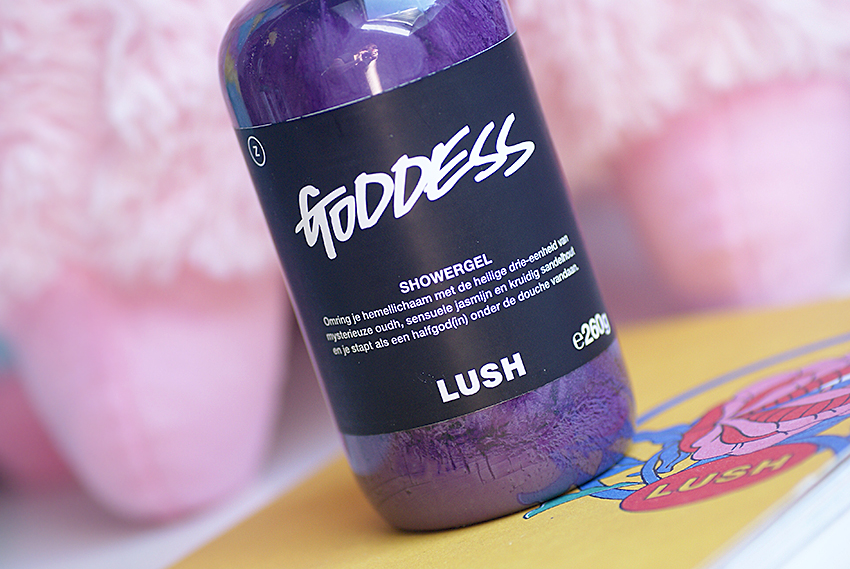 Mijn ervaring
Ik kan niet wachten om met Goddess de douche in te duiken. Door het gesnuffel aan de geur ben ik zó benieuwd geworden. Onder de douche merk ik dat de substantie enorm goed schuimt, érg paars is (maar niet afgeeft) en qua dikte precies goed is. Je hebt niet veel nodig van de douchegel, hij is vrij geconcentreerd. De geur is heel sterk aanwezig en het lijkt alsof je zelf oudh-olie heb zitten produceren in je badkamer. De glinsteringen in de douchegel zijn onwijs mooi en blijven achter op de huid, alleen zie je dit héél subtiel. Geen glitterbom dus, maar genoeg om nét even wat meer fabulous te zijn. Hoewel de badkamer nog zeker een uur naar Goddess ruikt, ruik ik hem op de huid niet echt terug. M'n huid ziet er niet gehydrateerder uit, wel is het iets zachter.
De geur is gewoon onwijs lekker. Ik moest eventjes wennen — het was geen liefde op het eerste gesnuffel, maar ik begin de geur steeds lekkerder te vinden. Hoe meer ik eraan ruik, hoe verliefder ik word op de geur. Het is zelfs al zo lekker, dat ik op het punt sta andere Goddess producten te gaan kopen nu. God sta me bij. Ik ben onwijs blij met m'n douchegel, en hoewel ik er voor dit geld niet nog één ga kopen, ga ik wel heel erg van genieten. Dít is hoe luxe ruikt. Verliefd!

Lush Goddess Shower Gel kost €20,00 en bevat 260 gram. Hij behoort tot de tijdelijke Community Favourites.
4 Responses to Review: Lush Goddess Shower Gel