Review: Lush Rose Bombshell Egg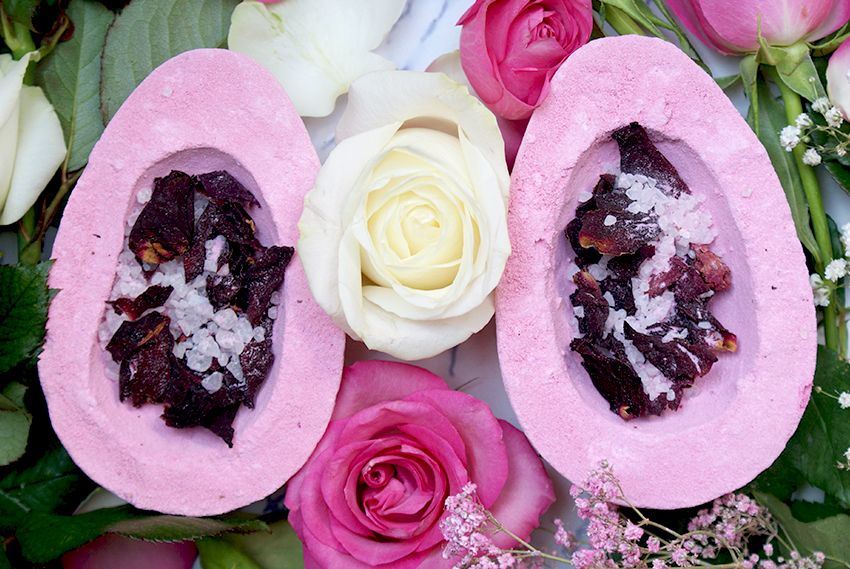 Vorige week verraste m'n beste vriendin me met deze gigantische bath bomb van Lush. En laat dat precies dé bath bomb zijn die ik nog zó graag wilde! Je snapt dus wel hoe blij ik was toen ze met deze Rose Bombshell kwam aanzetten. Meteen dezelfde middag nog zette ik hem op de foto (lees: ruim 100 foto's) zodat ik er meteen mee in bad kon gaan. Badderen in een zee van rozenblaadjes en omringd door de geur van Rose Jam — hemels. Ik dook ermee in bad en vandaag laat ik je weten wat ik ervan vond.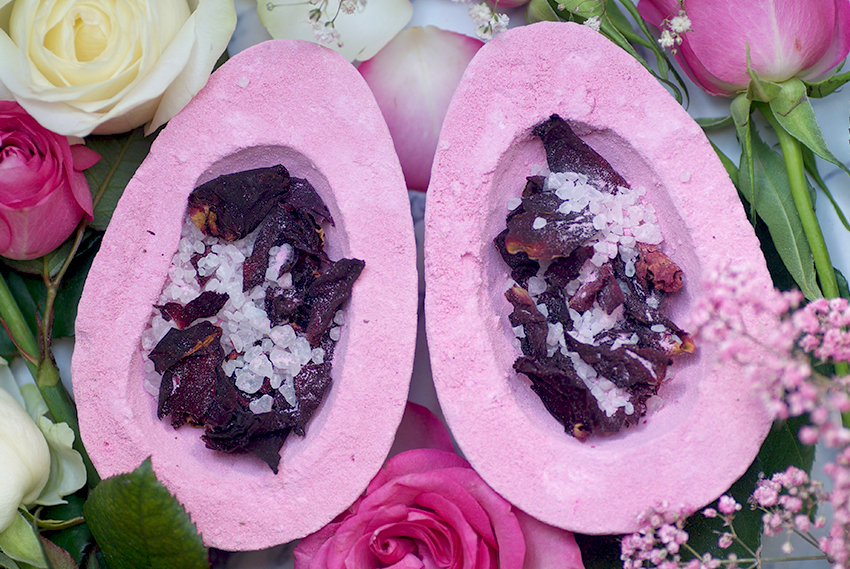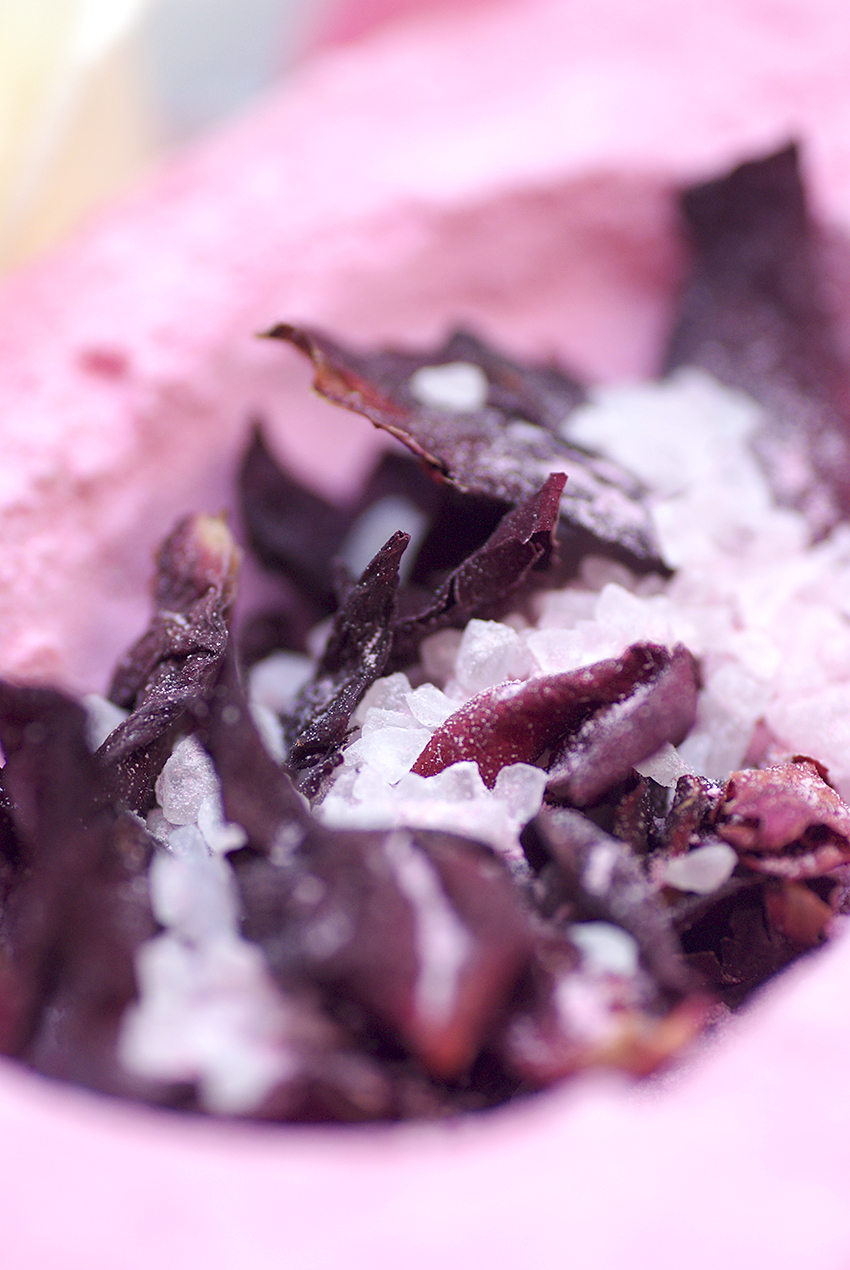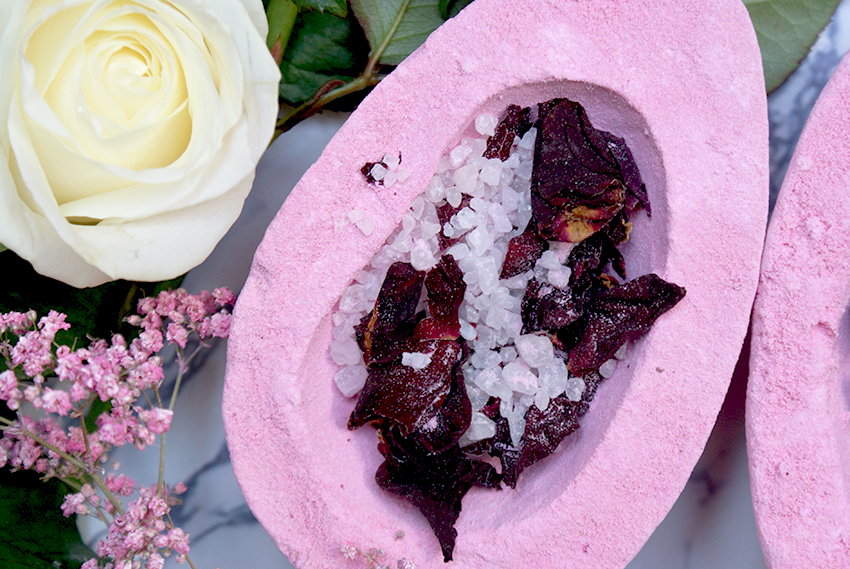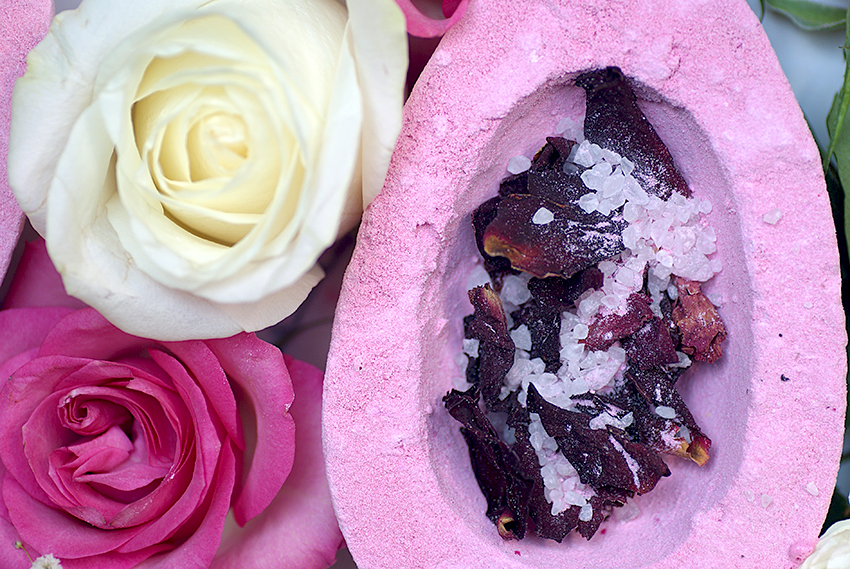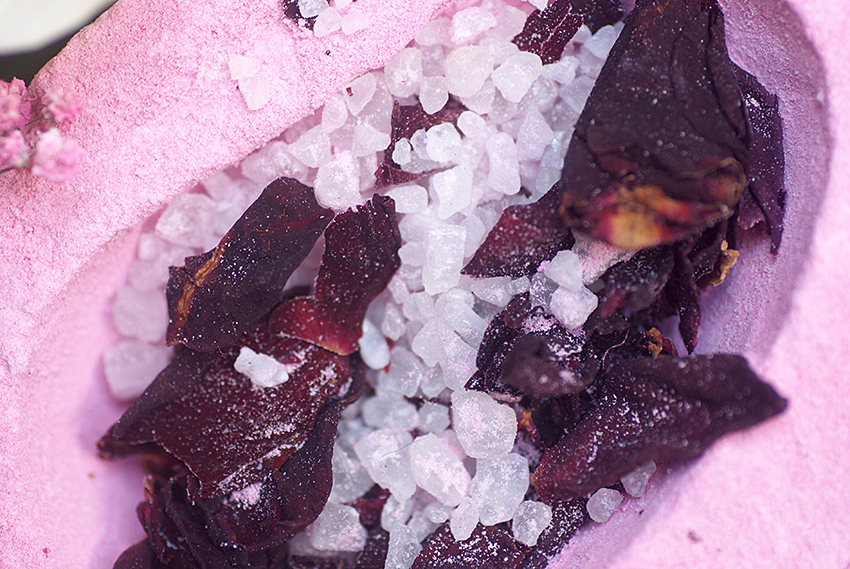 Wat is het?
Ingrediënten: Natrium Bicarbonaat (Sodium bicarbonate), Citroenzuur (Citric acid), Grof zeezout (Maris sal), Titanium Dioxide, Siciliaanse Citroenolie (Citrus limonum), Geraniumolie (Pelargonium graveolens), Roos Absolue (Rosa damascena), Rozenolie (Rosa damascena), Water (Aqua), Propyleen Glycol, Dipropyleen Glycol, Citronellol, Coumarine, Geraniol (Geraniol), *Limonene, Parfum, Kleurstof 45410 (CI 45410), Kleurstof 14700 (CI 14700), Kleurstof 17200
Lush Rose Bombshell Egg kost €16,95 en is onderdeel van de tijdelijke Paascollectie. Rose Bombshell Egg is een prijzige bath bomb, let's be honest, hij kost namelijk 17 euro. Daarvoor krijg je wel een enorme bath bomb, bestaande uit twee helften. Beide helften zijn groot en vrij zwaar, meer dan genoeg voor ieder een bad. Ook zit hij bomvol gedroogde rozenblaadjes en zeezout. Hij deelt z'n geur met de populaire Rose Jam geurlijn — een warme rozengeur, normaliter met een vleugje zoete vanille, maar in dit geval zit dat er niet in. Toch is de geur identiek aan de douchegel en elk ander product met de Rose Jam geur. De geur is vrij sterk, wat logisch is met zo'n grote bath bomb.
De bath bomb bevat behalve gedroogde rozenblaadjes en grof zeezout ook nog citroenolie, geraniumolie, rozenextract en rozenolie. Je kunt er voor kiezen één helft per badsessie te gebruiken, of hem er helemaal in te flikkeren. Ik ging natuurlijk voor dat laatste. Als je decadent gaat badderen, dan moet je het goed doen ook.
Speel het filmpje af in 2160p kwaliteit en op volledig scherm voor de beste ervaring! Het filmpje speelt zich versneld af.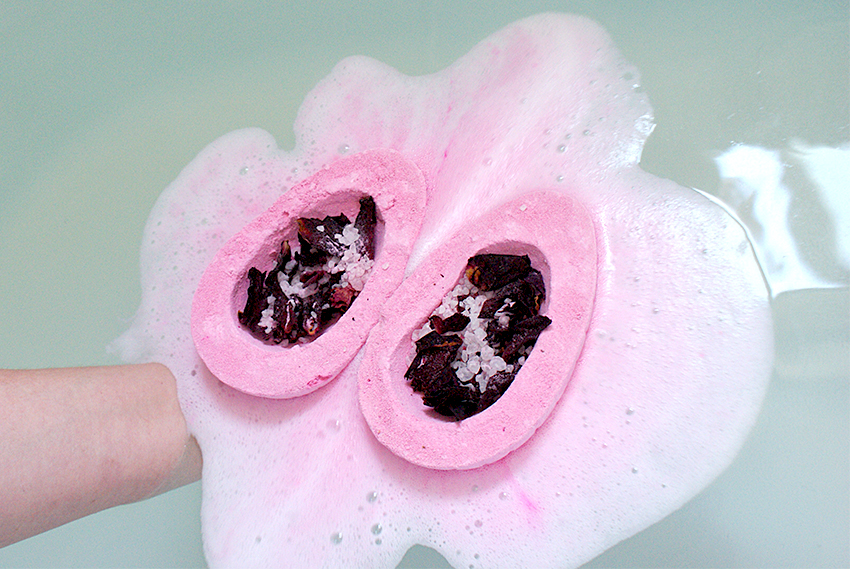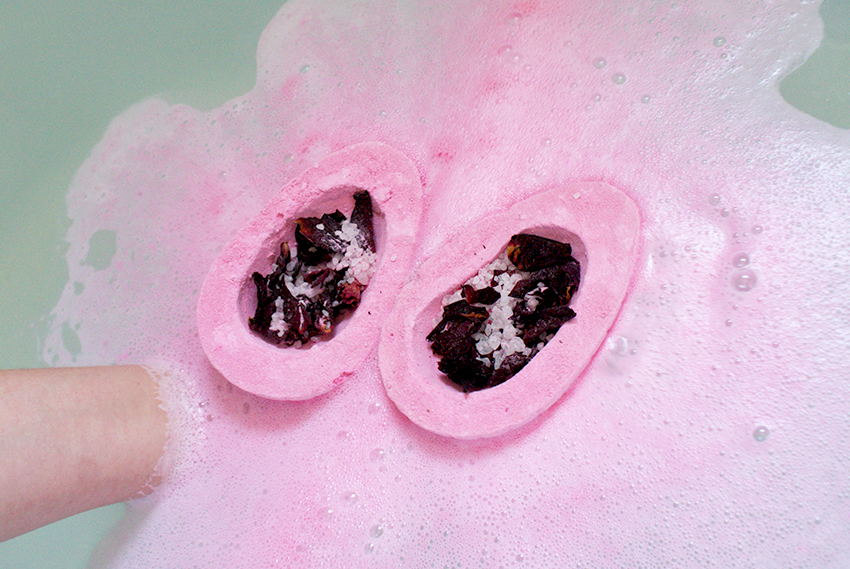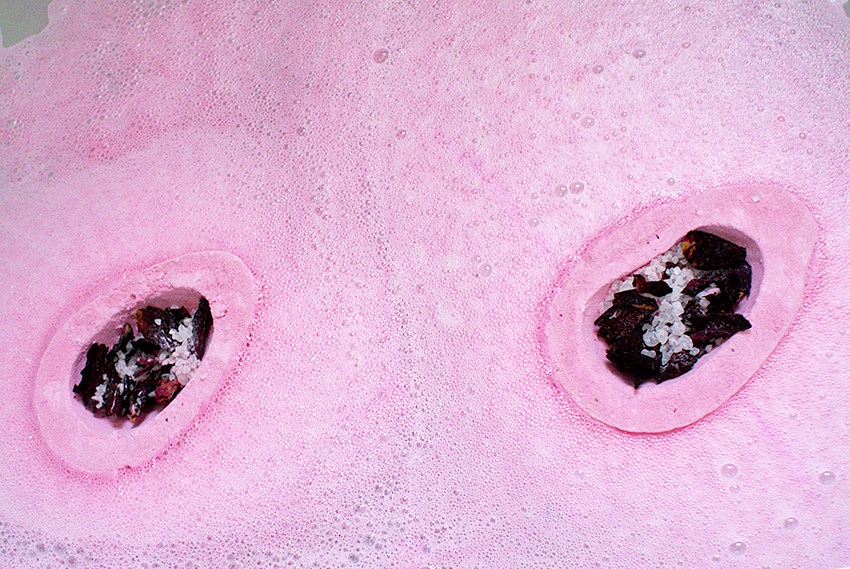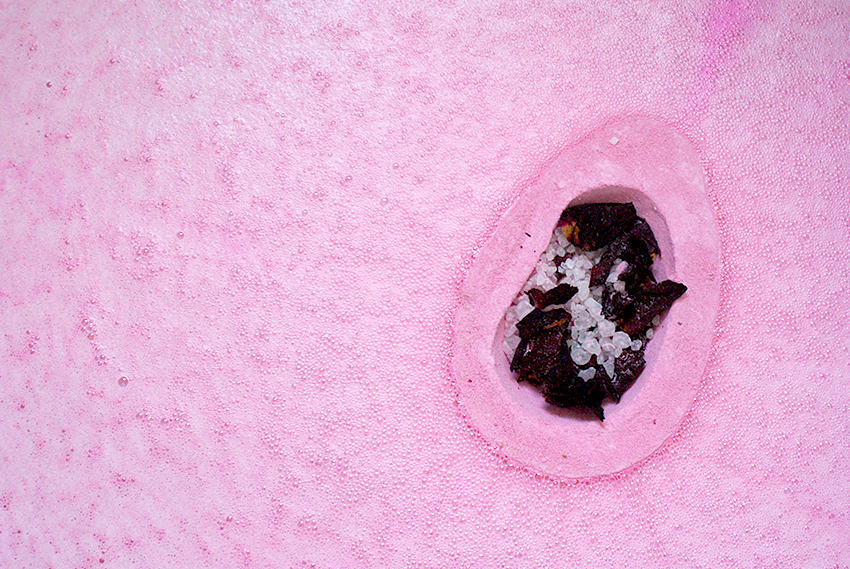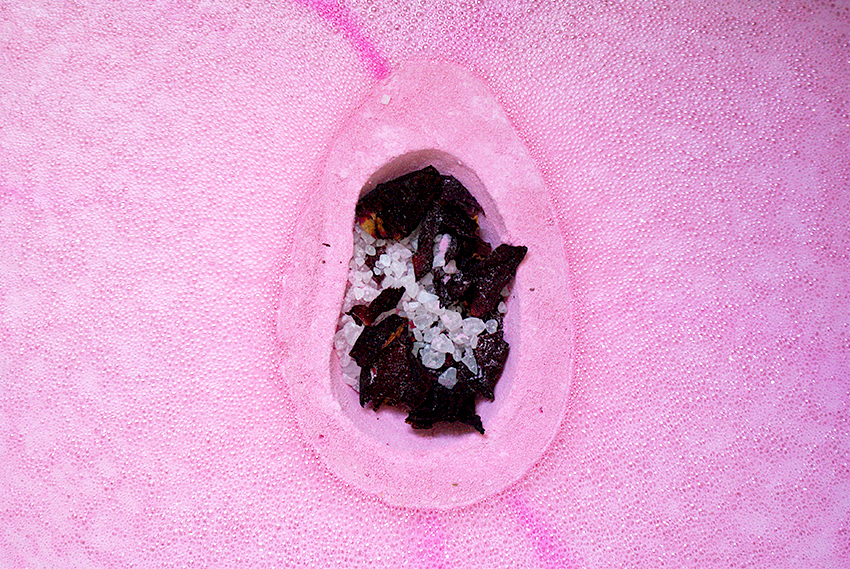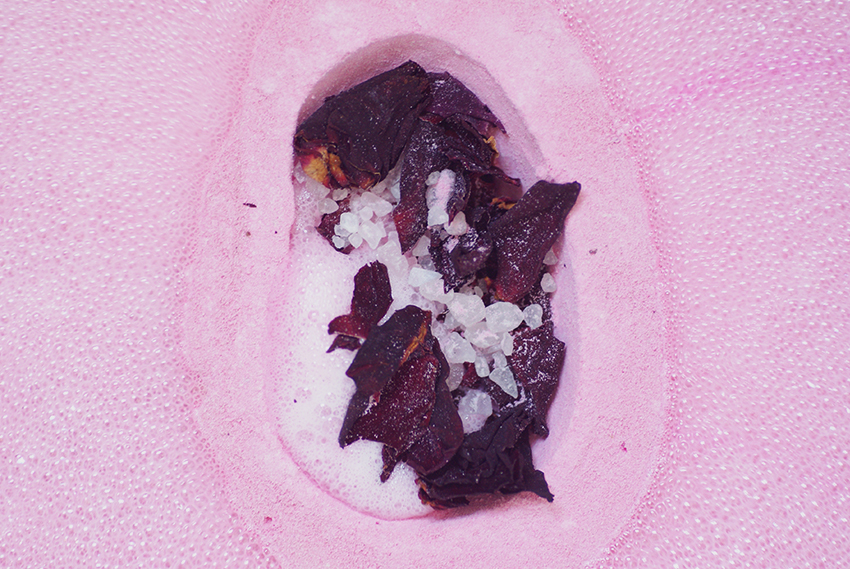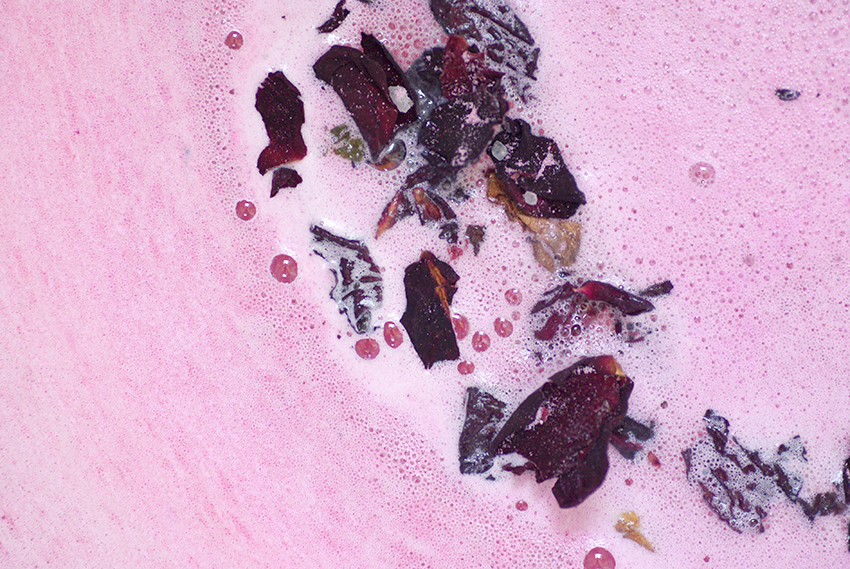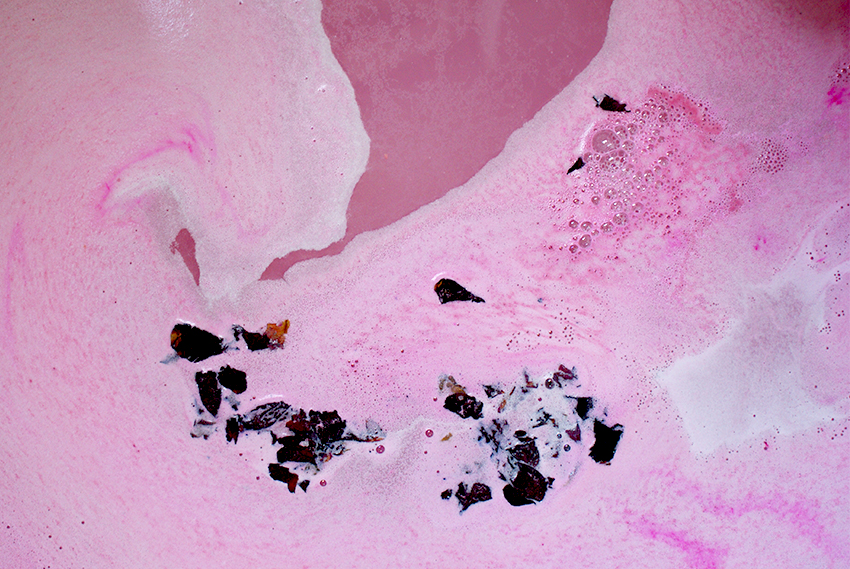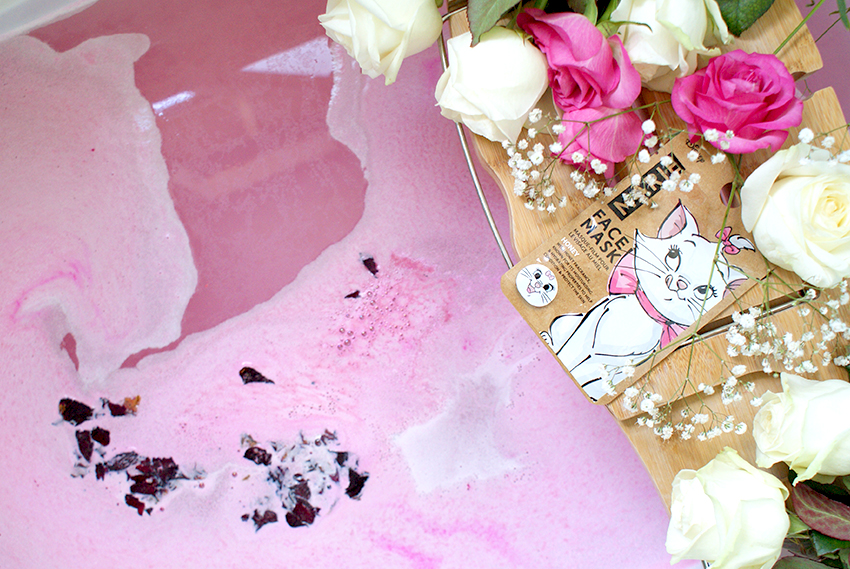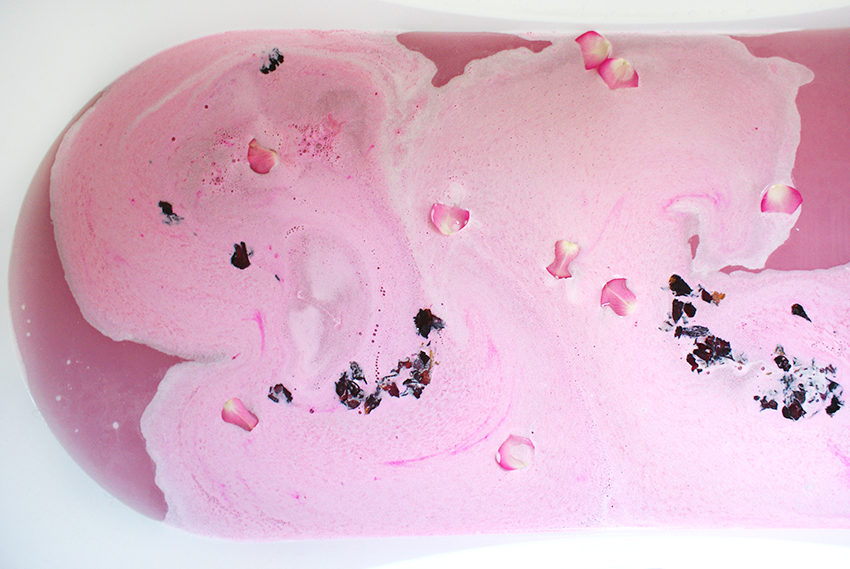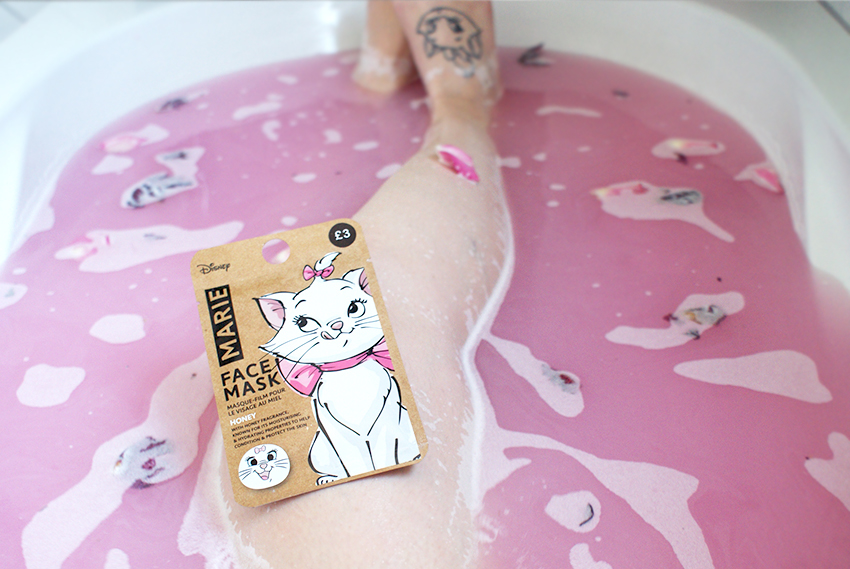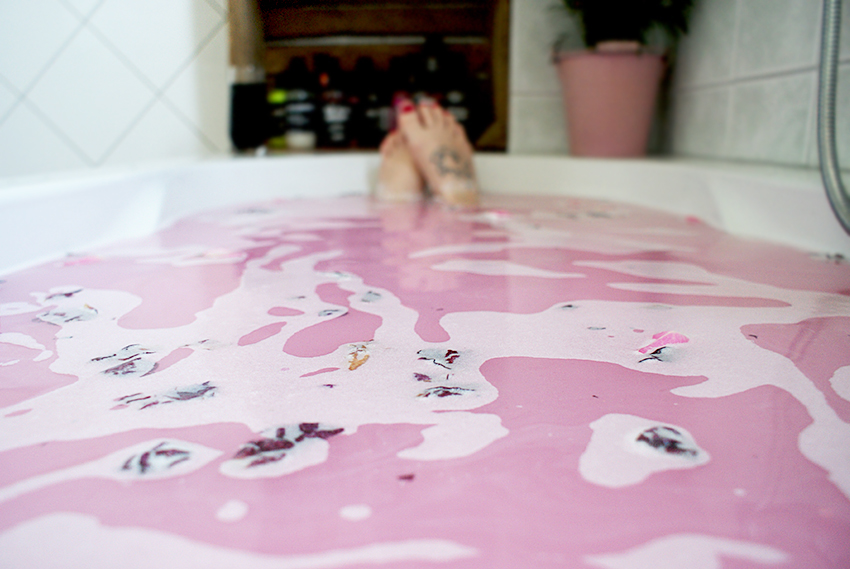 Mijn ervaring
Wanneer ik de Bombshell laat zakken in het water, begint hij weldadig te bruisen. Beide helften drijven rustig over de oppervlakte en laten daarbij sporen van roze schuim achter. Wanneer vrijwel de hele oppervlakte is bedekt met schuim, beginnen de helften op te raken. Ze vallen uiteen en de rozenblaadjes en het zeezout dat erin lag, drijft nu alle kanten op. Het is werkelijk waar één deken van zacht schuim, met hier en daar rozenblaadjes. Het water is een prachtige kleur roze en heeft een melkachtige laag.
Ik kan een heel verhaal houden over hoe mooi hij wel niet was, maar de vele foto's spreken wel voor zich, denk ik. Het is één van de mooiste bath bombs die ik heb gehad. De geur was tijdens het badderen ook goed aanwezig, wat ik altijd een pluspunt vind. Ondanks de grove korrels zeezout erin, voelde ik ze niet tijdens het badderen. Het voelde enorm luxe om in zo'n mooie kleur water te liggen, drijvend in een rijke, melkachtige laag en met allerlei rozenblaadjes op de oppervlakte. Het plaatje was compleet. Ik ben verliefd!
Behalve dat m'n huid na afloop mega zacht aanvoelde, kan ik (eigenlijk voor het eerst!) de bath bomb nog úren na het badderen ruiken op m'n huid. Ik ben gehuld in een subtiele, zoete rozengeur. Ik ben echt onwijs blij dat ik deze cadeau kreeg, hij was zooo fijn. Hij is onderdeel van de Paascollectie dus hij ligt niet lang meer in winkels, hopelijk kan ik voordat hij weg is nog even een sugar daddy scoren die er 15 voor me koopt.

Lush Rose Bombshell Egg kost €16,95. Hij behoort tot de tijdelijke Paascollectie.
6 Responses to Review: Lush Rose Bombshell Egg