Review: Lush Cookie Dough Body Scrub
Read this post in
Engels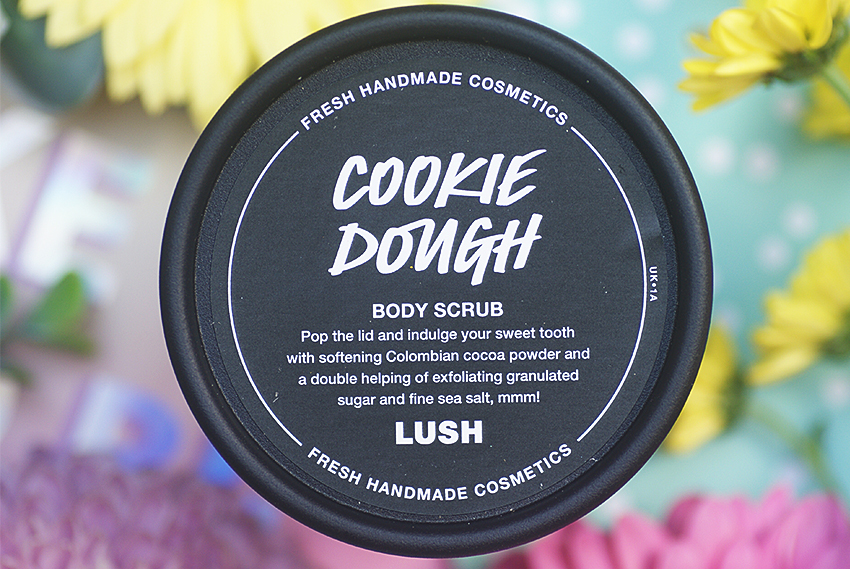 Gisteren vertelde ik al dat er niet alleen zes nieuwe douchegels nu tijdelijk te koop zijn, maar ook een Cookie Dough scrub. En nee, dan bedoel ik niet de lip scrub, maar een body scrub. Heb je jezelf dus altijd al willen omhullen met koekjesdeeg, lees dan vooral even verder. Het was het product waar ik het meest benieuwd naar was, vandaar dat ik hem ook als eerste opentrok. Met als gevolg een review hier vandaag. Ben je benieuwd, lees dan verder.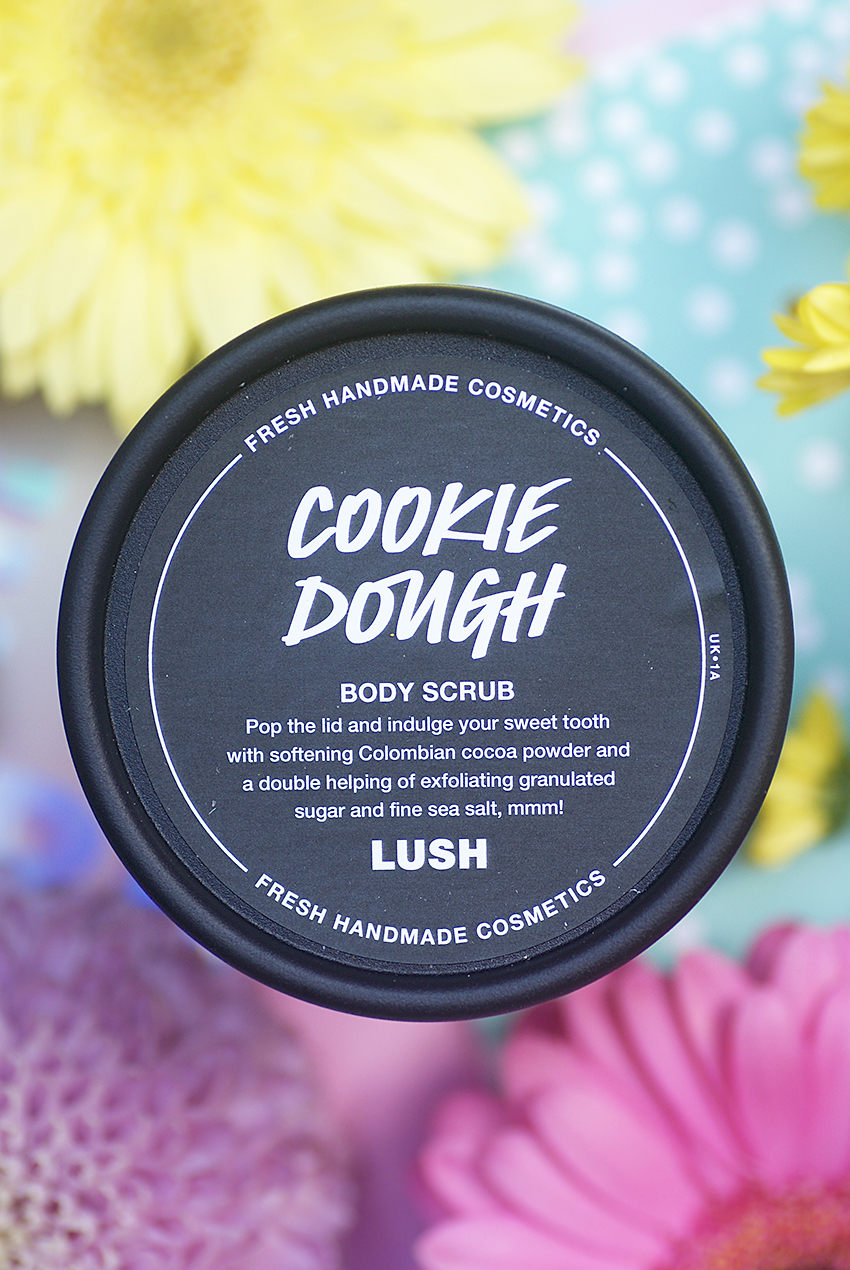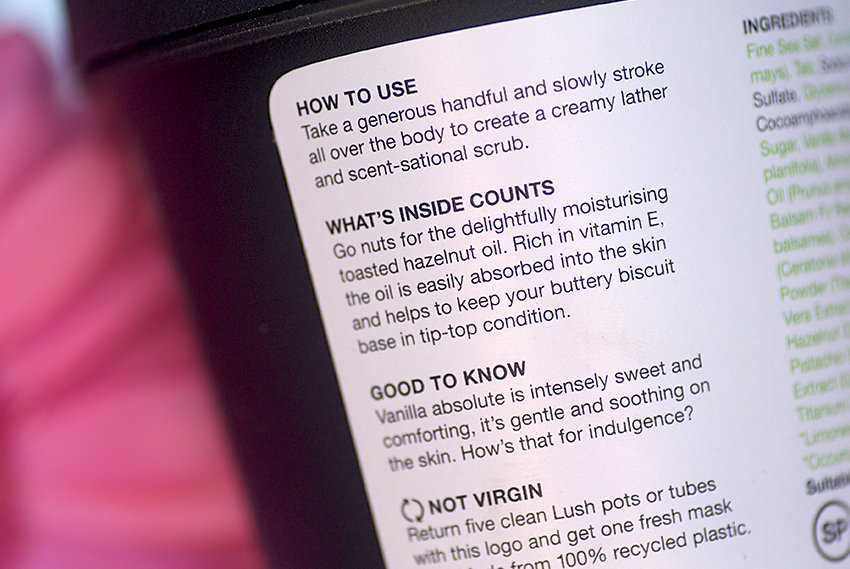 Wat is het?
Lush Cookie Dough Body Scrub is een pot lichaamsscrub. Hij kost €19,00 voor 270 gram en is onderdeel van de Community Favourites — tijdelijke online favorieten. Hij is gebaseerd op de Cookie Dough Lip Scrub, een Liverpool exclusive die ik eerder al reviewde. Een scrub met koekjesgeur was er nog niet, dus is een zeer welkome verrassing. Hoewel ik de prijs aan de hoge kant vind, was m'n nieuwsgierigheid té groot om hem te laten liggen. Ik kocht hem in de UK webshop, waar hij £13.00 kost (nog geen 15 euro), dat scheelt alweer een beetje.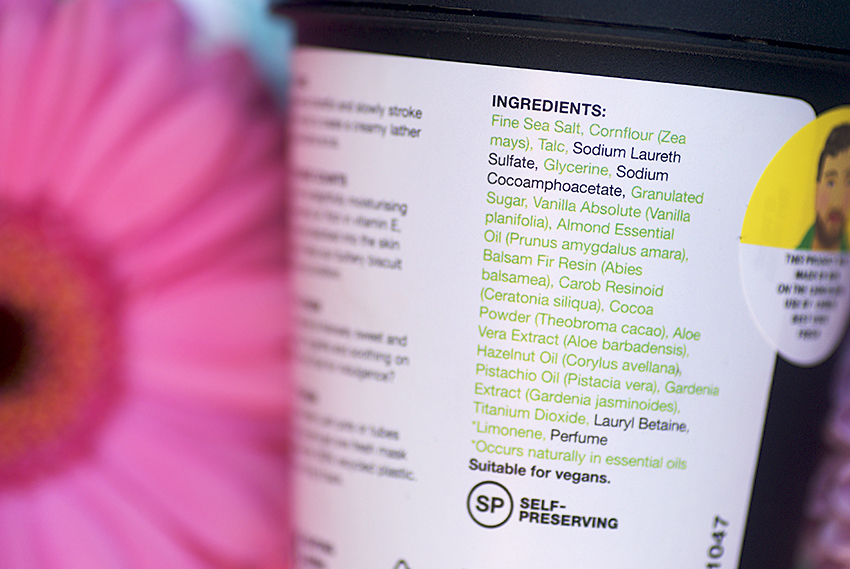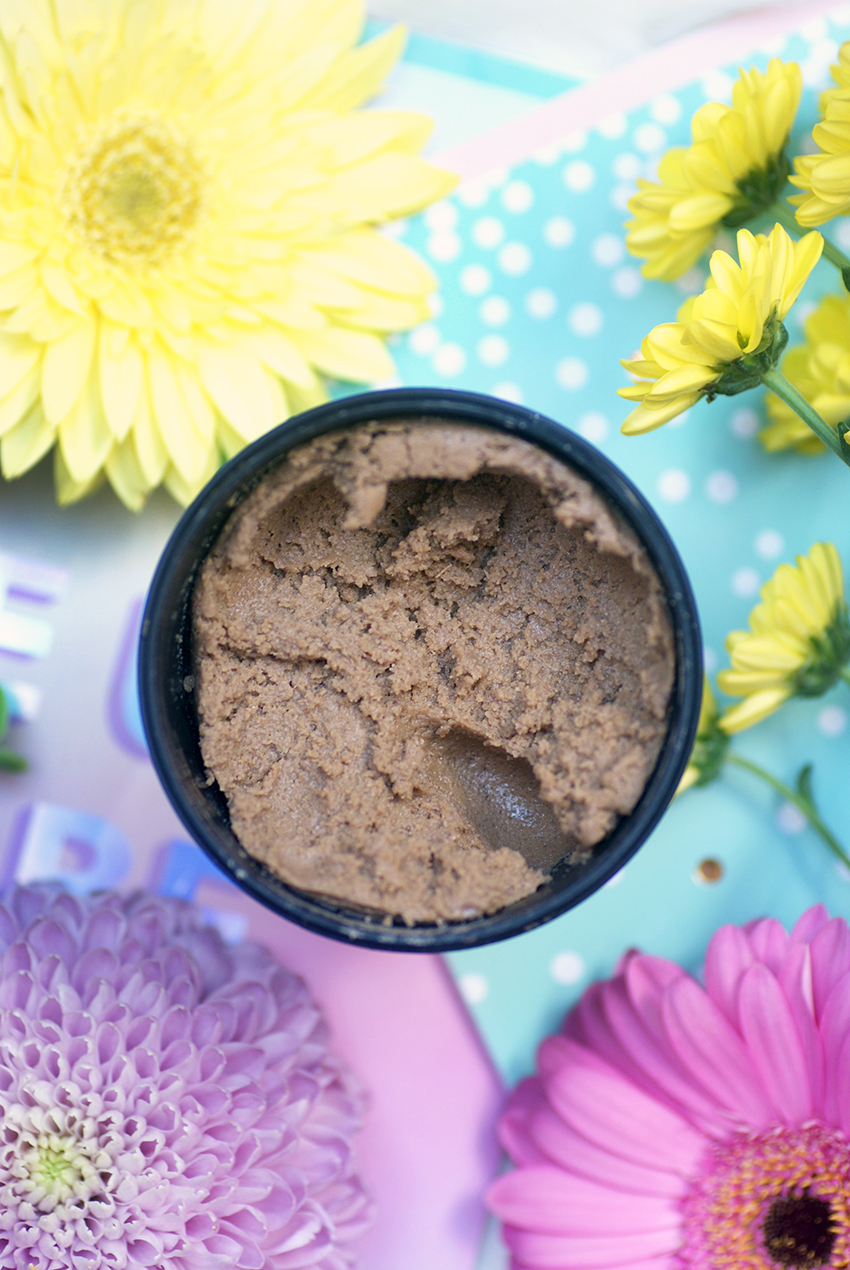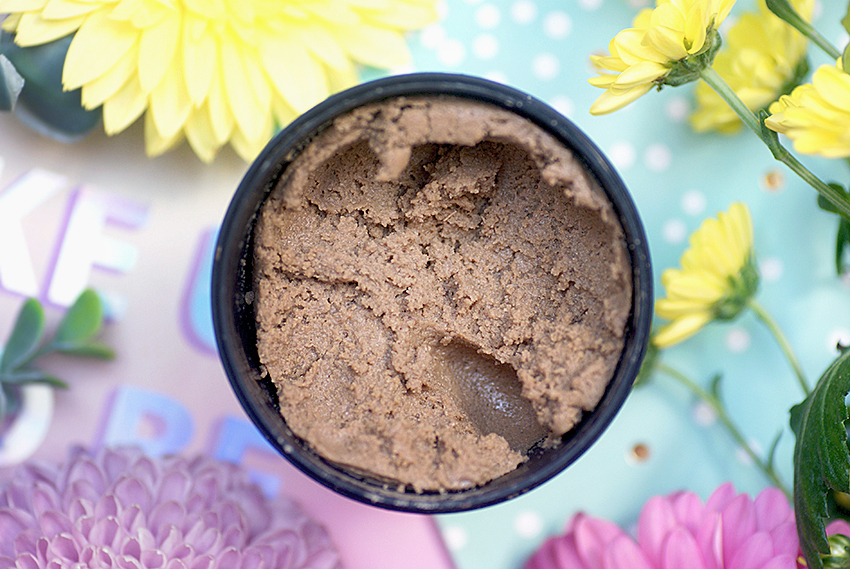 Wat zit erin?
Ingrediënten: Fijn Zeezout (Maris sal), Maïsmeel, Talk, Natrium Laureth Sulfaat, Glycerine, Natrium Cocoamfoacetaat, Kristalsuiker (Sucrose), Vanille Absolue, Etherische Amandelolie (Prunus amygdalusl amara), Balsemzilverspar-hars (Abies balsamea), Johannesbroodboom-hars, Cacaopoeder (Theobroma cacao), Aloë Vera-extract (Aloe barbadensis), Hazelnootolie, Pistache-olie, Gardenia-extract, Titaniumdioxide, Laurylbetaïne, *Limonene, Parfum
De scrub zelf bestaat uit fijn zeezout, maïsmeel en kristalsuiker — deze drie ingrediënten zorgen ervoor dat je huid glad en zacht aanvoelt. Daaraan toegevoegd is vanille, amandelolie, balsemzilverspar-hars (gezondheid), johannesbroodboom-hars, cacaopoeder, aloë vera-extract, hazelnootolie, pistache-olie en gardenia extract. Al deze ingrediënten zorgen voor een onweerstaanbare geur, namelijk die van koekjes. Samen met de overige ingrediënten zorgen ze voor een heerlijke, kneedbare scrub dat gaat schuimen in aanraking met water.
Qua textuur vind ik de scrub op Let The Good Times Roll lijken, een gezichtsscrub waar je een klein beetje water aan toevoegt zodat het een pasta wordt. Cookie Dough is dus absoluut niet zo nat als de andere scrubs, zoals Mamma Mia of Rub Rub Rub. Deze scrub is vrij droog (net als echt koekjesdeeg!) en heeft echt wel wat water nodig om goed te schuimen en te verdelen over de huid. Zorg dus dat je huid goed nat is, anders gaat het uitsmeren erg stroef.
De geur is vrij zwaar, het is minder koekjes-achtig dan ik verwachtte. Ik verwachtte wat meer zoetigheid, maar in plaats daarvan is de amandel erg overheersend. Ik vind het geen vieze geur, maar ik merk dat ik na 5 minuten lang goed ruiken wel een beetje naar wordt ervan. Misschien is hij net even té om zo rechtstreeks aan te ruiken. Als ik hem vergelijk met de lip scrub, vind ik de lip scrub net even iets zoeter, er lijkt iets meer van vanille in te zitten. Desondanks is de geur wel vrij goed gelukt. Warm, zoetig, bruine suiker, amandel is waar ik aan denk als ik de body scrub ruik.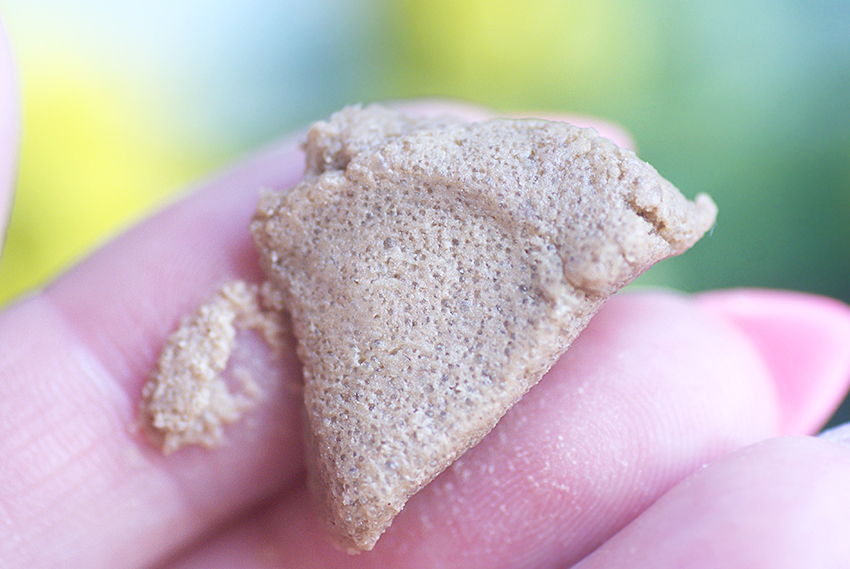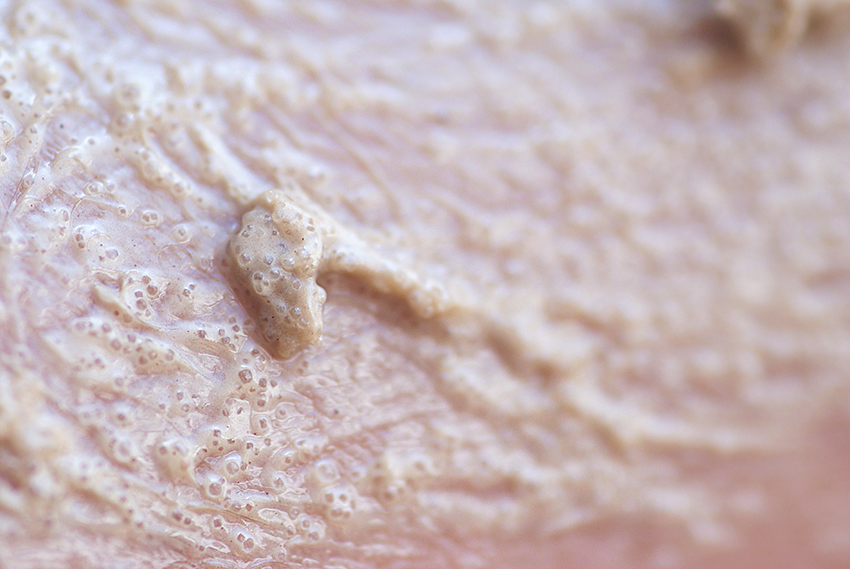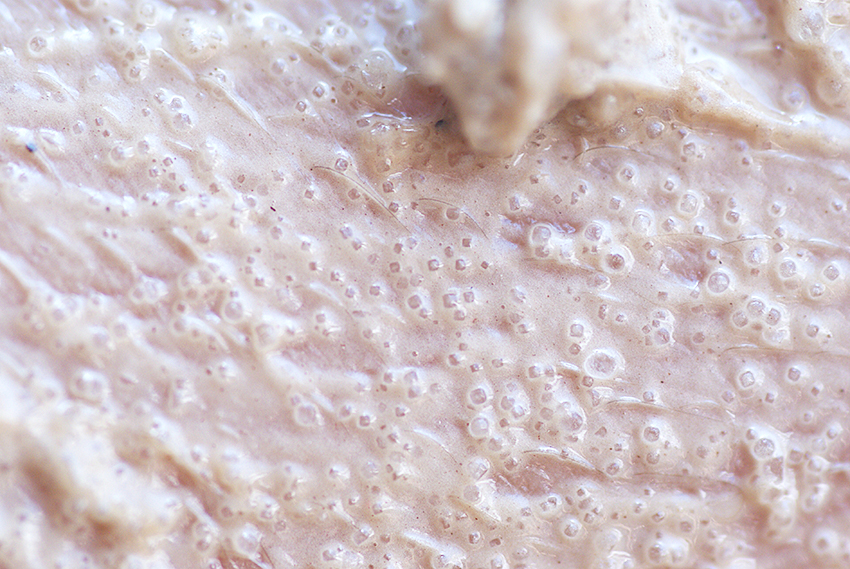 Mijn ervaring
De substantie is wat lastig pakken uit de pot, zeker met natte handen. Dit probleem heb ik ook vaak met Let The Good Times Roll of Angels on Bare Skin, ik maak m'n vingers dan zo droog mogelijk en schep er dan wat uit. De substantie is kneedbaar en zacht, je voelt de stukjes suiker zitten (ook weer net als bij koekjesdeeg). Bij het uitsmeren van de body scrub merk ik hoe mild en zacht de scrub is, het is totaal geen grove scrub zoals Ocean Salt. Hij smeert heerlijk uit, en je hebt niet veel nodig van de scrub. Bij het afspoelen gaat de scrub iets schuimen.
Na afloop voelt m'n huid erg zacht en glad aan. Hij glanst meer en de huid ziet er daardoor ook gezonder uit. Hoewel de scrub niet heel erg hydraterend is, oogt de huid wel minder droog en voelt hij iets soepeler en elastischer aan. De geur kan ik eigenlijk totaal niet terug ruiken op de huid. Ik ruik echt héél licht iets zoets, maar dat is het ook. Toch ben ik erg blij met de scrub, want in de douche is de geur iets minder heftig en tovert hij de badkamer om in een bakkerij waar zojuist een lading koekjes is gebakken. Amandelkoekjes, dat wel. Maar de substantie maakt dit echt wel tot een geweldige scrub. Zuinig, maar ook erg fijn in gebruik. En dat zonder een enkele calorie.

Lush Cookie Dough Body Scrub kost €19,00 en bevat 270 gram. Hij behoort tot de tijdelijke Community Favourites.
3 Responses to Review: Lush Cookie Dough Body Scrub