Review: Lush 9 to 5 Reinigingslotion
Read this post in
Engels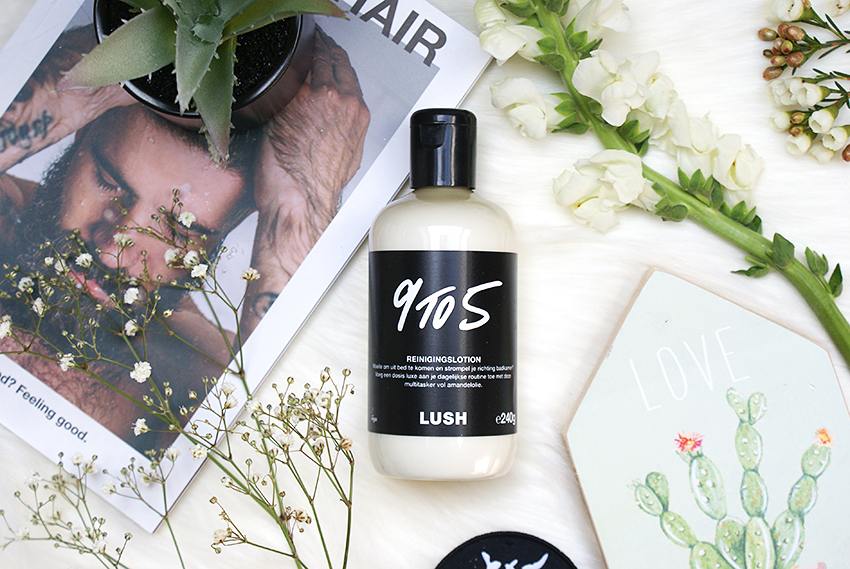 Hoewel ik al heel wat gezichtsreinigers van Lush heb gehad, was er eentje die ik nog nooit echt had geprobeerd. Ja, een sample misschien, maar ik had nog nooit een fles zelf aangeschaft. Tijd om daar verandering in aan te brengen! Ik lees vaak goede dingen over deze reiniger, dus ik was wel benieuwd naar deze bestseller.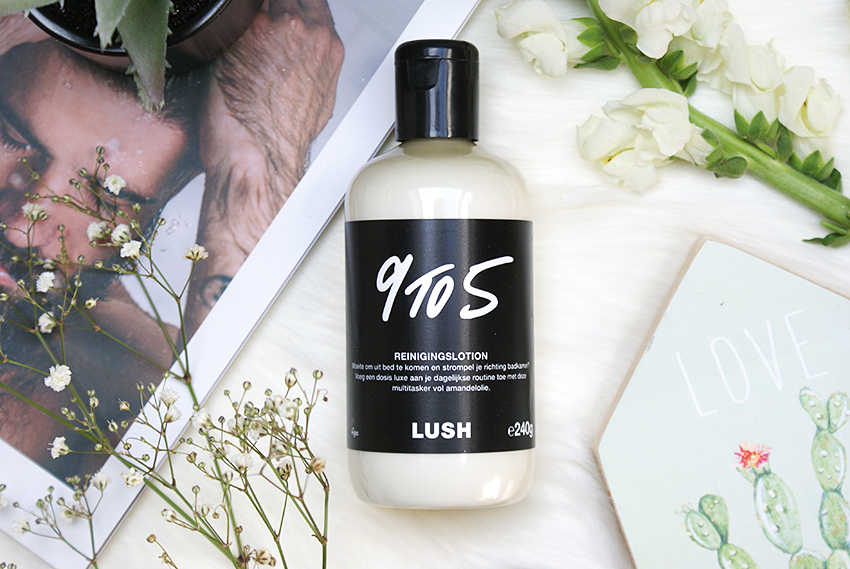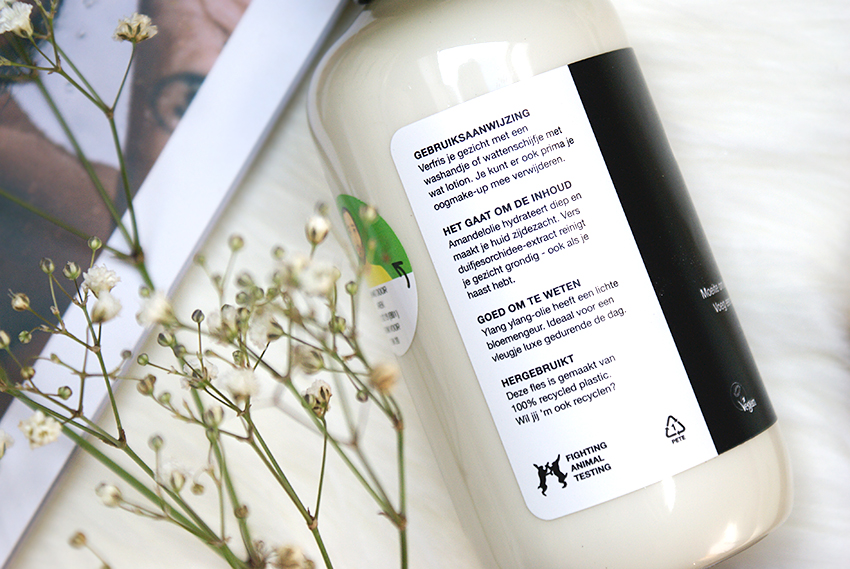 Wat is het?
Lush 9 to 5 reinigingslotion kost €8,50 (95 gram) en €15,95 (240 gram). Dit is een product dat al een tijdje meedraait in het vaste assortiment. Het is hun enige vloeibare gezichtsreiniger. 9 to 5 reinigt je gezicht, maar verzorgt en hydrateert deze ook meteen. Ik heb flink wat reviews zitten lezen over dit product, zowel in de Nederlandse als buitenlandse webshops, en ik merk al snel hoe geliefd dit product is bij mensen. Een paar conclusies die ik uit de reviews haal:
Verwijdert full face make-up
Verwijdert waterproof make-up
Voedt en verzorgt de huid, dus huid is minder droog na gebruik
Geen irritaties op de (gevoelige) huid
Geen vettig gevoel na afloop
Geschikt voor alle huidtypen
Sommige mensen waren niet positief, en dat was dan omdat het product hun waterproof oogmake-up niet verwijderde, óf omdat het product prikte op de huid. Bij het testen hiervan ga ik dus goed op beide aspecten letten.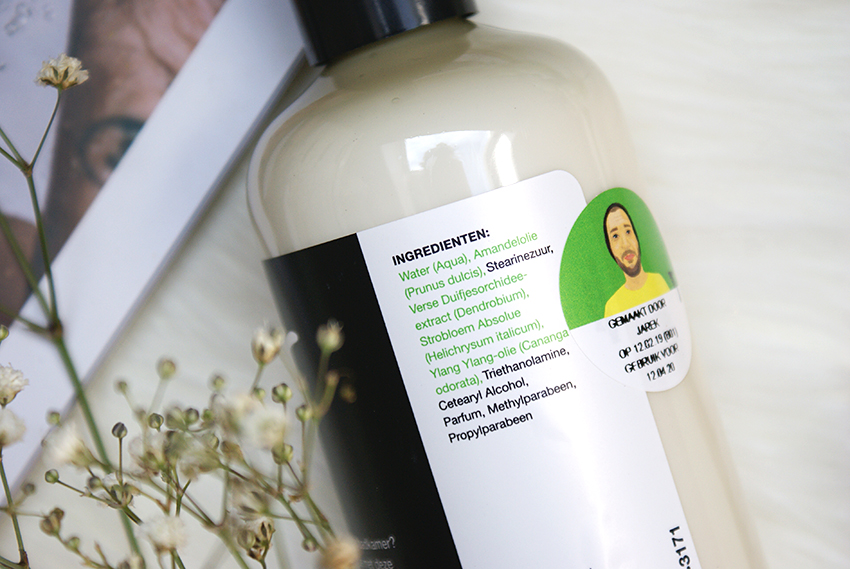 Wat zit erin?
De ingrediëntenlijst is vrij kort. Water gevolgd door amandelolie, stearinezuur (lange keten verzadigd vetzuur), vers duifjesorchidee-extract, strobloem absolue, ylang ylang-olie, triethanolamine (kleurloze viskeuze vloeistof), cetearyl alcohol (vettige alcohol), parfum, methylparabeen en propylparabeen.
De geur is erg mild, het ruikt echt naar een gezichtslotion. Je kunt niet echt iets vinden van de geur, want het is een neutrale geur dat echt bij verzorgingsproducten past. Heel in de verte ruik ik wel de ylang ylang, maar het is totaal niet overheersend. Ik denk dat hij precies zo ruikt zoals je zou denken dat hij ruikt; zacht, mild en neutraal.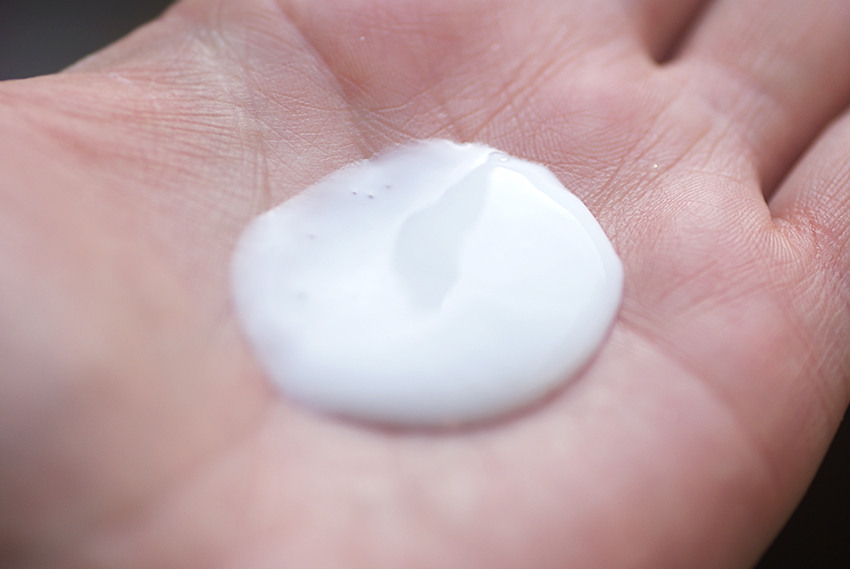 Mijn ervaring
Dit product is heel simpel in gebruik — doe een beetje op je vingers, in je handen of op een wattenschijfje en veeg je make-up eraf, of/en veeg je gezicht ermee schoon. Ik heb hem getest op dagen waarop ik amper make-up op had, maar ook wanneer ik me die avond had opgedoft voor een verjaardag.
Ik vind het zelf fijner om dit product op m'n vingertoppen aan te brengen, en daarmee m'n gezicht in te smeren — ik kan moeiteloos met m'n vingers over m'n oogleden wrijven, om de make-up eraf te wrijven, zonder dat ik last krijg van prikkende ogen. De substantie smeert goed uit. Wat betreft het verwijderen van make-up; doet 'ie prima. Vrij goed zelfs. Hij had wat moeite met m'n waterproof eyeliner, er bleef een klein beetje eyeliner achter tegen de rand van m'n wimpers, maar met een beetje toner heb ik dit alsnog weggehaald. Ik vind de substantie erg fijn, de dikte is precies goed en voelt heerlijk aan op mijn huid. M'n huid voelt zelf ook goed aan na afloop; erg schoon en mega zacht. Zou ik hem opnieuw kopen? Dat weet ik niet. Ik vind de naked cleansers ook erg fijn namelijk.
Verbetering van de huid na langdurig gebruik, daar kan ik niks over zeggen nog. Ik heb ook geen probleemhuid, maar een gemengde huid, die vrij rustig is. Ik voel en merk wel dat m'n gezicht minder droge gebieden heeft, en dat de vette delen juist iets minder vet zijn. Mocht je interesse hebben in dit product en wat het voor jouw huid doet, dan raad ik je aan om een sample te vragen in de winkel of wanneer je een bestelling plaatst online. Hij is absoluut het proberen waard!

Lush 9 to 5 Reinigingslotion kost €8,50 (95 gram) en €15,95 (240 gram). Hij behoort tot de vaste collectie.
4 Responses to Review: Lush 9 to 5 Reinigingslotion