Review: Lush Intergalactic Shower Gel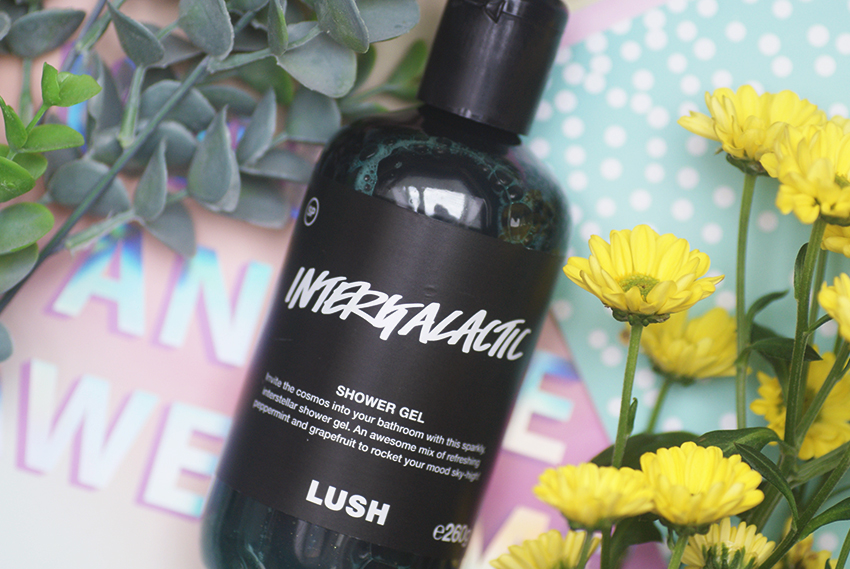 Als het je al niet opgevallen was: het is momenteel gruwelijk warm hier in Nederland. Nu woon ik gelukkig aan de kust, het is hier altijd koeler dankzij de zeelucht. Desondanks is een frisse douchegel dan écht een godsgeschenk, zeker als je 2x per dag doucht. Ik was dan ook onwijs blij met deze nieuwe douchegel, want als groot fan van de Intergalactic Bath Bomb, wist ik natuurlijk al hoe de geur zou zijn. Ben je benieuwd of de geur net zo lekker is als de bath bomb, lees dan verder!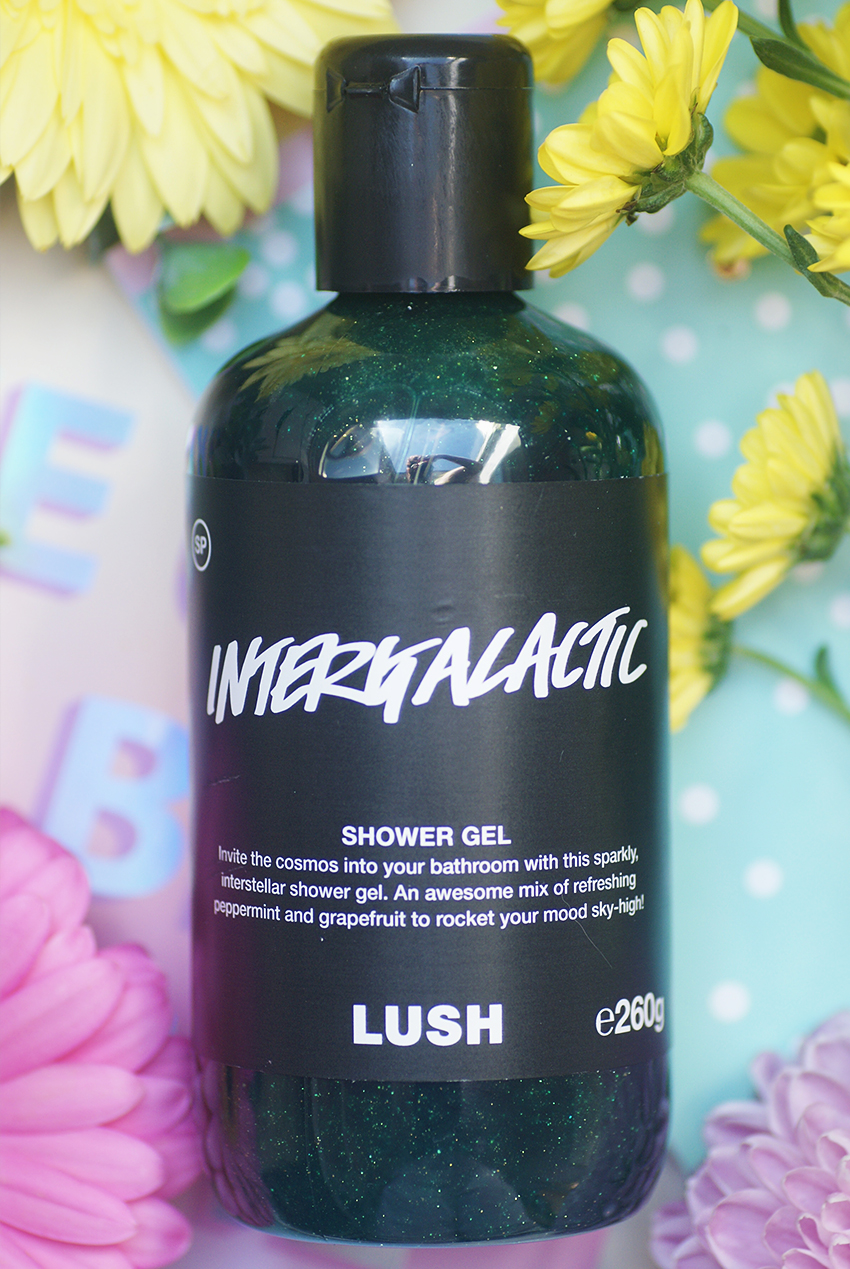 Wat is het?
Lush Intergalactic Shower Gel kost €19,00 voor 260 gram en is onderdeel van de Community Favourites — tijdelijke online favorieten. Deze limited douchegel van de Community Favourites is een prachtige, blauwe/groene douchegel boordevol glittertjes. Niet alleen de naam is mooi, ook lijkt de substantie zelf op het heelal. Ik was heel blij dat ze van de Intergalactic bath bomb nu een douchegel hebben, want Intergalactic is een geweldige bath bomb die zó lekker ruikt! Ik ben sowieso fan van muntgeuren, maar Intergalactic is echt een feestje voor me. Klik hier voor mijn review van de bath bomb!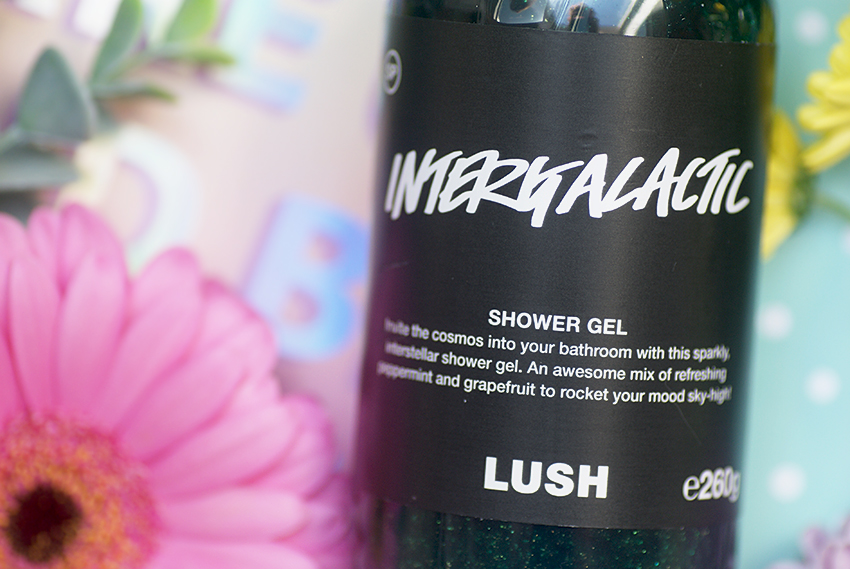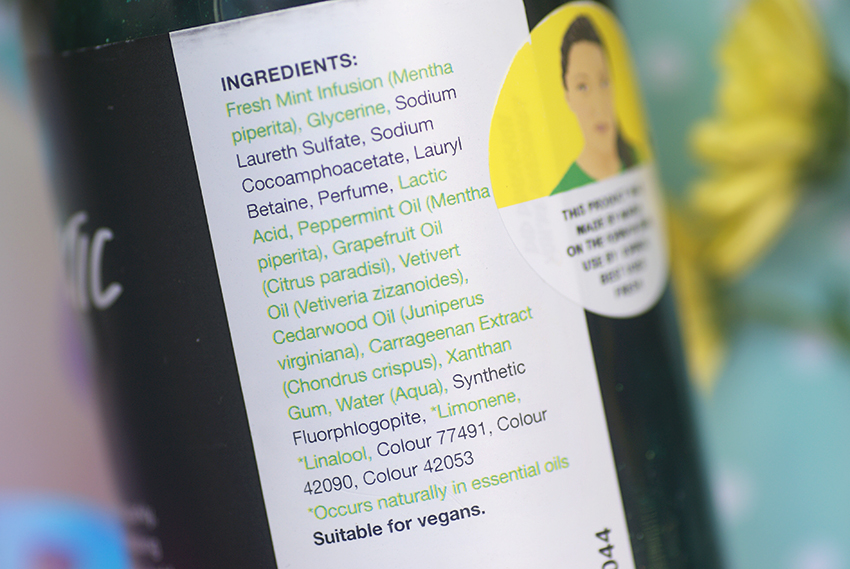 Wat zit erin?
Ingrediënten: Verse Muntinfusie, Glycerine, Natrium Laureth Sulfaat, Natrium Cocoamfoacetaat, Laurylbetaïne, Parfum, Melkzuur (Lactic acid), Pepermuntolie (Mentha piperita), Grapefruitolie (Citrus paradisi), Vetiverolie, Cederhoutolie, Carrageenextract, Xanthaangom, Water (Aqua), Synthetische Fluorflogopiet, *Limonene, *Linalool, Kleurstof 77491 (Cl 77491), Kleurstof 42090, Kleurstof 42053
Deze goddelijke douchegel bevat als hoofdingrediënt verse muntinfusie, een zeer verkoelend en verfrissend ingrediënt, héérlijk als het zo vreselijk heet is buiten. Zoals vandaag, of gisteren. Vervolgens zit er glycerine erin, wat de huid lekker hydrateert. Pepermuntolie is ook verfrissend en verkwikkend, echt onmisbaar in deze douchegel. Het verkoelt de huid, doordat het bloedvaten vergroot en de zenuwen stimuleert. Grapefruitolie is óók verfrissend — maar heeft ook een reinigend en verhelderend effect, doordat het voor 90% uit limonene bestaat; door de antibacteriële en verstrakkende effecten ziet de huid er helder uit. Vetiverolie heeft dankzij zijn geur een kalmerende werking. Cederhoutolie is een antiseptische en samentrekkende olie dat de huid aanspant, de talgproductie helpt te balanceren en een reinigende werking op huid heeft. Carrageenan-extract is een geweldig ingrediënt, afkomstig uit zeewier, dat de huid goed hydrateert.
De geur is zóóó hemels. Vanwege de muntinfusie, pepermuntolie en grapefruit is hij heel fris en muntachtig, hij heeft echt die frisse munt kick. Heerlijk, niet alleen als het bloedje heet is, maar ook voor 's ochtends als wake up call. Het is niet één en al frisheid hoor, hij heeft ook een lichtzoete en houtachtige achtergrond door de vetiver en cederhout. Al met al gewoon een enorm lekkere geur. Fris, opwekkend, blij makend, verkwikkend, ik houd ervan!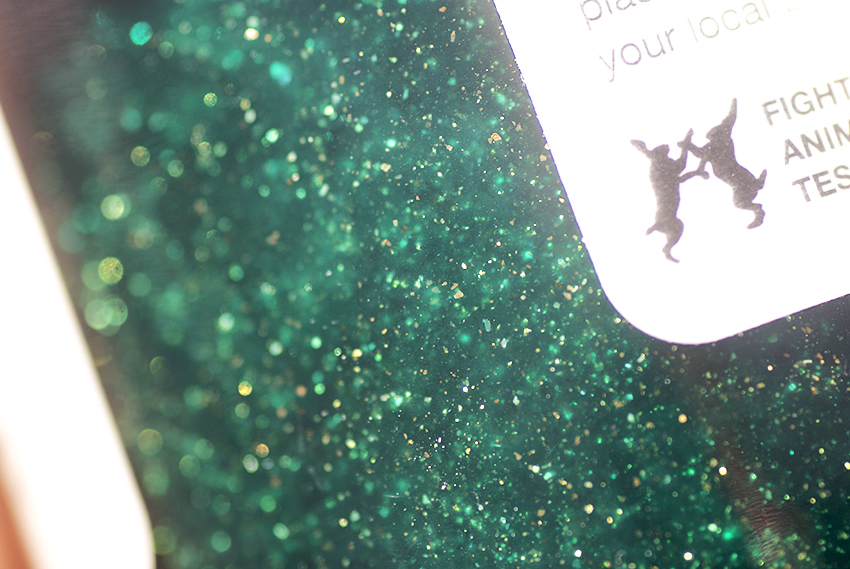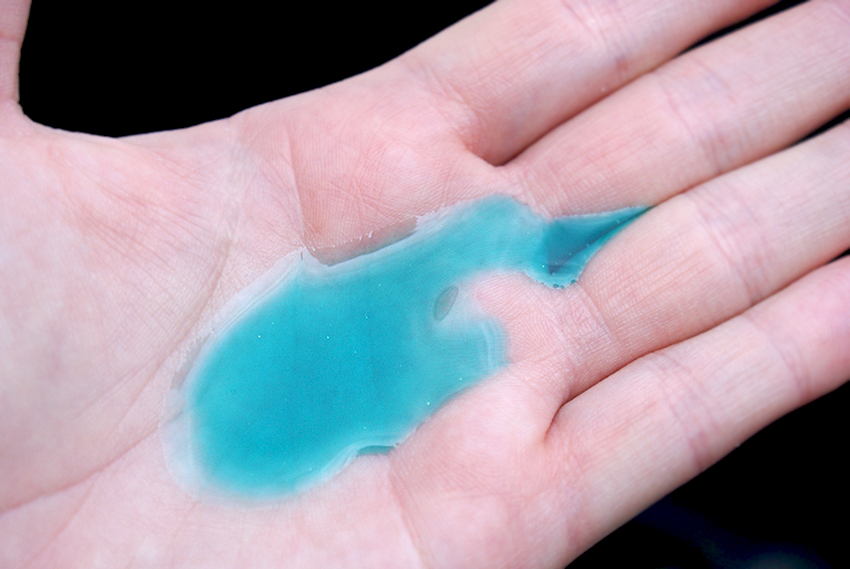 Mijn ervaring
Ik vond Goddess en Groovy Kind of Love erg op een shower cream lijken, maar Intergalactic is echt qua kleur en substantie meer een douchegel. Hij is ook wat dunner. Desondanks smeert hij heerlijk uit, schuimt hij (net als de anderen) onwijs goed waardoor je maar een beetje nodig hebt, en komt de geur helemaal tot leven in de douchecel. Hij is heerlijk tijdens deze hete dagen, de frisse geur maakt de momenten waarop het zo warm is, een stuk draaglijker. De geur blijft lekker lang hangen — zowel in de badkamer als op de huid, waardoor je ook lang na het douchen nog van de frisheid kunt genieten.
Maar niet alleen m'n geest ervaart voordelen van deze douchegel; ook m'n huid. Deze voelt zachter aan, minder droog en dus soepeler, en heeft een prachtige glow — net als bij de andere douchegels. Dus qua effect op de huid doet hij niet onder voor de andere douchegels, maar door de geur vind ik hem toch net eventjes wat lekkerder dan de anderen. Een geschenk uit de bloedhete hemel. Als het niet zo fucking warm zou zijn, zou ik Lush op m'n blote knieën bedanken voor deze douchegel.

Lush Intergalactic Shower Gel kost €19,00 en bevat 260 gram. Hij behoort tot de tijdelijke Community Favourites.
2 Responses to Review: Lush Intergalactic Shower Gel