12 limited edition Bath Bombs om de nieuwe concept store in Japan te vieren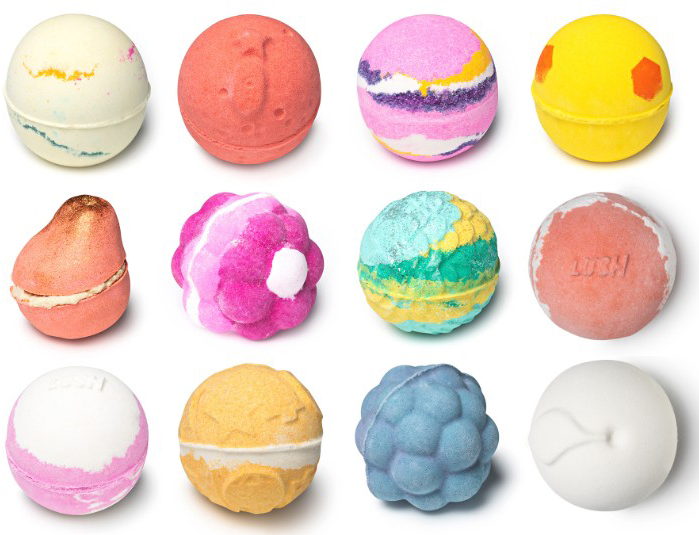 – persbericht –
Exclusief online verkrijgbaar vanaf donderdag 22 november – samenvallend met de opening van 's werelds eerste bath bomb concept-store in Harajuku, Tokio – onthult Lush 12 nieuwe vegan bath bombs. Iedere bath bomb bevat een oude favoriete huidige Lush geur die door de Lush-community zijn verkozen.
Lush is al enige tijd synoniem met de bath bomb, deze kwam in 1989 voor het eerst tot leven toen Mo Constantine, medeoprichter van Lush, van een gewoon bad een luxueuze ervaring wilde maken. Ze ontwikkelde de eerste bath bomb in haar eigen keuken. Jack Constantine, de zoon van Mo, nam het stokje over en werkte de collectie verder uit tot meer complexe, meerlaagse producten, waar meerdere kleuren, innovatieve ideeën en effecten werden geïncorporeerd.
Bijna dertig jaar na de uitvinding van de eerste bath bomb het baden revolutionaliseerde, brengt Lush haar creativiteit weer een stapje verder. Lush Harajuku zal 89 verschillende bath bombs onthullen om te vieren dan Mo de bath bomb in 1989 uitvond – dit is je kans om er een paar te bemachtigen!
Lees verder voor alle informatie, prijzen en foto's.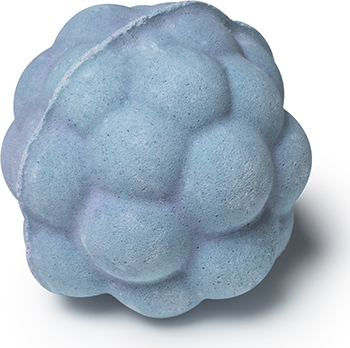 Blackberry Bath Bomb / €5,50
Onze fruitige favoriet is terug van weggeweest – pluk deze bes wanneer je je hoofd even leeg wilt maken. Zodra je Blackberry bath bomb in het badwater laat zakken, wordt het prachtig paars met een zoete en aardse geur, en na deze badsessie sta je weer met beide benen op de grond. Olibanum legt een verzorgend laagje op je huid en hydrateert en verzacht. Daarnaast zit Blackberry vol etherische oliën: van citroengras en neroli tot aan oppeppende limonene en reinigende bergamot.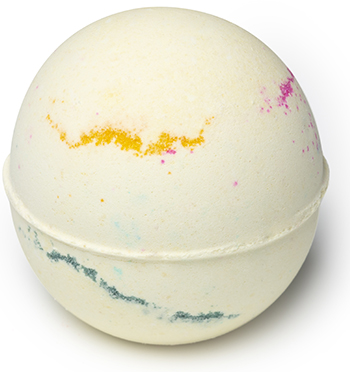 Calavera Bath Bomb / €7,50
Wanneer je het allemaal even niet meer ziet zitten is Calavera bath bomb je redding. Ontsnap aan de heksenketel door onder te duiken in een betoverende mix van kruidige olibanum-, limoen- en neroli-olie. Na dit hemelse, verwarmende bad voel je je als herboren. Beloofd.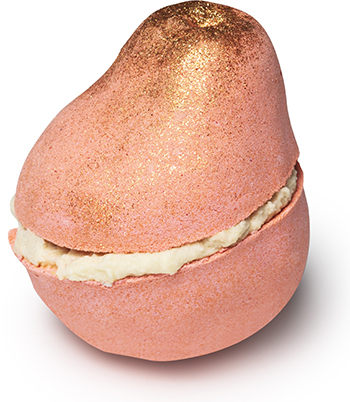 Golden Pear Bath Bomb / €7,50
Deze toffe peer kun je niet laten lopen! Daarom kun je 'm maar beter zo snel mogelijk in je badkuip leggen. Vanuit het water stijgt de geur van kardamom-olie met kruidig fruit op, frisse Braziliaanse sinaasappelolie geeft een lekkere oppepper. Na een bad met de vertrouwde, warme geur van deze zoete peer kun je er weer helemaal tegenaan.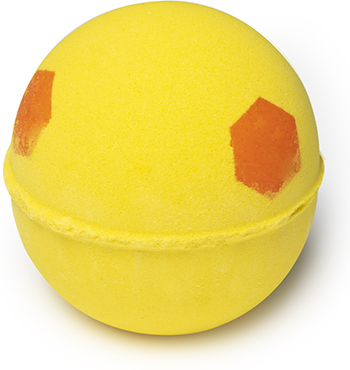 Honey I Washed The Kids Bath Bomb / €5,50
Yes, een bath bomb met onze beroemde Honey I Washed The Kids-geur! Terwijl je onderdompelt in badwater dat naar karamel en butterscotch ruikt, wordt je huid diep gehydrateerd dankzij Fair Trade, biologische cacaoboter en extra virgin olijfolie. Tenslotte brengt een vleugje aloë vera rust – zó ontspannend, deze bath bomb zou zomaar je nieuwe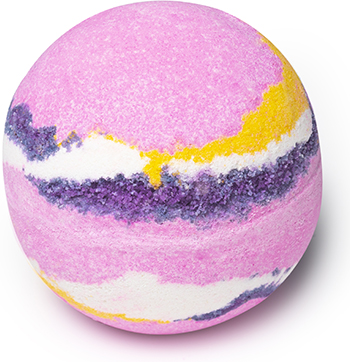 nog niet online vanwege problemen met batch, hopelijk volgende week! / €7,50
Verwen jezelf met deze snoeperige bath bomb – alsof je losgaat in een snoepwinkel zonder het schuldgevoel achteraf. Marshmallow World ruikt naar zoete vanille met aardbei, dit multigekleurde wonder is een bruisfeest in je bad. Marshmallowpoeder kalmeert en verzacht en kristalsuiker stilt je zoete trek. Na een bad met deze bath bomb ruik je om op te eten zo lekker!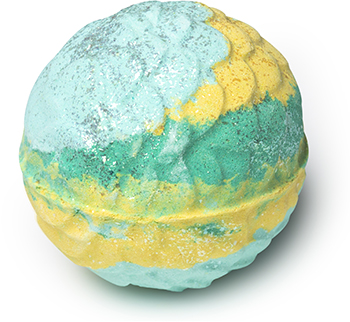 Melusine Bath Bomb / €7,50
Zit je niet helemaal lekker in je vel? Neem dan Melusine mee in bad. Deze prachtige, hypnotiserende zeemeermin-bath bomb brengt golven vol geluk. Vrolijke bergamot- en zoete, citroenachtige litsea cubeba-olie peppen je helemaal op en olibanum laat je zelfs even zweven. Een vleugje carrageenextract hydrateert je huid en zorgt voor de nodige dosis vitamine zee. Je zíet je zorgen bijna wegdrijven…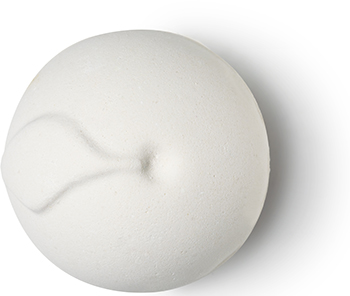 So White Bath Bomb / €5,50
Spiegeltje, spiegeltje aan de wand, wie is de fruitigste van het land? Dat is die uitdrukking toch? Of zo zou-ie in elk geval moeten zijn. Deze sprookjesachtige bath bomb tovert water met frisse appel- en rozengeur in je badkuip. Langzaam drijf je af naar een sereen, kabbelend bosmeertje… Er verschijnen nog net geen zingende bosdieren of zeven dwergen in je badkamer, maar de schoonste van het land word je wél.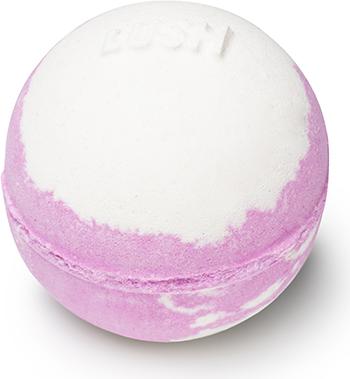 Tender Night Bath Bomb / €7,50
Transformeer je badkuip tot een prachtig roze poeltje vol verleidelijke oliën. Stimulerende ylang ylang, zachte vanille en bloemige jasmijn absolue zorgen samen voor een betoverend bad en een zijdezachte huid die verrukkelijk ruikt. Tender Is The Night bath bomb is romantisch, sensueel en niet te weerstaan.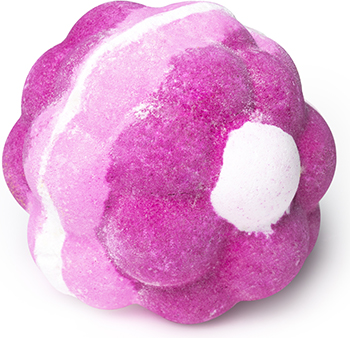 Comforter Bath Bomb / €5,50
Het paars met roze en witte schuim vormt een vertrouwde deken waaronder je even helemaal tot rust kunt komen. Ook (of juist) als je niet bekend met onze beroemde bessengeur, is de combinatie van zwarte bessen en bergamotolie een echte aanrader: de een zorgt voor ontspanning, de ander frist je geest op. Verzachtende cypresolie zorgt tenslotte voor een bad vol comfort en genot.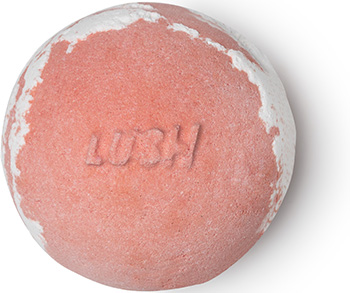 Olive Branch Bath Bomb / €5,50
Dompel onder in een citrus-cocktail van bergamot, citroen en Siciliaanse, rode mandarijn. Wanneer je diep inademt bevind je je even aan de Middellandse Zee, met je tenen in parelwit zand. Het trio aan citrus-oliën vrolijkt jou en je huid op, en het aroma van sinaasappelbloesem geeft een subtiele, maar luxueuze geur die voor ontspanning van lichaam en geest zorgt. Fair Trade olijfolie komt uit de bath bomb vrij, kabbelt door het badwater en hydrateert je huid door en door.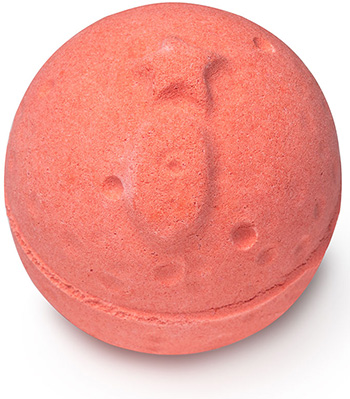 Yuzu & Cacao Bath Bomb / €5,50
Zoet en zacht, citrus en kokos, vertrouwd en fris… Er gebeurt van alles in je bad zodra je Yuzu & Cocoa erin loslaat. Cacao en tonka kalmeren en verzachten je lichaam, terwijl grapefruit en bergamot je huid en humeur laten stralen. Je wist niet dat je behoefte had aan Yuzu & Cocoa totdat je met dit perfecte duo kennismaakt, daarna wil je nooit meer anders.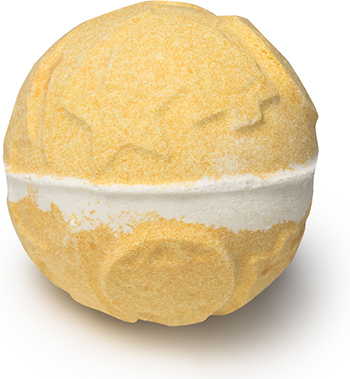 Yog Nog Bath Bomb / €7,50
Dit is de ultieme wintergeur in je badkuip: je voelt de warmte van een knisperend haardvuurtje terwijl je versgebakken speculaas ruikt. Buiten stormt het, maar jij zakt langzaam weg in verzorgend badwater vol cacaoboter, sheaboter, pittige kruidnagel en bloemige ylang ylang. Je bent gewaarschuwd: zodra je met Yog Nog bath bomb in bad ligt, wil je er nooit meer uit…

8 Responses to 12 limited edition Bath Bombs om de nieuwe concept store in Japan te vieren